DAILY BONUS - French - Speakers (FR/ENG) - November 08, 2022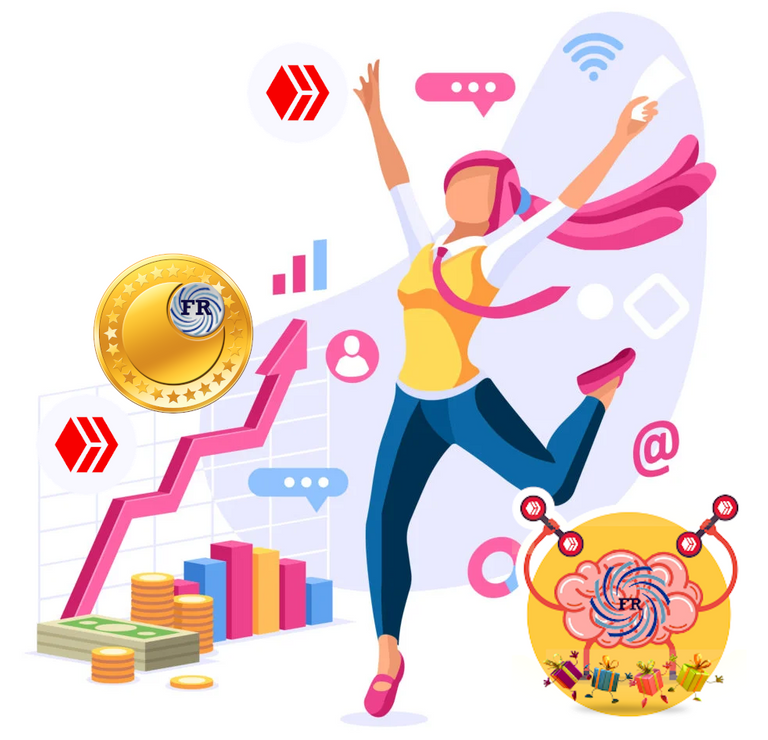 Continuez à Participer
🎁 Bonus pour ceux qui encouragent et diffusent la francophonie 🎁
---
---
📅 BONUS JOURNALIER DES FRANCOPHONES
DAILY BONUS FOR FRANCOPHONES
Bienvenue sur le post des bonus francophone journalier
Welcome to the daily French speaking bonus post
💰 BONUS SUPPLÉMENTAIRES DU JOUR (additional bonuses of the day)
Aujourd'hui, les auteurs/participants sélectionnés ou récompensés par le réseau points-fr recevront également les bonus suivants :
Today authors/participants who have been either selected or rewarded by the points-fr network will also receive the following bonuses:
---
---
🎁 BONUS 1 - SELECTION - PHOTO / IMAGE / MEME
https://images.ecency.com/p/JvFFVmatwWHT5Fvr9KYC2ckcJeTNPxSHwBGG4zr8ffLj4ZwJ1vKVEFu99ocCAExkpXzk9vEB67ov5Gn6g3p6oWnPa7sjjc8BetfpyJ4RrZdeHgvF57UXGzTiqqB9XDJHzDn6ZT38D4.webp?format=webp&mode=fit
GAGNANT: @linlove
---
---
---
---
🎁 BONUS 3 - SELECTION - LOTERIE (Bonus Lottery)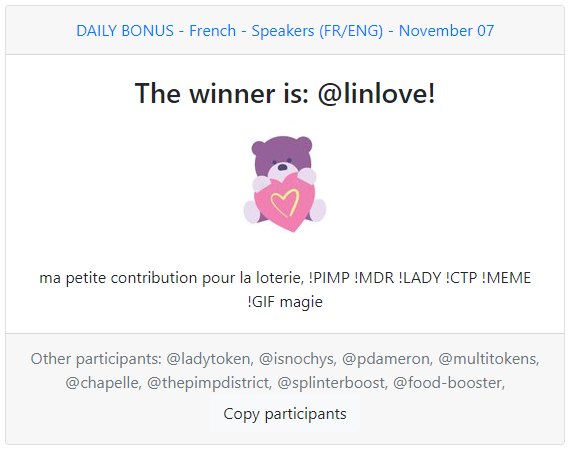 GAGNANT AU TIRAGE: @LINLOVE
---
---
🎁 BONUS 4 - PARTICIPATION
---
---
COMMENT PARTICIPER ?
Il n'est pas nécessaire d'être 100% francophone, mais juste de publier, ou de participer en langue françaises
It is not necessary to be 100% French-speaking, but just to publish, or to participate in French language
---
En plus des gains par sélections, chaque jours vous pouvez poster un ou plusieurs commentaires avec sur ce post pour pouvoir bénéficier de plusieurs bonifications.
In addition to earnings by selections, each day you can post one or more comments with on this post to be able to benefit from several bonuses.
---
---
---
---
Offrez des pourboires : Laissez dans les commentaires au minimum une commande de type pourboire avec le duo des commandes !MEME !GIF suivit d'un terme francophone sans accent.
Exemple: !LUV !MDR !PIMP !CTP !MEME !GIF francophonie
Exemple: !PGM !LADY !ALIVE !PIMP !WINE !BEER !PIZZA !CTP !MEME !GIF egalite
---
Encouragez le post: En votant ou en le rebloguant. Ceci n'est pas obligatoire, mais cet encouragement peut bonifier vos gains.
---
Laissez une photo ou image : Il est aussi possible de laisser une photo ou une image extraite de l'un de vos posts avec le lien du post (nous pourrions le booster).
---
Offer tips: Leave in the comments at least one tip command with the duo of commands !MEME !GIF followed by a French term without an accent.
Example: !LUV !MDR !PIMP !CTP !MEME !GIF francophonie
Example: !PGM !LADY !ALIVE !PIMP !WINE !BEER !PIZZA !CTP !MEME !GIF egalite
---
Encourage the post: By voting or reblogging it. This is not mandatory, but this encouragement can improve your earnings.
---
Leave a photo or image: It is also possible to leave a photo or an image taken from one of your posts with the link of the post (we could boost it).
---
---
A PROPOS - ABOUT @BONUS-FR
📊 Mon rôle : Analyser, Référer, Améliorer, Récompenser
---
🕓 Chaque jour
Je recherche et sélectionne 3 auteurs ayant posté, en utilisant au moins la langue française. Je leur laisse un petit commentaire et leur offre un reblog, un minivote, un ou plusieurs pourboires, 3 points-fr et entre 20 et 100 points-fr selon la qualité de leur post.
Je recherche et sélectionne les participants qui utilisent la langue française dans les commentaires, défis, concours, cadeaux, loteries;
Je scan les posts de @points-fr, @bonus-fr, @loterie-fr, @challenge-fr, @tokens-fr et plusieurs communautés sur HIVE.
Je référence, aussi, tous les auteurs actifs qui encouragent le système des points-fr;
Je référence tous les auteurs ayant fait des dons ou délégations aux réseaux des points-fr ou à l'une des communautés partenaires;
Je sélectionne pour les participations sur mon dernier post, le meme/photo/image), puis un terme francophone et finalement un participant (via un tirage au sort);
Enfin, je dresse un bilan de toutes mes activités journalière et je récompense les ayants droit en points-fr en respectant un barème de bonus qui tient compte du type de participation et d'engagement.
Finalement, je publie les résultats des gains et des bonus journalier.
📅 Chaque semaine
Je mets à jour et fait le bilan des bonus (précédemment référencés ou non) qui seront utilisés et intégrés pour le calcul total des points-fr (publications hebdomadaires de @points-fr).
Je partage 50% des gains de mon post de fin de semaine avec 5 participants qui ont cloturé un cycle de 500 points-fr
---
---
📊 My role: Analyze, Reference, Improve, Reward
---
🕓 Every day
I search and select 3 authors who have posted, using at least the French language. I leave them a short comment and offer them a reblog, a mini-vote, one or more tips, 3 fr-points and between 20 and 100 fr-points depending on the quality of their post.
I research and select participants who use the French language in comments, challenges, contests, gifts, lotteries;
I scan the posts of @points-fr, @bonus-fr, @loterie-fr, @challenge-fr, @tokens-fr and several communities on HIVE.
I reference, also, all the active authors who encourage the system of the points-fr;
I refer to all authors who have made donations or delegations to the dots-fr networks or to one of the partner communities;
I select for participations on my last post, the meme/photo/image), then a French-speaking term and finally a participant (via a draw);
Finally, I draw up a report of all my daily activities and I reward the beneficiaries with fr-points by respecting a bonus scale that takes into account the type of participation and commitment.
Finally, I publish the results of daily earnings and bonuses.
📅 Every week
I update and report on the bonuses (previously referenced or not) that will be used and integrated for the total calculation of points-fr (weekly posts from @points-fr).
I share 50% of the earnings of my weekend post with 5 participants who closed a cycle of 500 points-en
Les variations des points de certains comptes sont du à des mouvements de délégations et au changement des cours des tokens de seconde couche.
---
---
VOS RECOMPENSES SUPPLEMENTAIRES EN TOKENS
Le compte bonus-fr est un compte en multitokens qui permet actuellement de booster tous vos tokens en vous récompensant pour l'ensemble de vos taches (post, reblog, commentaire, délégations,...) preuves de votre engagement.
TOP 10 des tokens de 2ème couche avec lesquelles nous récompensons vos multitâches
---
(*) Interface non encore spécifique
Autres tokens avec lesquels nous pouvons vous récompenser : alive, tribes, creativecoin, cent, ctp, fun, leofinance, lolz, meme, neoxian, oneup, archon, pgm, photography, pimp, proofofbrain, sportstalk, splinterlands, vyb, weedcash
Nous gérons actuellement tous les tokens et services suivants: #HIVE(HP) / #BEE / #PIMP / #CTP / #LEO / #NEOXAG / #ARCHON / #CENT / #MEME / #ALIVE / #POB / #CCC / #STARBITS / #PIZZA / #STEM / #BUIDL / #SBT / #LVL / #SIM / #DEC / #BUDS / #NFTM / #THGAMING / #ENTRY / #SPT / #ONEUP / #DUNK / #SME / #GAMER / #BEATCZ / #SPS / #VOUCHER / #BRO / #DHEDGE / #FOODIE / #ECENCY / #HBIT / #BHT / #PGM / #LOLZ / #LUV / #HUSTLER / #MEOWLEO / #WAIV / #LIST / #CINE / #SPORTS / #COM / #VYB / #WEED / #UTOPIS / #VIBES / #LASSECASH / #WINEX /
Si vous voulez nous encourager, vous pouvez voter ou laisser un commentaire.
---
---
---
---
POUR RETROUVER ET GAGNER DES BONUS PARTICIPEZ
=> VOIR NOS SELECTIONS DE POSTS
=> VOIR NOS CHALLENGES
=> VOIR NOS DELEGATAIRES ET SPONSORS
=> FAIRE DES DELEGATIONS A LA RUCHE
=> FAIRE DES DELEGATIONS A TOKENS-FR
---
Image source & readapted Free image from Favpng
Posted using LasseCashlinlove
Posted using LasseCash
---
---