Teddies Bare Kush: Just Another Day on Ceres 7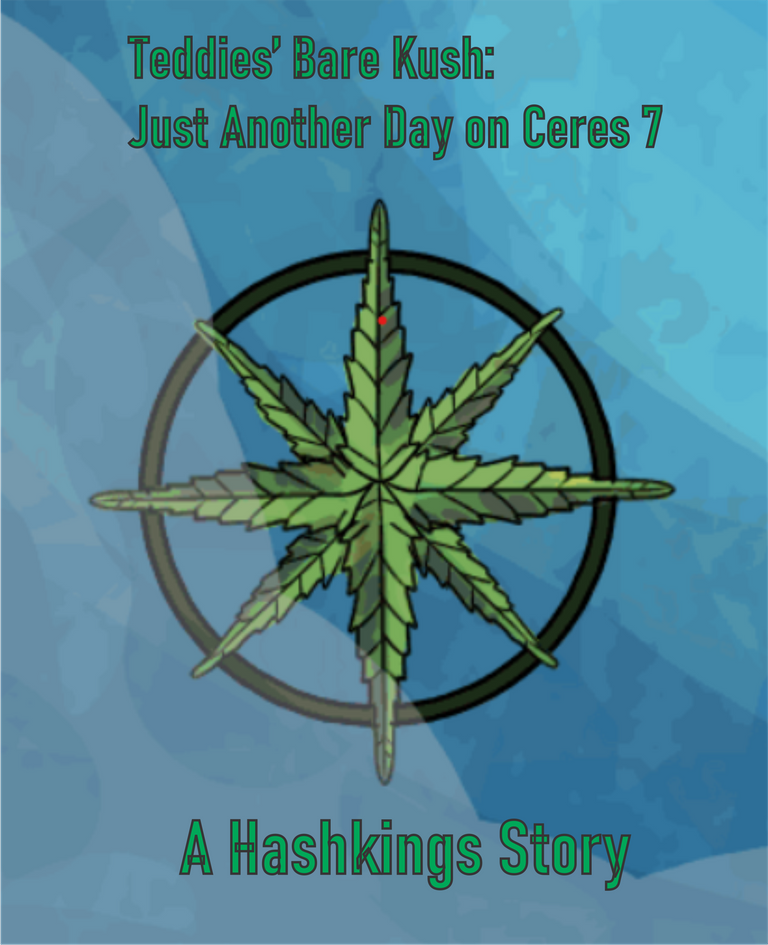 This is a late entry for the contest here in the Scholar and Scribe community check them out! This story is written in the Hash Kings game universe and involves hashkings #NFT characters. Without further or do, here you go.
Teddies Bare Kush: Just Another Day on Ceres 7 Part 2
(Part 1 here)
The zombies exited the transport vessel and sighed in the stale air from the dome's interior. Ted sauntered down the loading ramp and tapped his pipe against the heel of his boot.
"Good job boys, great work. Take a break you've earned it." Ted said patting Colonel White Widow on the back as she stood amongst her troops. The remaining crew grumbled as Ted whistled and strode past them towards the androids unloading the precious cargo upon dollies they rolled inside the austere structure.
Even though ted rarely gained experience through combat he would always say he gained experience smoking joints, even though the rest of the crew perhaps held a different idea of the significance of Ted's baking sessions. Pinners, spliffs, blunts, you name it. Ted burned through "experience" like nobodies business, and he certainly would always feel an "experience" as he liked to call it.
"What else is there to do with a crew this phenomenal? I never have to defend the damn harvest, might as well field test it" thought Ted to himself as the last of the odorous bounty was unloaded and disappeared behind the clang of dark metal doors. All androids and undead boarded the vessel as it swiftly departed back into the barren desert.
They were heading back to their habitation and agriculture biosphere. Dome sweet dome, as everyone called it. The weed they grew was part of a vast network organized by the intelligence that ran the biosphere. Ted didn't really bother to fathom it. He knew there were various rogue A.I. and their minions trying to do what they were doing or take their hard grown buds.
"I suppose I am a minion, huh?" Ted thought as smoke trailed out his nostrils after another pipe hit. "Ah well, All I know is we grow the best kush this side of andromeda" The remaining weed in his battered pipe turned bright crimson as he took another hit. The cargo hold was empty now aside from a few chairs that were usually occupied by androids assuring the safety of their precious plant matter, today it just had a stoned zombie with an arrow in his head blowing smoke rings.
"I wonder if they'll ever name a strain after me" mused Ted as he cleaned his pipe preparing another hit from the pouch in his breast pocket. "Teddies' Bare Kush" he said and stood in the empty cargo hold as if it was an amphitheater of the adoring media taking temporal recollections of his products great unveiling. The only thing he heard in response was his echo and the squeak of his chair as he sat back down.
"What are you on about?" a gruff voice barked from the corner of the cargo bay. Ted jumped in his seat, "Nothing Colonel" he responded. He'd have known that gruff voice anywhere.
"What's Teddies Bare Kush?" asked the Colonel as she stepped from the shadow, pulled a chair towards her, and sat in it inversely. She then pulled a fat joint from behind her ear placed it in her lips and Ted gave her a light with his already handy zippo.
"Well Colonel, if I was ever able to have my own strain. That's what I'd call it." Ted paused for a moment in heavy thought. "You know White Widow isn't bad either." He said with a wide goofy grin on his face. The colonel laughed hard and slapped Ted so hard on his back he spat out his pipe.
"In your dreams. Not in this universe, who would name a strain something like that?" The colonel said as she wiped a tear and continued to chuckle.
"You did good out there Ted" Said the colonel. "The crew may think you're a lazy jag, but it's their solidarity in thinking you are a lazy jag that gives them comradery" She paused for a moment as she took a drag.
"I know you're the ghost of Mare Anguish Ted," I know you're the last line of defense not because you can't handle the fray. Cut the bullshit, why did the A.I. put you on cargo defense as the last line?"
Ted popped his shoulders and readjusted himself. "Why to kill whatever kills all of you of course" He said with cold eyes and a grin so sinister it would've sent a shiver down White Widow's undead spine (were it capable of feeling). The air was thick with dread, until Ted got up picked his pipe and dusted it off and put his pipe back into his light hearted smirk. He began to walk off towards the stairwell leading to the upper deck to the upper deck.
"And I'm not a ghost Colonel, just a zombie" he called back as his feet clanged in his ascent.
Just another Day on Ceres 7
---
---