Holidays with friends and visit to the Cannabis museum // Vacaciones con amigas y visita al museo del Cannabis
---
Recuerdos de unas locas vacaciones con amigas, visita al museo del cannabis
Memories of a crazy vacation with friends, visit to the cannabis museum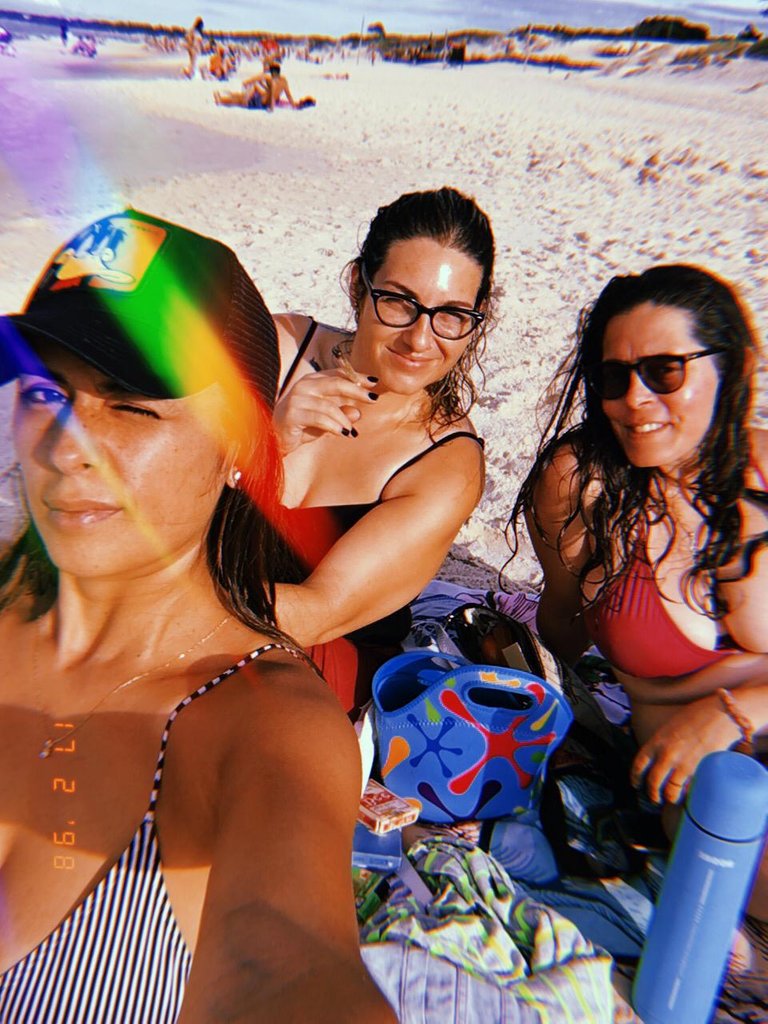 ---
¡Hola mis queridos fumetas! ¿Que tal arrancaron este mes de septiembre? Por aquí ya se está notando que el calor quiere venir. Las plantas están reverdeciendo y algunos pimpollos comenzando a florecer. En este preciso momento está lloviendo muchísimo ya que aquí se dice que en estas fechas viene la Tormenta de Santa Rosa, una tormenta que llega año a año para anunciar el cierre del invierno y la llegada de la primavera y llueve mucho mucho muchísimo.
Por aquí recordando unas deliciosas flores que tuve el agrado de catar hace un tiempo atrás. Porque el cuento es así: llegaba febrero del 2020, antes de que se largara la ¨Plandemia¨, y mis amigas de Argentina querían venir a Montevideo a pasar unos días, visitarme y dejar atrás el estrés, pasar unos días de vacaciones, relajarse y disfrutar. Asique yo no podía recibirlas de otra forma: salí a buscar un poco de flores y esto fue lo que conseguí:
25 gramos de un híbrido que se dejaba fumar, pero no era wow. Lo compré sólo porque no quería quedarme sin marihuana para mis amigas. Luego encontré unos...
7 gramos de una Sativa muy potente y que nos hacía reír mucho, nos dejaba muy creativas, nos pasábamos cantando todo el día. Y la estrella, la de la segunda foto fueron unos...
5 gramos de una Indica que nos dejaba babeando. Era increíblemente deliciosa y sedante. Sabíamos que después de una de esas necesitábamos dormir.
Hello my dear stoners! How did you start this September? Around here you are already noticing that the heat wants to come. The plants are greening and some buds are beginning to bloom. At this precise moment it is raining a lot since here it is said that at this time the Santa Rosa Storm comes, a storm that arrives year after year to announce the end of winter and the arrival of spring and it rains a lot, a lot, a lot.
Around here remembering some delicious flowers that I had the pleasure of tasting a while ago. Because the story is like this: February 2020 arrived, before the ¨pandemic plan¨ started, and my friends from Argentina wanted to come to Montevideo to spend a few days, visit me and leave stress behind, spend a few days on vacation, relax and enjoy. So I couldn't receive them any other way: I went out to look for some flowers and this is what I got:
25 grams of a hybrid that was smoking, but it was not wow. I bought it just because I didn't want to run out of marijuana for my friends. Then I found some...
7 grams of a very powerful Sativa that made us laugh a lot, left us very creative, we used to sing all day. And the star, the one in the second photo were about...
5 grams of an Indica that left us drooling. It was incredibly delicious and sedating. We knew that after one of those we needed to sleep.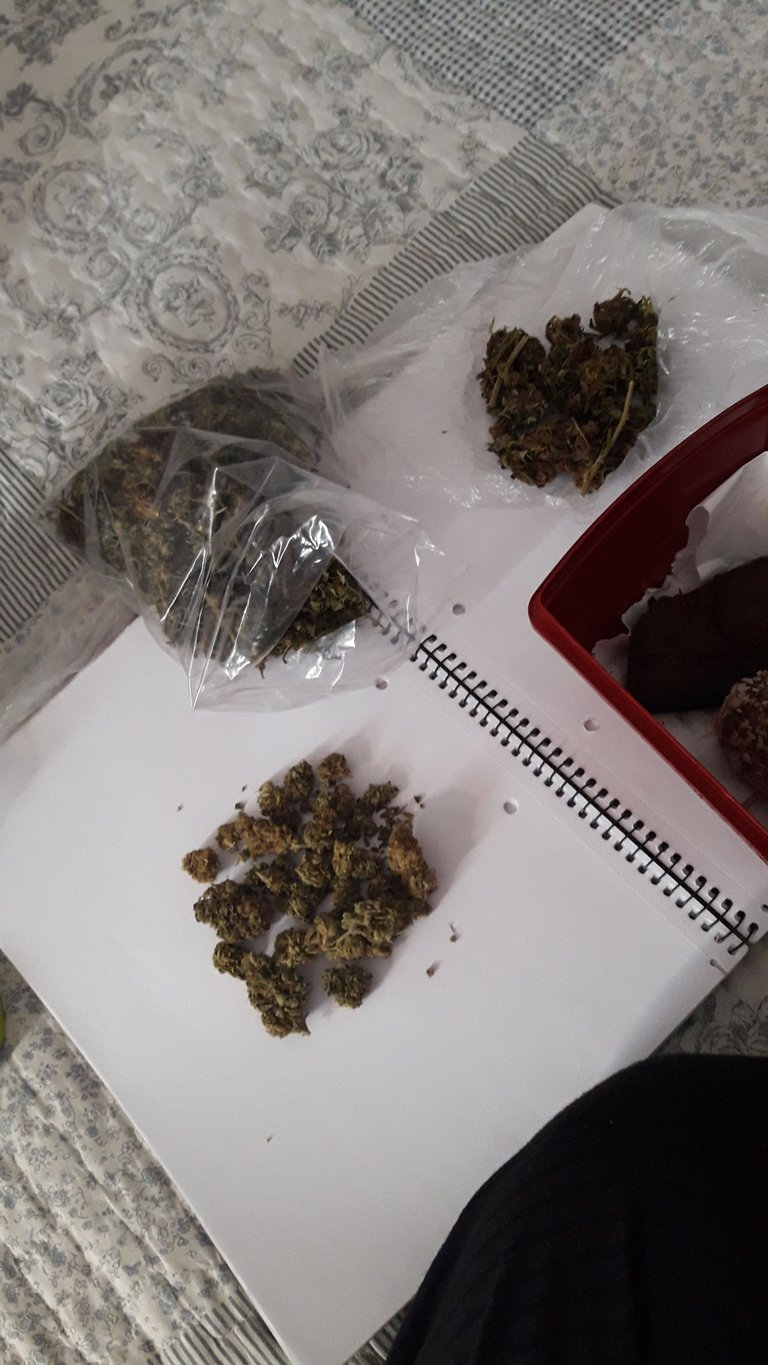 Gathering what I got // Reuniendo lo que conseguí
---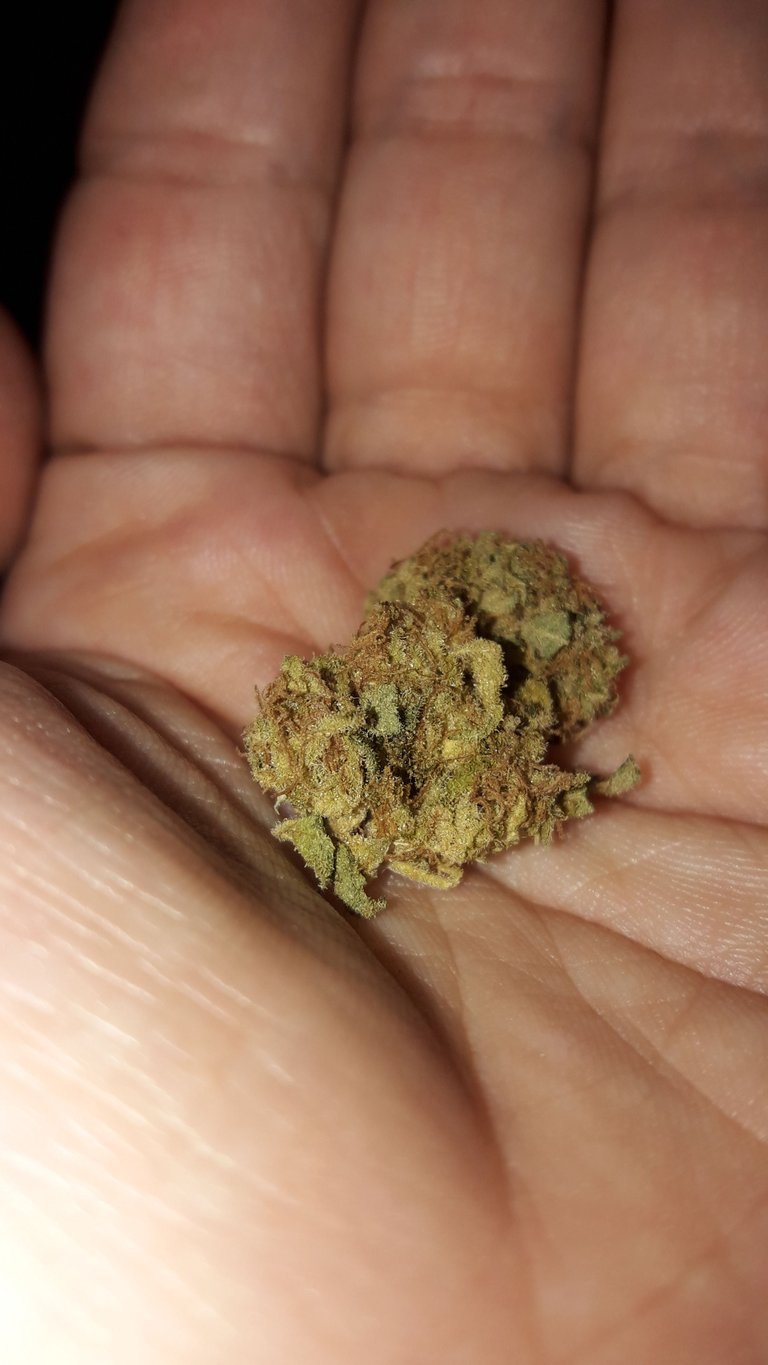 The star, Indica // La estrella, Indica
---
Con las chicas hicimos varias cosas. Al otro día que llegaron fuimos a visitar unos amigos que viven en Las Toscas, un balneario de la Costa de Oro, comimos un rico asado y aprovechamos para ir a la playa, a darnos un chapuzón, tomar sol y mate, relajarnos, charlar, tocar la guitarra y cantar, y por supuesto fumar. Nos divertimos mucho en esos días. Creo que las chicas se fueron contentas y satisfechas por sus vacaciones en Uruguay.
With the girls we did various things. The next day they arrived we went to visit some friends who live in Las Toscas, a seaside resort on the Gold Coast, we ate a delicious barbecue and took the opportunity to go to the beach, to take a dip, sunbathe and mate, relax, chat, playing guitar and singing, and of course smoking. We had a lot of fun on those days. I think the girls left happy and satisfied with their vacation in Uruguay.
---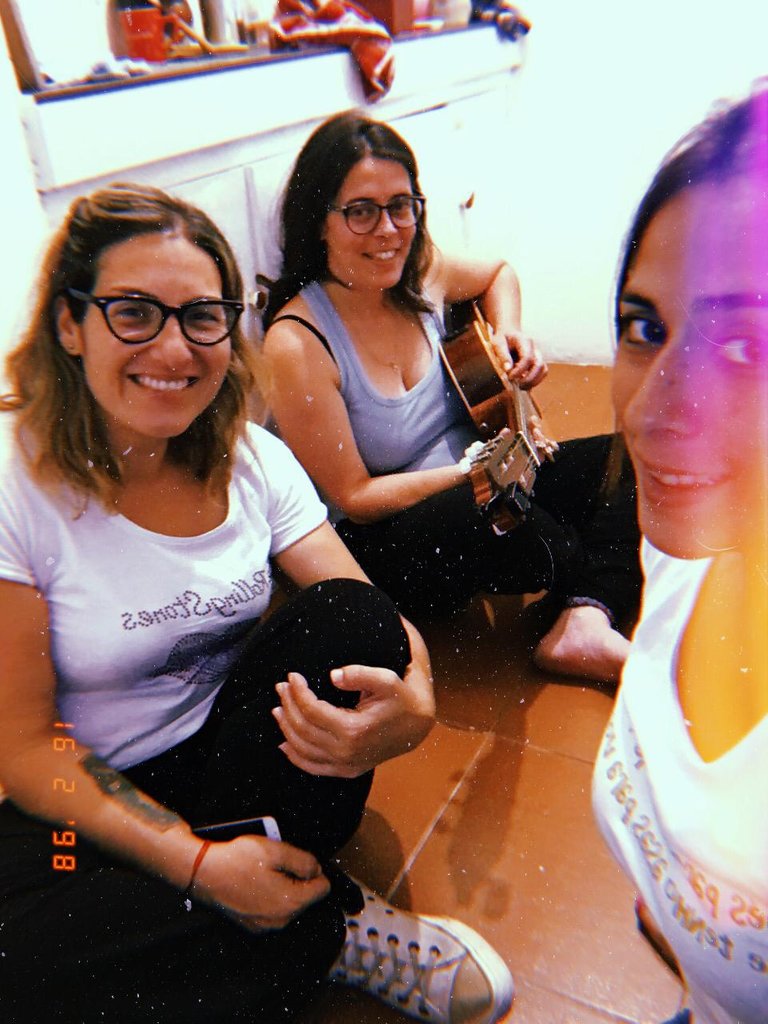 The day my friends came, singing in my apartment // El día que llegaron mis amigas, cantando en mi apartamento
---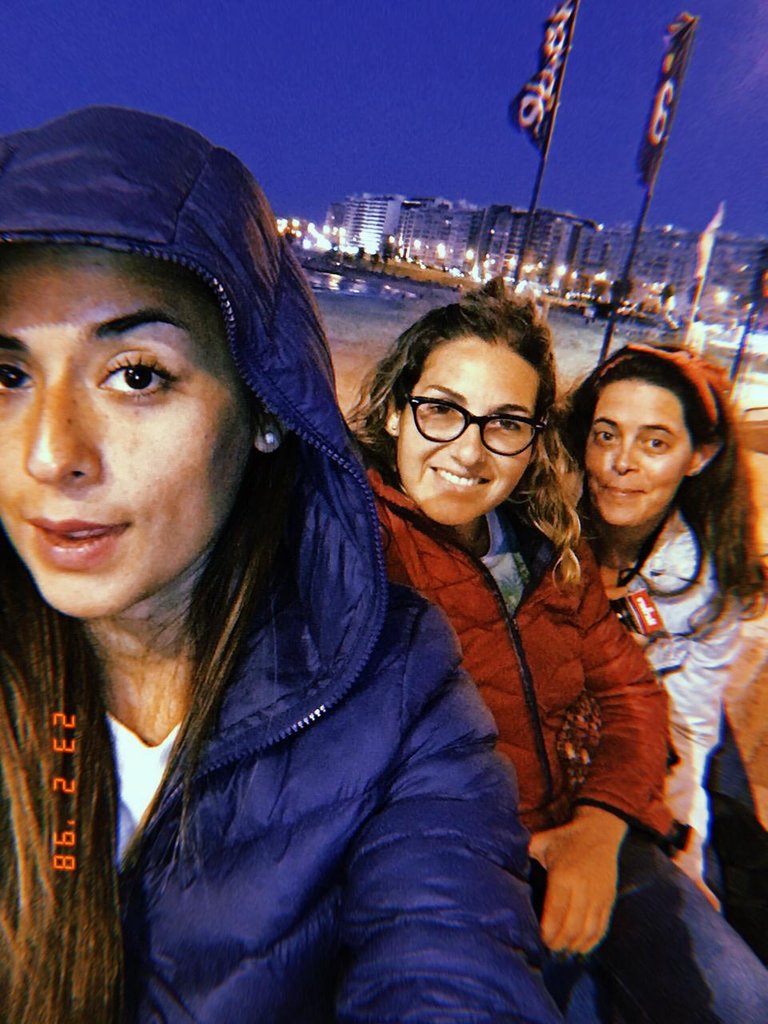 Strolling along the Rambla de Pocitos, the night they arrived in Montevideo // Paseando por la rambla de Pocitos, la noche que llegaron a Montevideo
---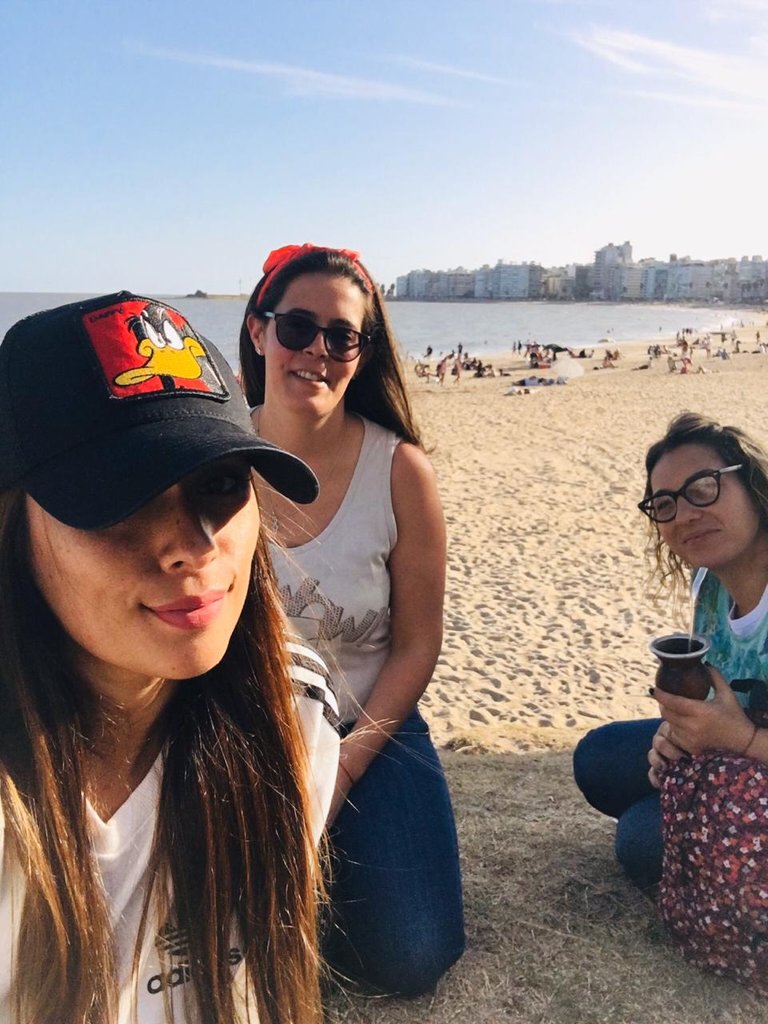 Afternoon walk through Montevideo, rambla, mates and marihuana // Tarde de caminata por Montevideo, rambla, mates y porro
---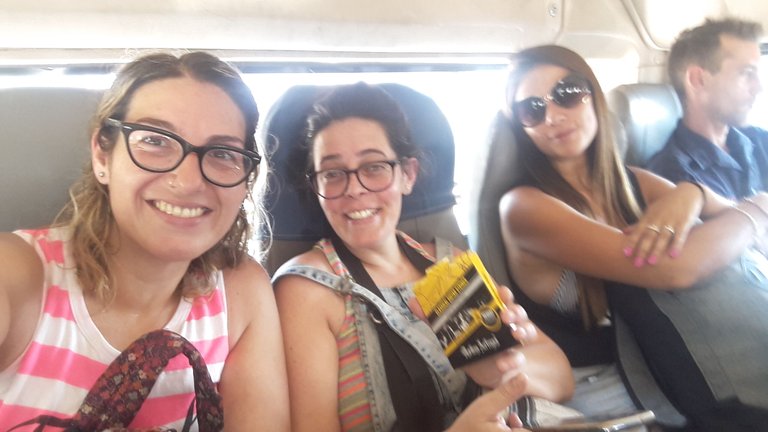 On the bus, going to Las Toscas to eat a delicious barbecue // En el bus, yendo para Las Toscas a comer un rico asado
---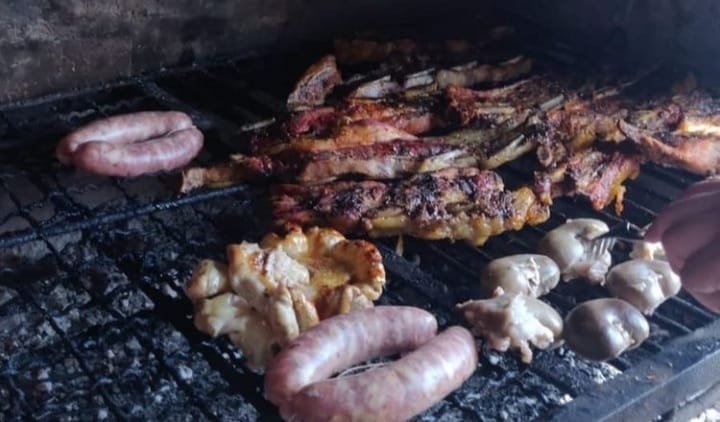 Roasting on the grill // El asado en la parrilla
---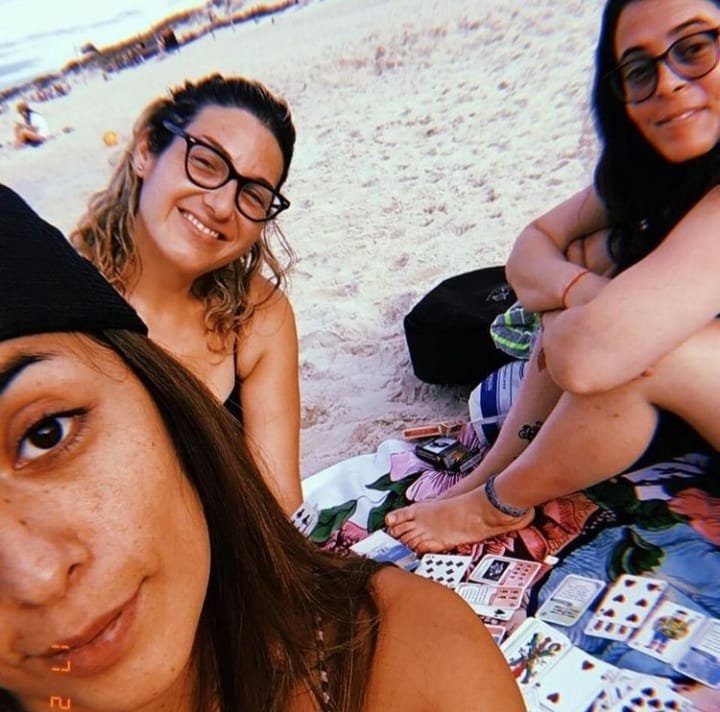 Enjoying on the beach with the girls /
/ Disfrutando en la playa con las chicas
---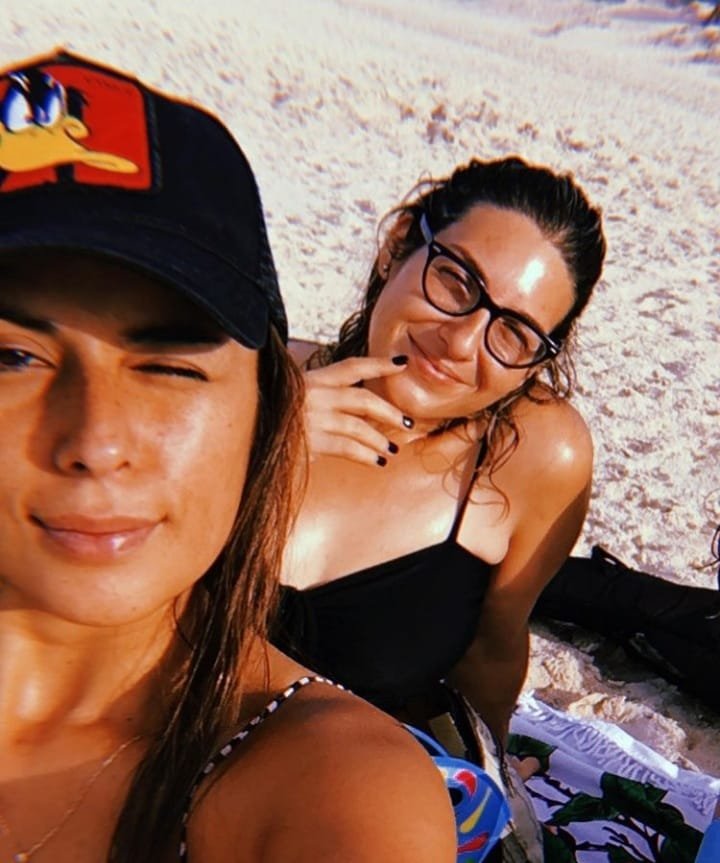 We are re smoked, does it show? // Estamos re fumadas, ¿se nota?
---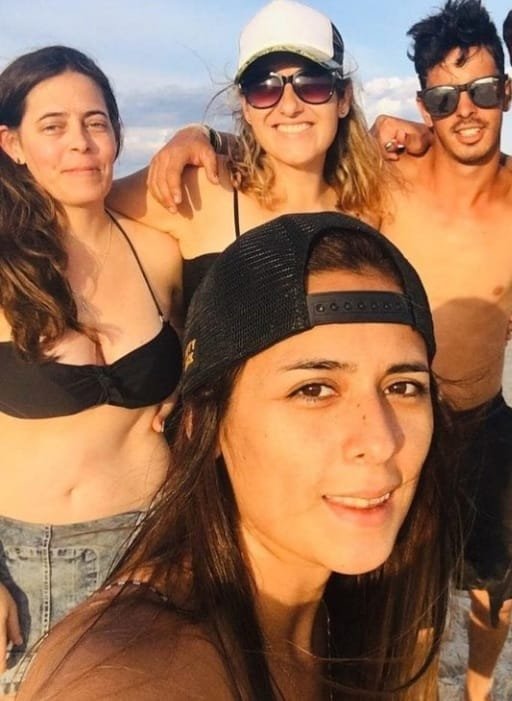 Friends // Amigos
---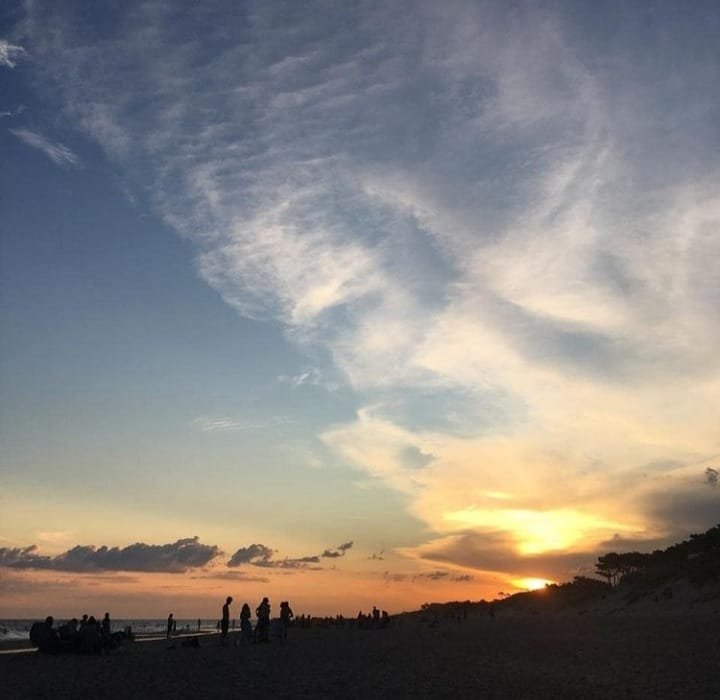 Las Toscas beach, Canelones, Uruguay // La playa de Las Toscas, Canelones, Uruguay
---
Video of an afternoon at the beach singing // Video de una tarde de playa cantando
---
Singing and waiting for the storm on the beach // Cantando y esperando la tormenta en la playa
---
Una de ellas, Justina, la otra chica de lentes, se fue antes porque tenía que trabajar y me quedé con Vane (@vleyes) mi amiga del alma que vive en Buenos Aires. Con ella salimos a disfrutar un poco más de la ciudad de Montevideo. Anduvimos por la rambla, fuimos a Punta Carretas, en esa parte la rambla está llena de piedras donde fuimos a sentarnos a fumar uno tranquilas. Paseamos por el Shopping de Punta Carretas que antiguamente era una cárcel, y claro, tuvimos que comprarnos algunas cositas, vieron que nosotras con tarjeta de crédito somos invencibles!! jajajaja
Fuimos al mirador de la Intendencia de Montevideo, desde ahí arriba se puede apreciar casi toda la ciudad por la altura que tiene. En su terraza se puede dar toda la vuelta para poder apreciar los 4 puntos cardinales de la Ciudad. Con Vane quedamos encantadas de las vistas desde allí arriba. Los edificios históricos y pudimos encontrar un par gracias a unas imágenes que ayudan con la referencia de cada lugar.
Pero el lugar que más le gustó a Vane fue Museo del Cannabis, un lugar emblemático de la ciudad, ya que reúne la historia del cannabis, sus usos desde años remotos, a los pioneros en la materia, marchas, luchas, productos en base a cáñamo y mucho merchandising, además de unas lindas plantitas!! Todo en un solo lugar!! Se los recomiendo si andan por Moontevideo, pueden ir hasta la calle Durazno 1784 esquina Yaro ó buscarlo aquí.
One of them, Justina, the other girl with glasses, left earlier because she had to work and I stayed with Vane (@vleyes) my soul friend who lives in Buenos Aires. With her we went out to enjoy the city of Montevideo a little more. We walked along the promenade, we went to Punta Carretas, in that part the promenade is full of stones where we went to sit down and smoke a quiet one. We walked through the Punta Carretas Shopping, which used to be a prison, and of course, we had to buy some little things, they saw that we with a credit card are invincible!! jijiji
We went to the viewpoint of the Municipality of Montevideo, from up there you can see almost the entire city because of its height. On its terrace you can go all the way around to appreciate the 4 cardinal points of the City. With Vane we were enchanted by the views from up there. Historical buildings and we were able to find a couple thanks to some images that help with the reference of each place.
But the place that Vane liked the most was the Cannabis Museum, an emblematic place of the city, since it brings together the history of cannabis, its uses since ancient years, the pioneers in the field, marches, struggles, products based on hemp and a lot of merchandising, as well as some pretty little plants!! All in one place!! I recommend them if you are in Montevideo, you can go to Calle Durazno 1784 at the corner of Yaro or look for it here.
---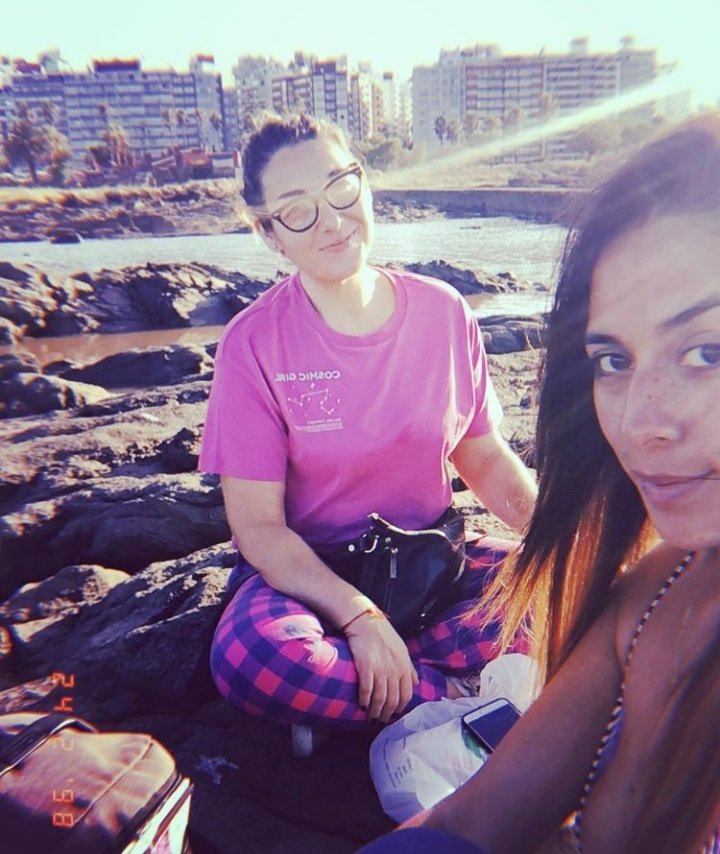 Strolling along the Rambla of Punta Carretas // Paseando por la Rambla de Punta Carretas
---
Going up the elevator of the Municipality of Montevideo to go to the terrace // Subiendo por el ascensor de la Intendencia de Montevideo para ir a la terraza
---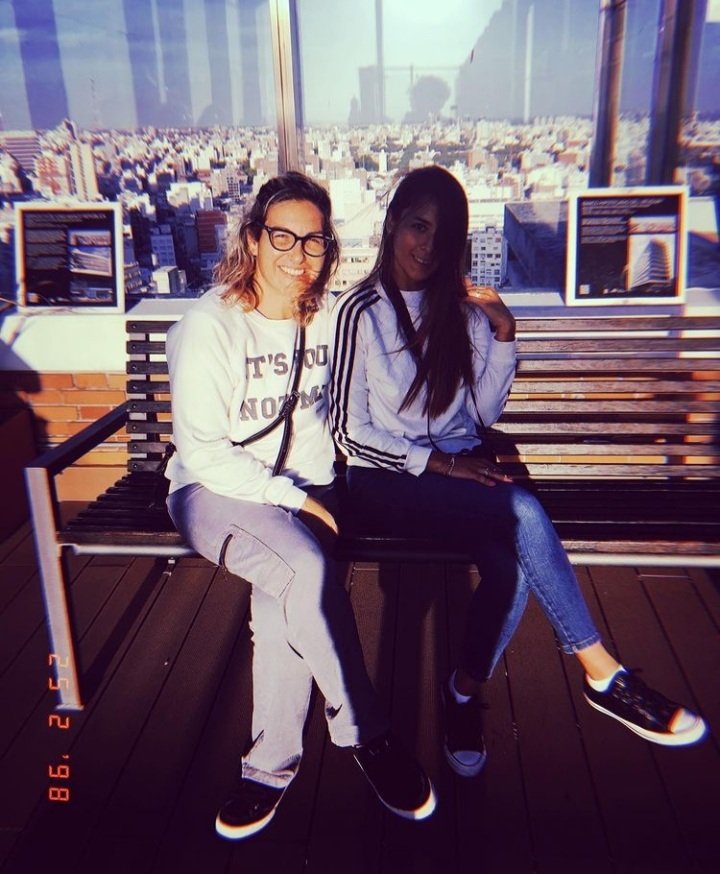 At the Intendancy viewpoint, you will see that behind us there are photos of the buildings that we can see from up there // En el mirador de la Intendencia, verán que detrás nuestro hay fotos de los edificios que podemos ver desde allí arriba
---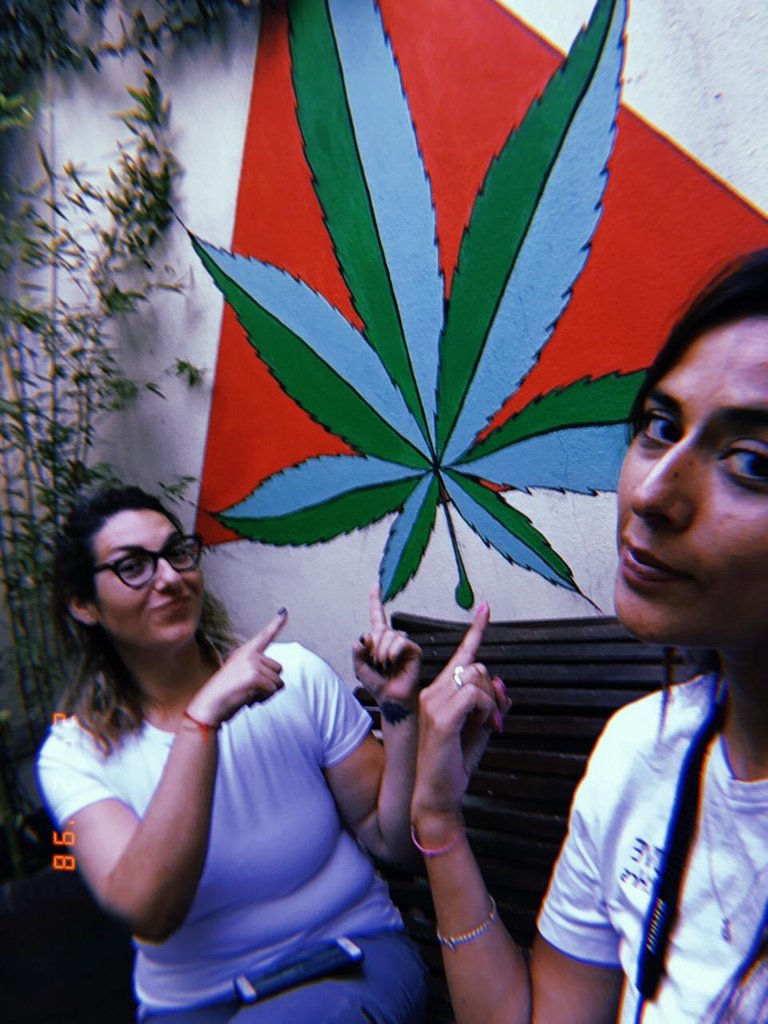 With Vane at the Cannabis Museum /
/ Con Vane en el Museo del Cannabis
---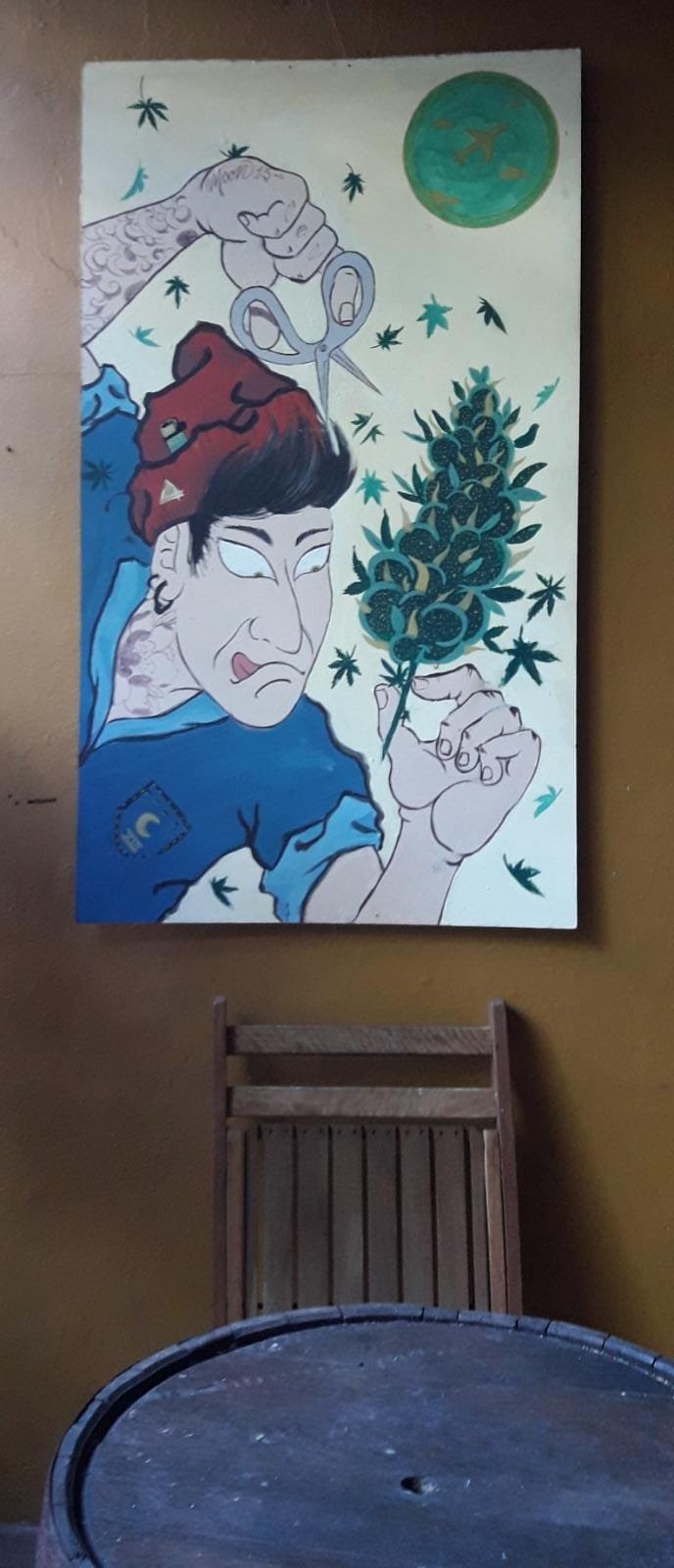 A corner of the museum that I liked /
/ Un rincón del museo que me gustó
---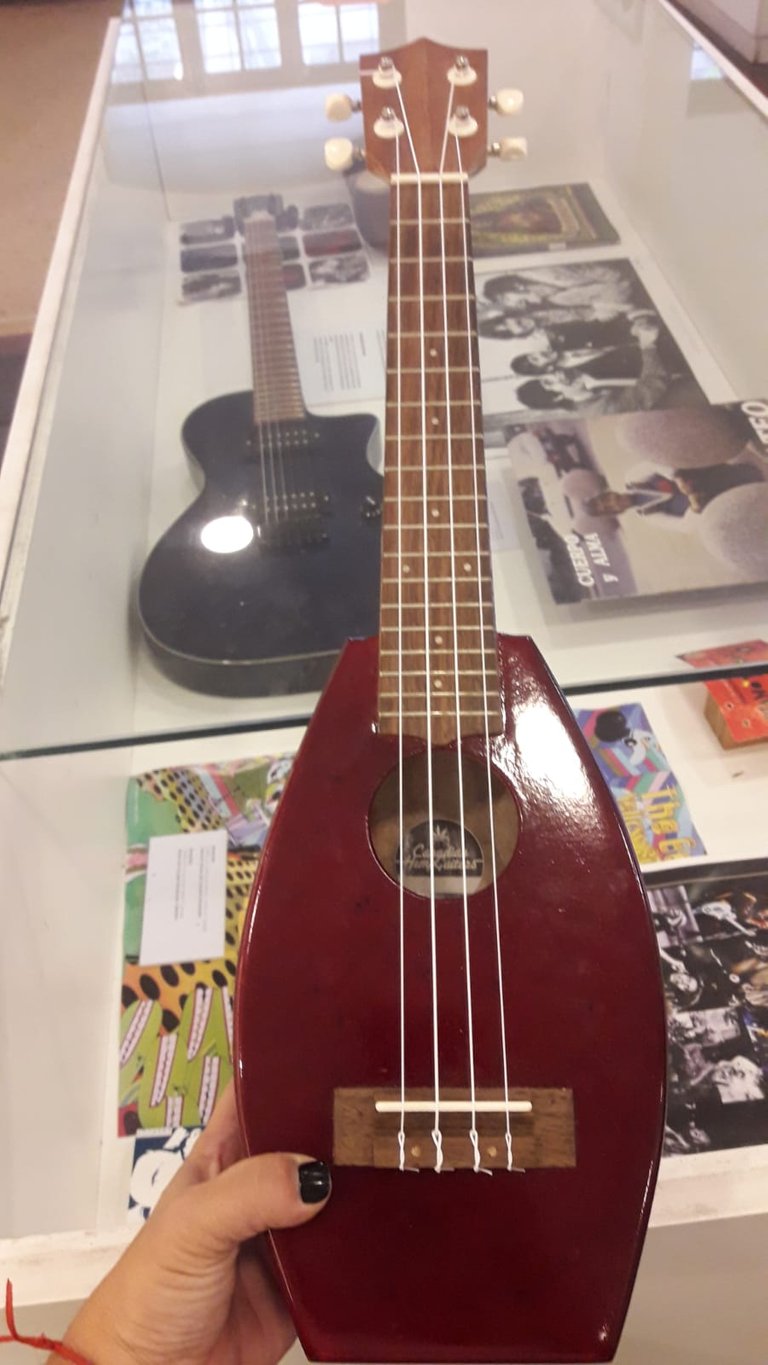 Ukulele made with hemp // Ukelele fabricado con cáñamo
---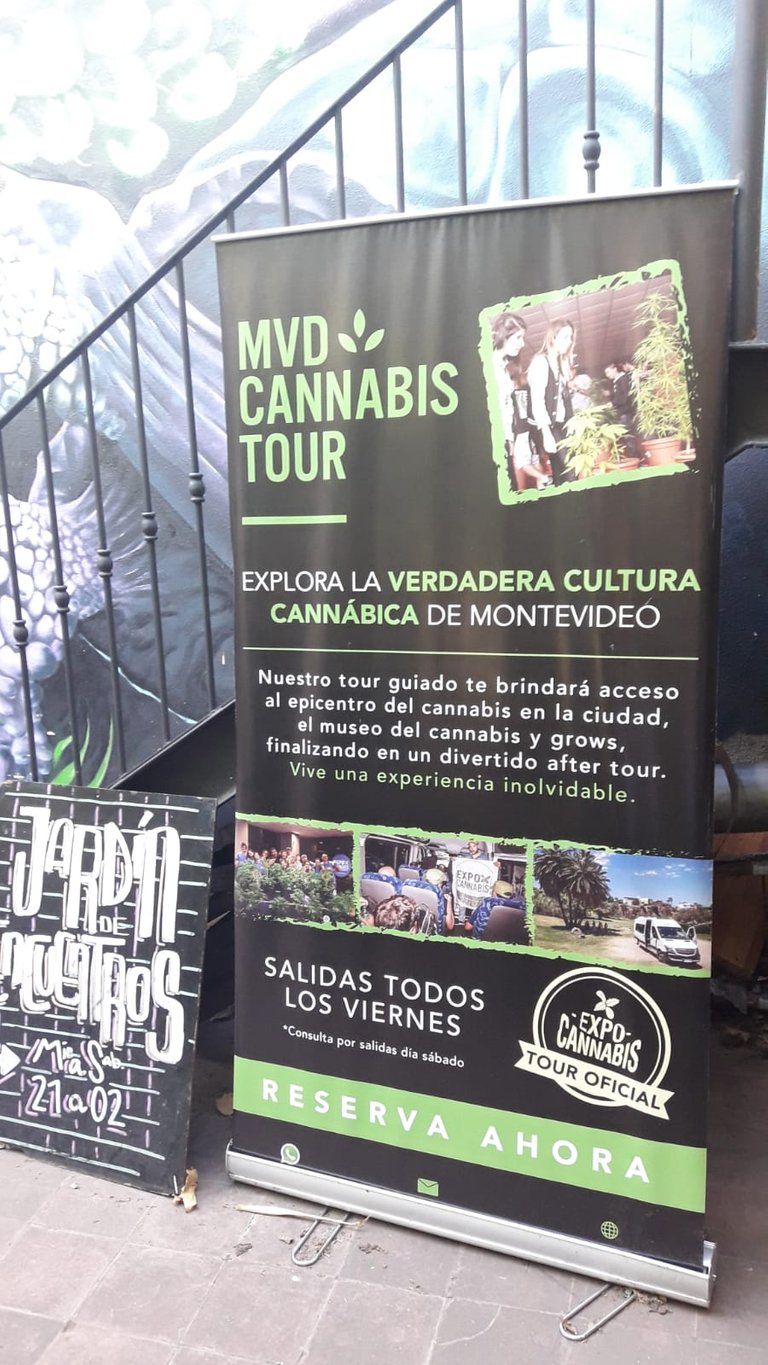 Promotion of the Cannabis Tour that takes place in Montevideo // Promoción del Cannabis Tour que se hace en Montevideo
---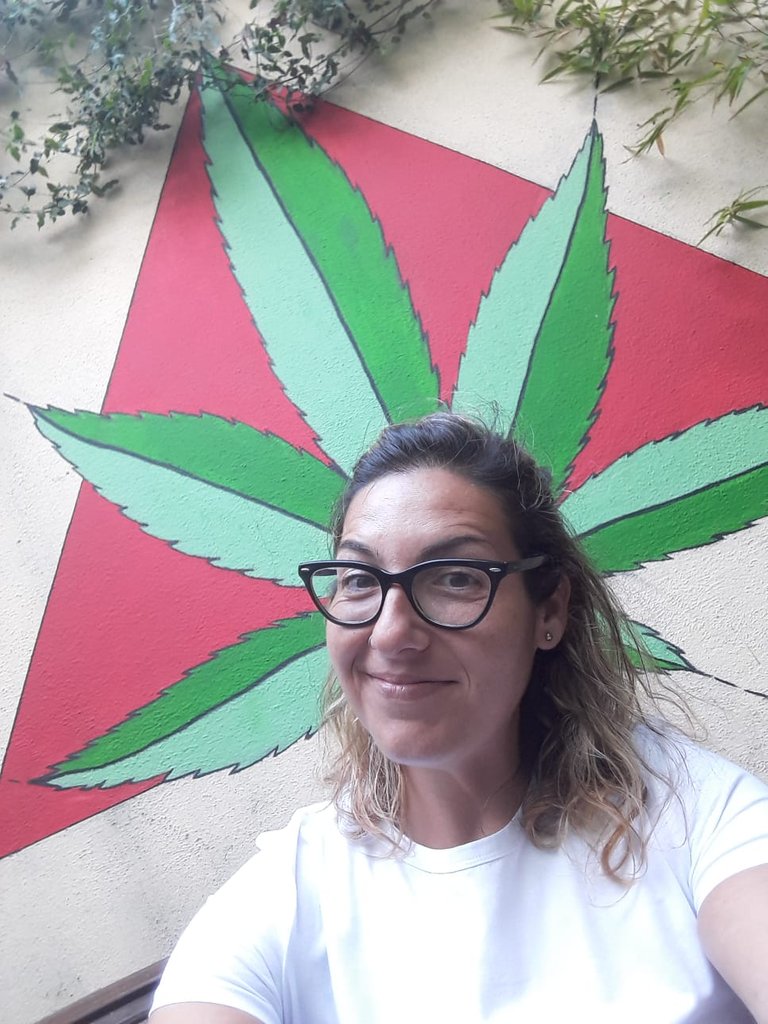 My green crown is the best! // Mi corona verde es lo más!
---
Y así se pasaron esos 10 días que estuve de anfitriona en este paisito tan bello y con tantas cosas para hacer, y tantos lugares por conocer, sinceramente hay rincones en Uruguay que son únicos e irrepetibles, y que espero todos ustedes puedan venir a conocerlo algún día. Vane me prometió volver, y espero así sea, y que sea pronto.
Como habrán visto ella ya se hizo su cuenta de Hive, pero entre su trabajo que le lleva mucho tiempo y su papá que está bastante delicado de salud, no tiene nada tiempo, y al ser nueva en este tipo de tecnologías, necesita tiempo para conocer el código, entender el funcionamiento y poder crear contenido de calidad. Yo creo que tiene muchísimo potencial y espero que pronto tenga el tiempo suficiente para comenzar su viaje aquí en esta maravillosa plataforma y comience a monetizar sus experiencias y conocimiento.
Las fotos son: algunas mías, otras de Justina y otras de @vleyes, y fueron tomadas con los respectivos celulares que teníamos en el momento, ellas me dieron el ok para usarlas en este post!
Espero les haya gustado. Si llegaste hasta acá puedes ayudarme con un upvote, comentario y/o reblog. Hasta la próxima!
And that's how those 10 days spent as a hostess in this beautiful little country and with so many things to do, and so many places to visit, there are honestly places in Uruguay that are unique and unrepeatable, and that I hope all of you can come to know some day. Vane promised to return, and I hope so, and that it will be soon.
As you may have seen, she has already made her Hive account, but between her work that takes her a long time and her father who is quite delicate in health, she has no time at all, and being new to this type of technology, she needs time to get to know the code, understand how it works and be able to create quality content. I believe that she has a lot of potential and I hope that she will soon have enough time to start her journey here on this wonderful platform and begin to monetize her experiences and knowledge.
The photos are: some of mine, others of Justina and others of @vleyes, and they were taken with the respective cell phones that we had at the time, they gave me the ok to use them in this post!
I hope you liked it. If you got this far you can help me with an upvote, comment and/or reblog. Until next time!
---
And this was what was left // Y esto fue lo que quedó
---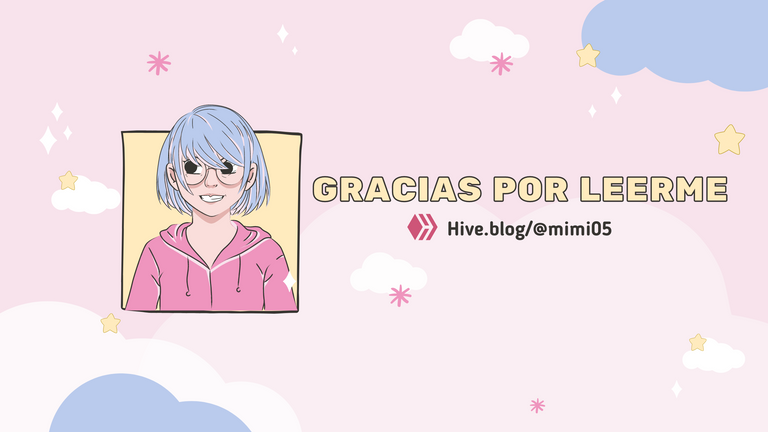 ---
---
---