HiQ №17 | Smart, Stylish & Sexy | HIQS, Swiss Hive, Nectar-Queen, Token Inspectors, Interview with @gamergeek56, Black & White Community, HiQ Smart Bot a.m.m.m.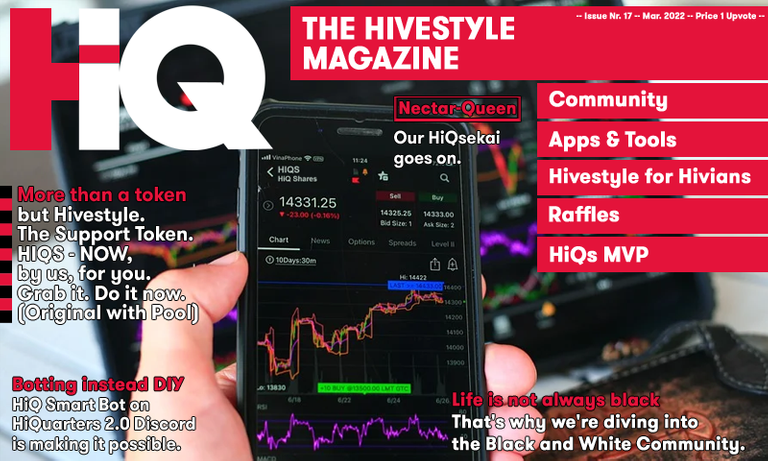 By: @mary-me
➀ EDITORIAL  
We would like to use this month's editorial to thank you, the readers! (Editor's note: Actually we never say thank you - normally we are thanked.) We are overwhelmed by your support.
Without the personal commitment of each and every one of you, none of the projects of the HiQuarters 2.0 team would make sense. We love that you love our shit!
After a quiet winter, we started the new year at full throttle. It seems that the editorial team needed this breather. Winter 2021/22 was the calm before the storm, so to speak. The Hive-Fest was behind us and it was clear that something big had to happen in the new year.
The successful HiQ releases in English gave us the impetus to break new ground. Now it was time to leave the DACH bubble. With more reach and a broader readership, completely new paths opened up for us. We made contacts with the big projects on Hive. And because we stand for transparency and all publicity is good publicity, here is an excerpt of the Hive projects with which we havecontact, more or less. (Editor's note: Also because we like to brag about our extremely high Vitamin CC [Con] level).
JBOSS from LVL, @thebeardflex from PIZZA, @flauwy from ONEUP, @rabona, @broxi from Legendary Dragons as contact person to @splinterlands, @roelandp from @hivefest in VR, @blue-rabbit from RL-Hive-Camp at @hive.bodensee, @guiltyparties from @hivewatchers, @thegrandestine from @nectar-queen, @crrdlx from LUV and HBITS and @detlev from the ever-popular BEER-Token. (Editor's note: No guarantee of completeness).
These are all up-and-coming projects, backed by cool people who are very actively working to grow the chain. In the wake of these people, we were looking for a strategy to make the work on the HiQ and the affiliated projects more efficient and lucrative. (Editor's note: COCKOOOO!!!)
And now take a look around: We currently have an active proposal that brings BEE into our coffers every day. We also needed our own Hive Engine token, which is how HiQ Shares, or HIQS for short, came into being. And because we are the smartest, we created the diesel pool HIQS:BEE. (Editor's note: BEE:HIQS is heresy).
We think this way we could solve the monetary problem that the HiQ and its predecessor, the STEEMillu, had at all times. So, you sexy hivestylers, fomo into HIQS and into the pool, then our plan will work and we can concentrate on new hot shit without financial worries.
What else can you expect in this issue, you ask? The HiQ Smart Bot is introduced, the Swiss Hive Community is highlighted, as is the Black & White photo community. Then it's on to Token Inspector Gadget and Nectar Queen. As always, the issue is rounded off with Hivestyle for Hivians, Gossip and the ever-popular readers' letters.
Smart as we are, we have come up with a special treat exclusively for our readers. At the release of each new issue, our loyal fans have the opportunity to get their hands on HIQS at a special price. Read more in the HIQS article in this issue.
The HIQS Leaderboard should be mentioned here as an absolute highlight. You can read and marvel at what it is all about in the corresponding article in this issue. We also advise you not to miss the current competition, more information on which can also be found in the HIQS article.
So now have fun browsing, you stylish Fomo Sapiens. ★

TABLE OF CONTENTS
  ➀ HiQs MVP - @hiq.shares
  ➁ Column - Community Marathon
COVER STORY
  ➂ Take notes - About Diesel Pools, FOMO and our new own Token - HIQS
  ➃ Nectar-Queen - Now, in my life as Fomo Sapiens I maxed out my fomo
Apps & Tools
  ➄ Botten > doing manualy - A true Fomo Sapiens bots
Community
  ➅ Token Task Force Alpha 2022 to the MAX - Token Inspectors
  ➆ Indipendent like Switzerland - Swiss Hive
  ➇ Interview: @gamergeek56 - The rising star on the horizon
  ➈ Don't see everything so black - Black & White Community
Hivestyle
  ➉ Hivestyle for Hivians
  ➀➀ Gossip
  ➀➁ Readers' letters ★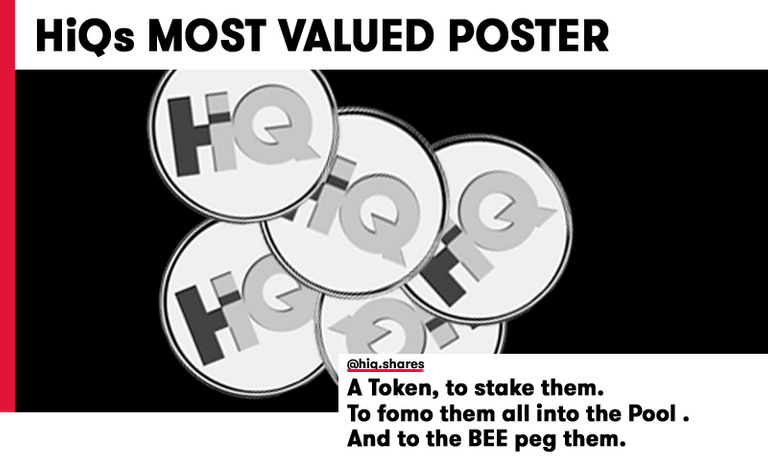 By: @smooms
➀ HiQs MVP  
Although it's a new account on Hive, this one has been keeping HiQ editors on their toes for the past few weeks. It is none other than @hiq.shares. Feast your eyes for this brand new account.
@hiq.shares - A new token sees the light of day. HIQS. @hiq.shares is the associated account. This account became part of Team HiQuarters 2.0 as the administrative account for the HiQ Shares.
HIQS - The Supporttoken. That is the motto. Intended as a support token, it was created to additionally honour the work of our editors.
In addition, you can stake the token in a diesel pool and earn big rewards. We're not the only ones who think it's smart - about 700 other users do, too.

Are you HiQ's next MVP? Do you want to call yourself the most stylish user of the month?
NEW: Submit 10 HIQS & get 100% votes for 1 MONTH!
Every month we are looking for the most stylish hivian of Hive. You can submit your photo too! Send 10 HIQS (+ bribe) to @hiq.magazine with the memo "HiQ MVP + link to your profile".
We will then publish your picture in one of the next issues. Additionally, we'll put you in our auto-voter for a month. That means at least 28 days of 100% upvotes from the smart HiQ trail. ★
(only 1 Vote per day)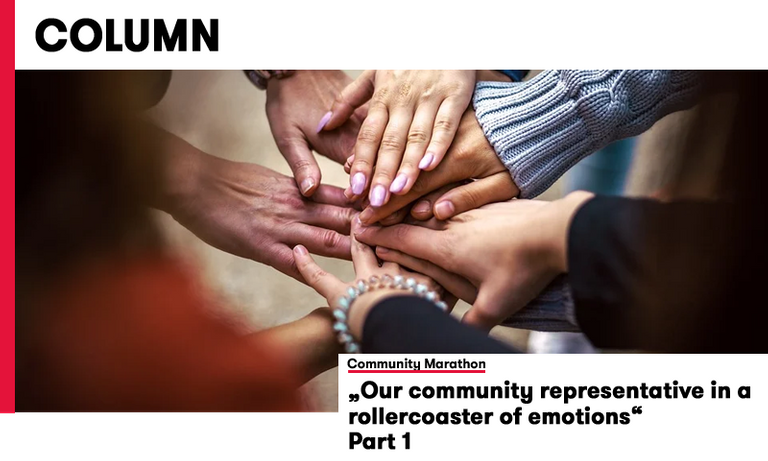 By: @themyscira
➁ COLUMN  
As a newbie, @themyscira is currently going through a community marathon that is making her sweat. In the process, she had more luck than good sense and was spotted by a couple of whales.
I can tell you, this is a real sense of achievement and the story of success has now entered a new era: With our smart HiQ token, which also serves to reward the newbies in our team. What? Rad, you think? Yeah, this smells like a new Hive Society.
The Fomo Sapiens on hivespeed mode in the hivefish tank - a new monumental blockchain entity is emerging here, darlings. Does that sound smarter? Does it sound stylisher? Does it sound sexier? Can you feel it? Yes, I know you can feel it. That's why you're HiQ subscribers. (Editor's note: If not, smash SUB into the comments.) Best of all, we're thinking of our eager readers too, of course. You can read more about it in this issue.
The blockchain lives on newcomers and users who constantly optimise their qualities and sometimes venture into foreign territory. So I thought the community marathon would be an excellent option to do some blatant fomoing and show that newcomers also have a chance to gain a foothold on the blockchain.
That calls for venturing into new territory and doing some blatant fomoing to push the communities. Because the ideas of the admins are mega and they would be happy about more versatility that lies dormant in all of us. Let's start a new hive vegetation at the beginning of spring and let the blockchain meadow blossom.
So I refer you to the Community Report in this issue for an example of how much colour can come into play when new doors are opened. Since journalistic diligence is close to our hearts, we will also take a look at the dark side of the communities, because that is also part of blockchain life. But more about that in the next issue. ★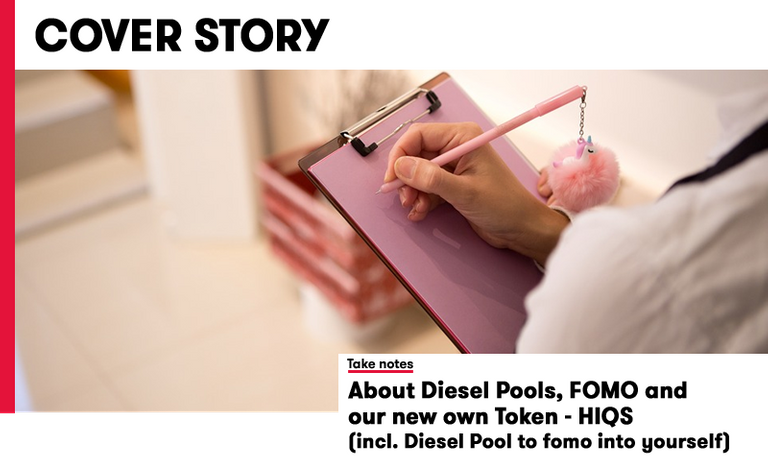 By: @thatgermandude & @quekery
➂ COVER STORY  
You want to know everything about Diesel Pools and the token project "HIQS - The Supporttoken"? You also want to win something? Then let's dive deep into the fomo hole!
As you could already read here and here, we became token makers. The HIQS token has been available for almost two weeks now. We are still intoxicated by the first success of the token.
Now, if you're wondering what the HiQ needs a token for, we can only ask, "Didn't you read our posts?" If not, we'll have to start all over again.
In the beginning was the Big Bang. Okay, that was a little too far. HIQS have the sexy name HiQ Shares. They are meant to support us, our fans and our projects. Of course, you can trade the token normally on Hive Engine. But that's not all by far.
If you're stylish enough, you can get a bunch of HIQS, stake them, and if your stake is high enough, you'll end up on the leaderboard. (Editor's note: Which you can already admire - in this issue.) Only the top 10 will end up on the leaderboard. The top 3 can even place an advertising banner in the HiQ.(728x90)
Smart hivestylers, however, can also fomo into our HIQS:BEE diesel pool. "You have a Diesel Pool?" Oh yeah! To fund this pool, we put up a proposal on Tribaldex, which has also been funded and will feed the pool with rewards for a year. (Editor's note: And we're pinching 10% for ourselve... we mean for fixing our costs, building the community, investing in other projects, our effort and all that good stuff)
To test out all the functions we wanted to have a limited timeframe on the reward pool and decided for 42 days. We are not sure if we can prolong the reward pool before it has run out, but any way we will definitely give Liquidity Pool rewards for the pool for at least one year.
We wouldn't be who we are if we didn't have a journalistic and educational interest in doing so. "How do you set up a Diesel Pool? How much does it cost? How do the rewards come about? What are the possible settings? What about pricing and arbitrage? How could tokenomics be designed?" and much more....

"Don't babble your fomo Chinese at me. I want to know how to fomo hard in the pool!"
Let's get down to business. (Editor's note: We can save the rest of the questions for later issues.) To fomo into the pool extremely hard, you need HIQS and BEE, of course, because the pair is HIQS:BEE. You need both tokens in equal parts. If 1 HIQS would be worth 0.5 BEE, you would need 2 HIQS for each BEE. (Editor's note: But now don't come with: "Let's do the math!").
You can obtain HIQS in three ways:
1. buy in the comments:
Our annual plan is to bring 5 000 HIQS to all you hivestylers every month. We sell 3 600 in 4 intervals at a discount price. To prevent arbitrage trading and dumping, we distribute them among our commentators of the main issues (@hiq or @hiq.magazine) and the posts of @hiq.redaktion. In this main issue you can buy up to 900 HIQS via comment - for the unbeatable price of 0.3 SWAP.HIVE each. Just write !HIQS and the number of HIQS you want to have in the comments. (Example: !HIQS 20) After 48 hours the 900 HIQS will be sent to the interested people. If the demand exceeds the 900 HIQS, we will distribute the HIQS as follows:
Let's say six users want to have more than 900 tokens in total.
T1=90 HIQS
T2=60 HIQS
T3=900 HIQS
T4=100 HIQS
T5=200 HIQS
T6=300 HIQS
Since we only sell 900 HIQS, the cut for 6 users to Smoomsdam Smoomse would be 150 HIQS. According to the smooms rule, all those who want to have less than 150 are then served, i.e. T1, T2 and T4. Then divide the remainder (650) by 3, 216.66, and give T5 his part because it is below that. The rest of 450 is divided equally between T3 and T6, so 225 for each. So in the end our six sample hivestylers get:
T1=90 HIQS
T2=60 HIQS
T3=225 HIQS
T4=100 HIQS
T5=200 HIQS
T6=225 HIQS
2. in the hive engine market:
Any proud owner of HIQS can of course sell them on the Hive Engine market. Since the official sale of HIQS is via comment, the orders on the market will be from Hive users, which may also affect HiQ team members.
3. swap over the pool:
If you want to have HIQS, but there are no cheap ones on the market, it is worth looking at the Pool. Once you have selected the Pools tab, you can enter the pool you want to swap in the search.
Here, if the HIVE value of the BEEs needed for the swap are less than the HIVEs you are paying in the market, then the swap is worth it. If you get the heretical idea to swap your nice HIQS into boring BEES, you can of course do that, BUT, we ask you not to do it if you just bought a special offer from us. That would be so-called arbitrage trading and harm the HIQS project.
Since we want to offer our special offer only to genuine supporters of HiQ, we reserve the right to blacklist users for the special offer if they engage in arbitrage trading or similarly misappropriate the tokens.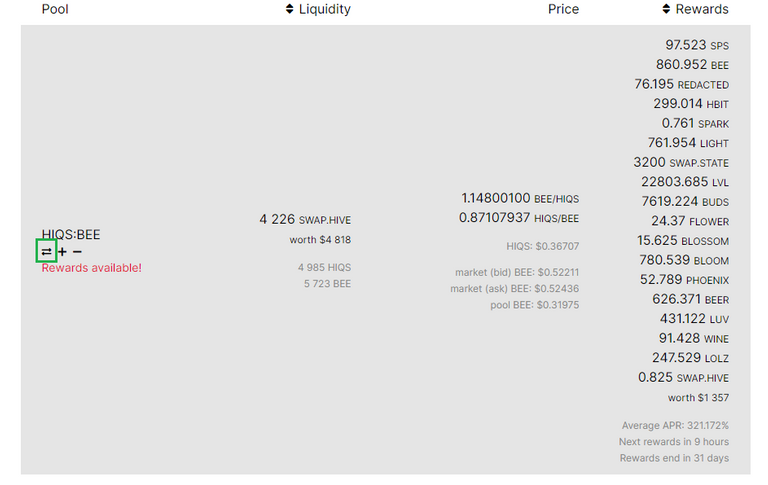 On the picture above you can see how to get to the swap. Below you can see that if you set 1 HIQS, you will get the BEE price of one HIQS.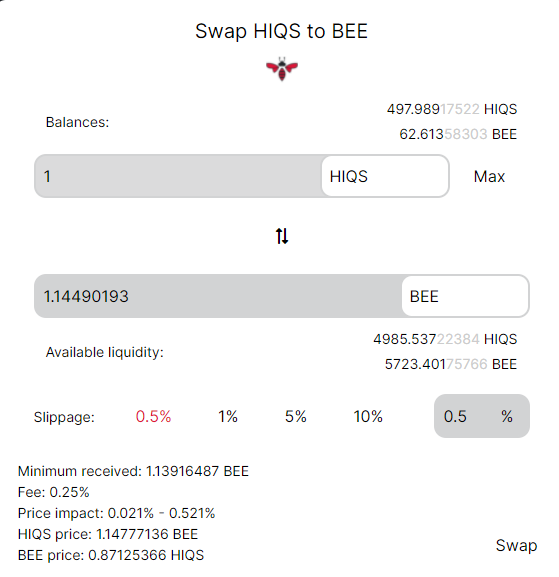 4. win HIQS
In each issue we will give away 100 HIQS. This month you have to do the following task:
Tell us your hardest fomo story.
Write us your smart, stylish or sexy story in the comments. (Editor's note: It can also be crazy, lool.)
We will draw five winners from all entries, who will receive a total of 82 HIQS. The first will win 32 HIQS, the second 20 HIQS, the third 15 HIQS, the fourth 10 HIQS and the fifth 5 HIQS. We will give away another 18 HIQS among the rebloggers and commentators.
We also distribute 300 HIQS per month among various giveway organizers. If you also want to distribute some, please contact us.
We reserve the right to exclude users from the possibility of winning in extreme cases. (Note of the editor: E.g. because of double accounts).

How to fomo hard in "Da Pool"?
The best way to do this is to use BeeSwap. We have already picked out the most stylish pool for you.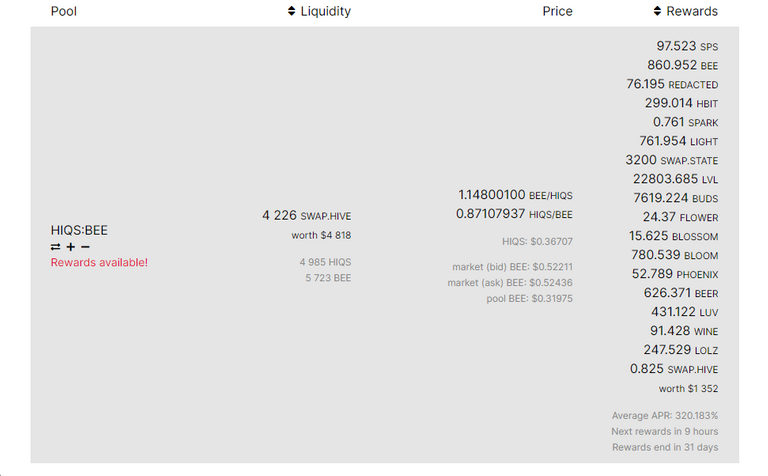 Click on the "+" on the left under the HIQS:BEE Pair instead of the double arrow and you can add liquidity. Enter your desired amount of HIQS or BEE and the same proportion of the pair counterpart will be calculated automatically.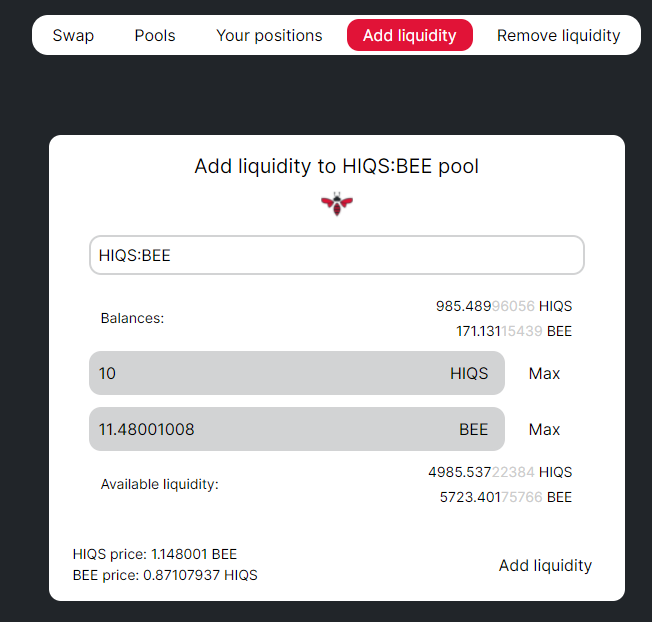 Now you just have to click on "Add liquidity" and you successfully fomoed into a pool. What else do you want to know about pools? Just post your questions in the comments.
Happy Fomoing! ★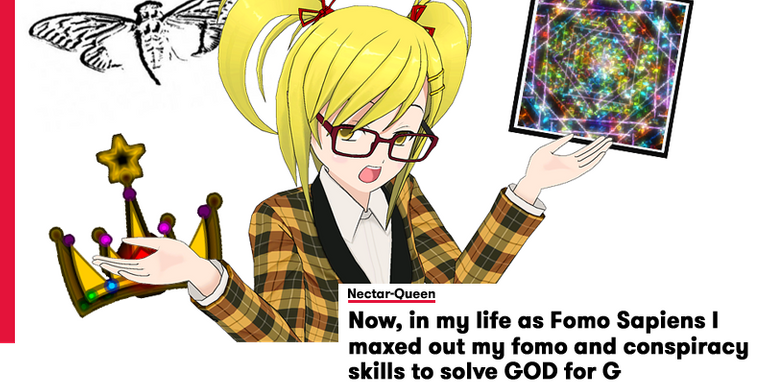 By: @thatgermandude & @quekery
➃ COVER STORY  
In our last issue we reported about the @nectar-queen Diesel Pools, meanwhile we could learn more about and from the mysterious game developer, @thegrandestine.
If you have no idea what Nectar-Queen actually is, you should take a closer look at our crazy HiQsekai.
@thatgermandude was sent ahead by us to deal with the topic. After a few conversations with @thegrandestine, he only learned some muddled gibberish about AI, time travel and [REDACTED]. But from his trip down the rabbit hole, he also collected some valuable information and tokens (note from @thatgermandude: :)), such as that every action on the blockchain can potentially be part of the game.
@thegrandestine is a person with a myth of his own, which at first glance doesn't have much to do with Hive. It's another adventure to unravel all the mysteries surrounding the person and his projects.

It's worth talking to him if you have questions about his Hive Engine tokens or want to know how the game behind them works. Although he prefers to answer with Nightcore videos, sometimes you get clearer answers, but they usually always have a good pinch of humor.

What the HiQ has already found out exclusively for you: The game is intentionally chaotic and complex to prevent an easy way to exploit the system, and because Grand loves the Butterfly Effect (note from. @quekery: I don't want to live in a HiQsekai where the Butterfly Effect completely describes the world, l00l.), chaos theory and such things which all are theories about complex and chaotic systems.
In the future, if all goes well and apparent technical barriers can be overcome, Grand plans to mint a whole bunch of NFTs that can in turn generate tokens, so-called NFT miners. Here's a sneak peek at what the NFTs might look like.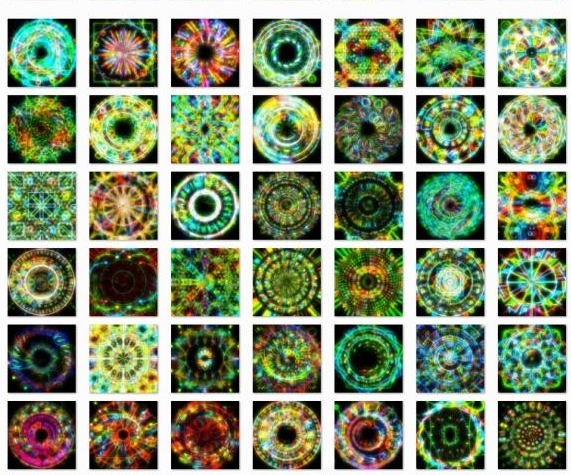 Since our last excursion into the HiQsekai, a lot has also happened on the subject of Diesel Pools. Nectar-Queen has a new pool: SWAP.USDT:PHOENIX. The pools are regularly readjusted and Grand also diligently adds new rewards to other pools. We wonder if only particularly promising pools land on Nectar-Queen's radar? (Editor's note: Ah, that's why our pool is "hit" so hard).
Some players also deal a lot with balancing their assets in the different pools. Who doesn't know the problem? You get a bunch REDACTED but don't have SYSTEM to fomo in equal parts into the pool. There are many ways to play GOD (Game of Defiance).
The important thing is to think of it as a game, Grand always describes it as a reactive anomaly. The promise of making a lot of money quickly was never made by Grand, though he didn't say you couldn't either. (Editor's note: That's why we all fomoed hard into it!).
To pay homage to the great puzzle master, we wanted to solve one of his puzzles in this issue, which is released in English on 31.03. (German date format).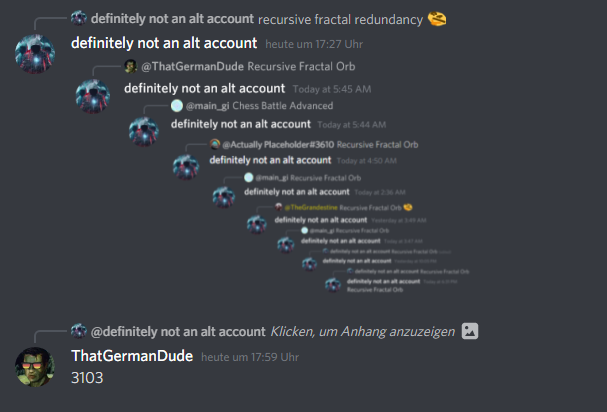 The question is, what is a recursive fractal orb? But more importantly, is fractal and recursive a redundant description? Redundant in mathematics means one of the two is not needed.
Actually we are quite puzzled doing the English version. In the German Wiki it seemed quite clear.

This says that every procedure to create fractals entails a recursive method. However this could not be found on the English Wiki, instead we found a picture of a recursive fractal butterfly, which should be a redundant description according to what we just learned doing the German version of the HiQ.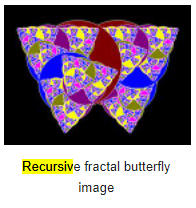 We could now ramble on about what fractals are in the first place. But we don't want to go deeper into Hausdorff–Besicovitch dimension and its topological dimension today. (Editor's note: The former, btw, must always be larger than the latter.) Nevertheless, it should be noted that the Hausdorff–Besicovitch dimension can be used to determine the fractal diminsion. For simple fractals, this is the minimum number of spheres, or Orbs, needed to cover the set. Maybe there are interesting fractal dimensions in the game, which are just waiting to be fomoed in by us and you. ★



Ad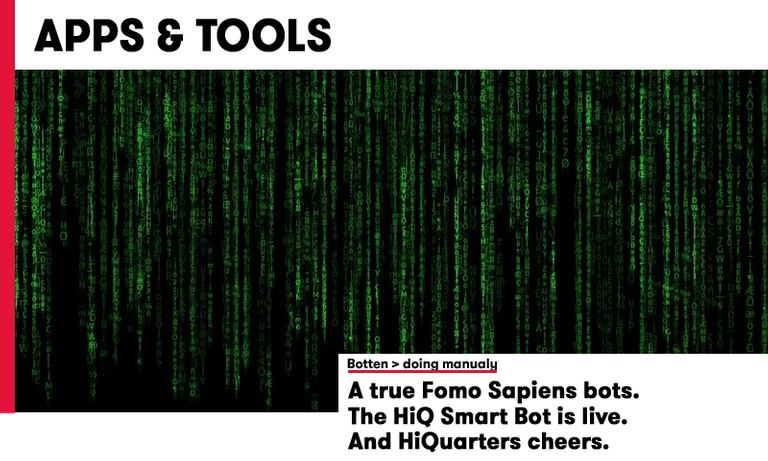 By: @quekery
➄ APPS & TOOLS  
Real Fomo Sapiens prefer to bot rather than do everything manually. Even information that cannot be obtained transparently can be obtained by the smart hivestyler. It's best if you read for yourselves.
We have been working on the HiQ Smart Bot for a while now. This was originally a gimmick by @quekery. For a long time, it wasn't clear to us what you could do with the bot. But since the HiQ team prefers to do things instead of endlessly chatting, the bot quickly got its first functions.
For example, it can do the payouts for the HiQ team members via Discord command. In the past, it was always very annoying for us to manually distribute Hive Engine tokens to everyone. This is because for our income we have different teams with the roles "core team" and "support team". 50% of the income has to be shared by the core team, 1/6 by the support team and 1/3 goes into the coffee fund. Let's take the Splinterlands team for example: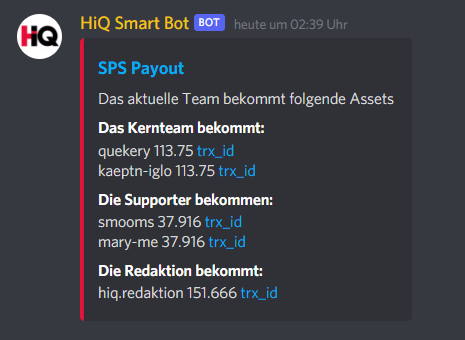 Now we won't have to annoyingly send tokens manually to five or more accounts in the future.
As newly minted pool operators, we were keen to see who all was fomoting into our pool. Unfortunately, Beeswap and Tribaldex can't display this (Editor's note: or they don't want to, lool.), not even for the pool creator.
That's why @quekery made a bot function for it. On our Discord server there is a channel that registered users can use to see who has been fomoing into certain pools. The HiQ Smart Bot spits out a CSV file with the current status of the desired pool.

And here is a list of the current hivestylers in the pool. We have a magnificent number of 73 (as of 30.03.2022).
| user | pool | shares | percentage |
| --- | --- | --- | --- |
| quekery | HIQS:BEE | 193.25254944292962 | 3.6235440032758532 |
| schlees | HIQS:BEE | 1220.6504374293122 | 22.887566479164263 |
| megalithic | HIQS:BEE | 536.423441065207 | 10.058102460699741 |
| blue.rabbit | HIQS:BEE | 346.92570043937786 | 6.504962263282447 |
| mario89 | HIQS:BEE | 7.621145555159969 | 0.14289879411214504 |
| cliffagreen | HIQS:BEE | 0.34577912340249384 | 0.006483463595563594 |
| smooms | HIQS:BEE | 211.12627664443428 | 3.958681817518905 |
| thatgermandude | HIQS:BEE | 202.56791550131499 | 3.7982099464496066 |
| mary-me | HIQS:BEE | 268.2652061231276 | 5.0300541014186555 |
| kvinna | HIQS:BEE | 197.55390658619922 | 3.7041957562662846 |
| leosoph | HIQS:BEE | 265.3158161660721 | 4.974752143835081 |
| ww-ww | HIQS:BEE | 17.308941351981566 | 0.3245479080085736 |
| b4phom3t | HIQS:BEE | 124.39095107505844 | 2.3323681168972996 |
| vasupi | HIQS:BEE | 29.79769043529363 | 0.5587157468272603 |
| muscara | HIQS:BEE | 3.7956797800533026 | 0.07117014882864073 |
| kizumo | HIQS:BEE | 22.635225824563 | 0.4244173597493038 |
| klausklaus | HIQS:BEE | 5.101064628315814 | 0.09564651124933758 |
| quelled | HIQS:BEE | 0.00033417242511482993 | 6.265834477089704e-06 |
| tuwailib | HIQS:BEE | 0.007779955312713544 | 0.00014587652530536217 |
| bcarolan639 | HIQS:BEE | 0.0541616847299296 | 0.001015548040510645 |
| frodobaggins | HIQS:BEE | 0.006345565355686452 | 0.00011898127790952096 |
| alphacore | HIQS:BEE | 0.6550541527523659 | 0.012282464339378584 |
| jitbag | HIQS:BEE | 55.117598342945826 | 1.0334717111172136 |
| bagholdersbank | HIQS:BEE | 0.21099967930876865 | 0.003956308079020736 |
| untzuntzuntz | HIQS:BEE | 34.10937223326794 | 0.6395610902295595 |
| bilpcoinbpc | HIQS:BEE | 0.003975993461034718 | 7.455108511803108e-05 |
| bitandi | HIQS:BEE | 19.153829096388378 | 0.3591401136080998 |
| newsposter | HIQS:BEE | 0.03680191338582915 | 0.0006900470547100328 |
| themyscira | HIQS:BEE | 89.09456557378064 | 1.6705501673326126 |
| mathfortress | HIQS:BEE | 89.37863775270195 | 1.6758766069754272 |
| sinjinn | HIQS:BEE | 0.12602732037016678 | 0.0023630505382341814 |
| lxsxl | HIQS:BEE | 0.45451051790243346 | 0.008522210270025601 |
| rachaeldwatson | HIQS:BEE | 0.03552856815856868 | 0.0006661714449152849 |
| bobthebuilder2 | HIQS:BEE | 0.10082288491533936 | 0.0018904597175099034 |
| nectar-queen | HIQS:BEE | 12.633146518533318 | 0.23687533459037333 |
| imagenius.dac | HIQS:BEE | 13.76475999606593 | 0.2580934310261482 |
| damus-nostra | HIQS:BEE | 107.10013864111416 | 2.008160131608655 |
| roger.remix | HIQS:BEE | 179.37512736212634 | 3.3633381239393283 |
| steemstreems | HIQS:BEE | 3.8847601917984007 | 0.07284043360738626 |
| unlikelysurvivor | HIQS:BEE | 2.075921817886714 | 0.03892416465478157 |
| youloseagain | HIQS:BEE | 0.052247900345430476 | 0.0009796640019817632 |
| kaeptn-iglo | HIQS:BEE | 196.035966736344 | 3.6757339230013075 |
| driptorchpress | HIQS:BEE | 4.526063409994891 | 0.0848650637469418 |
| swearingradio | HIQS:BEE | 0.12006023273672642 | 0.0022511658325808695 |
| alucian | HIQS:BEE | 76.29366720198246 | 1.4305294345382389 |
| ciderjunkie | HIQS:BEE | 0.3324721977368044 | 0.006233954697300982 |
| fredfettmeister | HIQS:BEE | 24.467519972147006 | 0.45877343158304784 |
| txracer | HIQS:BEE | 0.0034762257390524584 | 6.518028852445525e-05 |
| stayoutoftherz | HIQS:BEE | 0.9615996307687692 | 0.018030285166579098 |
| fehlerbeheber | HIQS:BEE | 9.6159963036308 | 0.18030285158972303 |
| detlev | HIQS:BEE | 48.07998285675393 | 0.9015142830477705 |
| powerpaul | HIQS:BEE | 189.40439744765357 | 3.5513899844731442 |
| balte | HIQS:BEE | 209.8325502440349 | 3.9344240545369407 |
| thinkandwork | HIQS:BEE | 0.9620709998852103 | 0.01803912348069259 |
| laritheghost | HIQS:BEE | 147.32195889282286 | 2.762331478864072 |
| mein-senf-dazu | HIQS:BEE | 7.511284292567055 | 0.14083886206773785 |
| marketroll | HIQS:BEE | 3.0849299938544967 | 0.05784337444437398 |
| imagenius.fund | HIQS:BEE | 50.11209687013422 | 0.9396170380612641 |
| cantfoldaces | HIQS:BEE | 9.905905691601252 | 0.18573874067528426 |
| lammbock | HIQS:BEE | 9.8940401157e-09 | 1.8551625752292047e-10 |
| h3m4n7 | HIQS:BEE | 0.1672559779657257 | 0.003136100391517587 |
| miketr | HIQS:BEE | 2.9786767321317265 | 0.05585109351222647 |
| mrdalle | HIQS:BEE | 5.077671881143209 | 0.0952078901342124 |
| lotto-de | HIQS:BEE | 5.950396736430198 | 0.111571746264446 |
| investinthefutur | HIQS:BEE | 6.204558040684246 | 0.11633734792170382 |
| berthold | HIQS:BEE | 5.960676539513497 | 0.11176449569478843 |
| captain.future | HIQS:BEE | 43.51630916551385 | 0.8159440151032107 |
| franciscopr | HIQS:BEE | 0.036306960585600664 | 0.0006807665393618915 |
| beeber | HIQS:BEE | 4.587031794696391e-05 | 8.600823947948125e-07 |
| flauwy | HIQS:BEE | 3.526296336521881 | 0.06611912743614756 |
| hatke | HIQS:BEE | 1.009940017125723 | 0.0189366820943542 |
| newigennity | HIQS:BEE | 0.15831723100628242 | 0.002968496170848529 |
| captaincryptic | HIQS:BEE | 19.578307909769137 | 0.36709922029609576 |
You can download the CSV file and sort the table according to certain parameters. To register, simply send @quekery at least 1 HIQS (Editor's note: you can also send more ;)) and he will activate you.
We are still working on more features like an automatic registration with the bot, a user filter query for pool shares, automated HIQS discount sales via the comments under our posts, a swap tracker and so on and so forth...
What other bot features would you like to see? Put them in the comments. ★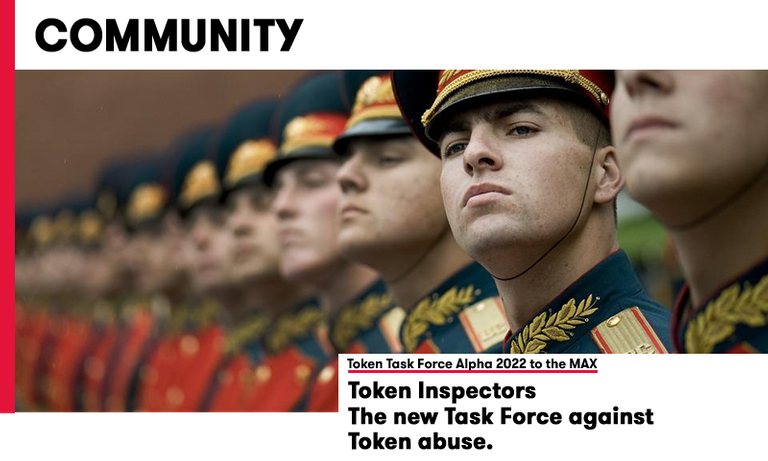 By: @thatgermandude
➅ COMMUNITY  
Recently there has been a case of abuse in HBIT, which lead to @crrdlx and @thatgermandude coming up with the idea to create a task force that can spot abuse of this kind on a regular basis.
After a nice discussion with the creator of the BEER token, @detlev, it became obvious that this might not only be good for HBIT and LUV but for BEER and many other tokens of this kind. This article is also meant to be an open invitation to any token creator to have his token protected under the umbrella of the Token Inspectors. So far LUV, HBIT, BEER and LOLZ are in.
There is a guideline for the project that is very important to us, first and formost is that we don't want to discriminate people or perform witch hunts. Even the worst cases of abuse that are revealed should never be a reason to publicly shame the user or even mention the case in any way other than as a non-public report to the token creators.
There are also many grey areas. Sometimes the abuse is very clear, but for the most part there is a fine line between min/max spamming Tokens and using them to support and show some love to the people in your community. It will be a constant discussion with the token holders and regular inspectors where we want to draw the line. It might also be quiet possible that different tokens will have some unique rules or draw the line much closer or wider than others. Every case of abuse will have to be reviewed in regards to its circumstances.

With this article we also want to recruite volunteers, we hope that there are a lot of users who use the tokens that have an interest in protecting them. There will be no fix payment, we hope that people are motivated to help just for helpings sake, but if donations come in for the project those will be given as rewards to helpful inspectors.
Everyone can try out doing inspection work without any kind of registration or recruitment. The tools, templates and instructions are all publicly available on the Inspectors Discord. It won't be everything prepared by the time of this post, but you can follow @token.inspectors or even ask to be mentioned, when the finished Discord Server is announced. If people try out the process and think it is work that they might want to do more regualry in the future they can apply to join the inner circle of Inspectors.
The Account that leads this endover will be @token.inspectors, which is just @thatgermandude cosplaying as some sort of Sherlock Holmes for now. All Tokens sent to this account will be regarded as donations to the project and used to reward inspectors.
@crrdlx will provide the artwork, besides from being also heavily involved as a founder. To celebrate the start of this project, @detlev has sponsored 500 BEER and @captaincryptic 250 LOLZ with us also buying up some LUV, HBIT, BEER and LOLZ that will be all put in our brand new hot and sexy Diesel Pool as rewards. ★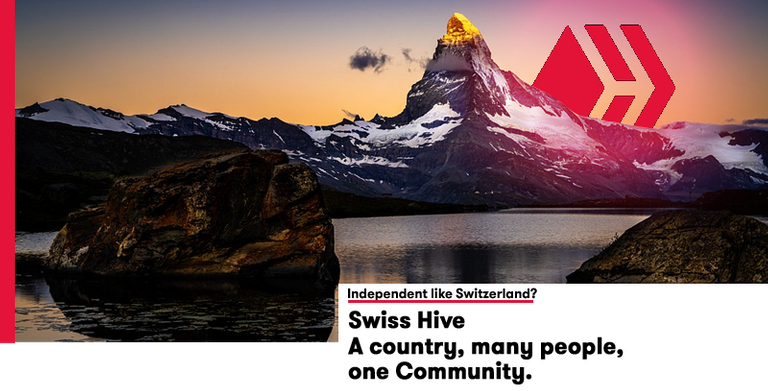 By: @kvinna
➆ COMMUNITY  
Swiss Hive, a project with passion. Behind it are people whose love for the Hive community is palpable. They bring the virtual blockchain into real life to find new Hivians and much more.
On her first virtual field mission, a reporter immediately had the honour of interviewing @sandymeyer and @yangyanje about their Swiss Hive project. The virtual interview room was secured, as one might imagine Switzerland to be. But on an important mission to inform HiQ readers, no effort was spared on either side until @kvinna could finally send and receive.
The Swiss and the Californian-by-choice, who taught Java Script and HTML in Los Angeles as early as 1995, have not only been on the blockchain for a very long time and fully understood the community principle of Hive, but are also joyfully and enthusiastically committed to bringing new people on to the chain through advertising and elaborate, innovative campaigns, as well as training them.
But first, the genesis of Swiss-Hive: At a blockchain meeting before the fork, @yangyanje was asked by @nathanmars whether he could found a Swiss Hive community. A year later, he spotted this community, which @sandymeyer founded shortly before the fork, on the Hive blockchain. The two promptly met in Zurich and liked each other so much that they worked together from then on.
After the meeting, @yangyanje immediately went in search of a suitable location for the live hive meet-ups. The old central laundry in Zurich, which rents out space to artists, for example, offered what was desired. Excitingly, the SGMK (Swiss Society for Mechatronic Art) and the CCC (ChaosComputerClub) are located here on the 3rd floor in the Bitwäscherei, and they must have liked the Swiss-Hiveler and their format so much that they were even invited to join them on the 3rd floor. In the meantime, they are also welcome as guests in the club lounge on the 5th floor.
This is where the live hive meet-ups take place, which are attended not only by newbees, but also by hivians who are already on the chain. The special thing about the Swiss Hive Meetings is that they are not only about theory, but also about practical work on one's own device and account. In addition, one hears of moving encounters and that many travel especially to see each other again. For being physically present, you get the Zurich Badge and Swissness Badge, which @yangyanje designed himself. By the way, the training is free of charge for you.
The Swiss Hive Meetings usually take place at the end of the month. The last one was on 29 March 2022. The next one will be on 21 April 2022 and will be very special as @kiel91 will be coming all the way to be there. He is the man who takes a lot on himself to make Hive keychains. He reports on the development process on his blog. @yangyanje and @sandymeyer are especially looking forward to meeting him, because he contributes an important part to guerrilla marketing, which leads us to the next badge.
European Hive Gorilla Badge - the play on words from gorilla to guerrilla marketing is just one exciting detail of the campaign. The plan here is to distribute stickers, magnetic pins and Hive keychains to make people aware of the Hive blockchain. @kiel91, @deepresearch and @yangyanje also meet in the Guerrilla Marketing/Maker group on Telegram.
The Swiss Hive Badge of the Community is awarded to active Swiss Hive members mainly through virtual engagement. So people post about Switzerland in this community to represent the country and its cultural diversity. It also serves to find other people from Switzerland. Whoever owns the badge gets auto-votes with 100 % upvote, because the community voting trail runs via the badge.
An exciting event for promoting the Hive-Chain is: The block party Hiveminds, the revolution #1, which is organised together with The Mind Force Gathering. The focus is not only on the Hive Keychain, but also on artists, graffiti and delicious food. There will also be a breakdance cypher where you can join in the dance yourself. A short introduction to the Hive Blockchain is not to be missed, while all senses will be addressed by the colourful programme. The Hiveminds event will take place on 1 April 2022 - more information can be found here. If you want to be part of the first free event, you should start packing your bags.
Among the many ideas that are emerging from and with Swiss Hive is the European Hive Mechatronics Network. This is being planned and is an idea of @kiel91. People will then be able to find someone in their vicinity with a 3D printer on the blockchain via a map and place the order. This would achieve more efficient value creation through decentralised production and logistics. Payment can be made in style with HIVE or HBD, what else?
The Swiss Hive Team is lovingly supported by @sandymeyer's partner @miraicastel and her helpful circle of friends. @yangyanje has brought the talented @baqabond Oliver Jordan on board to take care of more than just the flyers. Last but not least, the Swiss dream team @blue.rabbit and @leosoph, who diligently jump out of the Rabbithole to help wherever help is needed. This shows how community can work and how the ideas of individuals can be combined into a great whole.
The conversation with these lovely, imaginative people could have gone on for hours. However, there are not enough words to fully describe the insight we gained, because Swiss Hive and the people behind it simply have to be experienced. This project is certainly not at work outside the internet for nothing. So get out there, dive in, because you are now hivestylishly informed. Feel free to write your experiences with Swiss Hive in the comments.
More links:
Mind Force Gathering Discord
Mind Force Gathering Telegram
Swiss Hive Discord
Swiss Hive Telegram ★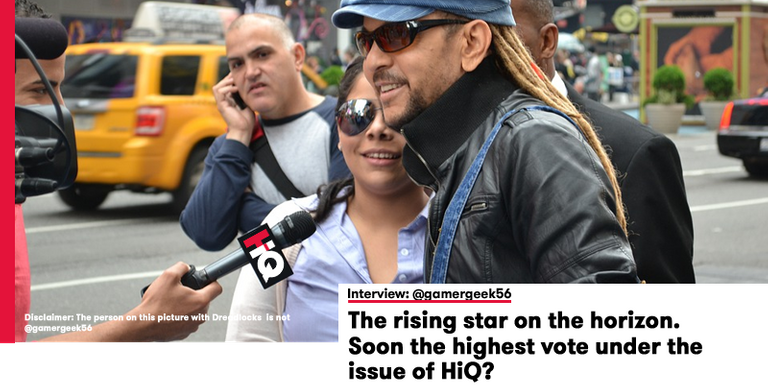 ➇ COMMUNITY  
HiQ discovered a rising star on the horizon of content creators. @GamerGeek56 has managed after a few months that his posts are rated higher than those of some veterans.
HiQ: Hi, are you ready for the interview?
GamerGeek56: Yup, I'm all ready!
HiQ: Nice, so we got eight questions, we wouldn't mind if you go a little bit longer on the answers.
GamerGeek56: Alright, that sounds good.
HiQ: So first question. How have you heard about/ come to Hive?
GamerGeek56: Well, the short answer is my brother got me into it. The longer answer is that I actually joined Steem back in 2018 so that I could nab some splinterland cards, back when it was in its kickstarter phase. I never really did much with my account until around two or so months ago. My brother, who is a pretty well known fella over in Leofinance, had been at me for years to post video gaming content on the website. And about two or so months ago, I decided I would finally give it a try.
HiQ: Ahh interesting that pretty much answers my second question as well 😄.
GamerGeek56: Awesome! Two for one. xD
HiQ: Do you mind naming your brother or do you not want him mentioned?
GamerGeek56: Nope I'm sure he wouldn't mind the shout out It's @rentmoney.
HiQ: So you are sort of a part-time content creator then?
GamerGeek56: Yes and no. During the winter months I've got nothing to do. So I figured I might as well start this. In the spring/summer I work like a dog but I still have plans on posting content.
HiQ: How long have you been a content creator, have you tried other platforms?
GamerGeek56: No, not really. I always wanted to do something with video games and figured Hive would be the perfect place to do that. In fact it gave me the confidence to start doing let's plays. I have a speech problems that I have always been self conscious about, but the Let's Plays are helping me overcome it!
HiQ: Oh wow, your articles actually read like written by a veteran.
GamerGeek56: I actually love writing. I currently have a book in progress that I've been working on for some time. Writing is just one of those things I loved to do since I was kid. So I'm really glad people are enjoying my content!
HiQ: Awesome, keep it up
GamerGeek56: Thanks I will!
HiQ: What are your tips on how to write successful posts on Hive?
GamerGeek56: You need to like what you're writing about. If you're not interested in what you're writing, then how can you expect other people to be interested in reading it? You shouldn't look at Hive as a quick way to earn money, the readers will be able to see that. Instead be passionate about what you're writing about, and write it or post it because you enjoy it.
HiQ: Great advice (Note from @thatgermandude: I always had a good time/articles as well when I enjoyed what I was writing about)!
GamerGeek56: That's one of the things I learned just from writing. If I'm reading over my work and find it's boring, then the reader will also find it boring.
HiQ: How important do you think networking is, how much networking did/do you do? i.e. you got our attention by replying to a post of that @thatgermandude. We would already consider engaging in similar content as a form of networking.
GamerGeek56: To me, it's just as important as making quality content. In fact, one of the first pieces of advice my brother gave me was to make sure I engaged in content. I usually try to spend at least an hour a day scrolling through the Hive Gaming page, as that's where I primarily post, and just talk to people and comment on their articles. In all honesty, I think if I didn't do this starting off, I wouldn't be doing as good as I am today.
And like you said, it's what got your attention so it must be working. 😛
HiQ: True What are the (gaming) content creators you idolize or idolized in the past?
GamerGeek56: I'll be honest here, I don't follow a lot of gaming content creators, or at least I didn't before I joined Hive. Now that I am on Hive, I always find myself reading articles by @kaelci (I think I spelled the name right,) or popping some of @pusen's lets play up on my second monitor while I do work. They seem to be doing pretty good, so if I can even gain a fraction of their popularity I'd be a happy camper.
HiQ: Thoughts on Play2Earn?
GamerGeek56: So when it comes to Play2Earn, I don't know a lot about them. For Splinterlands I'd say I know the bare minimum and most of the stuff I do know is because of @rentmoney. I think it's an awesome idea. You have people playing games that they can potentially earn money off. It's a shame that some aspects of Play2Earn get such a bad rep because of the stigma around NFTs. One thing I am skeptical of is companies such as Ubisoft trying this method out. As I believe with big companies the only thing they'd care about is the cash.
HiQ: Fair assessment, we am personally a little more doom and gloom around the topic, because we saw a lot of bad games, but Splinterlands is pretty solid.
GamerGeek56: Like I said, if I'm being honest I know jack about them. I know a bit about splinterlands just because I have some money tied up in it. Other then that, I'm pretty much clueless. xD
HiQ: Alright, final question: What feature/development would you like to see implemented in Hive?
GamerGeek56: So I use Peakd a lot because of their scheduled post function. I would like to see Hive.blog implement this, but I would also like to have the ability to add your post to your blog when you select schedule post. I often go out of town every couple of weeks and as a result don't really have access to my account on the go. So it would be nice to have the ability to create a scheduled post and add it to your blog once it gets posted. To add one more thing I also wouldn't mind mods being able to outright ban accounts from their page. For instance there's one fella on hive gaming that comments the same spam on almost every post and it's kind of annoying to see. Of course he is muted so you can't actually see what he posts unless you click on his name, but you still see his name in the comment section.
HiQ: You mean that guy who talks about mind control and stuff, @gangstalking? (Editor's Note: Last question? lool)
GamerGeek56: That's the dude.
HiQ: Yeah he is everywhere... Alright, two suggestions for hive are better than one
thank you very much for the interview!
GamerGeek56: No problem! I had fun answering your questions! ★



Ad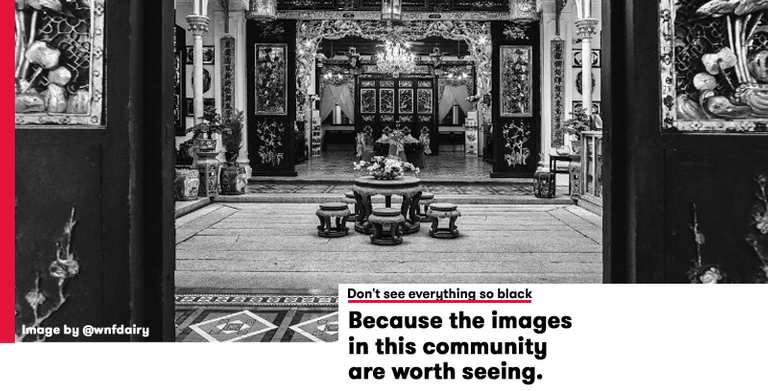 By: @themyscira
➈ COMMUNITY  
Let the magic work to give the photographs your own a mental touch. In this community, the motto is: Make the world of photography as colourful as you like.
The HiQ is in hivespeed mode. With this capacity, even Flash Gordon is envious. As lazy as we were, we targeted some of the most blatant communities and also took a look inside and it became apparent that a breath of fresh air is urgently needed. No, ASS(gases) are forbidden here - we are in Germany.
Come on, dare to try things that might open up new horizons or make life seem black and white for a change. So we thought #BlackAndWhite was in order. In this day and age, everything is always seen in black or white. But that's with little thought, because the contrast is what makes the picture.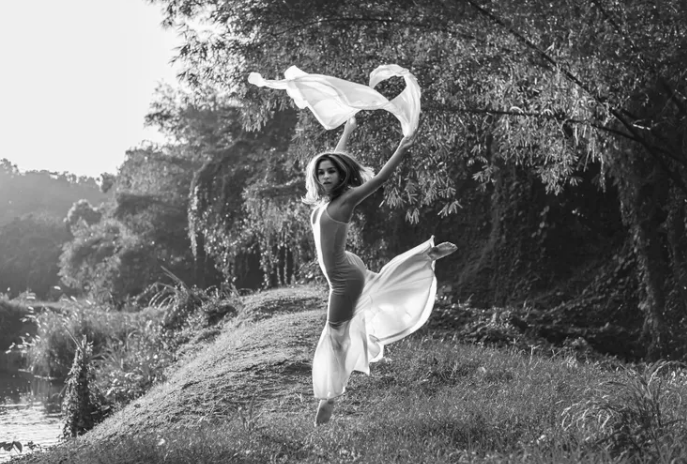 Image by @abelfotografia
The users of the #BlackAndWhite community give free rein to their colourful fantasies. Even if the community's communication is very modest for newcomers, your pictures could hit the spot like a colour explosion at a Holi festival. (Editor's note: Only without the colours. LOOL)
To get an impression of the talents that are apparently visualising there, take a look at the members @wnfdiary and @abelfotografia. They will open up new perspectives for you. ★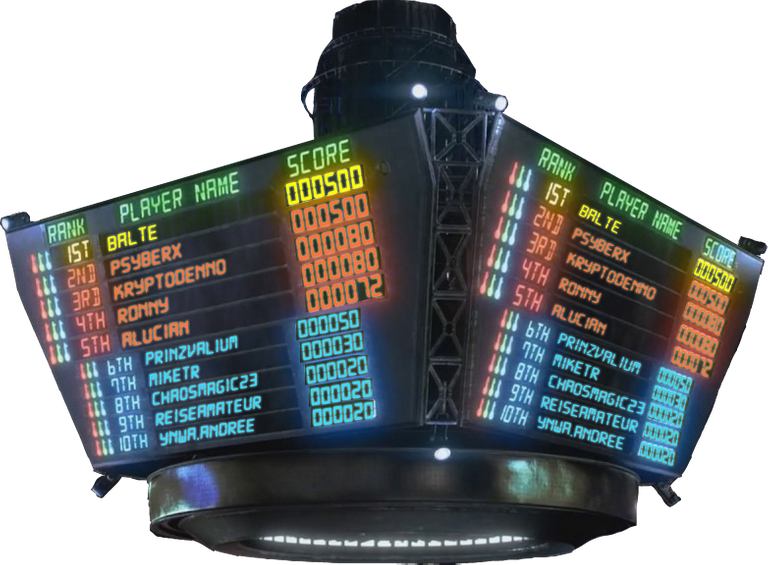 Ad
Do you also want to fomo into the competitive leaderboard of HiQ - The Hivestyle Magazine? Then stake HIQS like there is no tomorrow! The 10 highest stakers are determined anew in each issue via snapshot and then immortalised here. If you also want advertising space in the HiQ, then stake yourself in the top 3 and send us a banner in the format 728x90. You can send us the banner via Discord or by mail to [email protected]
★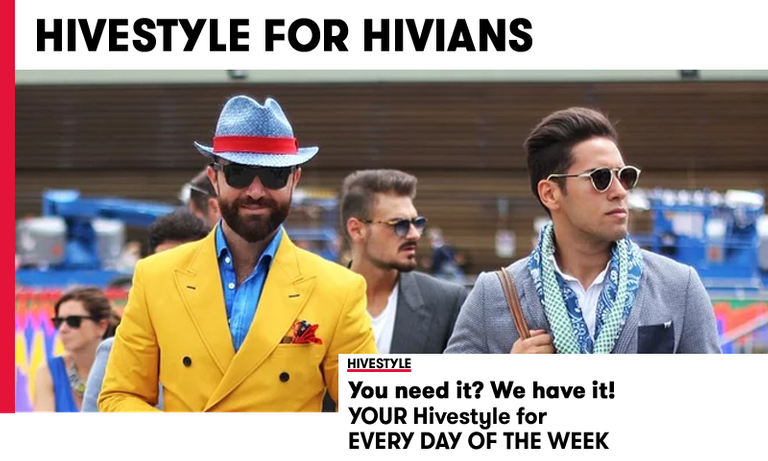 ➉ HIVESTYLE  
This section is an absolute must for every Hivian who wants to become, be and stay stylish and can't resist the fomo. Because who does not know these trends is no Fomo Sapien.
Lightning payment with HIVE
In the last issue we reported about the Lightning payment system from @brianoflondon. The service https://lnd.v4v.app/hive has been revised and it is now possible in the reverse direction. The fees are 200 SATS + 0.8%. You can support the project by voting for the proposal. You can find more information here.

PsyberX
@psyberx is constantly coming up with new things. They also support other stylish projects. (Editors note: Like us, lool.) Even we have a hard time keeping track of all the projects in the Hive ecosystem with so much going on. (Editors note: Who actually wanted to write the Muterra article?) For short and crisp news about PsyberX we can recommend the website. (Editor's note: Maybe @psyberx should link the website behind the banners, like we did, then we don't have to search so long). And to give you a little tidbit to look forward to, we recommend keeping an eye on the website on Friday, 5/13/2022 at 5:00pm PST, because that's when the marketplace goes live. You can read more in the next issue. PS: While we don't make FOMO recommendations, the PsyberX SWAP.HIVE:LVL Diesel Pool also features HIQS.

The awesome block party
Side branches of Swiss Hive, run by @sandymeyer and @yangyanje, are Hiveminds, the revolution #1 and The Mind Force Gathering, which are launching a new live event - a block party with a colorful program: Information about the Hive Keychain and the Hive Blockchain will be garnished with graffiti, artists and delicious food. There will even be a breakdance cypher where you can dance along. A learning concept that stimulates all the senses. Hiveminds, the revolution #1 will take place on April 1, 2022, more info here. You should not miss the chance to be part of the first, free event. How hivestylish would you be if the whole thing went through the roof and you couldn't say you were there the first time. You should fomo into it fast, so you don't miss a future trend.

New bot commands for LUV and Hivebits.
@crrdlx has set up new bot commands for his two babies LUV and HBIT. While before you could only trigger the bot with LUV and hivebits, there are now three additional new variants each:
!luv
!HBIT
!Luv
!hbit
!love
$HBIT
This is really stylish and very practical, because the word HBIT is now much shorter, common typos are covered and with love you can now integrate LUV much more nicely into texts. Especially in English. Now you can use the bot commands even easier and more stylish. You can find more details here.

Larynx-Token - Airdrop claimen
Here you can claim your monthly airdrop. Just log in with Keychain and click on the gift icon. Once the timer runs out, you may need to reload the page. Then you can see how high the airdrop was. The deciding factor is your HP and the liquid HIVE take you had at the time the snapshot was taken. The tokens are a part of the SPK tokenomics. You can find more detailed information in the Lightpapers. However, at the time of the release of this post, you could only buy, sell or claim.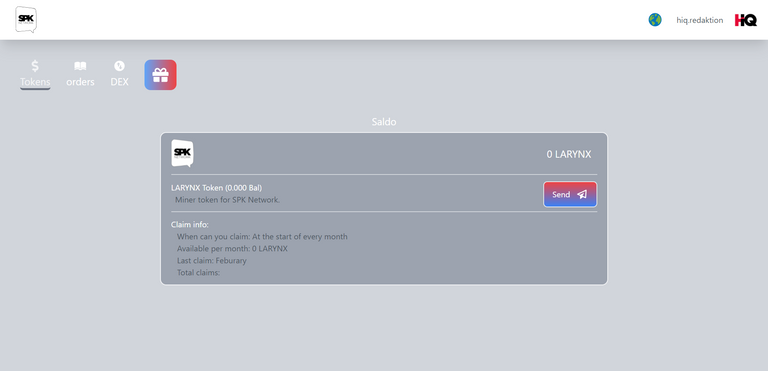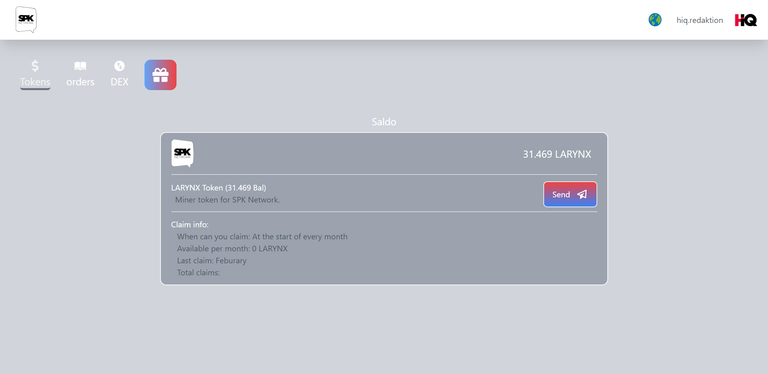 You can find the market under "DEX".

Autoclaim
Larynx Airdrop runs for 12 months and must be claimed monthly, otherwise the airdrops expire. @arcange has an autoclaim function for you, which you can find here. The autoclaim service does not only claim Larynx. You can find detailed instructions here. ★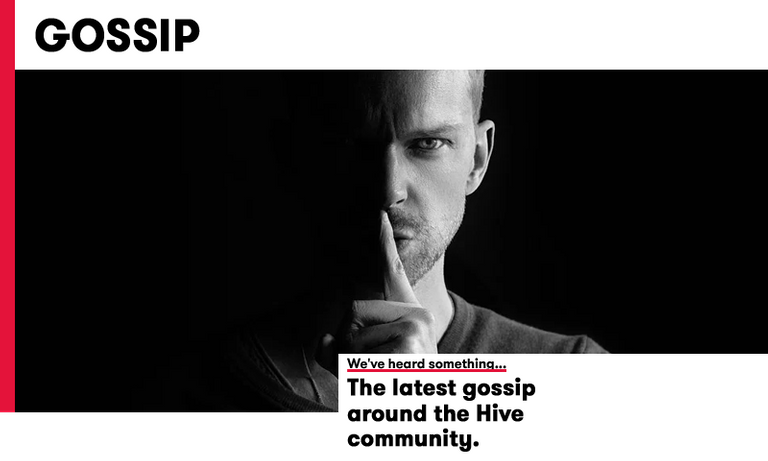 By: @themyscira & @quekery
➀➀ HIVESTYLE  
Even though this issue probably won't fit into a block again, that won't stop us from fomoing hard into the Gossip - because when there is stuff to fomo about there is also stuff to rant about.
Name thief causes much loss
Apparently, someone intentionally or unintentionally came up with the devious idea of claiming the account @queker. However, @quekerY was not aware of this misdeed and potential danger. On 24 September 2021, @leosoph gifted @queker with a generous donation. Unfortunately, these tokens were sold by @queker and the money is somewhere with someone who is not @quekerY.
Recently @megalithic wanted to present @quekery with a very generous token reward for his Nectar Queen schwurbelei and bot efforts. 3307 times you might guess what happened: [REDACTED].

Is thick air spreading on the blockchain?
Haven't we heard enough about the war in the last few weeks? Some Walaccounts are flagging what they can and at least one user has already been chased away from Hive. How the whole thing will end remains [REDACTED]. Should we possibly dig up Flagtenzeichen, the article series about flagging, from the dusty editorial cellar of HiQuarters 2.0?

Rebirth with a journey through heaven and hell
@greece-lover flies through new dimensions and changes poles, from heaven through hell and back again. Read for yourself what he has to report. Be sure to wish him a speedy recovery. If you missed it, you can read more here.

Not so fast
A user whose name we do not want to mention has completely bought out our last special offer sale and diligently engaged in arbitrage trading. Of course, this is not in the spirit of the inventor. (Editor's note: Us, lool.) But as we all know, you learn from your mistakes. We will probably have to mark these experiences in bold in our Fomoalmanach. ★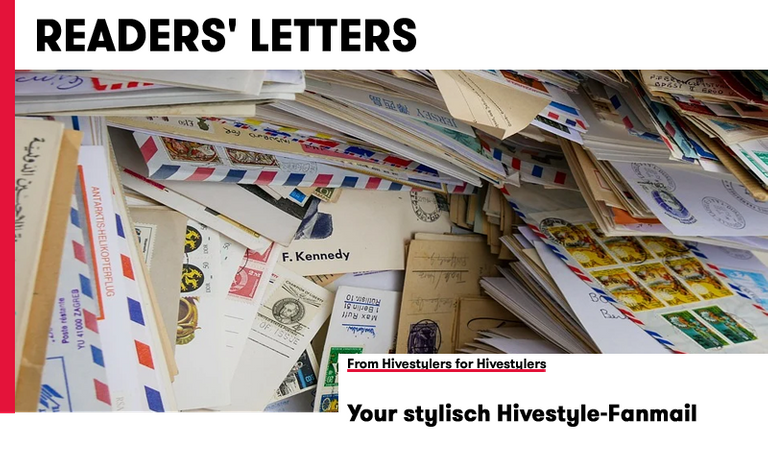 By: @thatgermandude & @quekery
➀➁ HIVESTYLE  
Last but not least, we present you this month's letters to the editor. As every month, we comment exclusively in the issue on the best comments among all HiQ publications. Have fun with it!
@laritheghost talks and acts like a real Fomo Sapiens:
Amazing content guys! Shout outs to @balte for bringing international exposures to @psyberx. Love the digital style magazine format! Keep up the good work.
Amazing fomoing @laritheghost! Like many others @balte fomoed hard into @psyberx. We are happy to keep you up to date on the projects.

@irenenavarroart with pointy needles and sharp words:
wow what a wonderful magazine, it has many editors who have done a great job writing about so many topics of interest.
And the blocks are to tight to handle our issues nowadays.
Thank you very much @themyscira for mentioning me as part of the @Needleworkmonday community, both you and @kvinna are always welcome, we love sharing all the skills and supporting each other among all the creators, I congratulate you for your cleanly written article and all the editors of the magazine Hugs!
Thanks for the hugs. You have amazing content to explore in your community. Highfhive!

@padreelferenco the lover:
yes i love it ... good idea
We love you! Highfhive!

@untzuntzuntz is arbitraging hard:
Cool!
Uncool!

@flauwy the 1UPper:
Amazing news guys. !1UP
Thanks for the all the 1UP! ★

Donors: @monkaydee293 550 YKWTIM & @oliverschmid bzw. @nextcolony 300 YKWTIM, 200 HIVE, 75 USD & @balte 395 YKWTIM, 1330 HIVE, 35 HBD & @platuro 15 YKWTIM, 100 ENG, 1 Boosterpack, 9.99 YKWTBDIM & @greece-lover 110 YKWTIM, 3 YKWTBDIM and temporary delegations & @jeenger 10 YKWTIM, 29.9 HIVE & @schlees 10 € & @quekery 20 YKWTIM, 2 YKWTBDIM & @powerpaul 0.101 YKWTIM, 2.152 YKWTBDIM & @chappertron 2 DWSWTBD & @remotehorst23 1 DWSWTBD & @meins0815 0.35 YKWTBDIM, 0.179 YKWTBDIM & @louis88 10 Hive, 5 SBI, 5 BEER & @detlev 24 BEER & @commentcoin 100CC & @muelli 3 HIVE & @condeas 498 SWAP.DOGE, 40 HIVE & @satren 132.87 HIVE & @fw206 10 HIVE & @lauch3d 5 HIVE, 6 HBD & @who-knows 0.22 BNB & @manncpt 10 HBD & @altonos 10 HIVE, 17 HBD & @miketr 3 HIVE
Delegators: @balte 15,000 HP & @photobook 100 HP & @carmate 5 HP
Immeasurable thanks go to all the donors, delegators, upvoters, rebloggers and subscribers!
Thanks also to the authors and content creators, which are @quekery, @smooms, @mary-me, @thatgermandude, @themyscira & @kvinna.
Not to list, but still worth mentioning are of course all the little touches, ideas and tips from the community. Thanks for that! You guys are great!
---
Disclaimer

The opinion of individual authors does not necessarily reflect the opinion of the editorial staff or the publisher. If an article is published under an alias, the true (profile) name of the author is known. We reserve the right not to print submitted text contributions if the content contained therein is questionable or massively violates the boundaries of morality and order. Image material or raw image material is, unless otherwise stated, from pixabay.com or is screenshoted.
Editorial Core Team/Publisher: @quekery, @smooms & @mary-me
HiQ - The Hivestyle Magazine is a project of the HiQuarters 2.0 team.

---
If you're stylish and smart, you're subscribed to us: @alucian @andy-plays @atra-aranea @balte @bitandi @blue.rabbit @btcsam @carolinmatthie @chaosmagic23 @chappertron @cloudlynx @chrislybear @cultus-forex @dauerossi @ditsch @dieradikalemitte @flamo @florian-glechner @flows @fredfettmeister @hatoto @ischmieregal @jeenger @kadna @kaeptn-iglo @klausklaus @konstice @kryptodenno @kvinna @lammbock @lauchmelder @leosoph @louis88 @markus.light @mary-me @miketr @misan @mwfiae @nessos @platuro @powerpaul @pundito @quekery @querdenker @quelled @reiseamateur @remotehorst23 @r0nny @satren @sebescen81 @shakkei @schmidi @simsibee @smooms @solarwarrior @syalla @tribemieregal @tibfox @tribemieregal @twinner @vasupi @vugel @ynwa.andree @yoshi-and-family @zockerpeine
---
---