Drawing a zombie that survived the war in sai

El día de hoy me quiero unir al reto de esta semana sobre arte de #hashkings, para esta ronda el personaje a dibujar es muy diferente a los demás y acá te lo muestro.
Today I want to join this week's #hashkings art challenge, for this round the character to draw is very different from the others and here I show it to you.

Puedes unirte a este reto dando clic acá Reto semanal Hashkings, y si no te da tiempo participar, recuerda que puedes estar atento para el próximo reto.
Lieutenant O'Weed es el nombre de este personaje, un nombre complicado de mencionar jaja, pero me gusta que tenga muchas cosas, detalles que puedes hacerle, aunque no soy tan bueno, intente hacerlo llamativo.
You can join this challenge by clicking here Hashkings weekly challenge, and if you don't have time to participate, remember that you can stay tuned for the next challenge.

Lieutenant O'Weed is the name of this character, a complicated name to mention haha, but I like that he has a lot of things, details that you can do to him, although I'm not that good, try to make him flashy.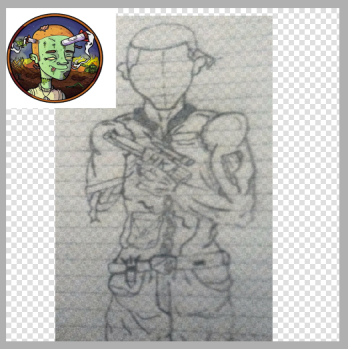 Inicie con un diseño en una hoja, luego lo pase a mi programa SAI, donde comenzaré con el delineado.
La verdad no tenía una idea clara de que rostro tendría, pero luego verlo en Sai note que si hacía el rostro de forma común no parecería un zombi, no se por que, pero siempre que dibujo un zombi le hago el rostro muy humano, me explico, Muy humano sin que se note un rasgo de zombi por eso decidí cambiar un poco.
I started with a design on a daughter, then I put it into my SAI program, where I will start with the outlining.

The truth is that I didn't have a clear idea of what face I would have, but after seeing it in Sai I noticed that if I made the face in a common way it wouldn't look like a zombie, I don't know why, but whenever I draw a zombie I make the face very human, I mean, very human without showing a zombie trait, that's why I decided to change it a little bit.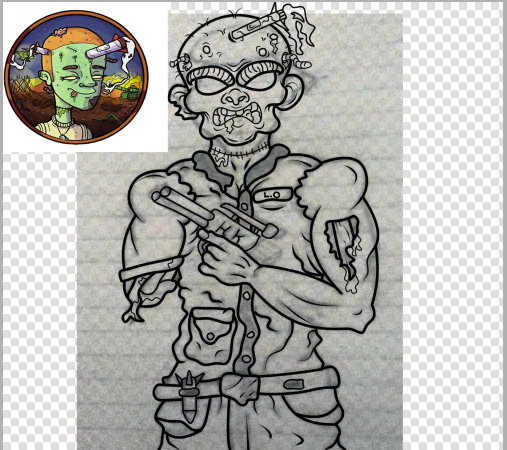 El diseño de su rostro es el de un cráneo, pero no en su totalidad, aunque también me dijeron que los ojos eran de un extraterrestre jajaj, pero así lo deje.
El lineado ya estaba listo, solo faltaba los colores del personaje.
The design of his face is that of a skull, but not in its entirety, although I was also told that the eyes were of an alien hahahah, but I left it that way.

The line was ready, only the colors of the character were missing.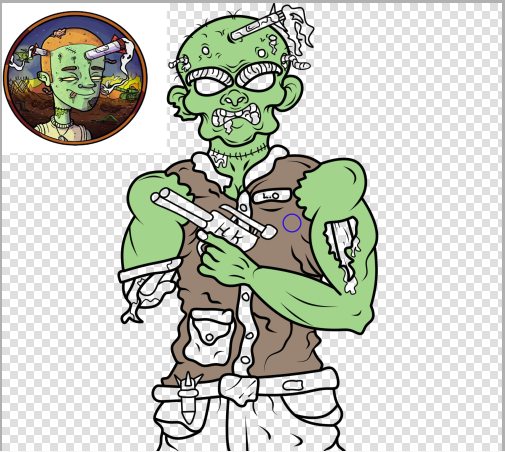 En los colores era lo básico, pues tome los mismos colores que tiene el personaje.
Para aquel que tenga en mente usar el programa Sai le digo que es muy fácil de usar, si usas lo básico es muy fácil, el coloreado es lo más rápido, acá lo que veo complicado son las luces y sombras, pero es cuestión de acostumbrarse.
In the colors it was the basic, because I took the same colors that the character has.

For those who have in mind to use the Sai program I say that it is very easy to use, if you use the basics it is very easy, the coloring is the fastest, here what I see complicated are the lights and shadows, but it is a matter of getting used to it.

En esta ocasión creo que no haré una historia del personaje.
Tengo tres motivos para esto, sé que siempre escribo una historia, pero la verdad hoy no será ese día, Motivos:
1 - No tengo mucho tiempo el día de hoy
2 -Hoy he visto muchas palabras... con esto me refiero a que de verdad mi mente anda hoy ya sin ideas.
3 - Simplemente el ánimo no lo tengo al full en este momento.
Pero prometo que para la nueva ronda verán la mejor historia creada jaja.
This time I think I will not make a story of the character.

I have three reasons for this, I know I always write a story, but the truth is today will not be that day, Reasons:

1 - I don't have much time today.
2 - Today I have seen a lot of words... with this I mean that my mind is really out of ideas today.
3 - I'm just not in full mood at the moment.

But I promise that for the next round you will see the best story ever created haha.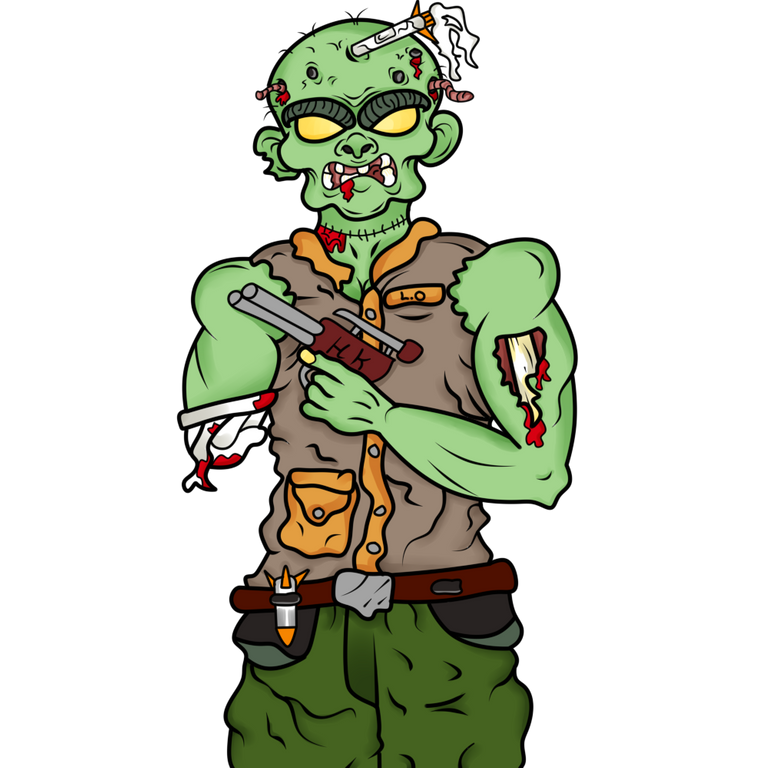 Este fue el resultado final de mi personaje, es muy basico en colores pero aun le falta pasar por Photoshop CC.
Ahora que lo veo si tiene cara de extraterrestre, pero me gusta como se ve, ahora vamos a ver el verdadero resultado final.
This was the final result of my character, it is very basic in colors but it still needs to go through Photoshop CC.

Now that I see it, it does look like an alien, but I like the way it looks, now let's see the real final result.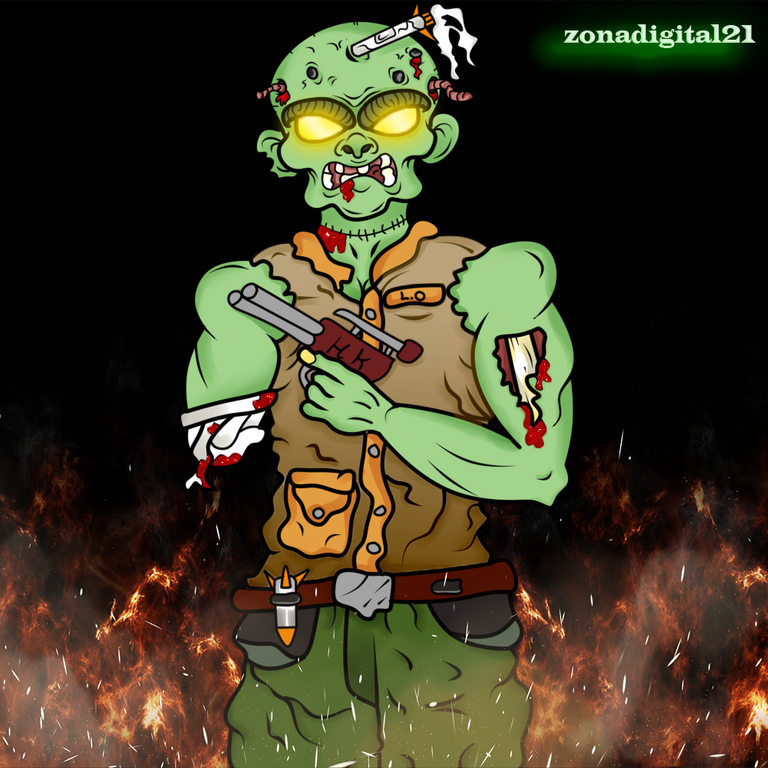 Este es el resultado final, le coloqué un poco de brillo a los ojos del personaje, y también el fondo, pues no me gusta dejarlo sin fondos.
Un nuevo intento en el que creo que he mejorado, algo que se me complica son las manos, y creo que para esta ronda las manos de mi personaje quedaron muy bien a ver si puedo llegar a ser un gran máster dibujando en algún momento jajaja.
This is the final result, I added some brightness to the eyes of the character, and also the background, because I don't like to leave it without backgrounds.

A new attempt in which I think I have improved, something that complicates me are the hands, and I think that for this round the hands of my character were very good to see if I can become a great master drawing at some point hahaha.

Gracias por llegar al final de este post, espero que les gustara, déjame un comentario dando tu opinión y sugerencias.
Feliz noche para todos.
Thanks for making it to the end of this post, I hope you liked it, leave me a comment giving your opinion and suggestions.

Happy night to all.
---
---