Northern Lights - Top Leaf

Northern Light - Top Leaf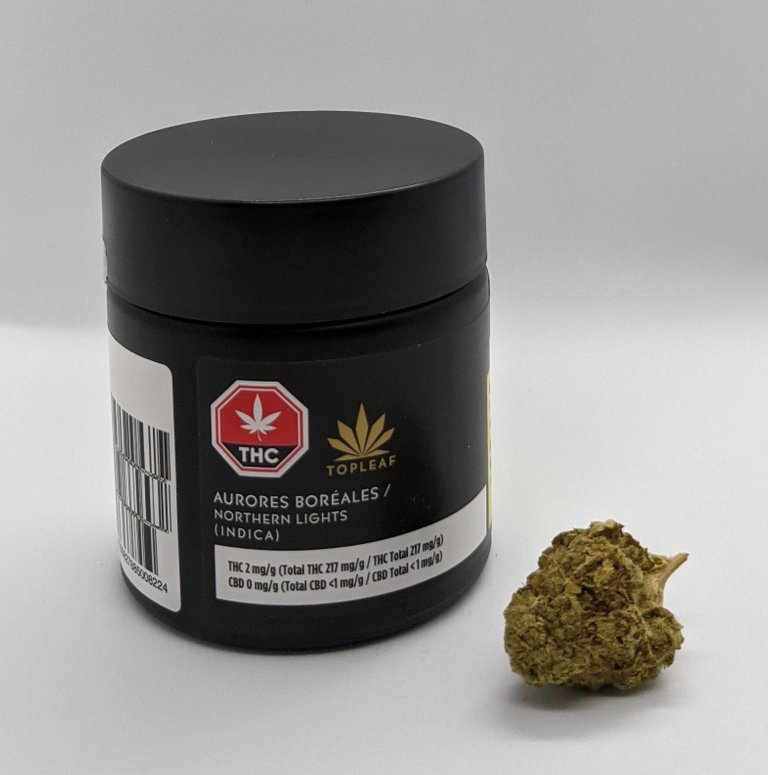 Northern Lights is a well known strain. For those who don't know, it's a nearly pure indica and a direct descendant of the Afghani strain. In Canada, only one company sells it : Top Leaf. Top Leaf wants to be seen as a top of the line producer that focuses on quality. Their branding is very classy, simple and elegant. On the price point, they're in the high middle.
Apparence
The flowers have the conic shape of the Northern Lights, but you don't see much of the orange filament. In the picture, you don't see any, but you can find some if you look closely : they are really pale and there isn't much.
Smell
The flowers have the cannabis smell, but you can smell pine and wood. You have the impression of being in a coniferous forest. Once light, you lose the smell, it doesn't have a particular smell.
Taste
Maybe it's me, but it didn't have a particular taste.
Effect
First, I must admit, I have some problem with finding the right amount of weed to smoke. The weed got a 20-26 % concentration of THC. I have smoked a total of 0,5 gram, so I have taken between 40 and 52 mg of THC. That's a lot for a lightweight smoker like me.
I have started with half my 0,5 g joint. Pretty quickly, I got the body buzz I was looking for. Time seemed to slow down, decisions took more time to take, I could see or feel the decision coming. After 15 minutes, I wanted more and smoked the rest of the joint. Mistake!
So I got a big body buzz. I could feel some heat and tingling all over my body. It was fun to touch things and feel things on my body. Every texture was very interesting. I could feel all the tension in my body. When I sat on my computer chair, I felt all the different textures of it and I got the impression that I was entering the chair. I think I was the chair at some point.
Like I said, time was slowing down, my decision process was slower, I could see ideas coming. I got the impression they were two me : one was taking forever to make a decision and the other one was seeing the result of that decision instantly. Does it make any sense?
It's hard for me to focus when I read computer science theory, so I decided to read some to take a test. When I got into it, I was really focused, but I could see my rambling coming. I was hearing the other voice saying : you didn't read that wikipedia article on that stupid subject go read it. But the voice was so far that I could resist it. It wasn't the best reading session ever, but I had only one idea at a time in my head and that was soothing.
I put that on the amount I smoke, but I got some paranoia. It was mostly : "Oh shit, I smoke way too much". Also, it was late and all the lights were off in my house.
I needed to change my mood, so I watched Vacation Friends. After making the decision, It took me 15 minutes to get all the things I needed - slow thinking I was saying? Anyway, it isn't a laughing weed, the movie was good, but I didn't have big giggles. I found John Cena really great in that movie.
After 3 hours, the buzz was mostly gone. With the time slowing, it felt like a day, but in a good way.
Conclusion
Without the paranoia, it was perfect : big body buzz, time slowing and head space. I really like how I couldn't have more than one idea in my head. After the buzz I felt like a full day of relaxation just passed, but it was really just a couple hours. It's like having a three day weekend.
Anyone else have a experience with Northern Lights?
---
---