What's In My Grow Tent: My Grow for Hash Rosin.

Hello friends, Hiveians, and WeedCash members! I am @wildwesthash, I am a grower and hashmaker! I then press this hash and make hash rosin.
My Grow Tent and Plans for the Future
Currently, I am doing a small "pheno hunt" (I use that term loosely) for strains that produce the most hash.
As a hashmaker, I quickly learned how important genetics are in making good hash and rosin. Just because it looks pretty, doesn't mean the trichome heads will break off easily when washing in ice water. Sometimes, even with great perceived genetics, it doesn't mean the individual cuts used to breed were better for hash or that any genetics that were good for hash were passed down.
It's a little bit of a gamble.
After a solid year of washing different strains, I have done my best to get the best genetics in my stable. From there, it is my hope to give those curated cuts to other growers with the promise that they won't give it away and that I will wash the plants.
My indoor grow last year I produced GMO and took it 12 weeks. From fresh frozen weight to the weight of rosin I was able to get a 5.8% return. This is a GREAT starting point, and these are good numbers.
BUT
It's not reasonable for me to take my grows 12 weeks. Ideally, we can cut that down to 8-10. It is popular among some growers to take a strain early to get a lighter color.
I fully disagree with this and honestly think it's dumb.
Maybe for BHO, but not for rosin. My first ever wash was a tahoe cross that was taken when it was under an inch of snow. It was the last thing harvested and was thrown into a garbage bag and froze. Not knowing what I was doing, this DUMPED BLONDE hash, as blonde hash as I have made in my short time doing it. It comes down to how easily do the heads break off in comparison to contaminents, period.
If anything, for rosin, you should take your plants an extra week to allow the head of the trichome to mature and grow larger.
I am a bit of a seed collector and I don't have that much area for growing so my "pheno hunt" is a bit of a scaled-down version. Ideally, I would love to pop two packs or more to really get an idea of genetic difference but I am working with what I got.
The first pack I popped was Rotten Fruit Cocktail from Skunkhouse Genetics
Part of the Modified Banana Line, Rotten Fruit Cocktail (RFC for short) is a cross between Strawnana and Modified Banana. Modified banana is Banana OG crossed with a backcrossed GMO (mmm yes please!).
My hope is to find a pheno that is funky with a hint of fruit that dumps.
Unfortunately, I didn't pop too many seeds and ended up with 2 females total. Of those strains, in week 5 (going on 6 in a few days) they are starting to show differences in bud development, smell, and trichome appearance.
RFC #2: Longer hairs, buds seem to be growing slightly "looser" (or perhaps behind in development? Maybe it needs more weeks than my other RFC). This one has a more funky smell with a hint of fruit. If this has a good return in hash, this might be my keeper because so far it seems to be what I'm looking for in smell. Trichomes seem to have shorter stalks and more uniform growth. One of the desireable traits in hashing is "short necks big heads" so this is a good indicator. Eventually, after seeing enough trichomes in photos and material and washing it, you start to see what strains create "hairy" appearance with longer stalks. Buds with shorter stalks and larger heads just look different and can be spotted quickly once you get an eye for it.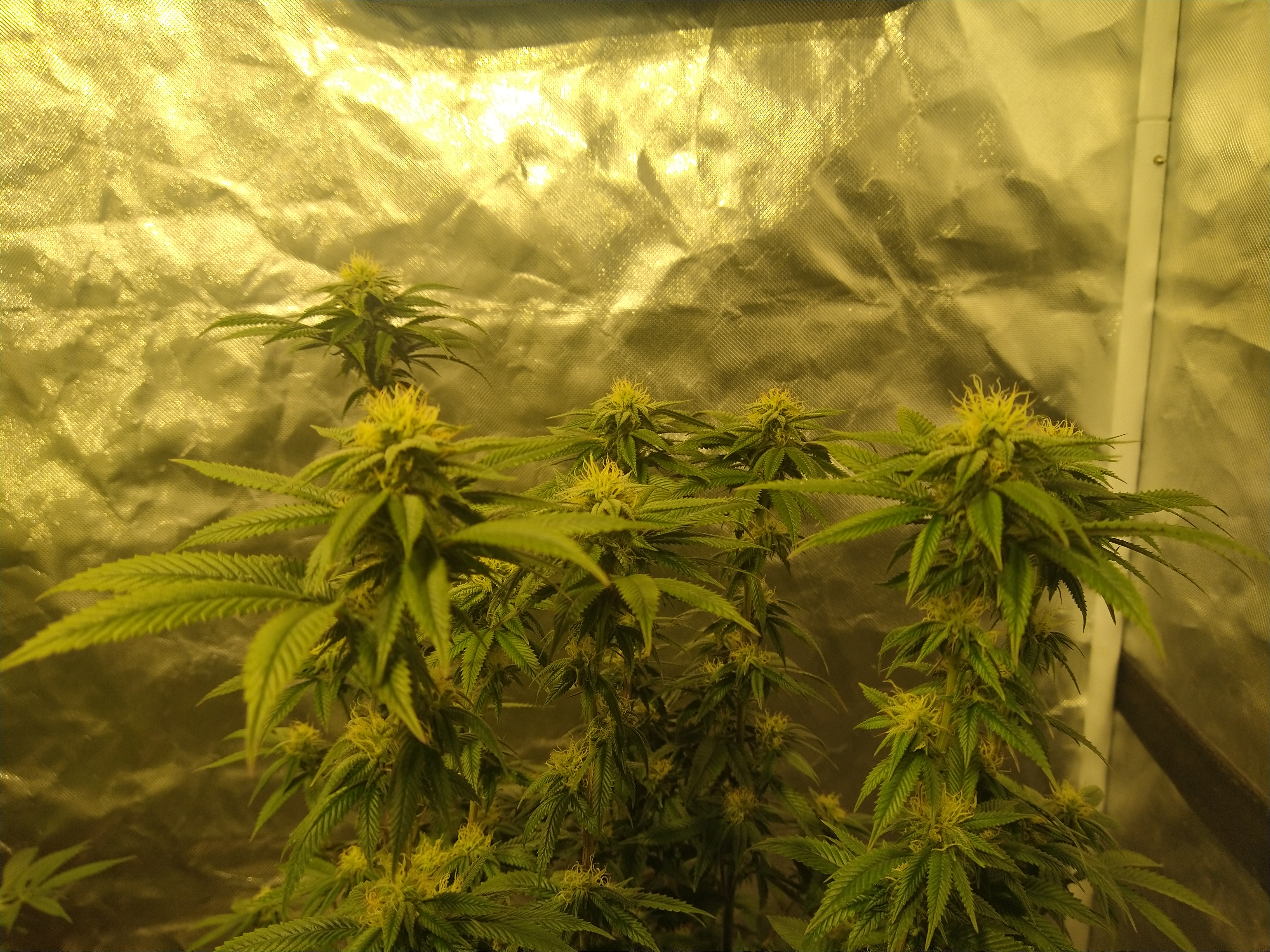 RFC #3: Thicker hairs, more dense bud growth. Trichomes have what seem to be longer stalks, unsure if heads are larger or whether or not the "density" of trichomes are different between the phenos. Fruiter smell. This may end up with better "bag appeal" for flower.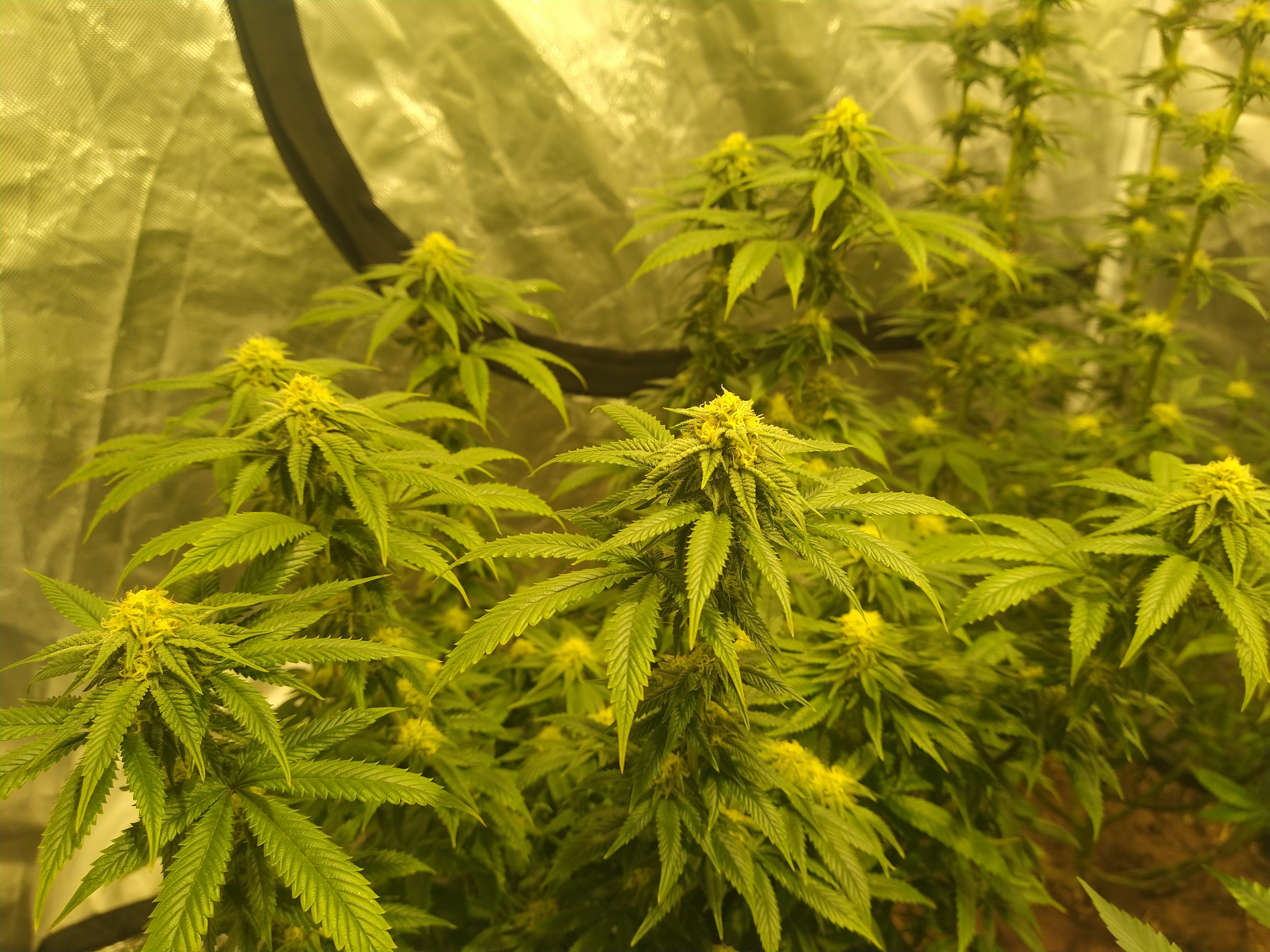 My other plant I am really excited about is Sugar Shack, from Farmhouse Genetics. This caught my eye through the Shwale IG Account where they post great zoomed-in photos of trichomes. They use this technology to help identify what to breed. In the case of Sugar Shack, it is bred specifically for the "weakneck trait" that makes hashing easier since the trichome heads break off easier when washing.
Again, I only popped enough seeds to get two females. I popped the Sugar Shack seeds a week after the RFC. SS2 went into flower before SS5 because the SS2 cuts rooted quicker and the pheno showed more vigor than the other one, anyways. I literally was running out of room and had to get it in QUICK!
Again, this is a week behind my RFC and in every measurable way seems to be better (so far).
Week behind from seed, week behind in flower. Larger bud growth, more vigor, smell intensity seems roughly the same at this point. I am able to put the bud between my palm and "knock it back and forth" lightly and feel the weight of the bud, doing this to the others in comparison are much lighter. I was having a hard time explaining the smell up until recently, it definitely is on the sweeter side with an underlaying smell of funk. Smelling it yesterday it really reminded me of wedding cake (one of my favorite strains) so that is a good sign. I'm very excited for these plants.
Since no one is perfect, I did forget and leave my tents open while the lights were off one cycle. This did result in the plants showing some intersex traits. RFC2 got it the worst, RFC 3 not as much, and SS2 only had like 2 developing bananas that i picked and after looking over it very closely every other day, have found no new intersex traits visible.
Luckily, I am not growing for flower so seeds, though unfortunate, are not a deal breaker. I decided to attempt to pick them as I am able. Since my timing is perfect: I have to travel out of town in the 7th week. I have someone to water them but I decided to hack them at 7 weeks just before I leave (I know, I know, I just said not to take it early) because I don't want it to grow more bananas unchecked while I am gone.
As soon as I hack the two RFCs, I will freeze them to wash when I return. In their place, I have a locally bred strain named Geltabs, a Gelato x Bubba Kush cross that I am VERY EXCITED about. It has already proven to grow well in my area and, even though it was taken early (2 weeks) it still produced 3.8%, a number comparable to GG4 returns I've recieved before (with a better flavor). THIS will likely remain in my stable for a while.
My Future Plans
I hope to continue to post grow tent information as well as helping educate for hashmaking while discussing my journey and growth. Maybe even post my hash percentages as an immutable way to keep track of strain returns as a way to help other people identify strains to make hash.
Who knows but if I can help pass on the legacy of Frenchy Cannoli, I would be honored to do so.
Thanks for reading.
---
---