How to Prepare Your Plant for Harvest When Growing for Hash.

In my first two posts I went over some introductory information regarding growing for hash. Feel free to go back and catch up but I will give a quick run down of what I went over:
Genetics
Genetics is the difference between a good hash run and a poor one. You can do everything right and produce wonderful plants but if it doesn't have favorable traits for hash, it won't wash into an amount worth doing. Do your research: Look up the lineage of plants and cross reference. I will eventually post my return numbers when I have enough information to share.
Breeders lie
It's not their fault, they're just responding to our actions. Fact is, if a plant needs 9-10 weeks flower, breeders will tell you 8-10 to get more people to buy it. This is consistent with people consistently harvesting early. Honestly, if you can, I suggest taking strains 12 weeks - go ahead and see what you would have lost if you hacked it at 8. My rule of thumb: whatever the lowest week is add a week. In regards to growing for hash you should consider taking it two extra weeks, this allows time for the trichome heads to get larger and be more likely to be harvested (think of how a mushroom grows). I support more of an entire plant approach to harvesting, I don't just look at the trichomes of the top colas closest to the light for amber color, I tend to look at the entire plant and let it tell me.
Genetic differences - even within a pack of seeds, can make the difference.
Just because it looks like a plant has good hash genetics, doesn't mean the cuts used for breeding had favorable hash genetics or even that it was passed down! There is so much that goes into it but here is a great example.
I popped a half a pack of seeds and ended up with 2 females of Rotten Fruit Cocktail (Strawnana x (GMO BC X Banana OG). GMO is a favorite strain of mine and it makes great hash so I am really looking for a GMO-like pheno that has a shorter flowering time and dumps hash. I can already tell you with some certainty that one pheno is going to make more hash than the other: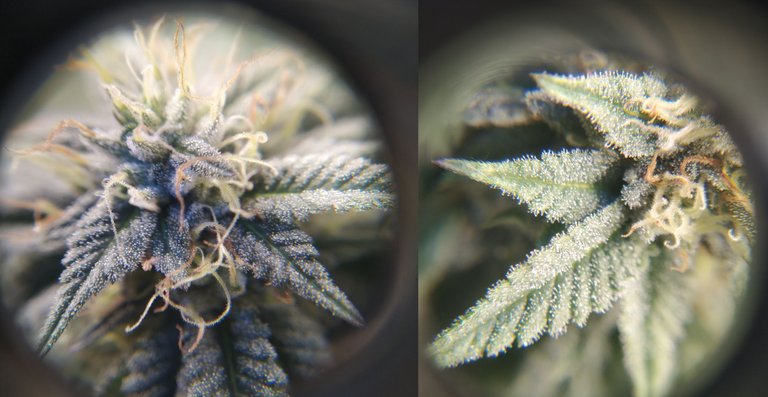 I did my best to capture it but I had difficulty having the trichomes clear enough for my liking. On the left, is the pheno I am excited for hash. The heads are larger, the stalks of the trichome are shorter (good luck even FINDING a stalk you can point out). In comparison, the bud on the right you can easily see the stalks of the trichomes. This is a pheno that will be better for flower as it will have more bag appeal. Eventually, you get an eye for it and you can spot the "hairy" trichomes easily. These tend not to be ideal for hash making. In my experience, they tend to have smaller trichome heads that don't break off while washing.
More bud sites the better
I support low stress training and whatever you feel comfortable doing to get the most amount of bud sites. Ideally, you want the buds to err on the side of smaller and looser. We are not trying to grow only a few large dense colas.
I support heavy defoliation in week 3
I like to strip all fan leaves off the plant starting at the top to introduce more light to the lower bud sites for the final stretch of flower. Not everyone likes to stress the plant out but I believe it is important for the overall end product, you do what you are comfortable with.
Now the new stuff
After a couple weeks your plants are going to start smelling. If the plant is getting what it needs it will start sending the extra nutrients into secondary things like trichomes and cannabinoids. Ironically, the thing that is supposed to keep us from wanting (trichomes and terpenes are supposed to be a defense mechanism) it is the reason we keep wanting it. These trichomes should be treated like fruit and after listening to Frenchy Cannoli talking about it a lot it is a good comparison for multiple reasons.
At this point, we want our trichomes to grow large and our terpenes to be preserved.
Trichomes are perishable: their membranes can burst under high temps and they can exhaust their terpenes if the temperature is too high. I tend to focus my indoor growing in the winter so temperature isn't that big of a deal but I learned an expensive lesson when my GMO last year got over 80 degrees for over 24 hours. My once beautiful stanky plant was reduced to just a beautiful plant with a smell I barely noticed upon opening up the tent. I dont like my plants getting over 75 in flower. As it starts smelling I do what I can to get it lower, I prefer low 70s last couple weeks and 70 tops during the final week or two.
I don't like heavy direct airflow the last couple weeks, low fan or better yet: indirect air movement if you can get away with it. Same thing when you are drying bud for flower, don't do direct air, do indirect airflow that pulls the air through the bud.
I also give the plant 48 hours of darkness before hacking. Terpenes build up at night and exhaust during the day. Giving it 48 hours of darkness not only helps stack the terpenes in the final push but it also helps ramp up resin production towards the end. Basically, leave it in the dark until you are ready to harvest.
So now you're ready to harvest
I like to set things up in a way where I can throw buds into a large basket then when it is full I can weigh it and place it in a gallon ziplock, mark it, and put in the freezer as soon as possible. Once you get this all ready you are set to start hacking the plant.
I pick the fan leaves off the plant before cutting anything. When you look at the leaf, the point where all the leaves come together on the stem is what I'm looking for. If that point is outside the bud, I remove it. If it is tucked inside the bud I leave it.
Once you have all the fan leaves off start cutting away branches one at a time and work your way down the branch.
YOU SHOULD ONLY BE CUTTING STEMS - NO LEAVES!
DO NOT "TRIM" your bud. Leaves must remain intact! The only time you go against this is if leaves are dry and crispy and you need to eliminate it from your material. Chlorphyll will leak out into the water and get into your hash. ONLY cut the stems! Cut buds small and round. If the bud is "long" cut it down at the nodes until it is round. All bud will be different but I absolutely do not allow any buds larger than a golf ball in the bag (even that is a little too big). At that point, you might as well just save it to smoke. Break the bud down further until it is smaller than a golf ball and round.
I will do a video showing this because it is difficult for me to explain through text as evidenced by the last two people I tried explaining it to. You can literally mess everything up if this isnt done properly and timely. Trichome membranes can burst at room temperature and terpenes can exhaust the entire time. From the time we cut the plant to the time we put it in the freezer we have to be quick. I have a precise way I clip where I am able to cut the petiole of the fan leaf, stem of the bud, and the main stem at the internode in one cut.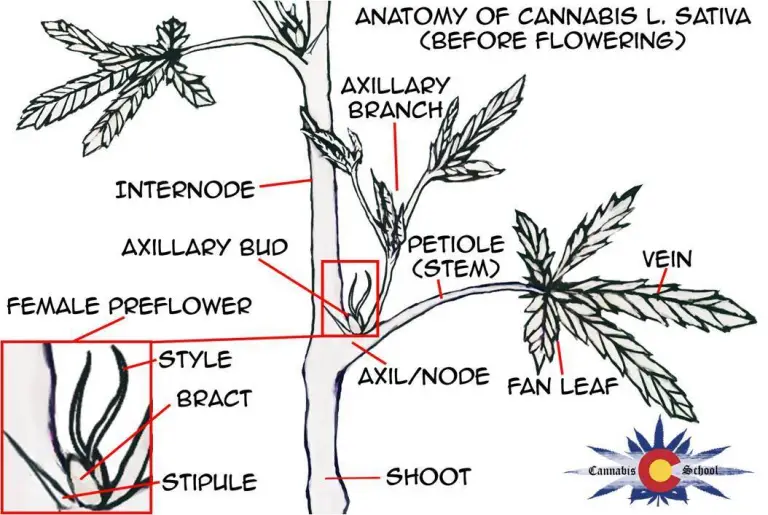 (source)
As much as I want to type it out, I think I just need to make a quick video within the week. If you are hacking a plant for fresh frozen (Rosin or Resin) before I make the video, reach out to me I will help out.
Thank you so much for reading.
-WildWestHash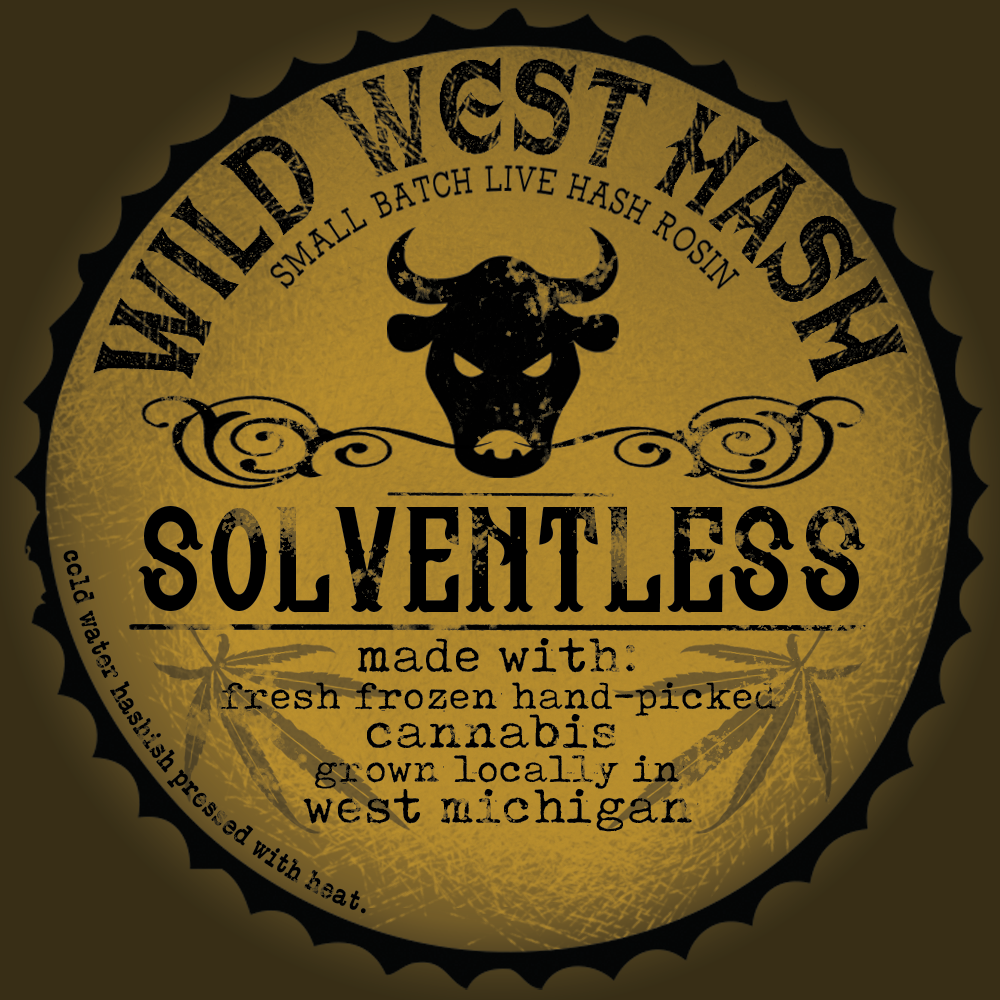 ---
---