Gorilla Breath - Addition to the Hash Database

Hello friends! It is Crop-tober and I am up to my ears in work! There literally is not enough sunlight in the day to get everything done. Today it is raining and I decided to take a "day off" and only work one of my jobs today! That means I have some time to update you my progress this fall!
I recently washed the strain "Gorilla Breath" which is a cross of Gorilla Glue and Mendobreath F2. Both strains grow well here in West Michigan and Gorilla Glue as well as it's crosses generally finish with plenty of time in our grow zone.
I grew one last year and washed it as a test and was very happy with the turn out. Though I have been dabbing Gorilla Glue for a year, the Mendo funk really overpowers the Glue taste if the rosin is allowed to cold cure.
Starting Material
Having friends growing the same strains really gives me a lot of flexibility in washes. Being able to add material from multiple grows really allows me to be more efficient with my time. This year, for our Gorilla Breaths, me, a cousin, and a friend of his all ran the same 4 strains. This also allows us to compare grows at multiple locations to find similar conclusions and wash them all to get an accurate return number from multiple sources.
This batch is from 3 different grows. We all pretty much are working up our soil with organic inputs over the years. My friends have been growing for a few years outside so they have a jump on me but I intend to close the gap in the years to come.
Starting material is great, we purposely took it the 3rd week in September knowing it wouldn't be fully mature but it was a calculated decision based on the fact that I would be very busy in October and any opportunity to spread that out would help.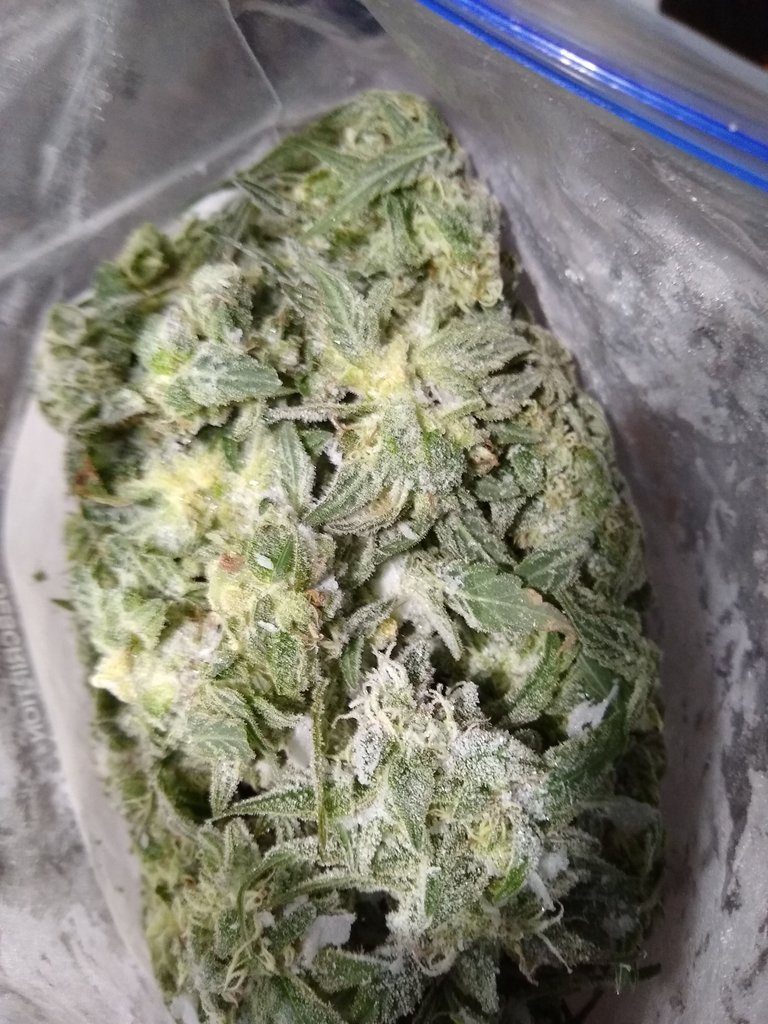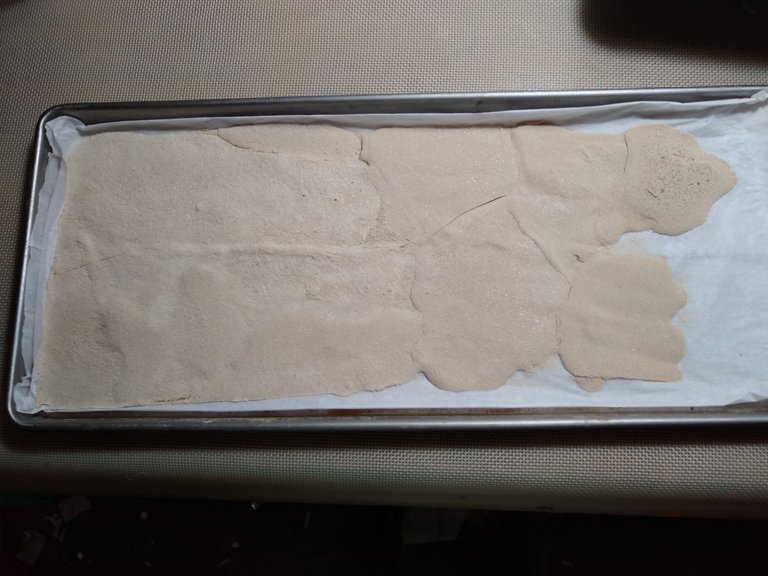 The Press
I typically run two presses, the first being 180 degrees the second being 210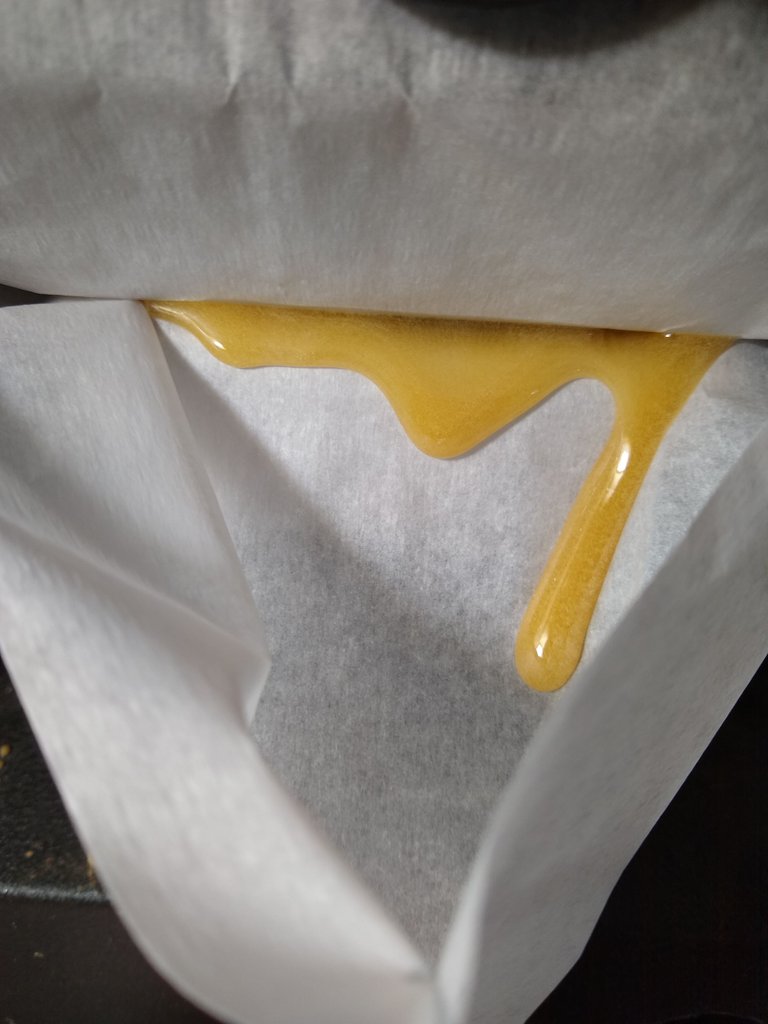 The camera brings out more "yellow" than in person, but it still looks tasty.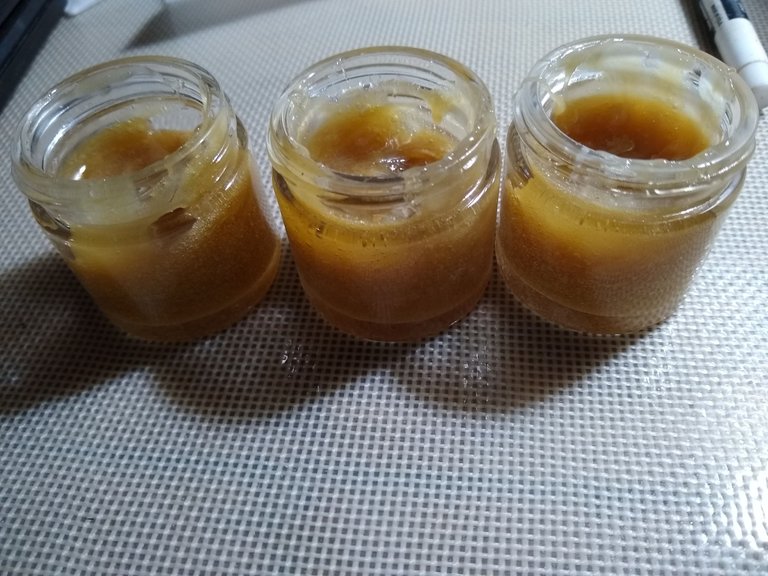 Final Numbers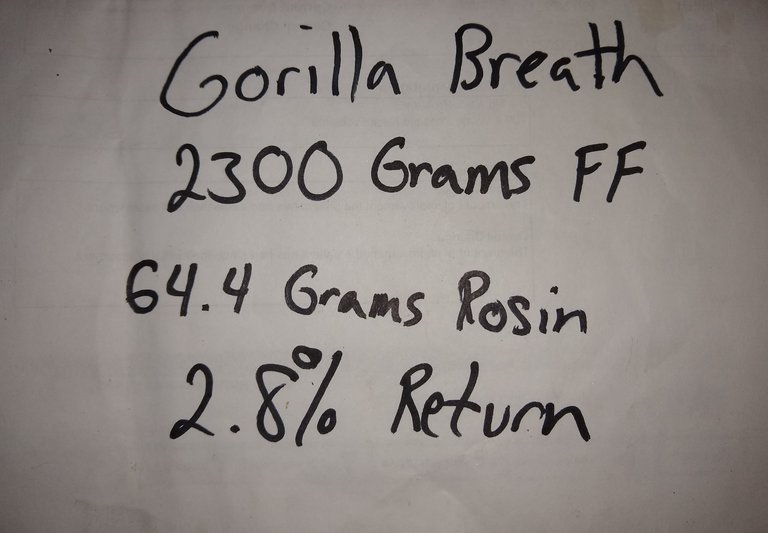 Notes
My source of the clone is not sure of the exact genetics of his cut, but it is "most likely" ThugPug's Mendobreath/GG4 cross.
We purposely took the plant early, we fully expect a return of over 3% if we took the plant into October.
Database Info
Strain name and ancestry: Gorilla Breath - (Gorilla Glue #4 x MendoBreath F2)
Seed or clone: Clone
Outdoor/Indoor/Greenhouse: Outdoor
Nutrient line or soil conditions: Organic inputs, No-Till
Date Harvested: 3rd week in September
Cold room temperature at time of wash: 54
Soak time before wash: 30 Minutes
Number of individual rounds of washes and length of time: 7 washes - 6-12 minutes
Total starting weight: 2300
Range of microns used for hash: 45-159
Total weight of dried hash out of the freeze dryer: (didnt make note)
Total pressed weight of finished rosin: 64.4
Number of plants: 5
Grams of Rosin Per Plant: 12.88
Percentage Return from total FF weight: 2.8%
This information is being added to the Hash Rosin Database, a way for us to track and keep records of different strains and how well they produce for Hash Rosin.
Posted using WeedCash Network
---
---