100+ views for dropping a link in the right place? BEAT THE ALGORITHMS

It's time for our front-ends to start on-boarding users like crazy and I have just the tactic for grass roots outreach that will bring a ton of eyes on to whichever Hive front end you want to promote. I know Leo has an energized community but I want to see some of the other front-ends also step up and start building their user base while also growing Hive's.
I'm really energized to be working with Natural Medicine and we may have some really big announcements coming up soon over there. I'm gonna see if I can do this for them after another test run or two. I am hoping users from Build-it, CCC, Weedcash, STEM, NFTShowroom, Sportstalksocial and anyone else I'm forgetting can also try this tactic out.
I know I said I was thinking about quitting FB and will eventually but I suddenly had the idea to drop a link in a crypto community on FB for a little experiment. I randomly found a group called "Captain Altcoin - Cryptocurrency Community" and thought it might work.
I linked to peakd intentionally so I could check the view count. I wanted to use something relevant to crypto and something everyone cared about. @jrcornel is one of my go-to guy for market stuff, especially for bitcoin so when I saw his post On average, Bitcoin surges 153% after correcting by 30% during the last Bull Market, I thought "Perfect!"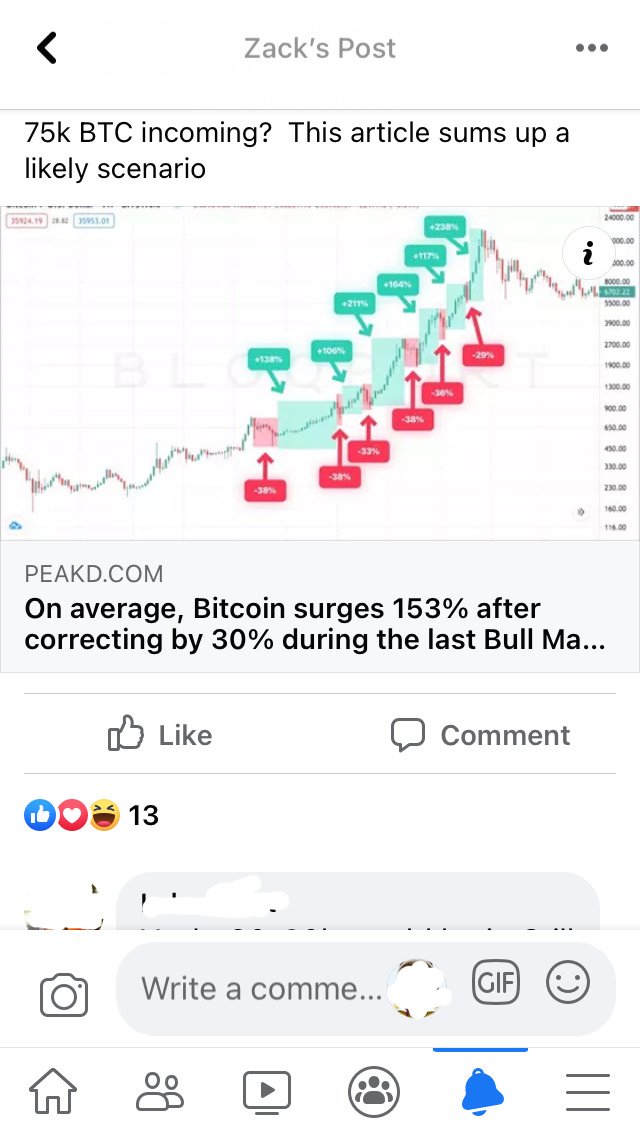 Dropped the link and within 2 hours, the view count had gone from 10+ views to 100+ views. It's currently the most viewed post on peakd.com(150+ views after 12 hours). It only got 12 likes on FB but the comment section went crazy with people debating the direction bitcoin is heading.
Pretty cool huh?
Before you start spamming links everywhere, take a minute to think about why this worked. The algorithms will destryo you every the time on FB Twitter and Instagram. You need to put a little thought into this to make it work.
-Posting on your feed for your friends will always get less views with a link than without a link, regardless of which platform it is
- FB groups are different. They will show the most recently interacted post at the top of the group. It's the only place I know of on mainstream social media to do that.
- When you reply to a post, it gets bumped back up to the top.
- Most groups won't allow links so you have to choose one that does
- Most groups that do allow links will be lots of spam and no interaction, waste of time
- If you can find a group that allows links and has some level of interaction in a topic related to one of the front ends great! Don't over-post, you don't wanna spam them, you want them to get interested so once or twice a week is enough.
- The post I linked was OBVIOUSLY relevant to the group, not only that it was INFORMATIVE and INTERESTING.
- It had a catchy title
- I left a comment that said "This article lays down the case for a $75k bitcoin very soon" Talk about catchy.
- It wasn't my own post, so no one could accuse me of spamming my own work
- I didn't say JOIN HIVE, CHECK OUT HIVE, which turns a lot of people off
Will any of the 100+ viewers join Hive? I have no idea. It may work, it may not work. But I got peakd's name out there and so next time these people come across a link from peakd or hive, they may remember seeing it somewhere. So if they don't join now, they may join next time. They may browse around first. If 1 or 2 people join it was worth it, and for all I know 70 of them could join.
These is the crypto crowd after all and seeing that number at the bottom, a lot will say "EH!? Crypto!" and want to join.
Just thought this was something worth sharing for all those who want to do PR. I know @nathanmars and friends are all working on Twitter, but you might wanna just pop in to a few facebook groups to see what you can do.
I don't know how much patience I have for this considering how fed up I am with facebook, I will try to do it every once in a while and if I make any new discoveries I will let you know. I hope some people pick up this tactic though, cause I think it can get a lot of eyes on Hive and it's many projects.
If you find a group that allows you to post relevant links and still has a decent level of discussion, let me and other users of that front end know.
🌎🌎🌎🌎🌎🌎🌎🌎🌎🌎🌎🌎🌎

Come join us in Hive Cross Culture where we talk and share ideas about Culture, language and travel and share any bilingual content. Join our discord
We also have a @crossculture account curating bilingual posts and running contests to support local communities. If you like what we do, please consider delegating to @crossculture or follow our trail 🙂
🌱🌱🌱🌱🌱🌱🌱🌱🌱🌱🌱🌱🌱🌱🌱🌱🌱🌱🌱🌱
I'm also getting much more involved with Natural Medicine, Hoping to help them connect and reward autonomous and conscious communities around the world.
Consider buying the LOTUS token at leofinance.io 's LeoDex or posting at naturalmedicine.io where you can browse posts about healthy lifestyles, spirituality, farming, yoga, psychedelics, healing techniques and more. All your posts will automatically appear at the Natural Medicine community at Hive and you can earn LOTUS and HIVE.
Help us spread the word by liking and sharing posts by Natural Medicine on Twitter and Instagram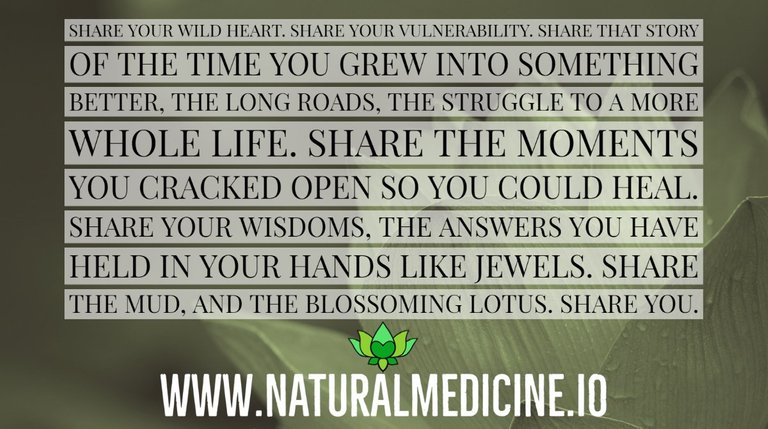 ---
---