My first two weeks of playing Hashkings! (GER/ENG)


made by @dynamicrypto
---
Deutsch
Knapp zwei Wochen sind nun vergangen, seitdem ich dieses wunderbare Spiel für mich entdeckt habe. Vor allem auch aus persönlichen Gründen sprach es mich auf den ersten Blick sofort an.
Als ich dann dem Discord beigetreten bin, wurde ich herzlich empfangen und mir wurden die unzähligen Fragen, die ich hatte immer beantwortet. Nicht zu vergessen die Großzügigkeit, die ich von manchen Spielern erfahren durfte (Seeds geschenkt und Plots günstig vermietet bekommen).
Der junge Entwickler liuke (20) ist nicht nur freundlich, sondern wirkt auch sehr motiviert sein Spiel voranzutreiben. Sprecht mit ihm - man kann ihn einfach nur mögen.
Ab jetzt möchte ich jede Woche eine kleine Zusammenfassung meines Fortschritts in diesem Spiel in Form eines kleinen Beitrags veröffentlichen, ich hoffe ihr habt Gefallen daran!
Eventuell werden in Zukunft auch kleine Gewinnspiele integriert. Wir werden sehen ;)
Wie immer sind Anregungen und Verbesserungsvorschläge herzlich Willkommen.
English
Almost two weeks have passed since I discovered this wonderful game for myself. It appealed to me immediately at first sight, especially for personal reasons.

When I joined the Discord, I was warmly welcomed and the countless questions I had were always answered. Not to mention the generosity I experienced from some players (seeds given and plots rented for a good price).
The young developer liuke (20) is not only friendly, but also seems very motivated to push his game forward. Talk to him - you can't help but like him.


From now on, I would like to publish a small summary of my progress in this game every week in the form of a small post, I hope you enjoy it!

Maybe in the future there will also be small give aways. We will see ;)
As always, suggestions and ideas for improvement are very welcome.
---

Das ist was ich zurzeit an Tokens besitze.
Über die letzten zwei Wochen habe ich mir folgende Dinge für den Start gekauft:
1000 BUDS
~59 Mota
130000 HKwater
14 hkavatar Packs
2 South America, 1 Mexico
Gemietet: 4 South America, 1 Africa,
1 Afghanistan
Neun meiner Packs habe ich geöffnet und sogar 2 Legendaries gezogen! Die habe ich auch schon geforged und schicke sie mit meinen anderen Avataren auf alle Raids.
This is what I currently own in tokens.
Over the last two weeks I have bought the following things to get me started:
1000 BUDS
~59 Mota
130000 HKwater
14 hkavatar Packs
2 South America, 1 Mexico
Rented: 4 South America, 1 Africa,
1 Afghanistan
I opened nine of my packs and even drew 2 Legendaries! I have also forged them and send them on all raids with my other avatars.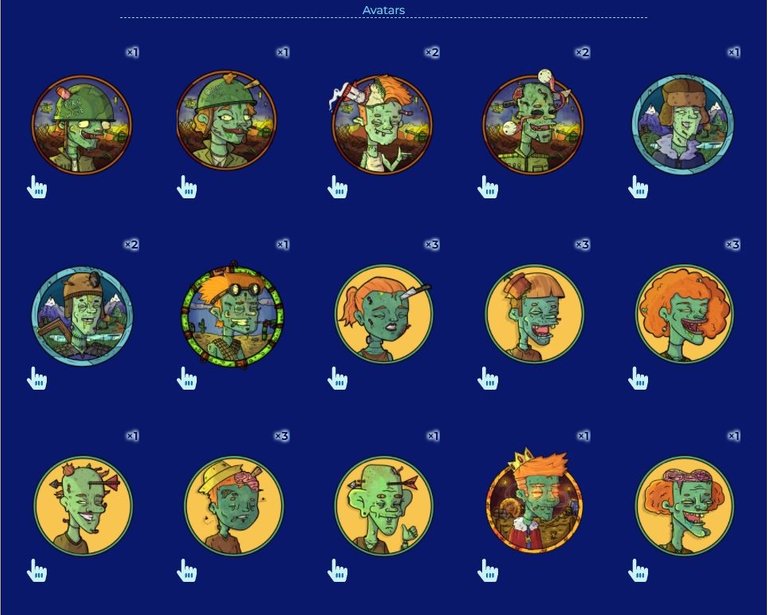 ---
Mit meinen bisherigen Ernten habe ich 8434 BUDS erzielt und hoffe darauf einen Afrika plot günstig erwerben zu können, um mir mittelfristig die teuere Rente zu sparen.
Staked Mota:
45 auf Südamerika
12 auf Mexico
Diese erbringen mir wöchentlich Samen per Airdrop und ich kann mir damit einige Käufe ersparen.
With my harvests so far I have achieved 8434 BUDS and hope to be able to buy an Africa plot cheaply in order to save the expensive pension in the medium term.
Staked Mota:
45 on South America
12 on Mexico
These bring me weekly seeds via airdrop and I can save myself some purchases.
---

5 Packs hebe ich mir auf und damit ich sie nicht gierig öffne, habe ich sie mit einem viel zu hohen Preis zum Verkauf angeboten. Wenn er dir nicht zu hoch ist greif gerne zu 😀
Bis zum nächsten Update!
vasupi
I'm saving 5 packs and so that I don't open them greedily, I've put them up for sale with a price that's way too high. If it's not too high for you, feel free to grab one 😀
Until the next update!
vasupi
---
---