Конопля на захисті українських бійців / Hemp protects Ukrainian soldiers (UA/EN)
Ще до війни, в одному з дописів ми розкривали тему коноплі. Ця рослина мала в українській традиції не лише побутово-прикладне значення, бо з неї виготовляли нитки для одягу та інших речей, а ще й велику магічну оберегову силу.
В сьогоднішніх воєнних реаліях українські волонтери з волокон коноплі почали воготовляти маскувальний одяг для снайперів та спецпризначенців. Перші дослідні зразки були відправлені на фронт ще місяць тому і отримали найвищі оцінки від військових. За своїми експлуатаційними характеристиками це найкращий з існуючих маскувальних зразків. В ньому тіло дихає і не пітніє в спеку, відмінно захищає від вологи і витримує серйозні механічні навантаження. Але головне, вони чудово виконують свою оберегову магічну функцію, бо всі військові, які виконували бойові завдання в конопляній маскувальній "кікіморі" (як вони правильно називаються у війську) - живі та здорові.
Дякуємо українським волонтерам та збройним силам України!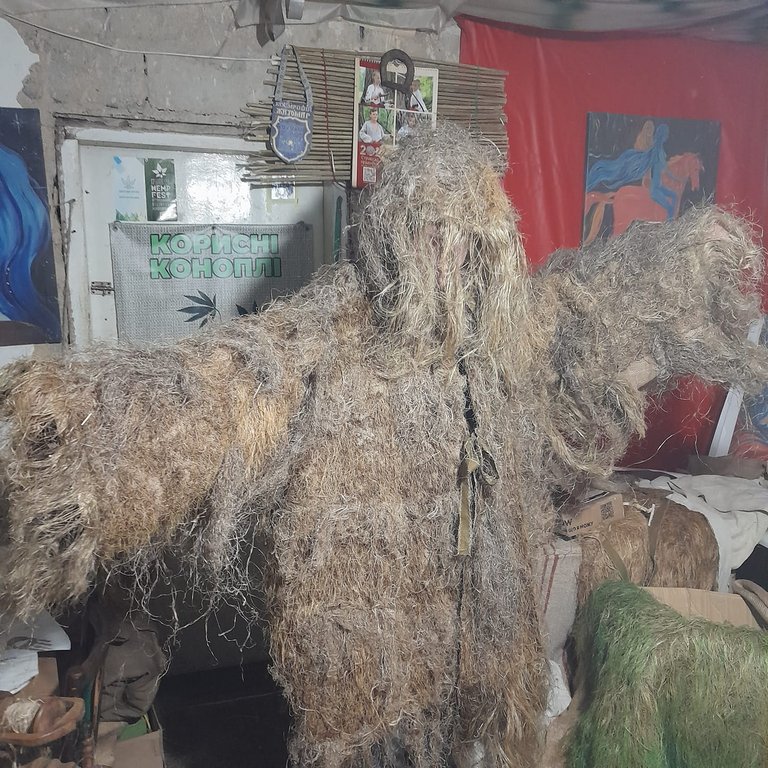 Image source
Even before the war, in one of our posts we discussed the topic of hemp. In the Ukrainian tradition, this plant had not only a domestic and applied value, because it was used to make threads for clothes and other things, but also a great magical protective power.
In today's military realities, Ukrainian volunteers from hemp fibers began to prepare camouflage clothing for snipers and special forces. The first prototypes were sent to the front a month ago and received the highest marks from the military. According to its operational characteristics, it is the best of the existing camouflage samples. In it, the body breathes and does not sweat in the heat, perfectly protects against moisture and withstands serious mechanical loads. But the main thing is that they perfectly fulfill their talismanic magical function, because all the soldiers who performed combat tasks in the hemp camouflage "kikimora" (as they are correctly called in the army) are alive and well.
We thank the Ukrainian volunteers and the armed forces of Ukraine!
---
---