It's 4/20 All Day Today - 🎁 Free Weed Inside 🎁
Hello to all the weed nerds and networkers of weedcash.
Yeah, you know what it is.
It is what is...
It's 4/20/21.
And this is how it's going down.
I bought myself some gbag of Ethiopian Shash weed that cost me $15 plus lots of cop dodging 😂
I feel happy and satisfied anyways 😊
This is most awaited day for all the stoners worldwide.
As a stoner I had to first thank myself and bring the bag 💰 to my fellow weedcash highness' for the year's co-operation.
As we keep going on, you are welcome to roll and spark this blunts with your most favorite weedcash networker.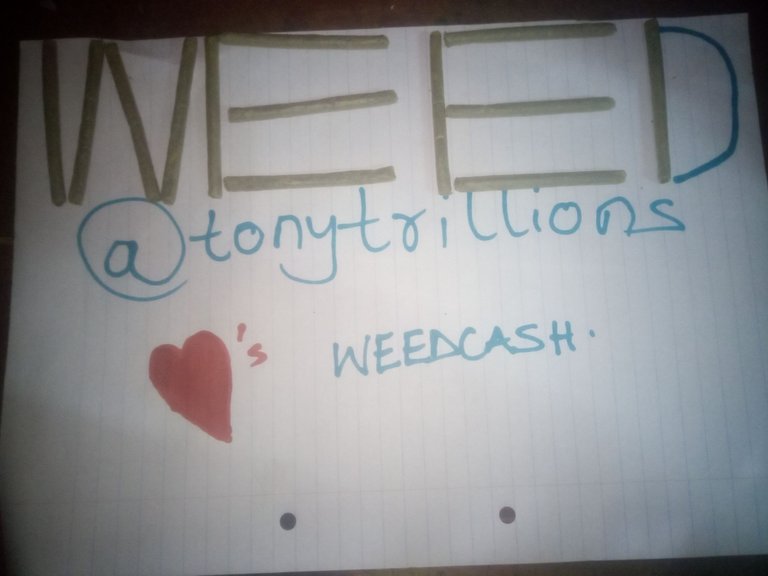 One year down the line since 4/20/2020.
That's was my worst 4/20/20 cause I missed out in action on such a vital day of our lives.
But I don't blame myself for missing out because I was held up by my farm since we were busy top dressing khat shrubs & pruning coffee stems.
However,
today is a special day for all weedcash networkers and the reason I am writing this post is to share my journey since I joined weedcash.

My journey on weedcash network started in 4/21/2020 which means my first weedcash anniversary is tomorrow.
Before Justin raided steem, I used to post on steemit.
However,
I used to blog about life, motivation & cryptos.
After the hostile takeover, most of the communities and tribes moved over to #Hive.
I was relactant with posting first of all because I was not sure of what direction to follow.
I engaged myself with the heartchurch community and started posting daily proverb bible verses.
That was still on steemit.
I wasn't contented with what I used to post cause it used to get zero engagement apart from some SBI upvotes I had secured earlier.
I decided to change my posting style and also I agreed to join the hive.
That was early april last year.
Even though I had decided to move on with hive, since its where almost all tribes ran to for decentralization, I had no idea of what to be posting.
Keep in mind that this is happening in april last year.
So I joined hive and changed my keys just incase Justin's goons decide to hack into hivers accounts.
And now I was in hive, fresh outta steem.
I didn't want to continue with the bible verses cause it was getting so monotonous.
So,
after missing out on the 4/20/20, I was hurt, felt stupid and wasted because I had missed out on a very special event of my life that I will never ever happen to experience again.
And that's when it came to mind that I needed to start writing daily posts on hive regarding weed/cannabis so I can help keep track of the next 4/20.
However, I had never heard of weedcash.
I started posting on hive without engaging the posts with any tribes or communities.
I was so discouraged because my posts were earning a maximum of $ 5cents. 🤦🏾‍♂️
I felt disappointed ☹️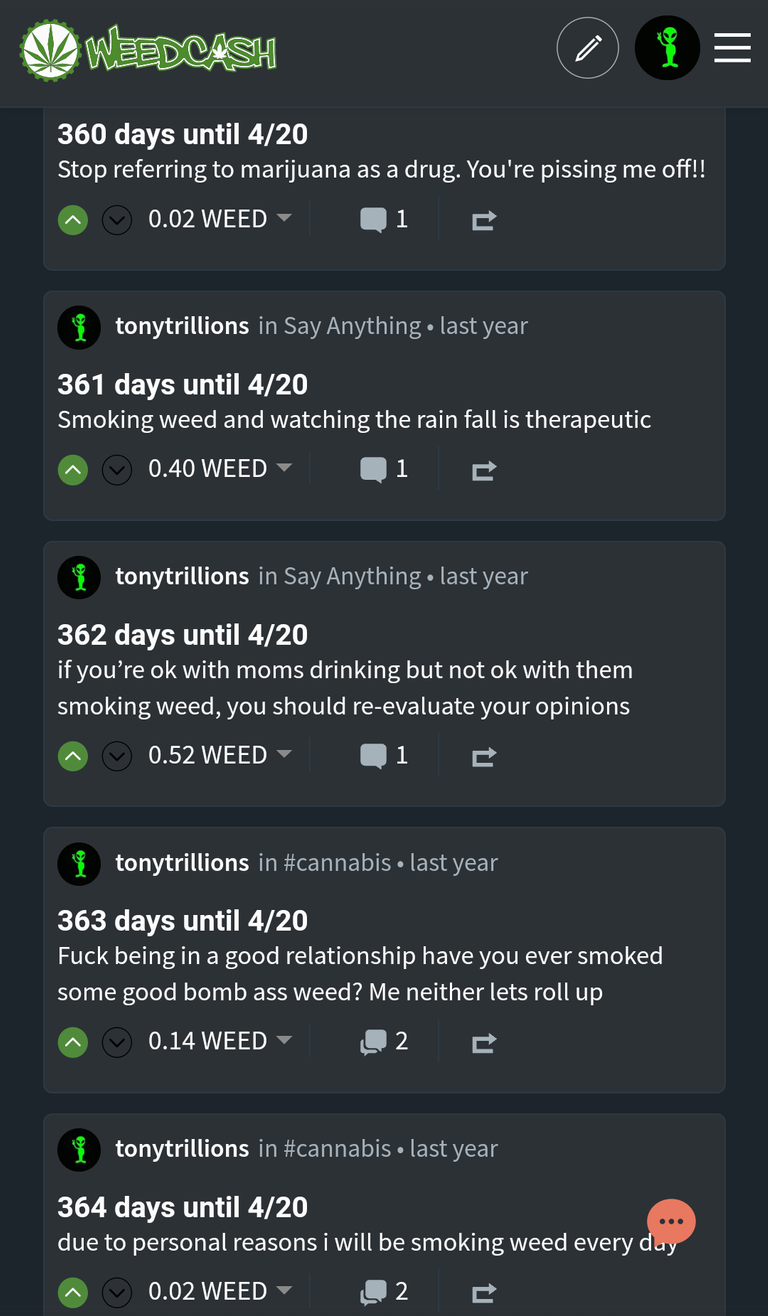 Image source
This went on for a week or so...
Every day I posted I felt more demoralized..
The best part of all the discouragement is that I never gave up.
I kept earning my 5 cents on a daily basis
until I met @phusionphil who introduced me to weedcash network.
After linking up with Uncle Phil, I explained to him of my struggles, we had engaged in comments and replies when he told me about this network.
13 days after 4/20/20 I decided to start posting my cannabis content on weedcash.
That's where my blogging life turned on a new leaf.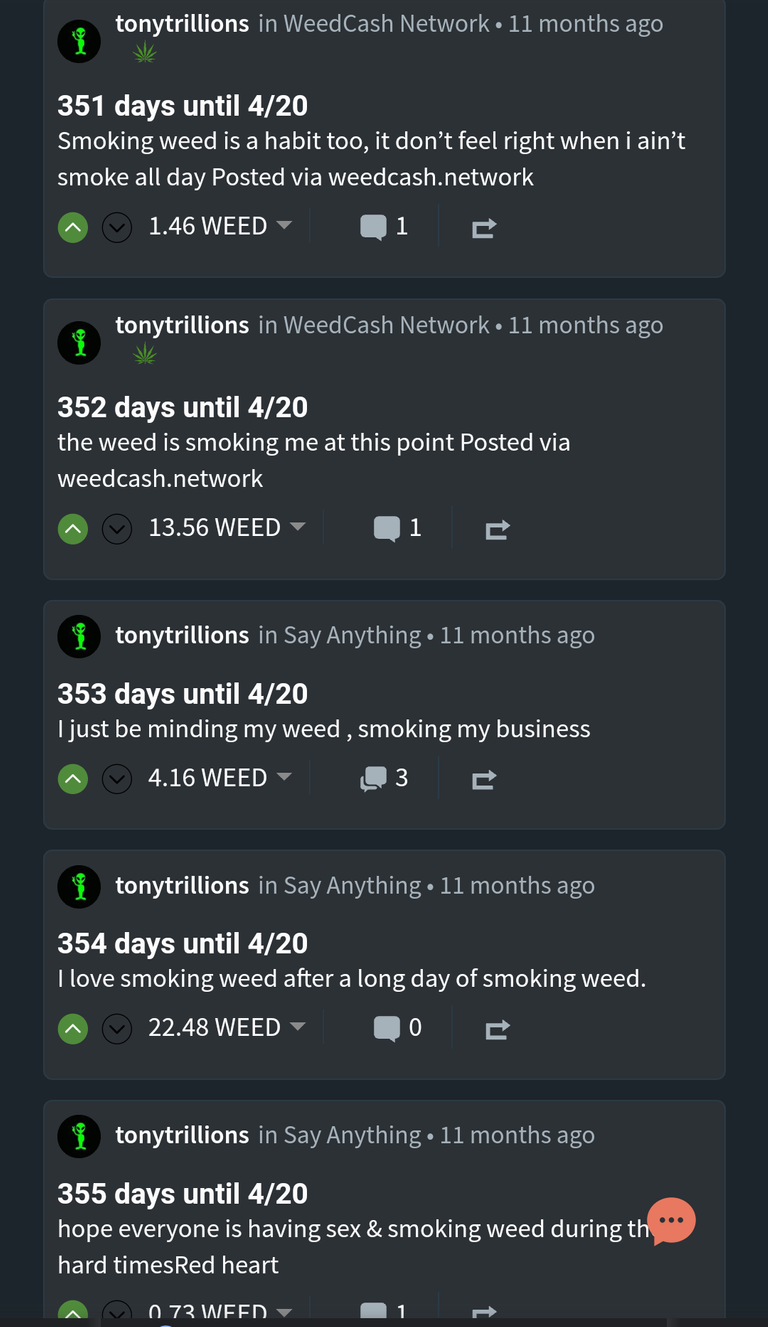 Image source
I used to post on a community known as "say anything" by berniesanders now I had joined weedcash and my first post had bagged me 22 weed tokens.
I was happy and hopeful.
This was just the beginning.

Being new to the game, I didn't have any weedpower, my hive power was on the low too.
It was kinda difficult to engage, curate & post regularly.
I even missed out on some days.
My weedcash earnings were ranging from 1-5 weed.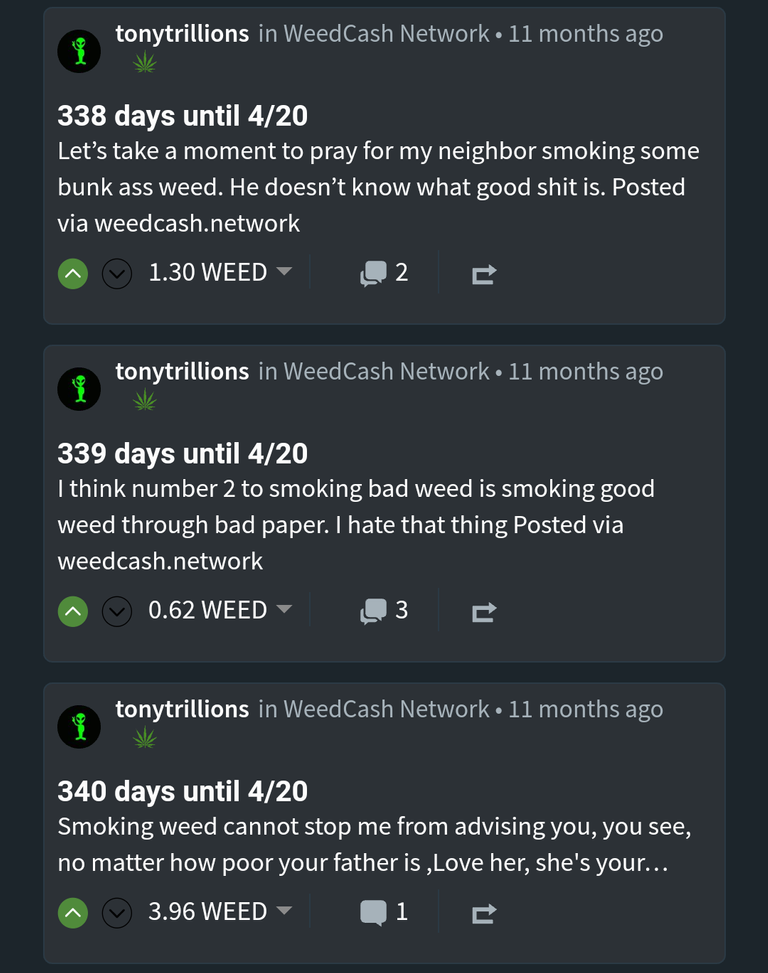 Image source
"Why am I posting but my earnings are still low?"
I asked myself.
So I decided to start powering up my weed earnings so I could increase my resource credits.
And in less than two months of posting on weedcash my earnings shooted from 5 to 20-30 weed per day's post.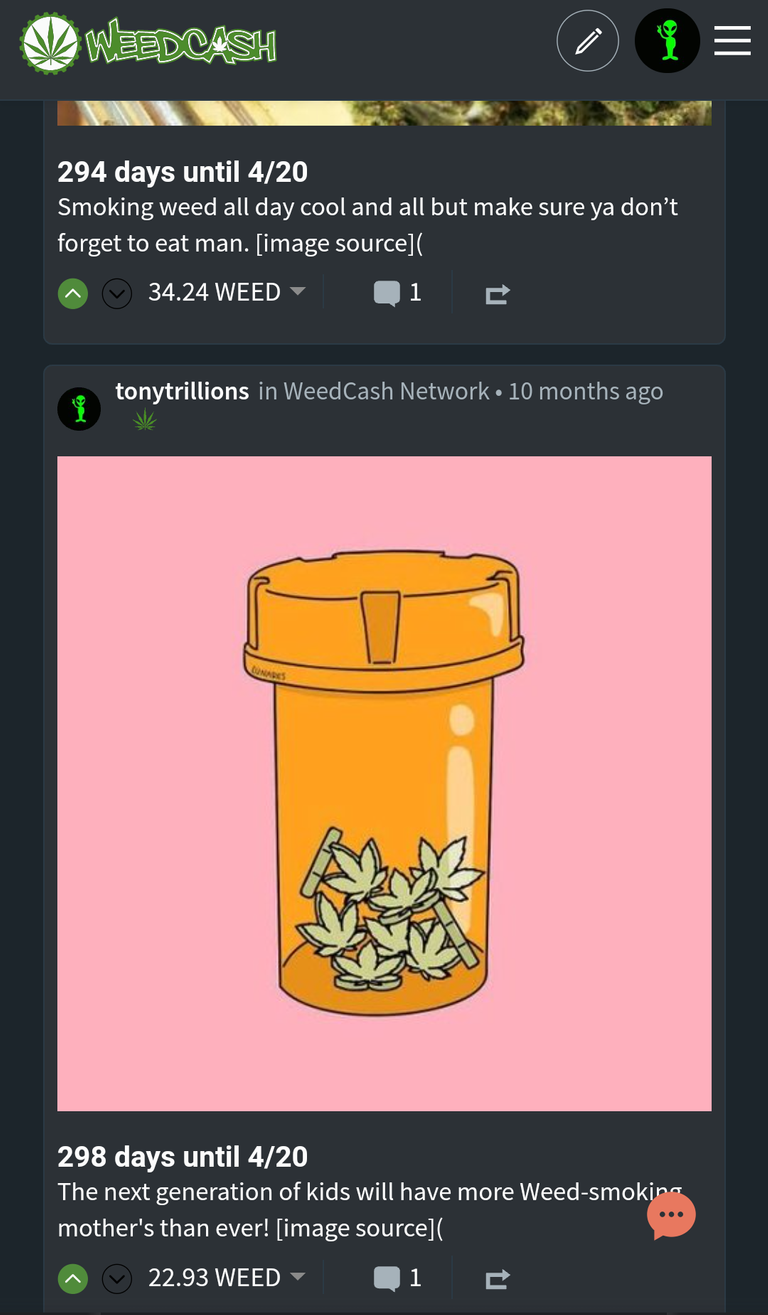 Image source
This goes to my friend @esecholo - the secret to a huge weedpower is: buying, mining & most of all staking all your rewards.
It's a very tough journey cause it needs alot of discipline, commitment & consistency.

I kept on posting my account with daily 4/20 countdowns.
Now consistency was starting to pay off and I hit my first 100+ weed earnings on one post.
I was so happy 😊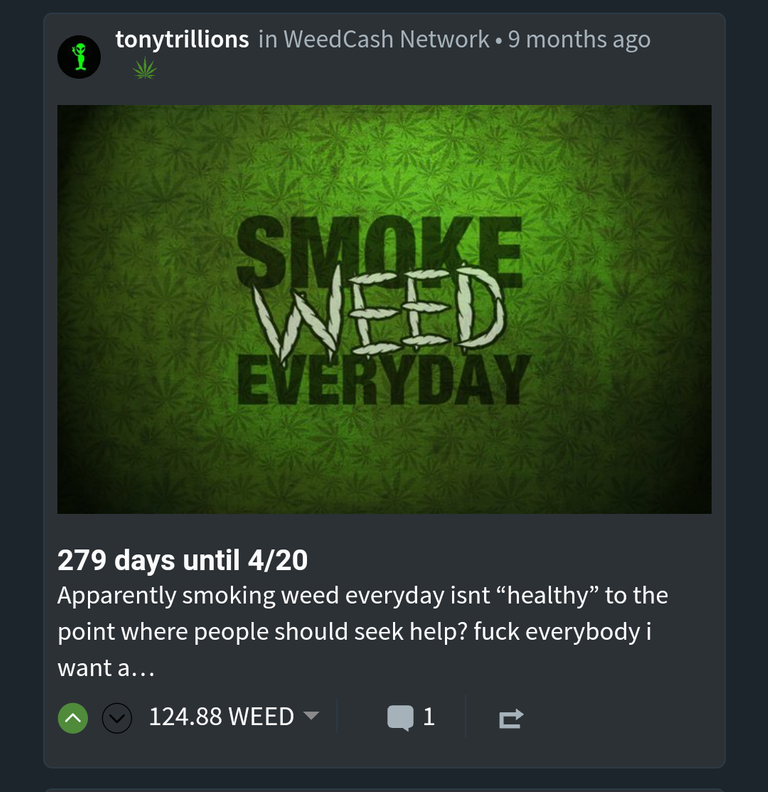 Image source
Consistency can surely pay off.
Along this trying and tough journey, I needed to buiDL a network of weedcash nerds so I can see if I would boost my weed earnings.
buiDLing a network of consistent curators is one of the tasks am still doing up to date.
Then I happened to participate in last year's canna-fest by @canna-curate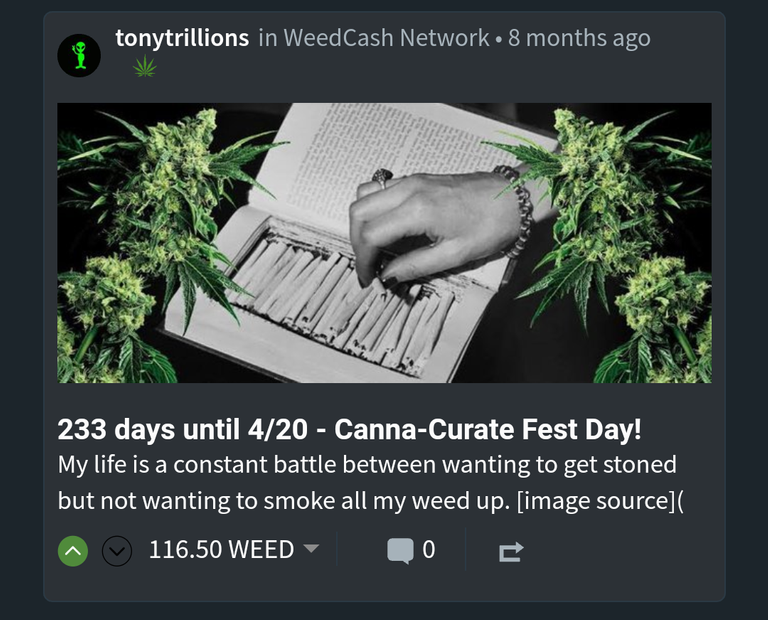 Image source
That's where I happened to come across some of the big fishes in this small pond.
I got to engage with;
@davedickeyyall
@thelogicaldude
@elamental
@jonyoudyer
@erodedthoughts
@d00k13
@joeyslliks
@loonatic
among many more...
I vowed to build a strong network with all of them.
4 months in weedcash and I had 3k+ weedpower, my hive power was still growing and I made a wise decision by adding them on my hive.vote autovotes.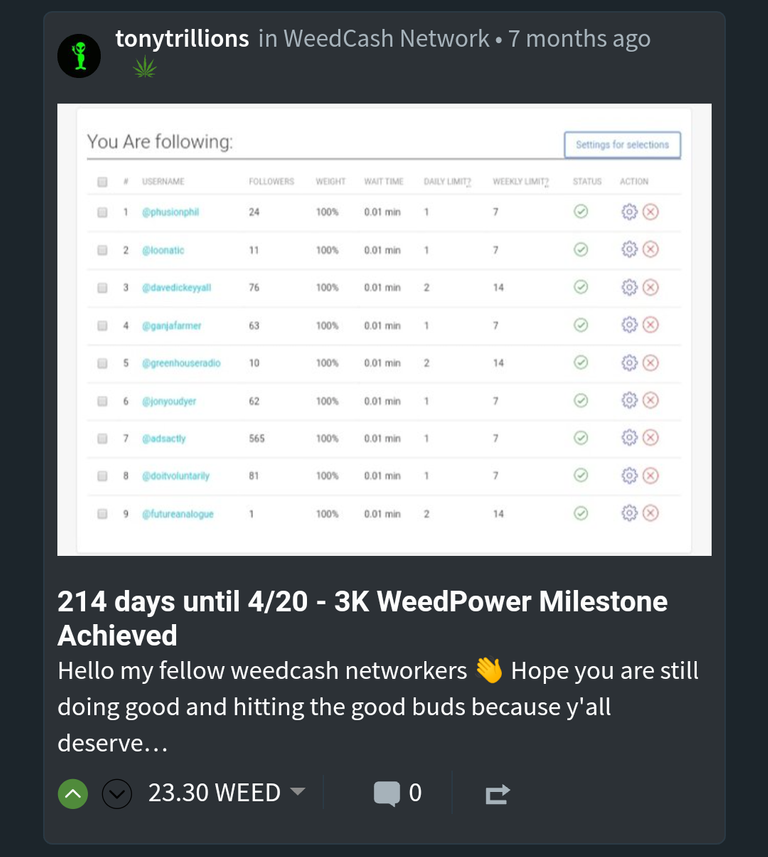 Image source

How did I end up blowing up on the weedcash Richlist?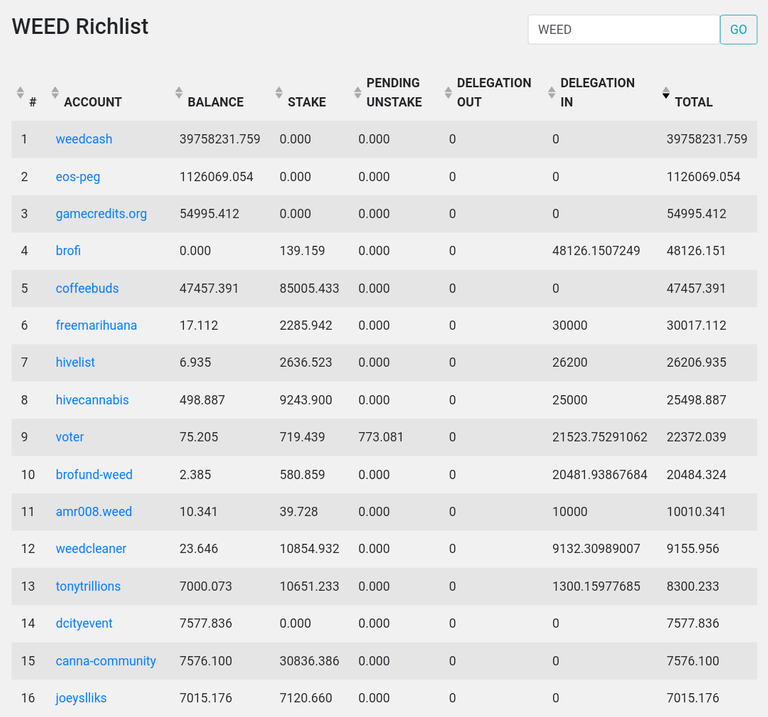 Image source
How did I end up staking 10k+ weedpower?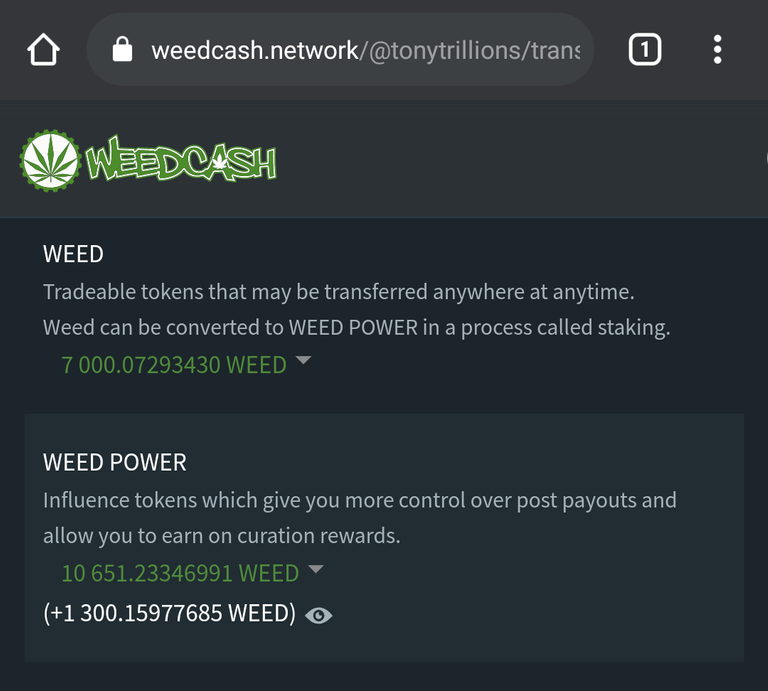 Image source
A special vote of thanks to @sevenoh-fiveoh & @thahodler for believing in me and trusting me by delegating their weedpower to me.
I am really super-duper humbled by your act of kindness upon me.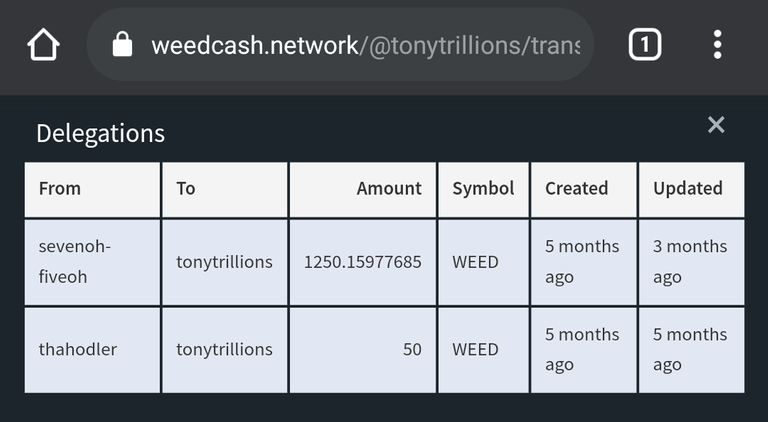 Image source
How did I end up buying weed miners and weed mega miners?


Image source
My hive & weed earnings continued to improve day by day.
The secret of the game is CONSISTENCY.
Always take part in initiatives, contests & giveaways cause they are some of the best ways to bag a huge amount of weed just because of using your resource credits.
How easy is that?
Just like ABC.
5 months ago, I remember participating in the weedcash store purchase review initiative by @richardcrill & @thelogicaldude where I bagged 1k weed tokens in just 4 days.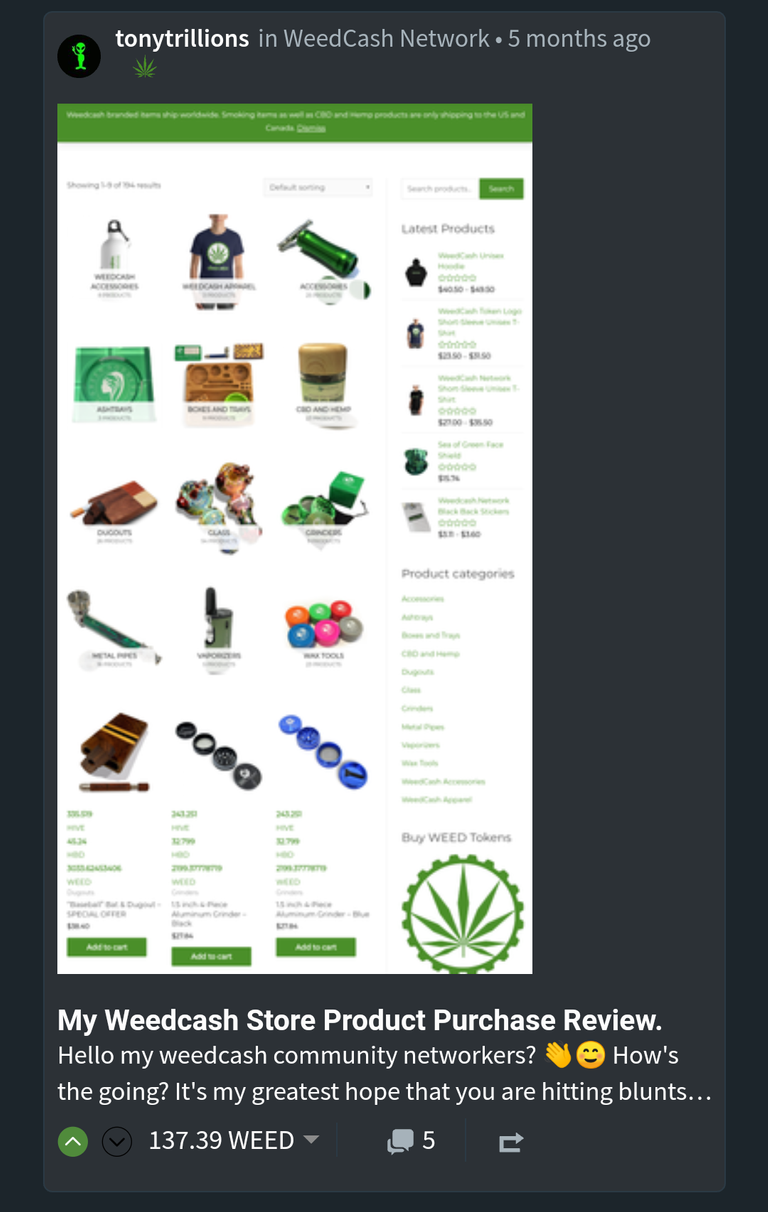 Image source
Today weedcash store is buzzing with purchase activity.
What will you be buying?
Will you be gifting your stoner buddies?
You need a new pipe, a grinder, a mug, a clock and many more.
You can check out the weedcash store accessories and products here:
Accessories
Latest Products
Hivers,
Weedcash is a stable income stream on it's own.
So much money is flowing in the network and you need to be a part of those sharing the pie.
Posting alone gets you paid both in hive & weed tokens.
Call it double earning.

Being a start of a new 420 countdown,
I have bigger plans.
Now that I have some weed, weedpower, weed miners and weed mega miners,
I am planning to boost my daily earnings by daily posting, curating cannabis-related content, thorough engagement & networking.
More to that, I want to make this the best year.
I want to increase my weed miners and weed mega miners and maybe move a step forward towards weedcash governance.
But before that I need to have at least 10k liquid weed in my weedcash wallet.
Being on the governance bench especially when you come from a country where cannabis is prohibited is a big stunt & a great achievement for me.
By 4/20/22,
I am targeting to have 10 weed mega miners & 40 weed miners.
With the current prices for:
Weed Miners - 3.74 Hive
Weed Mega Miners - 10 Hive
That's about 150 Hive for weed miners & 100 Hive for weed Mega Miners bringing a total of 250 Hive.
So I gotta pull up my socks & put in work and skills.
I accept miners as tips too 😉
In one year, I went from 0 weedpower to 10k+
What about this year?
Now that I am kinda restarting the countdown but with a greater weedpower now?
Honestly speaking, I don't know how much I will be making this time round but I know it's going to be a good year.
My only setback but which I am working on every day and night is boosting my hive power so that I can be able to curate all weedcash content.
I really need to boost all the weed nerds outchea so that I can help them help themselves and other people.
Just like a candle lights another candle & iron sharpens iron.
That's the rule.
I am calling upon the hivers who haven't checked out weedcash yet.
I know you are posting on what you like even if it's not weed.
But do you know cannabis crypto-assets & stocks have been steadily growing and you should chip in some little cash and invest in the weedcash token.
At least you can say you have a little cannabis crypto.
If you are willing to invest in weedcash,
you can buy over here:
I would advise you to buy weed miners and weed mega miners so that you can mine weed tokens hourly and daily.
Then you can stake your earnings and start on curation.
That's how you make cash even without posting/blogging.
Mining is key.

Because I am happy today,
I feel generous & kind.
And I will be tipping the first 5 participants with A 💯 weed tokens each.
This giveaway is not restricted just to weedcash networkers, meaning that anyone with a hive account is welcome to participate.
But for me to tip you,
I require you to accomplish these simple tasks:
Failure to follow the instructions below will lead to a complete disqualification from the giveaway.
Buy & stake 3 weed miners.
Buy & stake 1 weed mega miner.
Using the #weedcash interface, comment with the transaction ID links for each of the transactions you make. That means BOTH buying & staking. I want the transaction ID links so that I can confirm that you bought & staked the miners & mega miners in the giveaway span. If you had the miners & mega miners in your hive-engine dex earlier on but you hadn't staked then it will be easy to know you don't have that "REAL HUSTLERS INTENT." And the saddest part is that you are going to be DISQUALIFIED. I want freshly bought & staked miners and mega miners 😎
Public Service Announcement:
This giveaway is running till the post payout date of this post on weedcash & not #hive.
I have lots to say about weedcash because it's a whole striving world on its own.
But I will save that for the next posts.
Stay home & follow closely.
See you at the canna-fest by @canna-curate today.
For more details: Click Here
Thanks for buying some time and going through my post.
I am delighted and thankful.

With all the high thoughts, ideas, & opinions though;
I accept regular #Hive-Engine token tips.
It doesn't matter the token or amount.
Your tips are accepted gracefully & delightfully by this crypto-collector.
I am an all time Weedcash Networker never the less active with tribe token curation ✔️
Some of the tokens I highly curate content from regularly are:
#neoxian #palnet #creativecoin #ctp #LIST #aeneas a.k.a #ash #archon & #lotus or in other words #naturalmedicine
What's your tribes?
I ❤️ sharing my upvotes.
It's your friendly weedcash community networker 🔥🍁😎💨
Tony

#cannabis #weed #LegalizeIt #hemp #marijuana #fourtwenty #hive-169313 #thc #cbd #brofund #bro #bros #archon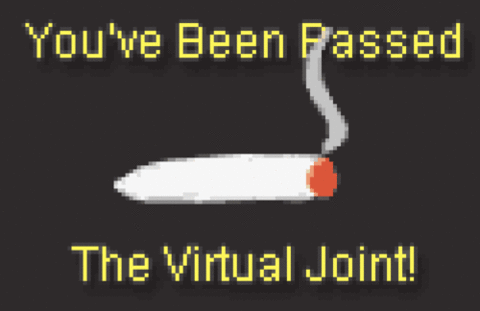 ---
---