Cannabinoids Series: THCV - Tetrahydrocannabivarin
THCV is one more cannabinoid from the immense list of cannabinoids present in cannabis that is still practically unknown to the general public. Despite being very close chemically to the most famous cannabinoid, THC, THCV has big differences in terms of effect and benefits. Given the difficulty in finding content about this cannabinoid, I will only be able to do a brief overview of information. If anyone has more content about this composite to share, it would be very welcome!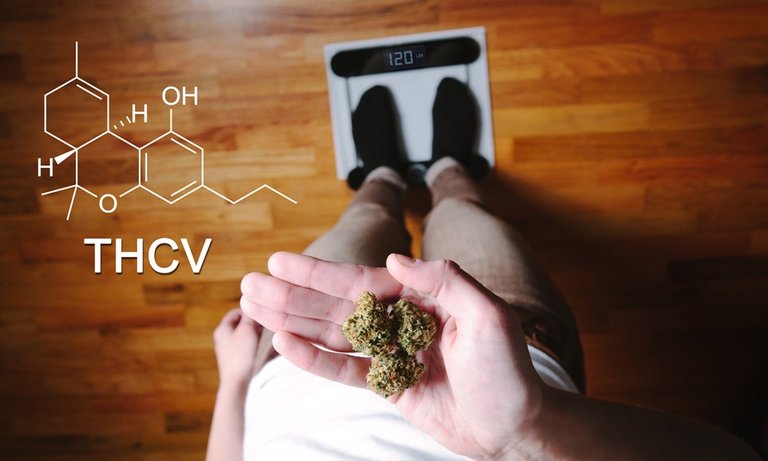 Source
The main information that I missed in this research is: what is the role of THCV in the cannabis plant? Why does it exist? Is it a compound formed in the plant's adult stage? When is it already in bloom?
There are many unanswered questions yet, but what do we know? Well, what we know is pretty exciting! THCV, or Tetrahydrocannabivarin, seems to have an already observed and proven appetite-suppressing effect (totally different from the classic munchies that cannabis provides), so it's already being called Diet Cannabinoid! In addition to this curious potential to inhibit the cravings for food, THCV appears to have a low blood sugar relationship and (like many other cannabinoids) great anti-inflammatory and anti-spasmodic potential. In fact, another interesting issue is that THCV appears to alleviate and block the intoxicating effects of THC, thus avoiding many of the potential unwanted psychic effects for some medical cannabis users, such as paranoia and intense alteration of consciousness.

Source
Currently, a few strains are being cultivated to be a potential source of THCV, through, obviously, careful genetic engineering. Because THCV exists in very low amounts in "natural" plants. The other solution, in addition to cultivating potentiated genera of this cannabinoid, is to find the compost extracted and sold in isolation, something that certainly shouldn't be cheap!
Well, this is another one of the still rather mysterious cannabinoids. I believe it will take a few more years for us to understand its true potential and have easy access to it. So, for now this content is just for curiosity and research.

Source
Thanks for reading and voting! Check out the contents written so far on the subject below:
Cannabinoid series:
Terpene series:
Researched content to write this article:
1, 2, 3
Thômas Helon Blum

THCV é mais um canabinoide da imensa lista de canabinoides presentes na cannabis que ainda é praticamente desconhecido do grande público. Apesar de ser muito próximo quimicamente do canabinoide mais famoso, o THC, o THCV tem grandes diferenças em termos de efeito e benefícios. Diante da dificuldade em achar conteúdo à respeito desse canabinoide poderei fazer apenas um breve apanhado de informações. Se alguém tiver mais conteúdo sobre esse composto para compartilhar, será muito bem vindo!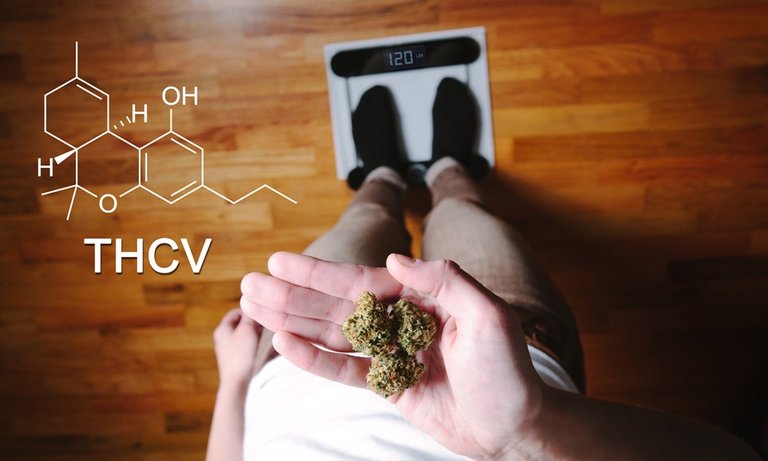 Source
As principais informações que me faltaram nessa pesquisa é: qual o papel do THCV na planta da cannabis? Por que ele existe? É um composto formado na fase adulta da planta? Quando já está em florada?
São muitas perguntas sem respostas ainda, mas o que sabemos? Bom, o que sabemos é bastante empolgante! THCV, ou Tetrahidrocanabivarin parece ter um já observado e comprovado efeito de inibir o apetite (totalmente diferente das clássicas laricas que a cannabis proporciona), então já está sendo chamado de Canabinoide de dieta! Além desse curioso potencial de inibir o desejo de comer, o THCV parece ter uma relação redução de açúcar no sangue, além de (assim como muitos outros canabinoides) um grande potencial antiinflamatório e anti espasmódico. Aliás, outra questão interessante é que o THCV parece amenizar e bloquear os efeitos intoxicantes do THC, evitando assim muito dos potenciais efeitos psiquicos não desejados para alguns usuários da cannabis medicinal, como paranóia e alteração intensa da consciência.

Source
Atualmente algumas poucas strains estão sendo cultivadas para serem uma potencial fonte de THCV, através, obviamente de cuidadosas engenharias genéticas. Por que o THCV existe em muito baixa quantidade nas plantas "naturais". A outra solução além de cultivar gêneros potencializados desse canabinoide é encontrar o próprio composto extraído e vendido isolado, coisa que certamente não deve ser barato!
Bom, esse é mais um dos canabinoides ainda bastante misteriosos. Acredito que vai levar alguns anos ainda para comprendermos seu verdadeiro potencial e termos acesso fácil a ele. Então, por hora esse conteúdo é apenas à titulo de curiosidade e pesquisa mesmo.

Source
Obrigado pela leitura e voto! Confira abaixo os conteúdos já escritos até agora sobre o assunto:
Cannabinoid series:
Terpene series:
Researched content to write this article:
1, 2, 3
Thômas Helon Blum
---
---