Receive Your Dividends Every Day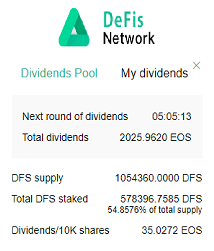 Playing Game Prospectors, will not be separated from using Newdex, which is the only DEX Market that trades PGL tokens vs EOS. This morning I opened Newdex, which is also the largest decentralized EOSIO token market on the EOS blockchain besides Whaleex.
I see one more token traded on Newdex, DFS, which has a contract ID minedfstoken. DFS is a utility token from the Defis Network a Defi project that currently provides Swap Token and Bank features.
DFS tokens have many uses including:
used for trade,
community governance,
liquidity incentives,
protocol fee income dividends,
risking, issuing and producing assets, etc.
DFS Token holders will continue to receive dividends from the protocol fee every day. At present, just holding 10k DFS is equal to getting a 35 EOS dividend. Interested ? watch live DFS vs EOS trading on Newdex.
Don't forget to post and comment on my post. thanks.
Posted Using LeoFinance
---
---