The Dude's Project Updates - Hivelist - Coin Logic - BlockTunes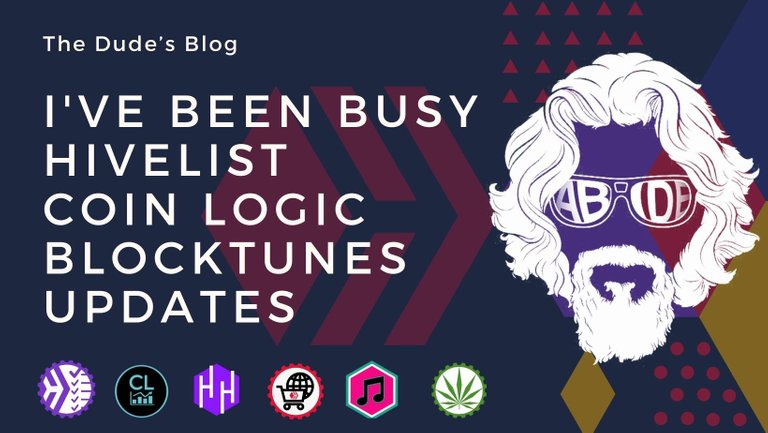 What's happening everyone! Man I am going to tell you that trying to live full time on crypto in these bearish times can be a bit of a stressful thing, but as long as I keep my head down and keep creating engaging educational content, building and enhancing my projects, and working on the long term goals, everything will be alright!
Based on that statement, let's talk about some work I have been doing to the various projects! There has been allot of optimization going on across the board, partnerships being made, and more! Big things are hopefully on the horizon for the dude, so let's jump into it...
Hivelist
To start, I am coming up on the Hivelist 2 year anniversary, which also will mark the 2 year anniversary of leaving Apple! Leaving the tax slave, corporate world, and embarking on a journey that has continuously opened new doors along the path!
Hivelist has gone through some updates recently in the fact that a few months ago we introduced the new Hive Engine outpost, which included out diesel pool, and our native LIST NFT marketplace. I was hoping for some more activity on the NFT marketplace, but I know too that it is going to just take some time.
I am wanting to use it as a way for people to mint limited reproduction rights material like stock photos, videos, and audio, that content creators can use in blogs, vlogs, commercial projects, etc. This I think will help give use cases to our NFTs and drive hope that since of entrepreneurial-ship that we like to promote on Hivelist.
We have another cool announcement coming, that if you follow Hivelist on Twitter then you would have seen a couple of hints. I will do a separate post from @hivelist about that, so go follow that account as well.
I have also been working hard on optimizing the Hivelist Store in attempt to speed up the site overall. Still a work in progress because it's a bit site with allot of pages to optimize at this point. I have a whole other post I am going to write about the new tool for Wordpress I found that is helping me with this. This is going to help the overall performance for both customers and vendors alike!
I am also going to be working this next week on trying to move the print on demand products from the Weedcash store over to it's own store on Hivelist. This is to downsize the amount of work and server fees that I have to deal with. Trying to bring it all in together to one place. This will also help display the fact that we can product tribe merchandise and sell it on the store! This can help build more partnerships with Hivelist across the entire Hive space.
Looking into some marketing strategies to help drive more traffic to the store and NFT markets as well. I know I have been slacking in this for Hivelist especially, but going to be stepping that game up a bit.
If you have any good ideas for marketing Hivelist other than the traditional outlets, let me know!
Coin Logic
Coin Logic started out as a site that I built for myself that feeds in the market data from Coingecko as well as several news sources. I wanted to just build out my own little all in one platform for my crypto research. Well, it's finally starting to get some traction.
I have been doing interviews on the channel as well as incorporating the new Twitter Spaces feature and trying to expand my reach in new ways. The interviews are something that is new for me, but I am having fun with. The last one with @taskmaster4450 was a wealth of knowledge and really helped get me back on track with my own content and overall productivity.
But I too have been working hard on optimizing the Coin Logic site so that it is super speedy as well, or at least as fast as I can get it at this point, lol. It does have allot of data being pulled up right off the bat, but I like having that info front and center when you load the site.
I have been also building partnerships around this brand that is hopefully going to grow it even more. I have partnered with a Cosmos ecosystem validator called carbonZERO where we have made Coin Logic kind of the marketing face which is not only opening me up to a new space in the crypto world, but new opportunities. Through this, Coin Logic is now sponsored by Comdex which has a team delegation to the carbonZERO node which in turn pays me for the sponsored spots. We are also trying to open new opportunities for growth and income by adding different chains to the list and working on trying to build more sponsors.
Since this new push with carboZERO, I have seen a big push in growth in the Coin Logic accounts. The Hive account, @coinlogic.online passed 100 followers, Twitter account is pushing 200 followers from 30, and the YouTube channel is now pushing the 1500 subscriber mark!
It's not insane growth, and is still small to many, but it is organic growth for the most part which is valuable in itself vs bot growth.
I am on the look out for projects that want to come on for interviews and talk about what you have going on! So if you are interested in coming on Coin Logic TV, please let me know!
BlockTunes
BlockTunes, for those that do not know, is my last huge push in the music industry. For those that don't know, I have been a music engineer, producer, and DJ for a long time. I have experience running a small indie electronic label, drum and bass promotion site, as well as throwing events from small basement clubs to large outdoor festivals.
BlockTunes is my push to bring the world of music to the blockchain and offer everything that an artist would need to get going! It is build with the main NFT and DEFI functionality happening on Binance Smart Chain, or BSC for short, and the social community and outreach being focused on the Hive blockchain. We have partnered with the Beatzchain community as the music home for Hive! Hive artists that sign up for BlockTunes will be able to log their Hive credentials into their BlocTunes profile and post to Hive and Beatzchain directly from the site!
We have partnered recently as well with @gamestate and will be helping them with music events and such in the metaverse as well as hosting our own shows! We are really excited for this to come to form!
We also have a new NFT marketplace coming in Quarter 3! The current NFT marketplace allows for single edition NFTs to be minted, which is great for rare, one of a kind works, but for music, it's best to have an NFT market where you can mint multiple editions. Well it's coming! Artists will be able to mint bulk editions of NFTs so that they can sell limited copies of their music similar to a CD or vinyl release in the physical world!
Not only that, but we are finishing up the final touches on the distribution packages! We are going to be not only offering release on the BlockTunes site which as a TON of value packed in, but also we will be able to get your music on the mainstream platforms as well! We will be the ones to handle your sales and such and pay you out in crypto!
I've Been Busy
So as you can see, I have been busy with all the different things I have going. I have actually streamlined allot of things and finally seeing the end of development for these projects, which allows me to make the shift into management and marketing mode! So now it's just mastering a content creation schedule that can encompass posting for all of the different projects and making sure I spread the love and time around equally. It's just trying to harness the A.D.D. brain, lol. Once it's harnessed, oh the power of productivity that can be accomplished, lol.
The way I see it, if Elon Musk can be the CEO and run like 4 major companies and still have the time to try and buy Twitter, then I can do it too! It's all in the mindset and motivation!
Being that I am full time in this game now, it's my full time gig, so I just need to make sure I am practicing what I am preaching in my @hivehustlers posts, and keep the productivity levels up, lol.
Upvotes, post reblogs, follows, and more help keep up that motivation 😎 Just sayin'...
If you appreciate what I do, then one of those moves is all I ask, ad all are free to you!
Until next time...
Be Cool, Be Real, and always Abide!
https://thelogicaldude.com - The Dude's main site
https://hivelist.io - Classifieds, NFTs, DEFI Pool, Online Retail
https://HiveHustlers.com - Community for Entrepreneurs and All Around Hustlers
https://coin-logic.com - Live crypto market data, news, and research
https://blocktunes.net - Music NFTs, DAO, Downloads, and more
https://groovelogic.audio - DJ/Producer/Sound Engineer music and services
https://weedcash.org - The Highest Form of Social Media
View my channel on 3speak.tv! Video platfrom for a free speech society!
https://3speak.tv/user/thelogicaldude
But if you must... here is the YouTube channel link:
https://www.youtube.com/channel/UCtGApfTp4ZzLHksDdImJ9JA
Join Hive by going to:
https://signup.hive.io/
Want to shop using crypto, or even start your own online store? Check out the Hivelist Store
If you like what I am doing, please consider voting for my Hive Engine witness with your staked WORKERBEE!
https://he-voter.vercel.app/thelogicaldude
Or at
https://tribaldex.com/witnesses
Get started playing Splinterlands, the top blockchain game in the world, today!
https://splinterlands.com?ref=thelogicaldude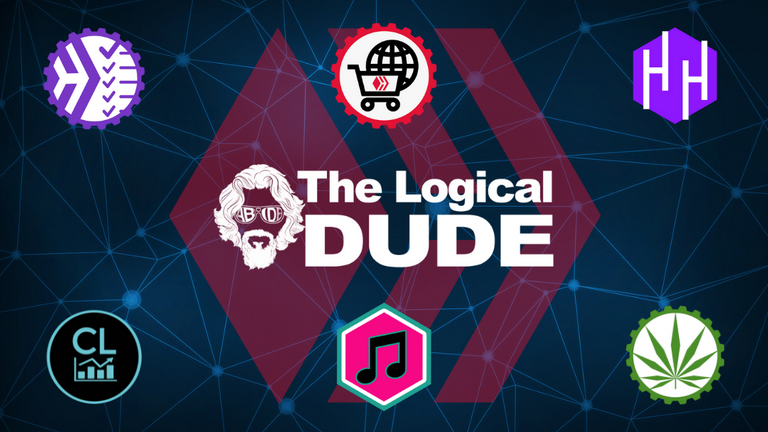 ---
---