Friday SplinterVlogs Wake and Bake - Watch To Learn What NOT To Do - Earth Quest
---
What's happening everyone! It's Friday, I ain't got no job, and I ain't got ish to do, except wake and bake with the last of my Cookies and Cream and Gorilla Glue #4 and playing some Splinterlands. Well I actually have allot to do, lol, but this is how I am starting the day... Waiting on my ex to get back to I can make a run to town. Daughter has the Covaids and wanting to make sure at least one of us is here to help. I am also chatting about my experience at the Web 3.0 Conference by Tech Circus, but will be doing a separate video on @coinlogic.online for that.
Today I have a new quest, the Earth Quest, which apparently I really suck at, lol. I played 5 battles and well, you can watch to get an idea on what NOT to do and the reason for the cussing thumbnail, lol. I only won 1 battle, lol.
Oh well that's apart of the learning.
Oh and sorry for the borked game audio. I was using a different noise filter than usual on my mic and it was trying to knock out too much background noise, lol.
Oh and I am also about to be on the look out for a paid intern if anyone is interested in possibly helping me out with some curation and posting on @hivehustlers and @coinlogic.online, let me know in the comments. I am going to putting up a separate post for this soon!
Anyway, until next time!
Be Cool, Be Real, and always Abide!
Get started playing Splinterlands today!
https://splinterlands.com?ref=thelogicaldude
Join Hive by going to:
https://signup.hive.io/
Want to shop using crypto, or even start your own online store? Check out the Hivelist Store
If you like what I am doing, please consider voting for my Hive Engine witness with your staked WORKERBEE!
https://he-voter.vercel.app/thelogicaldude
Or at
https://tribaldex.com/witnesses
https://thelogicaldude.com - The Dude's main site
https://hivelist.io - Classifieds, NFTs, DEFI Pool, Online Retail
https://HiveHustlers.com - Community for Entrepreneurs and All Around Hustlers
https://coin-logic.com - Live crypto market data, news, and research
https://blocktunes.net - Music NFTs, DAO, Downloads, and more
https://groovelogic.audio - DJ/Producer/Sound Engineer music and services
https://weedcash.org - The Highest Form of Social Media
View my channel on 3speak.tv! Video platfrom for a free speech society!
https://3speak.tv/user/thelogicaldude
But if you must... here is the YouTube channel link:
https://www.youtube.com/channel/UCtGApfTp4ZzLHksDdImJ9JA
Pure Logic Podcast can be found on 3speak.tv and YouTube as well as the following podcasting platforms:
Apple Podcasts
Spotify
Anchor.fm
RadioPublic
Breaker
Google Podcasts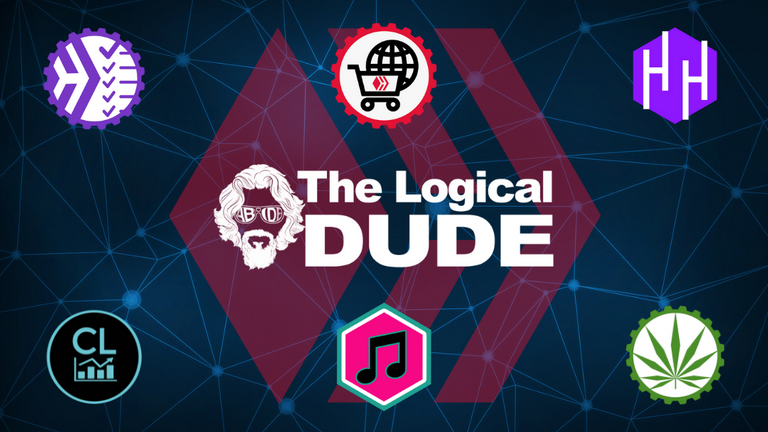 ---
▶️ 3Speak
---
---