WeedChat - How Can We Expand Our MetaBrand
---
What's up Weedcash community and Hivers all around! It's another WeedChat Wednesday!
Today's topic is inspired by the Web 3.0 Conference I have been attending thanks to the contest by @hiveio ! Learning allot and really just getting the good warm and fuzzies that I know I am in the right space at the right time!
The panels have been allot about NFTs, metaverse, and building brands as well as helping other companies build their meta brands.
That got me thinking... How can we as the Weedcash community not only build our MetaBrand around what we have built already, but use that functionality and branding to bring in other brands into the digital metaverse space. Metaverse is not just VR and video games, we are in it, it's what we are doing online everyday in one form or another. So how are we going to get cannabis companies involved? One idea is to use our NFT marketplace to help them come up with their own collectibles that can also represent a store discount or something. This would get people into the community, buying WEED tokens to purchase NFTs
Because after hearing from allot of these projects, we are really on top of it and are actually ahead of some of the bigger projects in that we have working functional products, not just Weedcash, but Hivelist as well on a retail side. We have the real world store, we have NFTs, we have the own your data wallets, etc... Like everything they have been talking about in these panels is screaming HIVE and what we are building on top of it.
So my question is...what ideas to you have on how we can help expand our MetaBrand and help others do it as well?
Let's get this conversation started!
Be Cool, Be Real, and always Abide!
Get started playing Splinterlands today!
https://splinterlands.com?ref=thelogicaldude
Join Hive by going to:
https://signup.hive.io/
Want to shop using crypto, or even start your own online store? Check out the Hivelist Store
If you like what I am doing, please consider voting for my Hive Engine witness with your staked WORKERBEE!
https://he-voter.vercel.app/thelogicaldude
Or at
https://tribaldex.com/witnesses
https://thelogicaldude.com - The Dude's main site
https://hivelist.io - Classifieds, NFTs, DEFI Pool, Online Retail
https://HiveHustlers.com - Community for Entrepreneurs and All Around Hustlers
https://coin-logic.com - Live crypto market data, news, and research
https://blocktunes.net - Music NFTs, DAO, Downloads, and more
https://groovelogic.audio - DJ/Producer/Sound Engineer music and services
https://weedcash.org - The Highest Form of Social Media
View my channel on 3speak.tv! Video platfrom for a free speech society!
https://3speak.tv/user/thelogicaldude
But if you must... here is the YouTube channel link:
https://www.youtube.com/channel/UCtGApfTp4ZzLHksDdImJ9JA
Pure Logic Podcast can be found on 3speak.tv and YouTube as well as the following podcasting platforms:
Apple Podcasts
Spotify
Anchor.fm
RadioPublic
Breaker
Google Podcasts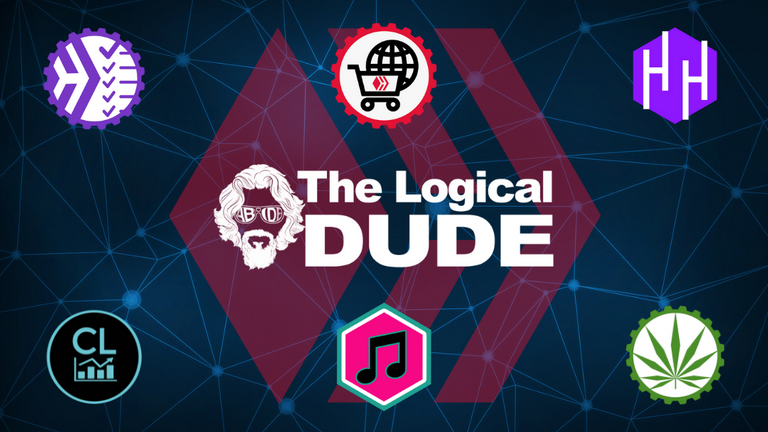 ---
▶️ 3Speak
---
---