Welcome to the Herbal Hive!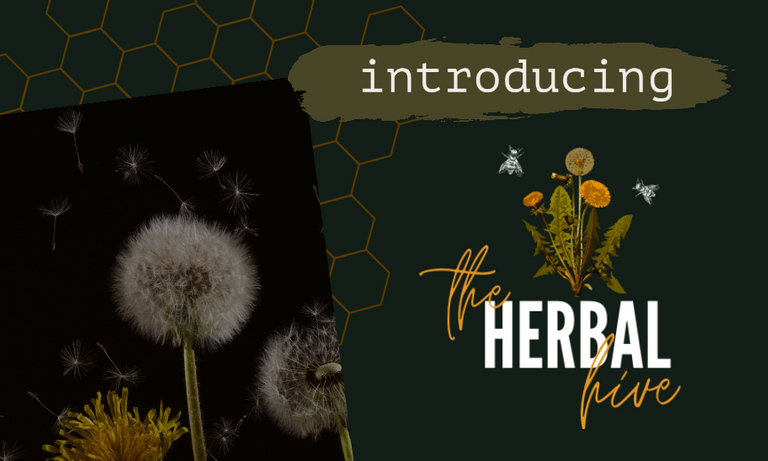 Welcome to The Herbal Hive!
We aim to support and encourage writing about herbalism. If you're using plants for healing of body, mind and spirit, then you're a herbalist, and we'd love to hear from you! We'll be running challenges and curating your awesome content, and we're super excited to be in a position to support you where we can!
We believe that an understanding of herbs and plants and how they can support us are essential to an abundant and well nourished life. Connection with the natural world can help us heal and be resilient, independent and conscious beings who walk lightly on the earth with love. As anyone who's worked with herbs will attest, herbs are incredible ways to connect with spirit, nourish our families, feel supported in life, and be at peace.
We welcome all your stories!

We Are Supported by the LOTUS token - a token for alternative health on HIVE
Simply use the tag #lotus on your posts and stake your Lotus via Tribaldex.com to start earning.
What kind of content can I write on The Herbal HIVE?
We're glad you asked! Here's a heap of suggested topics, but as long as it's to do with plant healing of any kind, then we welcome what you have to say!
Your most love herb, and how you use it
How to make a salve, balm or infused oil
Making incense or smudge sticks from herbs
How to dehydrate or process herbs for home use
The cultural use of herbs and our relationship with them, ethnobotany
Wildcrafting
Using mushrooms for anxiety
Herbs that nourish us
Personal stories about herbs and how they have benefitted us
Growing herbs in our backyards
Your spiritual relationship with plants
Plants and astrology
Rules for Posting in Our Community
We prefer single language posts, preferably English. This is both for aesthetic reasons (we like people outside HIVE to read our posts, and dual language can be confusing) and because we have English speaking curators! Saying that, if you are dual language blogger, please make sure you put English first and have an English only title.)
Be kind
Please post original content - if your content is easily found on the internet, we reserve the right to mute it.
Please no blurry images or poor content - we hold you to high standards and will mute both plagiarism and poor content without warning and reserve the right to do so!
Other Tags We Support
We also welcome the secondary use of the tags #fungilovers, #holoslotus, #hivegardens, #gardenjournal, #abundancetribe and others that are related to the broad theme of herbalism.
Use of Images
We welcome you to use our yarrow page divider and our footer below. If you'd like a personalised herbal footer with an image of your choice, please send a small HIVE amount in a memo to @thehiveherbal with your request and we'll get in touch with a beautiful footer for you!
The Curation Trail
If you'd like to support #herbalism content on HIVE, please follow our curation trail by clicking the link in the banner below. You gain curation rewards just by doing so, and give support to those who write great #herbalism content on HIVE.
Delegations
Delegations are super welcome - you can do so through your Peakd.com wallet.
Beneficiaries
Whilst the community grows, any post beneficiaries will go 50 percent to @theherbalhive and 50 percent to the author of the post, unless they elect not to. In the future, we'll also be setting post beneficiaries for delegators who write great content in our community in our curation posts. If you'd like to write an article for us, or have an idea for a curation or a challenge, please get in touch - you'll earn the beneficiaries! We are supported by The Abundance Tribe via @kennyskitchen and thank this beautiful community for their support.
Anything Else?
If there's anything else you think we should include, be, or do, please drop a comment below! We aim for transparency, and for the goal of supporting herbal wisdoms and the HIVE ecosystem, and welcome feedback.



Community II Delegate II Curation Trail

---
---