UPDATE: FOMO got me, but I got Africa.

Here is my final land debut as we conclude presale. I likely will hold the rest of the liquid Hive I had set aside for this to use on tower upgrades later (unless I find an opportunity).
x4 Afghanistan
x1 Africa
x3 Mexico
x5 South America
I ended up with a bit of FOMO today and purchased additional lands in Mexico hoping to score a new seed (I did not) and South America. Currently SA is cheaper than the water buckets listed so I figured I would grab one more bundle incase I wanted an extra tower.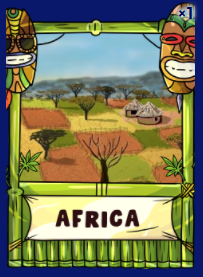 Right after purchasing my new lands in Mexico and South America I clicked over to the NFT market. Since last checking, someone had listed a plot of land in Africa much lower and more reasonable than the others available. I jumped on this opportunity and scooped it right up. Who knows if it was overpriced but the price felt right enough for me (price vs value) as we count down the final hours of presale.


I didn't quite get the variety I was hoping for but I did end up with a few seeds that I'm happy with. Now the hunt for seeds that I can grow in Africa begins. Let me know if you have some for sale at a reasonable price!
---
---