📣The Block Party2️⃣ - Day1️⃣
Greetings
The Block Party II was a three day, loosely planned event that I (@enginewitty) hosted this year. I say loosely, because I didn't quite get the time and freedom to plan everything I wanted due to a fire taking my house. But, I did manage to coordinate something and I hope everyone that attended had fun. I love meeting new faces and attaching them to names I've come to know on Hive.
The first day was fairly agreeable with the weather. Everyone that wanted to participate in some fun things and experience a bit of Nashville, met up over at Opry Mills. Opry Mills itself, is a massive complex with various museums, shops, restaurants and the like. Most notably, is The Grand Old Opry. The first activity, was meeting and eating at Dave and Busters.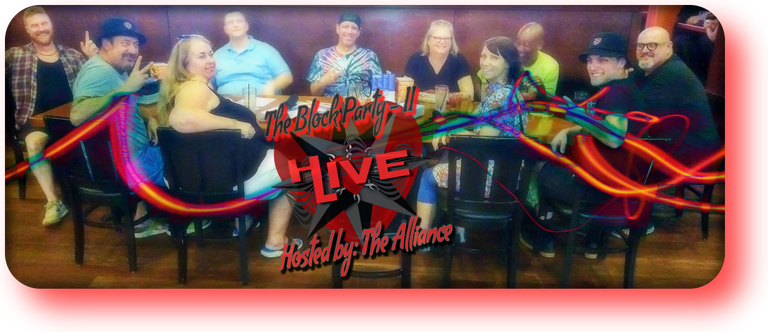 disclaimer - @enginewitty is not a professional photographer, some photos may or may not be the greatest quality or in the best taste.

There are pictures I'm sure others took and will pop up on chain and we'll be happy to share those in a compilation with everyone. (Don't you just love Skip and Blue's shirts?) The last picture there, used for the thumbnail, from left to right is: @iamdarrenclaxton, @davedickeyyall, @bethvalverde, @beatzchains, @summertooth, @blueeyes8960, @d-vine, @crypt-skip, @b34w0lf and @papacrusher. We all enjoyed a bit of getting to know each other over a good American meal. I, of course, had to have a steak.
| | |
| --- | --- |
Now, there are some foodies that showed up, and I know @summertooth would agree, that was not quite the 'blue' that I ordered. It did however, have a good light peppered marinade that was grilled into the 14 ounces of it. The green beans were meh and the slaw was missing some mayo, but the steak was big enough to keep me satisfied. I gave that a 3 out of 5 stars but only because the waitress was pretty attentive considering she was the only one there in preparation for the other events going on like the Titans game and 9/11 honors this past weekend.

The Escape Room
The majority of the ticket holders were ready for something fun after the meal. One of the ideas that popped up was a Panic Room experience. Since majority rules, I reserved us all a spot to go and play in one of the Panic Rooms, also called - Escape Game(s). We had a good 45 minutes or so before we were slated, so we roamed a bit exploring, having fun and we got a few more pictures to encourage our memories.
I think we may have brought out the inner child in some of us this weekend! Once it was time to do our bit, we regrouped and headed on over to the establishment while others put their adventure boots on and met up with us later.
I had no idea what to expect, I'd never done it before - most of us hadn't. The name suggests you would have to find your way out of a room, but that was not the case. It was actually a game where you had to find clues to get these codes so you launch attacks on the other team (the version we played - Sabotage - a CIA themed one). Team with the most points wins, easy, right?
Oh no, it was like we were just learning 1st grade addition and they started throwing calculus 401 at us. When the truce phone showed up after our first attack, Dave was, naw, we gonna destroy you. My team got their asses kicked, but it was crazy fun and would totally do that again.

Settling In
Overall, it was a pretty good first day to loosen up people's inhibitions and get to know each other better. I handed out some goodie bags for people and encouraged them to find something they liked and do it! You can see what I did that night in another future post. The evening closed with picking up the talented @lofi.freq from the airport and settling in to the airbnb I'd got for some of us for the weekend. I am excited to see other pictures and hear people's experiences and accounts!
It was just a really fun light day overall. Stay tuned because day 2 - ya, day 2 was the concert and it was completely 'off the chain'. But then again, you'll see some of it here on the chain, so yaaaaaa. Wish you all could have been here with us! Next time?

Want to support the fam too?
You can!
Visit with us in the Castle!
-or-
Vote our community Witness!
-or-
Follow #thealliance curation trail!
-or-
Delegate to the family account - @thealliance!
50HP - 100HP - 500HP - 1000HP - 5000HP - 10,000HP - 50,000HP


---
---