[Toasted Tangerine F2] BIF Genetics Tester Update!
What's up my fellow Cannabis Lovers and Enthusiasts!? It's time to welcome you all back to another edition of:

This "After Hours" series will be all about the [Toasted Tangerine F2] Feminized Autoflowering Tester Beans created by @bifbeans Breeder "Macronut"! You can check out more of the specialized seeds produced by all of the amazing Brothers-In-Farms Genetics Breeders at BIFBeans.com!

But lets get on with the Update!
As of November 27th, it had officially been a week since I first added a small amount of nutrients to the plants, with no ill effects, so I decided to go ahead and and give them a full round of nutrients!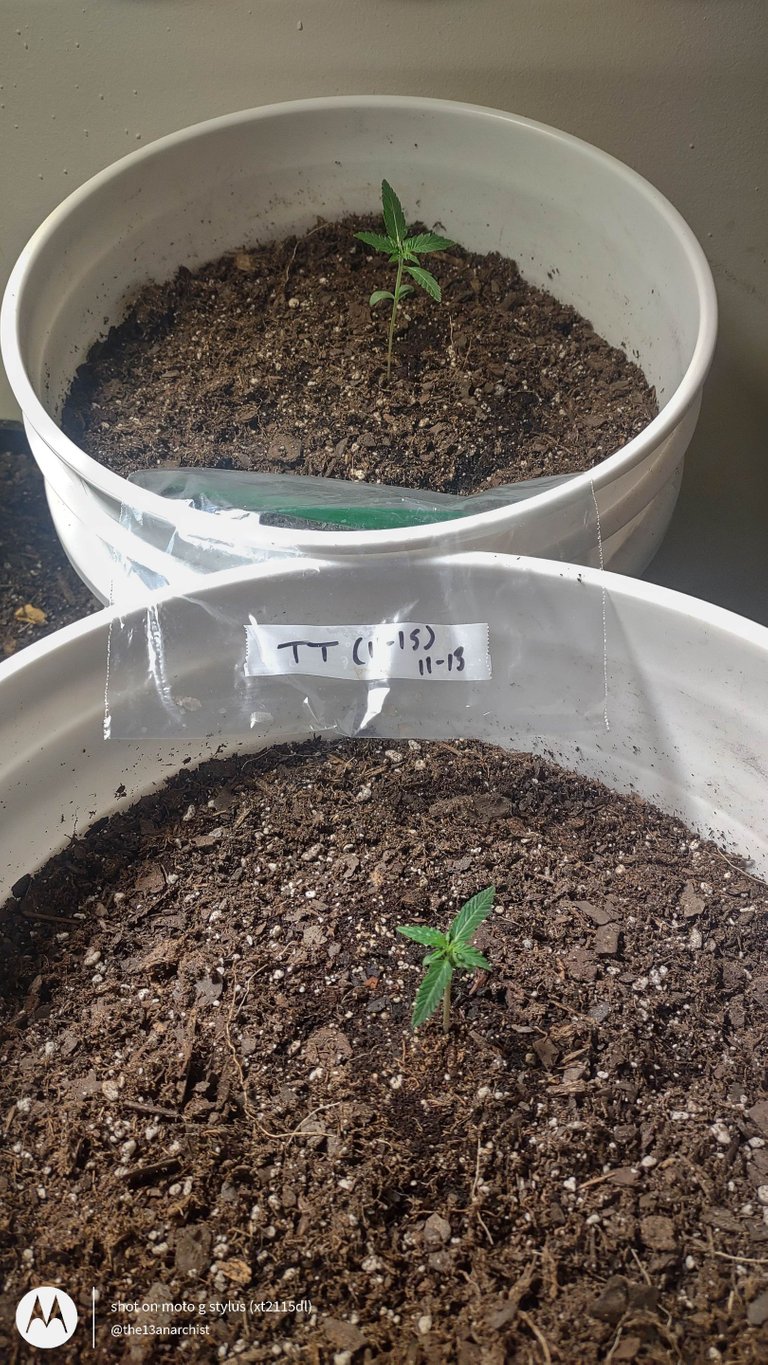 I still used the same Grow Big nutrient solution that I previously tested (5 mL/gallon), only this time I decided to feed each of the testers 2 cups total!

Fortunately enough, the smaller of the two testers is still growing, although it still about half the size of it's sister!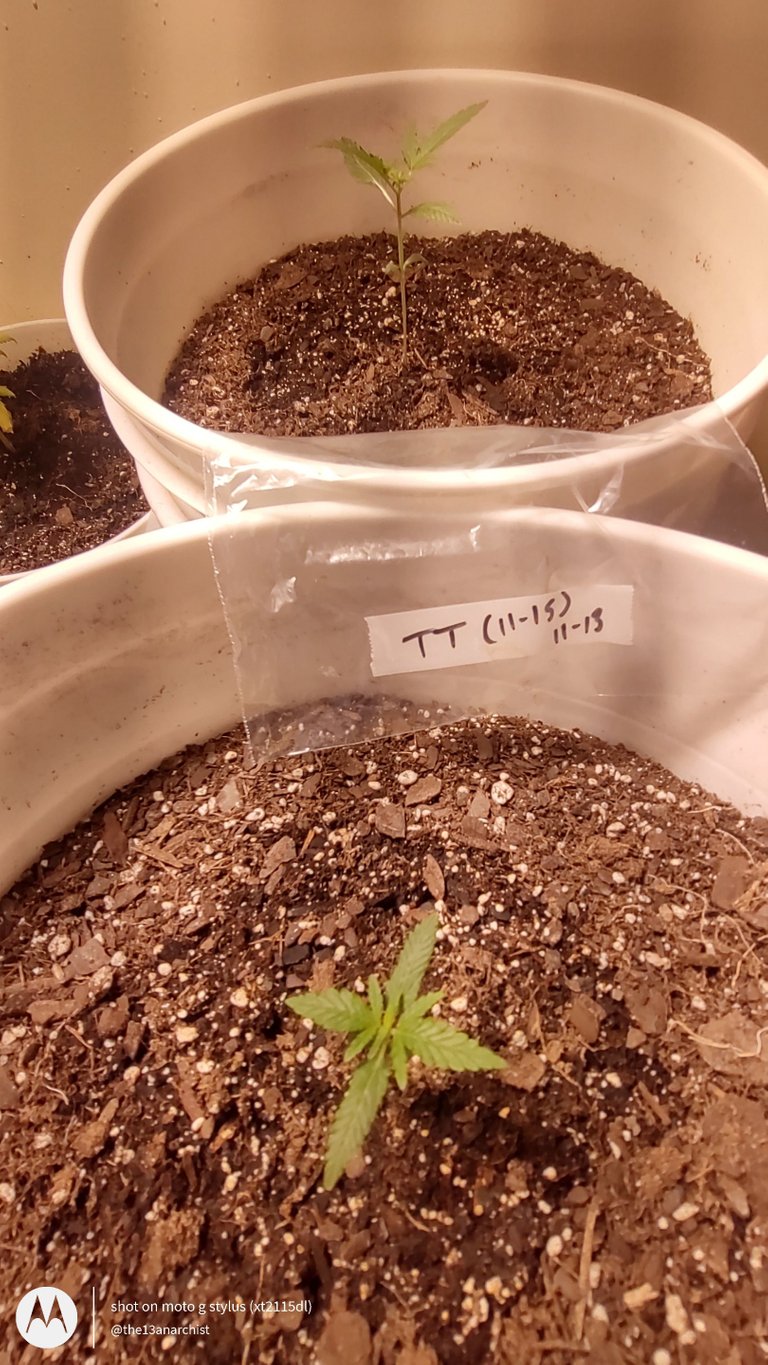 But, just like the [DExTT] testers, these girls have started changing overnight!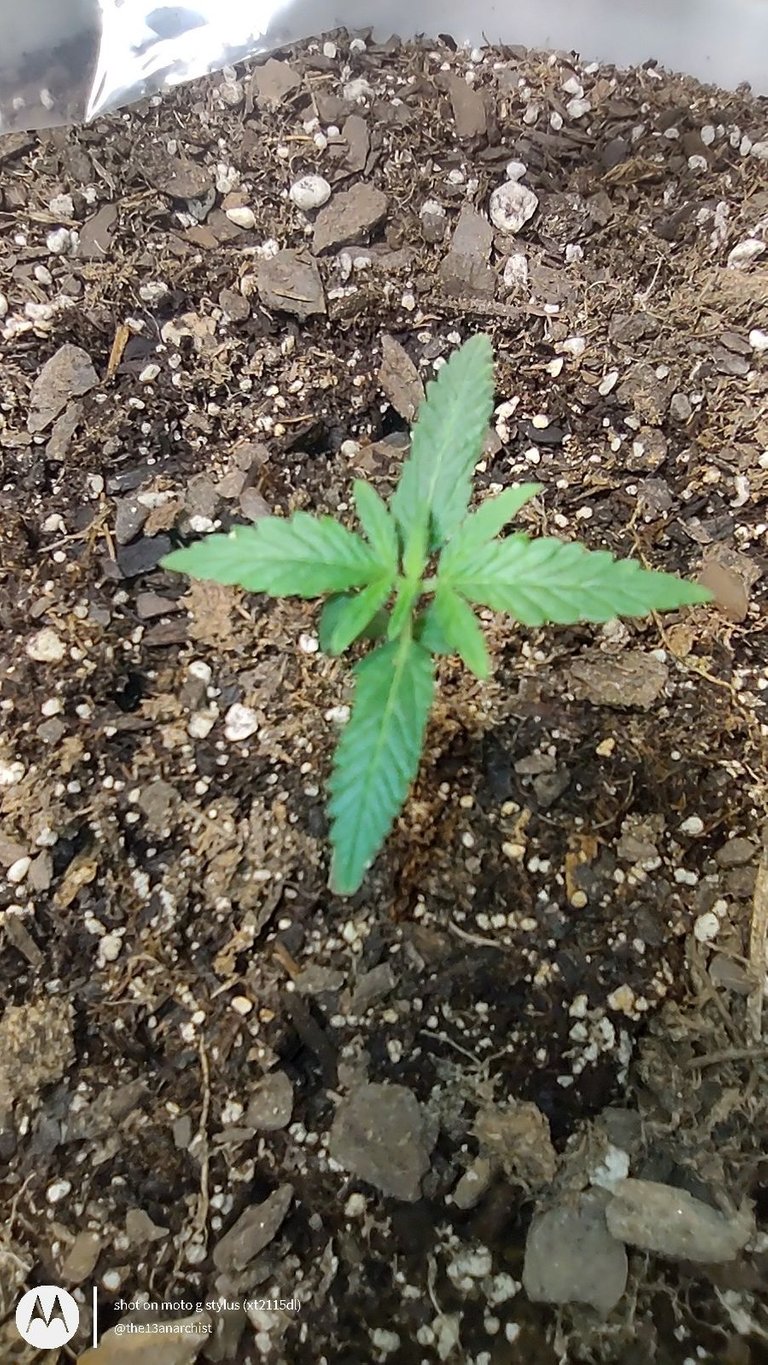 It's incredible, not to mention awe-inspiring, to see how fast these AutoFlowering plants can grow!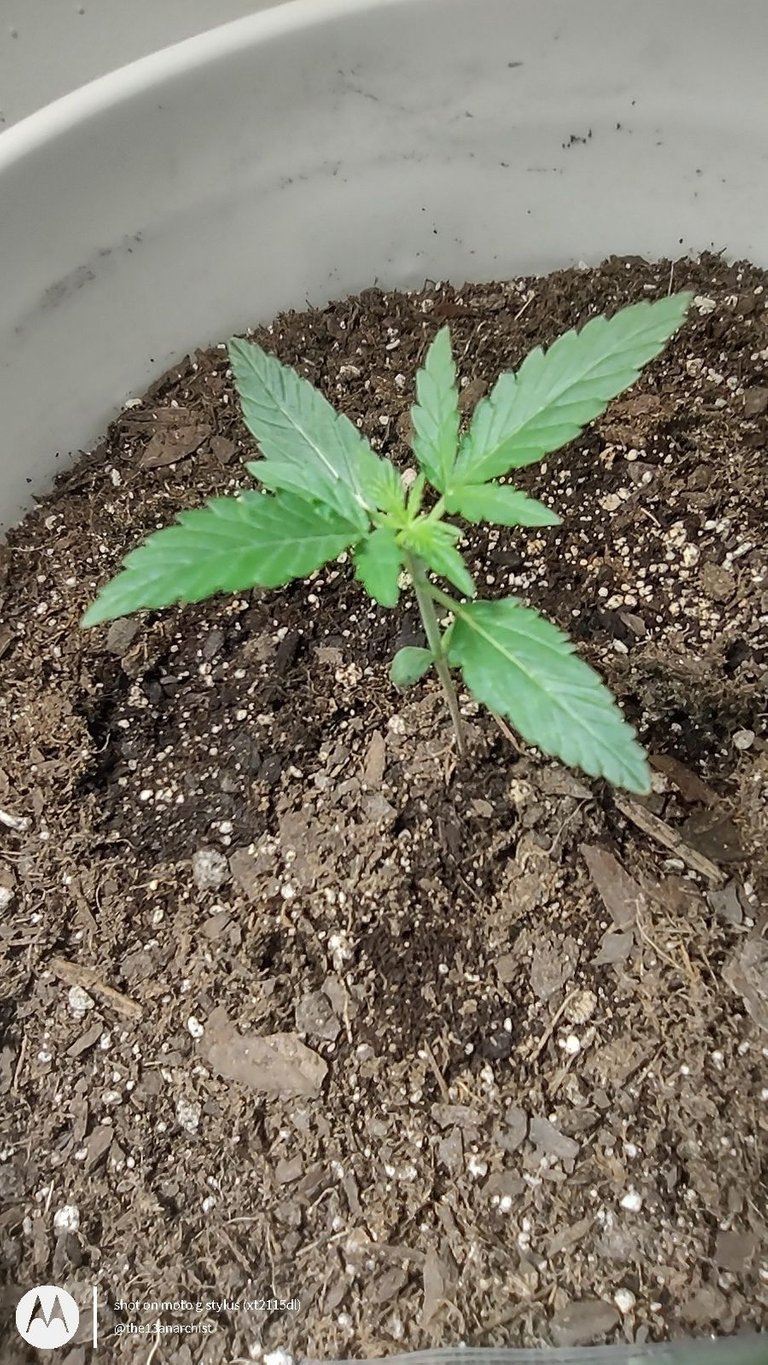 Just like the [Durban Express x Toasted Tangerine] plants, these pictures were the last to be taken inside the closet setup, on the evening of November 28th!

From there, I placed the plants into the newly completed tent under a 600W Metal Halide bulb, which is set at almost 6' off the ground, giving these plants about 5 more feet of potential growing room!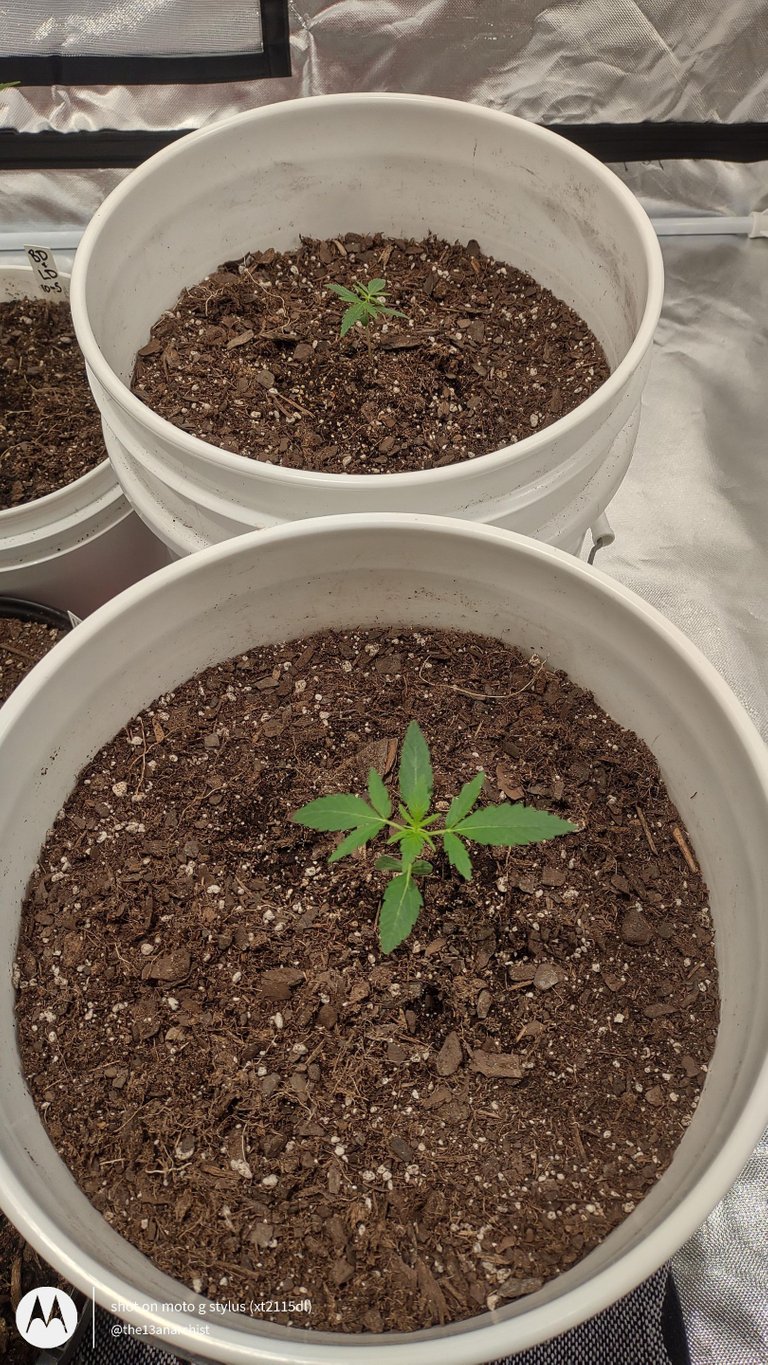 I also gave them another 3 cups of water each, as I felt like it was time to give them a drink! I've been limiting the amount I have been feeding these girls, because over watering is a huge issue with AutoFlowers, and Macronut had told me to be careful not to overdo it!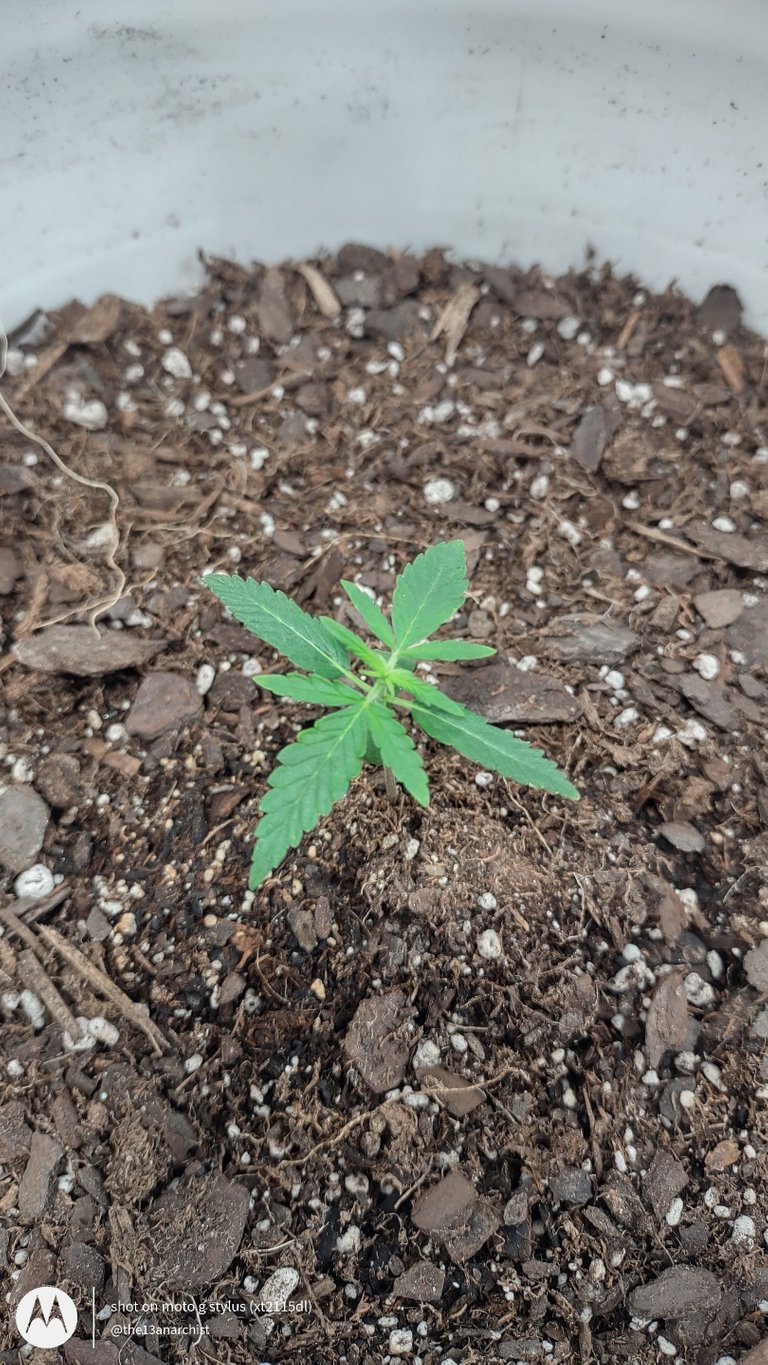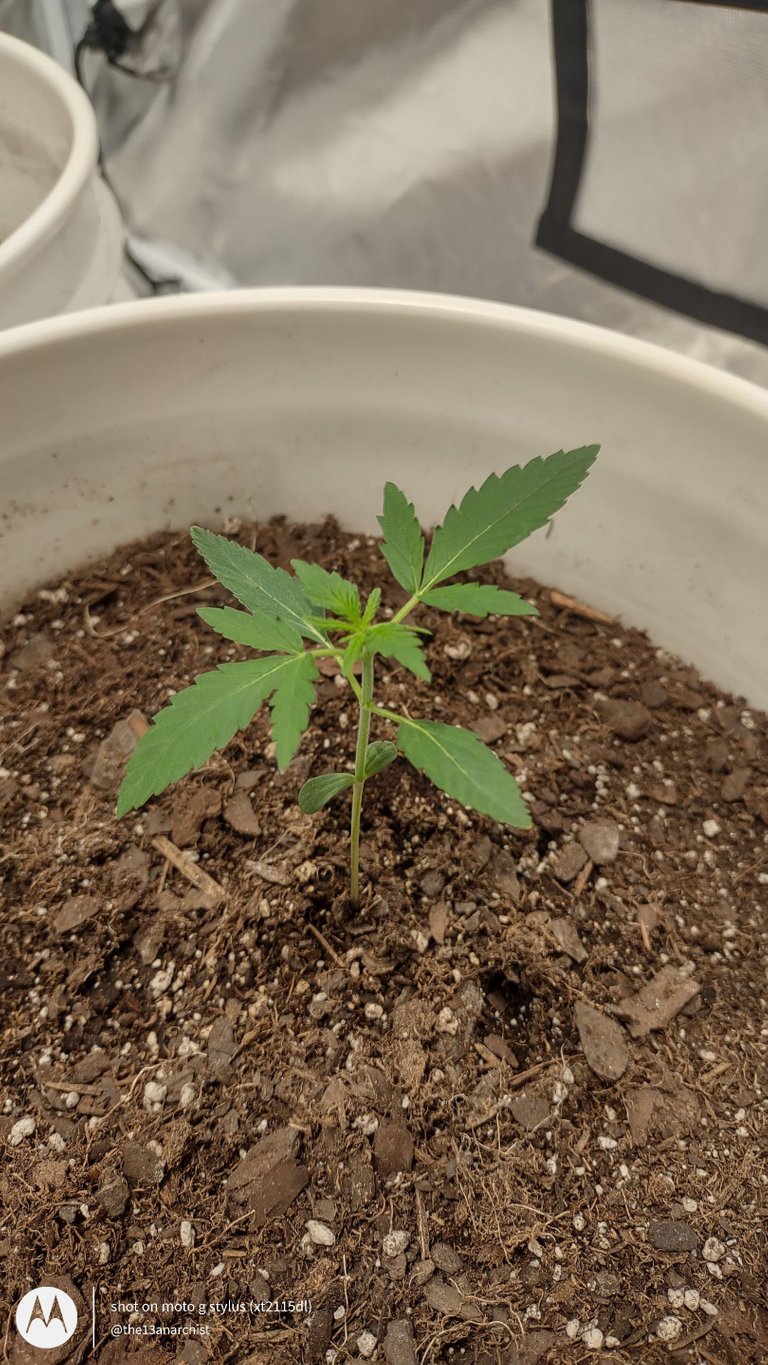 Again, it's truly amazing to see how these plants have flourished under the new light and enclosure, and have continued to make daily progress!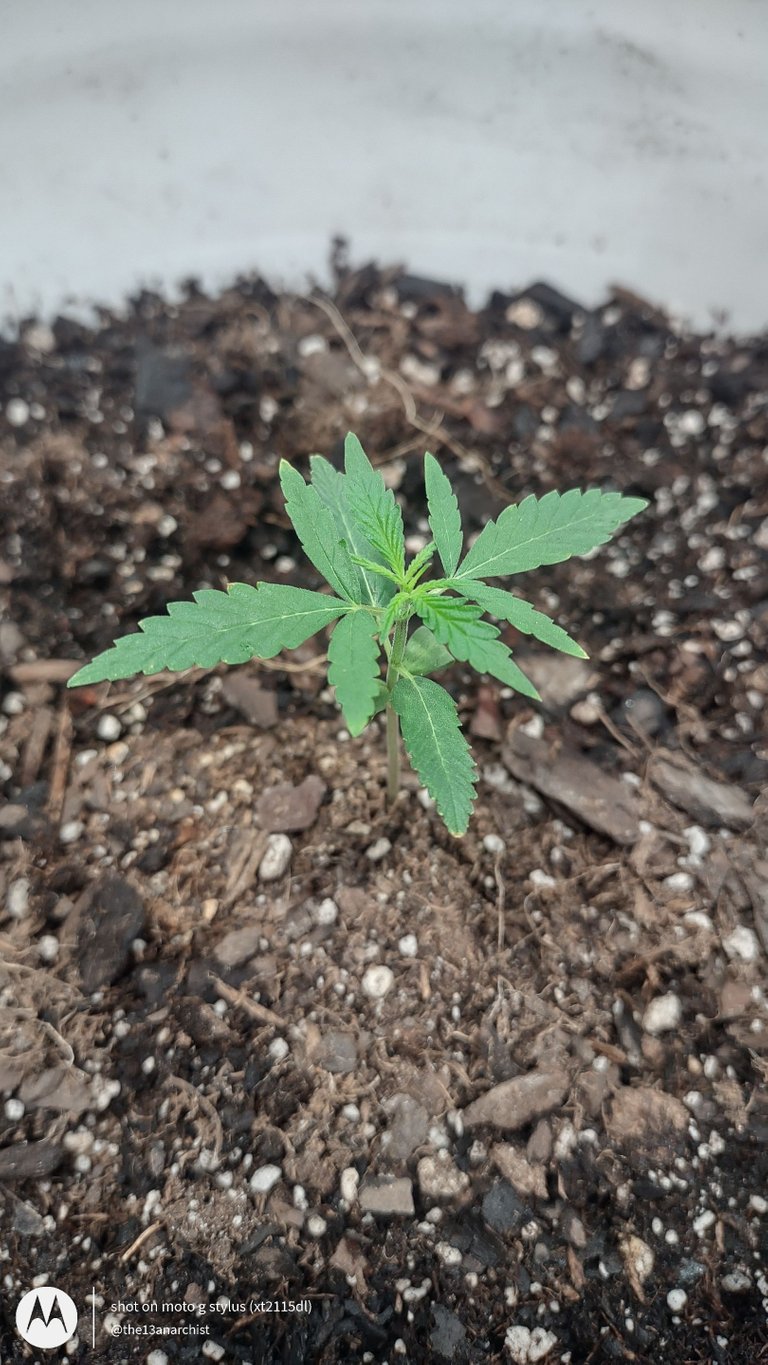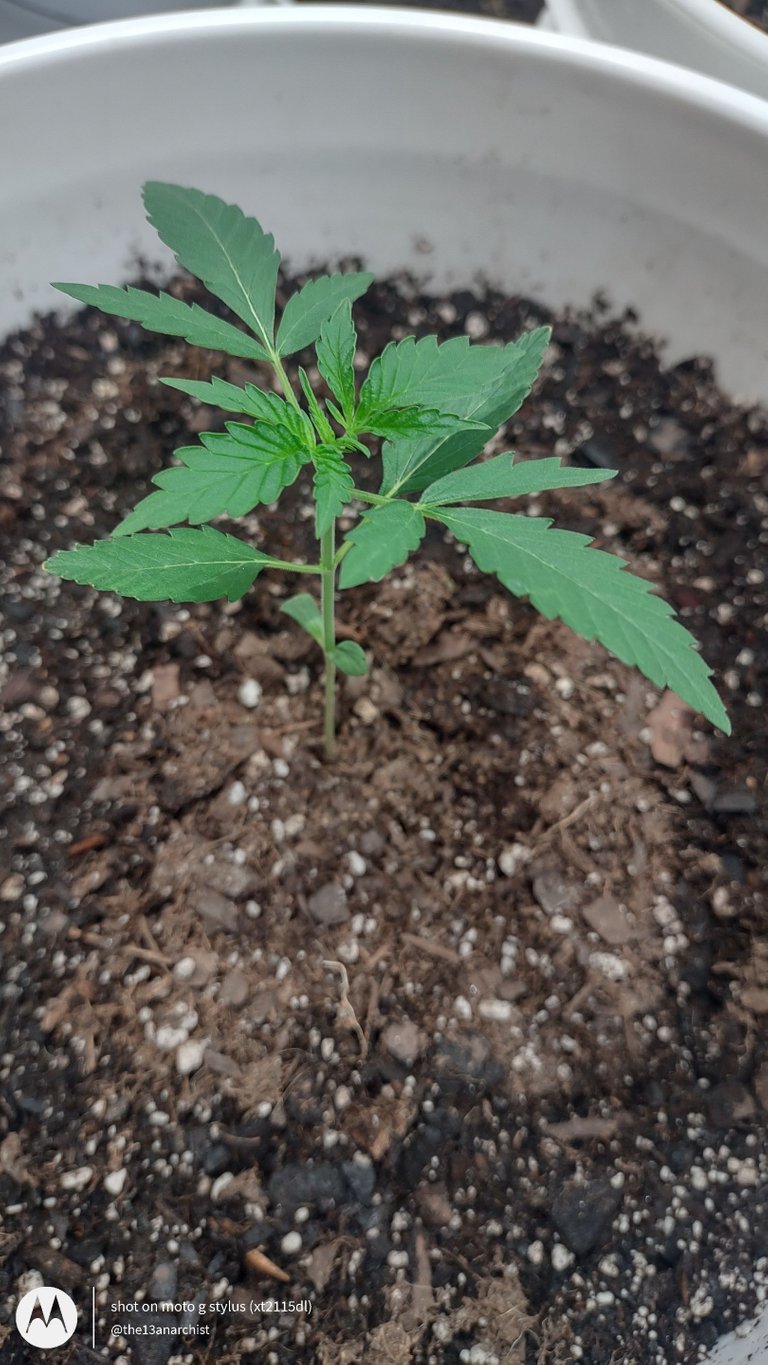 These next pictures were taken the following day, the 1st of December! Things have been going well inside the tent, so I decided to go ahead and turn off the light for a few hours to help save on energy consumption!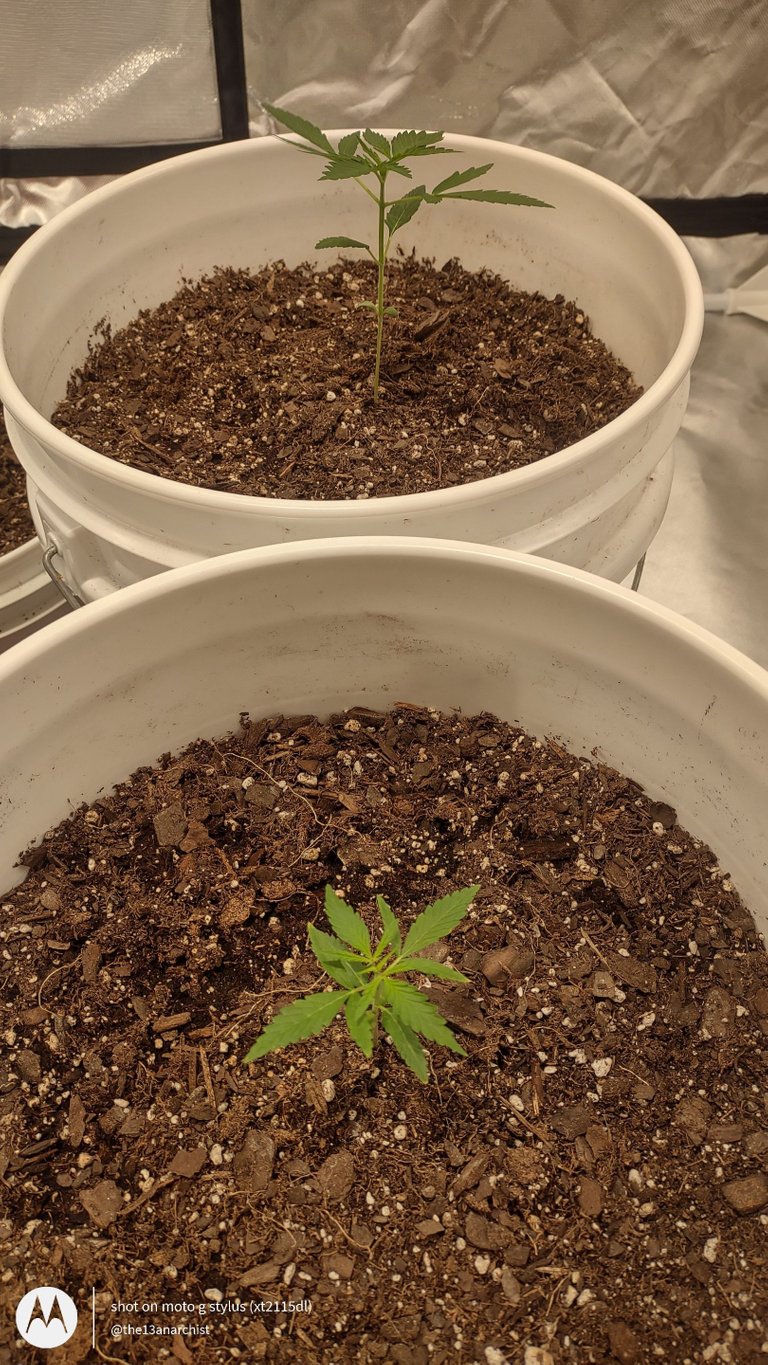 While these are AutoFlowering Plants, and will flower no matter the light cycle, I plan on keeping an 18-6 light cycle schedule to keep the few photoperiod plants I have in the tent in the vegetative state!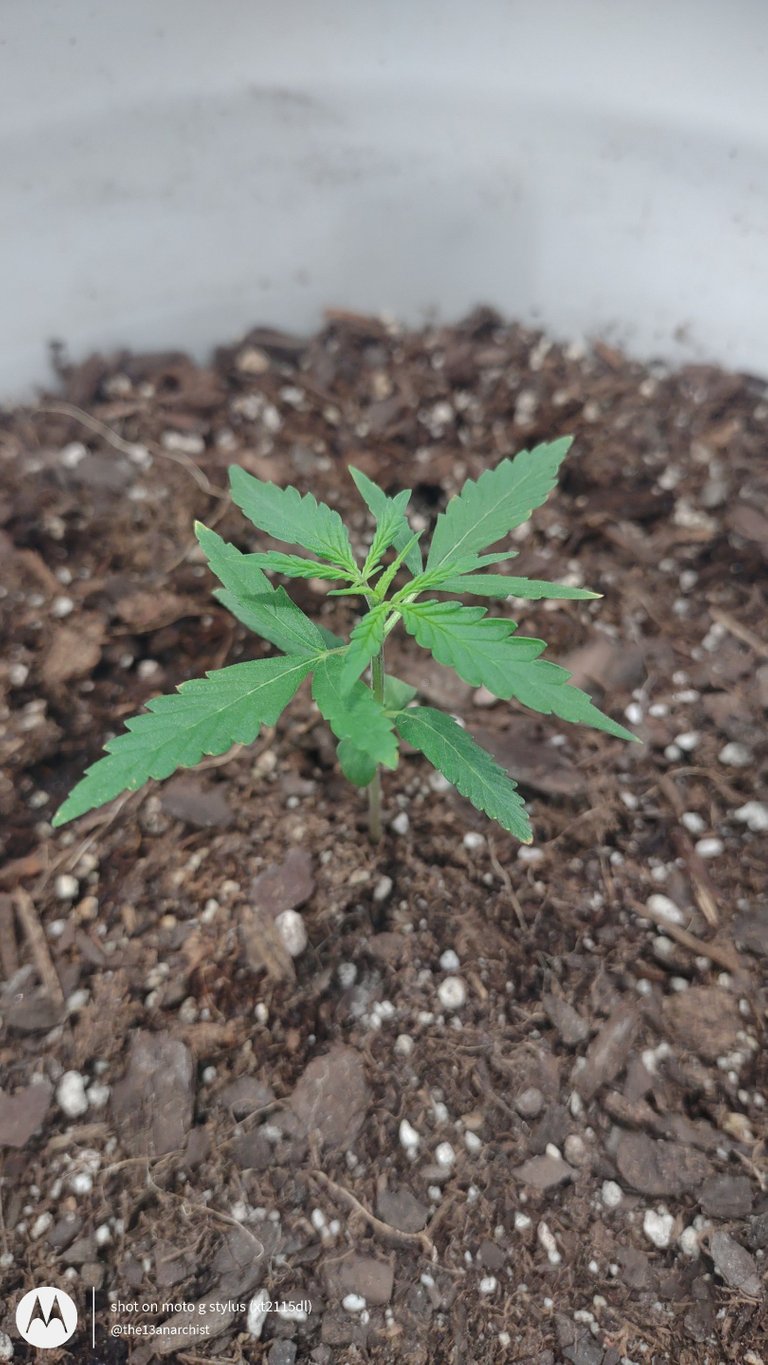 I can't believe the progress that the little one is making, which I've now moved to the front of the row for easier access and monitoring purposes!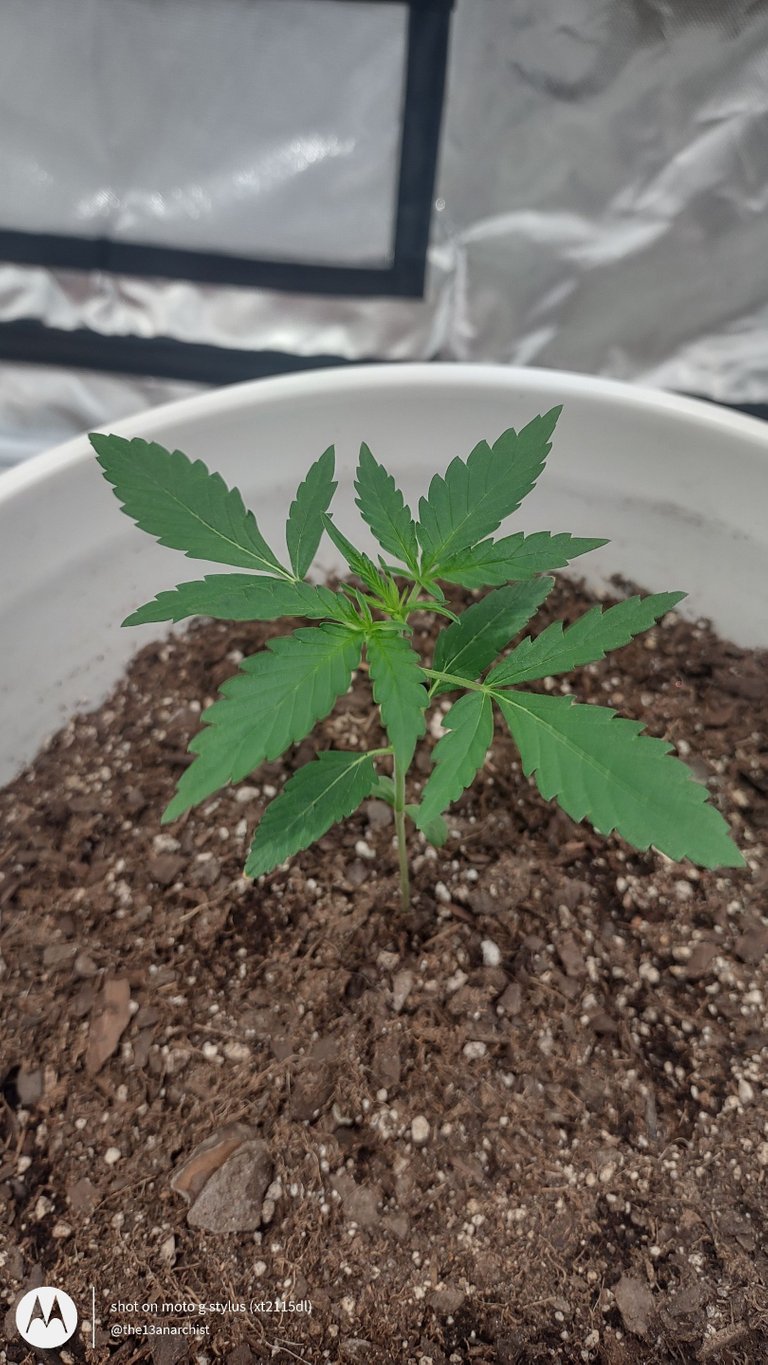 Our other Toasty Tangie is doing quite well in the new environment as well, and I can't wait to see how she does in the coming weeks!

December 2nd, gave them another round of nutes! This time I increased the dosage to the recommended seedling feeding schedule! I mixed up 10 mL of Grow Big into 1 Gallon of water, and gave the bigger of the two [Toasted Tangerine F2] Testers 2 cups worth of the solution.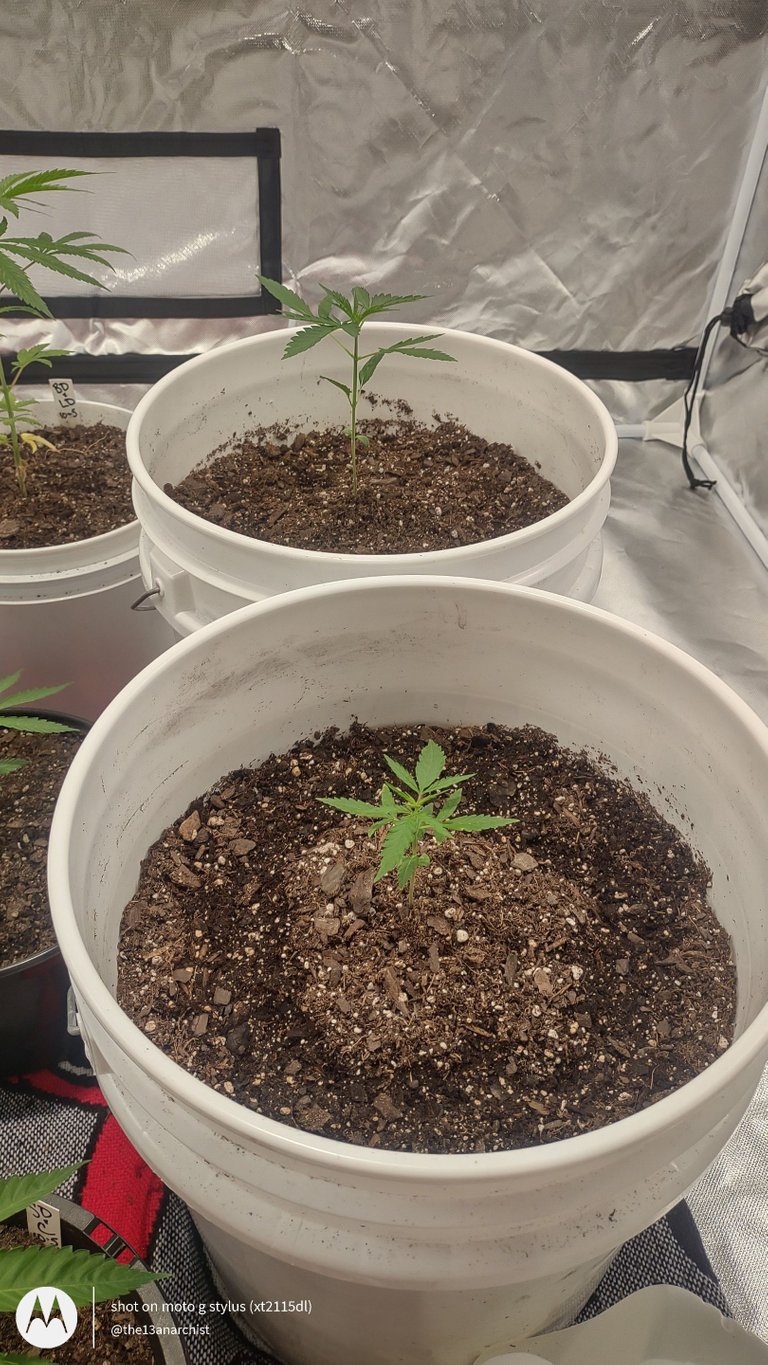 For the smaller of the two plants, I gave it 1 cup of the new Grow Big solution, and 1 cup of degassed tap water so I didn't overwhelm it to much! Since she is so small compared to the others, I don't want to over nute her too early in her development!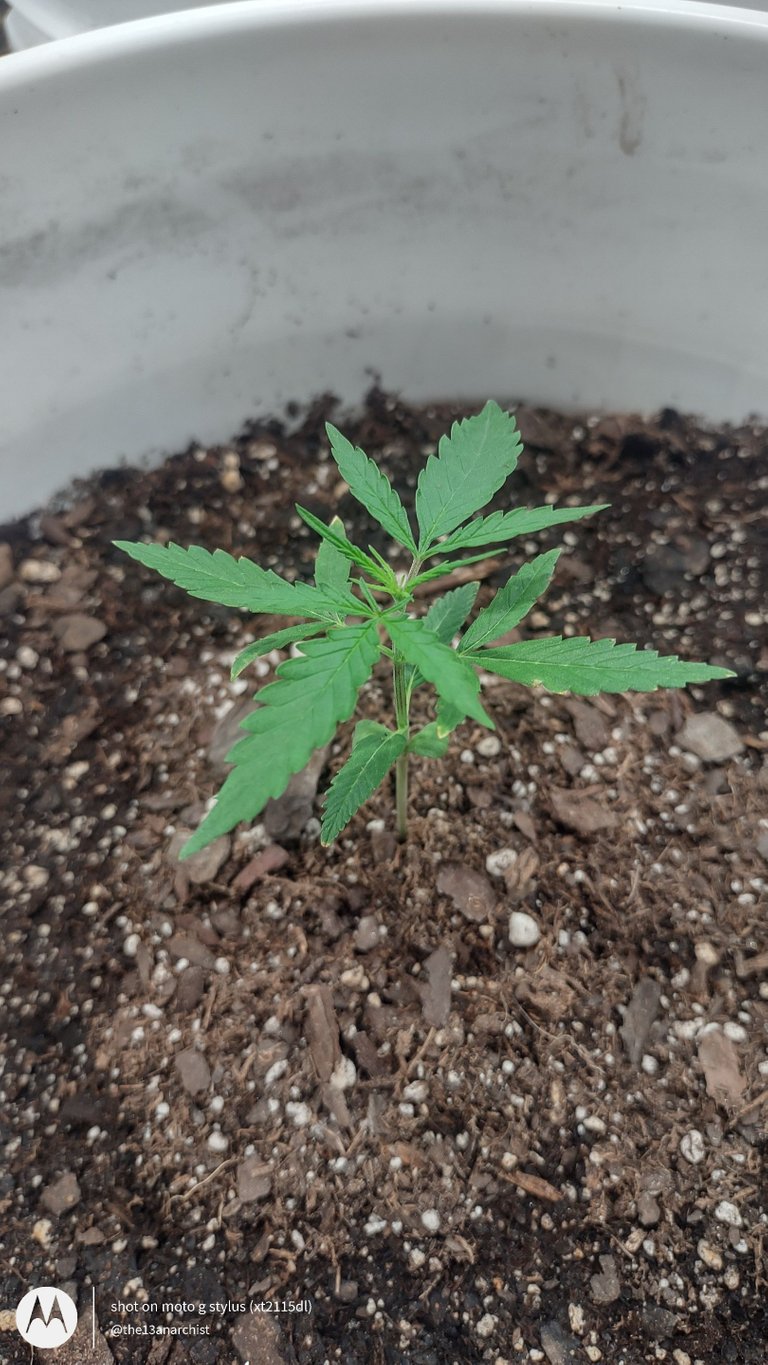 I also went ahead and lowered the light a few feet, just to see how the plants reacted, and to try to increase the light penetration to the lower portions of the plants!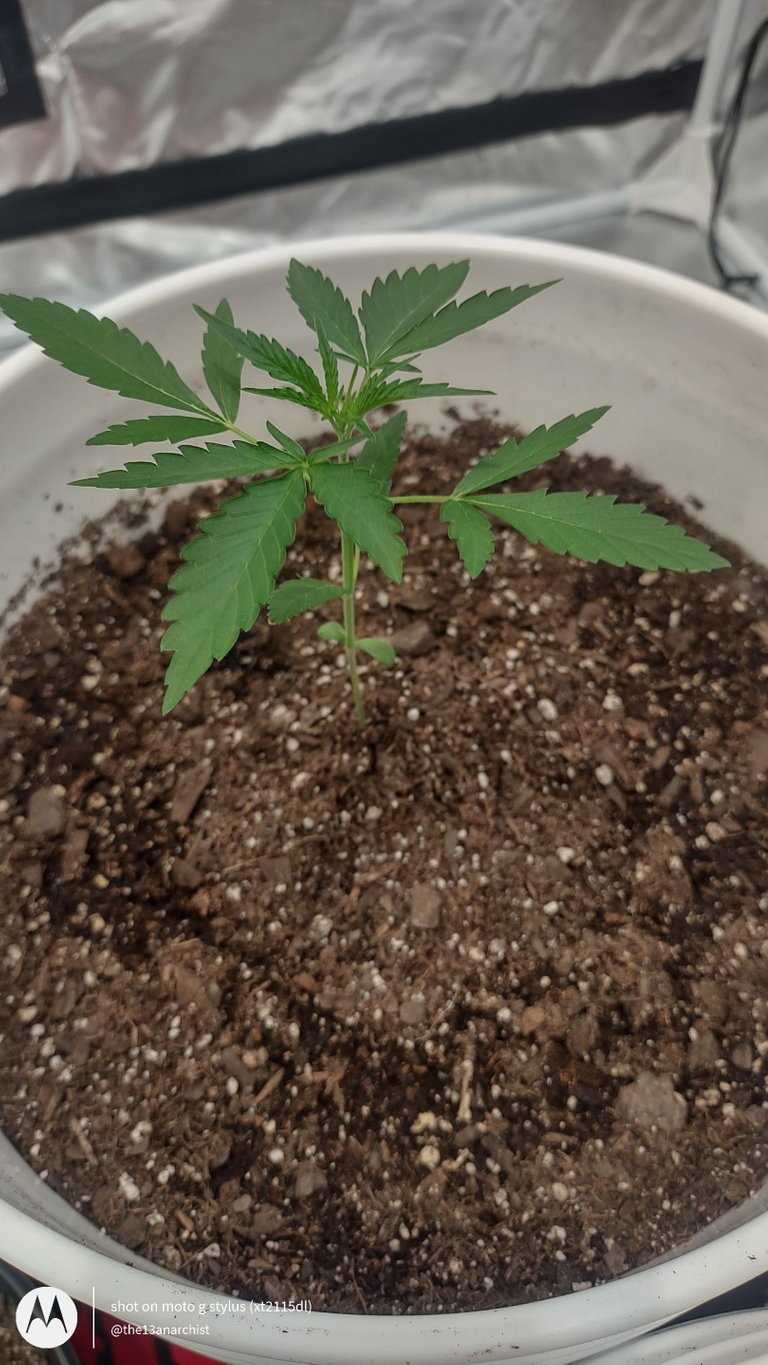 Everything was looking ok on December 3rd for both of these plants, although, I did notice that the leaves on the other plants in the tent were starting to curl and lighten.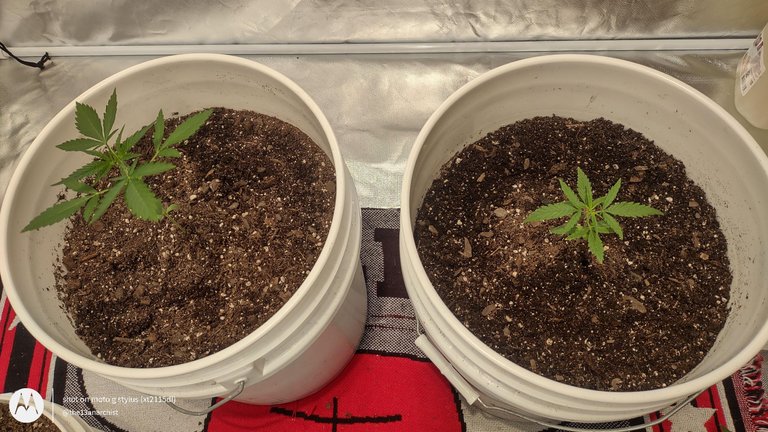 As these 2 are on the smaller side in comparison to the other testers, I don't feel like they as negatively impacted by how close I placed the light as the others!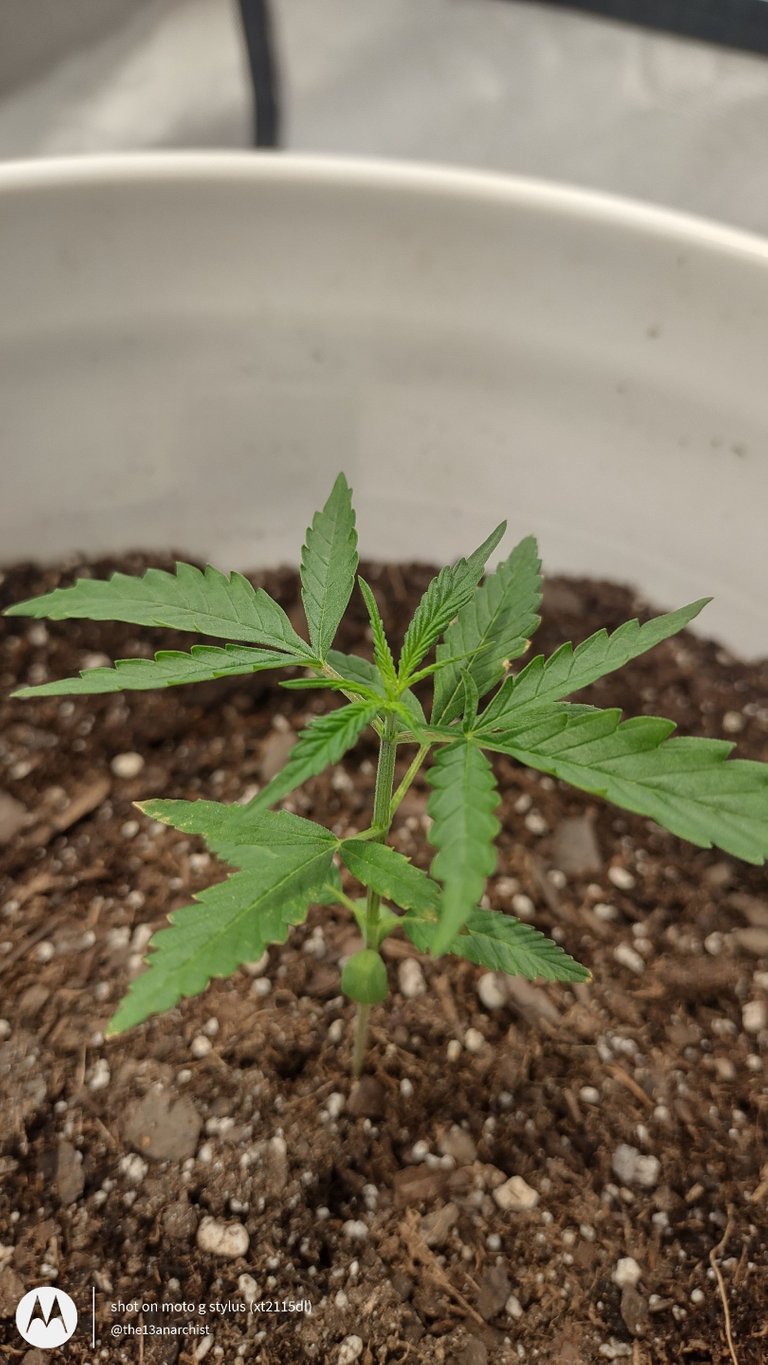 But, that does make me a little worried for the overall plant health in the tent, so I do believe that the light is too close, and that the recommended distance of 25 inches does not apply to this specific setup!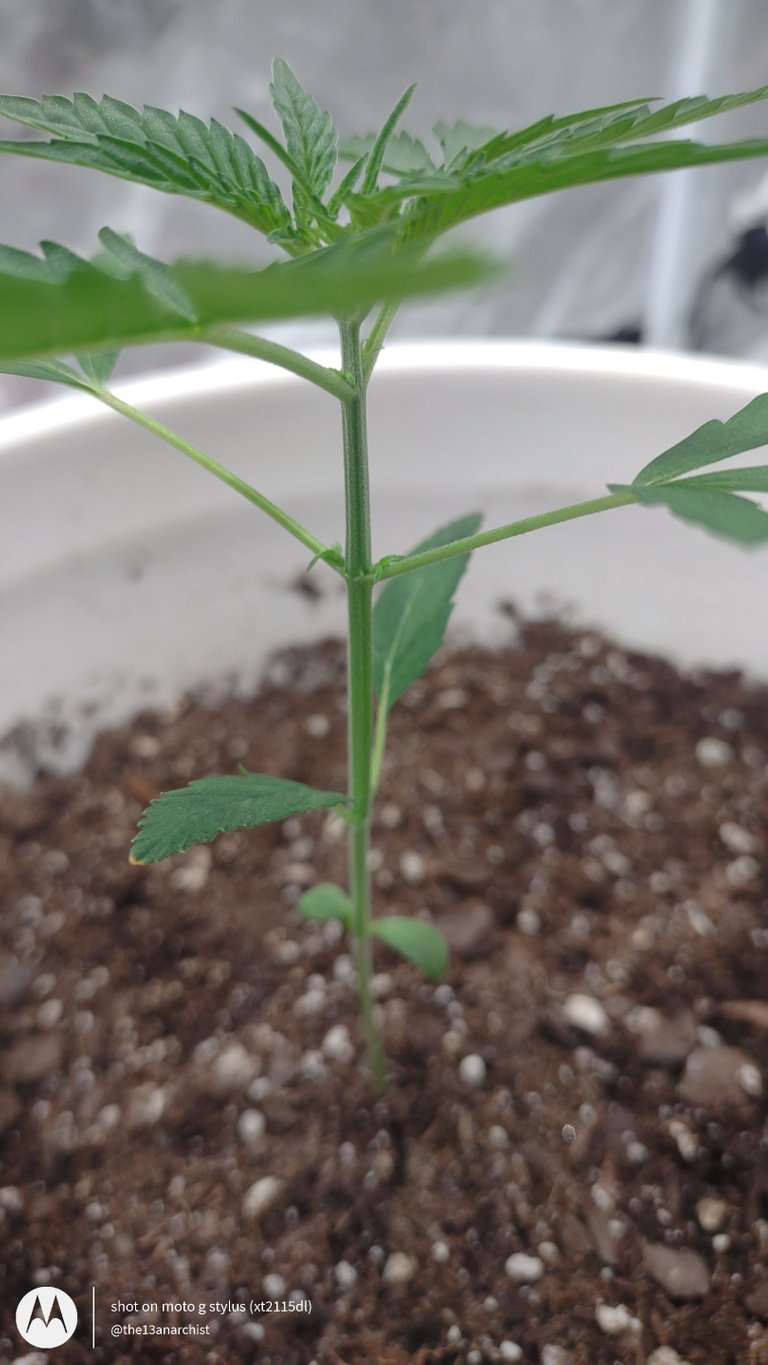 December 4th, woke up to the power being out in town, and I think it was only out for about 2 hours or so, so I don't think it will hurt the plants too bad!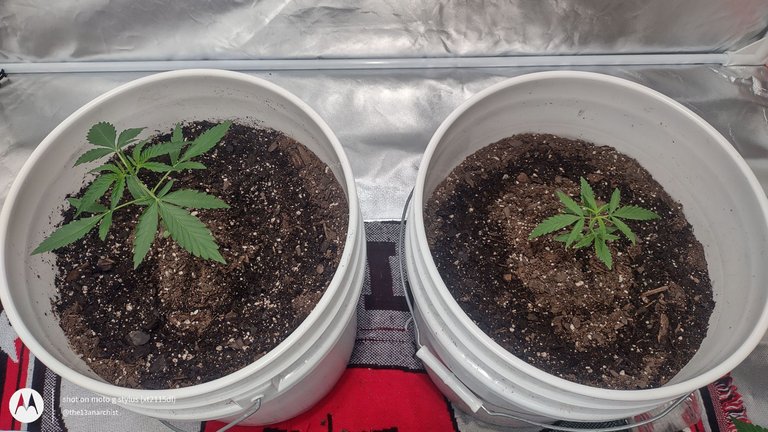 About half-way through the day or so, I went ahead and repositioned the light again, as I really didn't like the way the leaves had started to look on our other plants!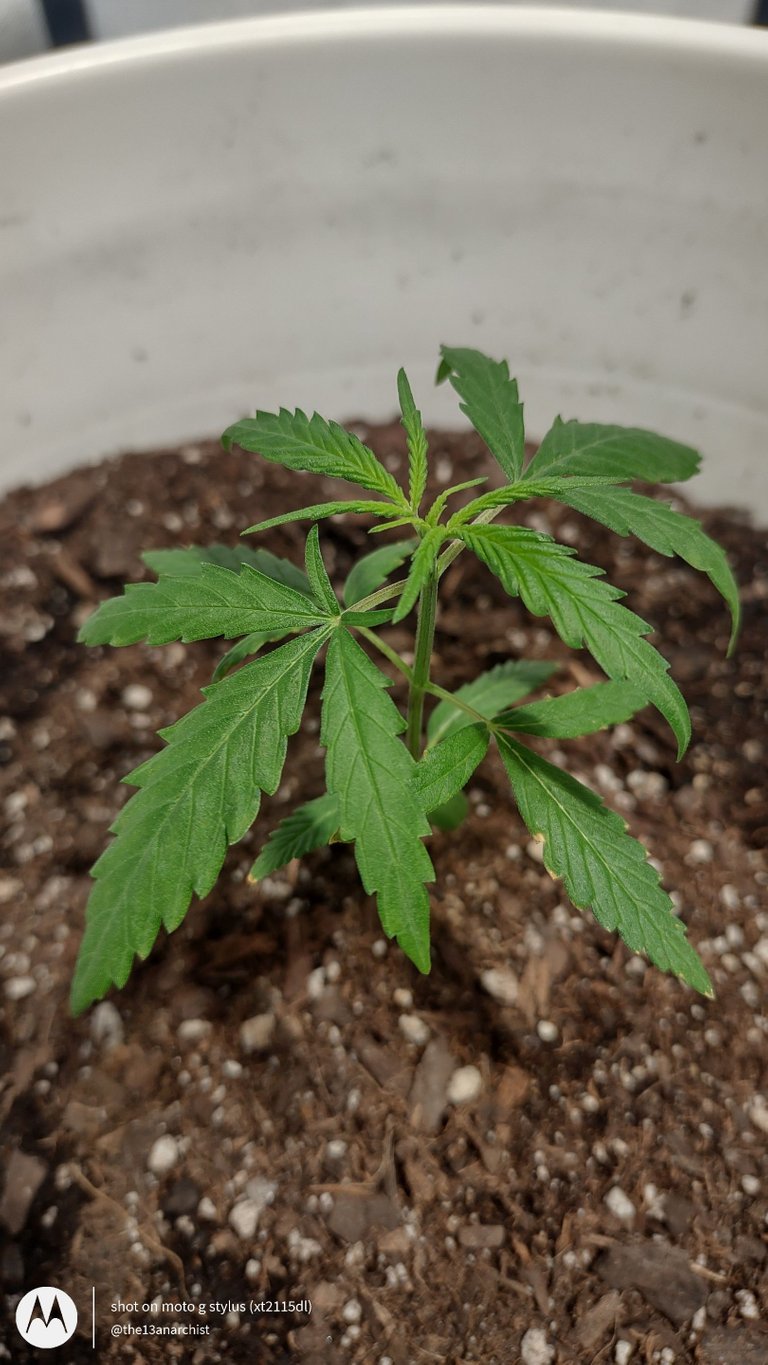 This time, instead of placing the light as close to the top as I could, I went ahead and placed it around 5 feet off the ground, about 3 and a half feet or so above the plants!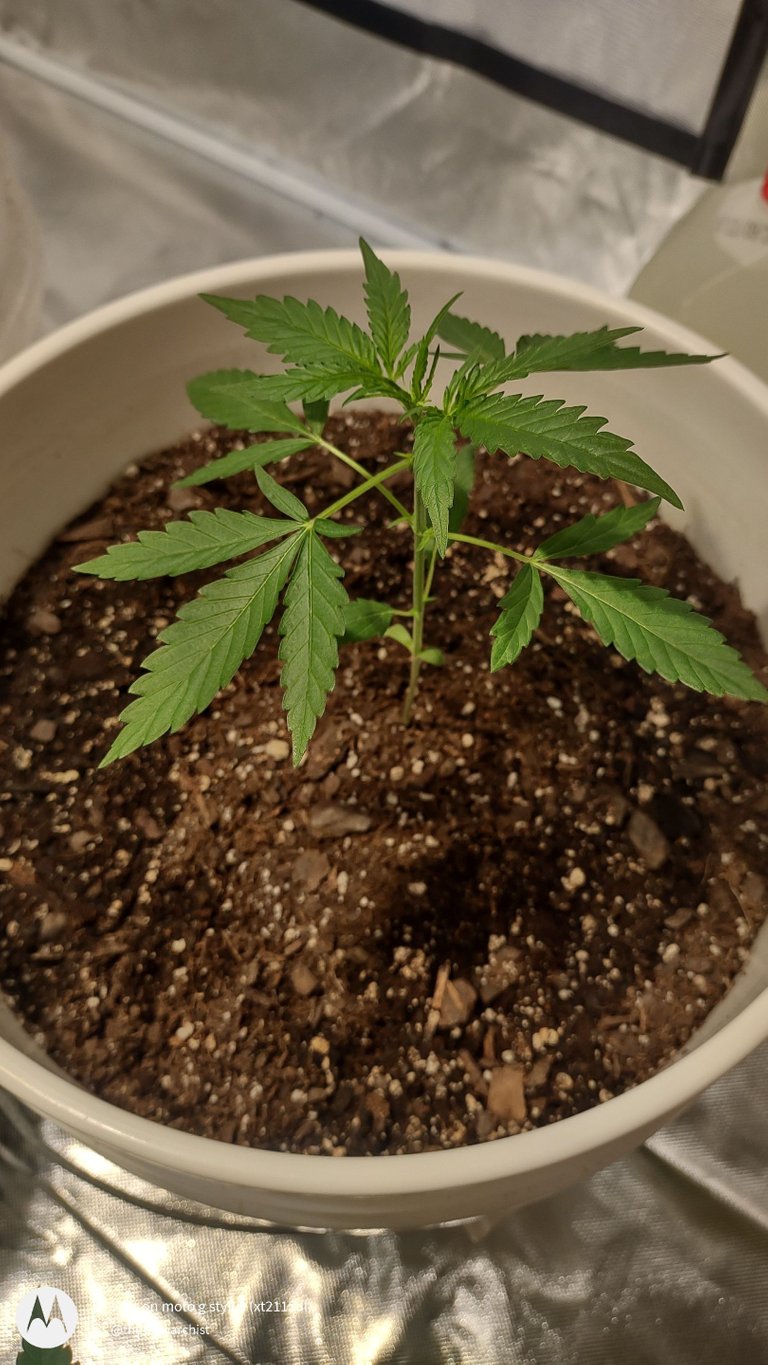 Moving into December 5th, things are still going strong, although I did do some reorganizing in the tent the night before after moving the light!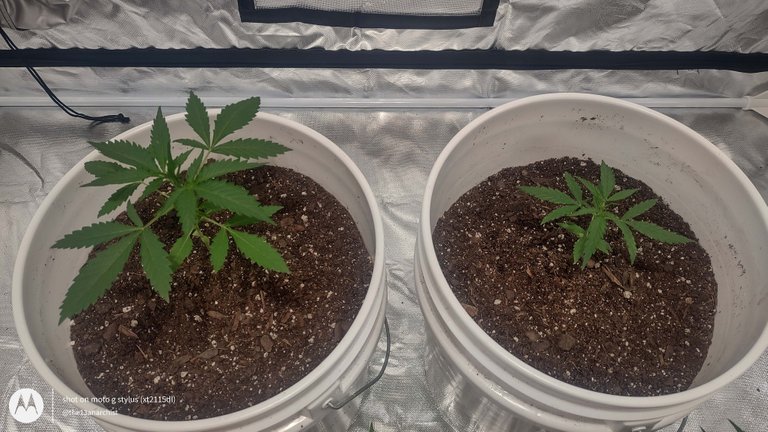 Since these two are the smaller of our testers, I want them to have the most light penetration all around, so I moved them to the back row of the tent, hoping that the light reflecting off of the side walls will help these babies get a little bigger!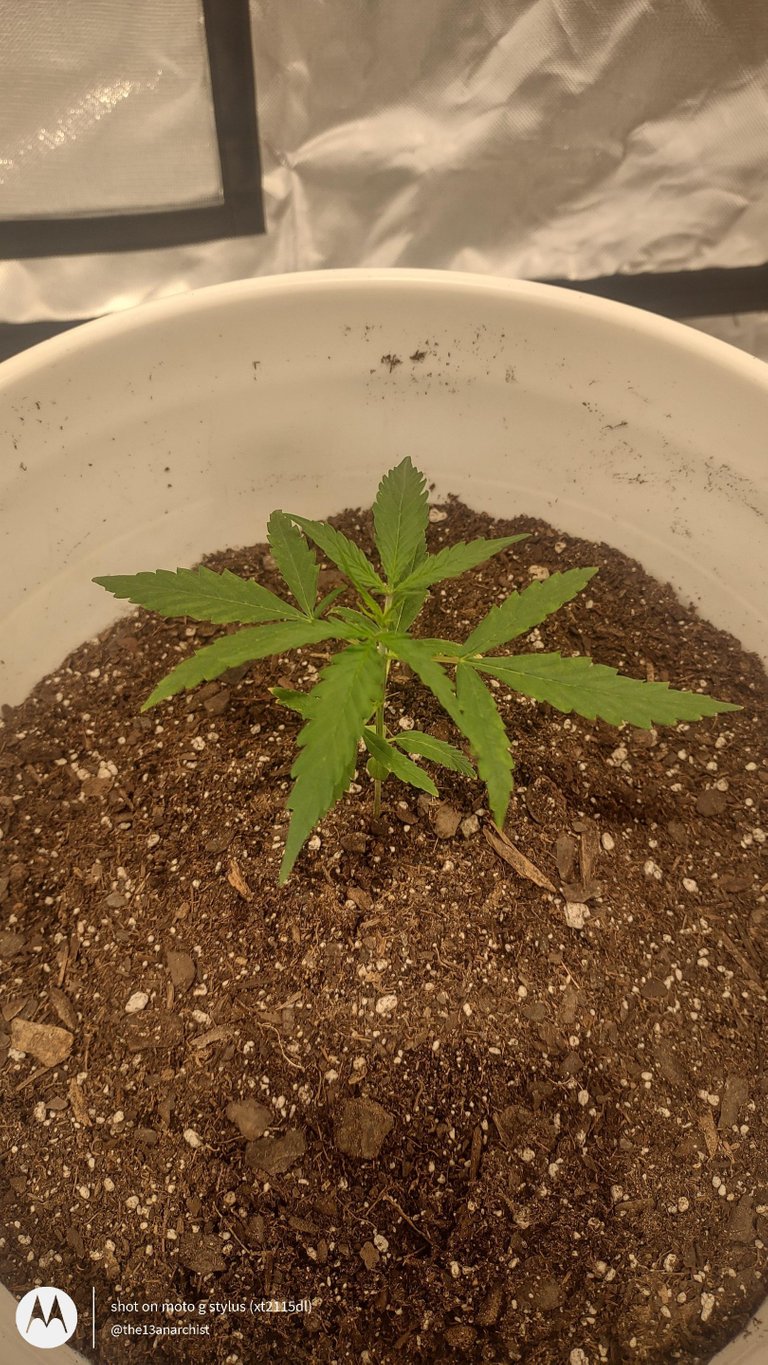 You can see that the leaves started to get bleached from the light being too close! Thankfully, I already moved it up before it got too much worse and hopefully they will recover!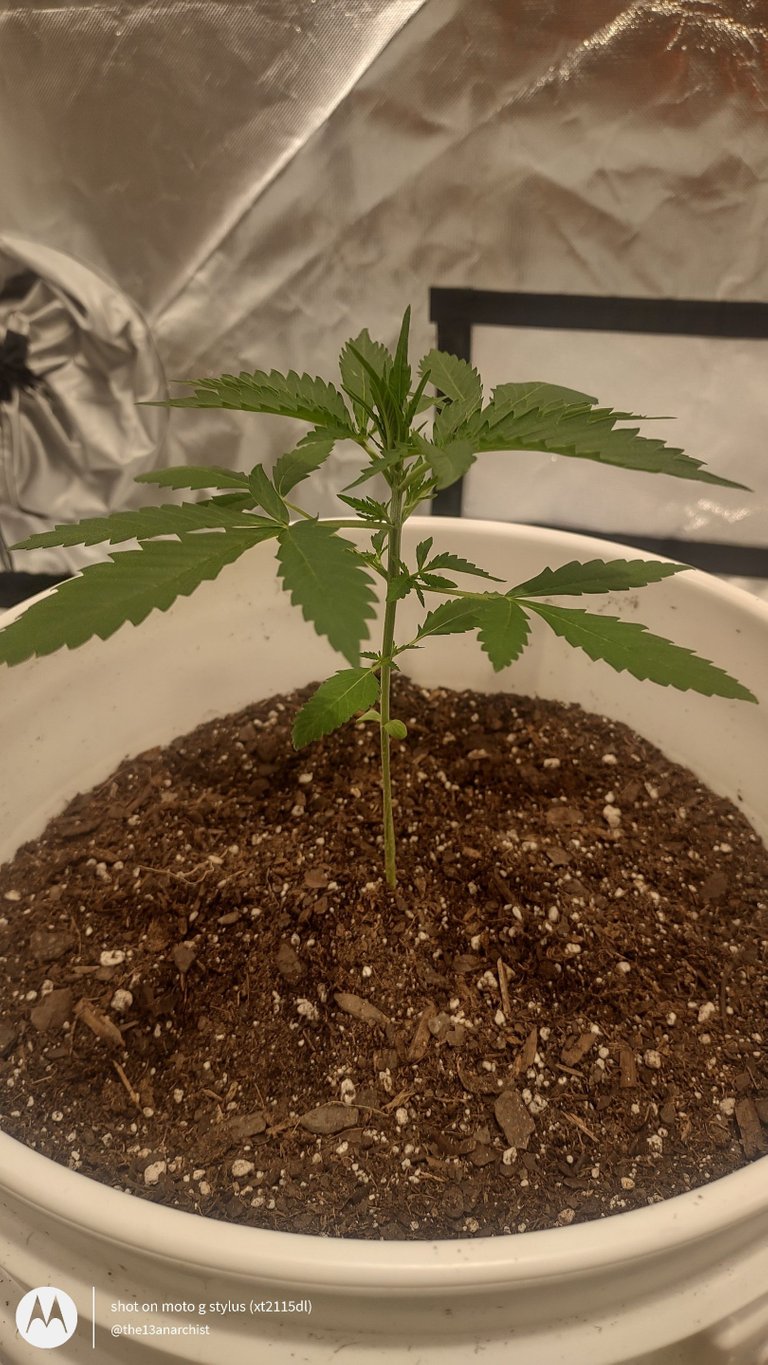 On another amazing side note, I am now awaiting the arrival of the [Ghost Toof x Toasted Tangerine] Testers, which means that I will officially be running the entire "Macronut" Tester Lineup!! I did manage to find some cloth pots to be able to use for those specific plants, but since I have upgraded to the new tent, I have started looking into different products and accessories for upgrading the setup to match!
One of which I found was from a company called A Pot For Pot, which specializes in sending discreet boxes containing everything you need to start growing your own cannabis, and are decently priced for growers on a budget, such as myself!
Macronut recommends using a minimum of a 2 gallon container for his strains, which I found this Small Grow Kit that contains everything you need to start growing, a $40 gift certificate for seeds from their sponsoring seed company!
This specific kit is right around $80, but it contains a fabric container, soil, root boosters, pruning scissors, and almost everything else you will need to complete a grow cycle, they even include a lense for your phone to take better pictures! They boast an approximate yield of up to 4 ounces from using this specific kit as well, so that's something I'm definitely looking into in the future!
They also sell "Extension Kits" in both 2 gallon and 5 gallon containers, which contains all of the essentials you need to add to your existing Grow Kit! The 2 Gallon Extension Kit goes for about $50, and it still includes a $40 gift certificate for their sponsored seed company!
Also, while we're on the subject of upgrading setups, if you act within the next 5 hours, you can get a up to 40% off on featured Vivosun products as well as an additional 15% off for subscribing to their newsletter!

But, I think that will do it for this post! I hope you all have a great week, and don't forget to tune-in next week for another "After Hours" Update! Stay Trippy, My Little Hippies! ✌️💚



New to Hive? You can sign up here to start earning rewards on your own original content!
---

Have you heard of the Saturday Savers Club yet!? Head on over to the @eddie-earner account to learn better savings habits from like-minded, savings-oriented Hivians, as well as the ability to earn interest on your Hive with the EDS token!
---
All Brothers-In-Farms Genetics (BIF/BIFBeans.com) Logos/Breeder Information used with permission by the awesome BIFBeans.com Team!

Banners custom-created using Canva, using BIFBeans.com Logos by permission.

Dividers custom-created using Canva, using WeedCash.Network Community Logos!

My new Hive Logo was created by fellow Brother-In-Farms Grower, Grimdank

Signature provided by @doze, stop by his blog to see his newest Hive-inspired creations!

"Saturday Savers Club" banner has been provided by the @eddie-earner and @susie-saver's Saturday Savers Club blog!

All photos used were taken on my trusty old Motorola Moto G Stylus!
---
---