Popping my new [Ghost Toof x Toasted Tangerine] Testers!

What's up my fellow cannabis lovers and enthusiasts! How's everyone doing today!? Thanks for tuning-in to this week's edition of:

In this edition of my "After Hours" gardening project, I'm going to be talking about a new tester strain from @bifbeans breeder Macronut; the [Ghost Toof x Toasted Tangerine] Feminized AutoFlowering Strain! I personally like to call this baby the Toasted Ghost, but I'm not sure if there is an official name for her yet!

I ended up getting these a little while ago, but was waiting to pop them to try to time out a decent harvest cycle. The plan was to germinate and pop them in the dirt by the 40 day mark on the other testers, and then go from there!

So I started germinating 2 of these Toasted Ghost beans on Saturday December 24th! For some reason, I changed up my germination method for these beans, and instead of putting them in a cup of water, I placed them straight into a wet paper towel, which was then placed into a ziplock baggie.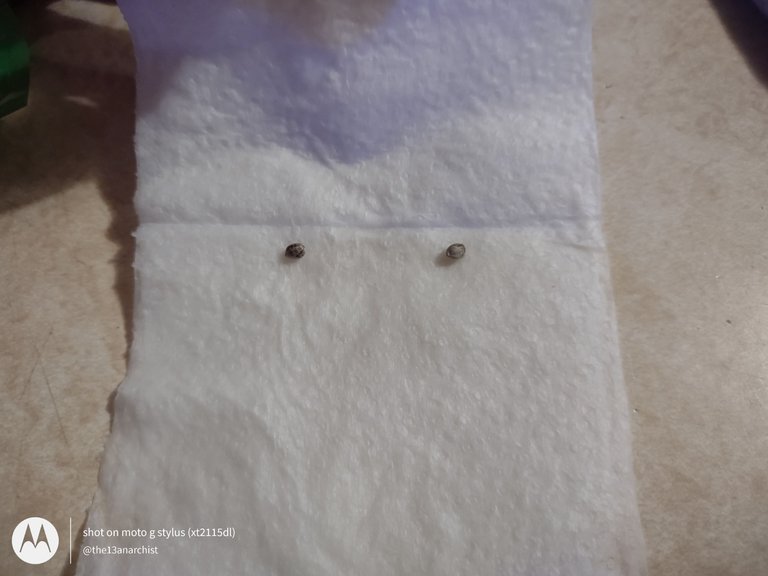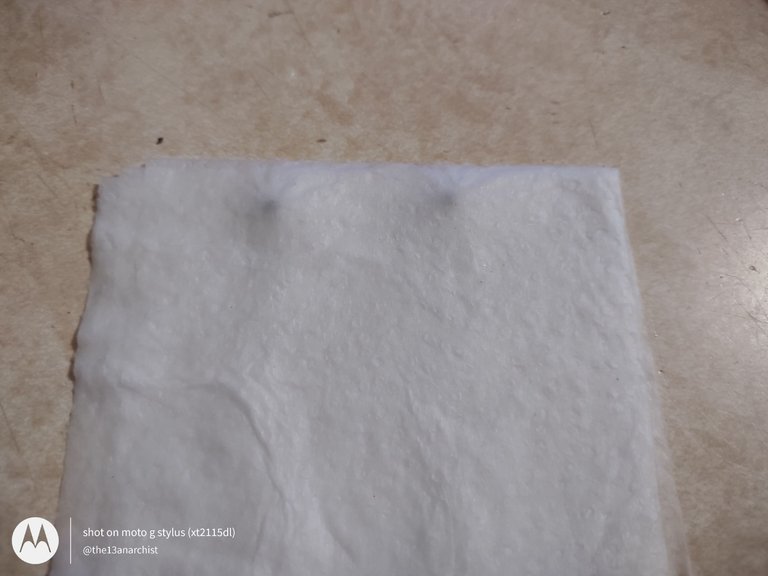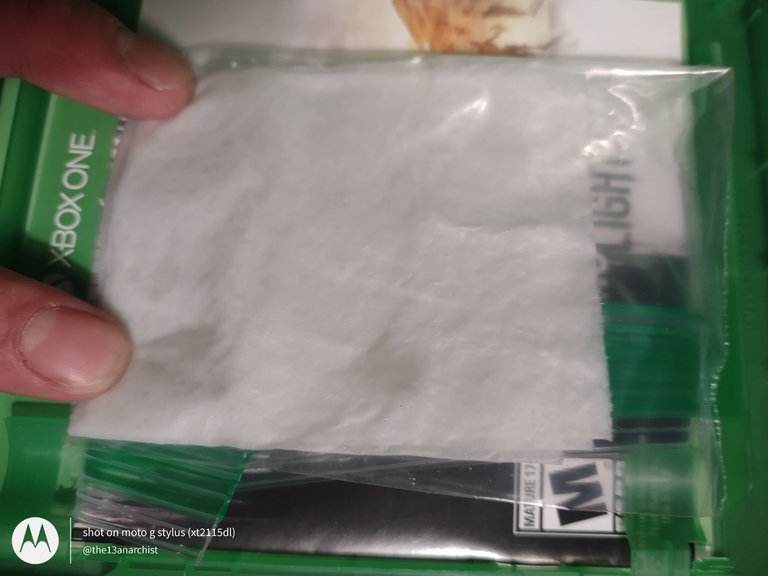 That bag was then placed inside an Xbox game case, and then place it on top of the corner of my light to stay warm. It stays fairly cool in this particular room (outside of the tent that is) so I didn't bother wrapping it in a t-shirt like I did before!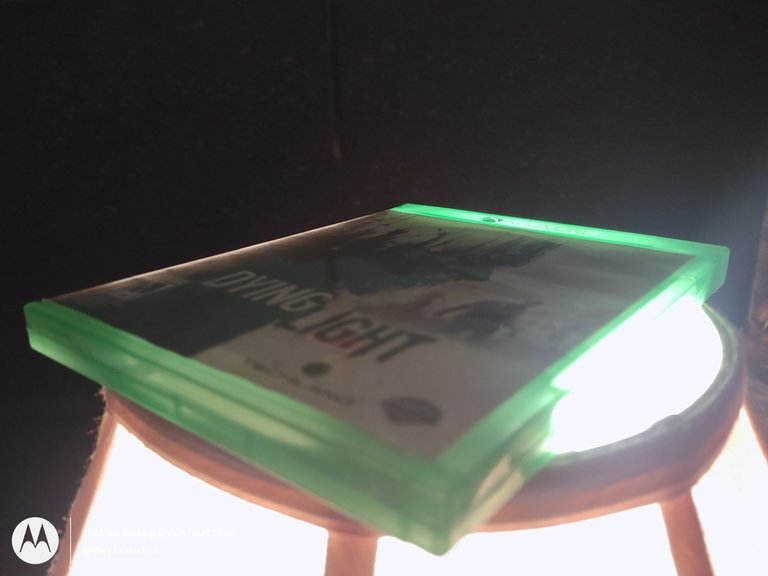 Unfortunately, and much to my surprise after how well the other testers seeds germinated, the taproots didn't explode like I had thought they would, so on December 28th I decided to plant them and see how they did.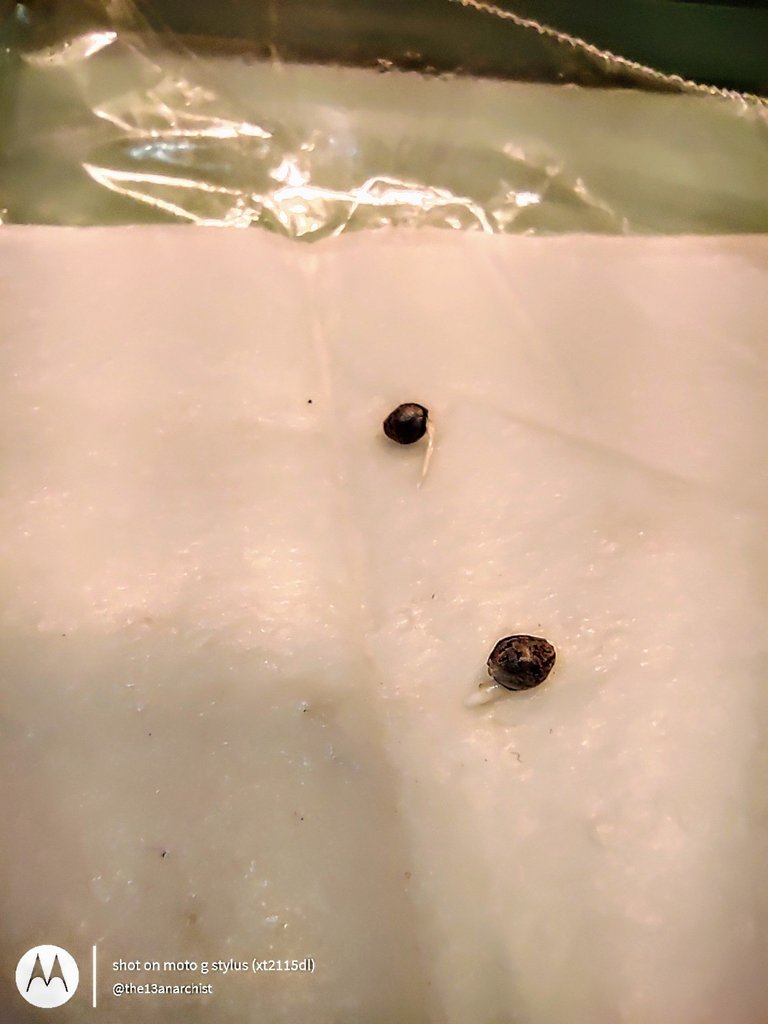 Although they had pretty decent sized tails to them, neither of these testers ever popped, and I fear may have either been lost inside of the dirt, or had suffered from rot from being too moist during germination!

I decided to go ahead and germinate 2 more beans on January 5th, hoping that I'd do a little better with these ones. Losing 2 of these testers beans for unknown reasons really took a toll on my confidence as a grower, so I was really hoping to redeem myself!

Thankfully, on January 7th I noticed that one of those testers popped a taproot, while the other sank to the bottom! So acting as quick as I could, I planted the newly germinated bean into a 2 Gallon cloth Smart Pot in my same, recycled, living soil mix of Fox Farm Happy Frog and Ocean Forest potting soils.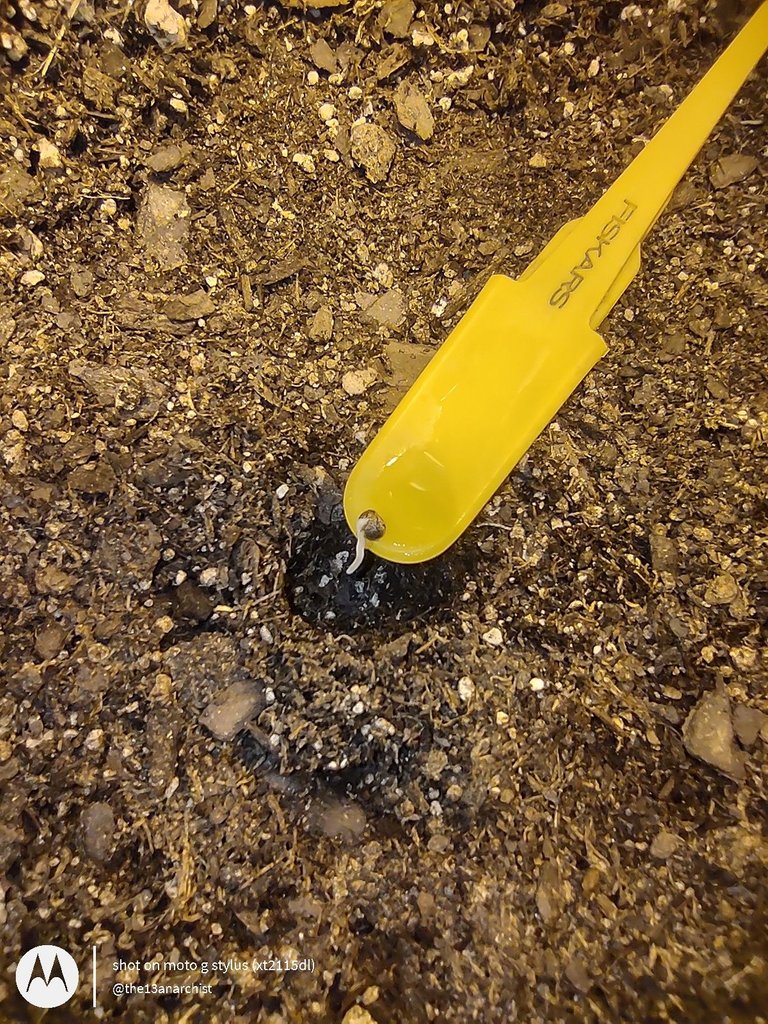 I personally love the Happy Frog, and it does contain living microorganisms and mycorrhizal fungi to help boost the plants root growth! I did find that for a seedling, using Happy Frog bears the possibility of burning out the root system, so to counteract that, I added the Ocean Forest, since it's not as acidic!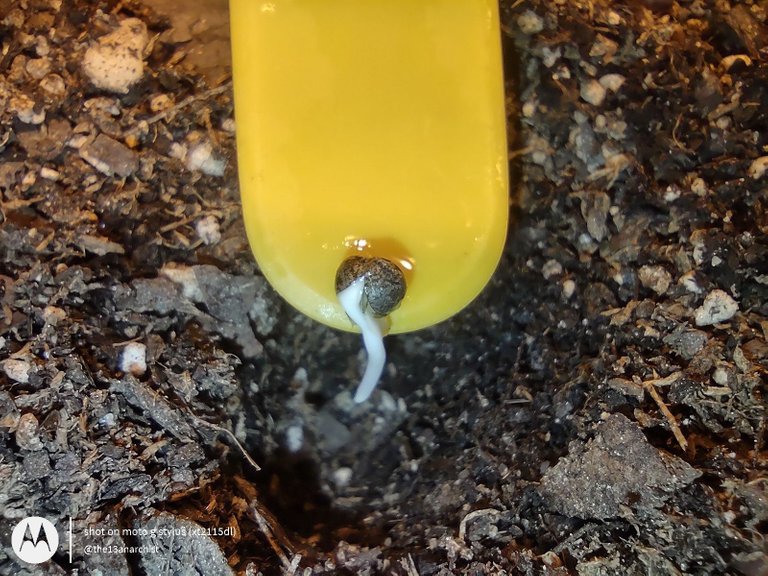 I initially moved the bean that had sunk into a moist paper towel and attempted to finish germination that way! However, after a few more days with no results, I went ahead and popped my last [Ghost Toof x Toasted Tangerine] tester bean on January 12th, and threw the other bean in a long with it, just as a last ditch effort.
During the time that I started germinating the new Toasted Ghost bean, I was able remove the humidity dome from the first seedling, as it had already grown to about 2 inches tall or so!

Thankfully, the new bean popped open and showed signs of a taproot by the 13th, and I was able to go ahead and plant it on January 14th!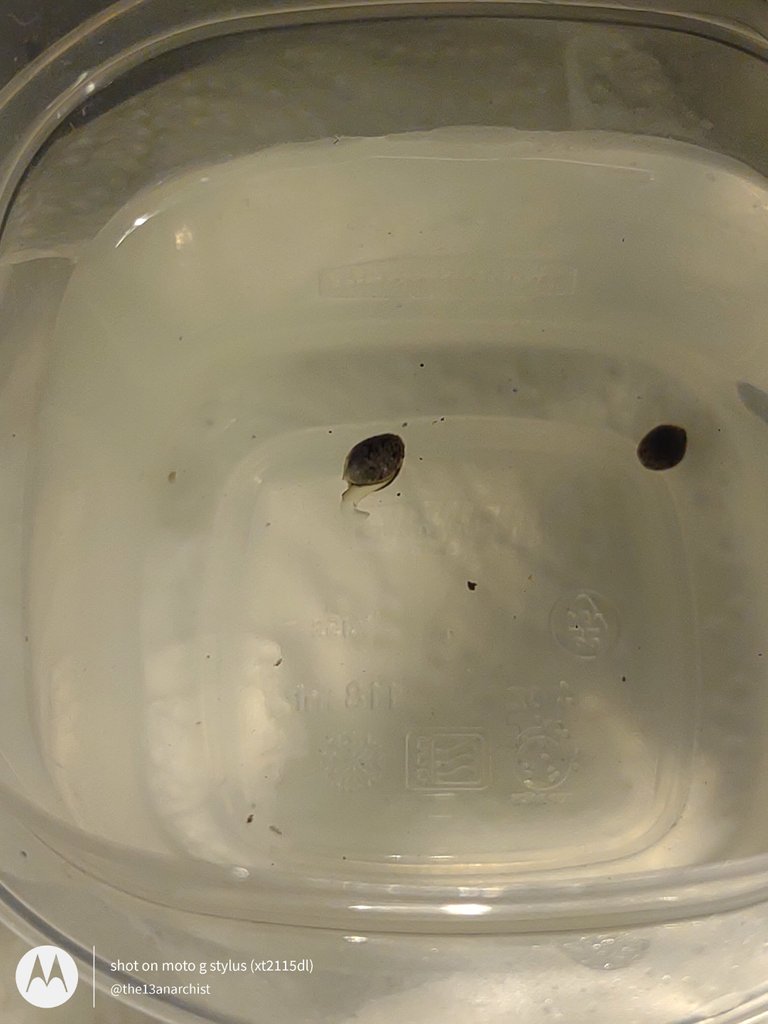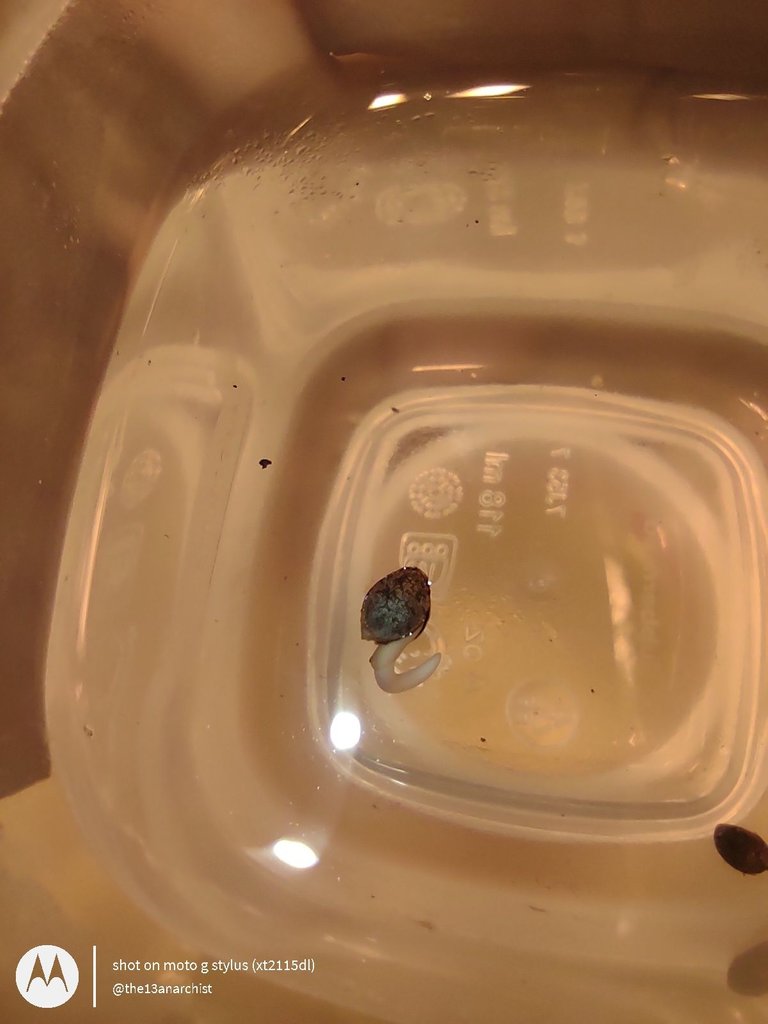 I went ahead and wet the soil to prevent the bean from getting lost, and placed my makeshift humidity down over the top! My first viable seedling happened to be 6 days old at the time I planted the second bean!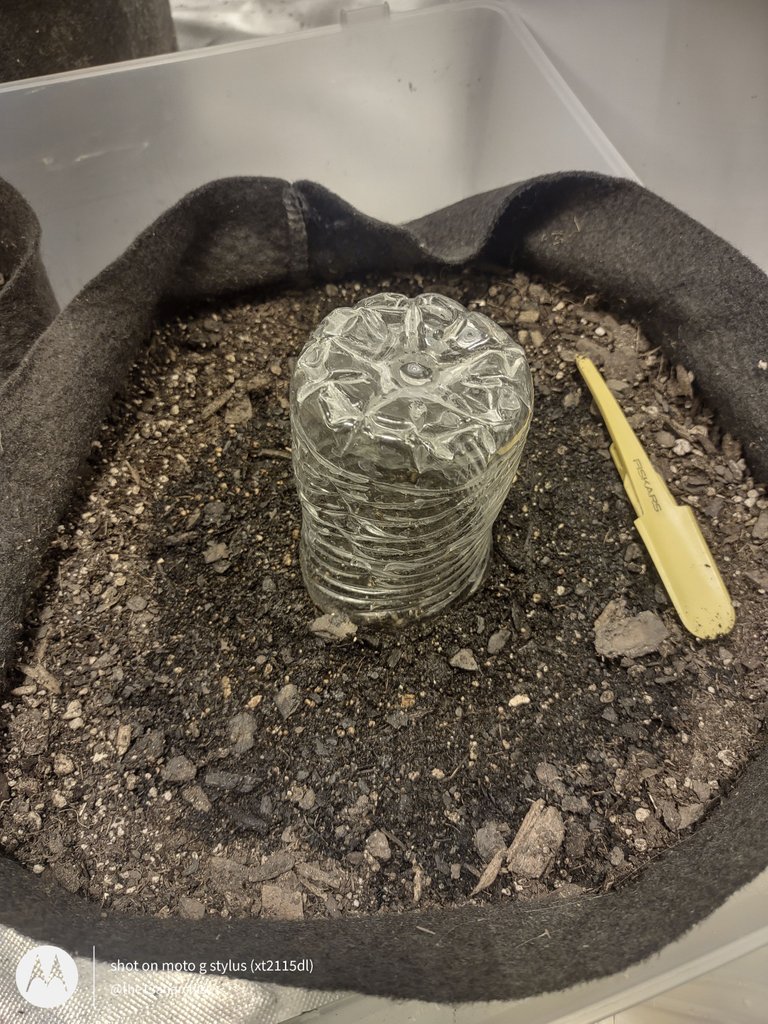 Very fortunately, the second tester popped from the soil overnight, and and is official 1 week younger than the first tester! I personally think this will be very interesting to watch grow at different stages, even though it's only a week difference!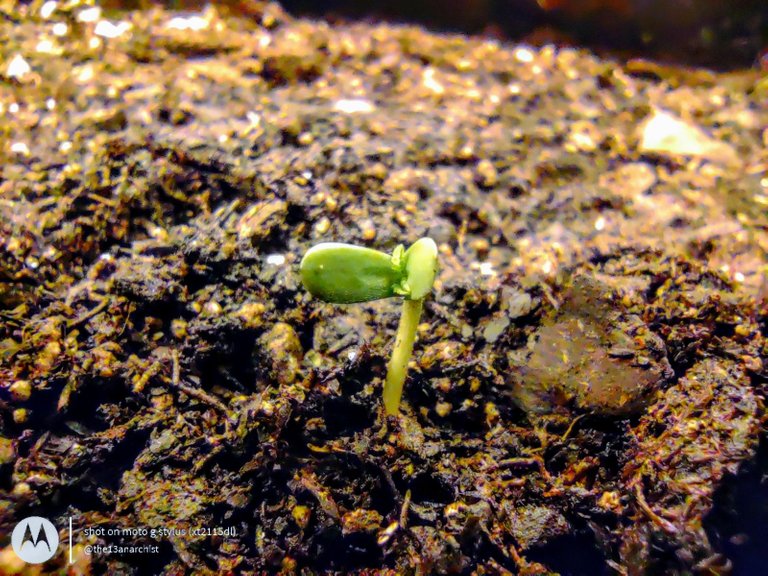 I only kept the humidity dome on for about 2 days, which is when I started noticing the leaves on the first tester starting to yellow at the tips!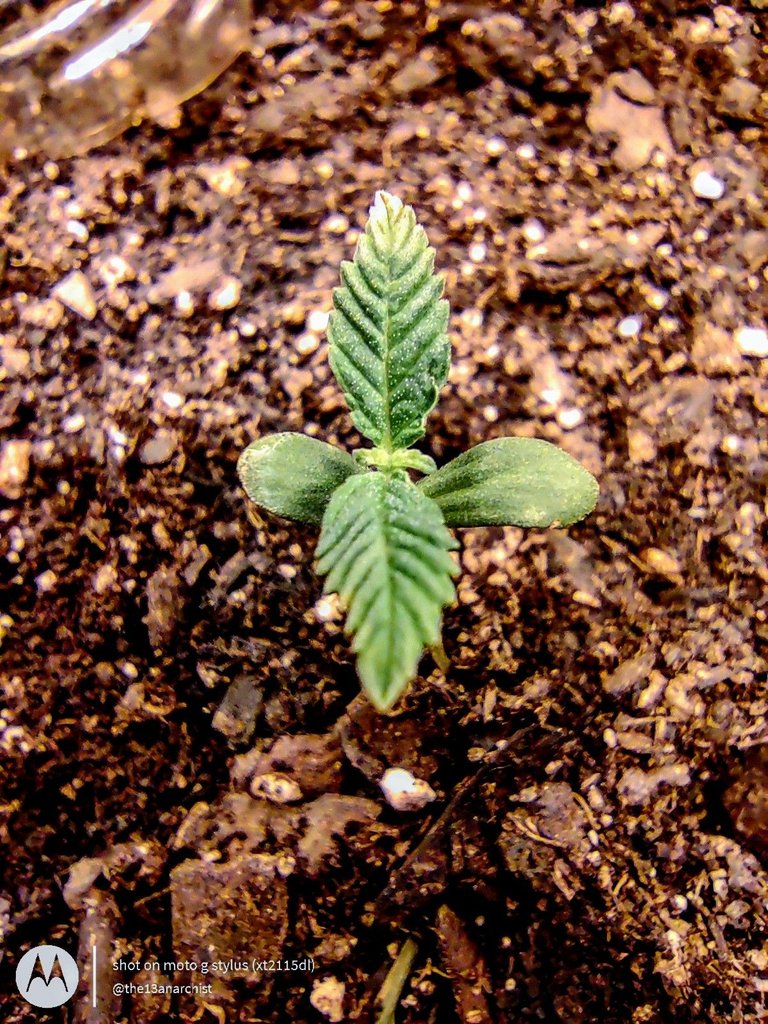 I'm not sure what the cause is, as I haven't even started to use nutrients yet! But, I am using recycled soil, and it could be possible that I may have over watered it since I wet the soil before planting! I'm also looking into A Pot For Pot's 2 Gallon Grow Kit, which would be a perfect addition to my setup, and includes a nice lense attachment for your smartphone to help zoom in on those ripening trichomes! 💚

Not that I neglected these babies, but there wasn't much to do with them for a few more days, until January 20th when I noticed that there was a greyish, mold-like growth forming on one section of the soil! Personally, I think it was due to the coffee ground addition, but I had also been using a plastic container as a tray of sorts to start bottom feeding these girls! Unfortunately, I believe this container was too tall to allow proper airflow to the bottom of the containers.
I did do my best to remove the "infected" soil completely, and I threw it away; then, I took the pots out of the plastic tray and placed them on to 2 gallon buckets, bringing them closer to the light. I also pointed a small 6 inch desk fan directly at the base of the pots! I really hope this works at killing off whatever mold is in there, but I am going to be doing some research on all-natural, homemade fungicides just in case!

As of now, these babies are 2 weeks and 1 week old respectively, and other than the yellow discoloration of on the first tester, they seem to be growing just fine for the time being, but unfortunately, I am almost out of nutrients! I've been looking around at various brands and companies, and I think I'm going to try out the SimPro Formula nutrient line to compare them to my current Fox Farms nutrients!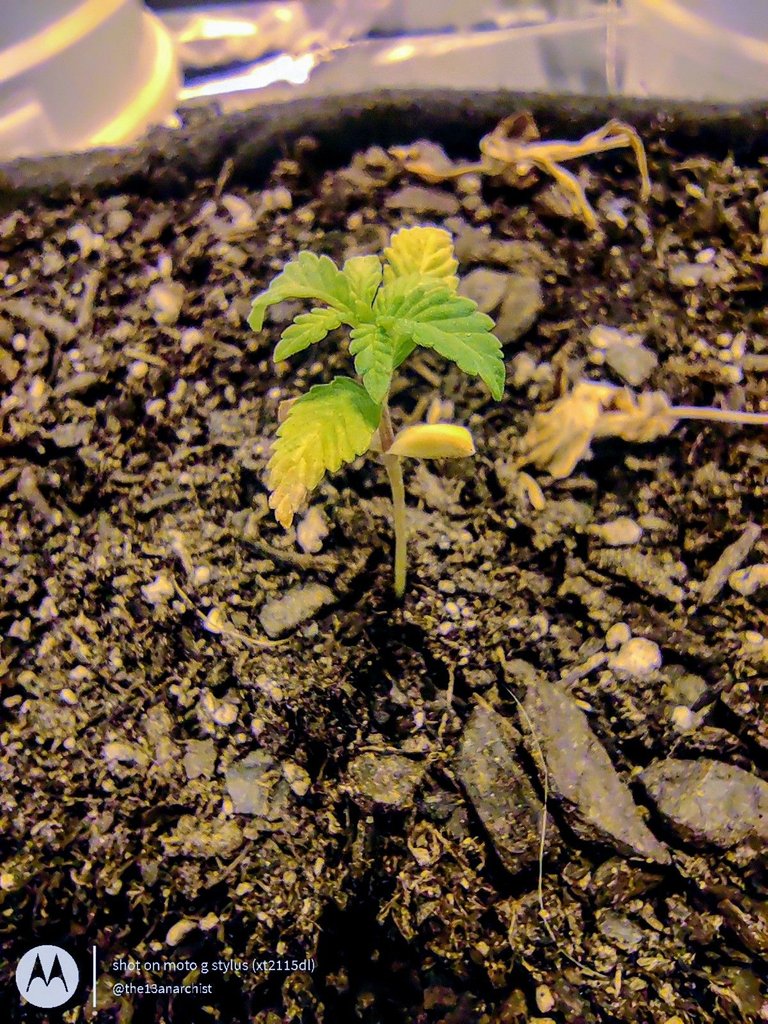 (If you don't remember, my Lemon Kush Seedling started out looking very similar to this yellowing seedling, so hopefully I can nurse this baby back to health!)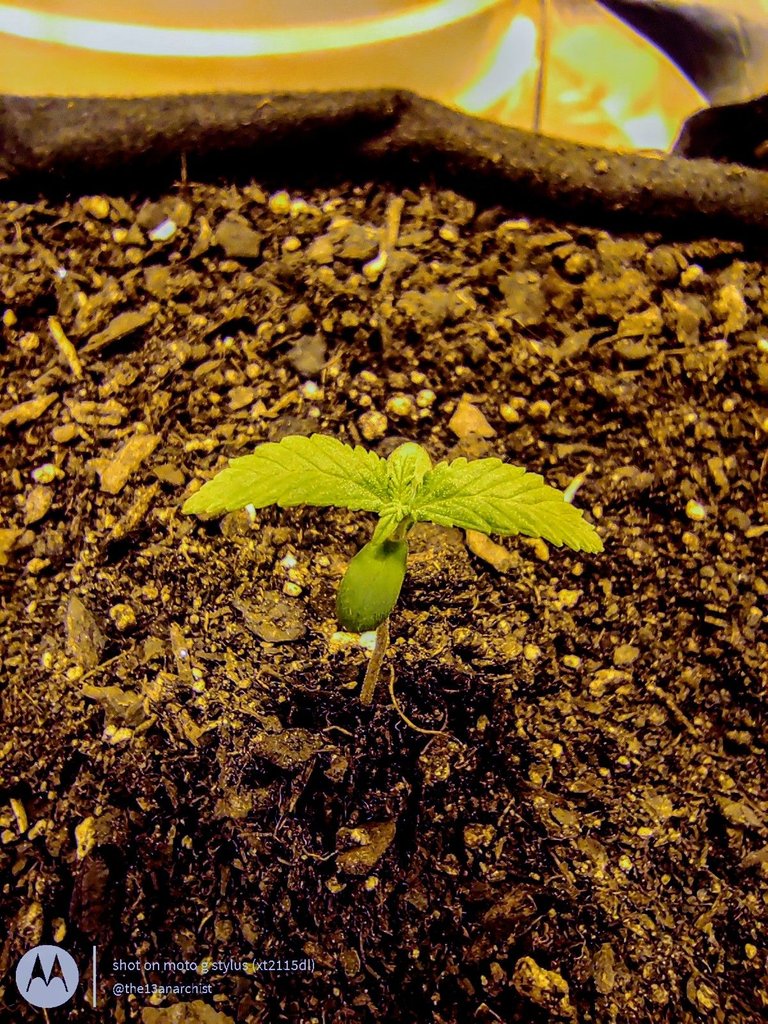 Quick update before posting! It's now January 25th, and since removing the infected soil, and repositioning the planter pots and fan, I have not noticed any further questionable growth on the surface of the substrate! I really hope that this plant does not have any problems moving forward, but I will definitely be keeping a close eye on her!
I also know that it is not recommended to transplant an AutoFlowering plant, but I believe that this circumstance may be a valid reason to attempt it! I don't want to be any means, but I also don't want to lose my last tester to mold!


Unfortunately, that will do it for this one, and I hope you all enjoyed! Don't forget to tune-in next week for another "After Hours" Gardening Update! Stay Trippy My Little Hippies! ✌🏼💚

As a quick side note, I'm still messing around with the filters and editing capabilities on my phone, so bear with me as I get the hang of making the colors match as best I can to their in-person colors!

If you enjoyed this update, and would like to support my growth as a new content creator outside of the Hive Blockchain, please don't forget to subscribe to my Social Media Accounts via Linktree, or even by checking out the communities and company affiliates that I have listed below!
For those would like to help support my growth outside of the Hive Blockchain, I have also included a (temporary) alternative donation option in the form of a tip button on my Linktree via my personal PayPal account, or my new CashApp Business Account that I specifically created for this new online business venture! I also accept Bitcoin donations via Atomic Wallet!
All donations will be going towards utility expenses for my grow, products to test and review, as well potential upgrades to my current system for testing and review purposes!
While voting, reblogging, or tipping is never required or expected, it is truly appreciated; more than you could ever possibly imagine!


Do you think you have what it takes to join the ranks of the Brothers-In-Farms Family? Then head on over to the Proving Grounds schedule your one-on-one moderator chat to find out if you are fit for growing duty!

New to Hive? You can sign up here to start earning rewards on your own original content!


Have you heard of the Saturday Savers Club yet!? Head on over to the @eddie-earner account to learn better savings habits from like-minded, savings-oriented Hiveans, as well as the ability to earn interest on your Hive with the EDS token!


Interested in starting your own indoor garden, cannabis or otherwise, but don't know quite where to start? A Pot For Pot aims to normalize growing marijuana like ahouseplant, and takes all the guesswork out of indoor gardening with their specialized beginner Grow Kits, which includes everything you need - even their own signature soil and nutrients - to complete your first grow!
Every Grow Kit comes with a $40 seed voucher from their sponsored online seed bank, I Love Growing Marijuana, and even a Smartphone Camera Lense Attachment so even the most amateur photographer can take professional grade pictures! Just add a seed, some water, and sunlight! 💚


Looking to replace your old liquid nutes with a high-quality powdered formula? SimPro Formula Nutrients is exactly what it claims to be, Simply Professional! Made with organic seaweed, yucca, all-natural minerals, and amino acids, these specially formulated powdered nutrients are developed By Professional Growers, For Professional Growers!
Whether your plants are still in Vegetation, or even if they are already Flowering, SimPro Formula One-Part Powdered Nutrients are specially designed to give you Simply Professional results during your entire plants life cycle! For those of you (like myself) who reuse their soil, SimPro also makes a Microbe Formula packed with beneficial bacteria and mycorrhizal fungi to help rejuvenate your soil after harvest!
While this isn't BIFBeans' recommended nutrient line , I do know of a few growers that use it with fantastic results - and I really want to try it out for myself!


For my traditional smokers and glassware collectors that enjoy smoking out of high-quality pieces - such as pipes, bowls, or bongs - I definitely recommend checking out Smoke Cartel's wide variety of products!
Want to add to your collection of pieces, but don't know which piece to buy next? Smoke Cartel even offers Monthly Subscription Boxes (and even a Mystery Box) containing a variety of new glassware and accessories, delivered discreetly to your very own home!
What's ever cooler than that, is Smoke Cartel now offers THC gummies!
As an added bonus to my followers here on Hive, you can save an extra 10% on your entire Smoke Cartel order by using my Official Promo Code during checkout!
THE13ANARCHIST
(Copy and Paste for an easy checkout!)

All Brothers-In-Farms Genetics (BIF/BIFBeans.com) Logos/Breeder Information used with permission by the awesome BIFBeans.com Team!

Hive Logo created by fellow Brother-In-Farms, Grimdank!

Banners and Blog Dividers custom-created using Canva, using both BIFBeans.com and WeedCash.Network Logos with permission from the respective team members!

Signature provided by @doze, stop by his blog to see his newest Hive-inspired creations!

"Saturday Savers Club" Banner provided by the @eddie-earner and @susie-saver's Saturday Savers Club blog!

"Simply Professional" Banner custom created using Affiliate Logos on Canva!

All other Affiliate Info/Banners provided by the respective Companies, and do include my Personal Affiliate Links!

This entire post was created on, and all of the photos used were taken by, my trusty old Motorola Moto G Stylus! (And unfortunately, I'm going to need an upgrade soon 🤣)
---
---