[Durban Express x Toasted Tangerine] Testers - PreHarvest Update
What's up my fellow Cannabis Lovers and Enthusiasts!? It's time to welcome you all back to another edition of:

I must admit, with everything going on around the house lately, I've fallen behind on getting my grow logs updated! My last post on these [Durban Poison x Toasted Tangerine] Feminized Autoflower Tester beans left us off at the beginning of the New Year!
It's been about a month now since I posted that blog, and there has been a lot that happened in that time! I also have quite a few other blogs I've been working on, as well as getting a few personal matters settled as well, so that has definitely played a huge role in the delay of my updates!
But with that being said, I'll try to keep it as brief as possible to make up for the time-lapse!

We left off on January 1st, when I last gave them both another half gallon feeding of 20 mL/gallon of Tiger Bloom Liquid Nutrients from Fox Farms!

So picking back up on the 2nd, I continued to defoliate my plants, trying to just pluck off some of the larger fan leaves and open up the inside bud sites more!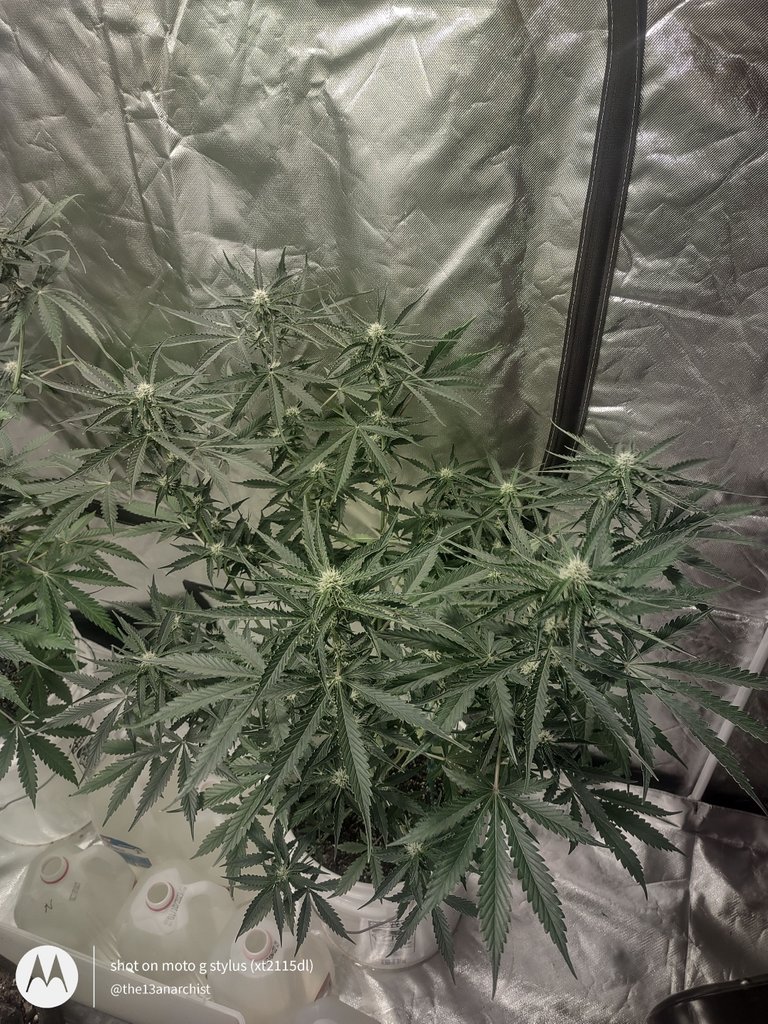 I also had to feed the bigger of the two (DExTT2) needed to be water yet again due to an extremely light bucket, so I gave her another half-gallon of the Tiger Bloom mixture!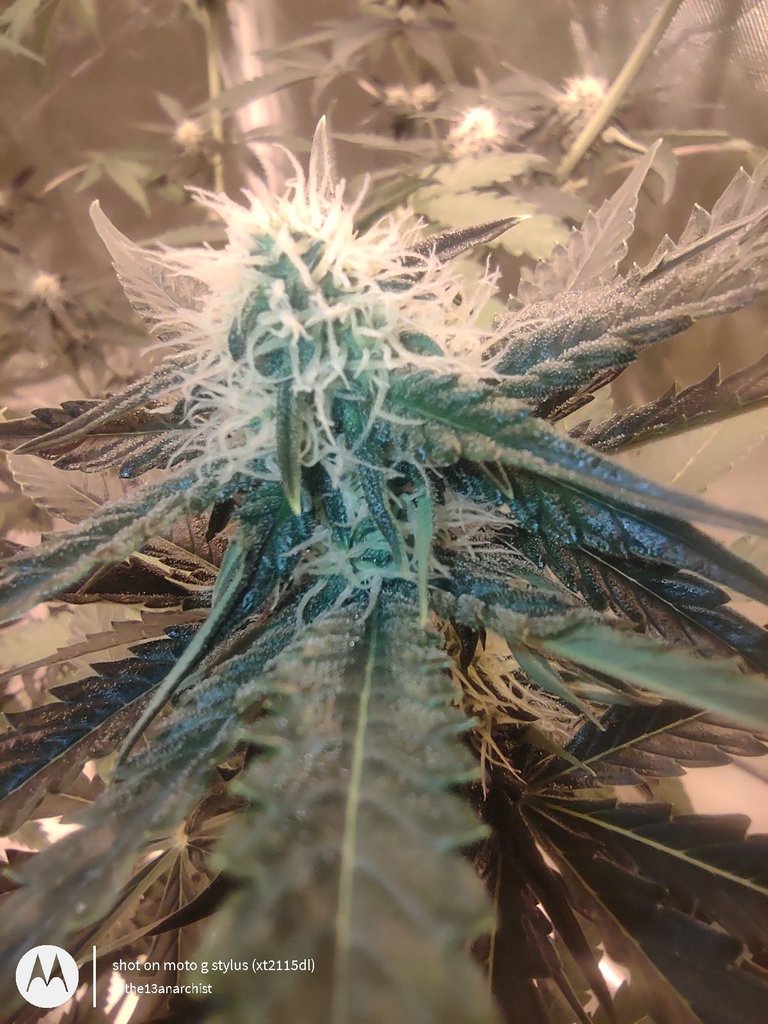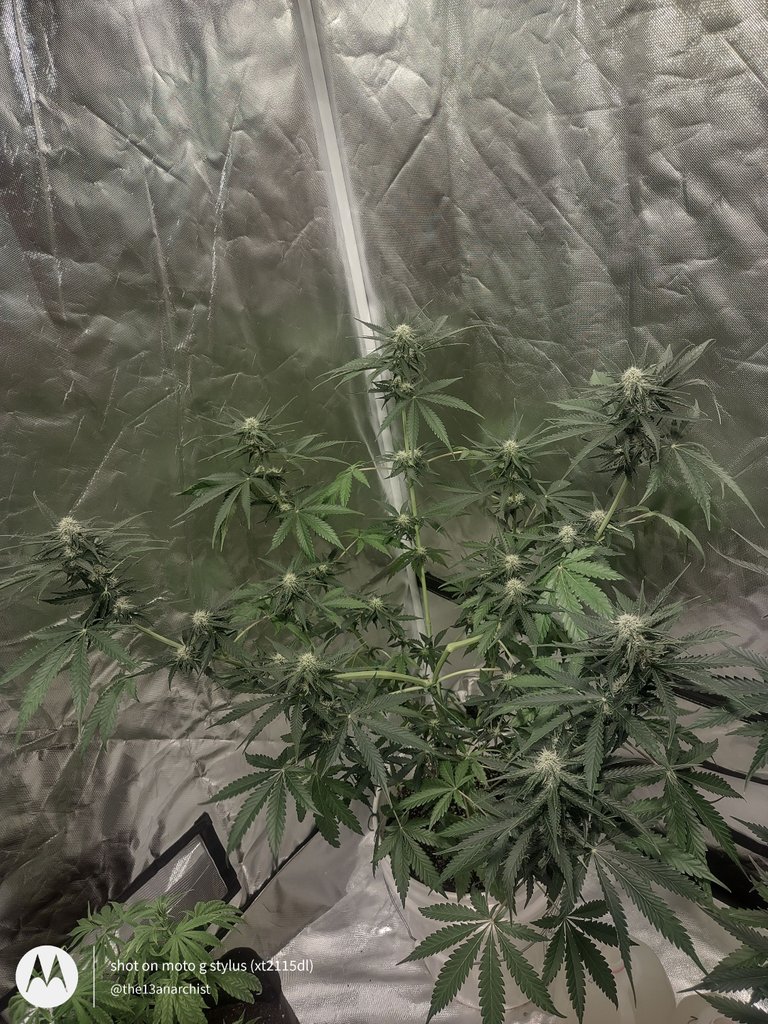 Everything seemed to be going pretty well inside the tent, and I went ahead and fed the first and smaller tester on the 3rd since the buckets had gotten light!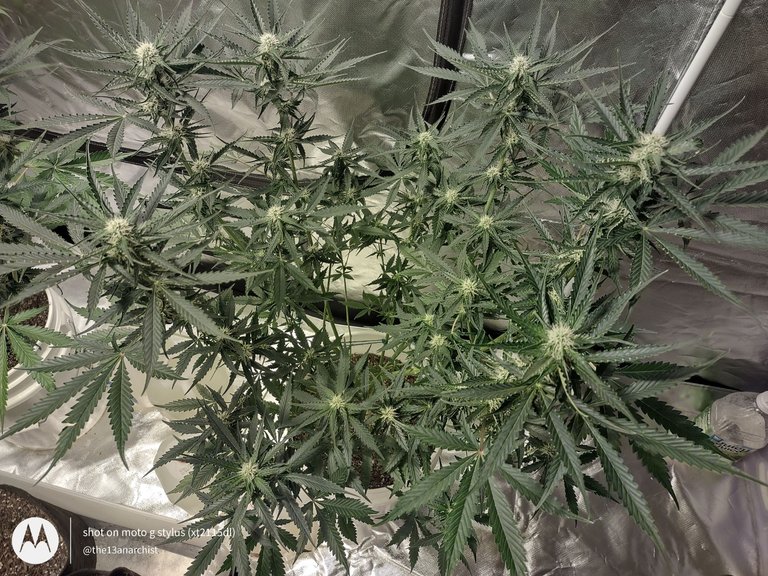 These babies are soaking up half a gallon of water pretty steadily at this point, and seem to be enjoying the nutrients as well!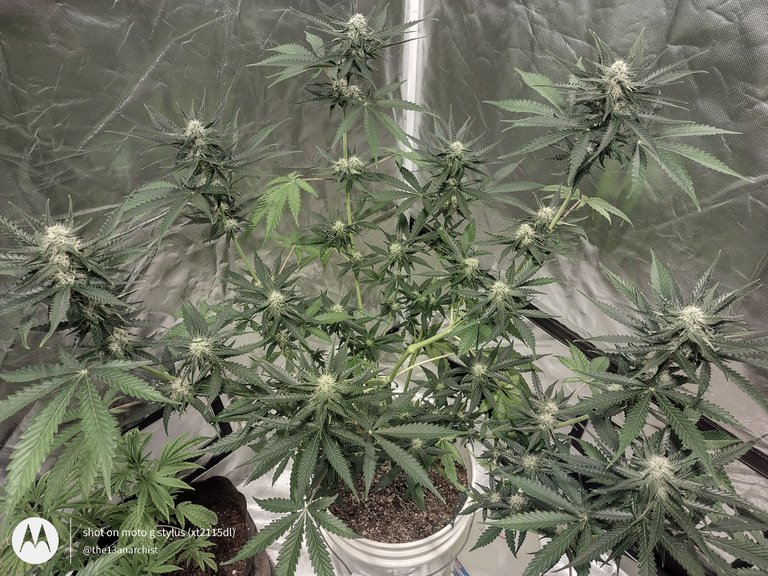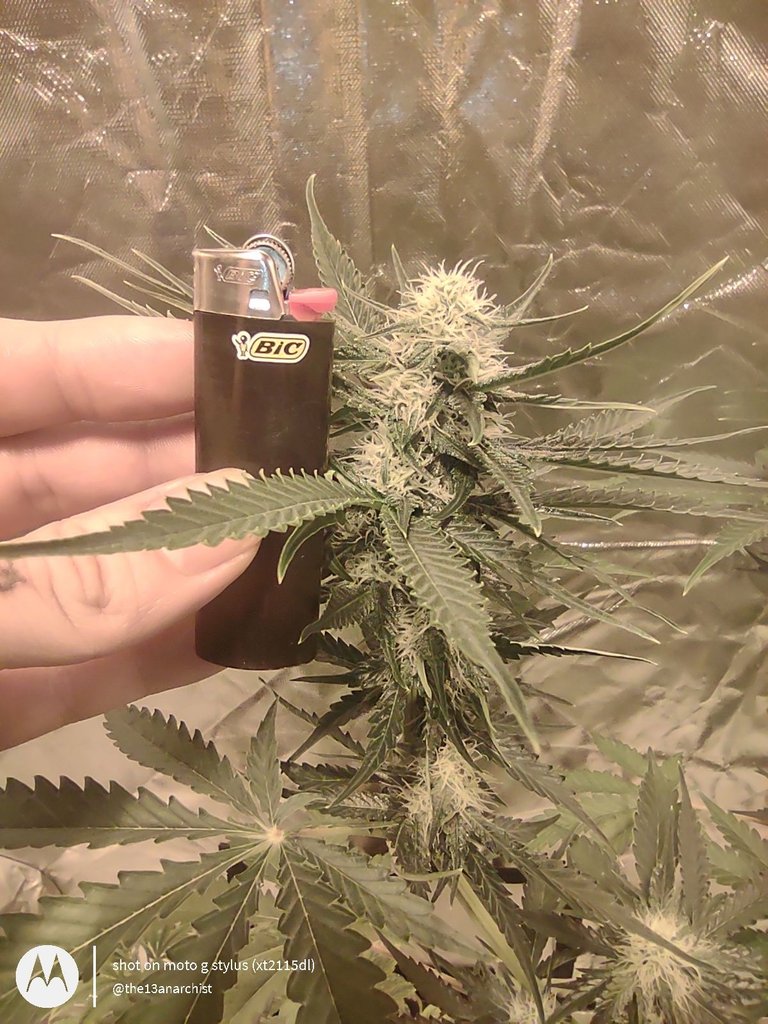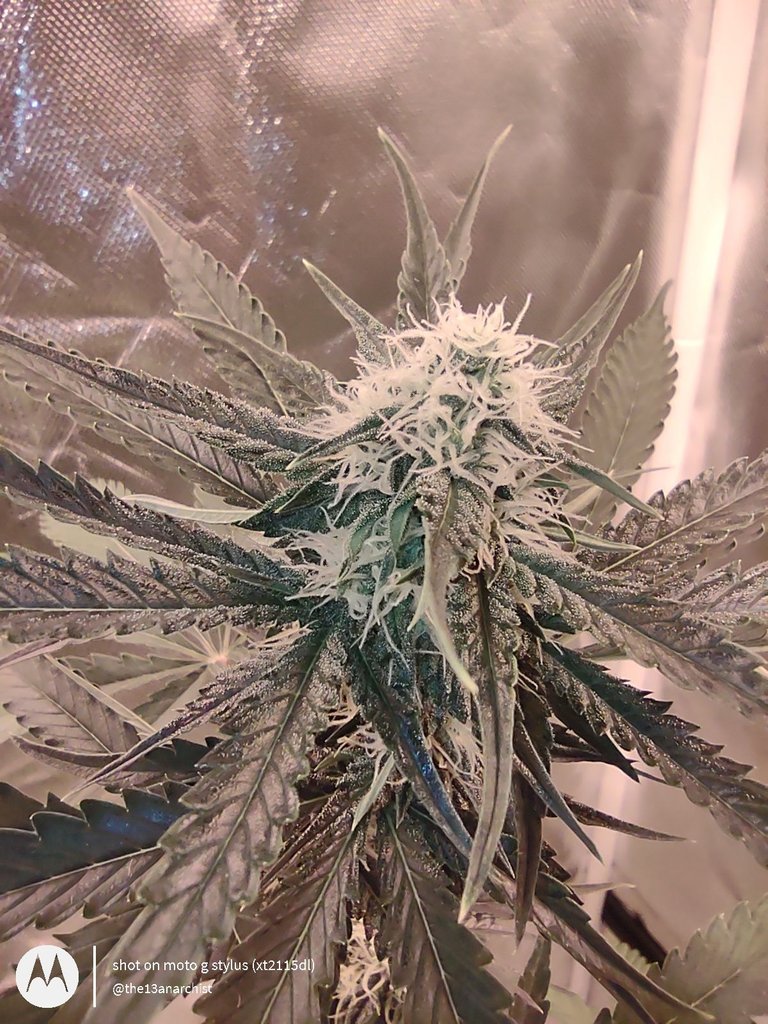 I'm not sure what caused the change, other than possibly the weather, but the humidity levels and temperature in the tent had changed quite a bit, and I didn't end up having to feed these babies again until the 7th!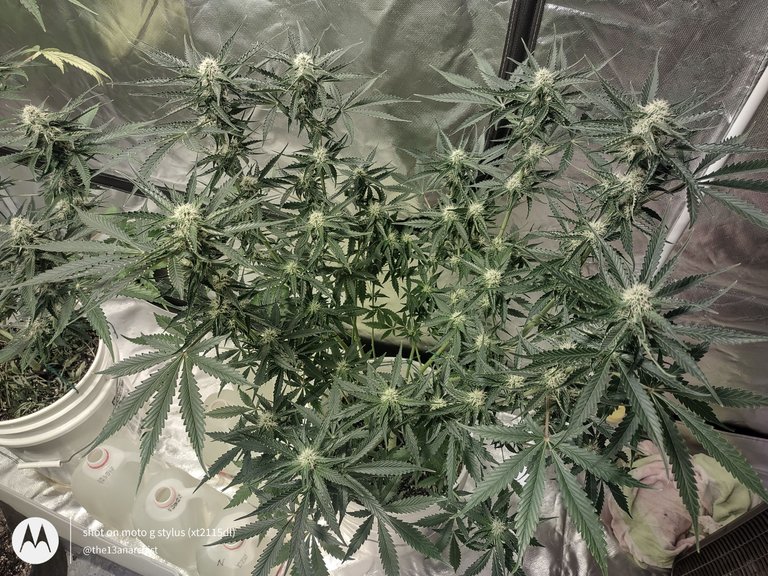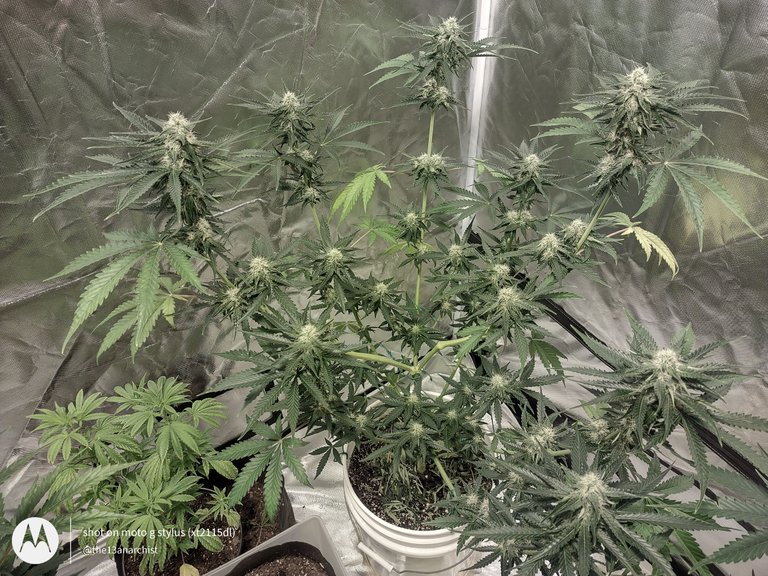 They both got another half gallon mixture of the Tiger Bloom Liquid Nutrients, although, I'm starting to run out, so I may have to start my flush earlier than expected!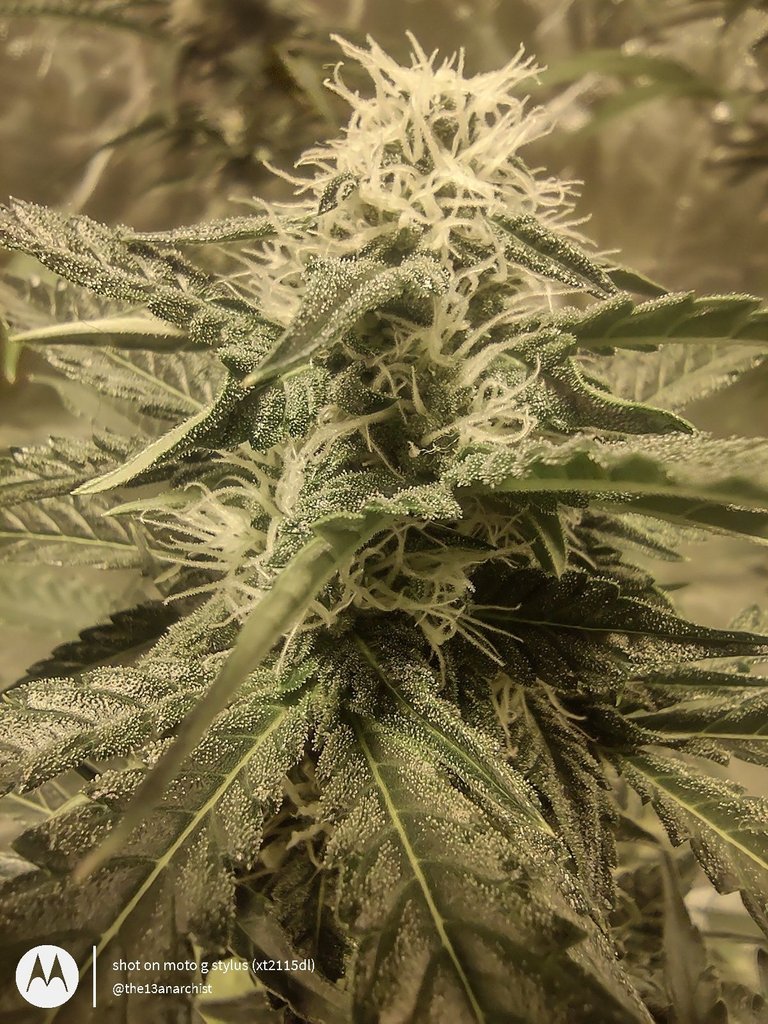 Again, the temperature and humidity levels had fluctuated, and I was able to water these babies the very next day! But since I was starting to run out of nutrients I decided to go ahead and just give them a half gallon each of regular tap water.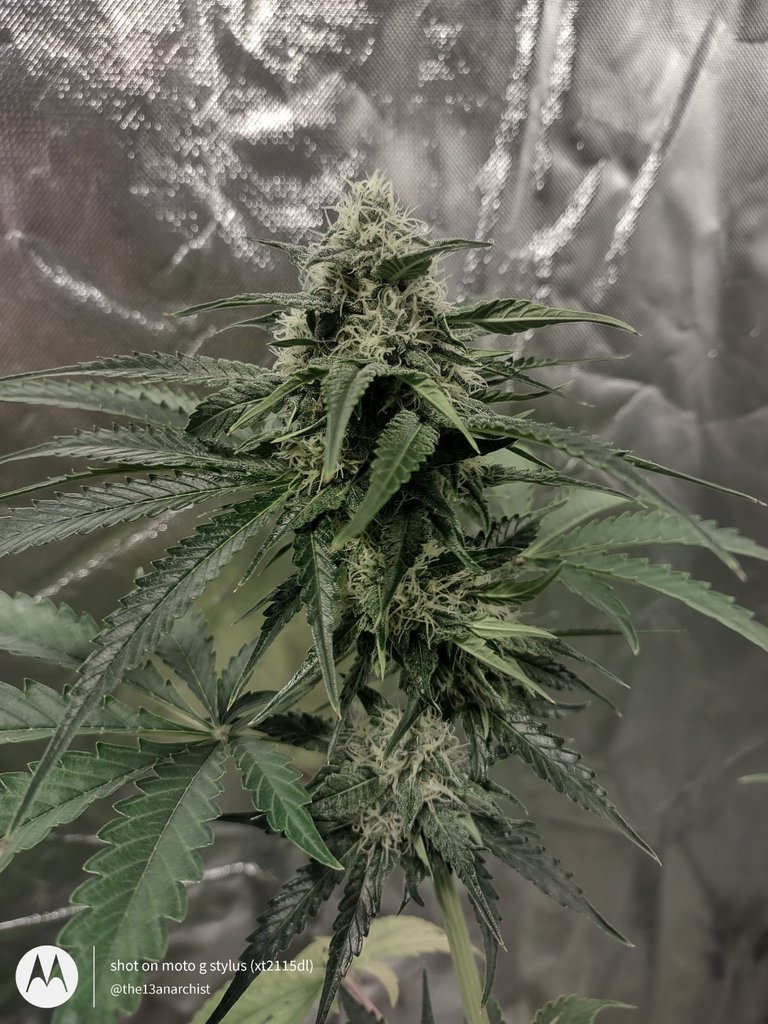 Skipping forward to the 10th I went ahead and gave them 20 ml per gallon of the Tiger Bloom nutrient solution but I only fed them a quarter gallon this time, and gave them another quarter gallon of plain water!
I also decided to take off some of the lower branches that I didn't think would turn out as high of quality as I would want! This should encourage more growth to the other branches by eliminating the waste of nutrients on these smaller sections!

The bucket for getting a little dry on the 11th but not too bad so I just gave them a quarter gallon of water just to get him through! But on the 13th I was able to give them another half gallon a piece!

The bigger DExTT plant definitely sucking up more water I ended up giving it another quarter gallon on the 14th just to get it by!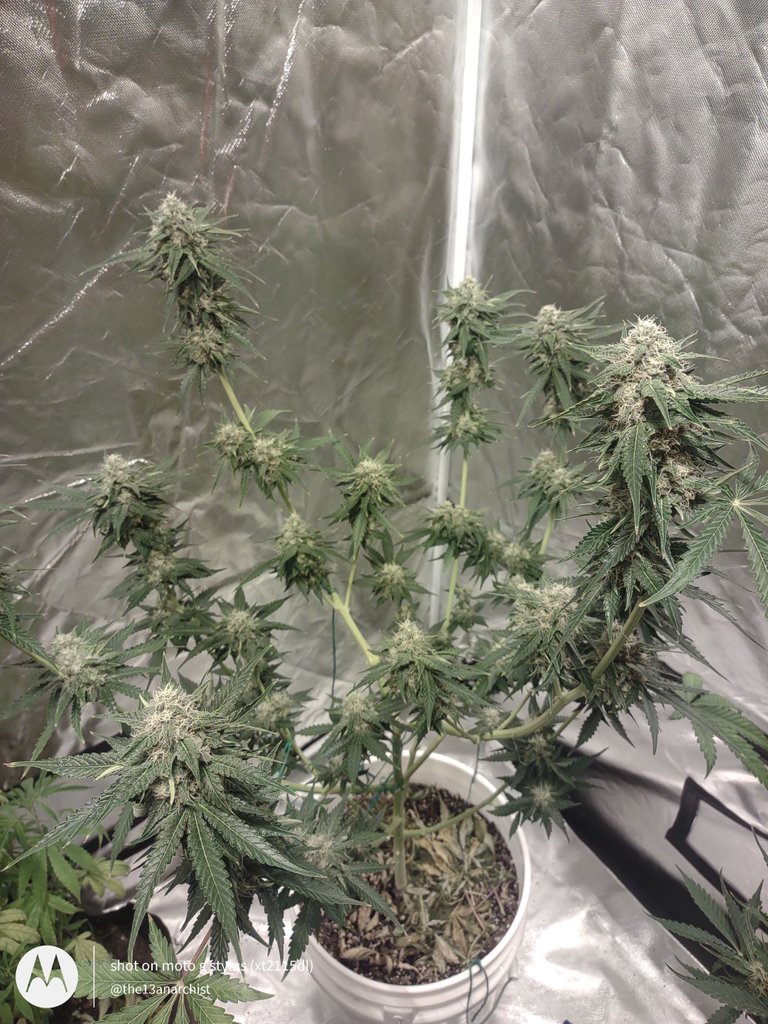 The smaller DExTT plant ended up getting a quarter gallon of water on the 15th, while the bigger plant received another half gallon of water!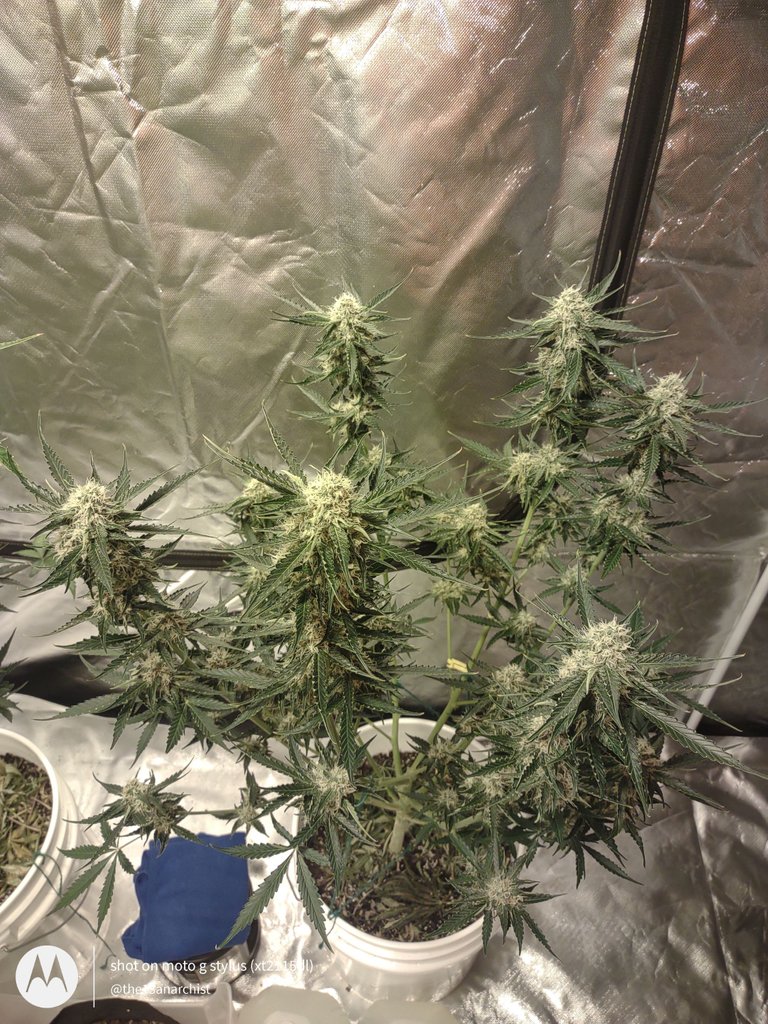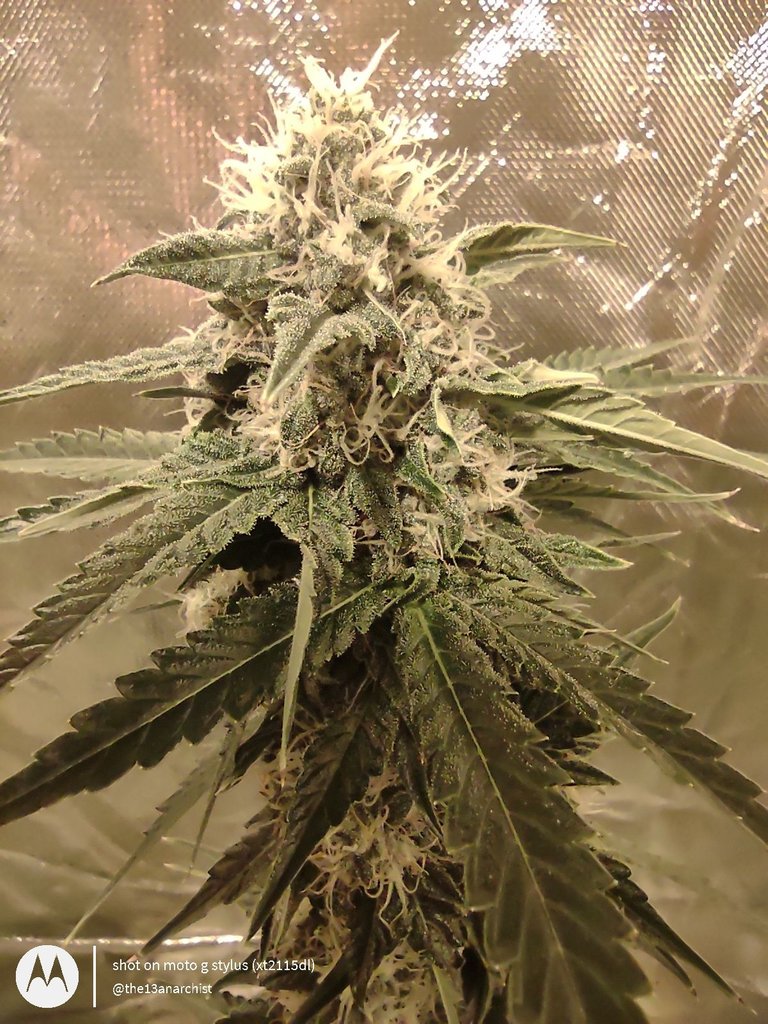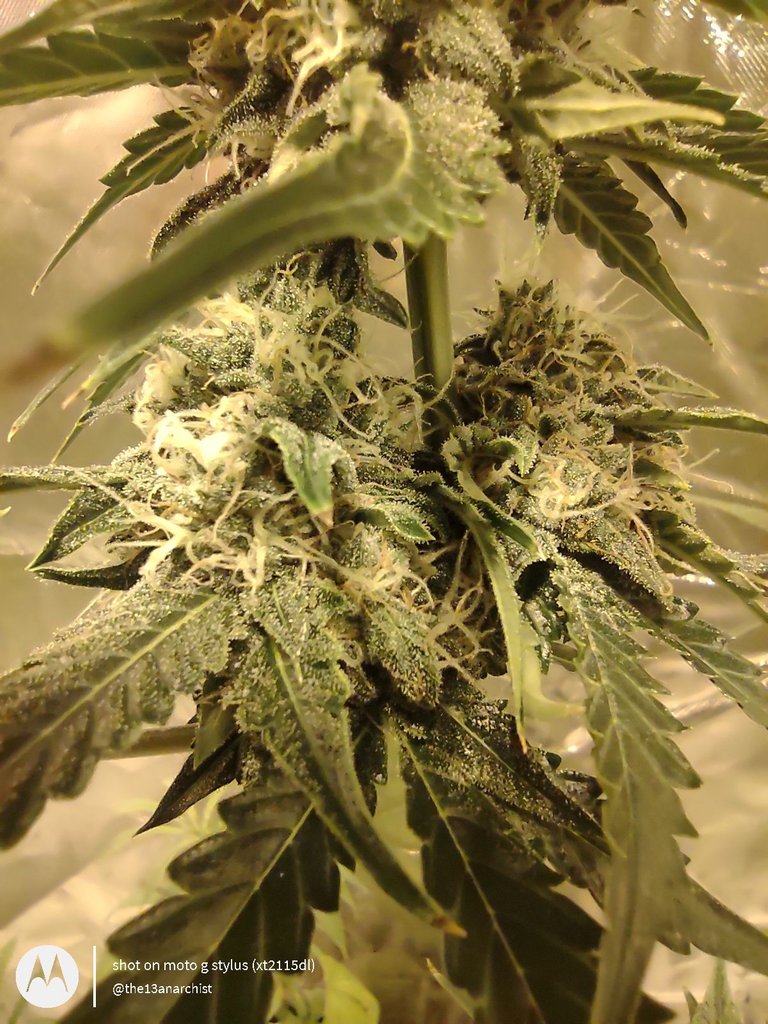 As of now there's not a whole lot that I've been able to do inside of the tent other than just monitor and observe making sure that they're doing good! On the 17th they officially hit the 60-day mark giving them around 20 days left until harvest!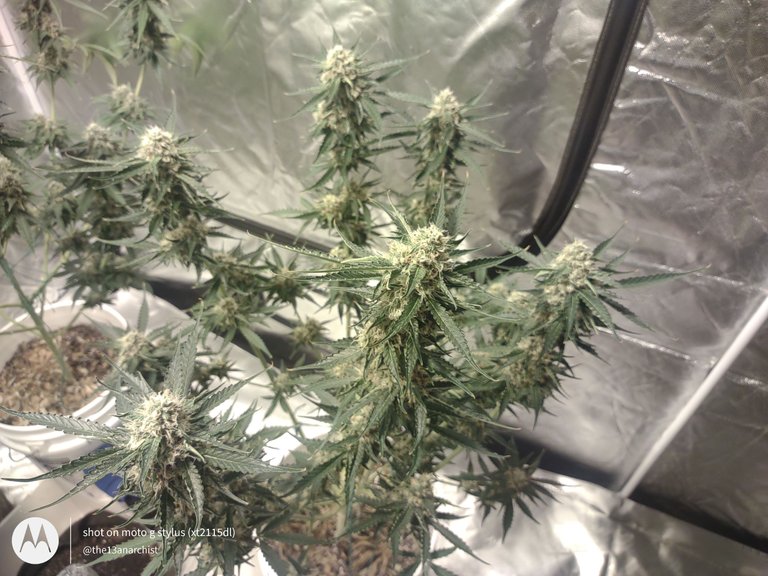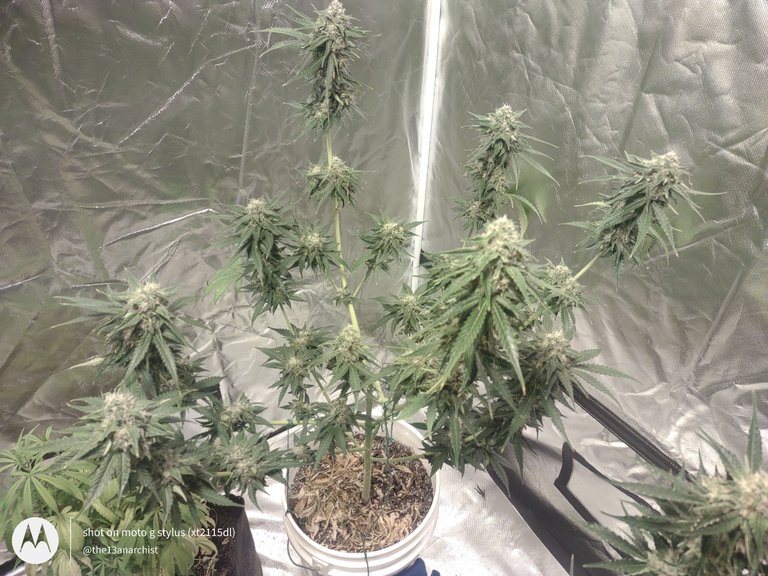 I went ahead and gave them another half gallon of water on the 17th, 18th, and the 19th - this was largely due to the weather conditions in our state, Richard cause the temperature to rise substantially inside the tent!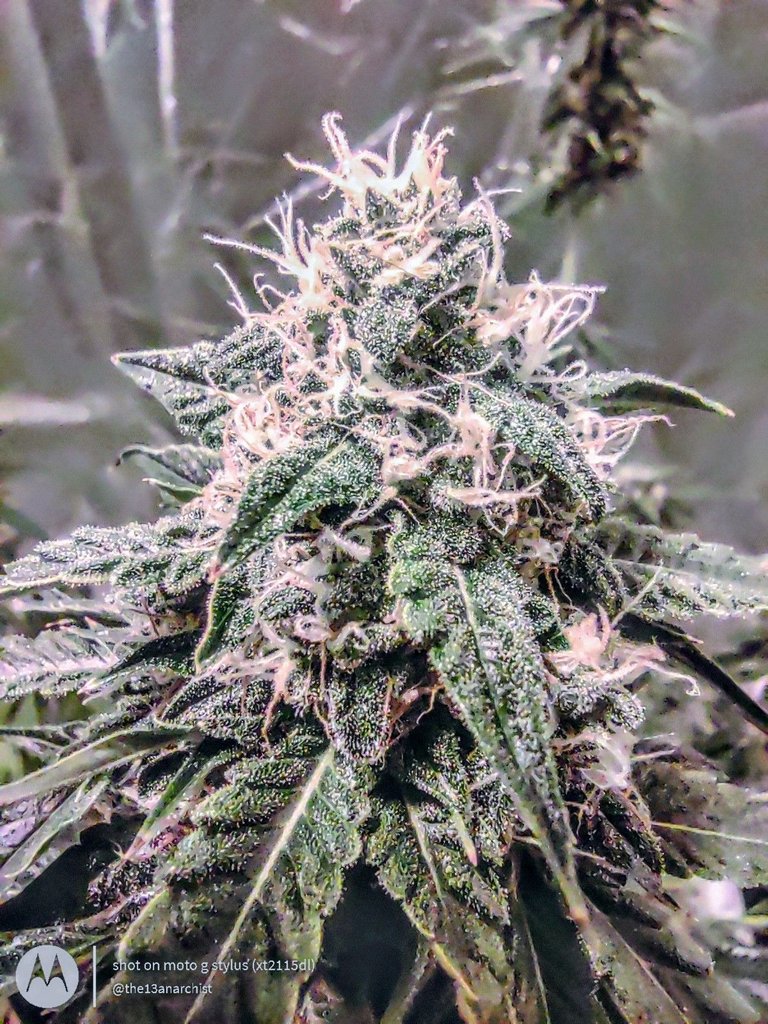 On the 19th I also started to support the talks of the second de plant because it was starting to lean over really heavily! The top nugs on this plant look massive and I really hope that they turn out well now that we're hitting the home stretch of the grow!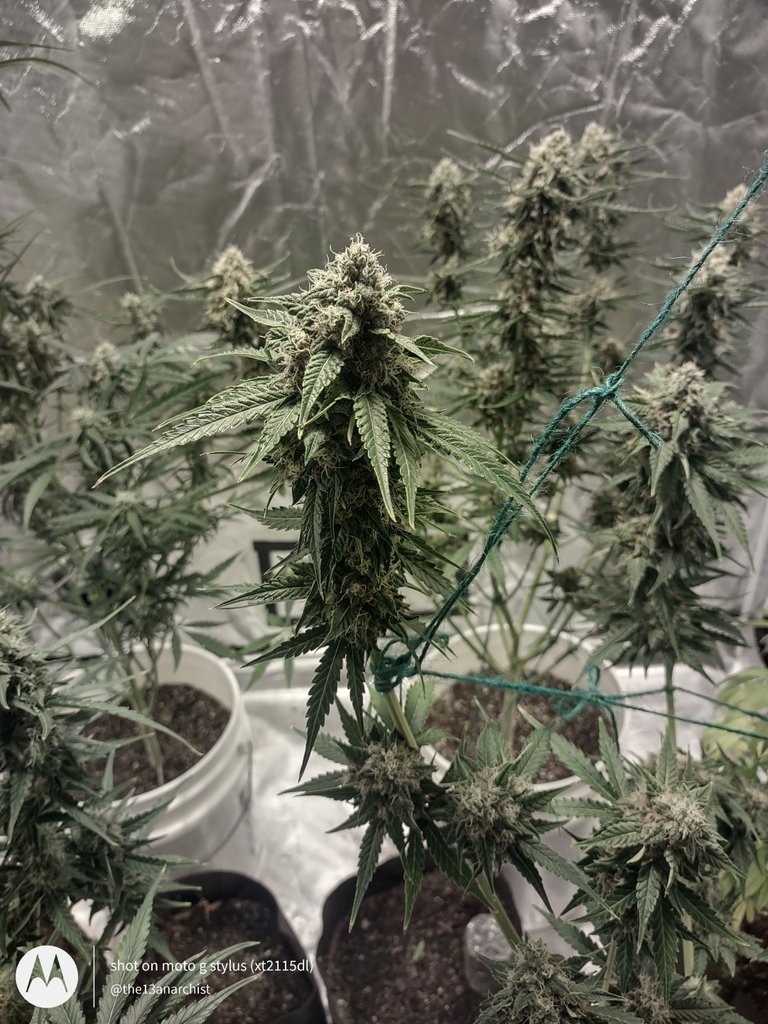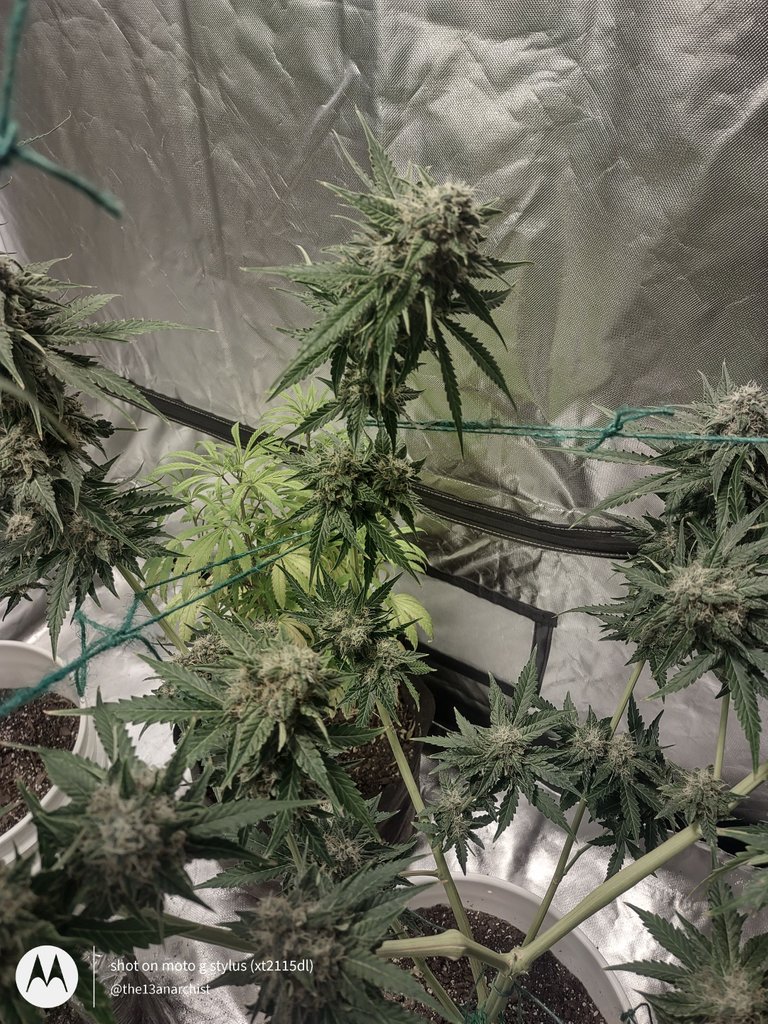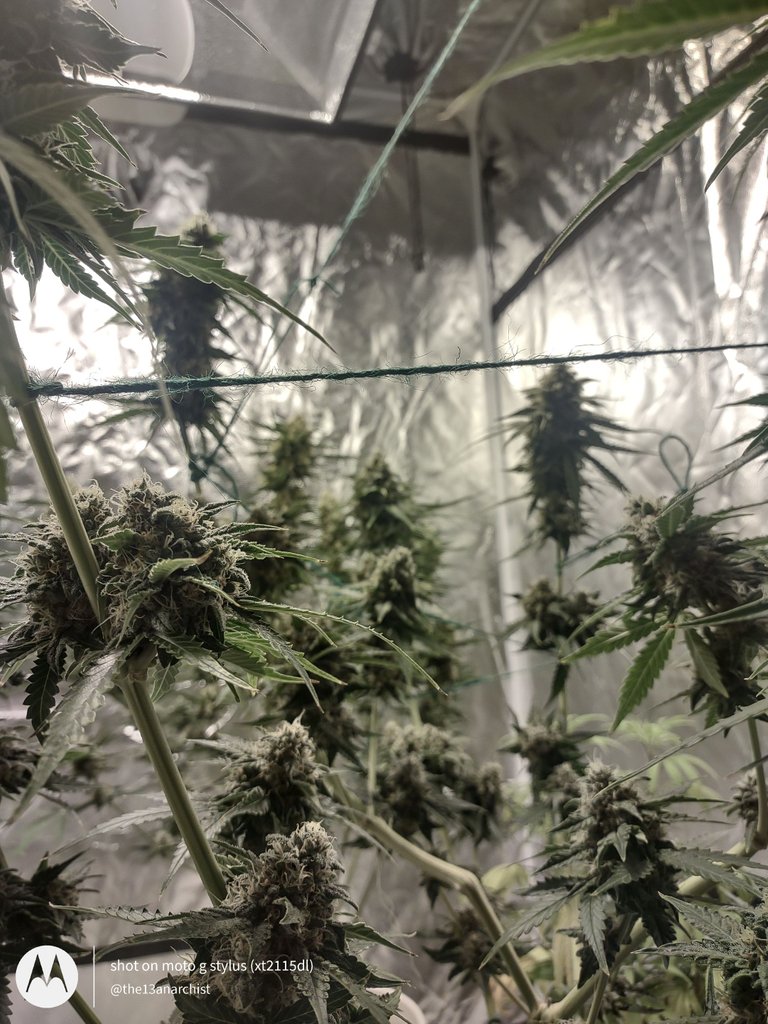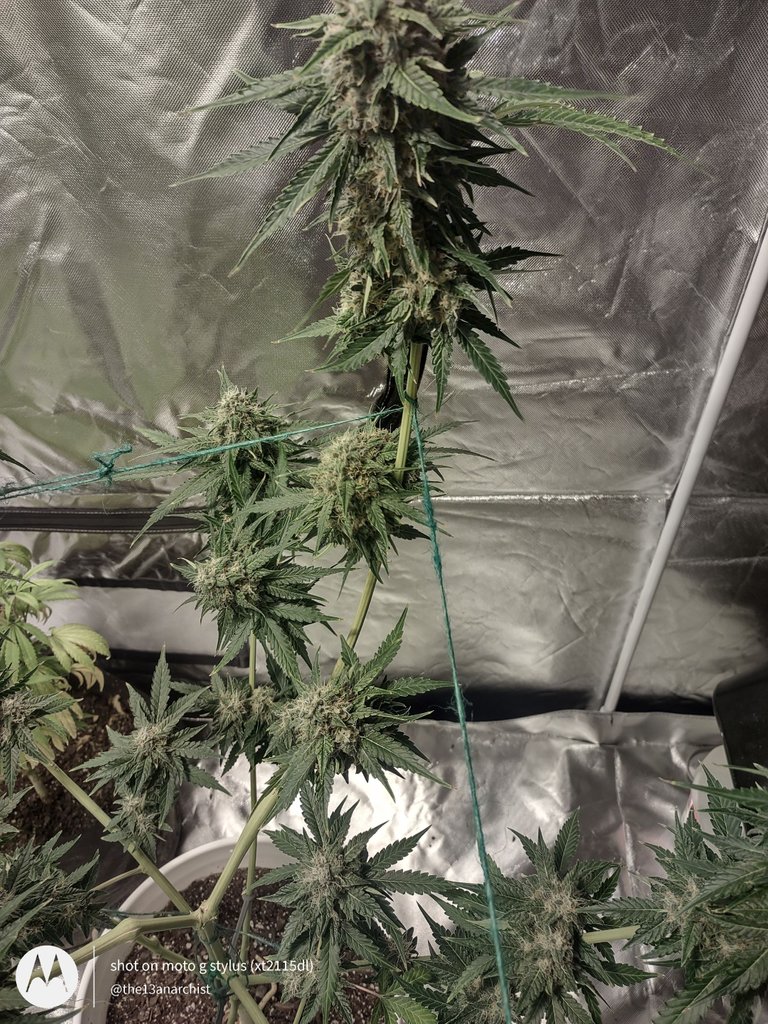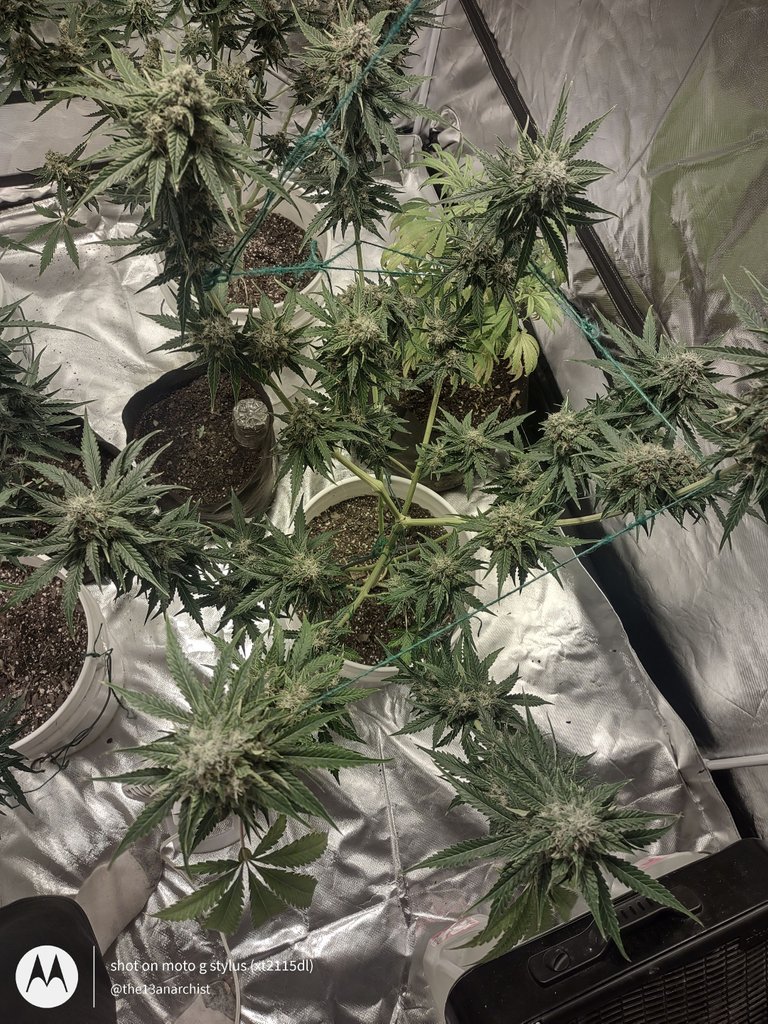 On the 22nd I gave them another half gallon and I started to notice this fall fade starting to set in on the sugar leaves of these plants! I'm not exactly sure if this is normal but I do know that as it hits the end of its life cycle these plants will start to drain as much nutrients from the leaves as possible!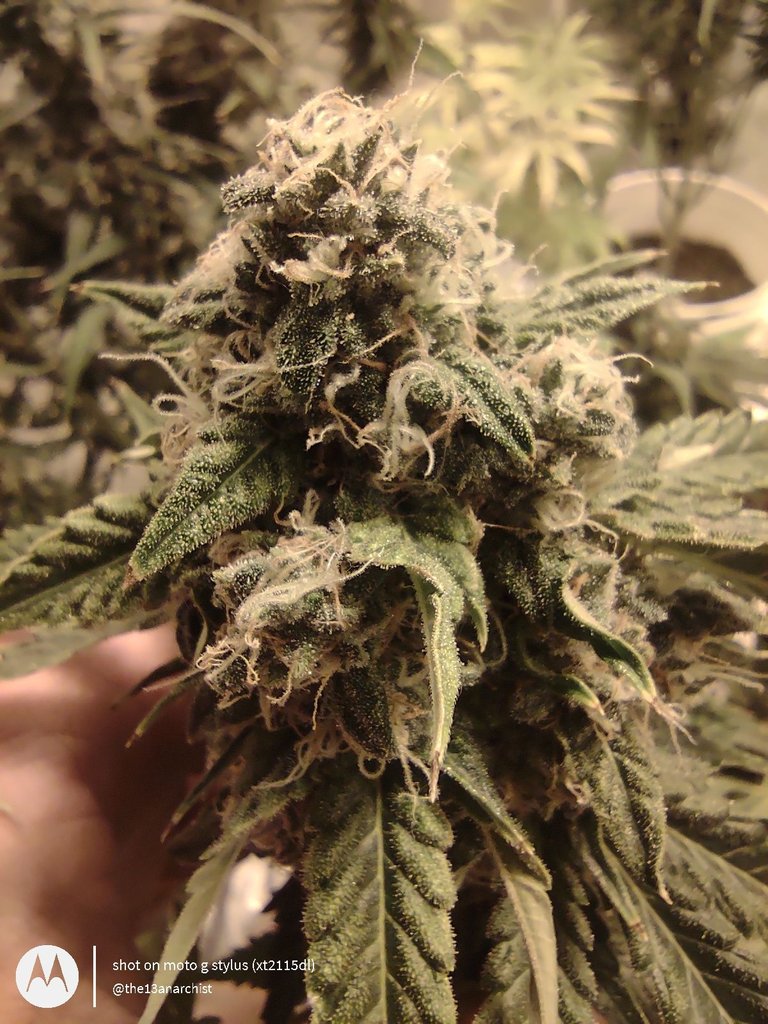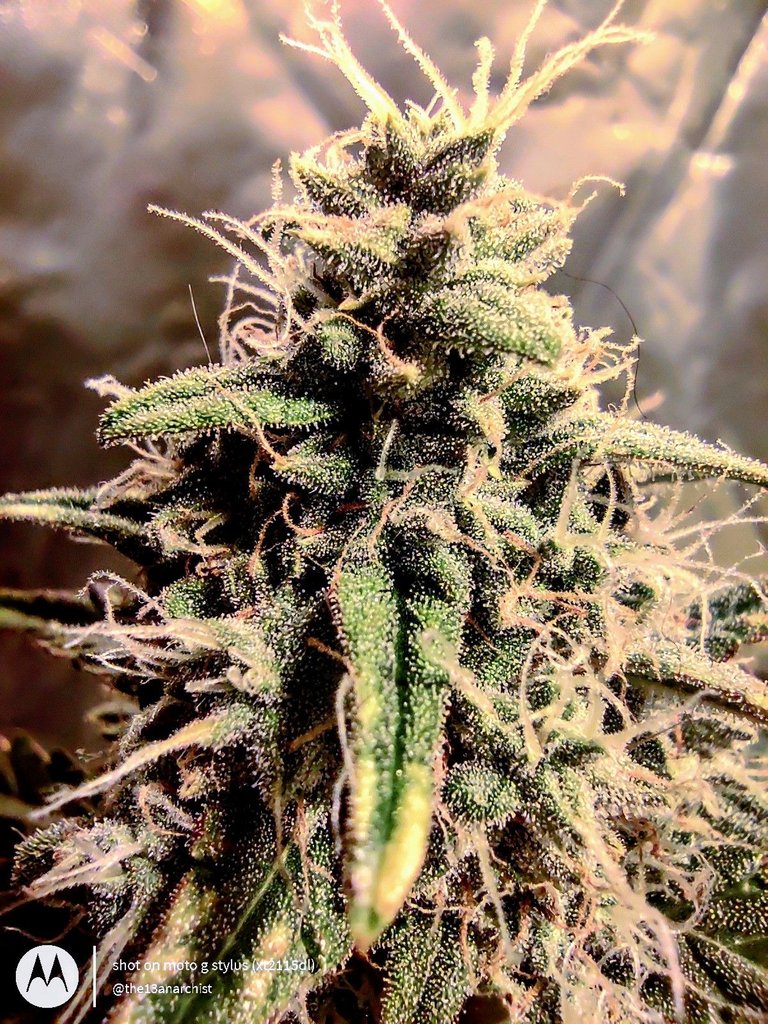 I gave them another half gallon of water on the 23rd the temperatures are still pretty high inside the tent so I've had to keep the door of the tent open to help regulate the temperature!

I ended up finding a nasty spot on one of the tops of the bigger plant around the 24th, which happened to be directly underneath my 1000w HPS light. Not knowing what was going on, I left it alone for a few days, rotating that section out from the light as much as possible.
I did go ahead and give them another half gallon of water on the 26th since the buckets were pretty light again! I really wish that I wouldn't have run out of nutrients with how much these babies are sucking down the water! Some extra development here would be nice in the home stretch!

Unfortunately, on January the 27th, I decided to go ahead and take a closer look at the worrisome spot that had been forming on the top of the bigger of the two plants!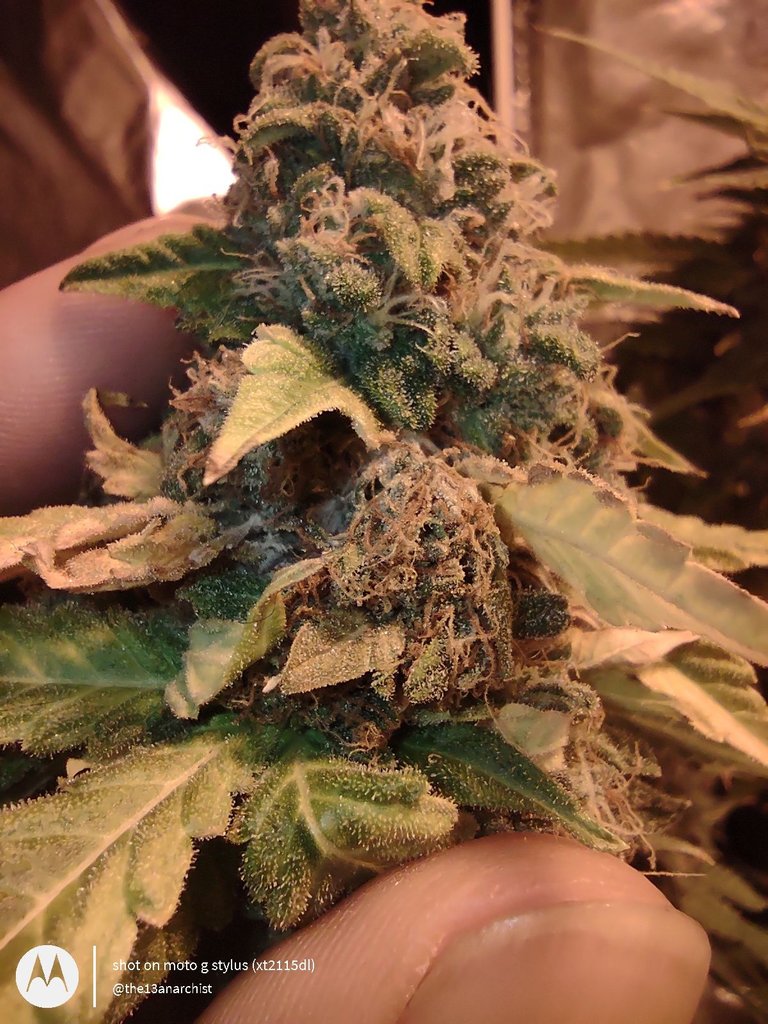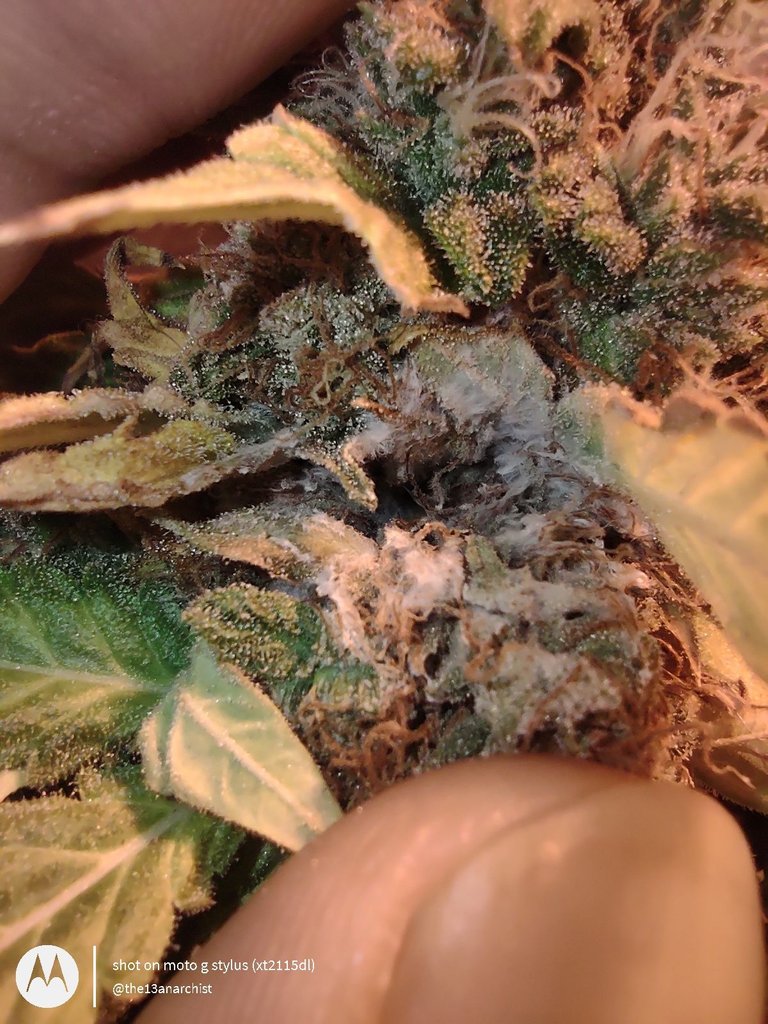 Once I touched it, I noticed immediately that it was very crunchy - almost like it was burned! Once I broke open that section of the bud, I noticed something that nearly made me sick, not to mention almost start to cry!
Mold..
"Bud Rot" to be specific.
And I just opened it up inside the tent..potentially exposing the rest of the plants to the microscopic mycelium spores!
I didn't know what to do, besides try to stay calm. I couldn't afford to lose these plants, and I certainly couldn't afford to make any rash decisions!
So the first thing I did was message the WeedCash Community discord for advice, and immediately messaged Macronut on discord as well!

I really had no idea what to do about it, but after a few messages I decided to go ahead and harvest these babies on the spot, and perform a bud wash to kill any spores that may have contaminated the rest of the plant!
After completing a very thorough inspections of both of my [Durban Express x Toasted Tangerine] Tester plants, I only noticed one top on each plant that seemed to be infected with the Bud Rot, which was very lucky in my opinion!
While I was hoping to take these babies all the way to the 80 day mark, I hope that I wasn't forced to harvest them too early due to the Bud Rot, and I hope that I can still salvage this grow! There is no worse feeling than watching all your hard work go to waste right before your eyes!
But, this is also going to be the ultimate test of the new dry rack that I recently made (and will be sharing a post about very soon)! So hopefully I'll be able to get process dialed in as well as I continue my grows!
Thanks for stopping by and giving this update a read, and I hope you all have a great week! Don't forget to tune-in next time for another "After Hours" Update! Stay Trippy, My Little Hippies! ✌️💚



If you enjoyed this update, and would like to support my growth as a new content creator outside of the Hive Blockchain, please don't forget to subscribe to my Social Media Accounts via Linktree, or even by checking out the communities and company affiliates that I have listed below!
While voting, reblogging, or tipping is never required or expected, it is truly appreciated; more than you could ever possibly imagine!

New to Hive? You can sign up here to start earning rewards on your own original content!


Have you heard of the Saturday Savers Club yet!? Head on over to the @eddie-earner account to learn better savings habits from like-minded, savings-oriented Hiveans, as well as the ability to earn interest on your Hive with the EDS token!


Interested in starting your own indoor garden, cannabis or otherwise, but don't know quite where to start? A Pot For Pot aims to normalize growing marijuana like ahouseplant, and takes all the guesswork out of indoor gardening with their specialized beginner Grow Kits, which includes everything you need - even their own signature soil and nutrients - to complete your first grow!
Every Grow Kit comes with a $40 seed voucher from their sponsored online seed bank, I Love Growing Marijuana, and even a Smartphone Camera Lense Attachment so even the most amateur photographer can take professional grade pictures! Just add a seed, some water, and sunlight! 💚
For my fellow smokers who like to toke on the go - whether its dabs, flower, or both - AirVape Vaporizers offers discreet handheld vapes that fit right inside of your pocket - so you can toke up no matter where life takes you! If flower or dabs aren't quite your thing, they even have a Keychain Vape designed specifically for cartridges!
Providing high-quality products at affordable prices to countries all over the world, AirVape Vaporizers are definitely worth looking into - and the Legacy Pro is quickly becoming my favorite way to smoke! So head on over today to find the perfect handheld vaporizer for your specific needs!


For my more traditional potheads and glassware collectors that enjoy smoking out of high-quality pieces - such as pipes, bowls, or bongs - I definitely recommend checking out Smoke Cartel's wide variety of products!
Want to add to your collection of pieces, but don't know which piece to buy next? Smoke Cartel even offers Monthly Subscription Boxes (and even a Mystery Box) containing a variety of new glassware and accessories, delivered discreetly to your very own home!
As an added bonus to my followers here on Hive, you can save an extra 10% on your entire Smoke Cartel order by using my Official Promo Code during checkout!
THE13ANARCHIST
(Copy and Paste the code for a quick and easy checkout!)

All Brothers-In-Farms Genetics (BIF/BIFBeans) Logos/Breeder Information used with permission by the awesome BIFBeans.com Team!

Hive Logo created by Grimdank

Banners and Blog Dividers custom-created using Canva, using both BIFBeans.com and WeedCash.Network Logos by permission.

Signature provided by @doze, stop by his blog to see his newest Hive-inspired creations!

"Saturday Savers Club" Banner provided by the @eddie-earner and @susie-saver's Saturday Savers Club blog!

Affiliate Banners provided by the respective Companies, and do include my Personal Affiliate Links!

This entire post was created on, and all of the photos used were taken by, my trusty old Motorola Moto G Stylus!
---
---