[Durban Express x Toasted Tangerine] Tester Update #2

What's up my fellow Cannabis Lovers and Enthusiasts!? It's time to welcome you all back to another edition of:

It's been a while since I posted an update on the [Durban Express x Toasted Tangerine] Tester Beans created by @bifbeans Breeder "Macronut", so in this post, I'm going to attempt to catch you all up to speed on these amazing plants!

Picking right back up on December 6th, while I didn't do too much with them, it had been a little bit since I fed them! So, I went ahead and gave them both 3 cups worth of the 10mL/gallon solution of the Liquid Grow Big Nutrients from Fox Farms!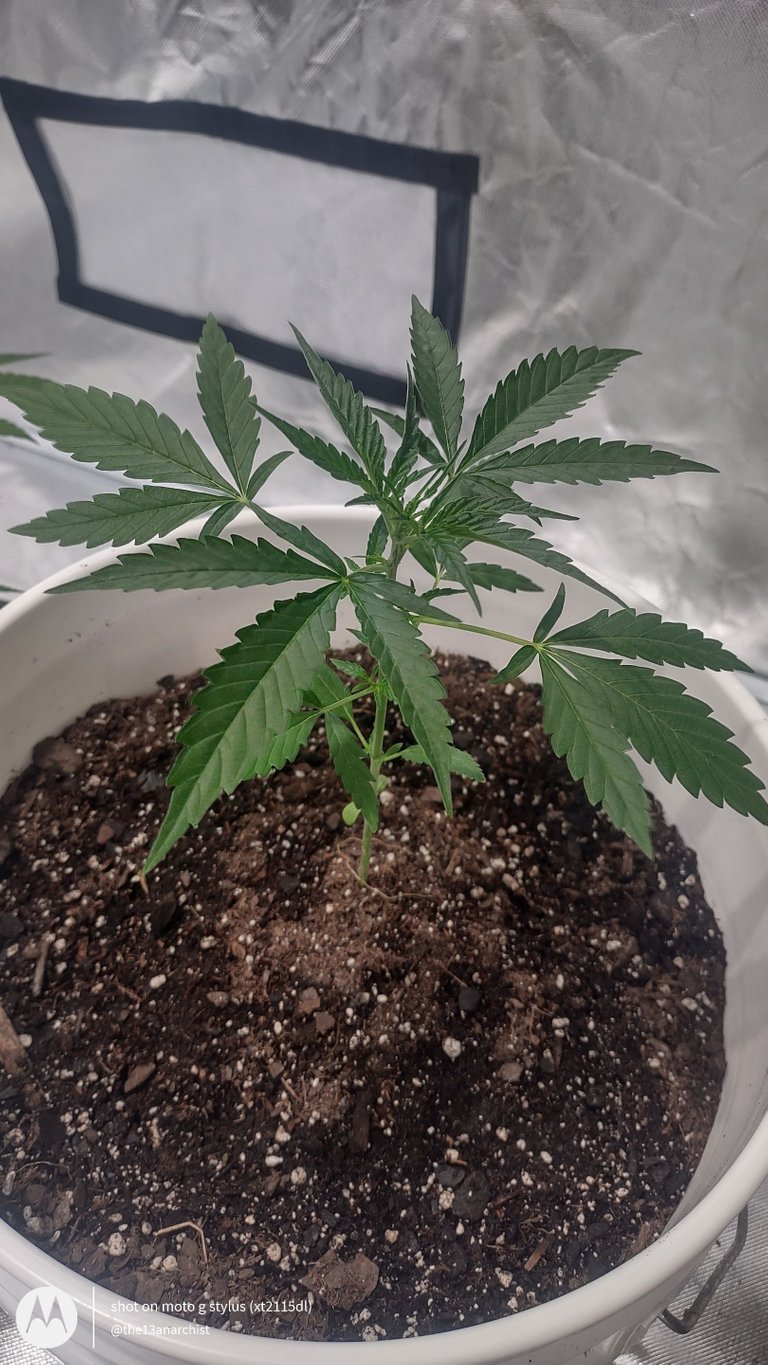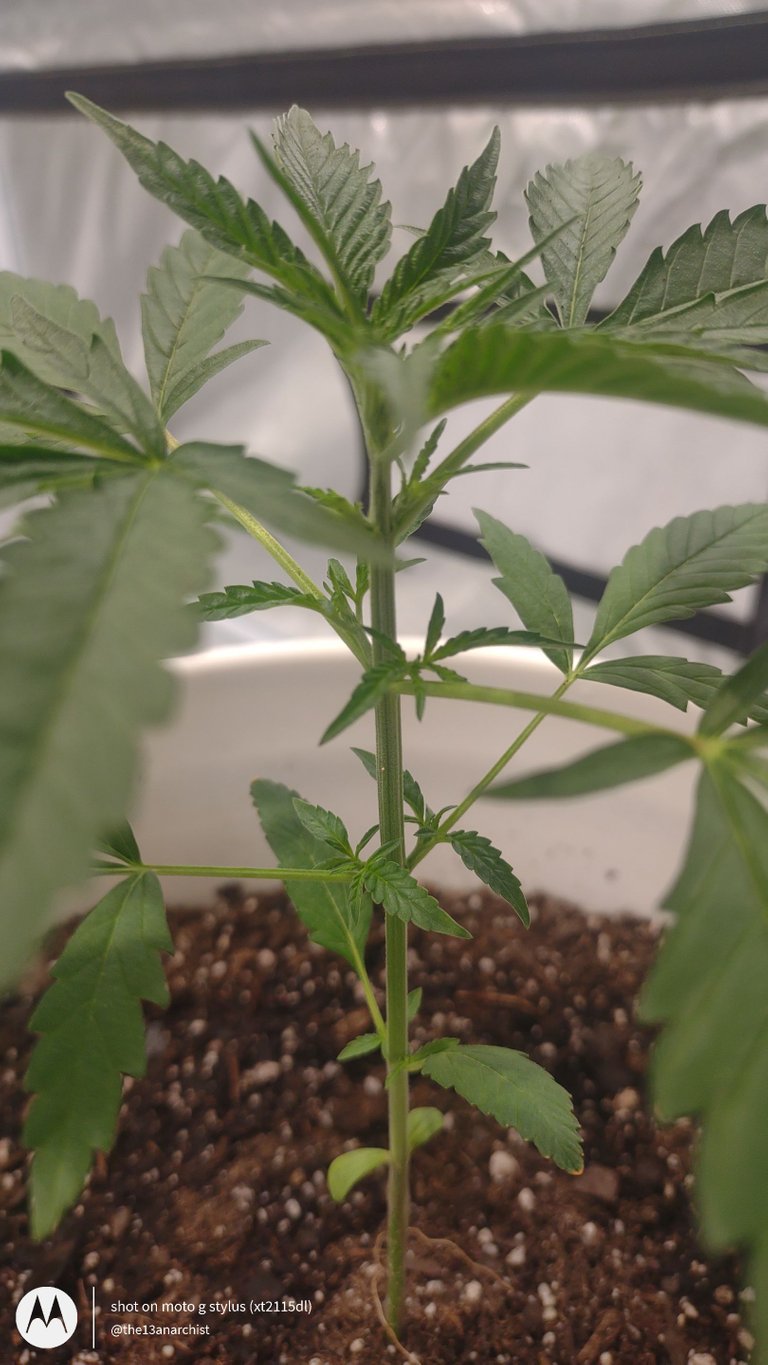 They seem to be doing well, and I'm not exactly sure how much I should be watering, so I've been limiting it as much as possible! But, these specific testers seem to be doing really well considering!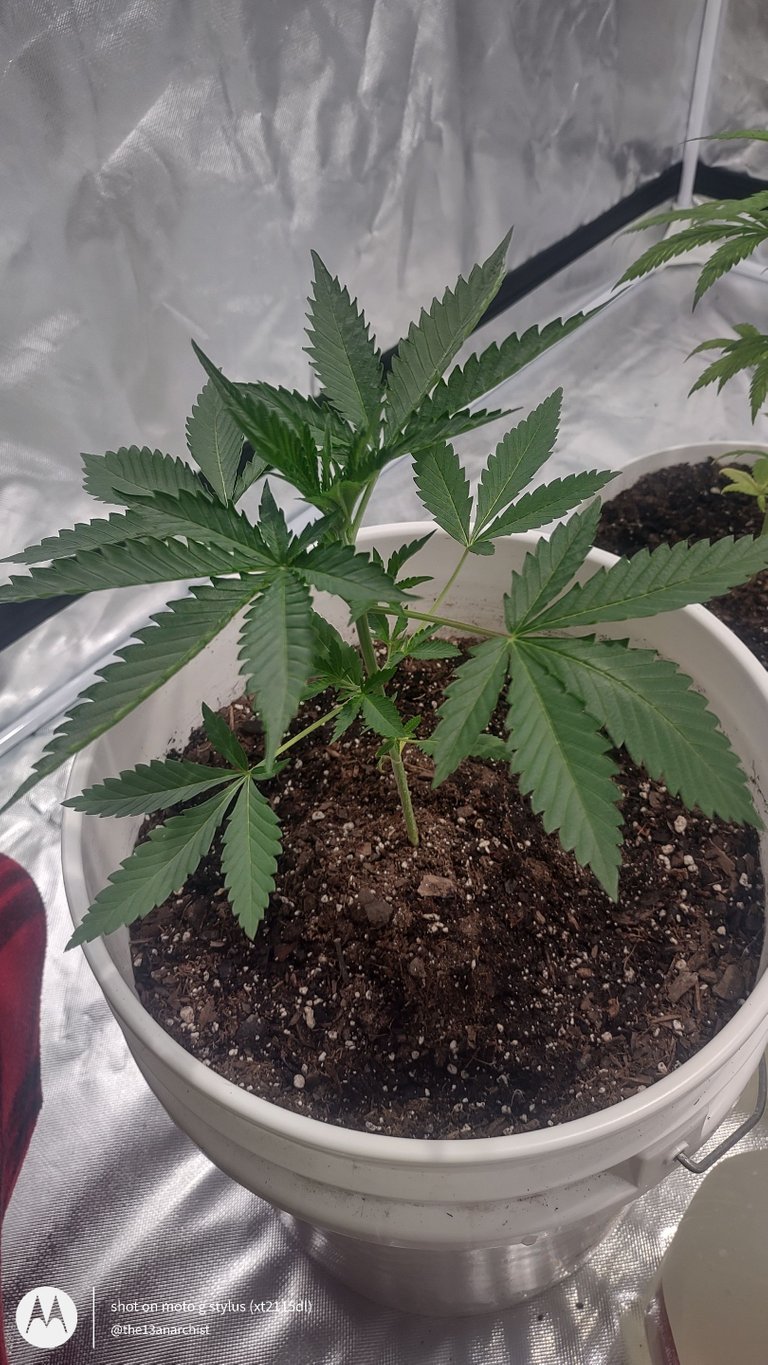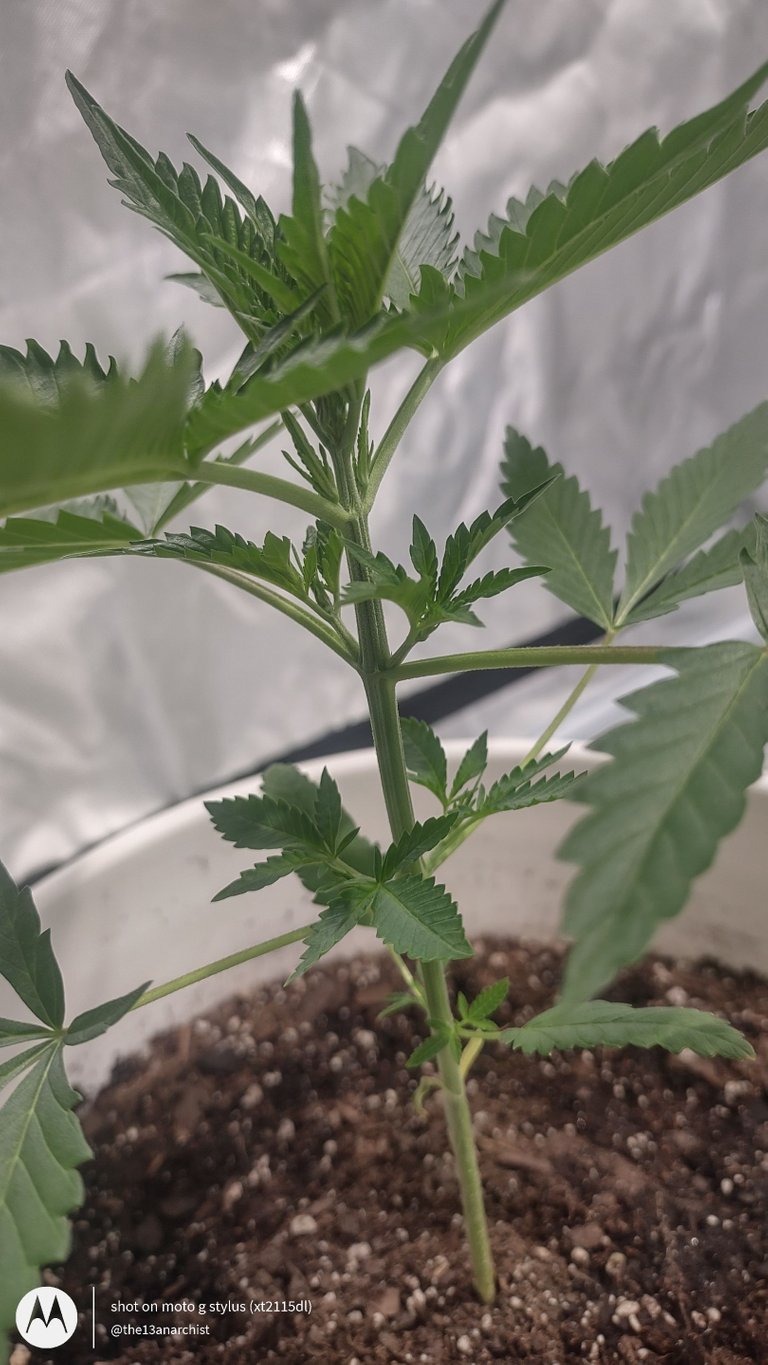 We have an awesome day here at the "Anarchist's Alcove" on December 7th, when I actually got to try my hand at topping for the first time!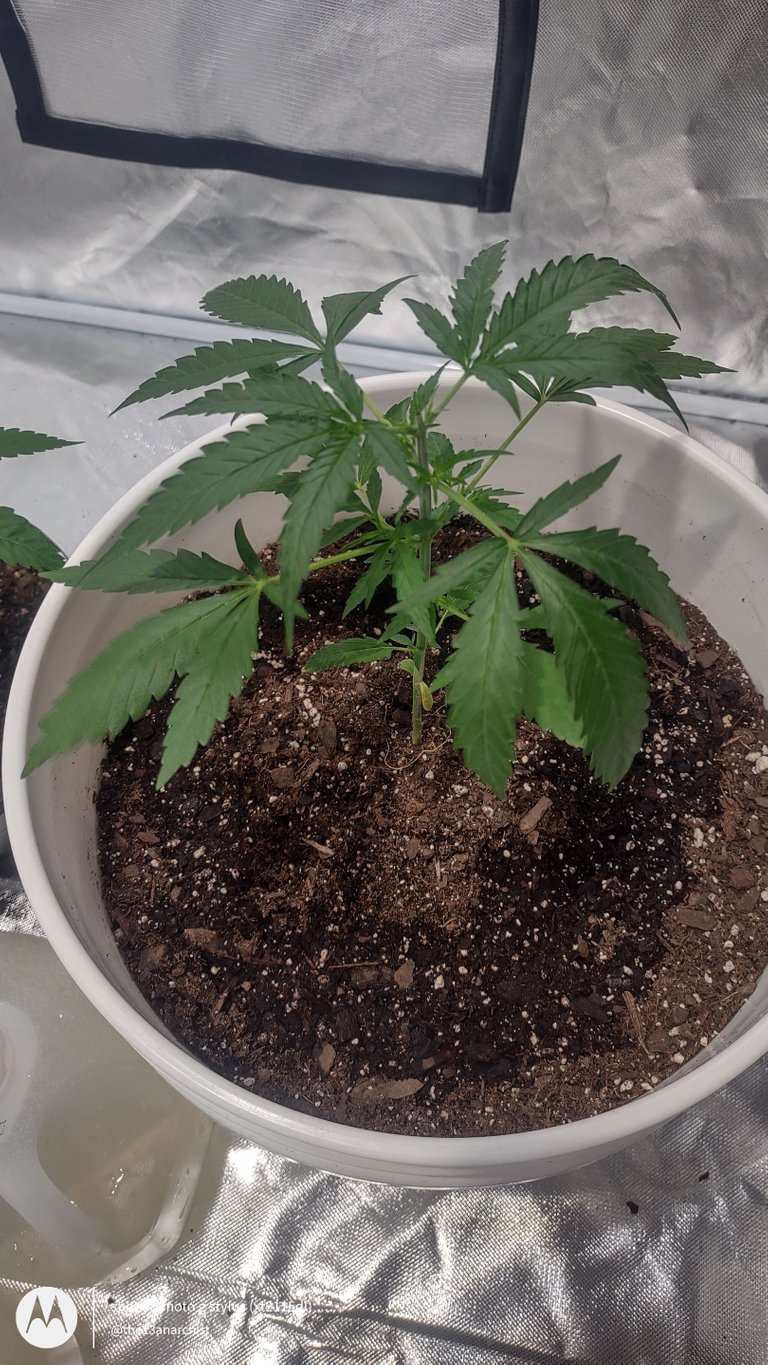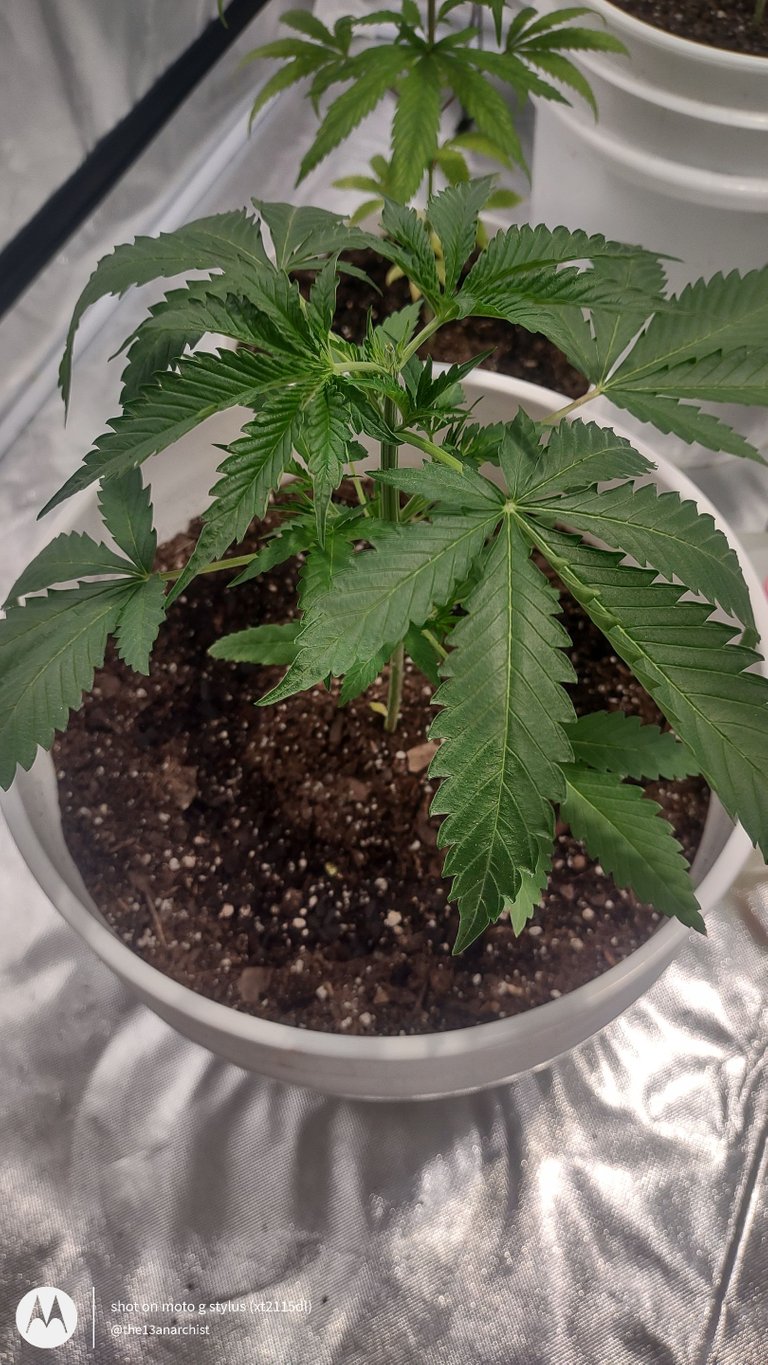 They had both grown up to the fifth node, so I went ahead and topped them there just to see how they would do!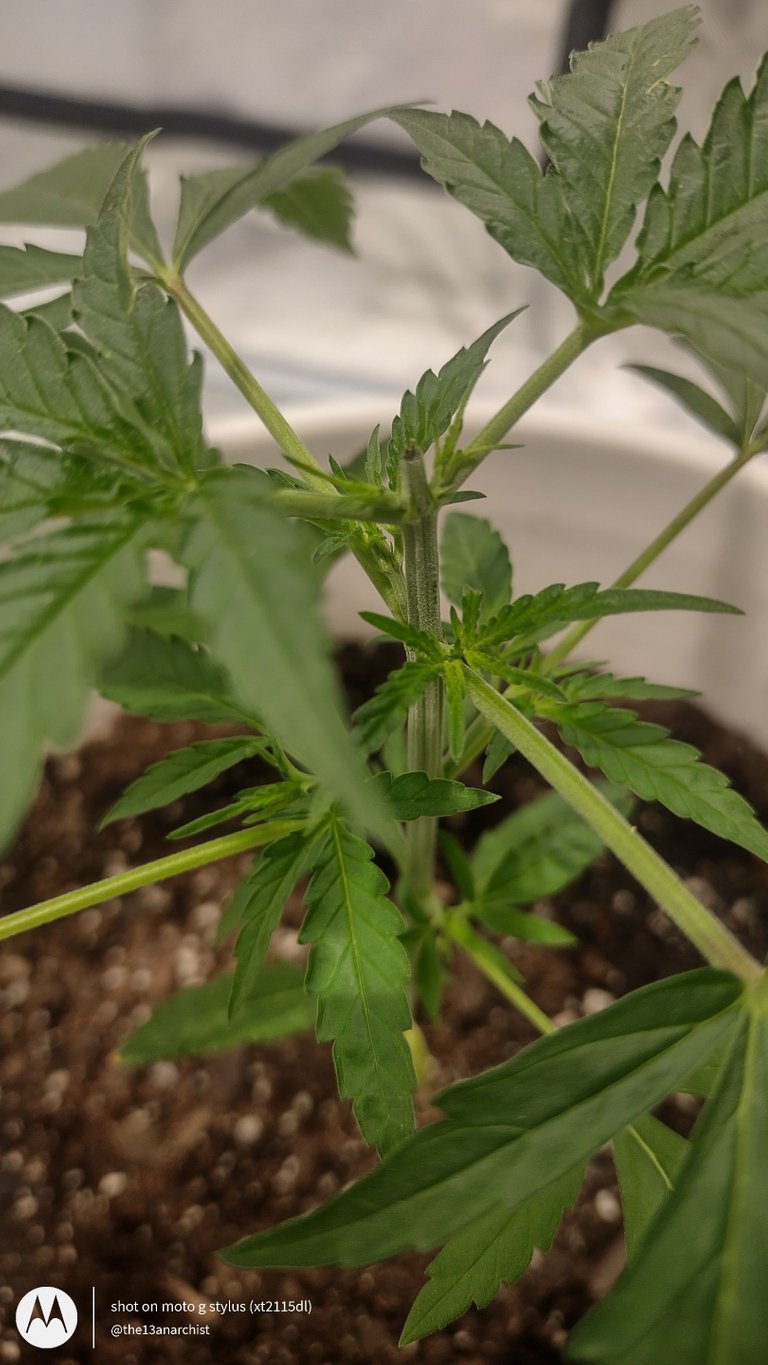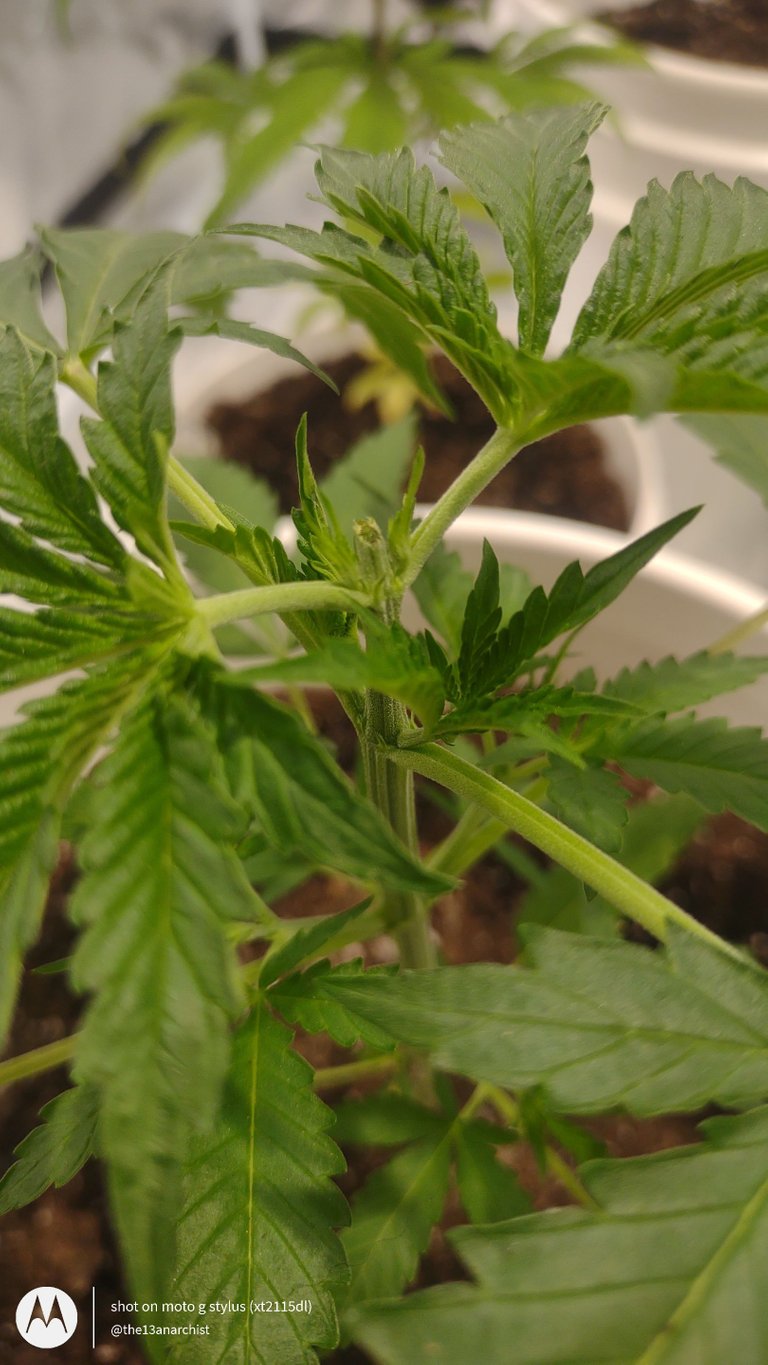 Afterwards, I fed them both 2.5 cups each of the 10 mL solution of Grow Big Nutrients just to help out their growth! Since my attempt at topping, I have learned about mainlining, and doing LST training directly after for better results! I'm definitely going to implement this technique on my next grow!

Jumping ahead to December 9th, nothing much really happened inside of the tent but the buckets seem to be a little dry, so I went ahead and fed these girls some nutrients!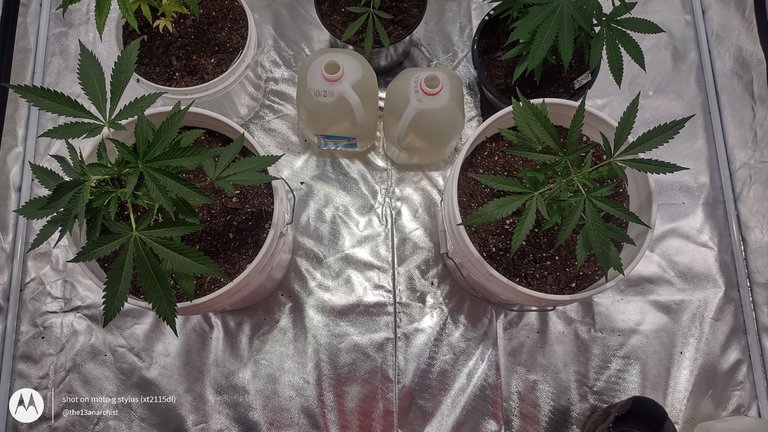 I gave the larger of the two plants 3 cups worth of the 10mL solution of Grow Big, because this baby really seems to eat it up!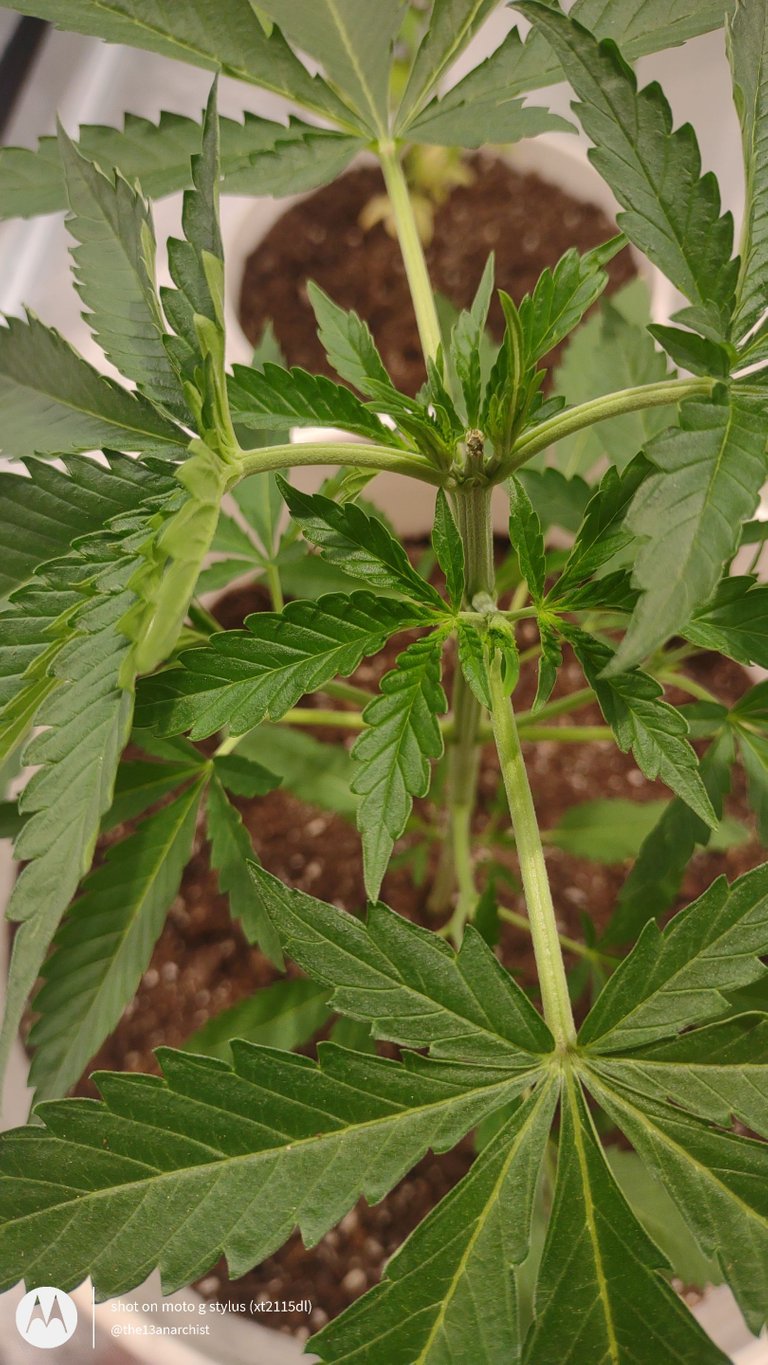 I only gave the smaller plant 2 cups worth of the 10mL Grow Big solution, since I'm not so worried about overnuting them, but I am worried about over watering it, and since it's smaller I didn't think it needed as much as the bigger plant!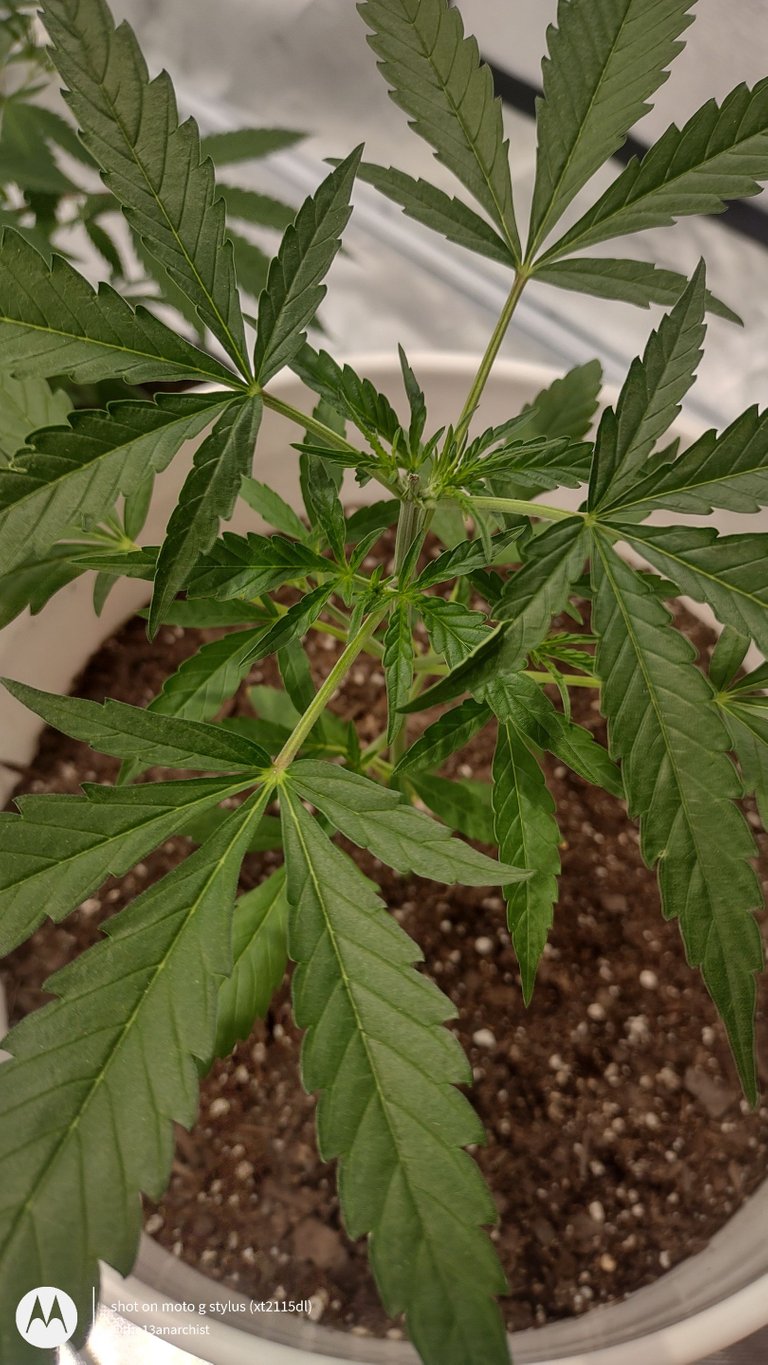 Things started getting really hectic around the house so I didn't get to do much inside the tent until December 14th, which is when I noticed that both of these plants had started growing very small white stigmas from the pistils!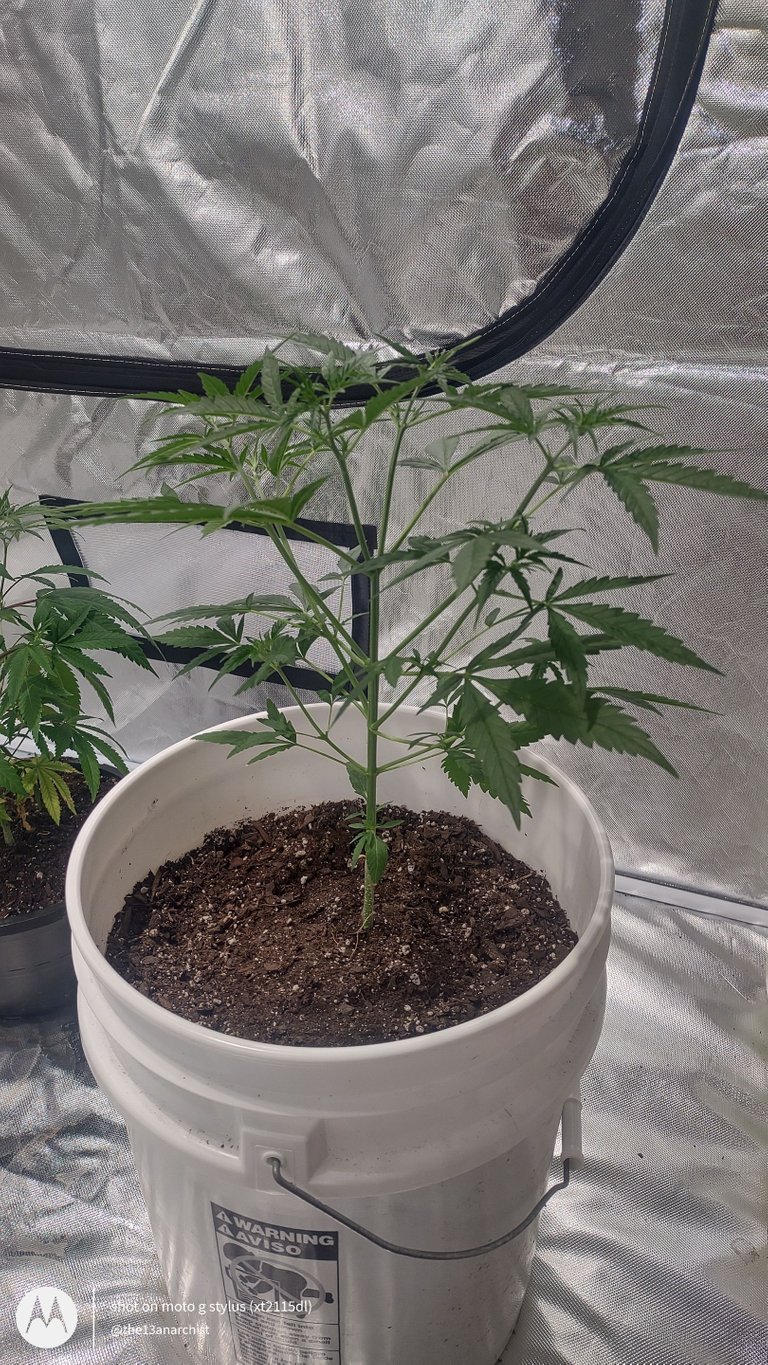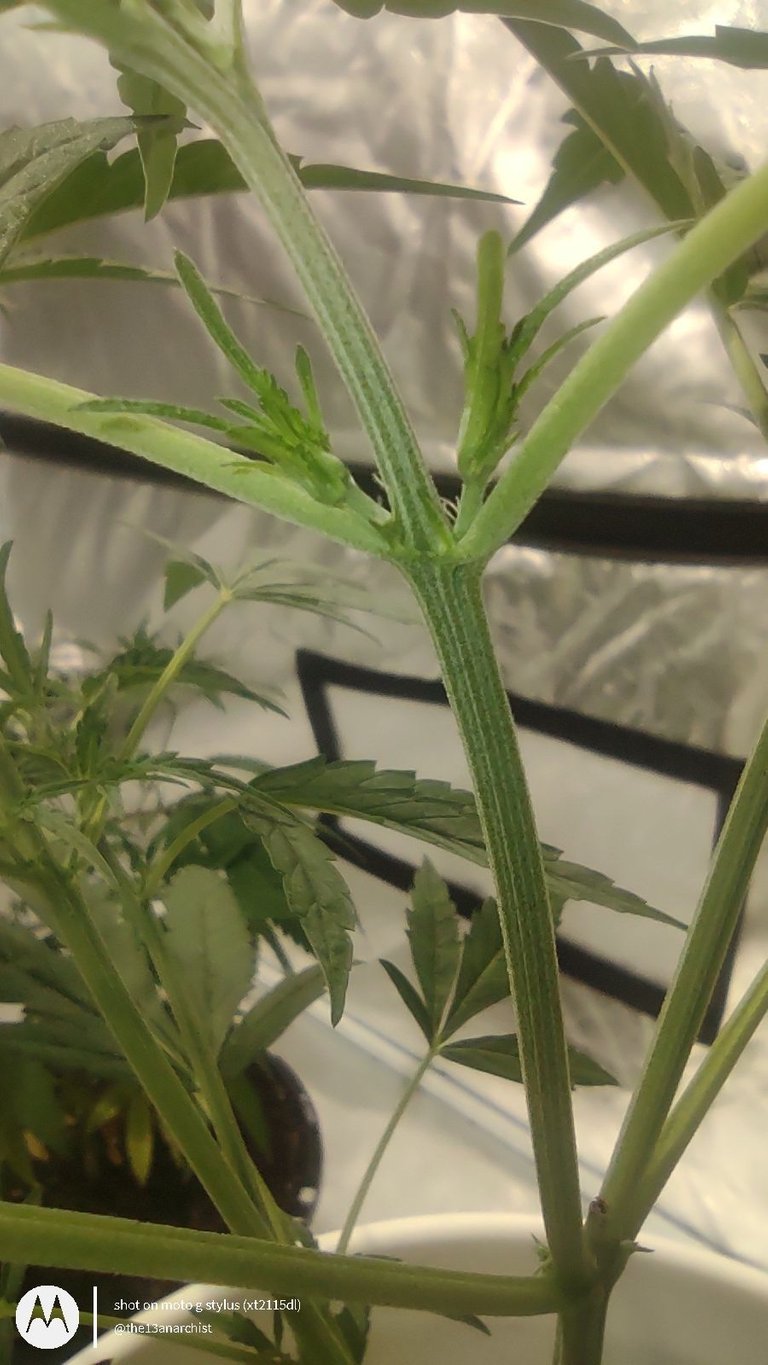 Since the buckets were dry again I went ahead and fed them giving the smaller plant only 2 1/4 cups of the 10mL Grow Big solution; while I gave the larger plant a total of 2.5 cups worth of the 10mL solution!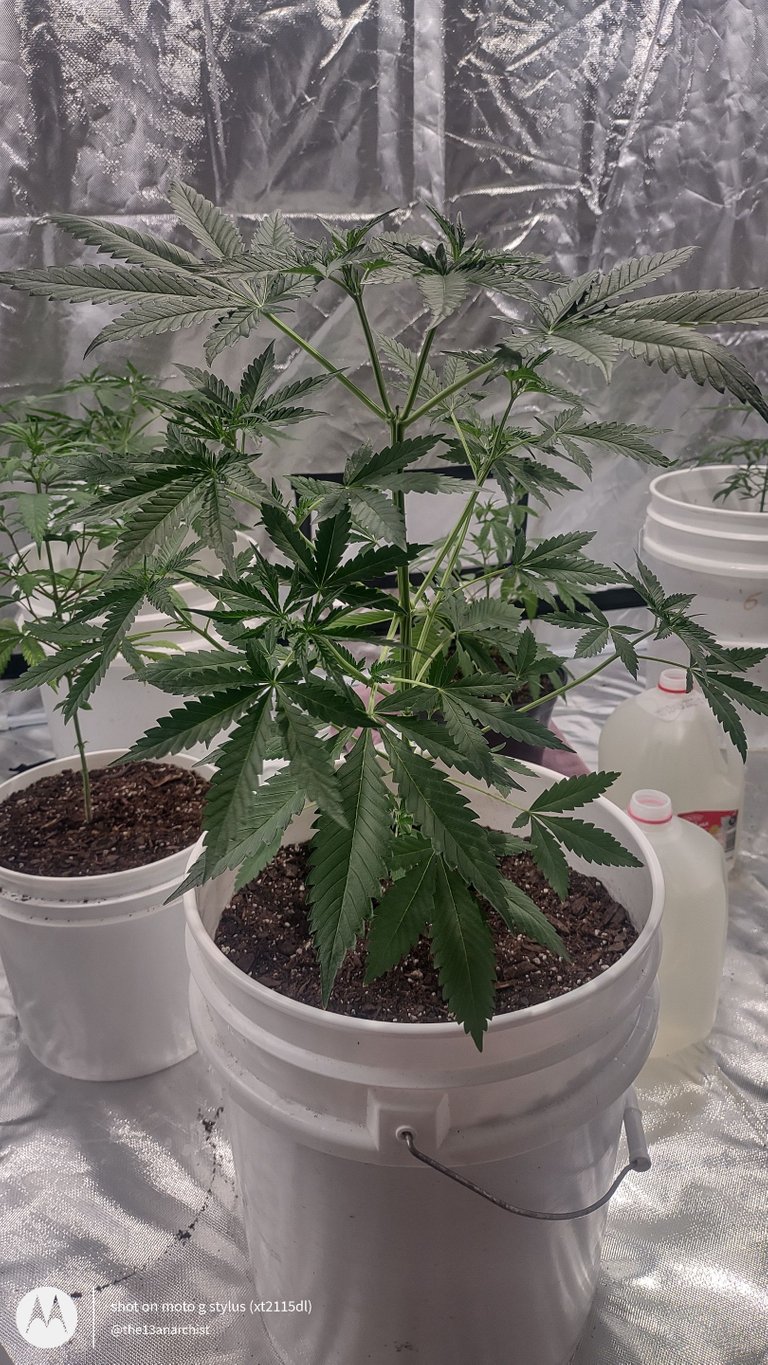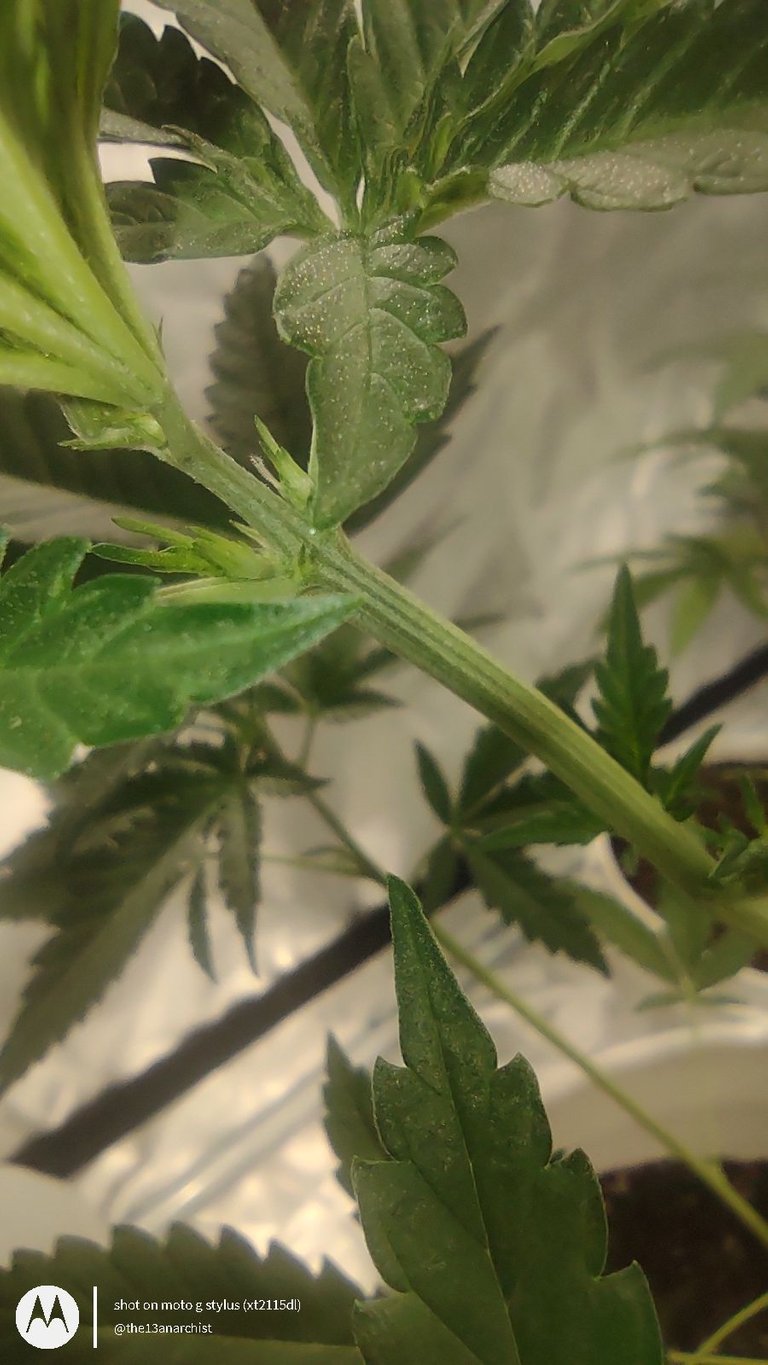 It's only been 2 days, but both of these plants have shown some remarkable growth! So I decided to feed them on December 16th, I went ahead gave them both 4 cups worth of a 15mL solution of Grow Big!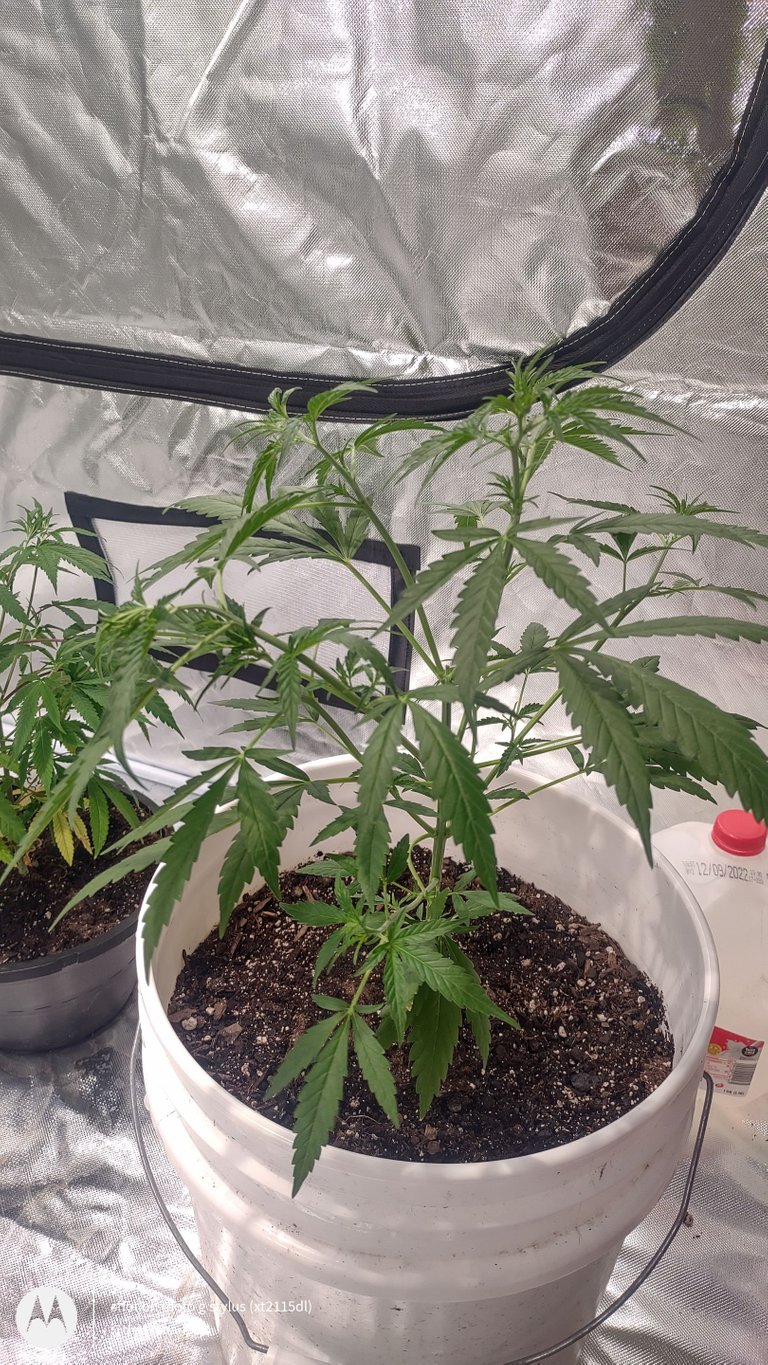 This does jump up the total amount of water that I give them per feeding, and the total amount of nutrients per gallon! This is in an attempt to keep them thriving as they really are seeming to love the nutrients, and show remarkable growth after feeding!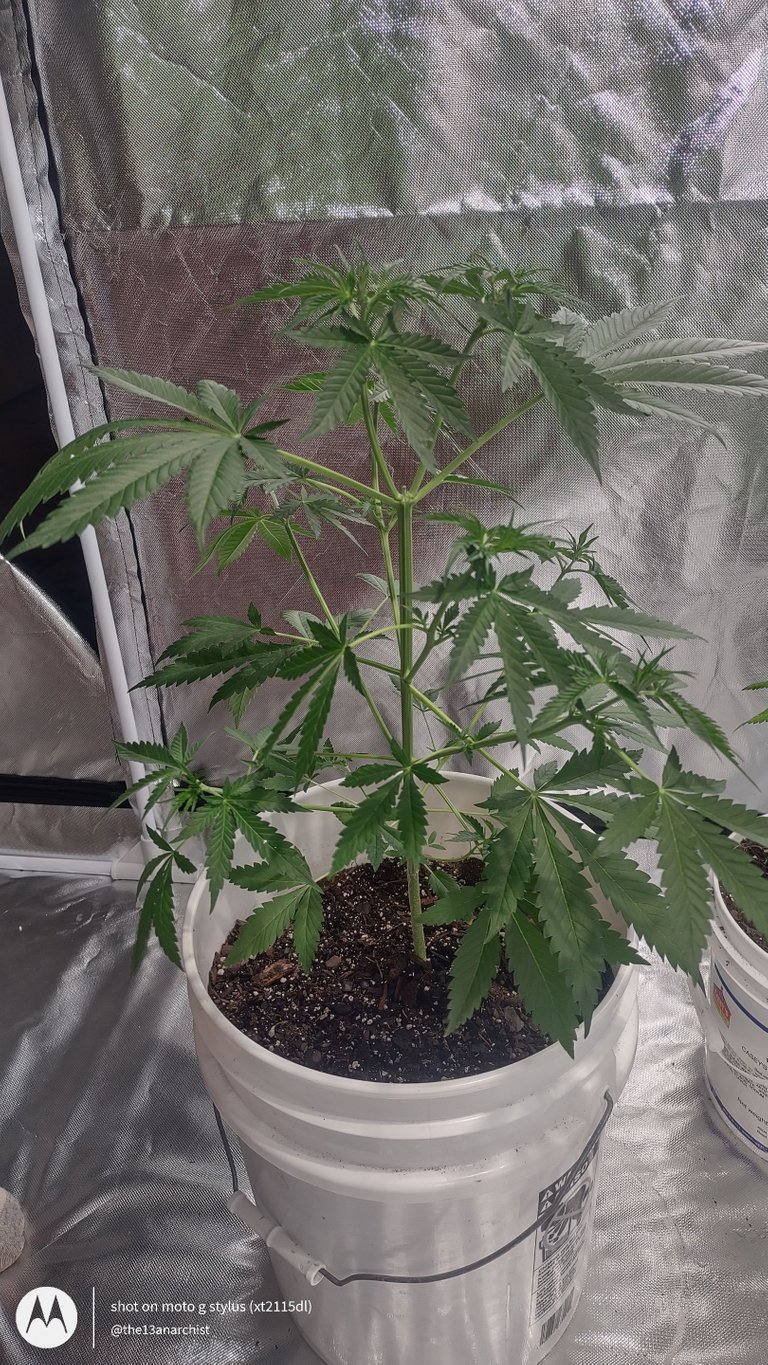 Since I'm still on the greener side of growing, I'm still uncomfortable with defoliation and training, but I definitely need to start practicing! I do want to keep these fan leaves going tho, just to see if they get any bigger! 😉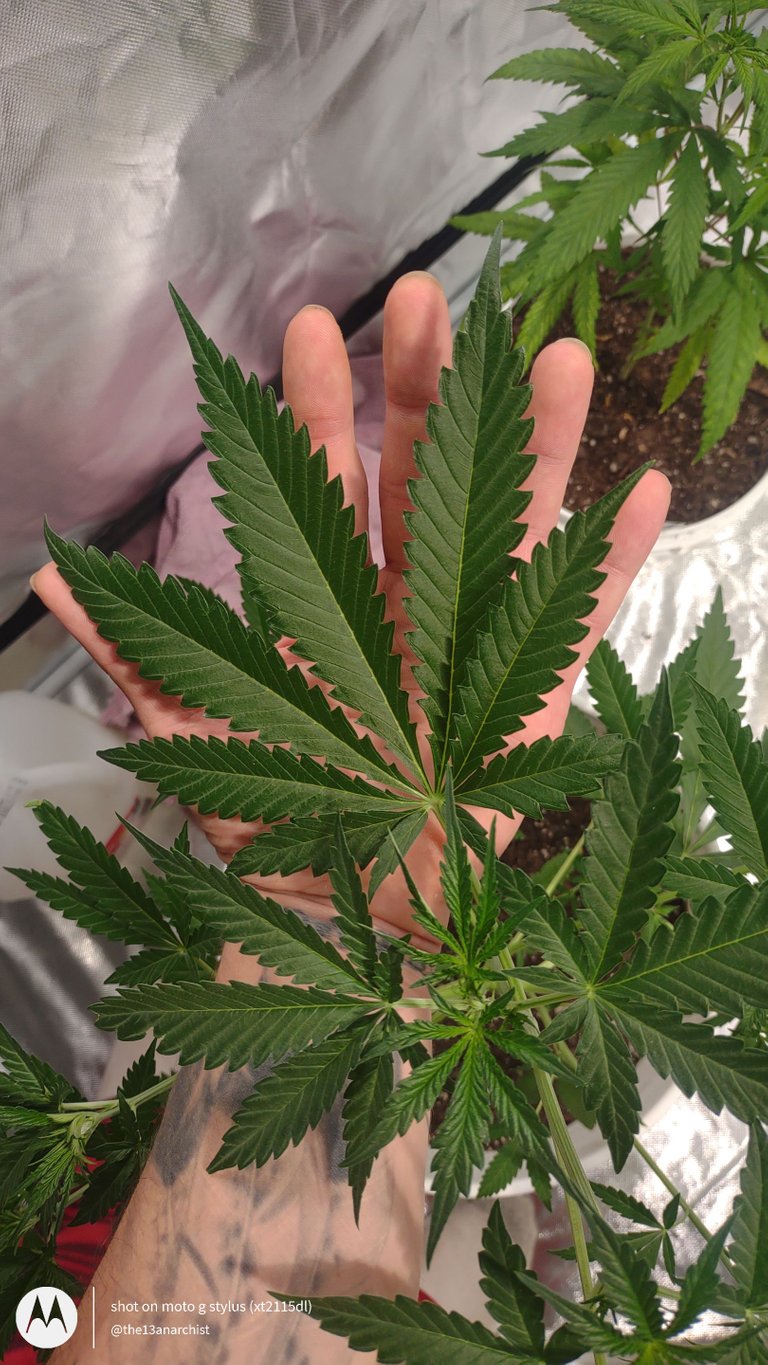 It took a couple of more days for the buckets to dry out, so I didn't give them another feeding until December 19th! This time they got another jump because they are literally growing like weeds at this point!
With that being said I decided to give them both 1/2 gallon worth each of the 15mL solution of the Grow Big Nutrients. Unfortunately, I forgot to take pictures on this specific day!

Unfortunately, on November 21st, I noticed male pollen sacs forming on a few of the branches of the bigger [DExTT] plant! There is a number of things that could have caused this to happen, including the fact that the Blue Dream x Lemon Diesel Tester strain that I had from ISC turned out to be a male!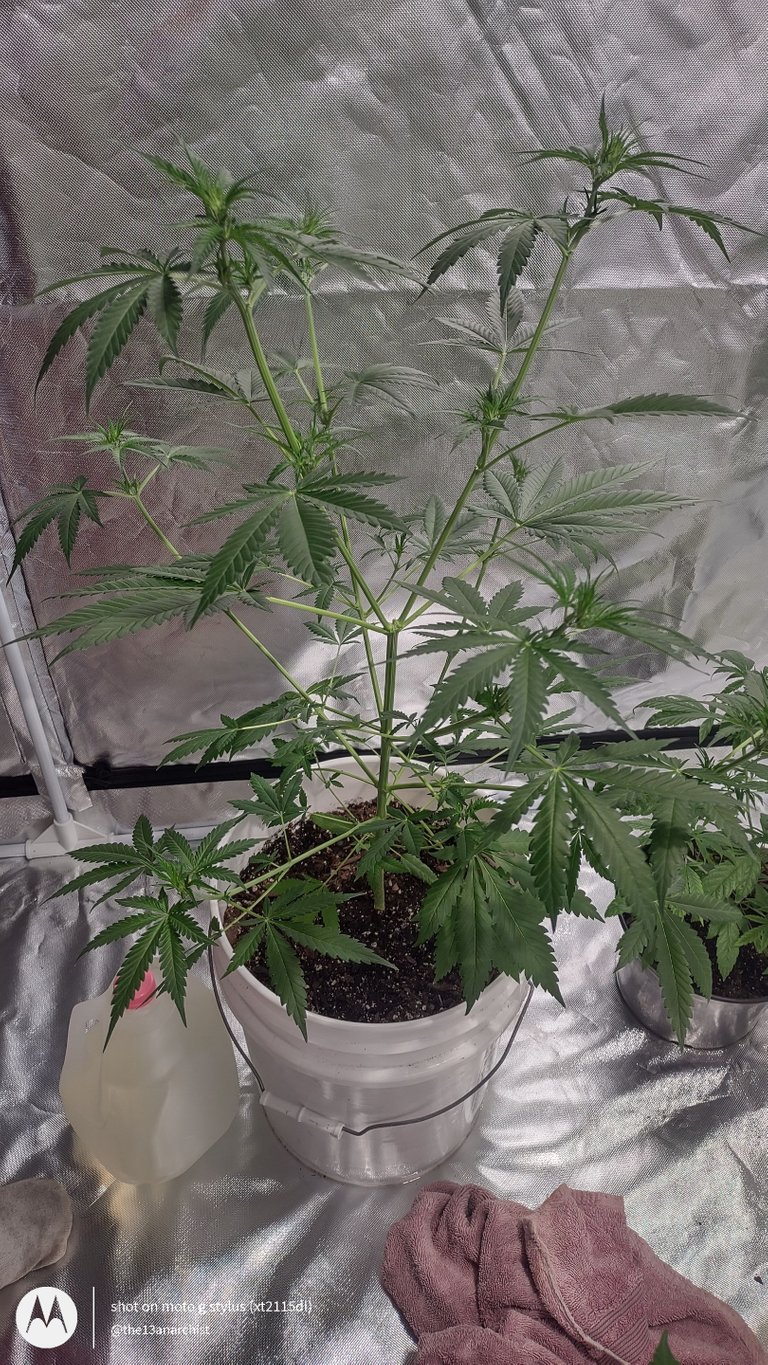 After a discussion with Macronut, I decided to go ahead and pluck the pollen sacs off and keep going! I did take a video of this as well that I do intend to publish to my new YouTube channel, but the specific details about that will be saved for another post!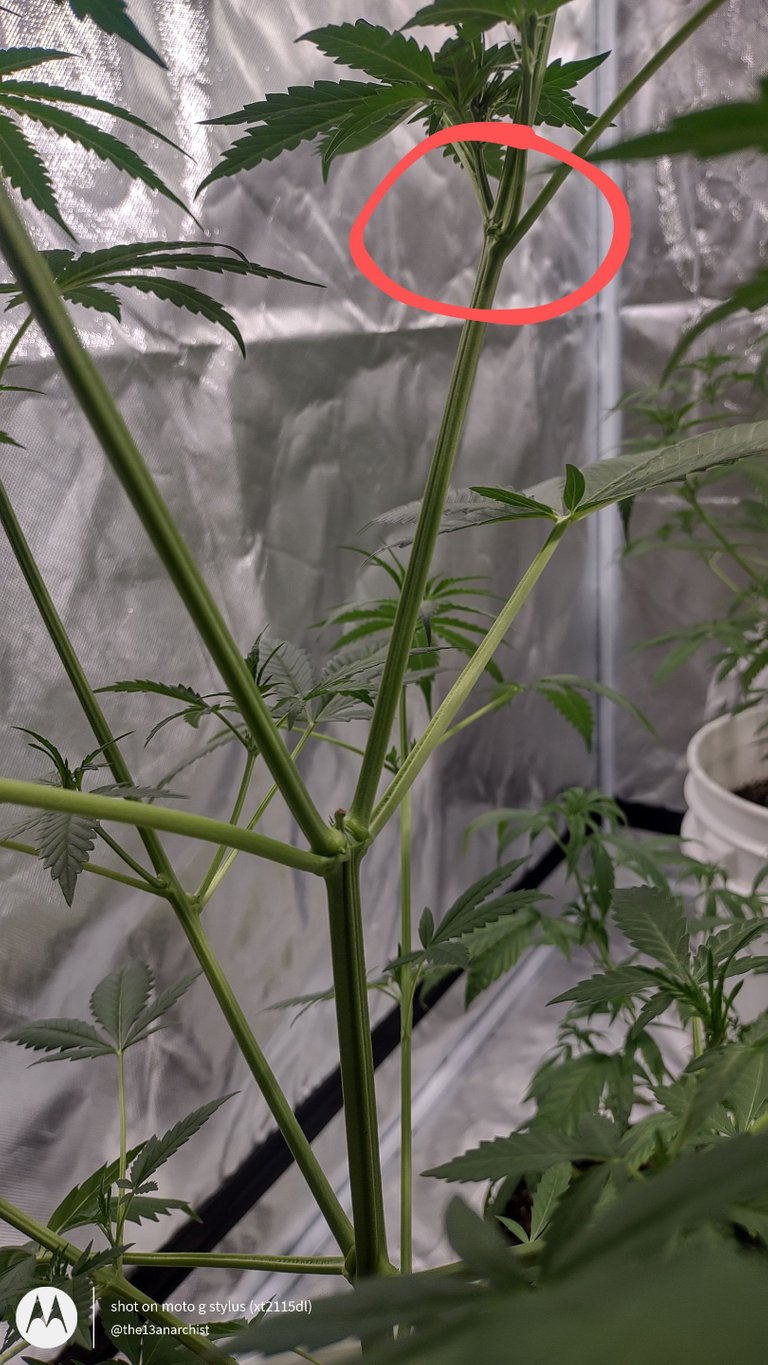 I'm not exactly sure what caused this Herm flip, because Macronut himself hasn't even been able to accomplish this yet! However, other than the male that I immediately removed, there was one day that the lights had stayed off for almost 12 hours before I was able to turn them on again.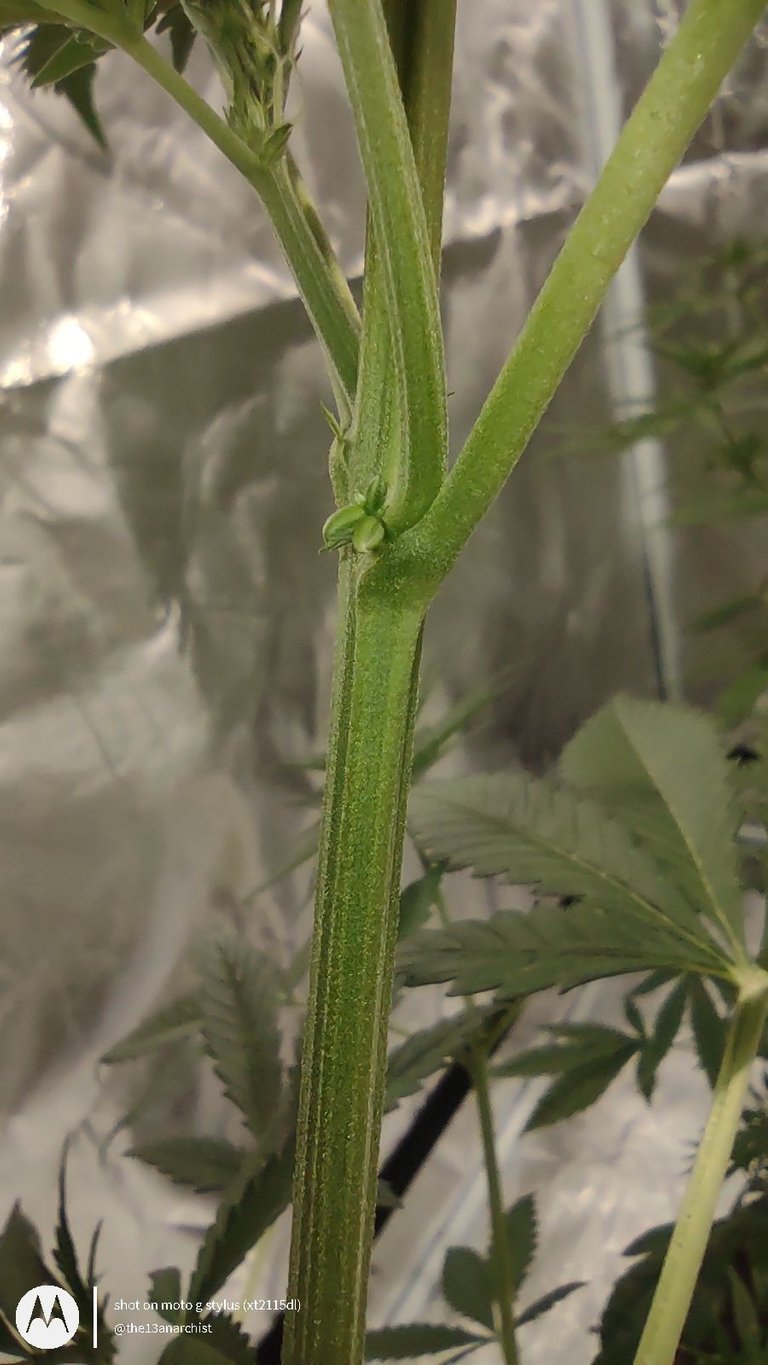 This furthers my belief that I need to get that a timer for my lights, and this one act (even though I don't remember when exactly this was), along with the increase in water and nutrients, could have been enough stress to trigger the change!
I also found some of the Fox Farms Tiger Bloom Liquid Nutrients, and since these babies are definitely showing signs of flower, I gave them both 1/2 gallon of a 10mL solution!

So, I've been slacking on my daily pictures, but my goodness! These babies continuously making daily progress!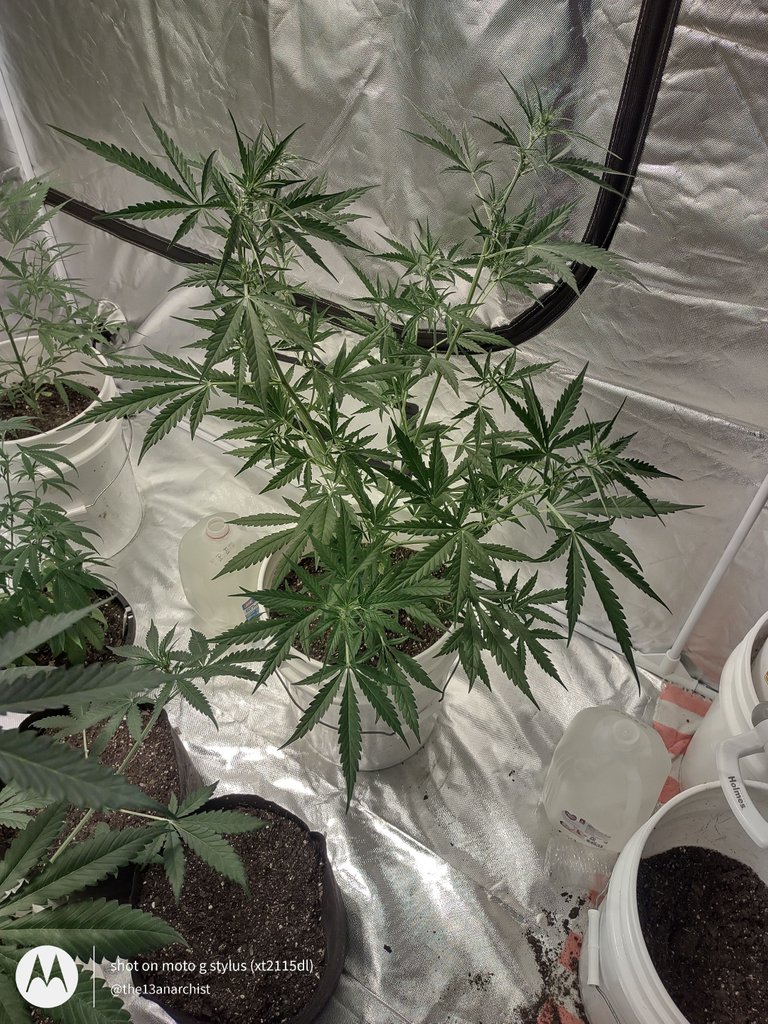 With the stigmas getting longer, and as the smell from these plants becomes more and more potent, I decided it was finally time to switch over to the 1000W HPS bulb on December 23rd; giving these babies an early Christmas Present!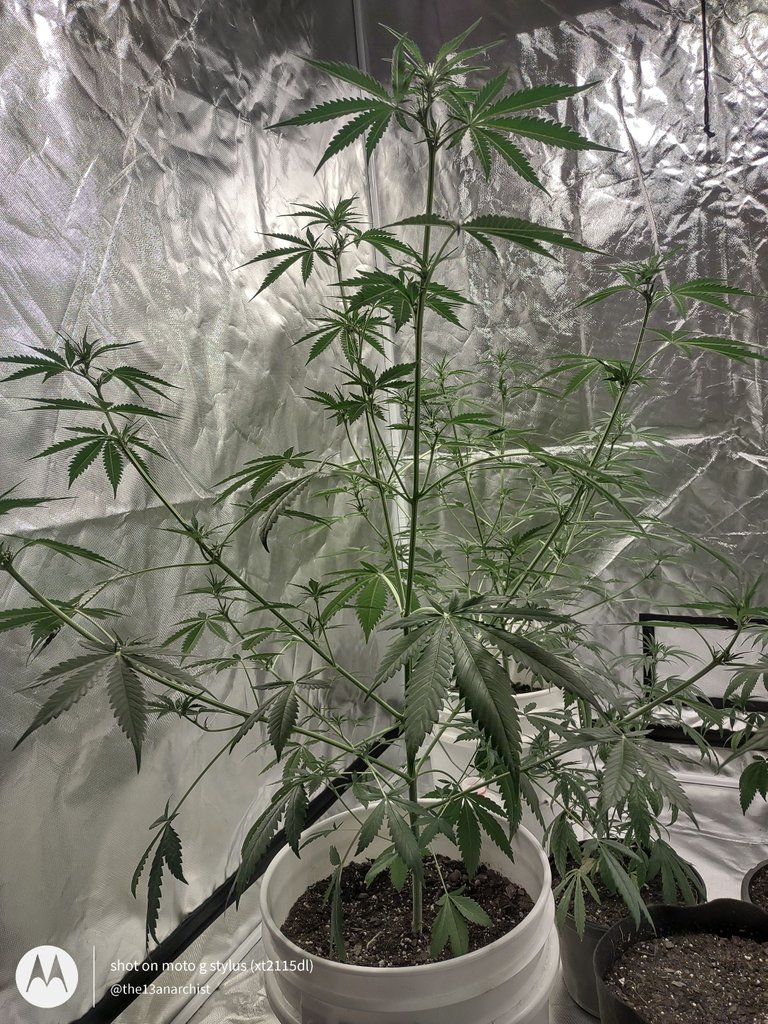 We also had a pretty decent day inside the tent on the 25th. We did a little bit of reorganizing getting all the plants moved around, and then I went ahead and trained both of our 37 day old [Durban Express x Toasted Tangerine] testers!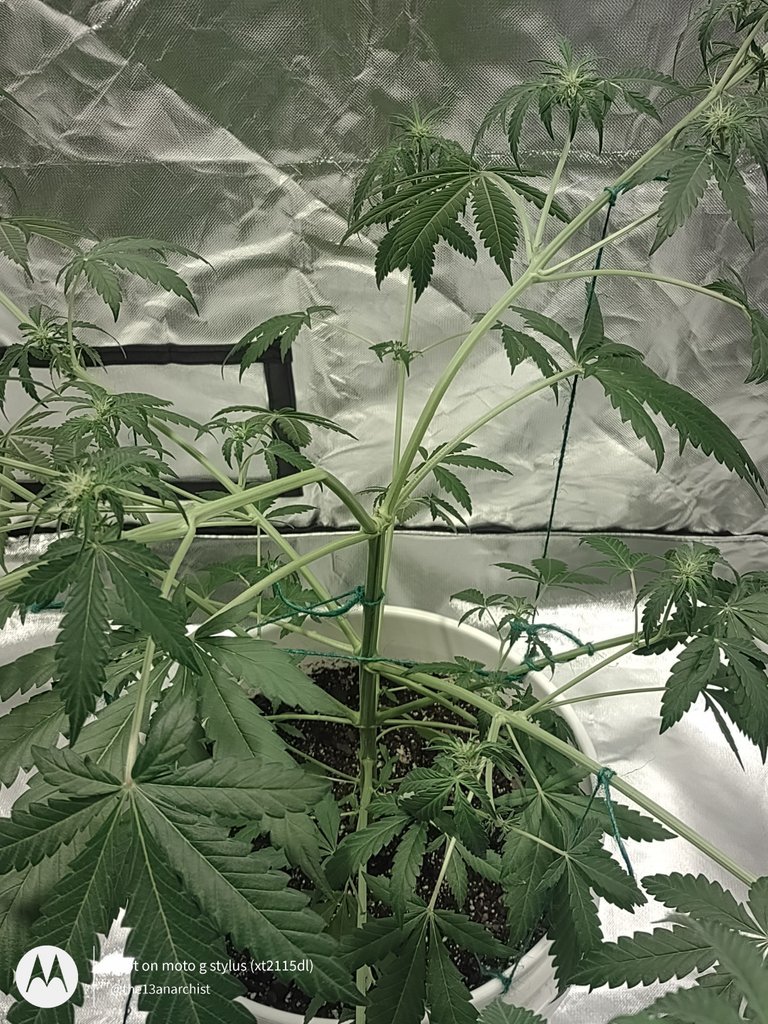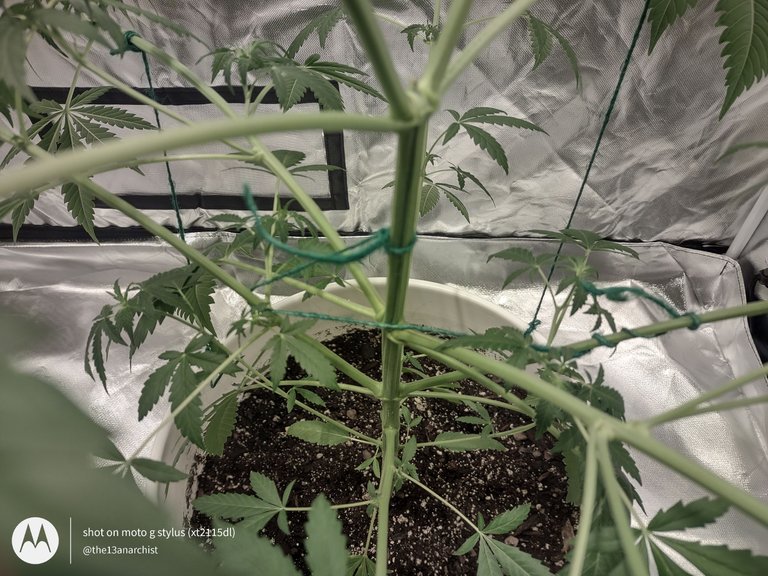 I believe that the 600w MH bulb was clearly not providing enough light to the plants, so with the training on top of the 1000w HPS light bulb the colas will now have a chance to get as much light as possible and really start to swell!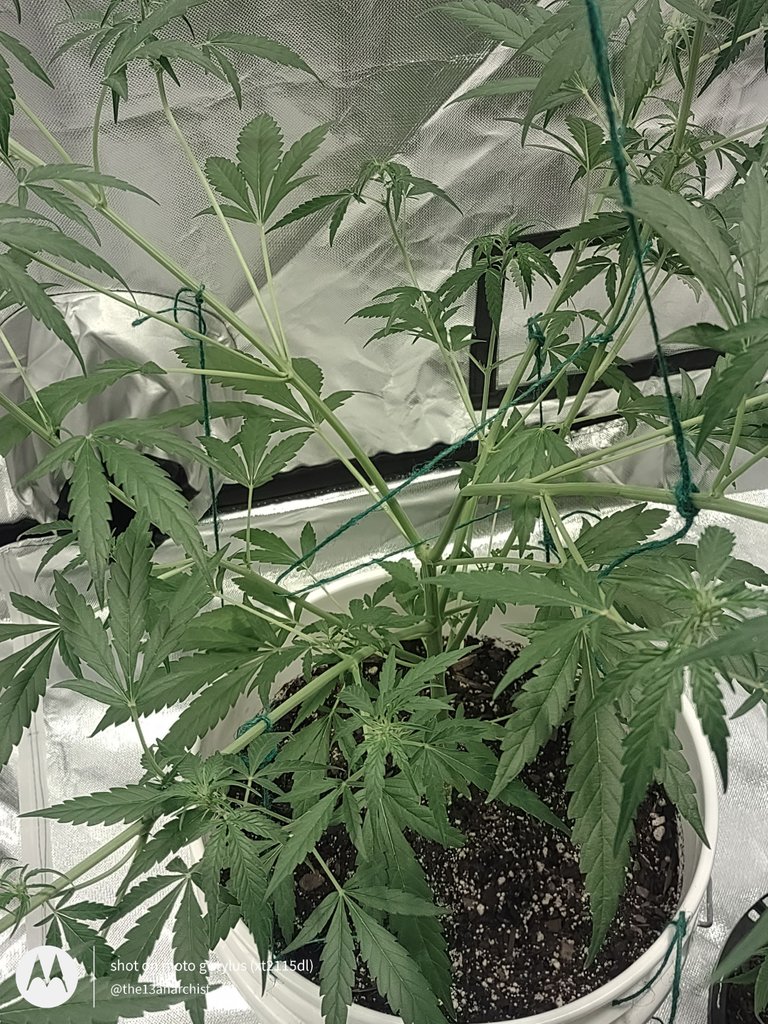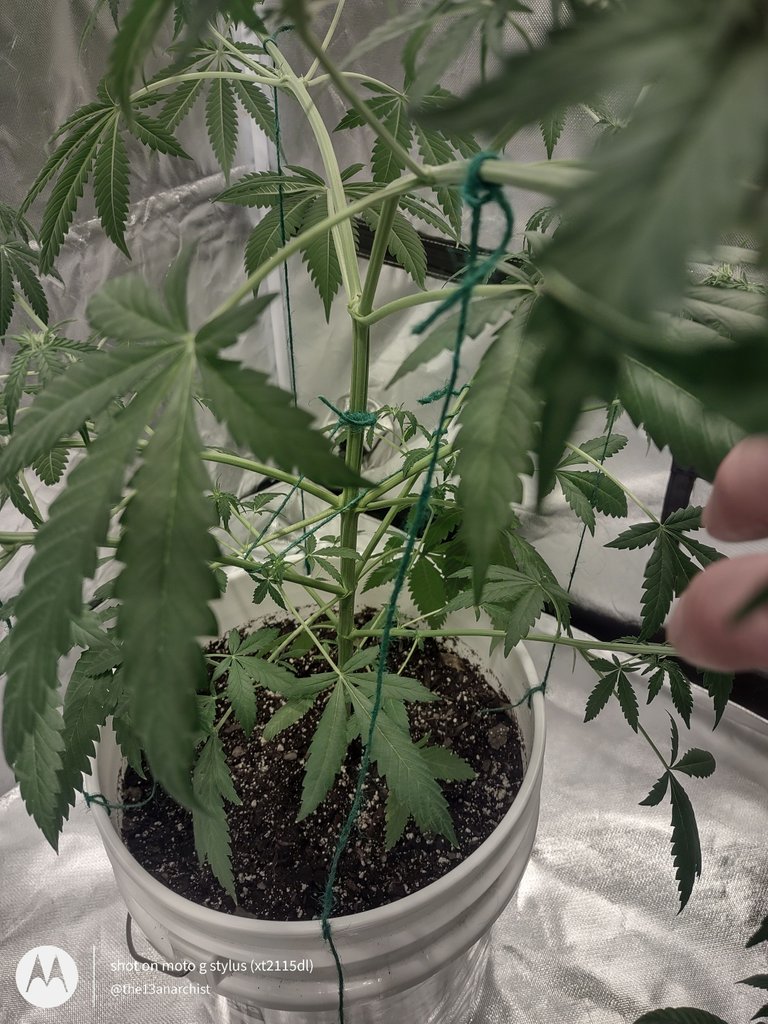 The training I performed was a rather light form of LST (Light/Low Stress Training) all I wanted to do is to spread out the main branches of the plant as much as possible creating a "T" allowing as much light penetration to reach the center of the plant!
I was a little worried that I started training them a little too late, and I really hope that they don't get too stressed! After I got done with the training and reorganizing, I went ahead and fed them a half gallon each of nutrients! 3/4 worth of that half gallon was a 10 mL solution of Tiger Bloom, and the other quarter of that was the 15 mL solution of Grow Big.
I did use leftover nutrients that I had already mixed, but from here on I'm going to mix both them together in the same jug!

I'm starting to believe that DExTT #1 is starting to form a slight zinc deficiency, possibly to due to the stress of the training, but I am unsure as of right now! I didn't get very good pictures of the leaves, although they were started to get small brownish spots in the middles of some of the larger fan leaves! I will continue to monitor and adjust nutrient feedings if necessary!
After doing some research I found out that zinc is required for your plants to absorb the nutrients in the soil! A lack of zinc will cause your plants to not receive the full benefit of your feedings!
I have also continued to monitor DExTT #2 as closely as possible after I noticed the male reproductive parts that had started showing on the 21st. I did notice three more balls so I went ahead and put those off, making sure that there wasn't any more before closing up the tent for the night!

After turning the lights back on the 27th I noticed the buckets are a little light so I went ahead and fed both of our DExTT plants 1/2 Gallon worth of a 15mL per gallon solution of Tiger Bloom mixed with a 10mL per gallon solution of Grow Big.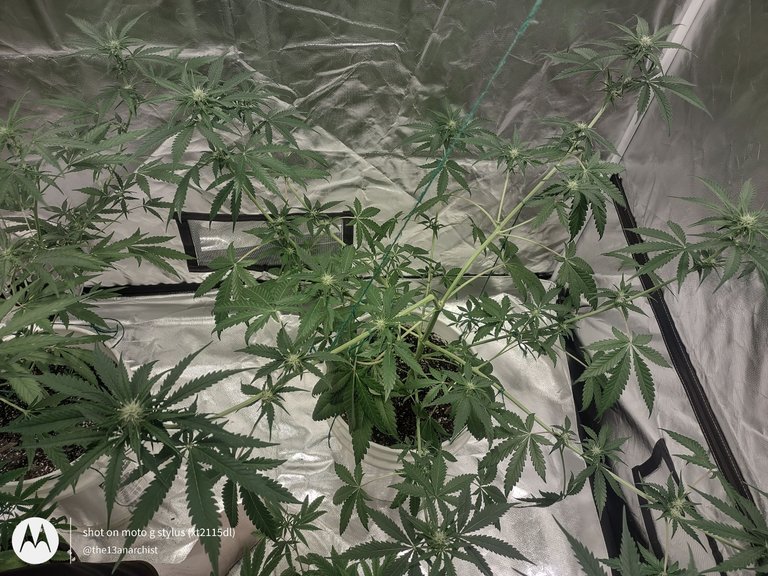 The thought process here was that since they are still in the early flowering stage, the nitrogen boost would help thicken up the stalks of the plants, and hopefully create a stronger base altogether!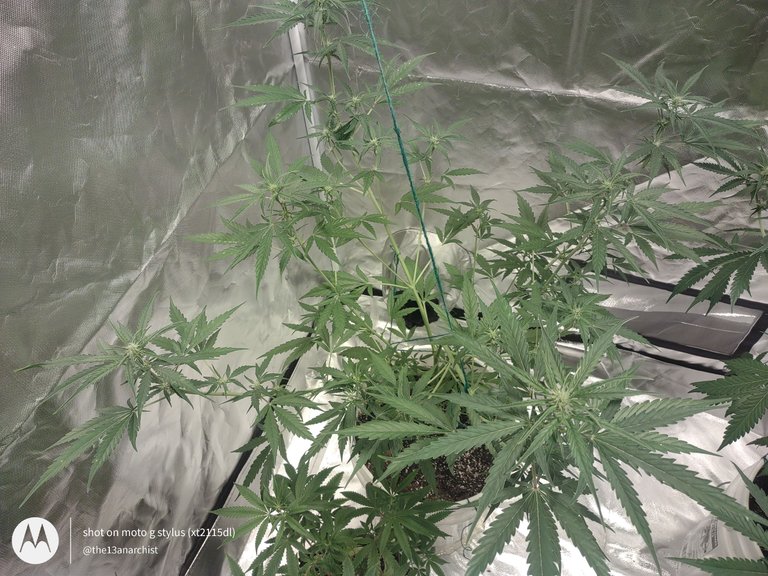 I also noticed that the crimped branch DExTT #1 has started to stand up on its own relieving pressure from the support that I had made for that branch specifically! This really makes me feel a lot better because I was worried that it wouldn't come back!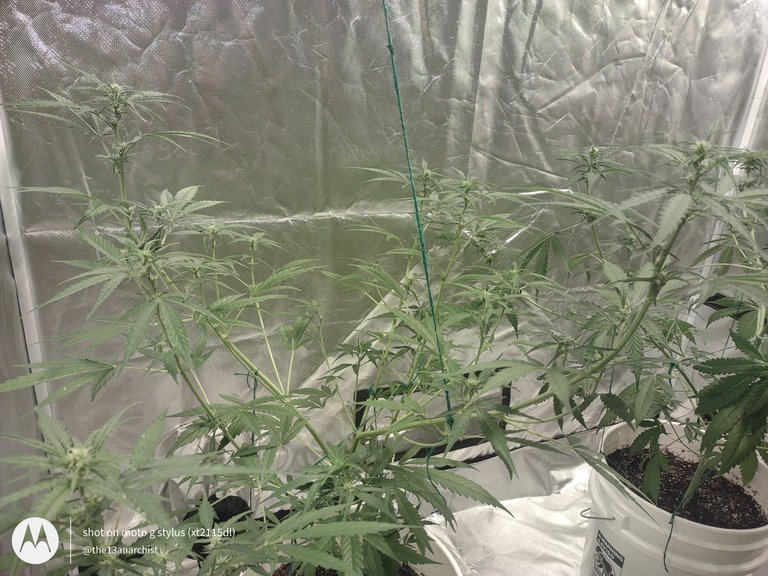 I had a pretty humbling experience on the 28th, which is when I had attempted to loosen some of the tie-downs that I had put on DExTT #1! The tie downs were starting to dig into the branches, which made me uncomfortable, so I had attempted to loosen them to allow them the wiggle room that they needed!
Once I started to loosen the tie downs, I noticed that the main stock started to split in half - right where I topped it! My temporary fix to this was wrapping bread ties around the split stalk in an attempt to tie them back together! I've heard of things happening like this before and people taping their plans back together, so I hope that the bread ties will work in the same manner!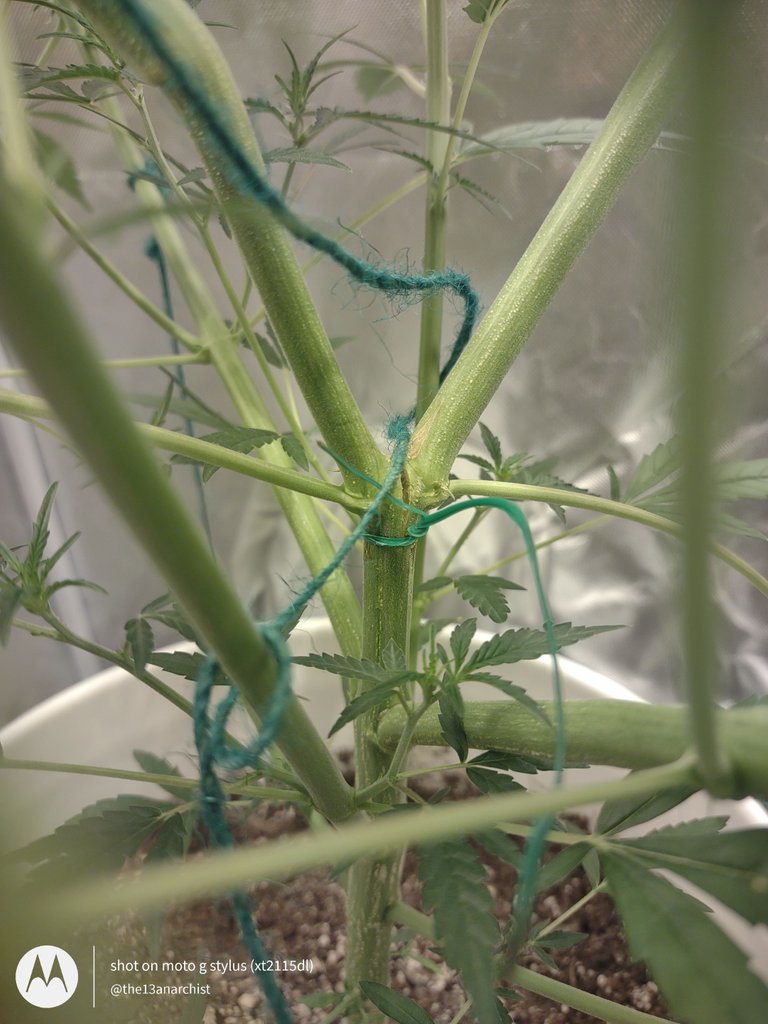 I also decided to feed them another half gallon worth of the 15 mL tiger boom and 10 mL grow big solutions, which were mixed in the same gallon! Hopefully, the nutrients will help DExTT #1 to make a comeback after the split!

I officially hit the halfway mark on the 29th, which happened to be Day 41 for these plants, as I was able to notice the start of visible trichome production all over the plant! The plants are also starting to smell really good (although I do go nose blind in the tent fairly quick 🤣), and in my opinion smell somewhat gassy, like fuel, mixed with a hint of citrus!
I also noticed that the tie downs on DExTT #2 where starting to cut into the branches, so I decided to go ahead and loosen them, just to prevent any further damage!
Yet again, the tie downs had become far too tight, and as I attempted to loosen them, one of the middle branches had ripped almost completely off! I couldn't believe what I had done, and became rather distraught over the matter - but luckily this baby was still hanging on for dear life, and hadn't completely detached!
So, as I profusely apologized to this precious plant (while cussing myself out the whole time 🤣), I attempted to secure the branch back to the stalk using bread ties and twine. The first bread tie was wrapped underneath the branch itself, securing the bottom portion of the break back to the stalk.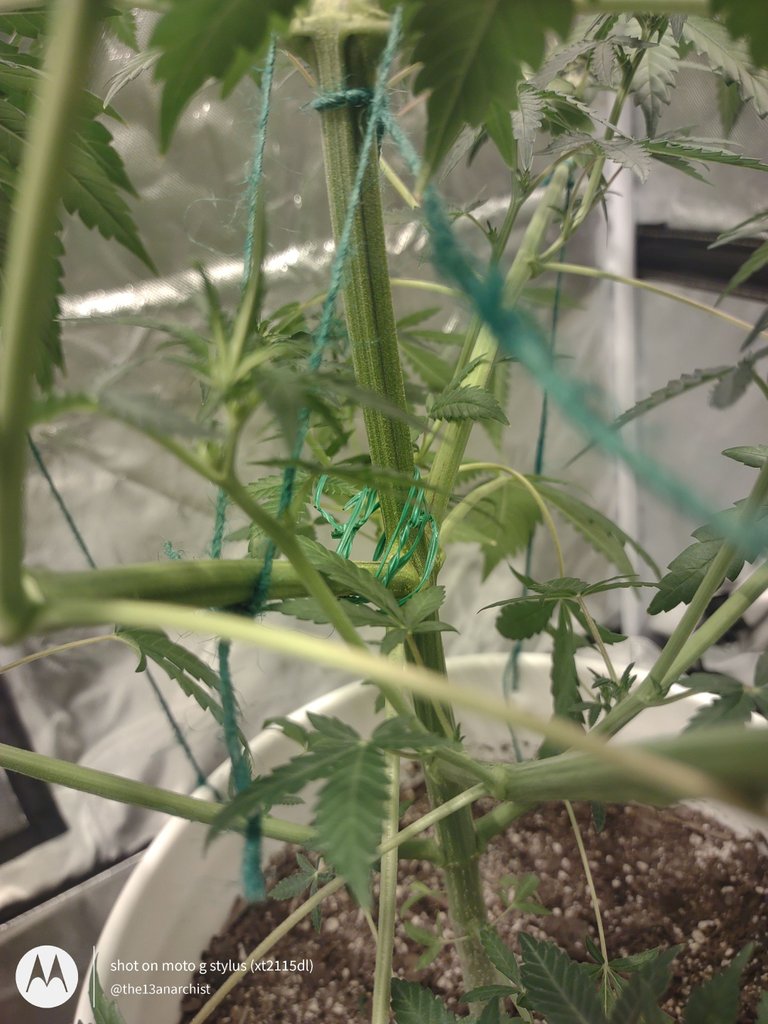 I wrapped the second bread tie around the main stalk above the break and tied it to the branch, also above the break! Hopefully, this would provide a little more support, and secure the branch back in it's rightful place. Then, taking a piece of twine, I made a loop around the branch and main stalk, securing the branch in place by using its own weight!
I'm not completely sure if this will work or not, because it was literally hanging on by a few threads! But, with how resilient cannabis plants are and can be, I'm staying hopeful that it will be able to mend itself!
I had another conversation with Macronut and a few other members of the BIF Discord Server that day as well, and I found out that these are for sure in full flower mode now, so that means I'm definitely going to have to start getting comfortable with defoliation!

I actually started to try my hand at defoliation on December 30th, and targeted the larger fan leaves on the plants! I didn't want to take off too much at once, and stress the plants more than what they were, but I figured that if I started to remove those larger leaves then the plant would be able to redirect its growth into the buds and broken branches!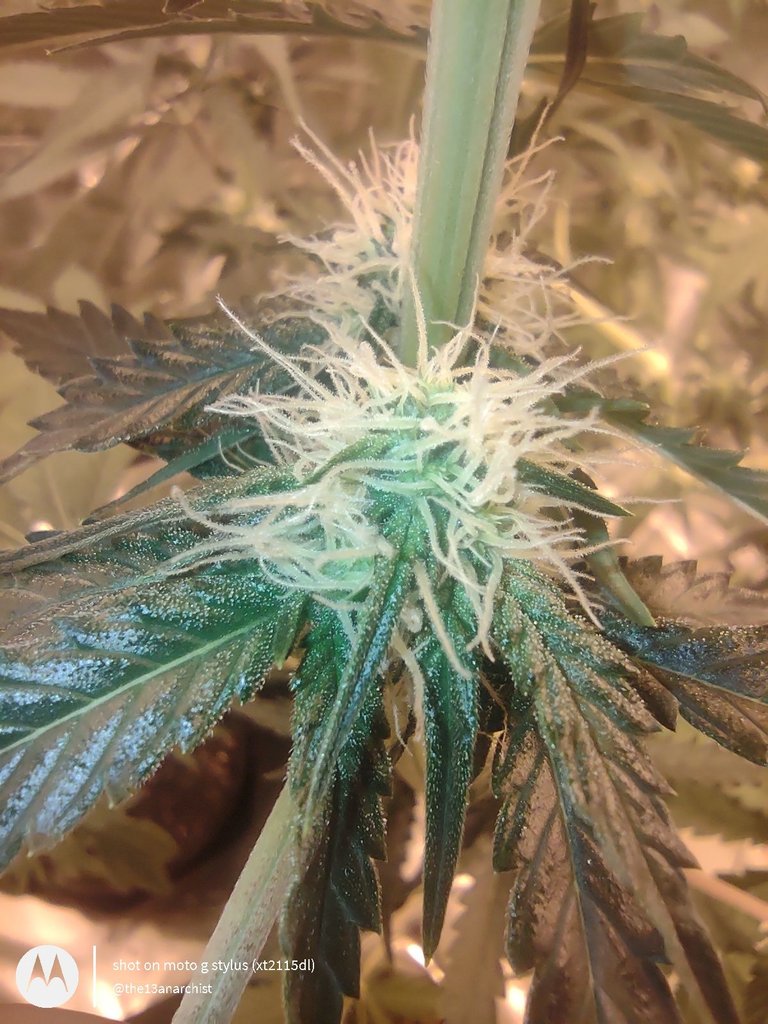 A smaller node right under the main cola on the [DExTT]#2 Plant!
I also went ahead and fed them again, as they have been sucking every bit of moisture out of the soil - enough to the point that I am able to lift the entire 5 gallon bucket with one hand! So, not wanting to starve these thirsty girls, I gave them both 1/2 Gallon worth of nutrients!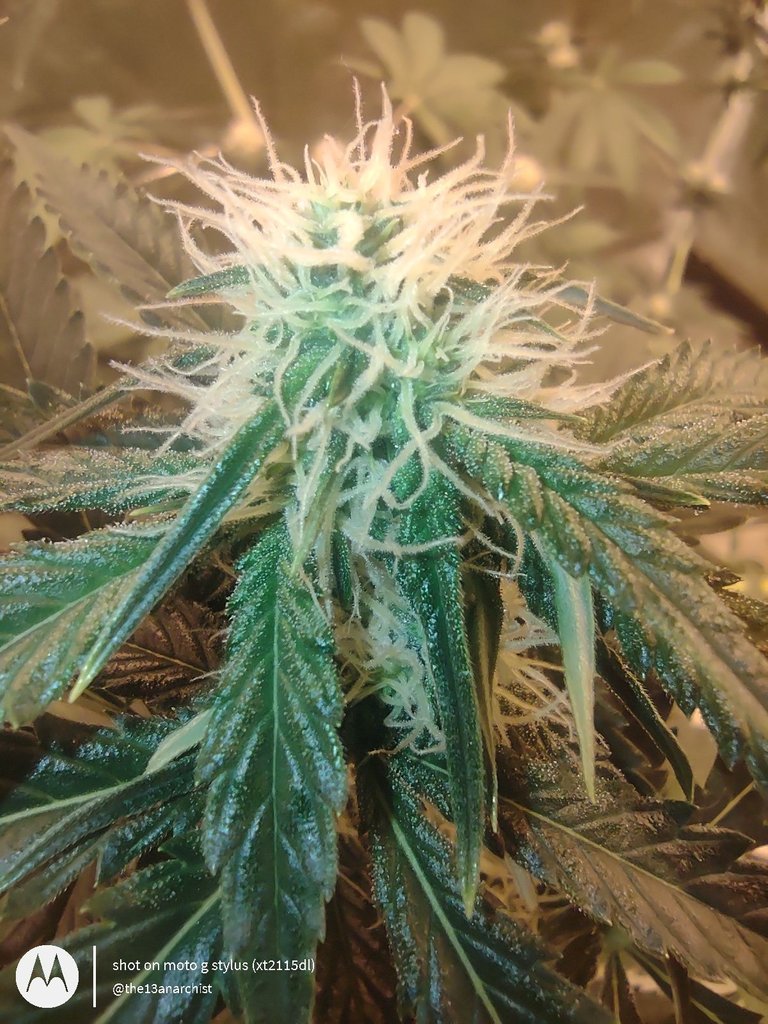 The main cola on the same branch of the [DExTT]#2 Plant!
This time, I jumped the solution up to 15mL per Gallon of both Tiger Bloom and Grow Big! While I don't believe the plants truly need that much Nitrogen in the flowering stage, I do hope that it will be utilized to help the broken branches heal!

I actually had to feed these girls again the very next day due to how light the buckets were! So, I just gave them the same 1/2 Gallon mixture of both Tiger Bloom and Grow Big that I gave them the day before!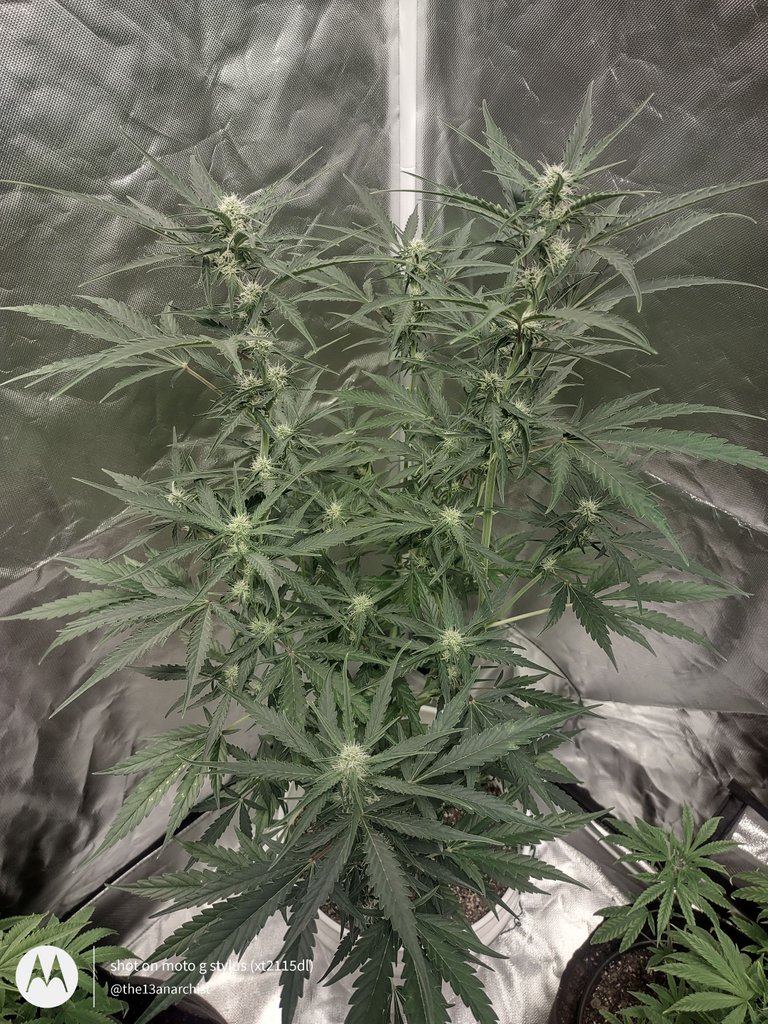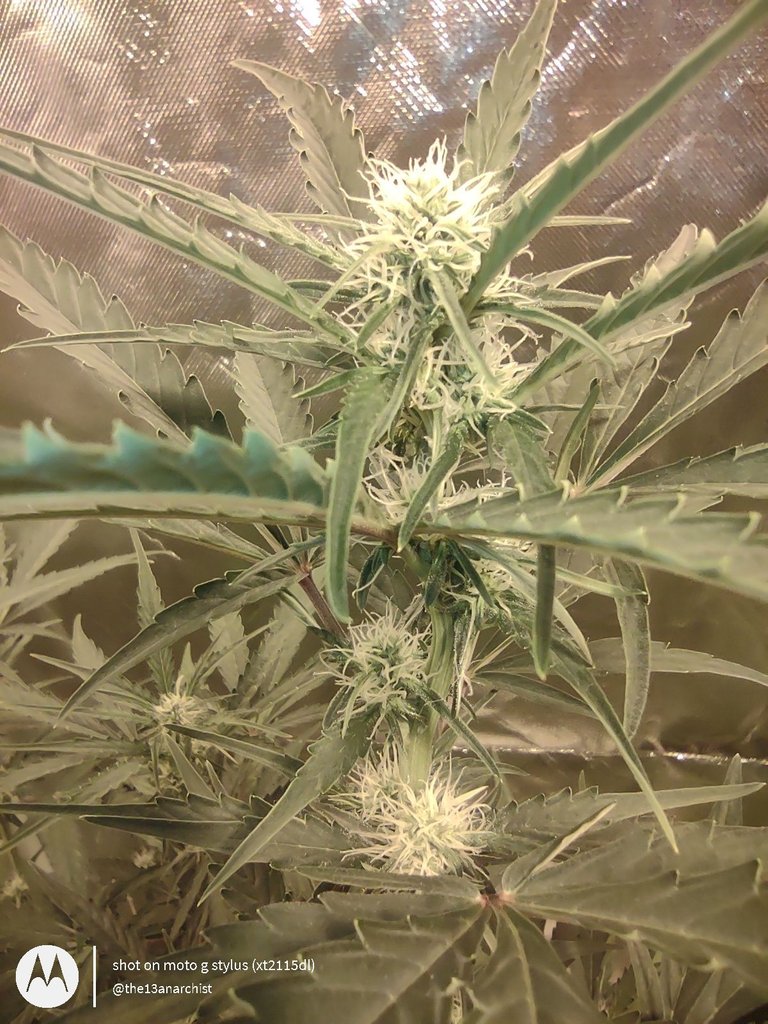 I continued to slowly defoliate them, this time taking more of the inward facing leaves off of the plants! Again, I don't want to take too much off at once, but I do understand I need to open up the budsites to more light penetration, and that this could actually help out with the humidity on the lower branches of the plant as well!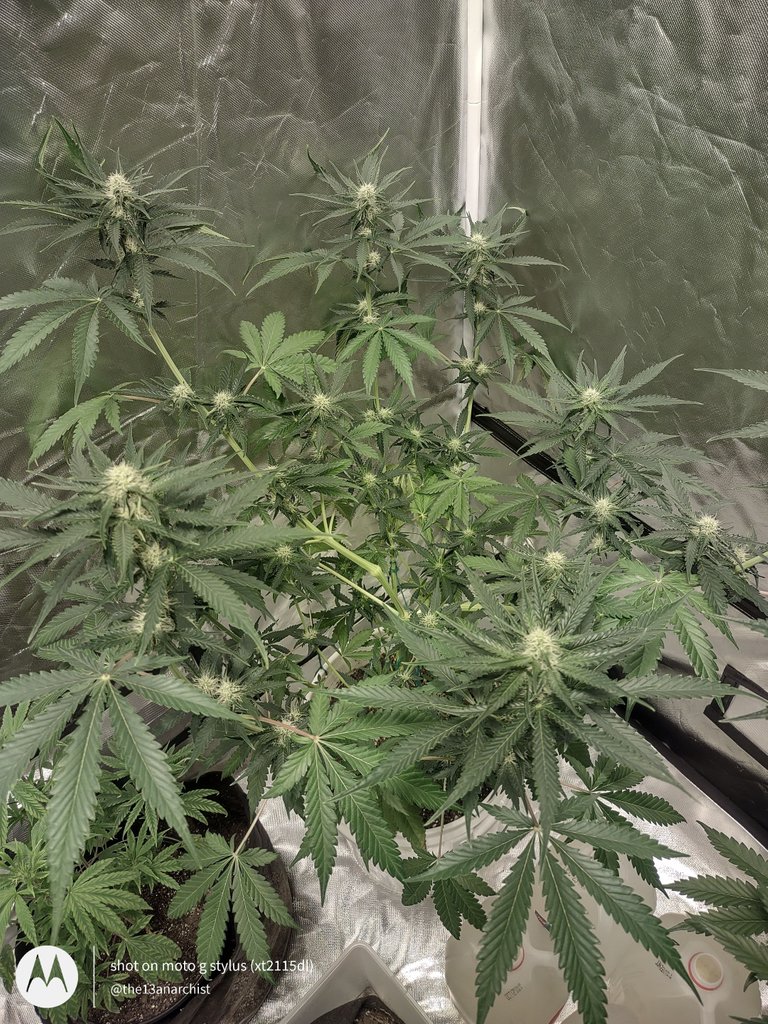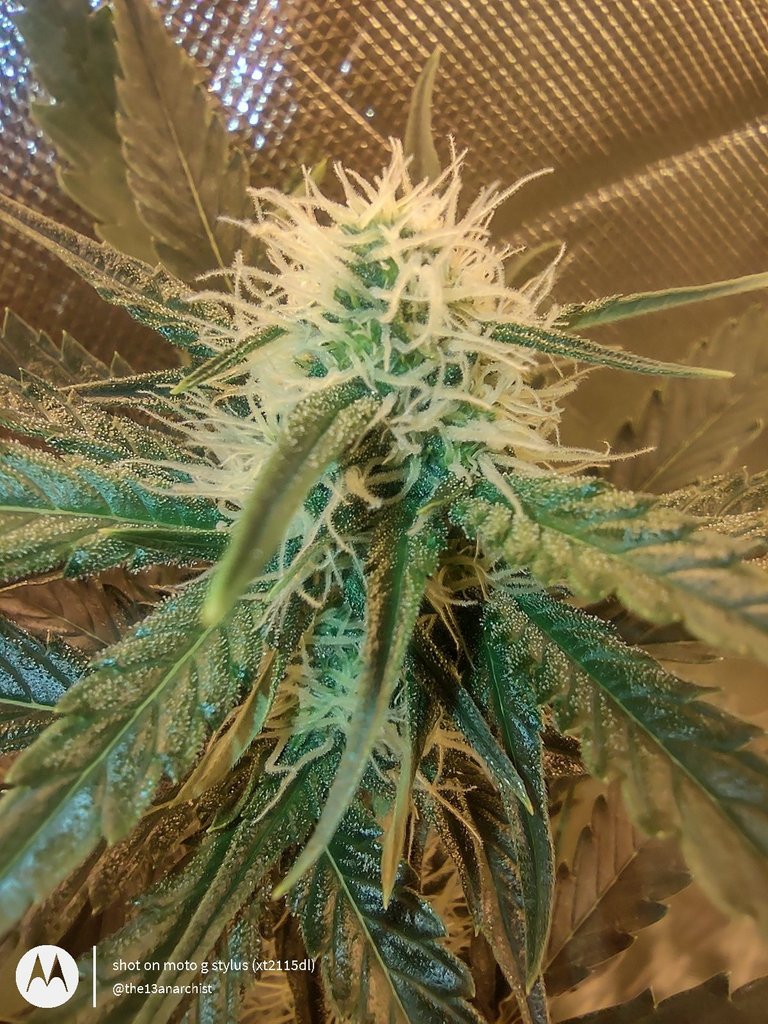 The humidity levels have risen substantially in the tent, although I'm not positive on the exact levels! I currently don't have a thermometer or hydrometer, and have really just been winging it when it comes to keeping everything at a decent level. My solution - opening the front flap of the tent just enough to allow some extra ventilation!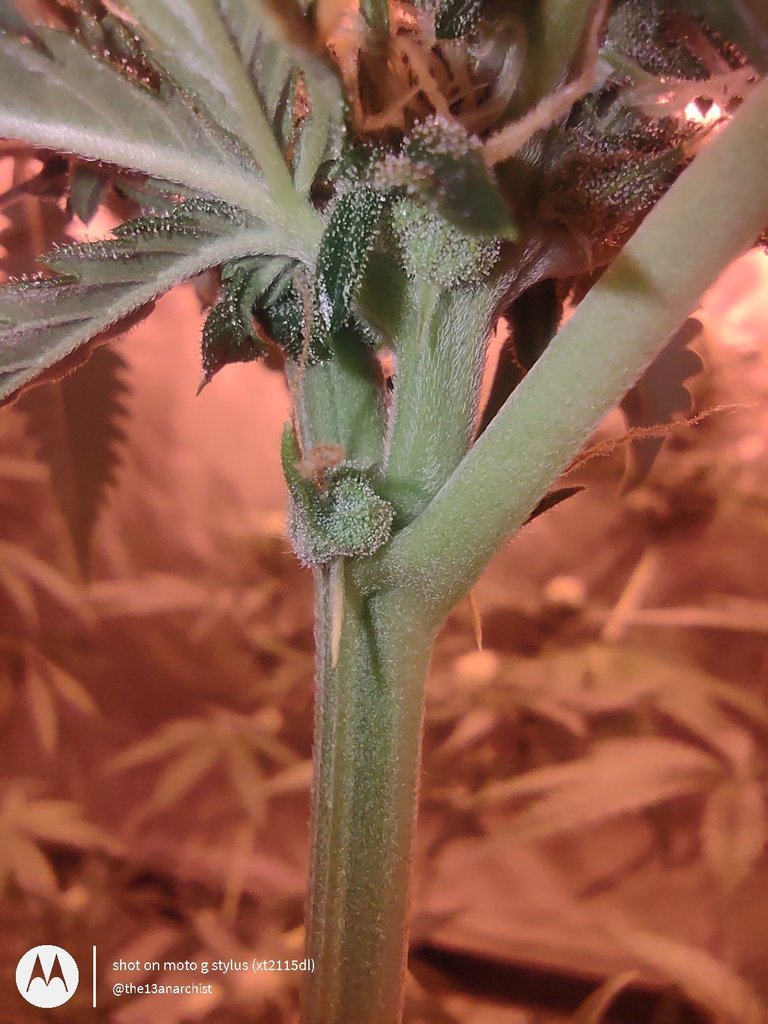 The only balls we like to see on our babies!

January 1st
Honestly, I really couldn't believe it when I checked on the plants the very next day - January 1st. The buckets were light AGAIN! Man, do these babies really soak up that moisture! But, I also noticed that the leaves are starting to look really shiny, oily almost, and that DExTT #1 was starting to exhibit signs of nitrogen burn!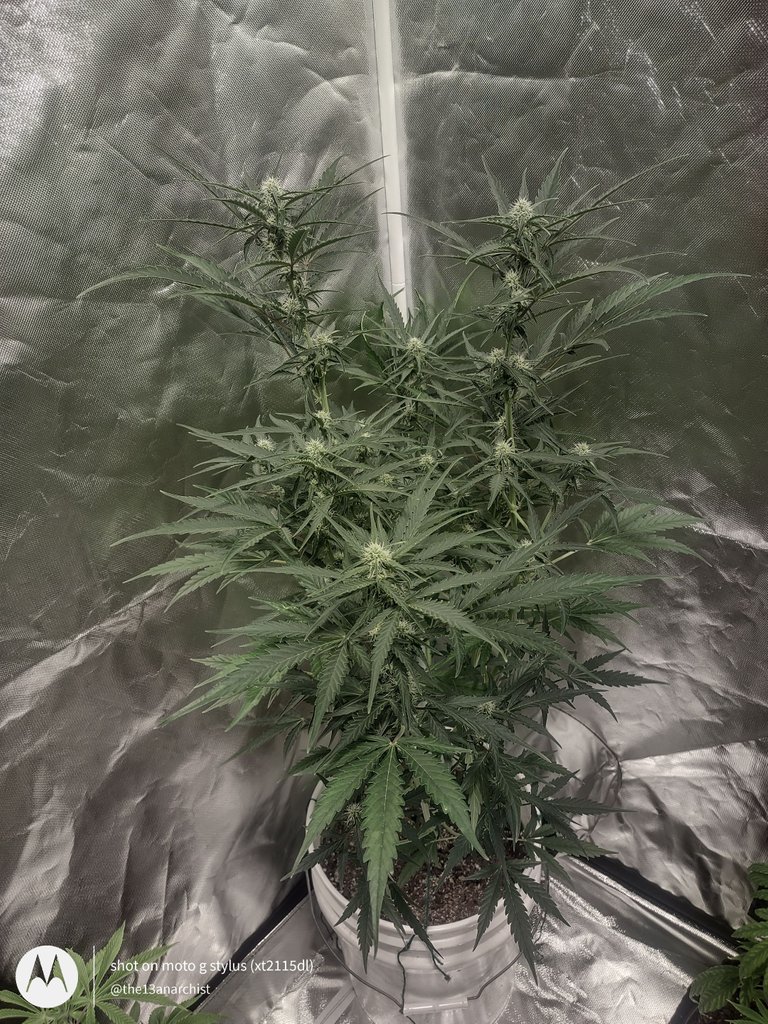 So, when I fed them this time, I completely cut out the Grow Big nutrients, and gave them both another 1/2 Gallon worth of a 20mL per Gallon solution of Tiger Bloom! The buckets have been draining really well, and I have been able to notice some slight puddling around the bottom! So while the bottoms of the buckets may trap some water, I feel really confident that it isn't becoming stagnant with how light the buckets get!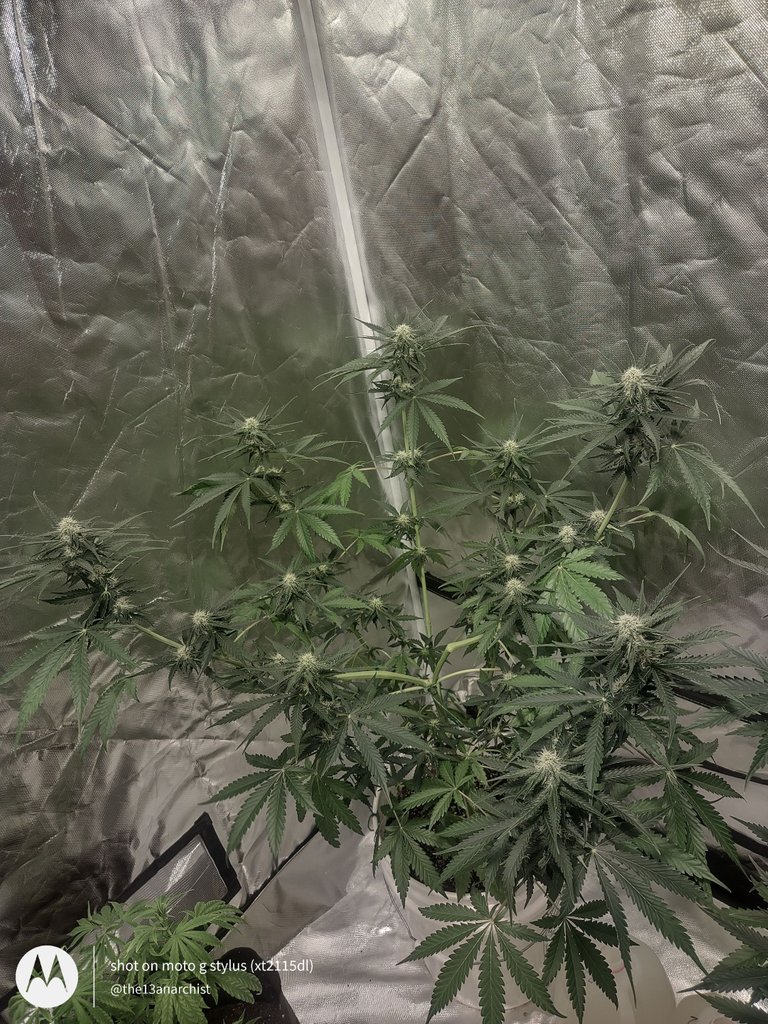 But, unfortunately, that's where we will end this post! I do apologize for the length, but again, I do want to get my blogs as up to date as possible! I have had a lot of wonderful things starting to take place - thanks to this amazing Community - which has also delayed my posts just a bit! But, as an inspired content creator, I do want to produce the best content I possibly can, so I truly hope you enjoyed this update!! 😊

On another note, I am currently working on a new business venture that I hope will bring more awareness to the WeedCash Community, so stay-tuned for more information on that, and as always, don't forget to tune-in next time for another 'After Hour's" Update!! Thank you all for stopping by, and I hope you all have a great week! Stay Trippy, My Little Hippies! ✌️💚


If you enjoyed this update, and would like to support my growth as a new content creator outside of the Hive Blockchain, please don't forget to subscribe to my Social Media Accounts via Linktree, or even by checking out the communities and company affiliates that I have listed below!
For those would like to help support my growth outside of the Hive Blockchain, I have also included a (temporary) alternative donation option in the form of a tip button on my Linktree via my personal PayPal account, or my new CashApp Business Account that I specifically created for this my new business venture! (Bitcoin and other Crypto donation options with lightning support coming soon via Atomic Wallet!)
All donations received will be used for business related expenses, such as hosting services, branding, business related utility expenses, products to test and review, as well potential upgrades to my current system for testing and review purposes! (More information on this business venture to come in a subsequent post!)
While voting, reblogging, or tipping is never required or expected, it is truly appreciated; more than you could ever possibly imagine!

New to Hive? You can sign up here to start earning rewards on your own original content!


Have you heard of the Saturday Savers Club yet!? Head on over to the @eddie-earner account to learn better savings habits from like-minded, savings-oriented Hiveans, as well as the ability to earn interest on your Hive with the EDS token!


Interested in starting your own indoor garden, cannabis or otherwise, but don't know quite where to start? A Pot For Pot aims to normalize growing marijuana like a houseplant, and takes all the guesswork out of indoor gardening with their specialized beginner Grow Kits, which includes everything you need - even their own signature soil and nutrients - to complete your first grow!
Every Grow Kit comes with a $40 seed voucher from their sponsored online seed bank, I Love Growing Marijuana, and even a Camera Lense Attachment for your Smartphone so even the most amateur photographer can take professional grade pictures! Just add a seed, some water, and sunlight! 💚



For my fellow smokers who like to toke on the go - whether its dabs, flower, or both - AirVape Vaporizers offers discreet handheld vapes that fit right inside of your pocket - so you can toke up no matter where life takes you! If flower or dabs aren't quite your thing, they even have a Keychain Vape designed specifically for cartridges!
Providing high-quality products at affordable prices to countries all over the world, AirVape Vaporizers are definitely worth looking into - and the Legacy Pro is quickly becoming my favorite way to smoke! So head on over today to find the perfect handheld vaporizer for your specific needs!



Looking to make some upgrades to your current grow setup from a reputable manufacturer? Well, then may I suggest VivoSun - which happens to be one of my newest affiliates that I am very proud to have an opportunity to promote!
If you haven't heard of VivoSun before, they happen to be one of the leading manufacturers of cannabis grow equipment and accessories - including tents, ventilation systems, and even various harvest accessories - which are all specially designed to help you grow the healthiest plants possible! Plus, with their commitment to quality, you know that you are getting some of the best products available!
I personally love the VivoSun brand tents, and would love to add one to my grow collection one day, like the 2x2 Tent Kit for clones or seedlings! But, I also like their ventilation options as well - like the Clip-On Fan and Inline Fan and Filter Combos!
They always have some sort of deal going on, but, if you've never shopped through VivoSun before, they offer an extra 15% off of your very first purchase! But even if you have used the VivoSun brand before, don't worry! If you use my affiliate code at checkout, you too can get 15% off of your purchase! So what are you waiting for?! :)
AFF15
(Copy and Paste for an easy checkout!)
For my more traditional potheads and glassware collectors that enjoy smoking out of high-quality pieces - such as pipes, bowls, or bongs - I definitely recommend checking out Smoke Cartel's wide variety of products!
Want to add to your collection of pieces, but don't know which piece to buy next? Smoke Cartel even offers Monthly Subscription Boxes (and even a Mystery Box) containing a variety of new glassware and accessories, delivered discreetly to your very own home!
As an added bonus to my followers here on Hive, you can save an extra 10% on your entire Smoke Cartel order by using my Official Promo Code during checkout!
THE13ANARCHIST
(Copy and Paste the code for a quick and easy checkout!)
Looking for new professional grade, not to mention smell-proof, packaging options for all of your cannabis products? Whether you are looking for containers for your flower, edibles, or even concentrates, Marijuana Packaging has everything you need to keep all of your products fresh and safe!
From child-resistant and tamper-evident packaging options all the way to mylar bags ,compliant labeling, both complete with optional customizable logos, Marijuana Packaging literally has anything and everything you need to suit all of your packaging needs!
This is perfect for home growers that like to donate products to local users, while making your packaging completely compliant with local packaging laws! They even provide various accessories like grinders, pipes, and papers and even cartridge filling machines!
So no matter what your looking for, whether you're a grower, concentrate processor, or even if you own (or are starting) a dispensary, Marijuana Packing has a wide variety of products to suit your specific needs, and make sure they stay fresh during storage!

All Brothers-In-Farms Genetics (BIF/BIFBeans.com) Logos/Breeder Information used with permission by the awesome BIFBeans.com Team!

Hive Logo created by Grimdank

Banners and Blog Dividers custom-created using Canva, using both BIFBeans.com and WeedCash.Network Logos by permission.

Signature provided by @doze, stop by his blog to see his newest Hive-inspired creations!

"Saturday Savers Club" Banner provided by the @eddie-earner and @susie-saver's Saturday Savers Club blog!

All other Affiliate Info/Banners provided by the respective Companies, and do include my Personal Affiliate Links!

This entire post was created on, and all of the photos used were taken by, my trusty old Motorola Moto G Stylus!
---
---