[Blue Dream × Lemon Diesel] Update
What's up my fellow Cannabis Lovers and Enthusiasts!? It's time to welcome you all back to another edition of:

This update is strictly about the [Blue Dream x Lemon Diesel] Level One Tester seeds that I recently got from Irvine Seed Company, but unfortunately, it doesn't have the ending that I was personally expecting!

In my last post, all of these ISC plants had received a (much needed) transplant, and I was a little worried that I had waiting a little too long to move them into their new homes!
It's been a little while since I posted the last ISC tester update, and I feel like it's time to show you all they progress these plants have made since that time!
This specific plant is a Regular Photoperiod strain, so I'm unsure as of yet if it will be a male or female, but after all this time, I really hope it is a female!

During the time spent in the closet setup, I was keeping that small 60W light on all the time; 24 hours a day, 7 days a week. This is mainly because of how small the light was, but also because Macronut said that he runs all of his plants on a 24 hour light cycle until he's ready to switch his Photoperiods into flower!
I wanted to go ahead and see how the plants responded to this, so I went ahead and followed the same schedule! The light itself was a little small for all the plants we had, but I feel like keeping the light on did help with light penetration, and making sure that the plants had the light they needed to survive.

Just like our other plants, I moved these beauties into the tent on November 29th, and attempted to start an 18-6 light cycle. The only reason I'm starting to limit the light hours is due to the energy costs of running a Metal Halide lamp!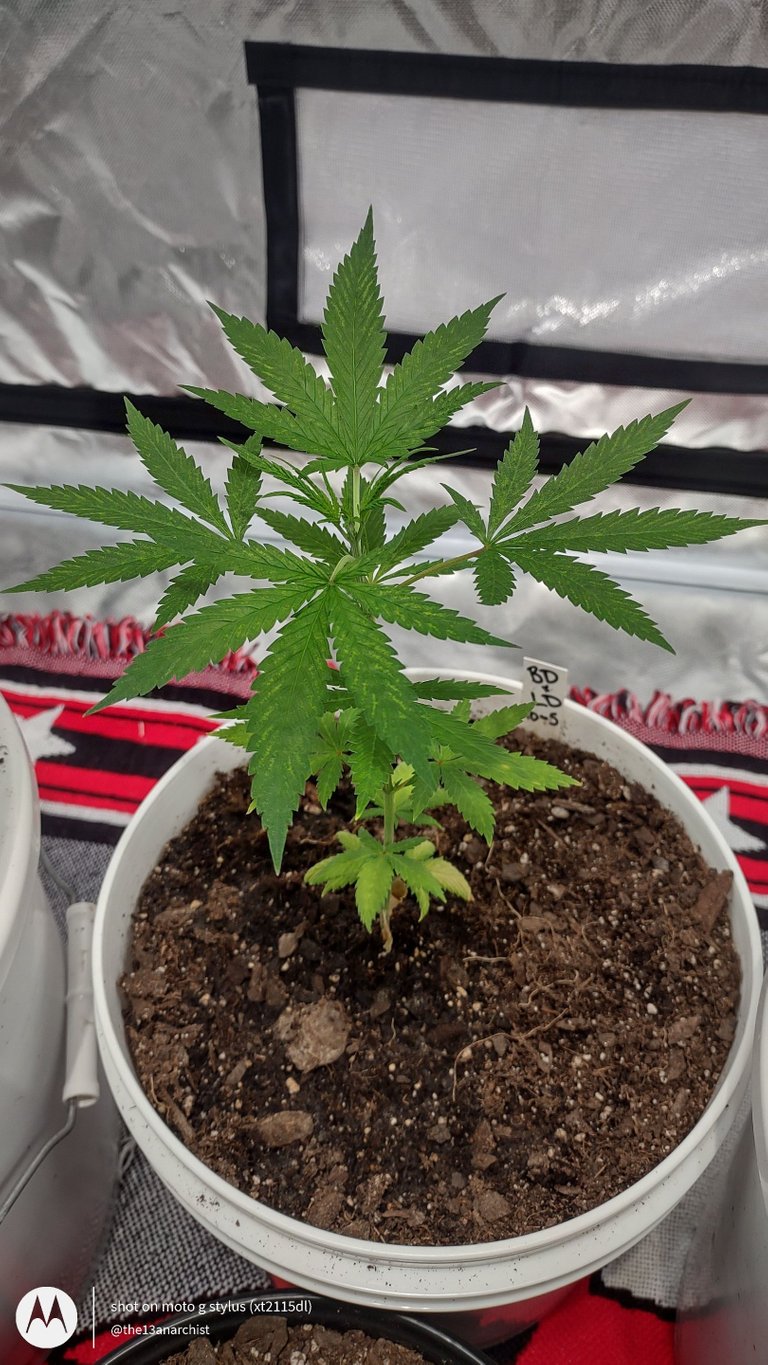 I have to admit, I haven't been the best at keeping a consistent 18-6, and have more often than not left the lights running for more than 24 hours before shutting them off.
I don't have a timer yet, so I have to manually unplugging the light, and sometimes it just skips my mind! But, once the light does get turned off, the tent remains undisturbed for 6 hours before starting another light cycle.

I started giving this plant some Grow Big Nutrients to see if I can combat the discoloration on the leaves. As you can see, the issues start at the bottom of the plant and working its way up, which could be a number of possibilities!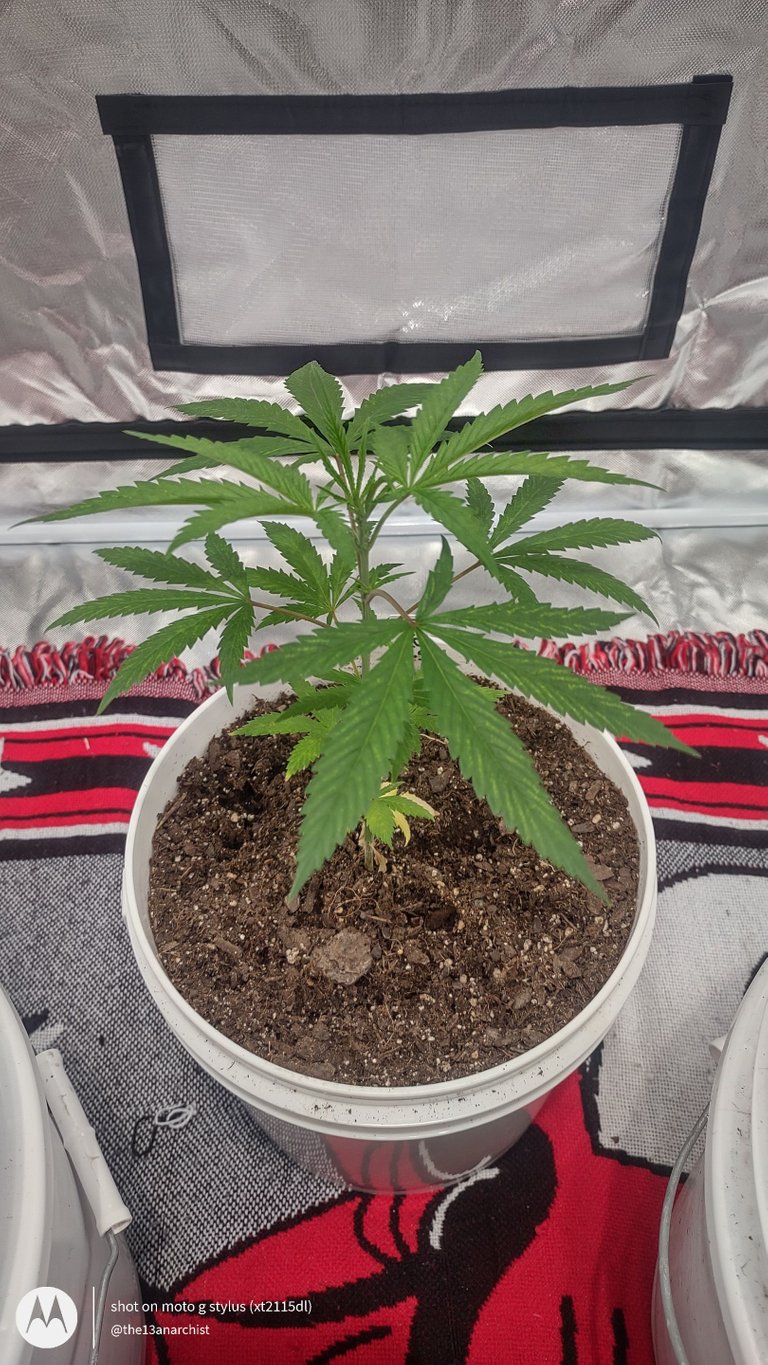 I ended up trying my hand at topping for the first time on December 3rd, and got this one right around the 7th node! This is the first time I've attempted to top my plants, so I really hope that it goes well!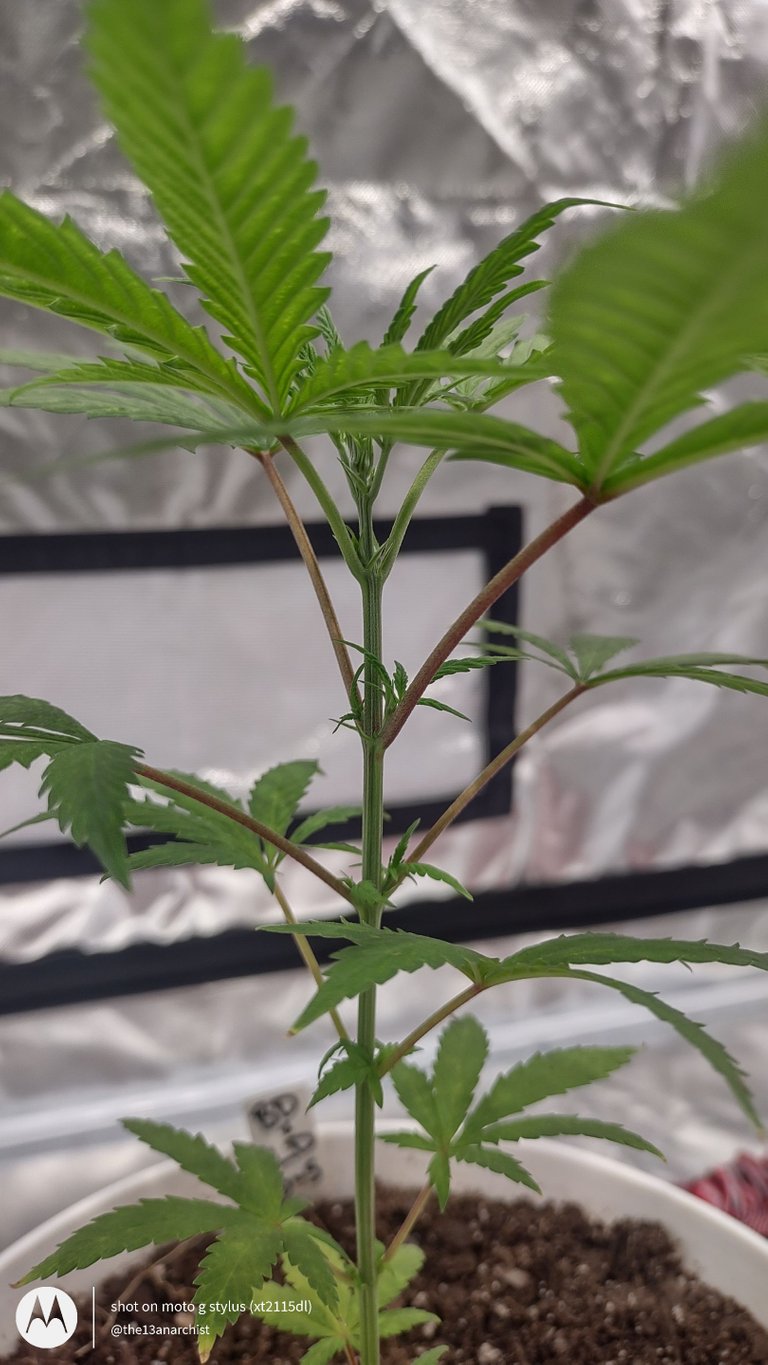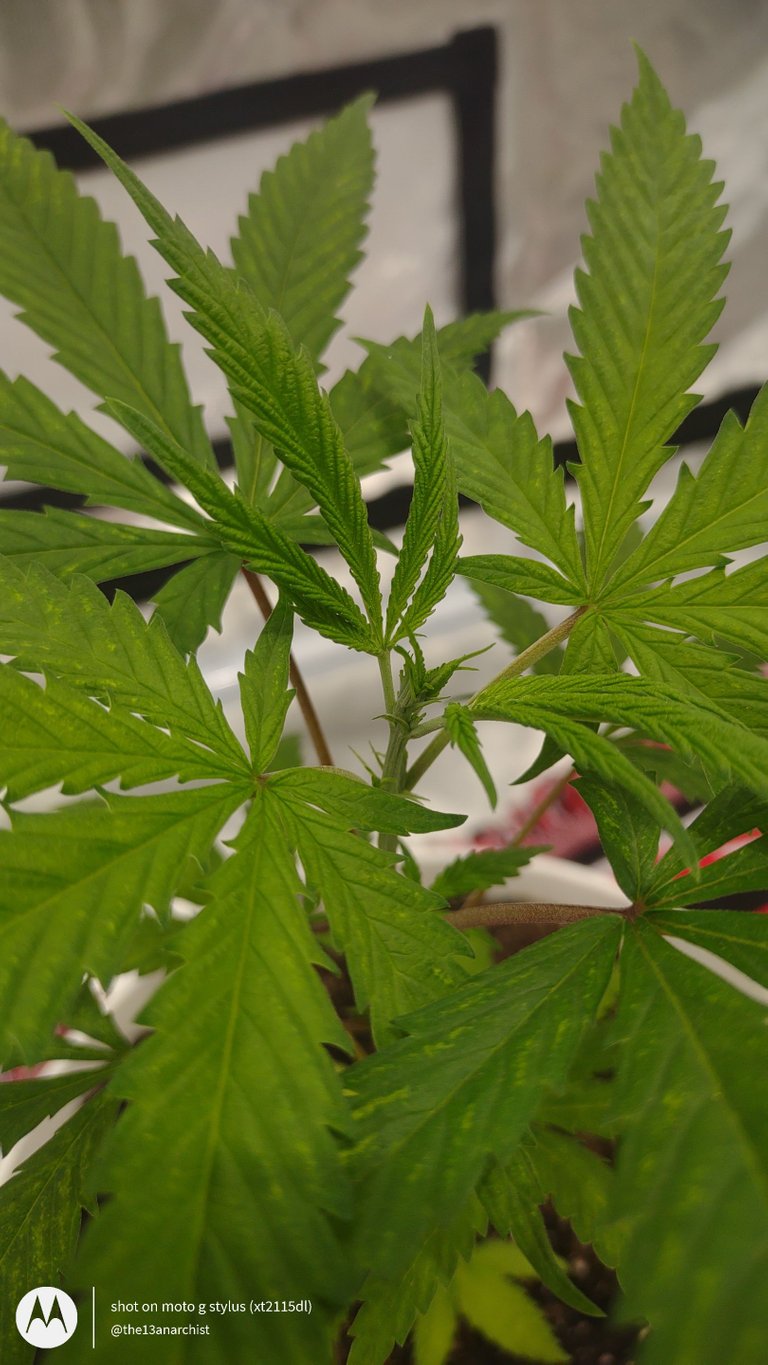 It seemed to respond pretty well to the topping, and even though the discoloration is still there, the plant is looking healthier in my opinion!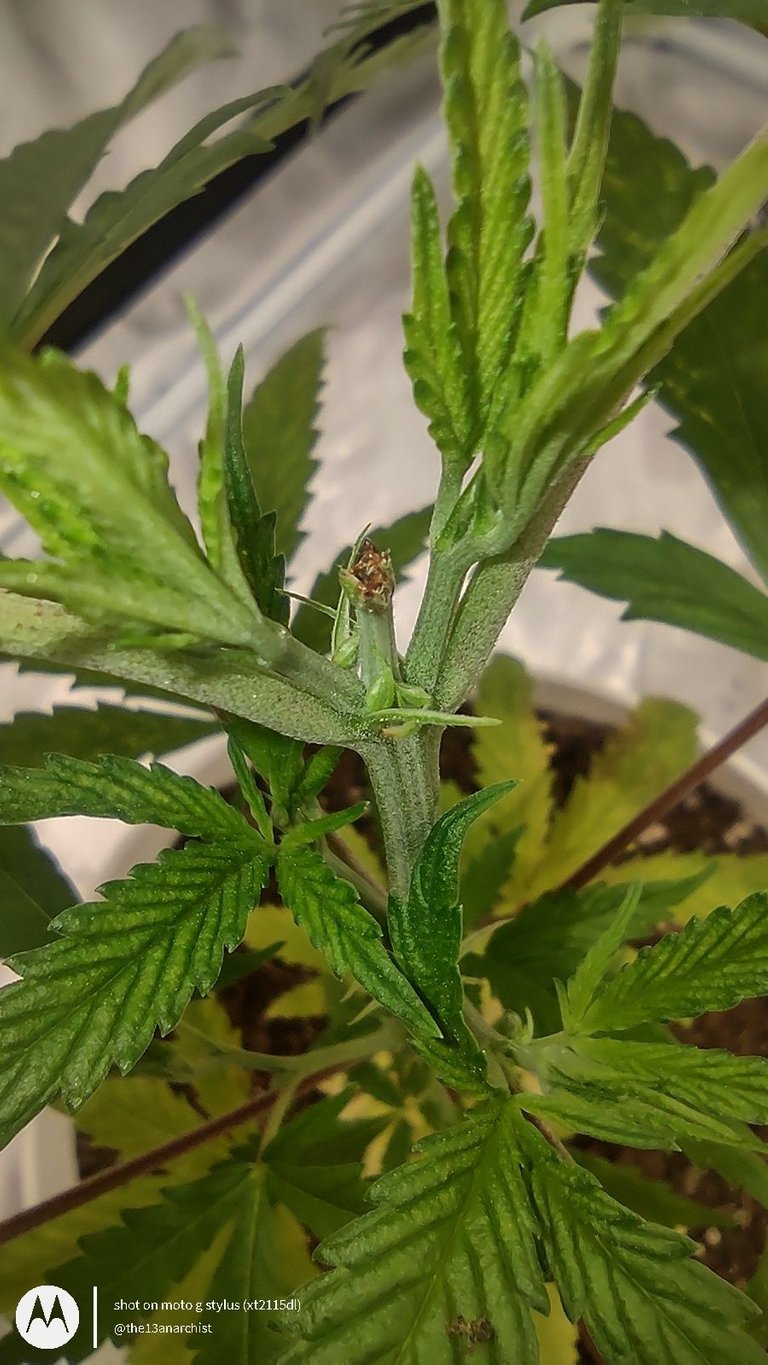 I've also tried to keep my watering to a minimum with these plants, and I've been giving this plant about 2 cups per water every feeding, alternating between regular water and the Grow Big nutrients.

It does seem to respond well after feedings, but the discoloration still remains an issue! I'm unsure if this is due to root lock, a pH imbalance, or something else entirely, but it something I will continue to monitor closely!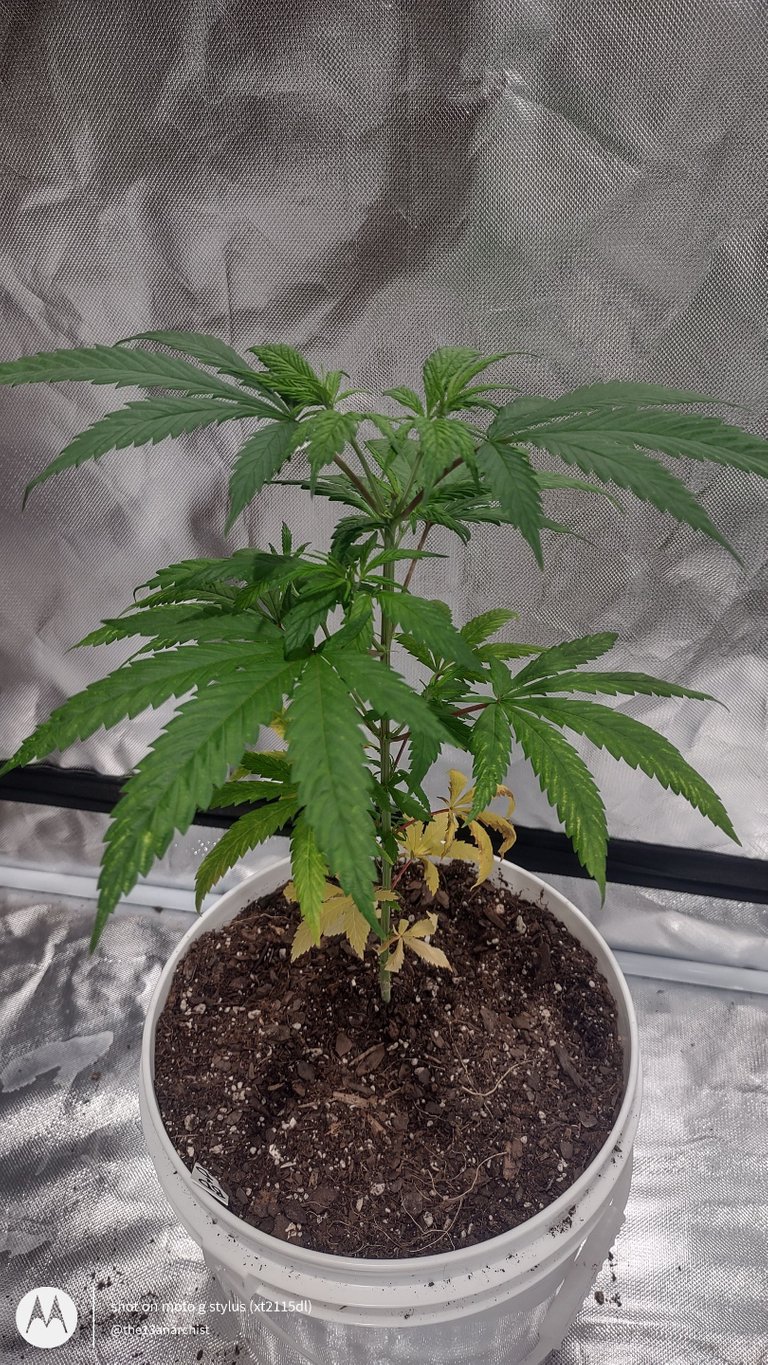 This plant is also starting to smell now, and the leaves are starting to get pretty sticky looking too! Personally, I think it smells pretty gassy, like you'd expect from a diesel strain, but also with a hint of a citrus, and overall, it smells pretty sweet too!

Other than the discoloration of the leaves, being almost bleached white at the bottom of the plant, this strain did respond well to being topped, and in my opinion, is a very resilient strain!
I can't wait to see how this plant continues to grow, and hopefully I am able to figure out the issues this plant is having, because as of right now, it's the only plant that seems to be suffering from some sort of deficiency!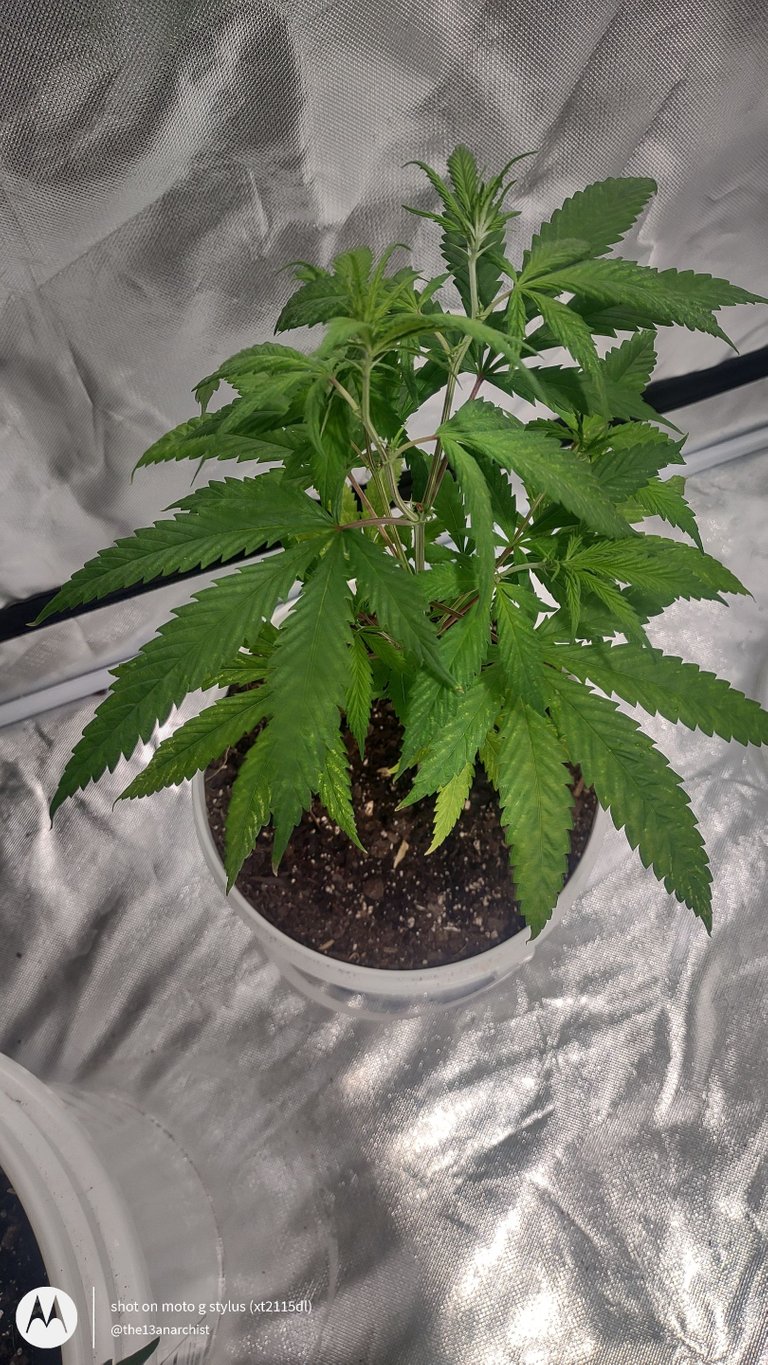 I did end up removing the bottom sets of leaves since they were suffering so badly from whatever deficiency this plant is ailing from!

I continued to alternate between water and nutrients, as well as limit the amount that I fed it, to right about 2 cups per feeding! I did continue to monitor it closely, checking on them multiple times throughout the day.
But, unfortunately, I did notice that this plant was in fact a male on December 19th! This is truly upsetting to me, and while I knew there was the possibility, Blue Dream is one of our favorite strains and I was really looking forward to growing this one out!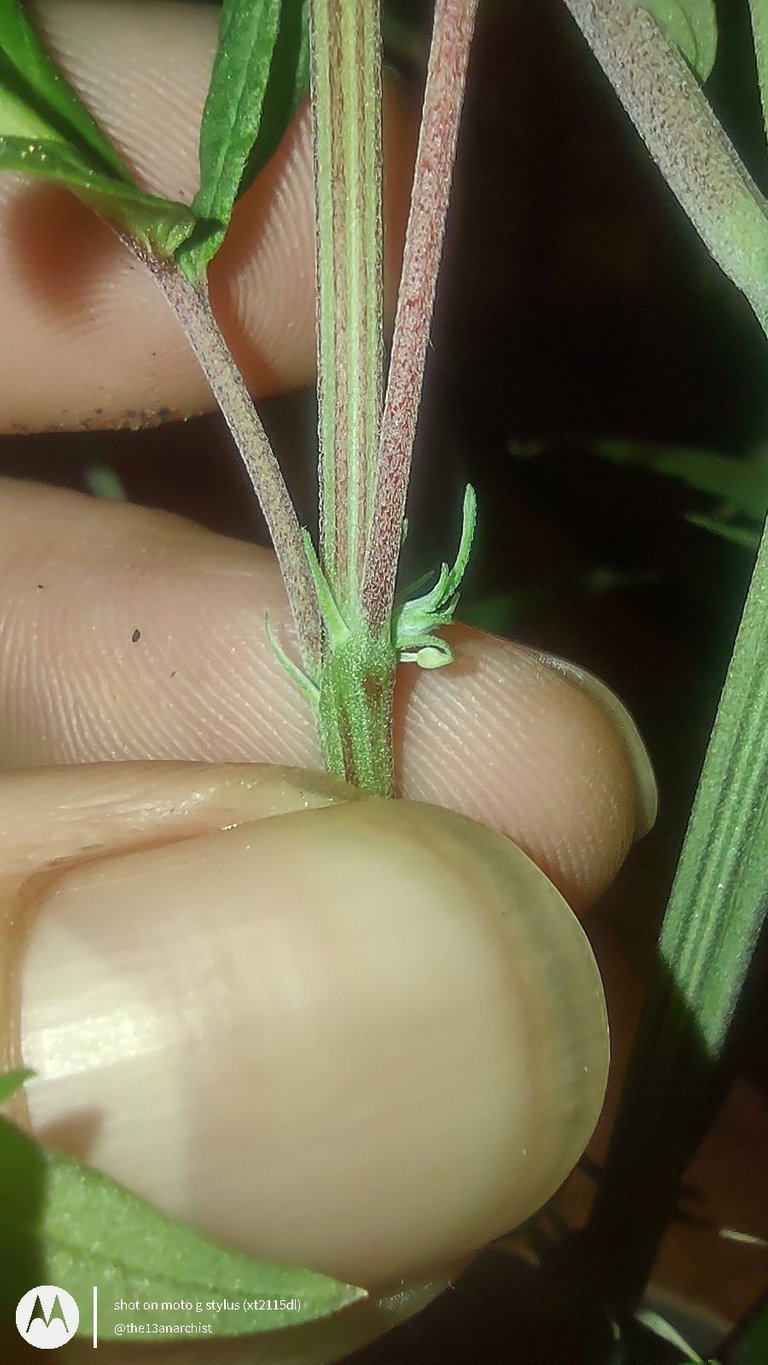 I'm not entirely sure if this one was just destined to be a male, which is entirely possible, or if the stress of the transplant in combination with the small pot was enough to encourage a sex change or not. But, that's also just apart of growing regular seeds, you never know what you will get!
As I'm not really in a position to keep males for cross breeding purposes, I went ahead and pulled the pot out of the tent, and disposed of it as quickly as possible!

So, unfortunately, that will bring an end to this plant, and although this was intended to be the start of a new strain series, it's unfortunately the only post about this specific strain! Hopefully I'll be able to try out another Blue Dream strain one day, but I guess it just wasn't meant to be this time!

Thanks for stopping by, and I hope you all have a great week! Don't forget to tune-in next time for another "After Hours" Update! Stay Trippy, My Little Hippies! ✌️💚


If you enjoyed this update, and would like to support my growth as a new content creator outside of the Hive Blockchain, please don't forget to subscribe to my Social Media Accounts via Linktree, or even by checking out the communities and company affiliates that I have listed below!
For those would like to help support my growth outside of the Hive Blockchain, I have also included a (temporary) alternative donation option in the form of a tip button on my Linktree via my personal PayPal account, or my new CashApp Business Account that I specifically created for this new online business venture!
All donations will go towards growing expenses first and foremost, as well as potential affiliate products to test and review for my Blog!
While voting, reblogging, or tipping is never required or expected, it is truly appreciated; more than you could ever possibly imagine!

New to Hive? You can sign up here to start earning rewards on your own original content!


Have you heard of the Saturday Savers Club yet!? Head on over to the @eddie-earner account to learn better savings habits from like-minded, savings-oriented Hiveans, as well as the ability to earn interest on your Hive with the EDS token!


Interested in starting your own indoor garden, cannabis or otherwise, but don't know quite where to start? A Pot For Pot aims to normalize growing marijuana like ahouseplant, and takes all the guesswork out of indoor gardening with their specialized beginner Grow Kits, which includes everything you need - even their own signature soil and nutrients - to complete your first grow!
Every Grow Kit comes with a $40 seed voucher from their sponsored online seed bank, I Love Growing Marijuana, and even a Smartphone Camera Lense Attachment so even the most amateur photographer can take professional grade pictures! Just add a seed, some water, and sunlight! 💚


Looking to replace your old liquid nutes with a high-quality powdered formula? SimPro Formula Nutrients is exactly what it claims to be, Simply Professional! Made with organic seaweed, yucca, all-natural minerals, and amino acids, these specially formulated powdered nutrients are developed By Professional Growers, For Professional Growers!
Whether your plants are still in Vegetation, or even if they are already Flowering, SimPro Formula One-Part Powdered Nutrients are specially designed to give you Simply Professional results during your entire plants life cycle! For those of you (like myself) who reuse their soil, SimPro also makes a Microbe Formula packed with beneficial bacteria and mycorrhizal fungi to help rejuvenate your soil after harvest!
For my fellow smokers who like to toke on the go - whether its dabs, flower, or both - AirVape Vaporizers offers discreet handheld vapes that fit right inside of your pocket - so you can toke up no matter where life takes you! If flower or dabs aren't quite your thing, they even have a Keychain Vape designed specifically for cartridges!
Providing high-quality products at affordable prices to countries all over the world, AirVape Vaporizers are definitely worth looking into - and the Legacy Pro is quickly becoming my favorite way to smoke! So head on over today to find the perfect handheld vaporizer for your specific needs!


Have you ever wanted to make your own edibles, but don't know where to start? Or, maybe you just doubt your ability to produce a high-quality butter or concentrate? Might I recommend the world's first countertop herbal extractor - The Magical Butter Machine!
Fully automated, and complete with everything you need, this truly magical machine takes the stress out of making your own cannabutter, gummies, concentrates - and even tinctures - from start to finish; all from the comfort of your very own home!


For my more traditional potheads and glassware collectors that enjoy smoking out of high-quality pieces - such as pipes, bowls, or bongs - I definitely recommend checking out Smoke Cartel's wide variety of products!
Want to add to your collection of pieces, but don't know which piece to buy next? Smoke Cartel even offers Monthly Subscription Boxes (and even a Mystery Box) containing a variety of new glassware and accessories, delivered discreetly to your very own home!
As an added bonus to my followers here on Hive, you can save an extra 10% on your entire Smoke Cartel order by using my Official Promo Code during checkout!
THE13ANARCHIST
(Copy and Paste for an easy checkout!)

All Links (other than the Irvine Seed Company Link) in this post are Affiliate Links - this doesn't change the price you pay for your items, but I do earn commissions on sales - which helps support the continued growth of my content!

All Irvine Seed Company (Irvine Seeds/ISC) Logos used with permission by Irvine Seed Company!

Hive Logo created by Grimdank

Banners and Blog Dividers custom-created using Canva, using both Irvine Seed Company and WeedCash.Network Logos by permission.

Signature provided by @doze, stop by his blog to see his newest Hive-inspired creations!

"Saturday Savers Club" Banner provided by the @eddie-earner and @susie-saver's Saturday Savers Club blog!

"MagicalButter.com" and "Simply Professional" Banners custom created using the respective Affiliate Logos on Canva!

All other Affiliate Info/Banners provided by the respective Companies, and do include my Personal Affiliate Links!

This entire post was created on, and all of the photos used were taken by, my trusty old Motorola Moto G Stylus! (And unfortunately, I'm going to need an upgrade soon 🤣)
---
---