Wednesday Walk - Forest Lawn Cemetery
It's been a couple of weeks since I've done a #WednesdayWalk. The weather has been terrible here. Here was my last post to this community.
https://peakd.com/hive-155530/@the-bitcoin-dood/my-first-wednesday-walk-i-just-realized-they-outlawed-my-entire-childhood
It was a beautiful day today and I thought I'd get out to the park. Apparently, everyone else had the same thought. When I got there the place was packed. I then decided on someplace a little less active.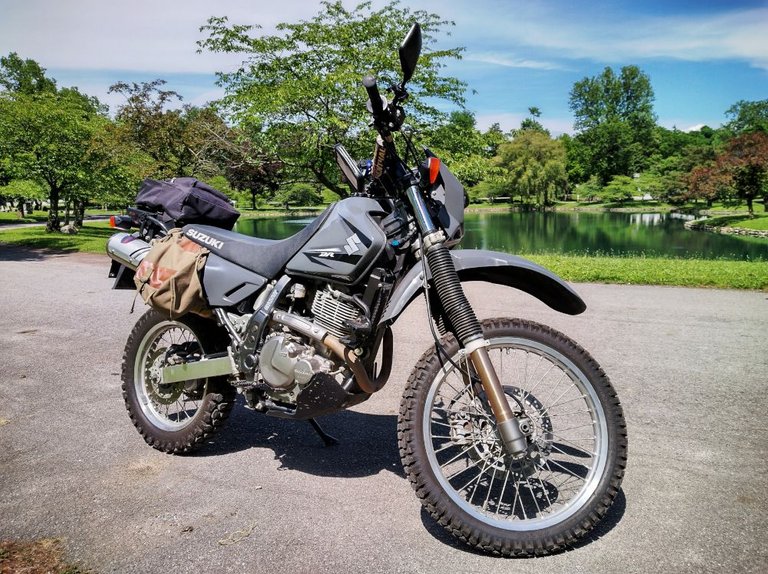 I ended up in Forest Lawn Cemetery. This is a historical cemetery located in Buffalo NY. Many of the plots here are from the 1800s. There is even a president buried here someplace. I'm not sure where though. Sooner or later I'll have to investigate and snap a picture.
So the cemetery might seem like a morbid place for a walk but there is so much beauty here. Hopefully, the pictures will capture the beauty of this place. The reason I didn't want to be in the park was that I wanted to smoke a joint in peace! It's legal now, but I didn't want to be a nuisance either.🤣 Plus, I like getting high out in nature.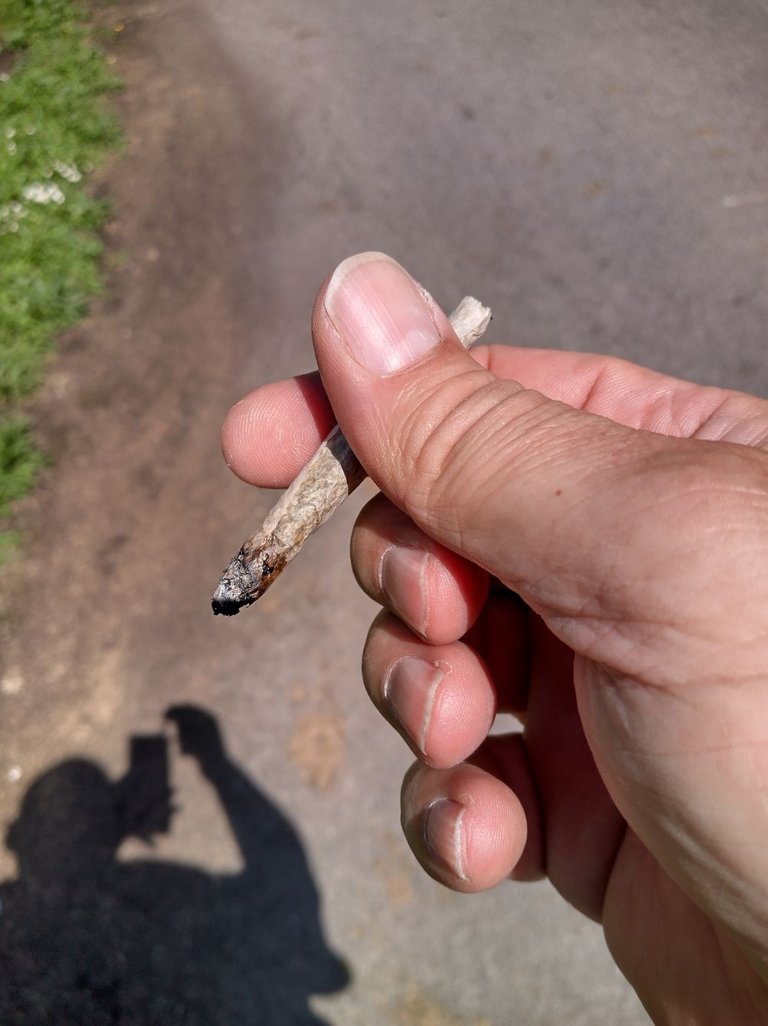 IDK what it is about smoking a joint out in nature, it just feels good. Oh, that's actually Delta8 I'm smoking mixed with a little Delta8 hash. The cemetery was empty enough to not be a bother to anyone so I lit it up during my stroll. I really just wanted to get out of the house for a bit and smoke one.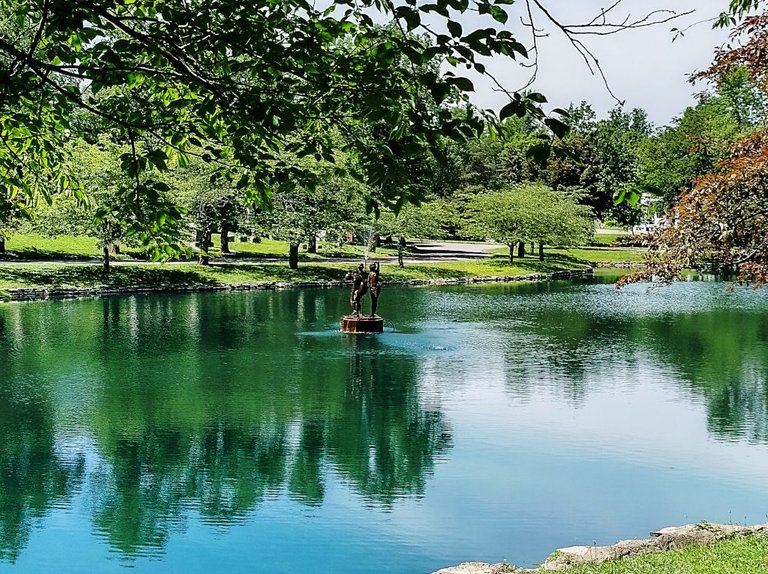 This fountain is really cool. I should have brought my Nikon to snap some better pictures. These were shot on my Nokia mobile phone. I walked around this pond about 5 times and each time I saw something really cool. On top of that, I skipped the treadmill today, so this was my exercise for the day.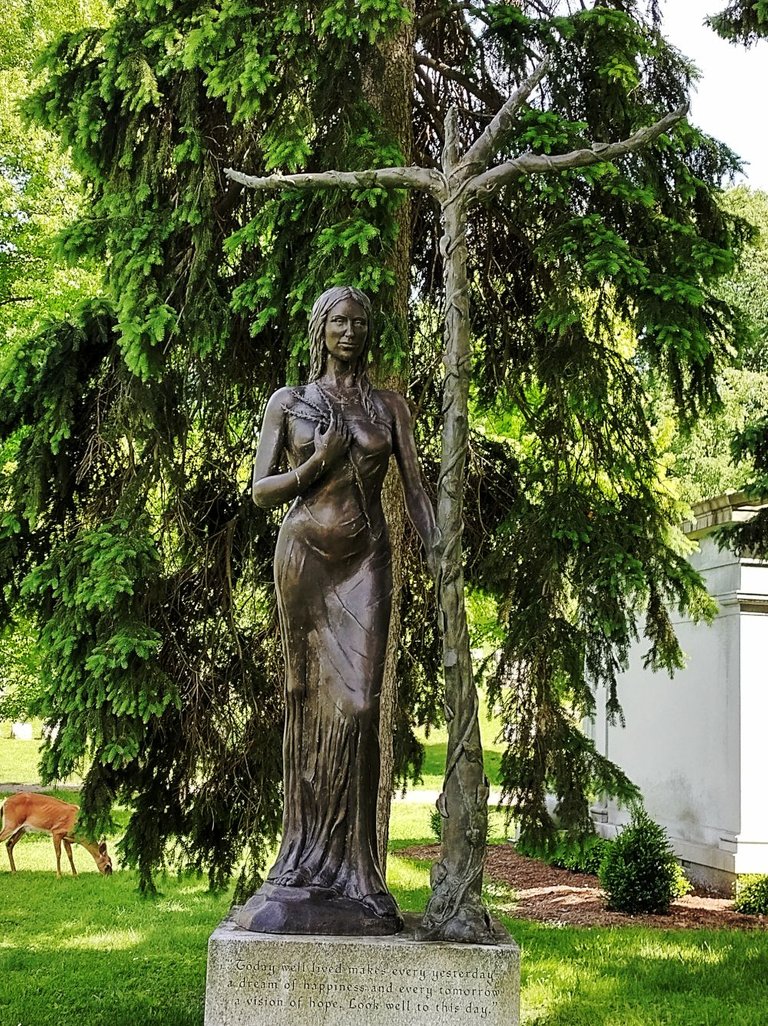 This was such a beautiful monument and look at the deer behind it. I should have centered this one better but I didn't want to lose anymore of the deer.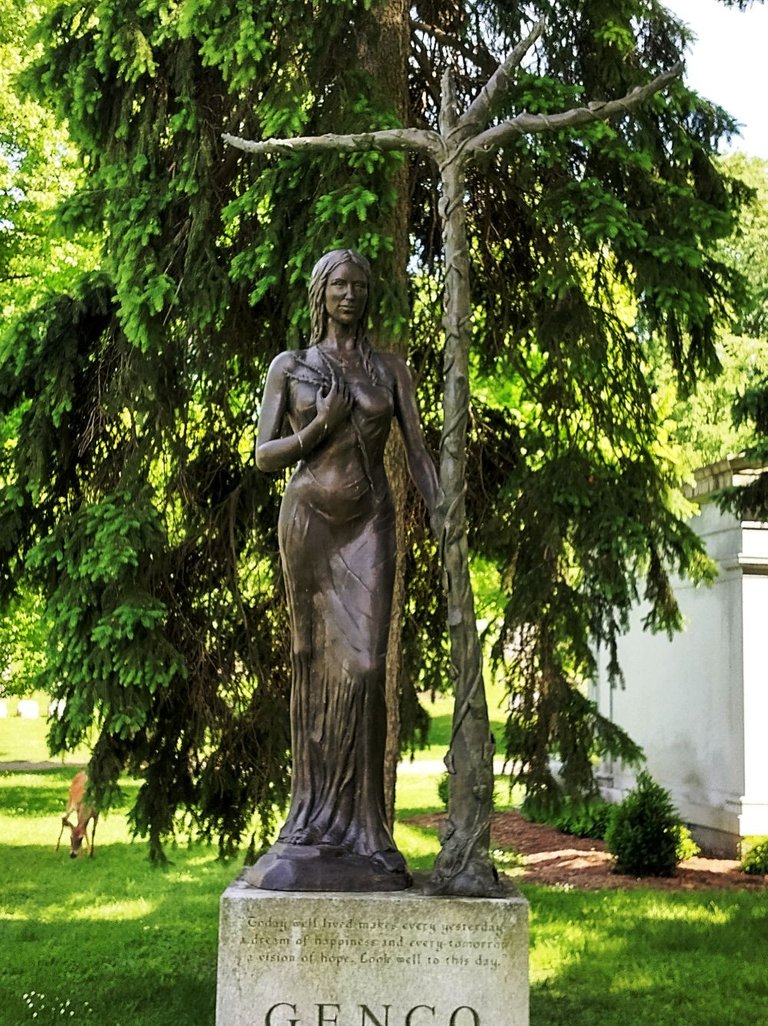 Here she is again peaking out from behind some branches. I'm pretty sure Genco was the importing business in the Godfather movies. I thought that was interesting. Genco Olive Oil. No affiliation I'm sure but thought I'd point that out.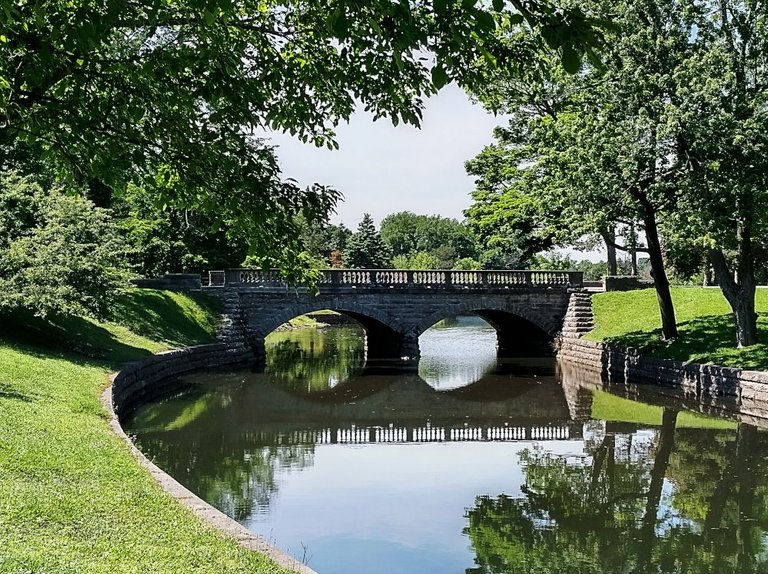 The light was harsh in the mid-afternoon sun but I like the way this bridge came out. You don't see much stonework like this anymore. This place is actually a touristy destination in Buffalo. The park is always full of joggers and walkers too. They even have bus tours and I shit you not, they used to have Goth day! 🤣 All the local Goths would picnic in the park.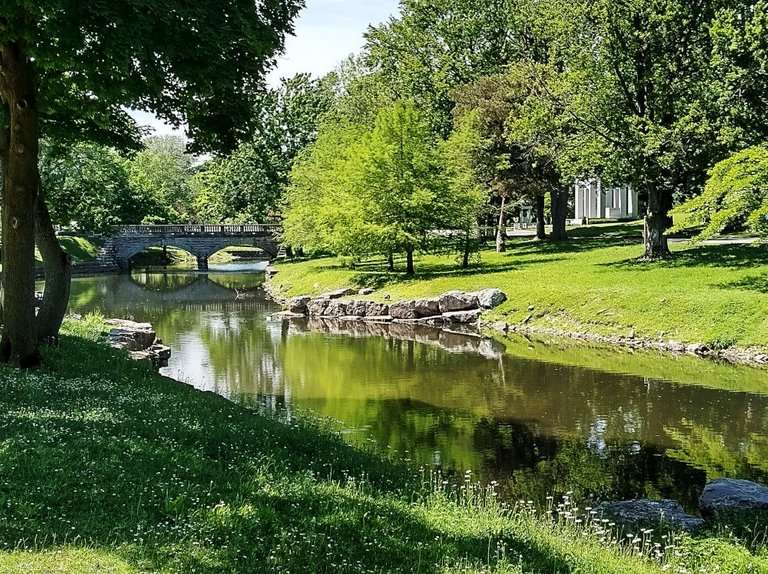 Here is another angle. You can see the road of private mausoleums to the right. Some of them are nicer than my house. I suppose if you got it like that, why not, you're only going to be spending eternity there.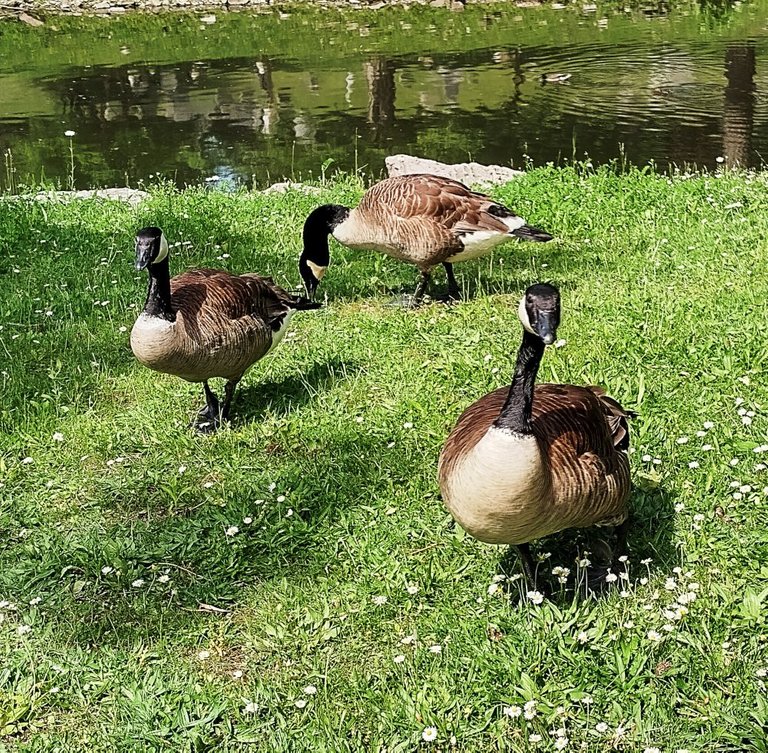 Here are some Geese along the creek. The one on the right looks like he's getting ready to start something so I backed off a bit 😁🤣 The other guy to the left looked like he was ready to back him up. 😂 The Goose in the back is just munching on some insects trying to stay out of the whole kerfuffle. Even the Geese in NY are hard 🤣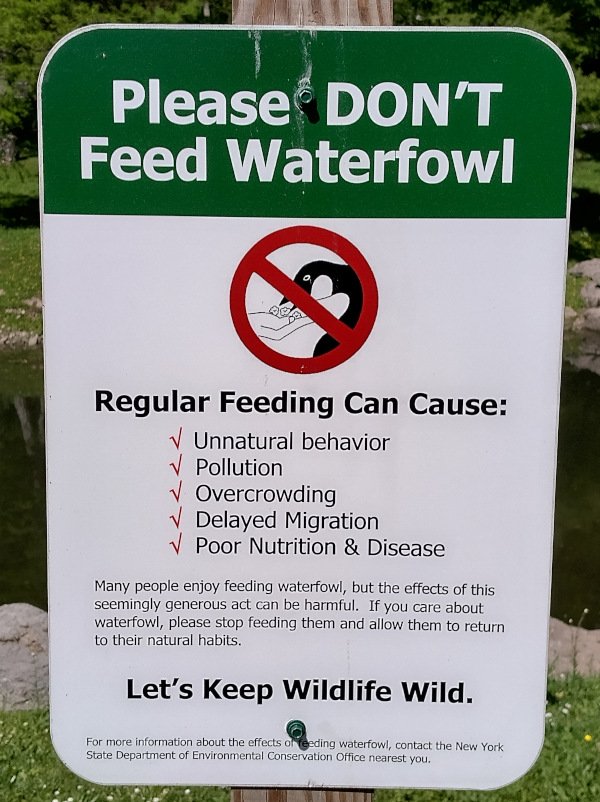 A lot of people were feeding the Geese. They're starting to get a little too domesticated. On top of that, they drop goose sh!t all over the place. It's like a small pile of goose crap everywhere you look.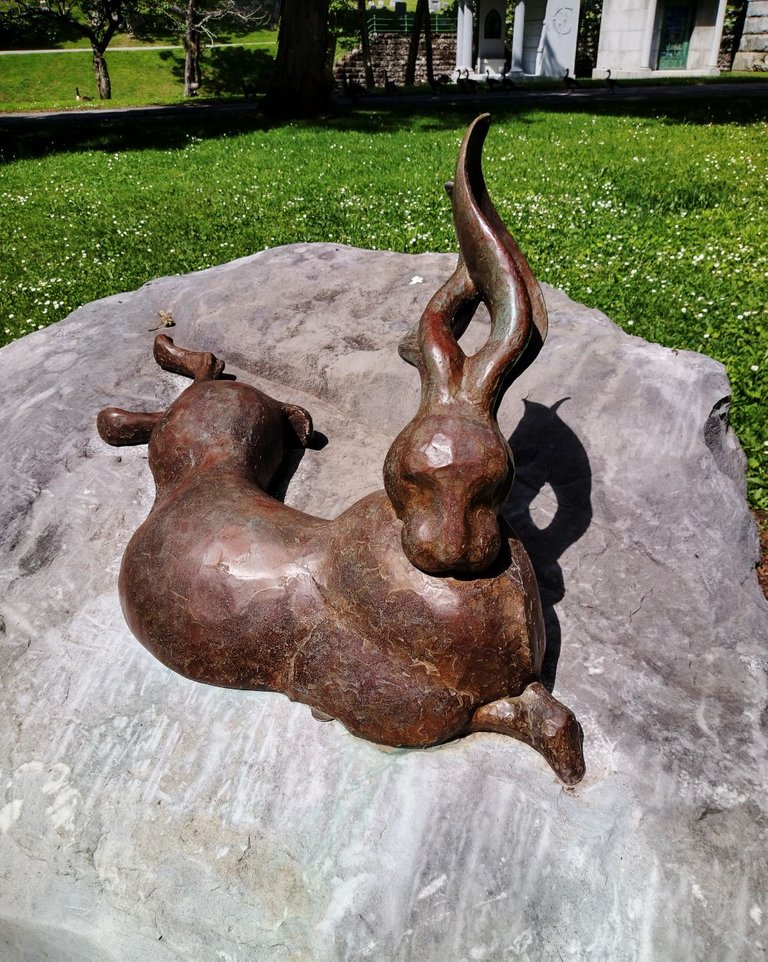 I have a thing for rabbits. When I was photographing the Genco monument I literally stumbled over this and had to snap a picture. One Wednesday I'm just going to walk around here and snap all the different cool monuments that I come across. Still, pretty cool rabbit. I wonder what the significance was. It's not everyday you see a rabbit on a gravestone. It must have meant something to someone.
Well, it was a lovely walk. I really enjoyed this one. I'll post some pictures from the park on my next Wednesday Walk. Until next time! Peace!
---
---