Strain Review: Purple Huckleberry ?
Got another snowstorm rolling in. I'll be spending the weekend snowed in and probably writing some strain reviews. I won't post them all over the weekend, but I'll get them written and edited. I'll start with this exotic I picked up a couple of weeks back. All across the internet, I keep randomly finding posts about purple pot. Some people swear by it, others feel it's overhyped. I came across some the other day, and here are my thoughts.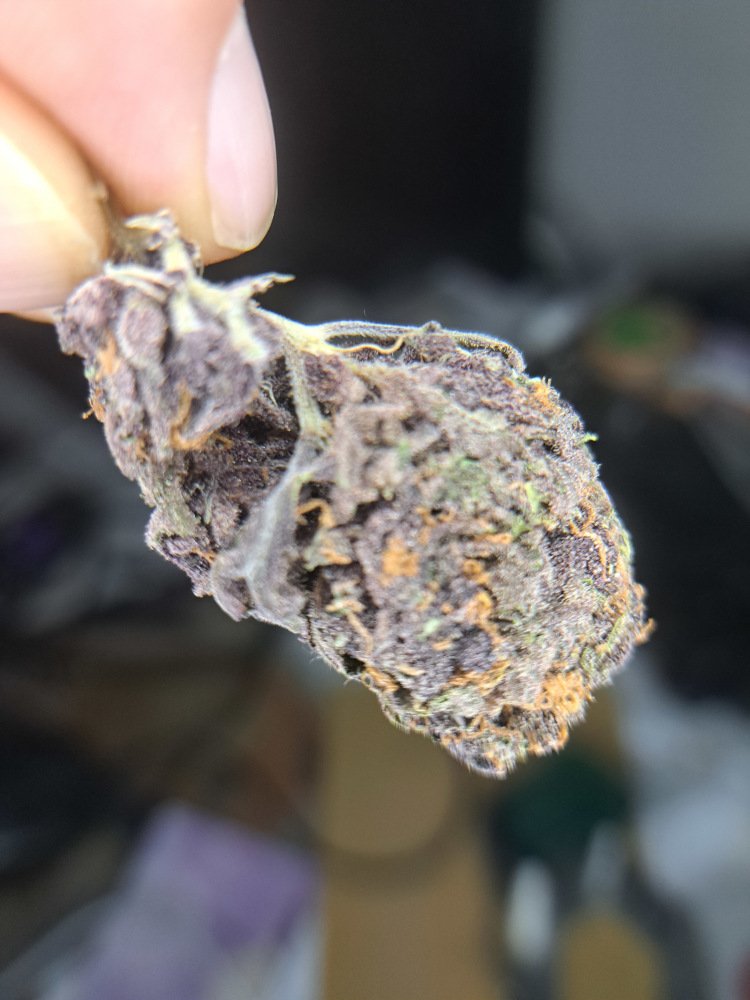 Strain: Huckleberry?
The budtender I got wasn't overly enthusiastic. Nothing worse than a sullen budtender. Anyway, I think there was an OG at the end of this or something, but he just wrote Huckleberry on the package. Thus the question mark in the heading. I'll have to start paying more attention on future dispensary visits and also ask more questions regardless of the budtender's personality. He wasn't mean or grumpy, maybe just burned out and tired. 🤣 A hard day at the office I guess.
Color: The buds are a combination of really dark green and deep purples. It's so hard to get the color of this in the photo. Probably the most unique color I've ever seen in buds. In the dispensary, it was just a dark purple pile of weed next to all the bright green buds of the other strains! It stuck out like a goth cousin in a family reunion photo. It was displayed right in the center of all the green buds too. In the right light, the bud is a nice deep purple however, the color alludes me in these photos.
Smelling: Besides the color, everything about this bud screams exotic. Incredibly aromatic and fragrant. Very citrusy with subtle hints of exotic international spices and lavender. Almost perfumey with musty undertones. The most unique strain I've ever smelled.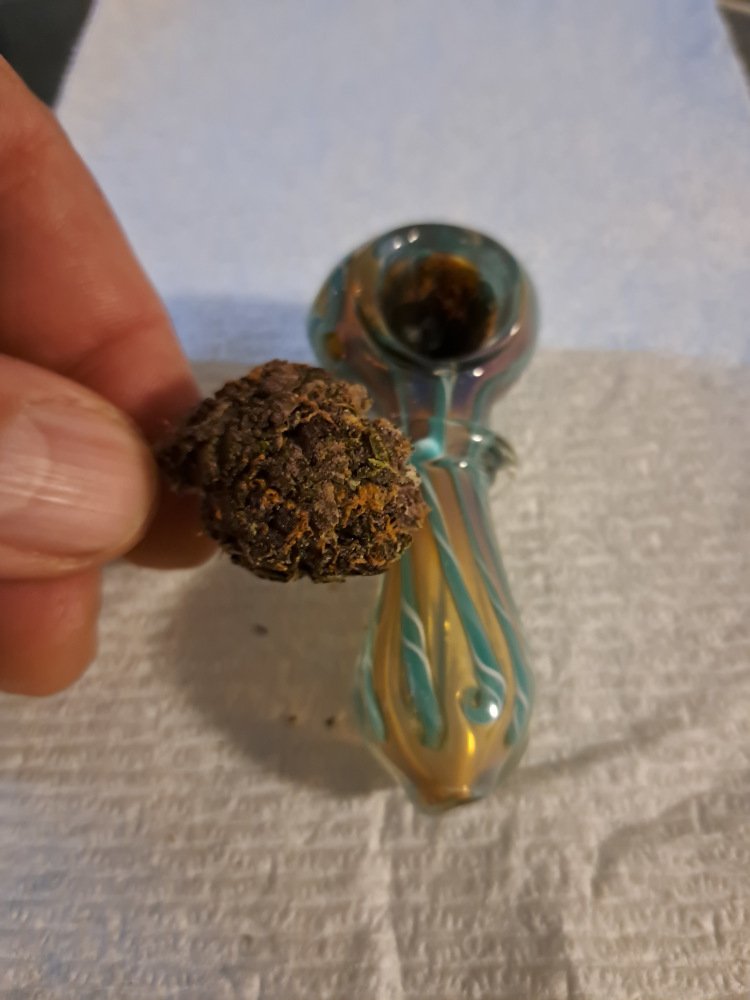 Tasting/Smoking: Earthy tones and musty. Subtle hints of wild mushrooms but also fruity. IDK, first thoughts. weird. Tastes good. Extremely dank and aromatic. Fragrant with a floral bouquet that's sweet and foresty.
The buds themselves were very dry. Seems to be just how this dispensary is. Dry is good, but too dry can be a bad thing also. They always seem to be leaning toward just a little dryer, and this weed would suck badly! It burns right up in the pipe too. THIS STUFF IS WAY TOO DRY! I only purchased a 1-gram bud though, and due to the dryness, the bud was pretty large. Still, it burns up way too quickly when the flame hits it! It almost evaporates when the flame touches it.
The top photo is magnified. In the magnified photo you can see the bud glisten with trichomes. Very sticky as it breaks apart. I recently stopped breaking apart my buds before smoking them in the pipe for this exact reason. Every little bit helps, and why leave sticky trichomes on your fingers? That sticky residue on your fingers is the trichome goodness your missing out on in your pipe and in your buzz. For this reason, I just drop the bud into the bowl of the pipe instead of breaking it up with my fingers.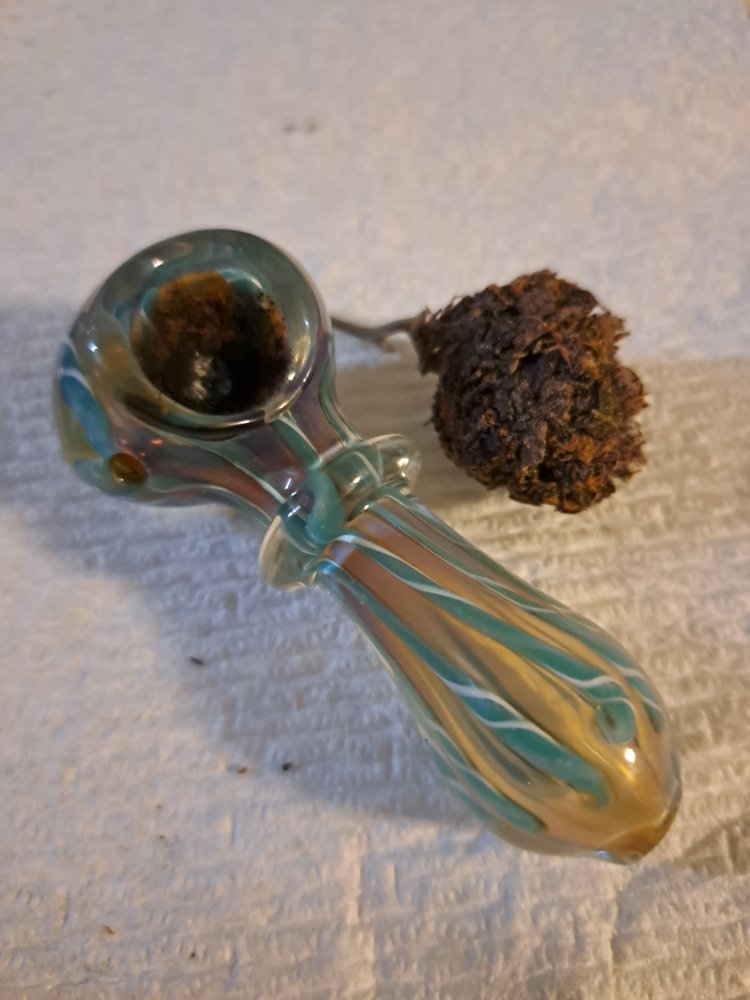 As far as potency, this stuff is potent, but it was priced at $15 a gram. I really expected a little more of a wallop in this price range. Don't get me wrong, it will certainly knock your socks off after a few hits, but I've had stronger. What it lacks in strength it makes up for in taste and character. This is just really good weed!
The buzz is spacey and euphoric. Extremely giggly and energetic. I could actually go for a jog on this weed. That's strange. The burnout is almost non-existent too. I love giggly weed. I've smoked this stuff several times now, and each time it made me smile and I kept giggling to myself over the stupidest thoughts. Being a fairly seasoned pot smoker, the giggles are not something I get often. This is definitely bud to pull out and share with good friends when storytelling and reminiscing. This is the fun stuff for sure. I'll probably smoke one more little pipe of this and put the rest aside for just such a special occasion. It's a very unique, spacey high. Very energetic. I'm guessing a really good Sativa from the buzz.
I don't know how much of the above has to do with it being purple. But as my first experience with purple weed, I would definitely try this strain again and I'll be looking for other purple buds at the dispensary now. All around I enjoyed this a lot. I'd give the Huckleberry a 7 out of 10 stars. I deducted points mainly for the dryness. Besides that, this stuff is fire!
Have a great weekend everyone! Smoke em if ya got em.
---
---