Strain Review: Let's Talk About Megatron and the Cosmic Dong!
I came across some Megatron at my favorite dispensary the other day. Loved the look and price so I scooped up enough for daily use over the next couple of months.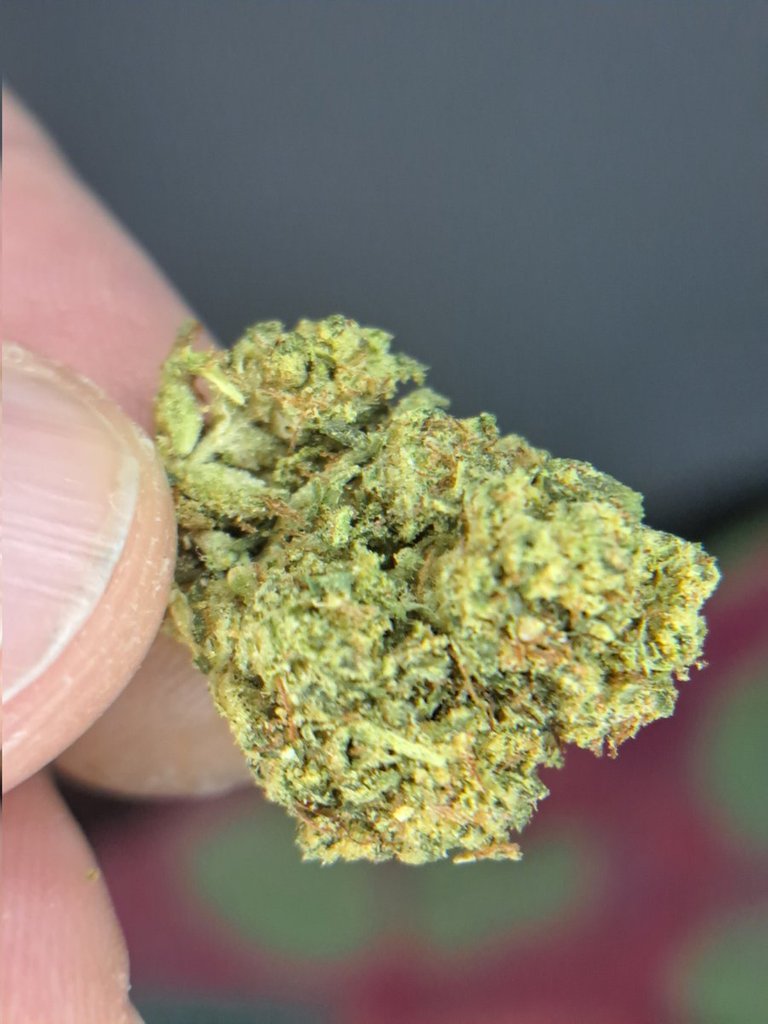 I recently picked up a magnifying light so the bud pictures should improve. I didn't take a lot of images of this one but they say an image can speak a thousand words. You can really see the sticky sweet goodness in this image. So tasty!
Price: This bud proves price isn't everything. The Megatron was priced at $3.60 a gram but you had to buy an ounce at a time. These $100 ounces have yet to disappoint and IMHO are comparable to their more expensive competing strains. The dispensary always has 3 or 4 strains to choose from in this price range and there's always at least one with a really high THC % that looks and tastes like more expensive exotics. This Megatron was that bud!
On that note, I think I'm going to start reviewing some of the $ 5-a-gram strains I've been finding. Now that dispensaries are beginning to open everywhere pricing is getting really competitive. I've been seeing some really nice-looking bud in the $5 section that I'd like to try soon.
Smell/Taste: My smeller and taster are really off this time of year. I'm getting really strong citrus tones with subtle hints of fresh-cut summer lawns. Musty with subtle earthy and foresty undertones.
Color: I love the look of these buds. Each bud was about the size of a US nickel or dime. The buds weren't super dense, but still nice and tight. White crystal-like trichomes glisten on the surface. You can also see the tiniest deep orange veins running through each tiny bud.
Buzz - The menu boasted a 25% THC for this one. The buzz is a nice rolling high. Definitely the type of weed to relax on the couch with. A nice daily smoker for sure. Not very in your face but nice and relaxing. Perfect for strumming a few notes on the guitar, or relaxing on the couch with a little TV. Soft and serene is a nice way to describe this buzz. Perfect for writing a blog post while listening to some downtempo or LoFi trip-hop. :)
For someone like me that uses cannabis to relieve lower back pain, this is exactly the type of bud I like to consume for close to daily use. You feel good with just a couple of hits, but later in the evening you can get nice and ripped if you want to by just hitting it a little harder. The buzz with this strain has never felt overwhelming or "too intense".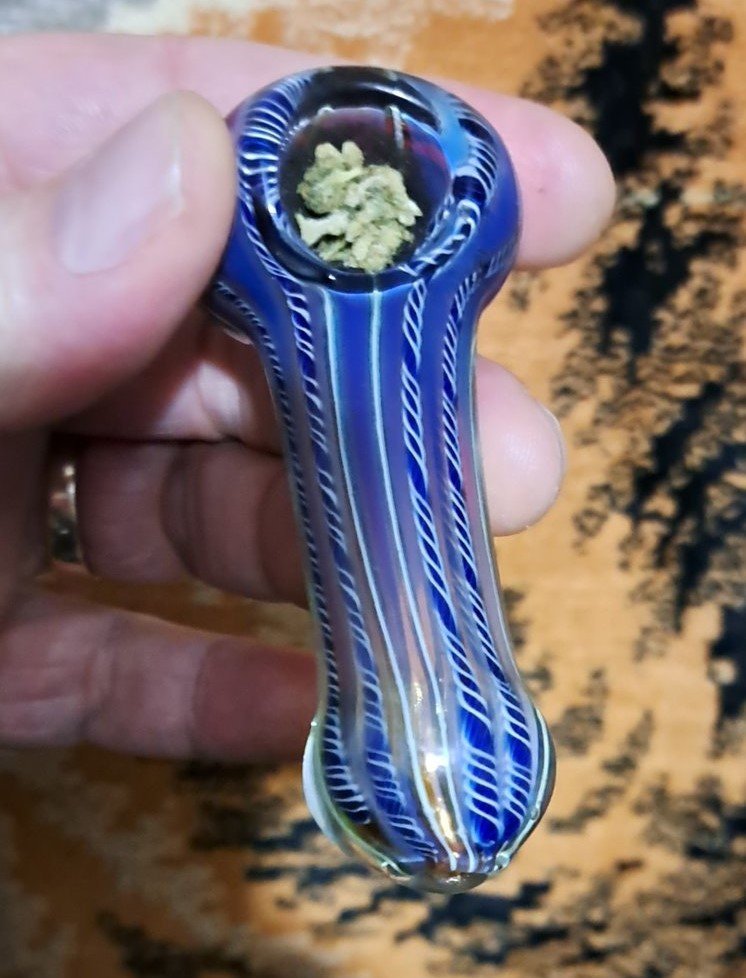 I've been on a quest for the perfect pipe and this ain't it. This pipe hits and tastes great but I can't get past the phallic shape of it all. It literally reminds me of a glass dick and balls 🤣 It really depends on the angle, but I bought a glass micro-penis for a bowl and I'm a little self-conscious about it 🤣 I've declared this pipe "The Cosmic Dong" because it hits really well and looks like a big blue cosmic dong!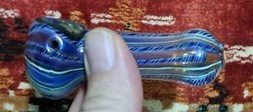 A couple of hits will induce pleasant feelings of well-being. Several hits will leave you with what I call perma-grin. Large amounts will leave you with that dopey stoner grin and posting silly penis pipe jokes on the internets.
Burnout is moderate. I'd guess this is an Indica/Sativa highbred. As relaxing as it is, it hasn't left me completely couch-locked and the buzz is very energetic at times.
Final thoughts! Money well spent. I keep finding new dispensaries with really great offerings, so I'll keep posting the strain reviews. I'd also like to look into doing some dispensary reviews down the road.
That's it for this post! More strain reviews coming soon! Thanks for reading and smoke em if ya got em.
---
---