Strain review: Ghostface OG - Hybrid Indica Cannabis - 21 and Over Post!
Time for another strain review and I have quite a review in store for you! This is a cannabis strain review, so if your not of legal age please leave now. With that said, the autumn weather has arrived in Western New York state. I was bored and decided to take a ride along the lake and stop at one of my favorite dispensaries. The ride is a little over an hour to get there, but well worth every mile IMHO.
A few months back I picked up some San Fernando Valley I was really happy with. The dispensary has a section with $100 ounces. All nice looking buds and incredibly reasonable. That wasn't on the menu this time, but I did find this incredible Ghostface OG with a 27% THC? I'm pretty sure that's what I read.
I asked to see the Ghostface OG and as soon as the man opened the bag I was sold. The entire room filled with the dank aroma of weed!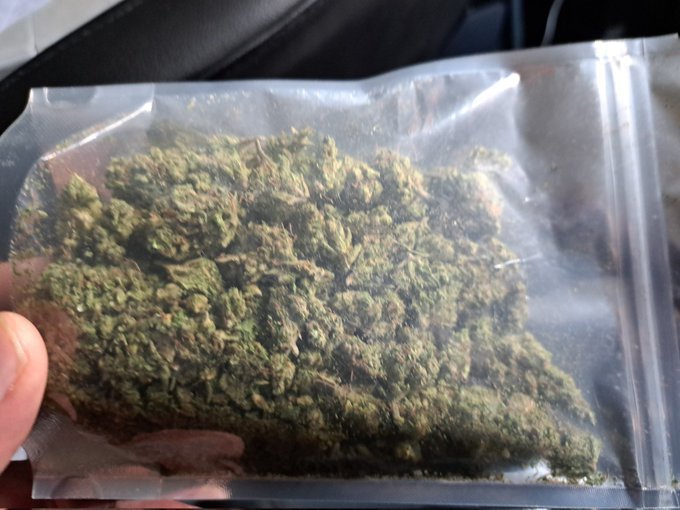 The bag looked a little shaky, but that smell. As soon as the sweet aroma hit my nostrils I had to have it. Just wow!
Basically I buy an ounce every 2 to 3 months. It saves me money buying the larger amount and I can legally have up to 2 ounces in my possession. For the most part, I only smoke late afternoon or early evening. Sometimes just a little before bed to help with insomnia and help maintain my now close to non-existent back pain. I can't stress enough, how much it has helped to relieve my backpain. From a dull nagging pain that throbbed, to just a slight pressure I feel when I bend a certain way. What a blessing. Anyway, this should last me about 3 months.
I'm telling you all this because there's nothing worse than buying an ounce of weed and discovering it's crap! Knowing you will be stuck with crap weed for the next 2 to 3 months is a real bummer man! I'm happy to report, THAT WAS NOT THE CASE WITH THIS!
I couldn't wait to get home and try this. I assure you I pushed the motorcycle a little harder on the ride home and exceeded the speed limit on a couple occasions. I couldn't wait to see if this stuff tasted as good as it smelled.
I always use the blue bowl when tasting. The bowl brings out all the natural flavors. I only smoke the most fragrant weed out of this pipe.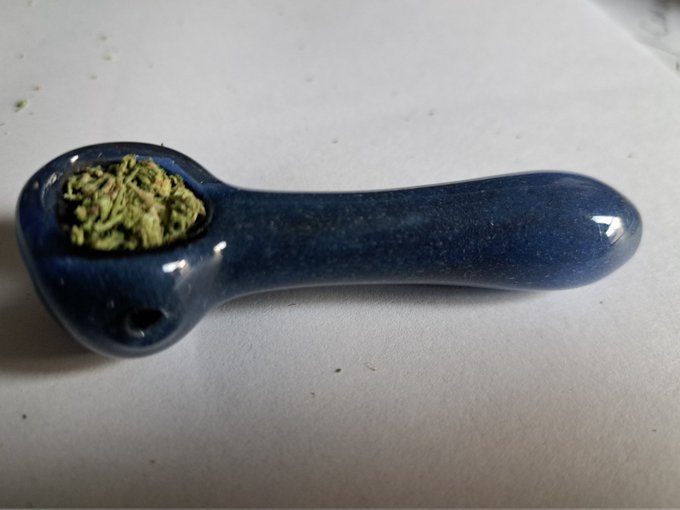 As I exhaled my first hit from the blue bowl I smiled from ear to ear. So dank and fragrant. I can't even describe the fragrant aroma. Full, robust, dank, sweet, a light essence of skunk.
There is weed I like to smoke in my bong, and then there is weed that I just want to savor the flavor... This my friends is that weed. Every hit is a pleasure. The smoke is dense but the hits feel light and you can taste the fragrance as you exhale.
I honestly don't think this weed was destined for the $100 an ounce bin. I have a theory on that in a moment. More about the smoke itself.
There is not a doubt in my mind this stuff is comparable to a lot of the $15 a gram exotics I buy occasionally when I want to change things up. The color and fragrance is definitely there. Two or three hits of this stuff and you're pretty high. After about 6 hits you're really pretty ripped. A full bowl and you're nicely stoned.
This is the type of weed that is so dank, all you smell is weed for about a half hour after you smoke it. I don't know if it's sticking to my clothes or coating my nostrils, but all I can smell is this weed for at least 30 minutes after I smoke it!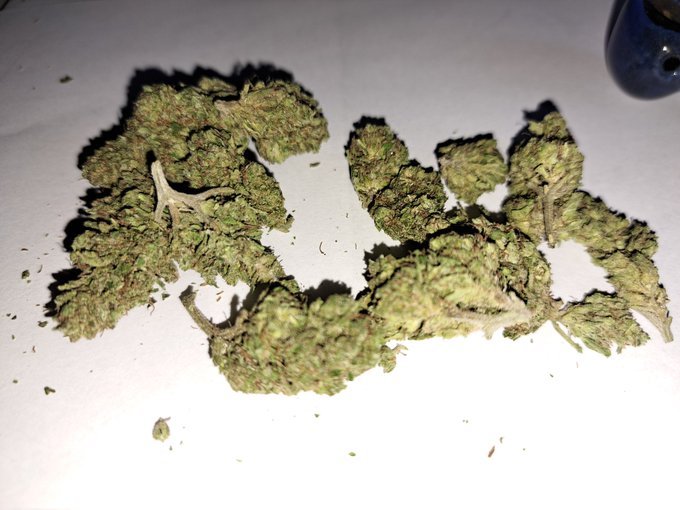 The buds were a nice fluorescent green. This image really doesn't do the color justice. These buds almost look like they glow IRL. The bag was a little shaky and as soon as I stuck my hand in the bag I realized why. I'm guessing someone forgot about this while curing it or they just plain over-dried it. What a shame too. I couldn't imagine how good this weed would have been if it was cured or even stored properly for that matter. Complete conjecture of course.
For example, the buds were so dry they'd almost crumble into dust and they'd feel prickly as you rubbed them between your fingers. It's so sad when this happens to weed. I've seen enough curing mistakes to know that nobody intended this weed to be that dry! So, for that reason, and that reason alone, I'm guessing it ended up on the $100 ounce rack!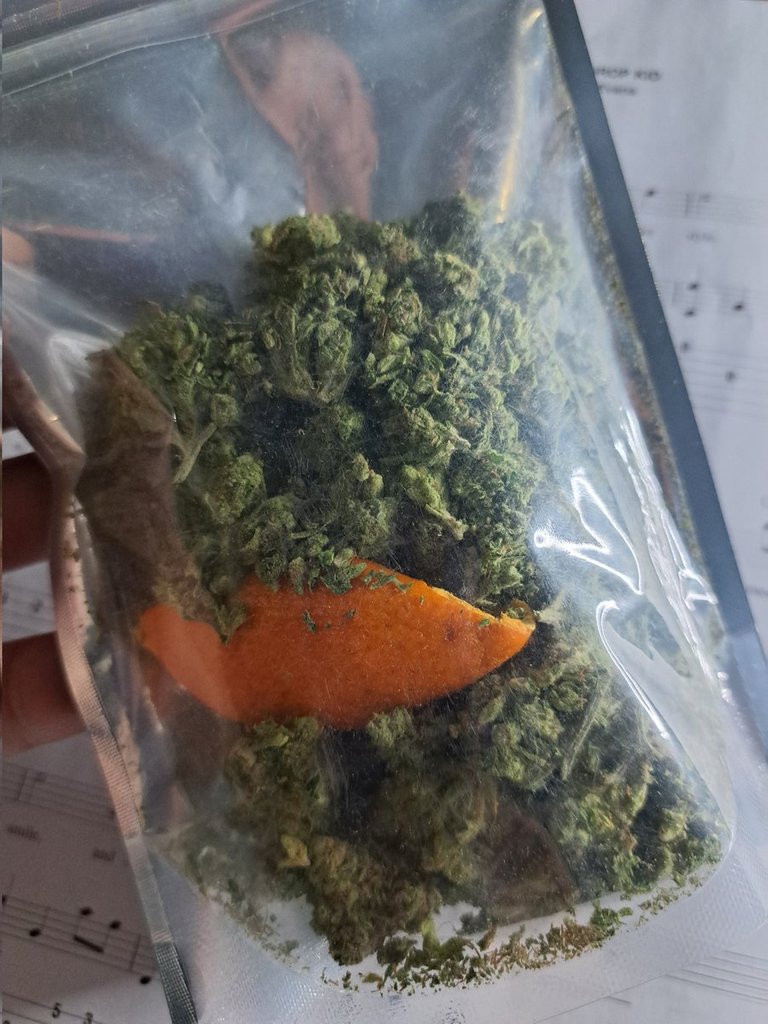 This is not something I normally do. Action had to be taken. This stuff was ready to disintegrate. I took a tangerine peel from the refrigerator and tossed it into the bag. I let it sit in the bag for about 18 hours and it added just the right amount of moisture.
It really revived the buds and gave them a second life. Just enough moisture to make them springy to the touch. No more crumbling apart, no more dusty mess breaking up the weed. The moisture also added to the natural stickiness of the weed. This stuff is easily comparable to a high end exotic IMHO. I'm soooo happy with this purchase.
I've known about the citrus peel trick for a really long time. You can basically add any citrus peel to a bag of weed to add moisture. I've even heard of some people using an apple slice. I did some research on this and citrus peels have very similar terpenes to some cannabis. So they're a natural fit. This only works on pot that was over-dried. Too much moisture will lead to mold. You just want to revive the buds. Not only will they break apart nicer, they'll also smoke better. In this case, it was the perfect solution!
On a final note, I found a seed! I'm hoping I come across a couple more because if I do, I'd really like to plant them next spring. I can legally have up to 3 plants now. So there's that! I've never been so excited to find a seed in my weed before. 🤣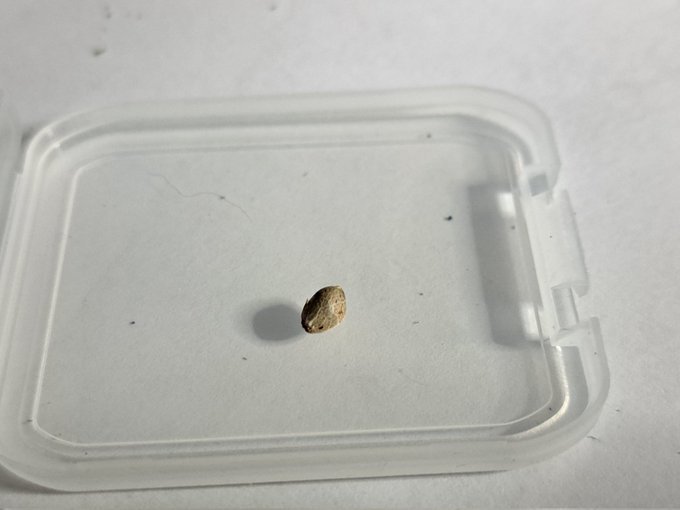 Well, I've got some killer weed to smoke over the next couple months. I've mainly been savoring the flavor in the blue bowl. I'm going to try and make this stuff last as long as possible. In this price range, I'm going to consider this a gift! Till next time... Smoke em if ya got em!
---
---