Strain Review: Fruity Pebbles - I Finally Found a Local Dispensary I Love!
So I finally found a local dispensary I love. The place is only about 20 minutes from my house. It's just a small trailer on the far side of a gas station parking lot. If they didn't have those huge dispensary flags blowing in the wind, you'd probably drive right past it and not know it was there.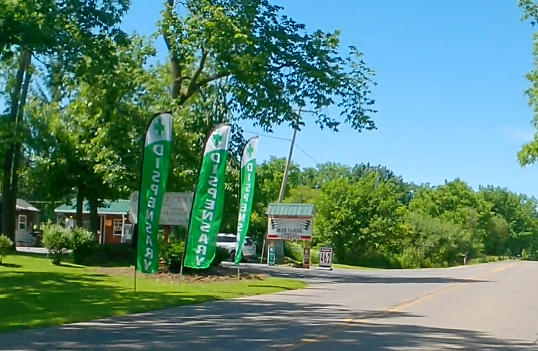 The budtender was a very knowledgable young hippie with long dark dreadlocks. We talked about weed, legalization, and the emerging industry. We made small talk as I perused his offerings.
The dispensary is just an old trailer converted into a makeshift shop. There is a small display case filled with about 20 different strains of cannabis in mason jars. They also offered vape carts and edibles. It was the first time I found vapes and edibles locally. The other dispensaries are about an hour away.
I selected two strains based partly on the budtender's suggestions. I picked up an eighth of Cotton Candy and an eighth of Fruity Pebbles. It was $15 a gram, $30 an eighth, or $50 for a quarter ounce. They also offered ounce prices but I forgot how much, I think around $180 an ounce. Anyway, the budtender agreed to sell me two eighths for $50 so I could try both strains. For this post, I'd like to focus on the Fruity Pebbles.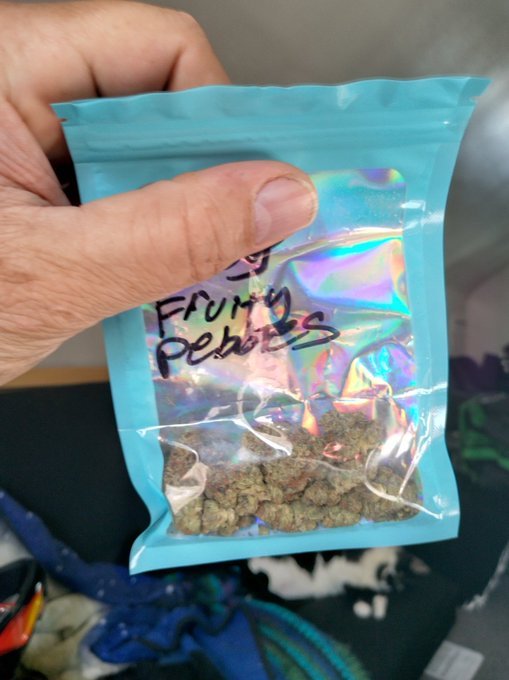 As I browsed the selection the jar of Fruity Pebbles just kept calling my name. It was a bit shakier than the rest, but it looked so good with its chunky dense buds and deep red hashy veins running through it. I had to try some!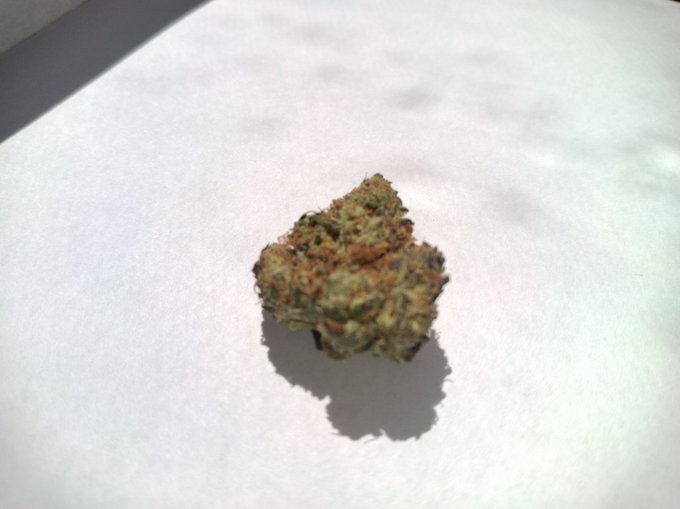 The buds were thick and dense. This seems to be common with dispensary weed. Each bud has several shades of green ranging from deep olive green to light fluorescent green. What drew my attention to this strain were the chunks of reddish-orange hashy veins that ran through several of the buds.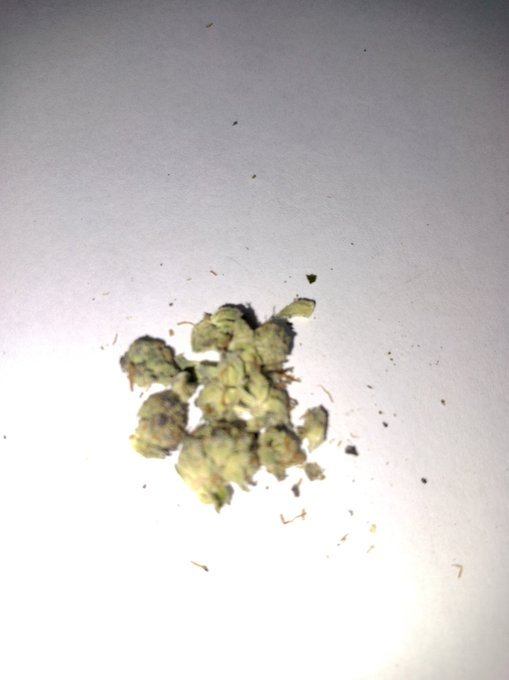 Like most of the dispensary weed I've purchased so far, it's dry, but not too dry with just the right amount of moisture to not disintegrate when you break it apart. You have to kind of pull it apart as you break it up.
I love the way dispensary weed is cured and dried. One of the things I've noticed is that you can tell the weed is fresh, but it's not moist like the fresh-picked stuff you find on the streets sometimes. Dealers try to sell it partially dried because it weighs more. Dispensary weed is almost always cured perfectly IMHO.
Sticking my nose in the bag I find it very fragrant with notes of spice and light hints of skunk and citrus.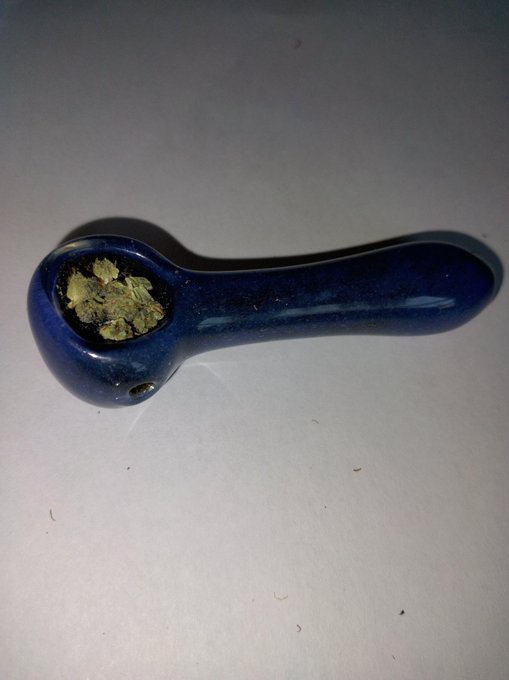 A few hits from the glass bowl and the smoke is sweet yet spicy with a hint of citrus zest.
Surprisingly this isn't as potent as I would have expected it to be. Especially with those hashy orange-red veins going through it. I really expected this stuff to knock me on my ass and it doesn't really pack that sort of punch.
Back in the day, this is what we'd have called creeper weed. You can take five or six hits and not really feel much but suddenly ten minutes later you're nice and ripped. That's exactly how this bud is. The potency though is surprisingly mellow. Especially comparing this to the Cotton Candy that I purchased this with. That stuff packs a punch. I'll review that strain sometime next week I promise.
I will say this for the Fruity Pebbles though, the high is very happy and upbeat bordering on giddy depending on how much you're smoking. This is a decent weed for relaxing in front of the TV. The burnout isn't too bad, yet still seems to help with my insomnia. Honestly, this would pair nicely with a relaxing day on the beach!
I have to admit, some people might find this a bit lacking in potency, but I do like bud like this. You can still have fun and not be completely out of your mind. If you're looking for something that really has some kick to it, check out my previous review on Cereal Milk from a really shady dispensary.
https://peakd.com/hive-195708/@the-bitcoin-dood/strain-review-cereal-milk-purchased-from-a-really-shady-dispensary
I know, I've been intentionally sampling the strains that remind me of cereal. IDK, I get on these weird kicks sometimes. Anyway, I'm really happy to have found a dispensary I like in the local area. I'll probably check out a few more places before I decide on my favorite place though.
Till next time, smoke em if ya got em.
---
---