Review: Yocan Uni Pro Vape Battery Mod
Well, this is the second time writing this post. Hopefully, it's an improvement. I did a Windows reset the other day and lost the original. Live and learn I guess. Heartbreaking when that happens though!
The other day my vape pen battery died and I went shopping for a new one. I ended up with a Yocan Uni Pro. This is a vape cart battery priced around the $40 range. Surprisingly, I had a hard time finding a battery online. Apparently, all kinds of bizarre legislation are giving the industry a really hard time. Apparently, they can't ship these types of "vape accessories" through USPS or any other traditional shipping company. IDK, corporate fascism and we're all starting to see the dangers it imposes. At least I am.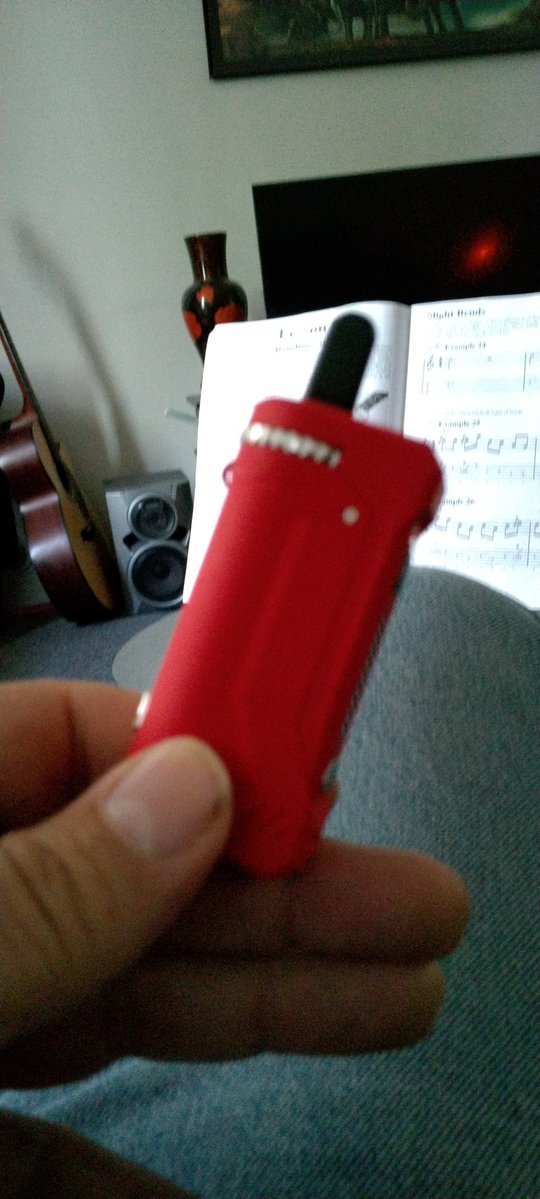 So I couldn't sit around in my underwear and order a new battery online. I actually had to get dressed and go out to shop locally and the guy at the smoke shop explained the current situation with the shipping. Interesting times we're living in, to say the least.
Anyway, they had exactly what I was looking for. I told the salesperson that I wanted a vape battery with various voltage settings and decent battery life. He then showed me exactly what I was looking for with the Yocan line of batteries. I ended up deciding on the Yocan Uni Pro because of the LED display.
The battery comes in every color under the rainbow and even a rainbow-colored one. I selected the red one because it matched the outfit I was wearing that day. LOL I know, I'm a goof. Believe it or not, I am fashion-conscious sometimes.
This is the first battery I've purchased since I quit vaping nicotine. IMHO, if you're going to vape, you need a good battery. It doesn't matter if it's nicotine or THC. THE BATTERY MAKES ALL THE DIFFERENCE IN THE WORLD. A cheap battery will clog your cart, burn your oils or e-juices, and make your hits harsh and extremely unenjoyable. Utilizing a good battery will give you the best results and user experience.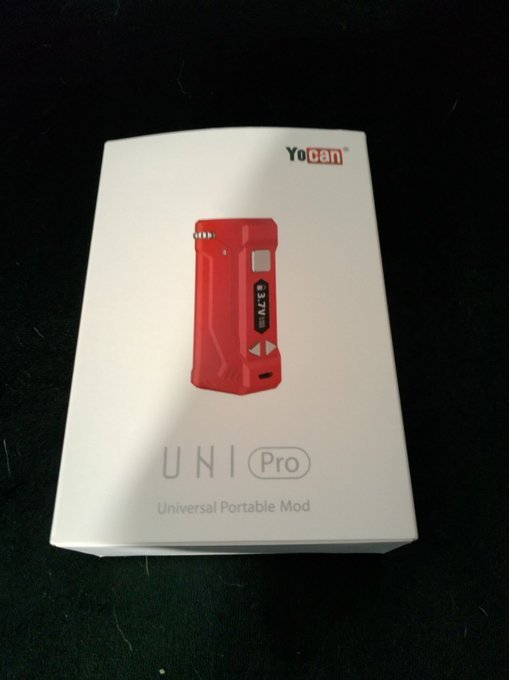 The Yocan Uni Pro is a 650mAh battery. It features a micro USB charging port, level window, variable voltage settings, an awesome 10-second pre-heat feature and a bright LED display to show you what's going on with the battery such as voltage selected and ohms.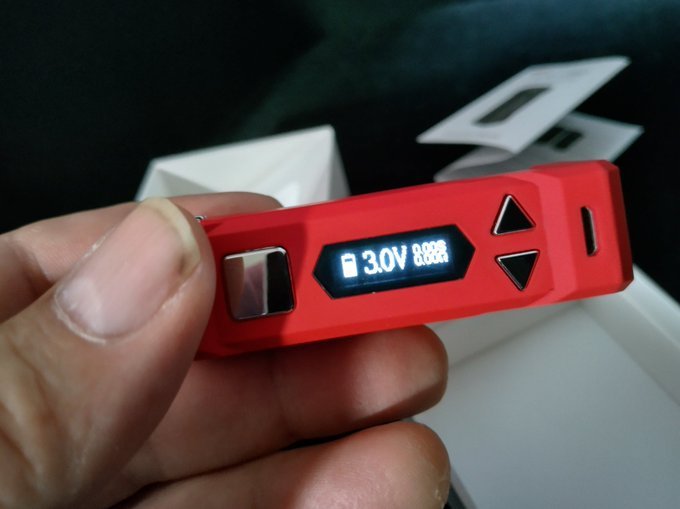 The packaging of this product is very nice. It comes with everything you need to get started. Included in the box were a USB charging cable, some instructions, and a magnetic cartridge attachment. The product is intuitive enough in design that most people probably won't even need to look at the instructions. Still, they're there and available if you need them. I did a quick perusal, then moved on.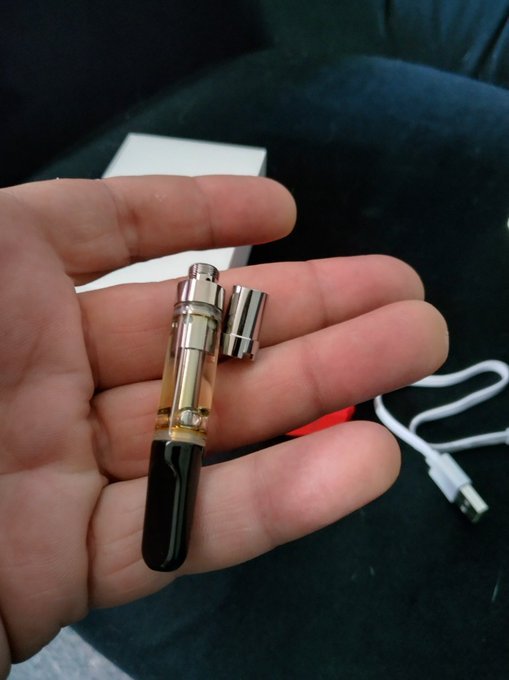 It arrived with 3/4 of a charge so I just pulled it out and started using it. All you have to do is screw a vape cartridge into the magnetic cartridge attachment then slip it into the battery. The magnetic cartridge attachment is really nice, it would have been nice if they included more than one. It just snaps in place. You can pull it in and out of the battery quickly if you wanted to change flavors or strains. Unfortunately, they only include one attachment, but you can always take it out and screw in a different cartridge. The cartridge is then held in place with a vice system that closes in around the cartridge at the top, this way you can use various size cartridges. Genius design really!
Once the battery is dead, I think it took about 2 hours to charge. I really didn't pay attention. So far I've only had to charge it twice. Each charge lasts about a week or more. Granted, it's not like vaping nicotine. You're only taking a few hits at a time, not hitting on it all day every day. At least I'm not.
I'm currently vaping some Skyhio Lemon Kush Delta 8. These cartridges clogged terribly with my old battery. Very few problems with the Yocan Uni Pro. I've been vaping at about 3.5-volt power settings. Instead of clogging every time I use it, it clogs maybe once a day. Basically, I just give it a good cleaning once a day with an old guitar string of all things. I believe it's either a low E or A string. The way the wire is wrapped around the string seems to catch and pull out all the gunk in the nozzle. I clean the cartridge nozzle once a day with no problems at all. If you have access to a guitar string and understand this struggle, try it out and thank me later.
Besides having a variable voltage setting to adjust the heat, it also has a pre-heat feature. Again, if the cartridge starts to get a little gummed up, I just hit the pre-heat button and it clears it right out. It pre-heats the cartridge for 10 seconds heating up the oil or resin. As long as the nozzle remains clean the hits remain nice and smooth.
My old battery was terrible at burning my cartridge oil. By the end of it, it would be dark, burnt, and very harsh. I'm almost to the end of this cartridge and by this time I'd see a noticeable change in the oil color. It would be almost twice as dark. That's not the case now. The oil is close to the same color as when I started with no noticeable change in flavor or harshness. Actually, it is getting a little harsher towards the end, but nothing like before and it's to be expected. It's a massive improvement though.
Vaping Tips
If you're new to vaping here are a few tips to make your experience more enjoyable.
GET A GOOD BATTERY. It doesn't have to be a Yocan but get a good battery with a variable voltage setting. Different carts and oils burn better at different temperatures. It's nice having the variable heat setting.

STOP TAKING MONSTER HITS! Yup, you read that right. Sure it looks cool and gets you high as hell but it's also a great way to burn your oil and ruin the taste of your cartridge. I stick with the 3-second hit rule. Basically, count to three. Hold in, then exhale. Trust me, it's better to take several smaller hits, than one massive one. Your battery will thank you, your lungs will thank you, and your cartridge oil will thank you. I tend to go with a higher voltage setting and shorter hits for the best result. I enjoy my current cart at around 3.5 volts.

Keep that cartridge nozzle clean. I don't know what it is, but as soon as my cartridge nozzle starts to get a little clogged the hits usually become harsh and nasty tasting. Take a minute and clean out that nozzle when you start noticing a clog. The hits should be much smoother after it's cleaned.
That's about all I've got on this one. I'm loving my Yocan battery. I'd definitely recommend it to anyone looking for a variable-voltage battery. I've had mine for about 3 weeks now and I'm really happy. Money well spent and it really has improved my vaping enjoyment immensely.
---
---