My 420 Marijuana and Delta 8 Post - Happy 420 Everybody
Smoke em if ya got em! It's 420 baby!
It's been awhile since I posted about legalization, marijuana, and Delta 8. Today is April 20th AKA to many a pothead around the globe, 420! In pothead circles this is the day to celebrate all things marijuana, cannabis and hemp! Seems like a perfect post for today's #HiveBloPoMo.
Legalization
Lets start with legalization. As many of you know I live in New York state and last year we officially became a "legal" state for medical and recreational use. As with all things NY, seems our politicians are dragging their heels with dispensary licenses. In my hometown of Buffalo NY there isn't a single dispensary opened yet for recreational users.
Many people that were getting tired of this tried a loop hole where you stepped into a bodega or shop and purchased a sticker for $20 or $30 and they gave you a free gift of weed! That didn't last long however, and the local police force (just following orders) closed many of the shops and arrested several employees. For the love of all that's sacred! WHY!
I've got mixed feelings about legalization. On one hand I think it's great. One less thing to worry about. I love the fact that I no longer feel like a criminal every time I smoke a little pot or walk around with a bag of weed in my pocket. Marijuana laws have turned many law abiding, productive citizens into criminals. It's about time we put an end to this!
On the other hand, the taxes that will be applied to marijuana at legal dispensaries are simply ridiculous. I don't have a problem with a small tax, or even the standard sales tax for the most part. (I do, but it's more about how everything is taxed and we now have taxes on our taxes. I'm sick of it, and have had enough. That's a post for another day though.) My understanding is there will be a huge tax on legal weed. So maybe the government doesn't like it, but if you pay a fee in taxes they will allow it YOU PLEB! Seriously, it disgusts me and it should disgust you too! Not to mention this is medicine for some people!
With that said, I'll probably stop in a dispensary or two just for the novelty of it. Maybe buy a couple bags, but I'll probably continue to buy it from neighborhood weed dealers just out of principle. When they put a reasonable tax on it, I'll start supporting legal dispensaries, IF THEY EVER OPEN!
The new law also allows for personal cultivation. I believe I'm allowed up to 3 adult plants and 3 saplings (not sure if saplings is proper terminology but you get my point). I've wanted to grow for awhile and have helped a few people with their grow rooms in the past. I'd like to try my hand at growing my own. I'll be looking for seeds soon and I'll probably post a little about growing in the future.
Let's Talk A Little About Delta 8
In the meantime, while the fat cats in Albany (our state capital) drag their heels with legalized weed, Delta 8 a legal form of THC derived from hemp is EVERYWHERE! Let's talk about this a little.
Last year a friend on Twitter told me about Delta 8 products. I had no idea! I looked around locally and found a couple shops that were selling it. I tried it, and I really liked it. Honestly, I might even like it a little better than regular cannabis. For one thing, it's a much milder high. I like that. For another thing, it's much cheaper, especially if you shop online.
If you don't know about Delta8 it's basically a chemical process that turns CBG or CBD into THC through a chemical reaction. It can then be smoked, eaten or vaped. Basically all the products you find with cannabis, you can find Delta8 alternatives. Here's a post I did awhile back explaining the basics of the Delta8 process.
https://peakd.com/hemp/@the-bitcoin-dood/some-basic-delta-8-research
Daily Use
So I've been a daily user of Delta8 for about a year now. I was a pretty big pothead in my younger years (teenager into my mid 30s). I never quit smoking weed really, if someone passed me joint at a party, I'd almost always smoke it. I went about 20 years where I only smoked on social occasions for the most part. Now in my fifties, I have chronic back pain. One of the first things I noticed when I started smoking Delta8 was that it worked wonders for my lower back pain. It went from debilitating pain that I could barely get off the couch at times, to a mild pressure that's just noticeable enough to remind me that I have back issues. It's literally been a life changer for me. For that reason, I'm back to smoking daily and life has improved tremendously!
After a year of smoking, vaping and eating edible delta 8 products I haven't experienced any real negative side effects of daily use. I have skipped a few days here and there with no serious withdrawal or cravings. Of course as soon as I feel a sharp pain in my lower back, I'll smoke a couple hits and within an hour or so the pain is gone. Why wouldn't I use daily? Feel good or suffer lower back pain, it's a pretty easy choice! Certainly a better option than addictive opioid pain killers that I'd NEVER TAKE. On top of that, my attitude is just better. I'm much more laid back now!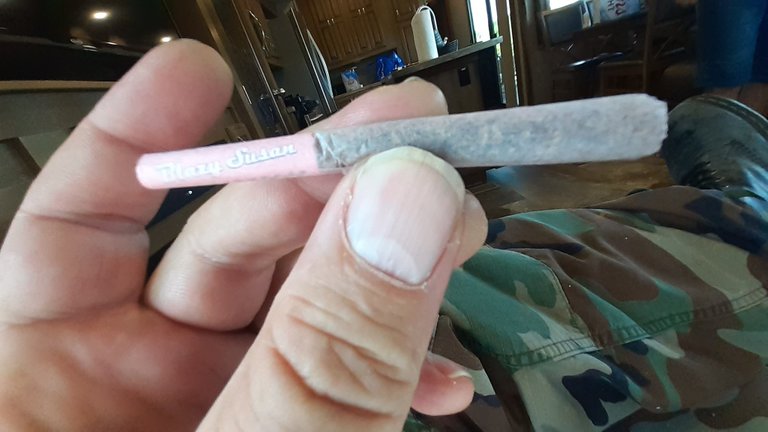 My daily use is normally a couple hits of my Blueberry Moonrocks in the morning after breakfast and the treadmill. If my back isn't aching, I'll skip until after dinner. If I don't smoke after dinner, I almost always consume before bed. I've had insomnia for years and the Delta 8 has worked wonders for my sleep. The Blueberry Moonrocks are super mild. It's a delta 8 / delta 10 hybrid with a high concentration of CBD. It's a perfect mellow buzz for day time use. Takes away any back discomfort, gives me a pleasant mild buzz, and you don't feel like a zombie alien as you're going about your daily activities. 🤣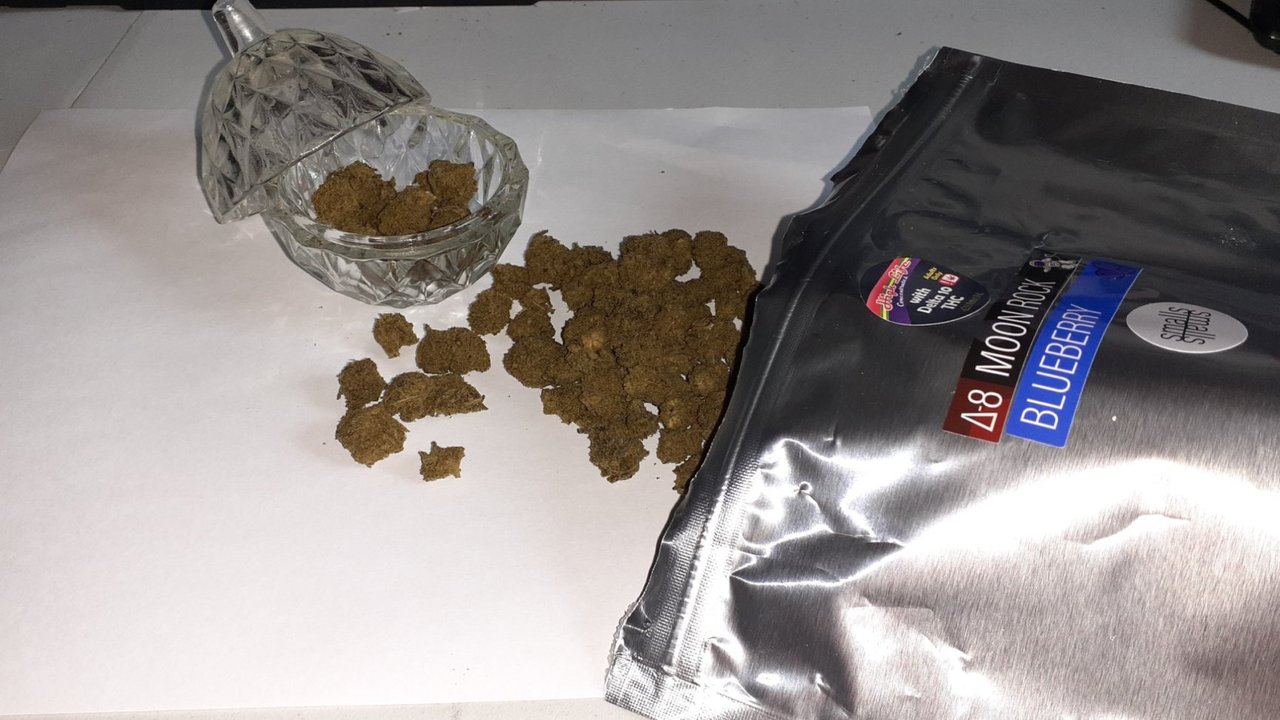 After dinner I'll usually bust into the more potent strains I have. The stronger delta 8 products are probably similar to a very potent commercial grade cannabis. Honestly, you can barely tell the difference. I find Delta 8 also less anxiety producing. It's just a mellower, more laid back high in my humble opinion.
I have notice that if I have a night where I go overboard smoking or vaping (these things happen from time to time) I may feel like I have heavy lungs the following morning. The exact same thing happens when I smoke or vape to many natural cannabis products too though, so this doesn't seem to be a delta 8 thing, just an over consumption thing! Everything in moderation. Normal use has been completely fine though.
Types of Products
Smoking
Delta8 can be smoked, vaped, or consumed in edibles or pills. I've mainly consumed Delta8 by smoking it. It's available in several different strains with different levels of potency. I've also found a nice hash that I've enjoyed. The hemp flower products taste just like commercial grade cannabis. You really can't tell the difference. The Hash products have a slightly different taste. I could be indifferent though. I'm 50% Lebanese and grew up smoking Lebanese blonde and black hash. The stuff back in the late 80s with the gold cedar tree seal on each brick. If you know, you know 🤣 The delta8 alternative doesn't compare as far as hash taste, but the effects are very good!
Vaping
I LOVE VAPING! I quit all nicotine products a long time ago. When I started consuming Delta8 products I was really psyched about getting to vape again. This has turned into a bit of a disappointment. Most of the vaping products I have tried are EXTREMELY HARSH and give you a bad case of vape cough. (vape cough is like smokers cough but worse IMHO).
I've tried several products online that I've posted about. So far the only product I've really enjoyed was from THCxtract and they look like they're getting out of the Delta8 game :(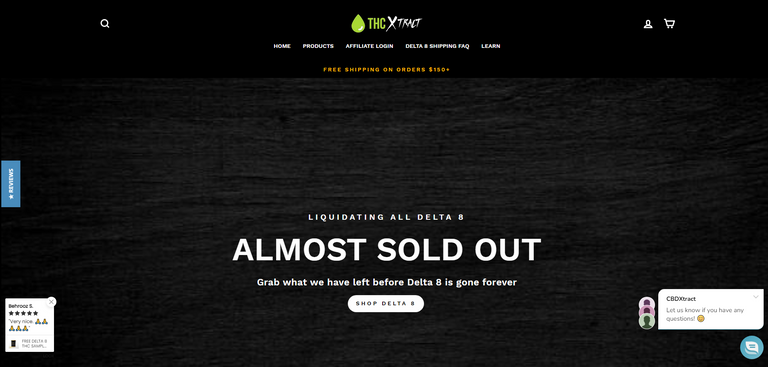 I'm gonna really miss these carts. They were so smooth. No cough unless you took a massive hit. Great taste. Strawberry Mimosa tasted sooooo good! The bad news was, I'd go overboard because I enjoyed the taste so much... These will definitely be missed! Just my luck, I finally find a vape cart I like and the company stops selling them!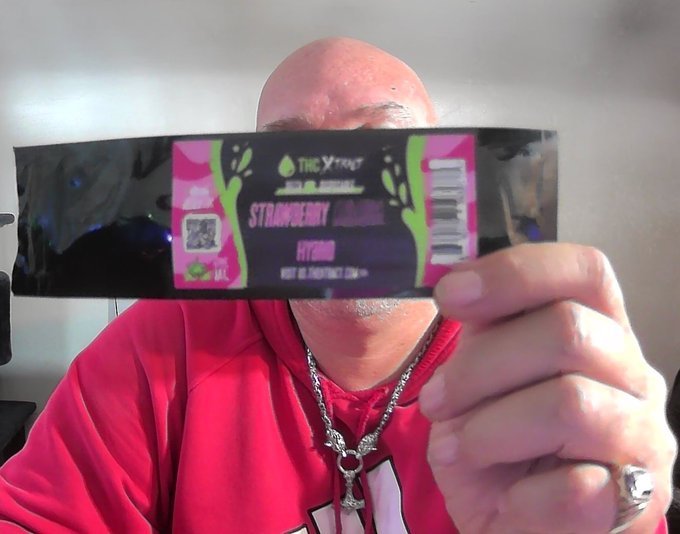 The benefits of vaping is very little odor and great taste. During the winter months when blowing smoke out the window isn't really an option due to freezing cold temperatures outside, vaping is a nice alternative. Same on rainy days in the summer when all the windows are shut in the house. There's really no lingering odor. On top of that, the flavors are awesome.
I have tried several cannabis vape products as well, and vaping THC seems to be equally harsh with both cannabis products and delta8 derived hemp products. I'd really love to find a brand that is smooth, doesn't give me vape cough, and tastes great. For now, vaping is my least favorite way to consume Delta8 and traditional cannabis THC for that matter until I find a replacement for the THCxtract brand.
Edibles
These aren't 1000mg each. They're 50mg each. The total bottle is 1000mg. I generally cut one of these in half before bed each night for a great sleep! 25mg is a nice dose for relaxation and rest. 50mg if you want to feel really buzzed.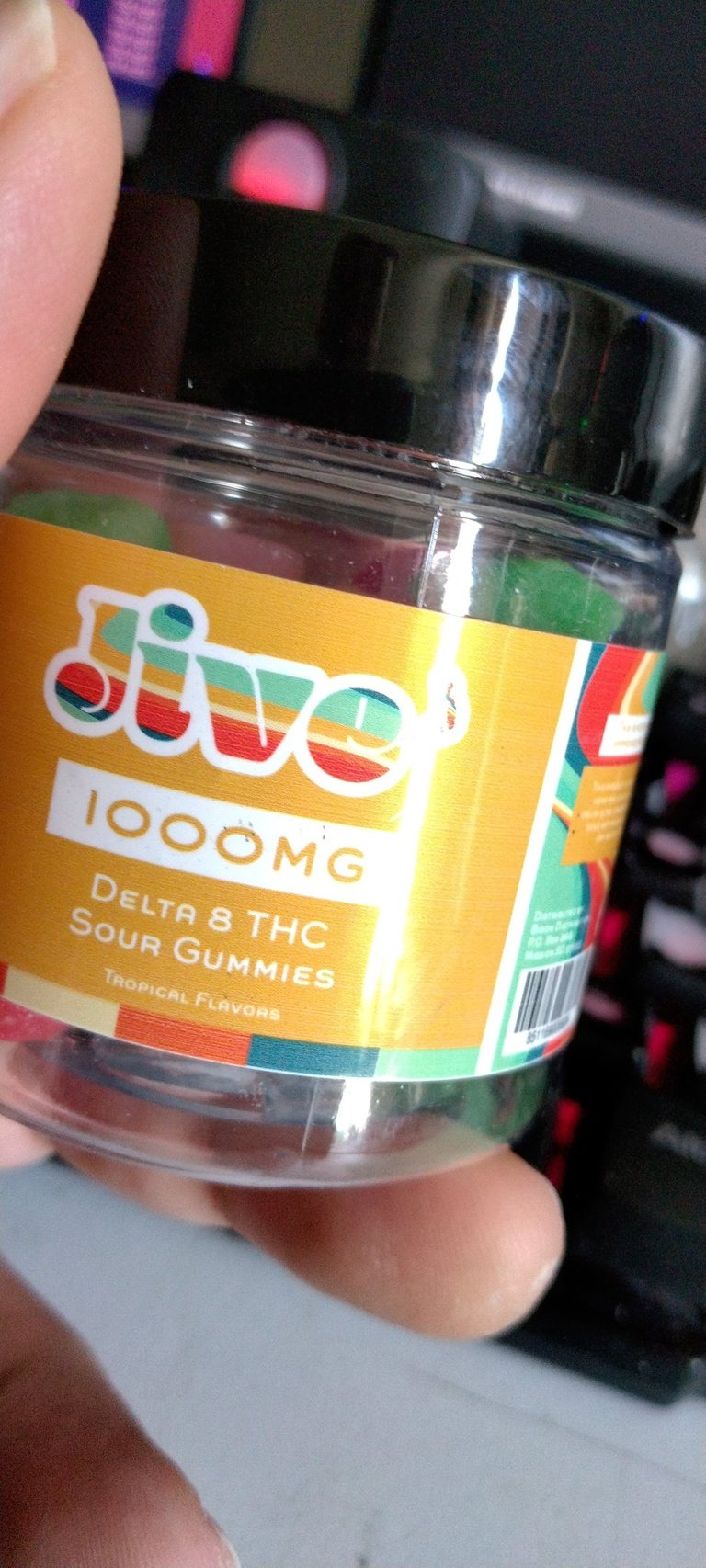 Edibles are currently my favorite way to consume delta8. Unfortunately, edibles aren't cheap. The nice thing about legalization is you now get a proper dose. No more guess work about how much to take. Edibles generally come pre-packaged in candy, cookies, cakes, and liquid gelcap pills. You know the dose you're buying and how high they will get you. I've found 25 to 50 mg to be my perfect dose for evening use. A 10 mg dose is nice for afternoon use if I have a little back pain.
The liquid oil gel caps are the most affordable. Still they generally range from around $1 a pill and up. Gummies candies are my favorite for both taste and digestion. The cookies and cakes seem ridiculously overprice based on dosage in mgs so I haven't really tried them.
IMHO edibles are probably the best way to consume and seems healthiest. Even on days I don't smoke, I'll generally take a 10mg to 25mg edible before bed for a perfect nights sleep. All the edibles seem to have a very slight medicine aftertaste but nothing to bothersome.
Shopping Around
Local
I like shopping local when I can. For the hemp flower Delta 8, nobody locally can beat the prices online. Maybe I'll do some online shopping reviews in the future. I have found great edible products locally at reasonable prices. Pricing really varies with these products and I've found shopping around very helpful. I'd like to find a local source for quality vape carts. I hate paying shipping online and most vape cart suppliers online have a minimum order of $100 for free shipping. That means I have to buy at least 4 carts and if they suck, I'm stuck with them :( With that said, I've been buying most of my vape carts locally, but still haven't found a brand that compares to the THCxtract carts that I really enjoyed.
Online Shopping
I've shopped at several places online. I think this post is long enough though. I'll try and do some online shopping reviews over the next couple weeks. For now, I'll leave you with some old Delta8 Peakd post links if you want to learn more.
Happy 420 Everyone
Smoke em if you got em!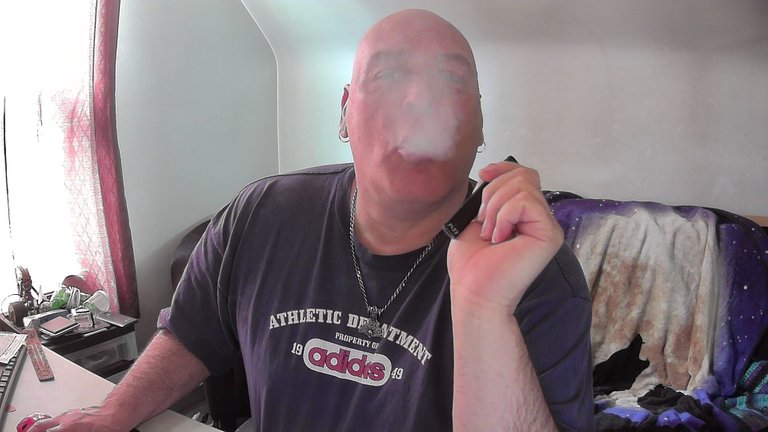 If you enjoyed this post and would like to learn more, here are several old Peakd posts about Delta 8 that I've posted to the Hive blockchain.
Blueberry Moonrocks
https://peakd.com/weed/@the-bitcoin-dood/delta-8-10-review-moonrocks-blueberry-smalls
TKO by TerpNation
https://peakd.com/weedcash/@the-bitcoin-dood/delta-8-review-tko-by-terp-nartion
White Whale
https://peakd.com/weedcash/@the-bitcoin-dood/delta-8-cbg-infused-hemp-flower-just-in-time-for-the-weekend
Advantages Disadvantages
https://peakd.com/weed/@the-bitcoin-dood/advantages-and-disadvantages-of-daily-delta-8-hemp-usage
Skyhio Vape Carts
I gave these a great review they are really harsh though. I wrote this before I had the THCxtract carts and realized they didn't have to be so harsh!
https://peakd.com/weedcash/@the-bitcoin-dood/delta-8-review-what-a-surprise
Delta 8 Gummies Review
https://peakd.com/hiveblopomo/@the-bitcoin-dood/another-delta-8-review-and-update-edibles
This is post 20 for this months #HiveBloPoMo
All images my own! Thanks for reading!
---
---