A New Pipe and Indica vs Sativa
I picked up some new shoes at Temu the other day. I just wanted some inexpensive, light shoes to knock around in for spring. I came across these on Temu and ordered a scrying tablet, a new pendulum, and a cool pipe that I wanted to show off here. I also thought I'd talk a little about the not-so-subtle differences between Indica and Sativa.
A quick mention, for anyone interested in divination, I started a Hive blog @learning-tarot. It's mainly about learning tarot cards, but I also write about other forms of divination and magick. I'll write more about the scrying tablet and pendulum I purchased there. (shameless plug :)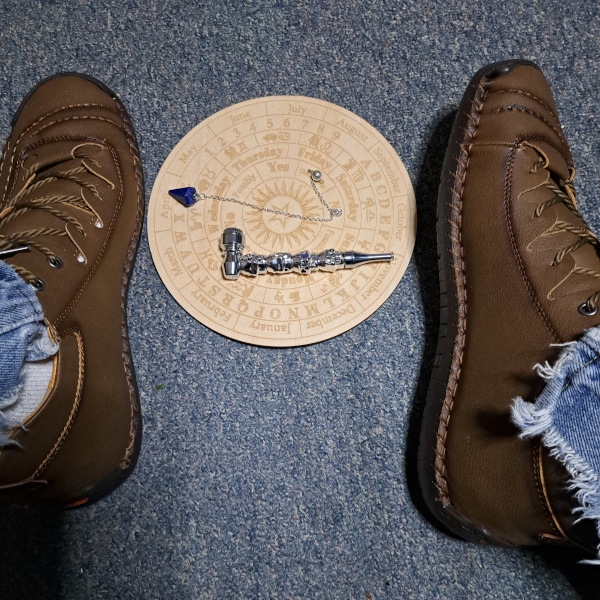 And this is the pipe I picked up. I think this is a really cool design. The chrome skulls remind me of the original Terminator movie.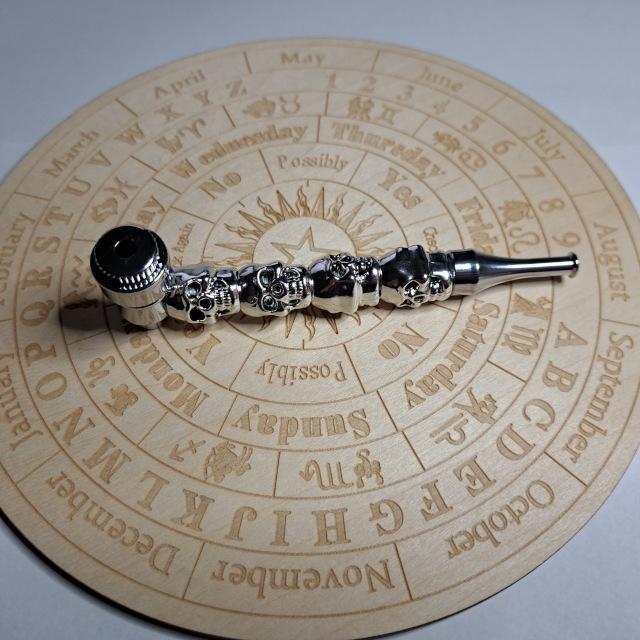 The pipe was also picked up on Temu. If you're not familiar they're a new competitor to Wish. They sell really inexpensive products. The pipe was only like $2.50 on sale. At that price, I had to check it out. On top of that, I needed a couple more items to meet the minimum order and get free shipping. Money was well spent IMHO. They have a lot of smoking asseccories available at really great prices.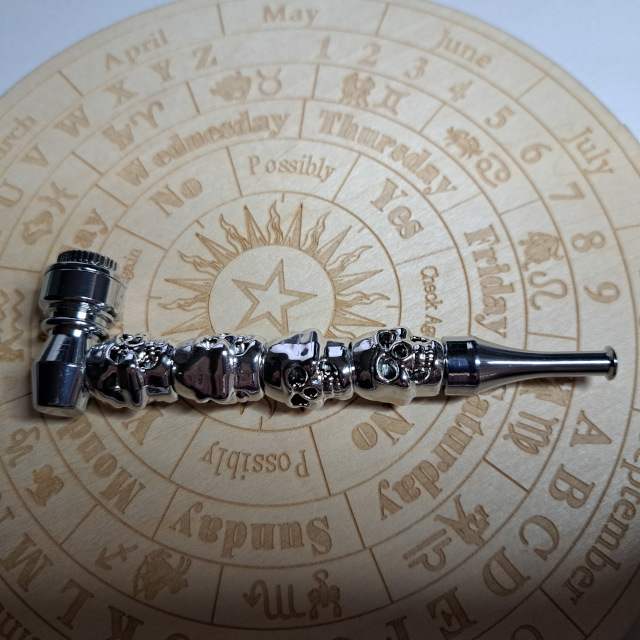 Seeing it's Good Friday and Easter weekend I thought I'd break it in with a little Sativa a friend hooked me up with. I was talking with someone the other day about the differences between Sativas and Indicas and figured I'd write a little about that.
NY is now a legal recreational use state. The dispensaries are starting to open everywhere and one of the nice things about the dispensaries would be all the choices you get. In the old days, you'd visit the local weed spot and just take whatever was handed to you. Now you always have at least 15 or 20 strains to choose from and a fairly knowledgeable budtender to help guide you in your decisions.
Since the dispensaries have opened, I've been pretty much purchasing mainly Indica and Indica dominant hybrids. Talking with a friend, I mentioned that weed just didn't hit me the same way it used to. The highs seemed much less intense. He asked what I was smoking and I said mainly indica strains. He then hooked me up with a few buds of some really crazy Sativa. What a difference!
So for anyone that doesn't know the difference, Indica's generally are very relaxing, and Sativa's are a little more energetic. I mainly purchase Indica's because I like the relaxing qualities and besides helping my lower back pain, I also like to smoke a little before bed to help with insomnia. I'm not always looking for a super intense high either. Sometimes I just want to chill, and not feel like I'm ready to start tripping.
So the first thing I want to address is the myth that Sativas keep you awake. Sure some do, but I've also had supposed Indica's that kept me wide awake. I think it breaks down to strain. The Sativa I tried offered a much more intense high, but I had no trouble sleeping. As a matter of fact, it's the exact opposite. I'm actually sleeping better on this particular strain of Sativa. Sorry, I didn't get a name, not sure he gave one. Just said it was a really strong Sativa he was growing.
This did lead me to start experimenting with more Sativa and had similar results with other strains as well. The highs were all noticeably different, and I was still able to sleep with most of them.
Let's talk about the high a little. Indica is much more relaxed and much less intense high. I also think the anxiety levels some people experience with marijuana are a little less with Indica. Most Indicas offer a very dopey, mellow, relaxed high. Although some can cause a little anxiety, I think that experience is much less with Indica strains.
Sativas on the other hand can just slap you right in the face with serious intensity. Besides being a little more energetic feeling I think they're a little more anxiety-inducing as well. It's just the type of high they create. I think Sativas might help a little more with creativity. They're probably a little more fun when smoking with friends.
As far as the giggles I think both Indicas and Sativas offer loads of laughter and giggles. It's probably a little easier to laugh at yourself on the Indicas. Sativas might offer a little more intense introspection.
I have to say since my friend turned me on to that Sativa, I'm starting to lean away from Indicas and more towards the intensity of the Sativas now. I just feel like they offer a little more bang for your buck.
Earlier in the post, I mentioned how in the old days you'd just go to the local weed spot and take whatever was handed to you. Back then, I'd get some weed that would really knock me on my ass every so often. Since the dispensaries opened, I hadn't experienced that. The reason was, I was only buying Indica's. Those super intense highs I remembered from back in the day were definitely Sativas. Back then, we just didn't know the difference. Now that we have a choice, I know exactly what to order when I want that intensity.
I guess my point to all this is if you're only smoking Indicas or only smoking Sativas, you may be missing out on some really great experiences and limiting yourself. It's all a matter of preference, but I'm really happy I decided to experiment a little and step out of my comfort zone. Now I try and make sure I always have some Indicas and also Sativas on hand, and select what I want based on the desired effect wanted or the general atmosphere I'll be using it in.
I tend to enjoy Sativas out partying, and Indicas relaxing around the house. However, when I want something to really knock me on my ass now, nothing beats the intensity of a really strong Sativa IMHO.
If you read all this, I hope it made sense and I didn't bore you to death. This post ended up a little longer than I expected. Thanks for reading to the end.
Posted using WeedCash Network
---
---