8/6/22 dCity.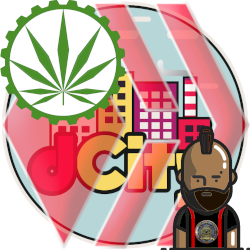 Excelente día amigos Hivers, hoy miércoles día de juegos en la cadena de bloques toca hablar del juego llamado dCity, este juego matemático y NFT's donde administras tu propia ciudad y vives en carne propia todos los dolores de cabeza que experimentan los lideres mundiales, jajajaja no tampoco es tan caótico, la verdad es un juego bastante relajado, obvio debemos de mantener los números bien balanceados, flujo constante de nuevos ciudadanos, cuidar de esporádicamente adquirir nuevos edificios para no tener desempleados y carecer de ingresos diariamente.
Excellent day friends Hivers, today, Wednesday, day of games in the block chain, it's time to talk about the game called dCity, this mathematical game and NFT's where you manage your own city and live firsthand all the headaches that world leaders experience, hahahaha no It's not that chaotic either, the truth is it's a fairly relaxed game, obviously we must keep the numbers well balanced, a constant flow of new citizens, take care of sporadically acquiring new buildings so as not to have unemployed people and lack daily income.
En mi país, México solemos decir, "según el sapo la pedrada" osea que si quieres ingresos altísimos tanto del principal token SIM o de los multiples tokens en el juego debes de invertir, pero tampoco es que sea necesario, yo estoy financiando este y otros juegos unicamente con mis publicaciones y voy muy bien, con esto quiero demostrar que los juegos en la cadena de bloques son autosustentables y por lo mismo se pueden considerar como inversiones seguras "al menos al momento de realizar esta publicación" cof cof axie infinity cof cof.
In my country, Mexico, we usually say, "according to the toad la pedrada" that is, if you want extremely high income from both the main SIM token or the multiple tokens in the game, you must invest, but it is not necessary either, I am financing this and other games only with my publications and I am doing very well, with this I want to demonstrate that games on the blockchain are self-sustaining and therefore can be considered as safe investments "at least at the time of writing this publication" cof cof axie infinity cof cof.
Bien respecto a mi ciudad esta imagen con burbujas demuestra el total de mis edificios y ciudadanos, en este momento tengo muy pocos inmigrantes y personas sin hogar ya que la semana pasada tal parece que todos pudieron evolucionar en estudiantes y trabajadores, hace dos semanas surgió en la ciudad un científico, lamentablemente aun no cuento con la instalación idónea para ponerlo a trabajar, pero espero no pase de este mes y poder adquirirlo, ojala esta publicación le vaya bien en apoyo con sus apreciables votos y le compramos su laboratorio a nuestro científico.
Well, regarding my city, this image with bubbles shows the total of my buildings and citizens, at this moment I have very few immigrants and homeless people since last week it seems that all of them could evolve into students and workers, two weeks ago it emerged in the city a scientist, unfortunately I still do not have the ideal facility to put him to work, but I hope it does not pass this month and I can acquire it, hopefully this publication will do well in support of your appreciable votes and we will buy your laboratory from our scientist.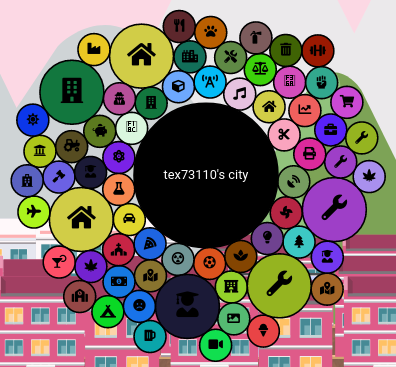 El día de hoy e iniciado un evento "Festival de la Hierba" así es hermano, fumemos mota como locos, nos otorga una bonificación en la creatividad de la ciudad en este caso hemos alcanzado 61 de creatividad, con un 20% de obtener un artista para la ciudad y duplicando la producción de nuestras granjas de hierba, actualmente contamos con tres de ellas, veremos como nos resulta después de pasadas 24 horas, honestamente este token WEED me ha sido de mucha utilidad, lo puedo emplear en el mercado de NFT's procede de una gran comunidad como es WeedCash y es empleado en otros juegos de la cadena de bloques.
Today and started an event "Grass Festival" that's right brother, let's smoke weed like crazy, it gives us a bonus in the creativity of the city in this case we have reached 61 creativity, with 20% of obtaining an artist for the city and doubling the production of our weed farms, we currently have three of them, we will see how it turns out after 24 hours, honestly this WEED token has been very useful to me, I can use it in the NFT's market from a large community like WeedCash and is used in other blockchain games.
Pues este es mi avance al mes de Junio del presente año, se que avanzo poco a poco pero se que son pasos firmes y seguros, espero en futuras publicaciones hablar sobre otros eventos o edificios especiales como el que emplean los científicos y otros ciudadanos, sin mas que añadir me despido deseando tengan un día muy relajado y agradezco de antemano su apoyo a esta y todas mis publicaciones.
Well, this is my advance to the month of June of this year, I know that I am advancing little by little but I know that they are firm and safe steps, I hope in future publications to talk about other events or special buildings such as the one used by scientists and other citizens, without More to add, I say goodbye wishing you have a very relaxed day and I thank you in advance for your support of this and all my publications.
---
¡Unete a la partida!
---
---
---