Splinterlands Card Review Untamed Water Mages and Ranged and new Summoner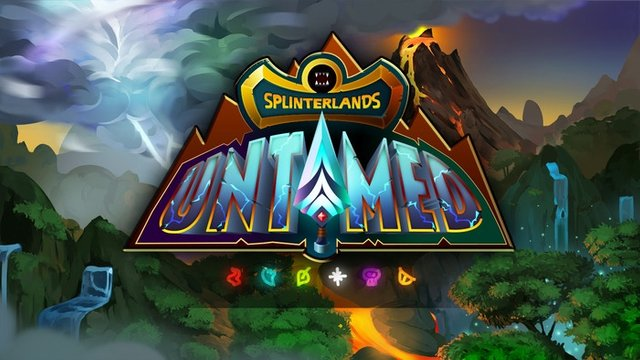 I am going to be breaking down some of the untamed water cards on this post. These cards really change the team a lot. Watch the prices could go low as more open packs or the new powers will keep them high. There will be a giveaway in this post also. You will need to read over my card reviews and give me some feedback. I will pick one random person that does this to win 500 DEC.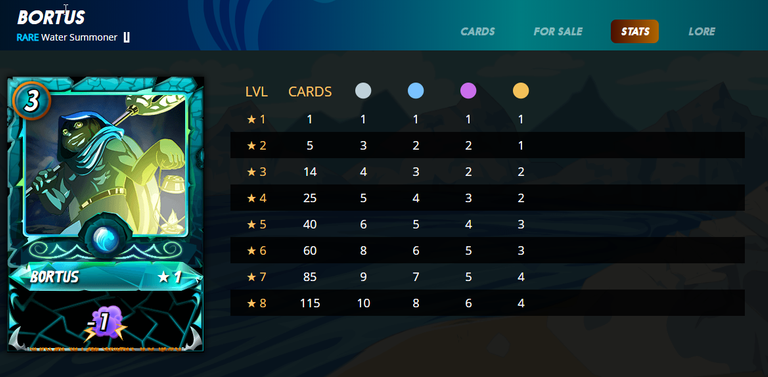 Bortus is the new summoner for the team. He has minus one magic attack, to the other team. That is a nice combo with silence on the Ruler of the Sea card. Or other cards in the game. One thing you might notice is the new level up format on cards. This makes him a lot harder to get to level five. That is the level I think you need to make it to the gold league. Level six is better but it can be done with level five. In the past, it only took 21 cards to get to level five and 35 to level six. With the big jump after that. This new format of leveling could make it harder for people to use these summoners. While at the same time it will make it easier at the end to go ahead and max the card out. I am not sure how this will change the value of this card yet but I think it will lower it and keep beta summoners at a high value. If our user base grows a lot then both cards will rise or if the new summoner ability is just a lot better. Bortus will be useful if you want to run a ranged attack or melee attack team with water. They have the cards to do this so he will be useful to have.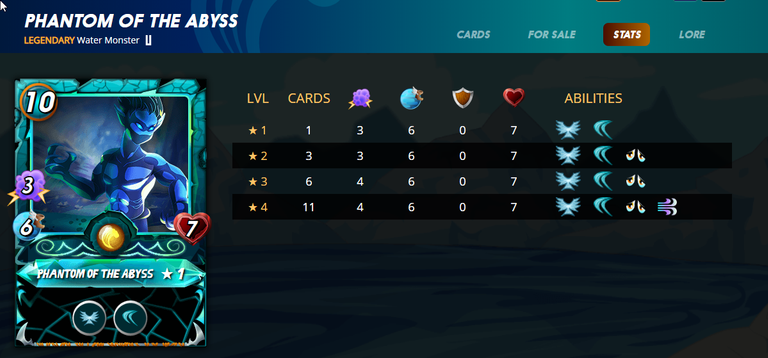 Phantom of the Abyss is the new Legendary card. This gives blue another legendary mage and a high-cost card to use in the new high mana matches. He features something that I think helps counter the new level up cost. Base stats at level one are a lot closer to end stats while the cards get a lot more abilities. You can see here at level one he has 3 magic attack, 6 speed, 7 life. You max him out now he is 4 magic attack 6 speed and 7 life. That is almost no change but he goes from having just flying and doge to having demoralize and headwinds. The change here is he goes from a good attacker to an overall controller of the game. It also highlights the growing abilities that are going to be changing the game. It also shows that a lot of the new cards can be mixed into an old team even when they are not that high level.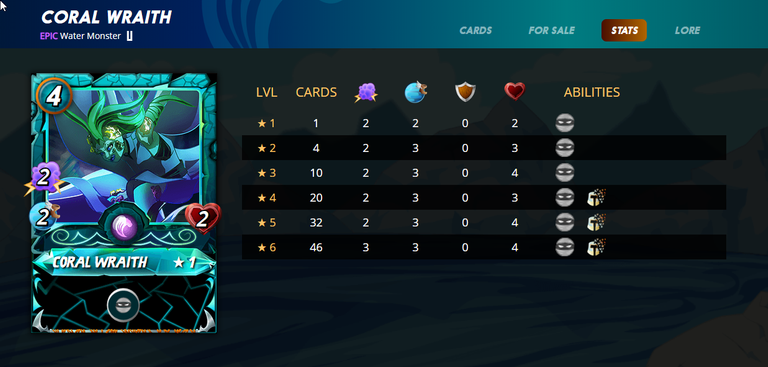 Coral Wraith is another good example of base stats not moving much. This is a team that you will see in the Untamed cards and is good for us but just be aware of it. That you can start using them when you get them to level 3 or 4 with your level 6 cards. Now to talk about this new mage. It gives blue a mage with sneak. That is a great tool that they did not have before and was pretty rare in the game. At higher levels it also gets rust. That might look like an odd combo as a mage doesn't care about armor most of the time. But protect is on a lot more cards now so it will come in handy to your other monsters. You will see the ranged cards water now has will enjoy that skill on this card. Level 4 of this card should be very playable for a while. You just need both skills.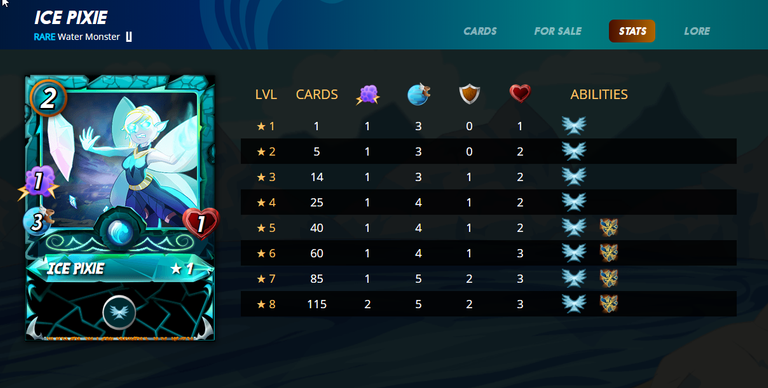 Ice Pixie is the last new mage for blue. Flying is nice for another card to use in an earthquake match. A two cost card can be useful in a lot of low mana matches. A mage with armor and a lot of cards with protect on them now allows you to stack a low-cost card with a lot of armor. Shatter is a nice skill in the right matches. This card is set up to be great in weak magic matches. That is pretty funny considering it is a mage. But that looks like the power set up for this card. It will also be a toss in a lot of the time when you just happen to have 2 mana left. It does have weakness only having one magic attack until the max level. Void is going to be a problem for this card. It is worth having to use when needed but isn't a super great card.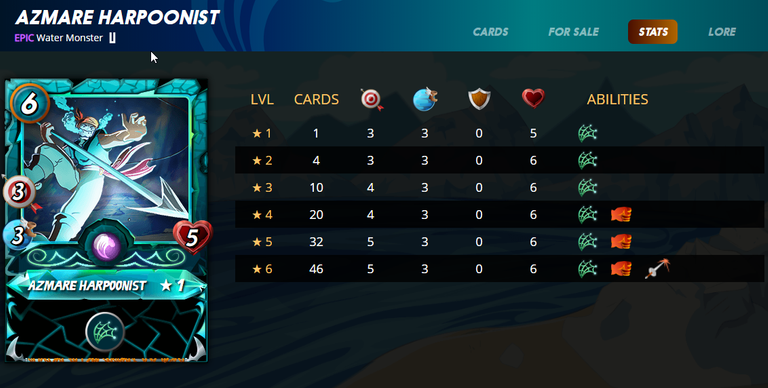 Zamare Harpoonist is a new ranged card that powers up the team a lot in no melee mode. Also as a combo with Medusa that stuns. This card brings in two new abilities snare and knockout. So it will not miss flying monsters. And if someone stuns a monster before he attacks it lookout for that double damage. At max level, you add in piercing and he is made to help kill those armor using magic reflect cards that a lot like to use. This is a really amazing card. I like it a lot and expect it to demand a high price. He will be a staple for the team soon enough.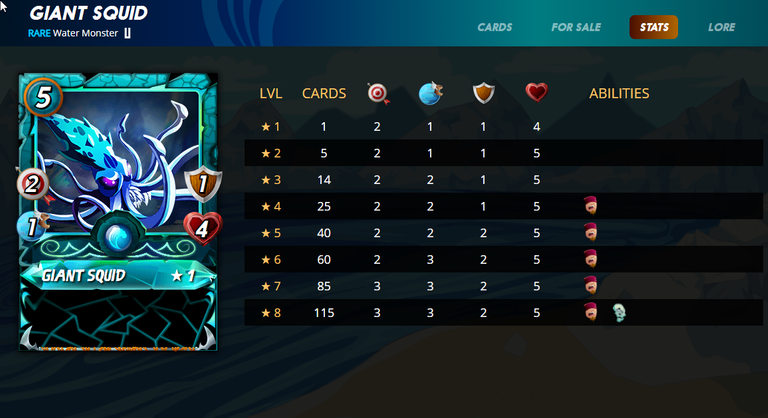 Giant Squid brings a new ability to the team, blind. This will make all ranged and melee monsters miss more often. That could be a major advantage in a match. At the max level, he also has weaken. The life and armor make him a mob that won't die fast. His damage is a little on the low side until high level. This card will be really good if blind works well. I plan on trying this out soon I just need to get a few more of his card.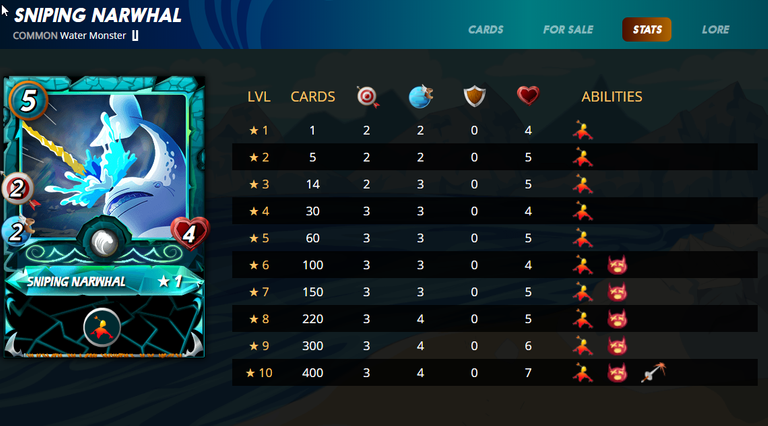 Sniping Narwhal gives the team another sniper. I like this card a lot because the other blue sniper is the Pirate Captain. His abilities are made to be used with melee monsters. So it is great to see a sniper that is just meant to be a sniper. He also has stun to give another card to pull off the knockout combo with Azmare. For this reason, he is going to be a good card to get to level six. That is a lot of cards so I expect his value to go up a bit. He is common so not that high but higher than most commons. He cost five so will be used more in the high mana matches but that is okay. Because his combo is meant to be used with other high costs cards. This card just adds to the power that is in Selena Water combo deck. Also blue can run this all with their new summoner.

These cards are great. I like that while they are powerful they won't dwarf the old cards. They are okay but missing some things that the old cards fill in. Really what I see this set doing is making one team able to play in a lot more formats. That is great as it will make it harder for you to know right away what team is going to be used. Let me know if this is too many or the right amount of monsters to review at once. I could do more and aim for all the cards on the team for the new set but then the post would get pretty long.
I am a member of the CCC group also. I am always trying to support others here with my giveaways. This is a Contest Kings giveaway No Upvote, No Follow, and No Resteem are needed to join
This is an Invitation to join #ccc for Guaranteed 👍 Daily Income 💵 and Payout 💸 for Newbies (2.0) 🐟 🐜 🐛 in #ccc 👣 and Follow 👣 the Honor Code 🏅 - the Creed (Conditions and Limits Inside) AND the latest update <<< please click to read.
I am now going to recap a few past giveaways so you don't need to look one unless you want to see who won the giveaway from this post.
Winner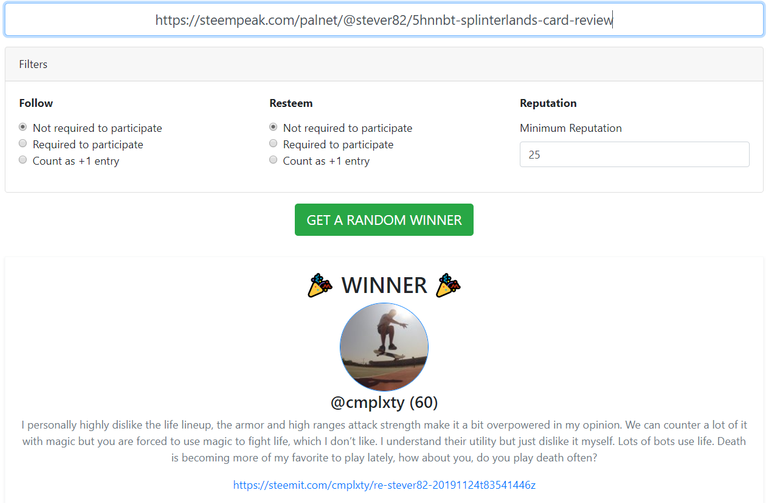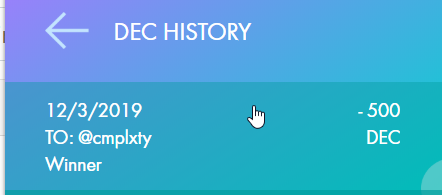 Congrats @cmpixty
Then this post
Weedcash Winner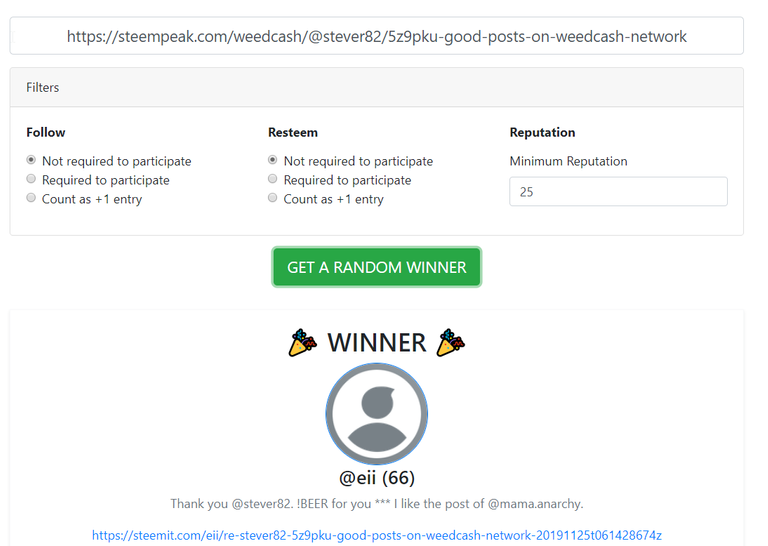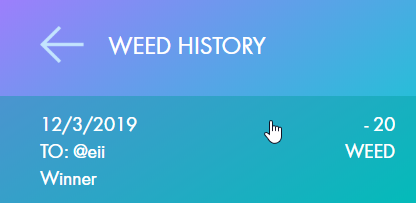 Congrats @eii
SBI winner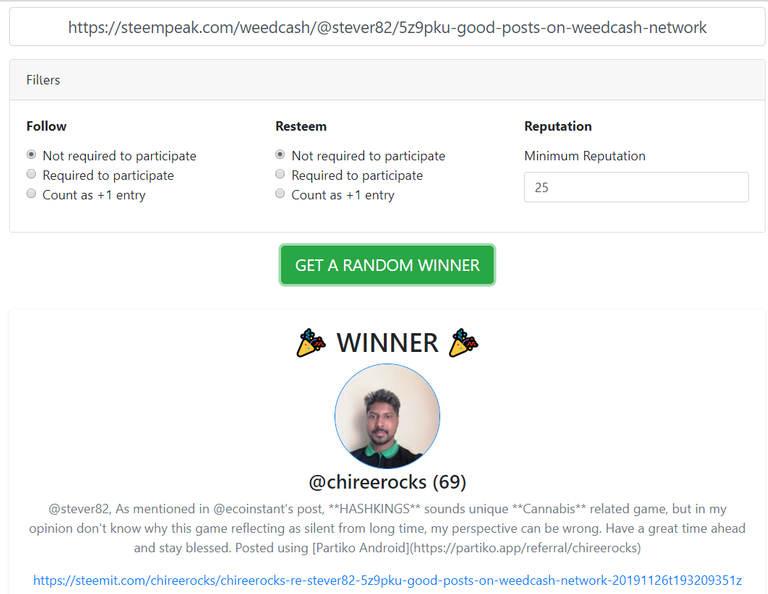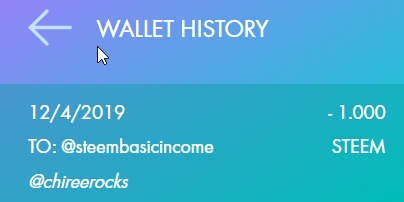 Congrats @chireerocks
Sorry both of these are late catching up after the holiday.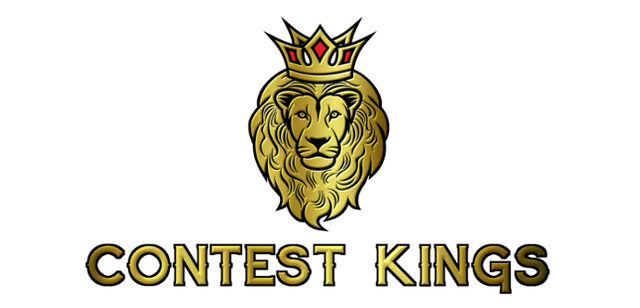 ---
---