Two weeks into flowering – Cannabis grow update
Some noticeable changes are occurring in my plants at this stage, where the plant forms new leaves is now changing into a bud. Those hairs are getting longer and more crystals are being produced. Now it is just a matter of time until the buds grow and become what we know as colas. It has been around twelve or so days since I started the flowering cycle, really excited to see how they form. The smell coming off them is amazing and every time I handle them I am just covered in that dank goodness.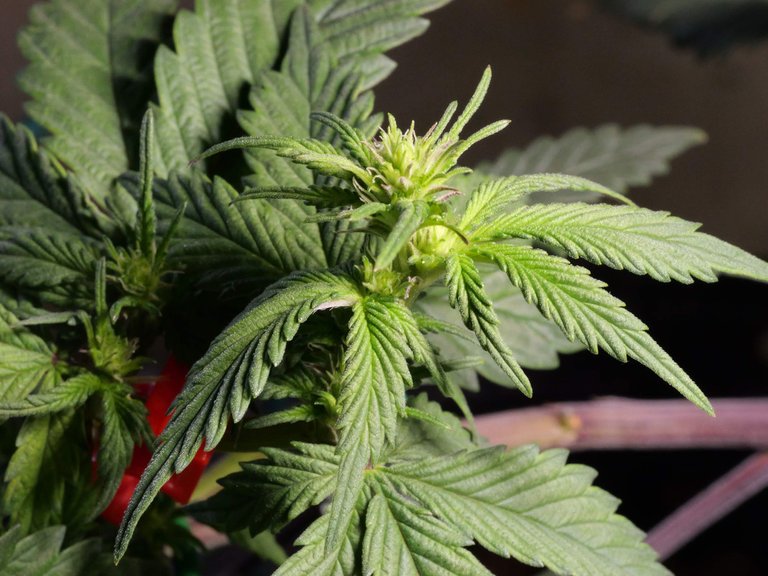 They are drinking lots of water now, giving them a quarter gallon water each and every few days. So I know some big changes are occurring inside the plant at this stage. Putting all its growth into stretching towards the light and forming buds.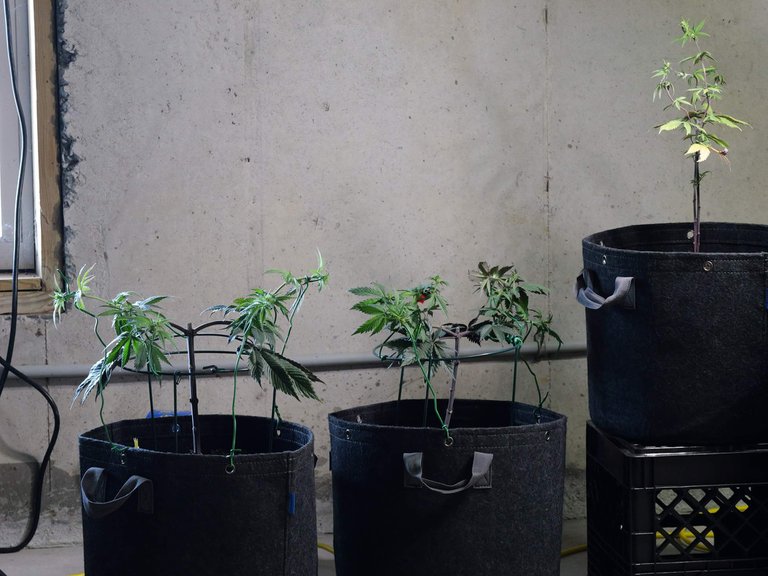 Here are the three I am working with flowering right now. But I have some bad news, might as well get that out of the way.
I found another male!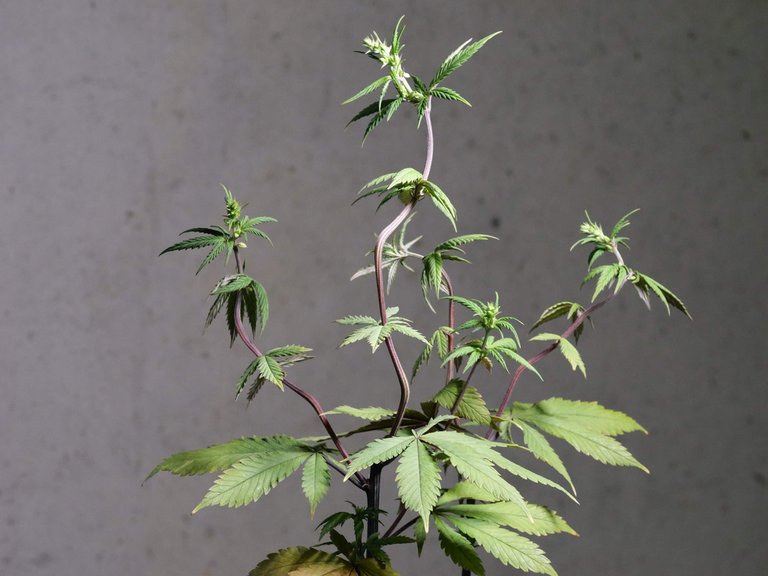 The above plant is a male, and its such a shame as its the light green one I had high hopes for.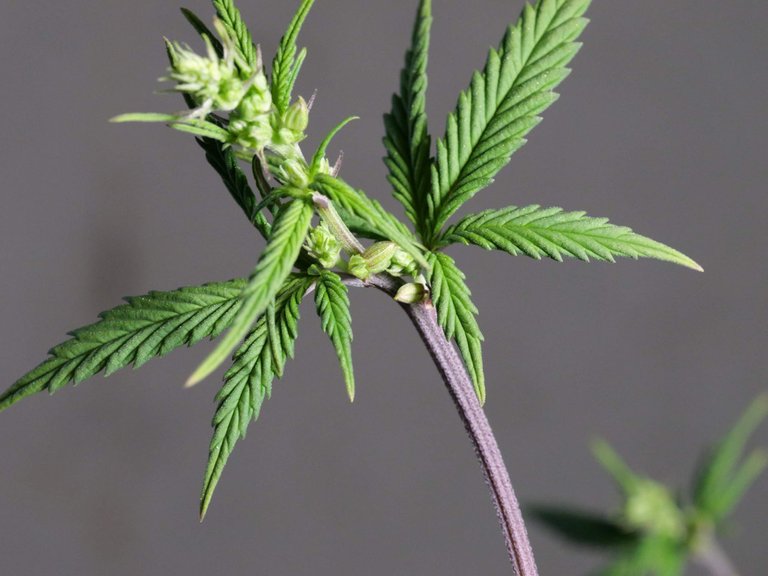 We can see the flower buds forming, glad I caught it before they opened and sprayed pollen all over my grow tent.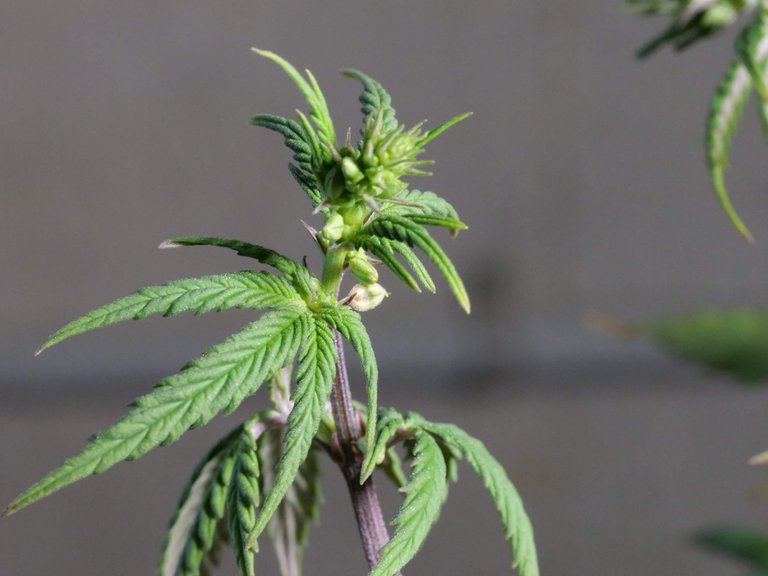 Going to flower causes both sexes of the plant to accelerate in growth so these male flowers are quite well formed at this point.
Even though its a male, its still covered in trichomes.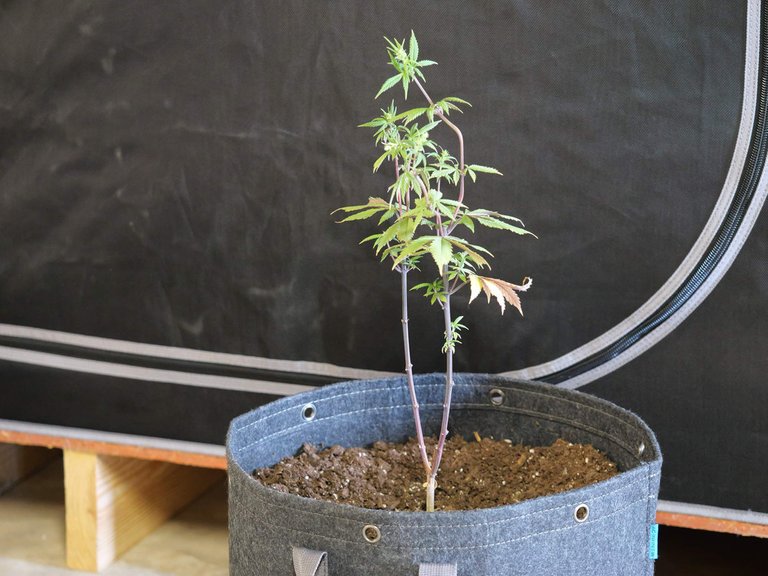 So I had to kill it, and stick with my two confirmed females. I will work on getting some more to replace what I had to kill.
The two females: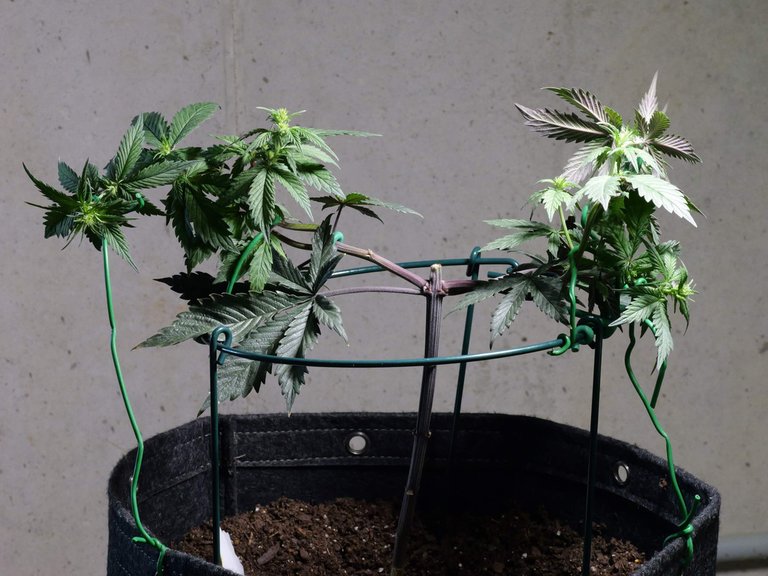 These are looking for sure to be females, they are lacking those pods and the hairs are much longer. These two are mainlined plants, I did it 2x so they have 4 main off shoots now. Still not happy with my first mainline job, cut it too tall. But I think I will give it another try on my next batch of plants.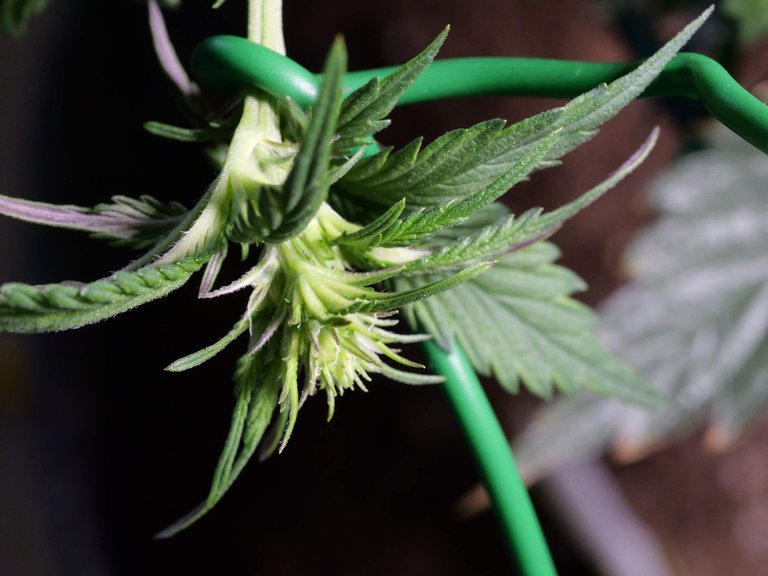 I am still training them, using soft wires I pull them down and out.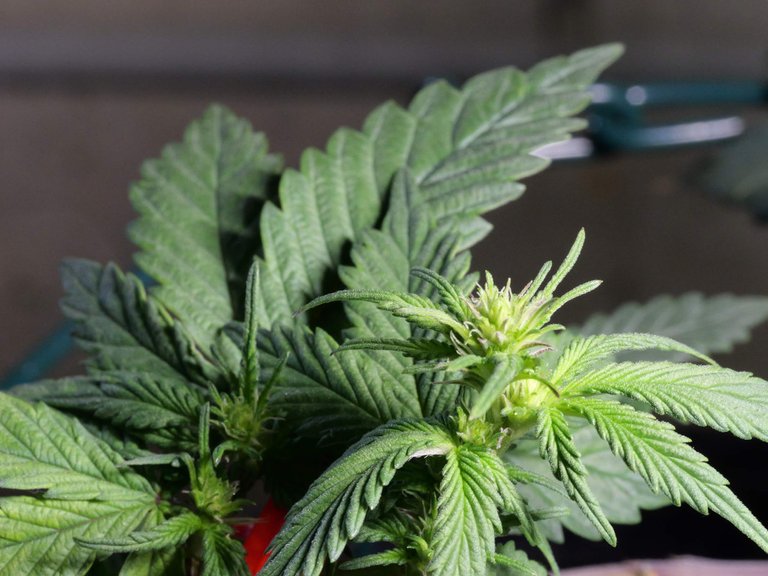 Some of the offshoots are too small, so I must wait before I can train them.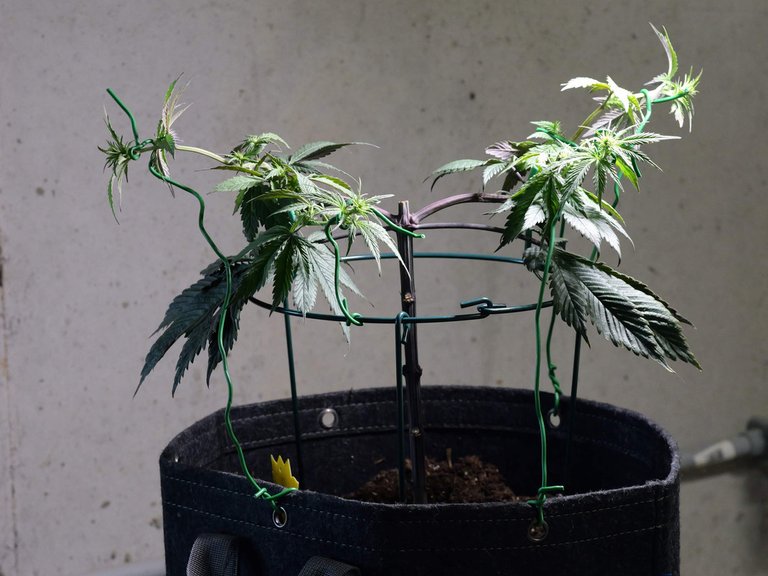 Zooming out we can see how the mainline is formed, and then I keep training the new growth to the sides.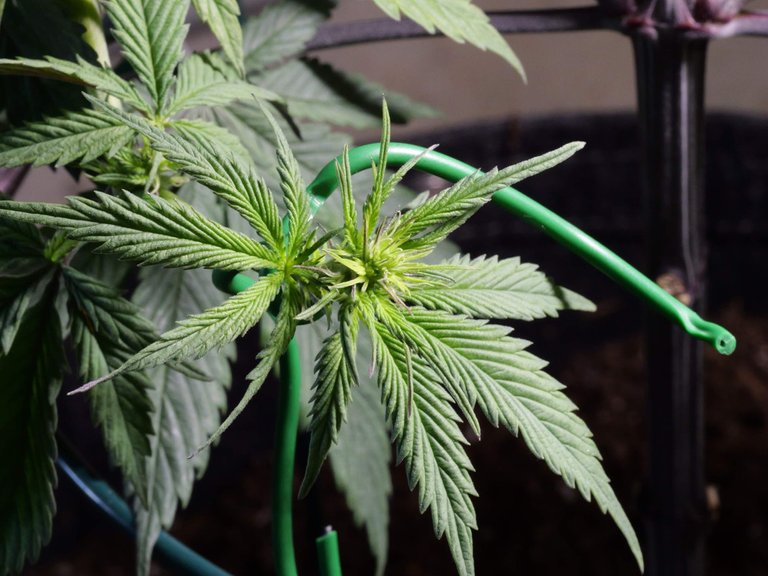 So far I have not broken any branches training them, but always worried I will. Such a tough plant.. lol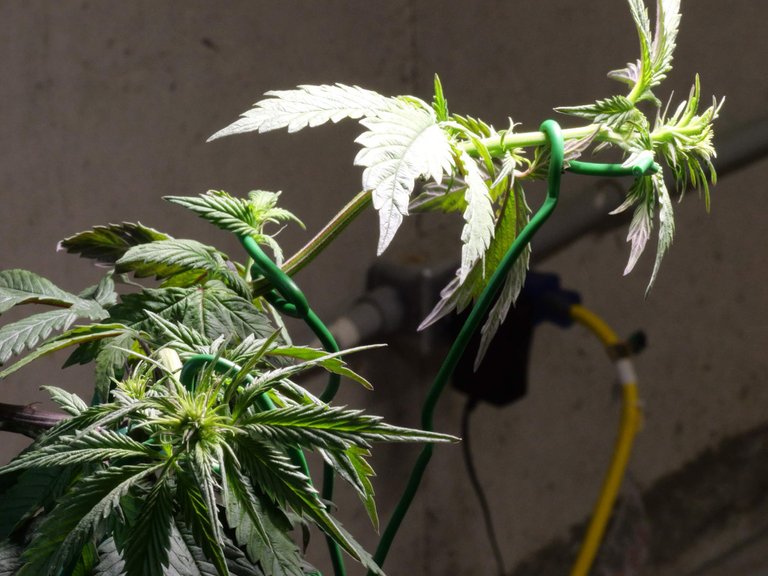 These wire cords can be bought on Amazon, and work great. Better than what I was doing with string.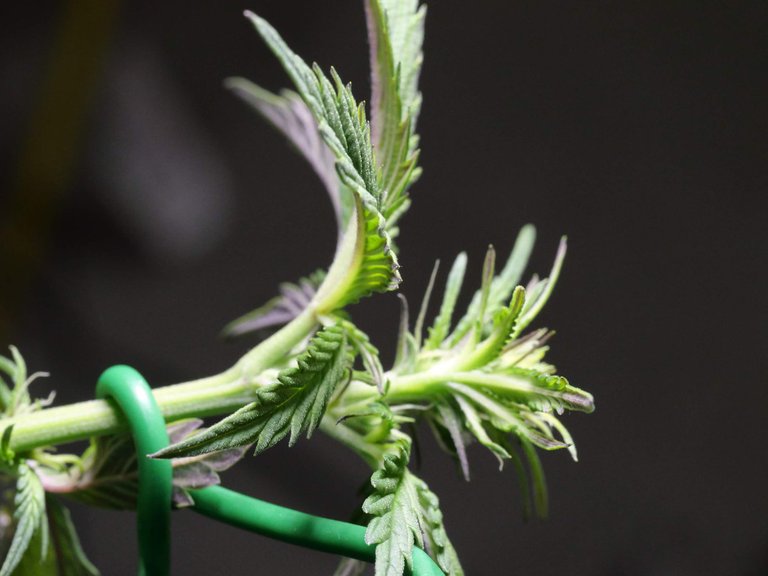 And glad the plants are responding well, sometimes I trap a leaf in the wire, but free it up later and it seems to be fine.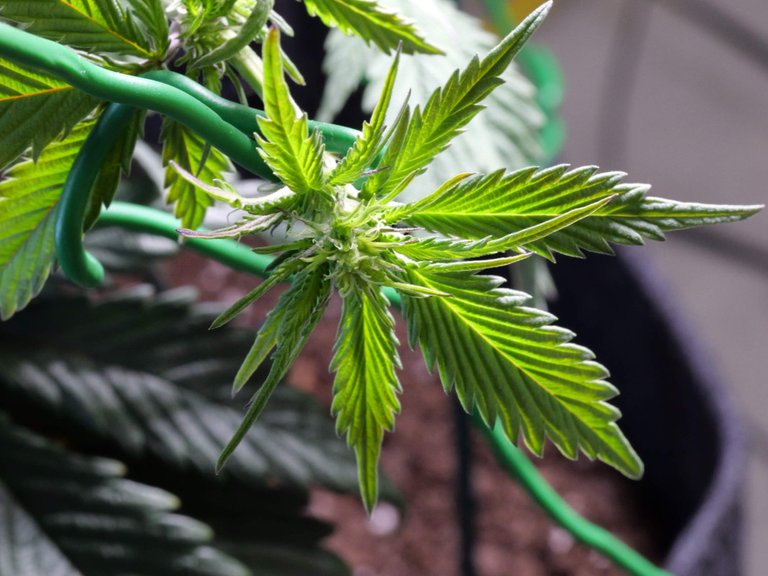 The first few weeks the plants will put on lots of growth, so I will keep on top of them training and making sure they get all the resources they need. Such as co2, humidity, temps between 83-85f (very tight range for co2 enriched environments). As the buds form in the late flowering stage I will keep the temperature a little lower around 78F for the max so I do not cook off any terpenes.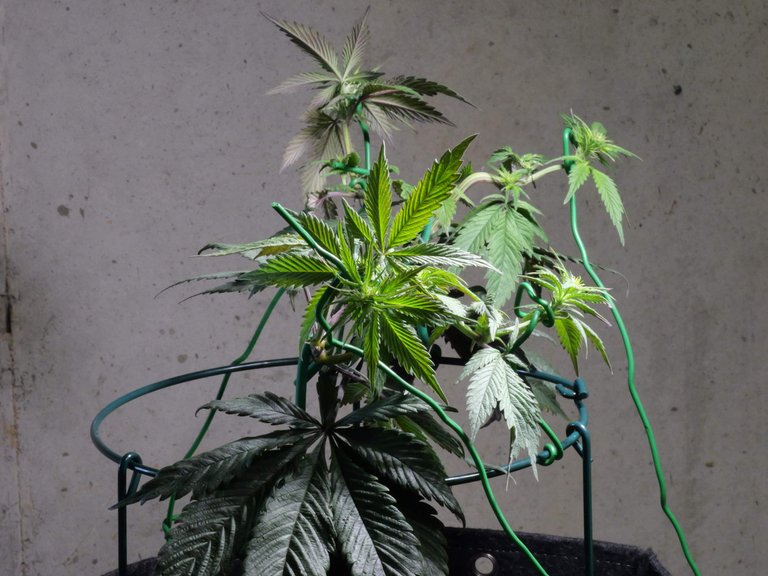 By turning the mainlined plant we can see how much growth it has put on in each direction.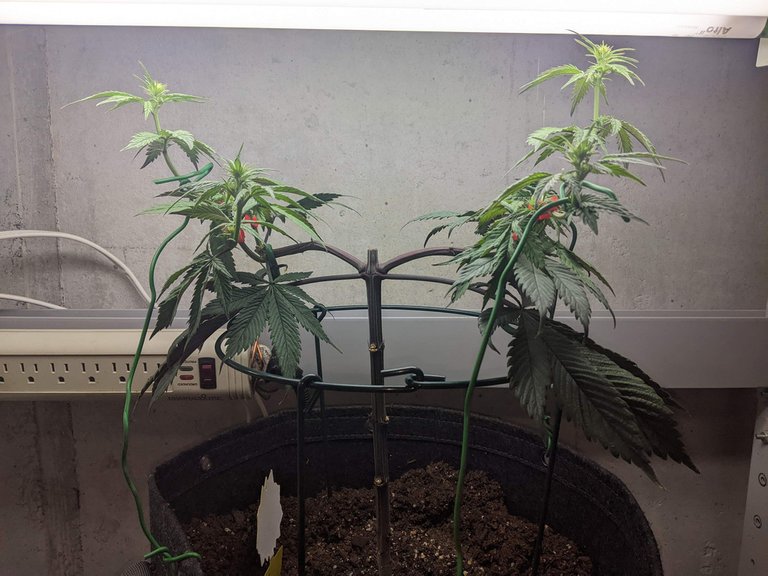 After letting it grow for about a week, they need to be retrained. Moving the wire up the stem again, above is what it looks like about a week later with more training needed.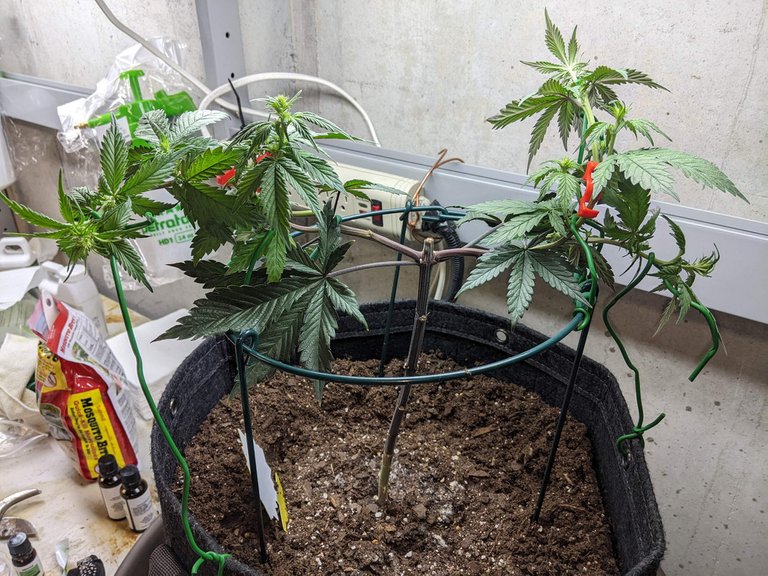 Those LST clips have been removed at this stage, most of the stems are long enough to work the wire cords around.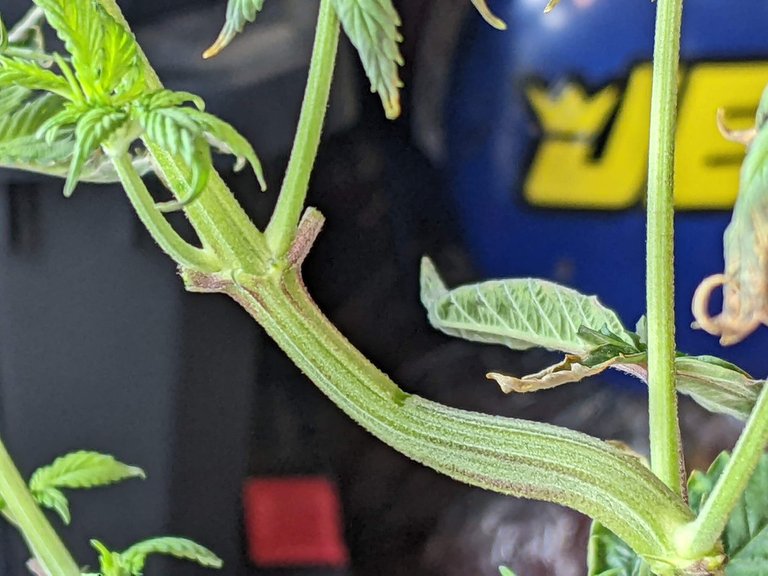 As I was taking them off, I found little indents in the stems. So its important not to leave them on too long.
So what's next?
As we are now half way through the early flowering period, I will keep training new growth. Soon it will slow down and just grow in density. It is important to keep an eye on my co2 levels and replenish the bins when the levels start getting close to the 1000 PPM level.
I have started diffusing essential oils in the room, to hopefully keep mites at bay. I hope to deter them using botanical solutions. But if that does not work I do have chemicals as a last ditch solution. But the hope is using more mild forms of insect control will suffice. I will write a post on this topic soon about my IPM (Integrated pest management) solutions I hope to use in my grows.
---
Previous posts on my cannabis project:
https://peakd.com/hive-195708/@solominer/starting-the-flowering-cycles-for-my-cannabis-plants
https://peakd.com/hive-195708/@solominer/topping-and-training-the-cannabis-plants
https://peakd.com/hive-163521/@solominer/bigger-better-stronger-plants-by-adding-co2
https://peakd.com/hive-195708/@solominer/cannabis-plants-update-females-confirmed
https://peakd.com/hive-195708/@solominer/making-cannabis-tea-from-male-plants
https://peakd.com/hive-195708/@solominer/luck-has-not-been-on-my-side-2-confirmed-male-cannabis-plants-so-far
https://peakd.com/hive-195708/@solominer/moving-up-from-sprouting-to-vegetative-growth
https://peakd.com/hive-195708/@solominer/setting-up-the-grow-tent-and-transplanting-two-sproutlings
https://peakd.com/hive-195708/@solominer/my-cannabis-sproutling-is-now-one-week-old
https://peakd.com/hive-195708/@solominer/one-sproutling-has-emerged-moved-to-the-big-pot
https://peakd.com/hive-195708/@solominer/cannabis-seeds-have-sprouted-now-they-go-into-dirt
https://peakd.com/hive-195708/@solominer/starting-my-cannabis-seeds-and-my-future-plants-for-growing
---
---