My solutions for pests

Having a plan for dealing with insects can go a long way in growing anything.. But with cannabis its required otherwise you may be in for some major disappointments when the insects take over. But with a plan, you can knock out just about any problem with insects in grow tents. Many treatments require care of when to apply and how.. So there is a bit of a learning curve to it all but once you have it down I think this system works well.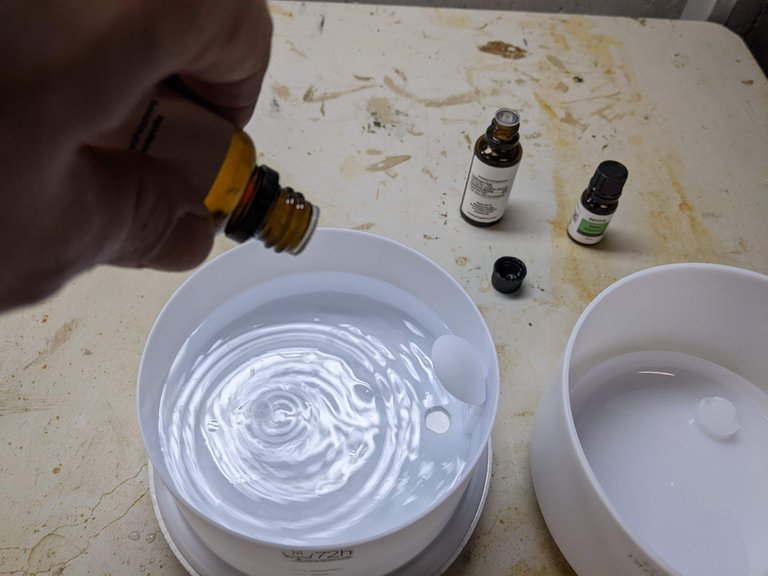 There are really just two bugs I have to deal with on these plants. It is fungus gnats and spider mites. The first will show up when the root system of the plant is just starting off. They may seem benign on the surface, but they dig down into the soil and lay larva by the roots. This is where the problems start, as the larva will eat the young plant roots and can seriously affect its growth. So you do not want gnats in your grow room, tent or by any indoor plants.. Their babies are eating the roots and its gonna hurt your plants.
https://en.wikipedia.org/wiki/Fungus_gnat
As for the spider mites, they tend to show up during flowering. And can be a complete harvest destroyer, if they get bad enough they will throw webs over your buds and cover them in thousands of little mites. This causes the colas to be unusable in smoking and can be severely affected by the webs causing mold or other bad things.
https://en.wikipedia.org/wiki/Spider_mite
So by dealing with these two problem pests, I can focus on keeping my plants happy and bug free.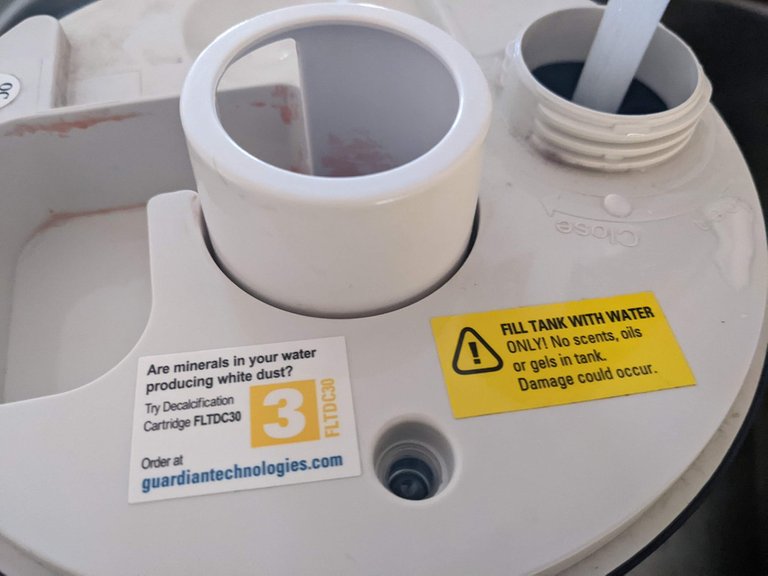 I have four stages of insect control, starts with the most mild treatments that do not affect the plant. Up to strong treatments that will kill the insects but can hurt your plant (depending on use and plant immune system strength).
Botanical
Biological
Natural predators
Chemical
Botanical:
Using plant extracts and essential oils made from plants is my first stop for controlling bugs. My go to is Neem oil.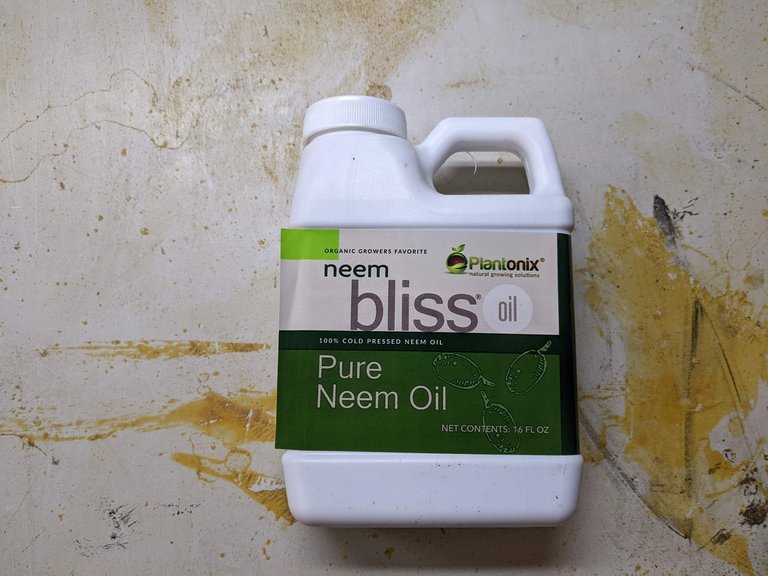 Using this has some cautions to keep in mind, such as you cannot spray it on flowering cannabis. You must mix it with hot water, and its only stable in water for a very short time. So using Neem oil is something you make, wait for it to cool and then pour into your soil. I have found this can deter fungus gnats. But does not always work, and recently I found just that.. and had to move up to biological. Spider mites can also be deterred by using essential oils. You can rub it on the cloth pots, or leave a cotton ball with some on it inside the tent. Or diffuse it in the grow tent, I am doing the later.
Also coffee grounds seem to repel fungus gnats as well, placing it around the plant works for a few days.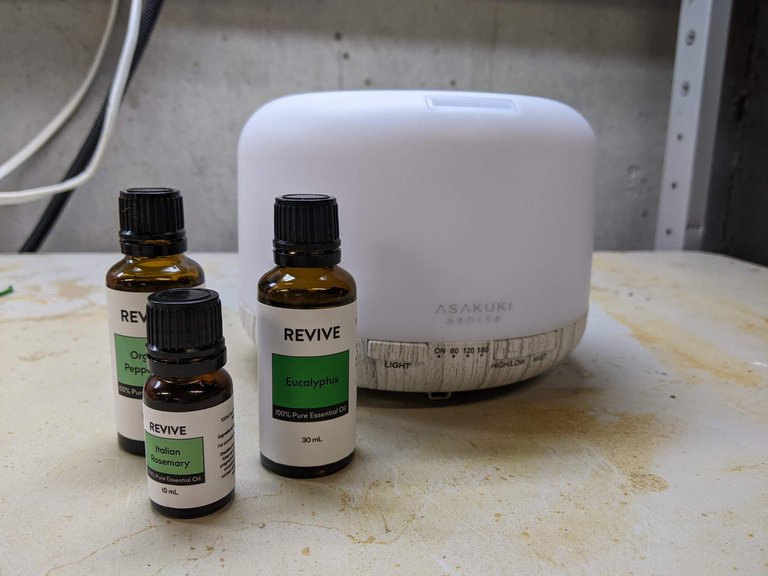 Essential oils to go after spider mites aka natural miticides:
Eucalyptus
Rosemary
Peppermint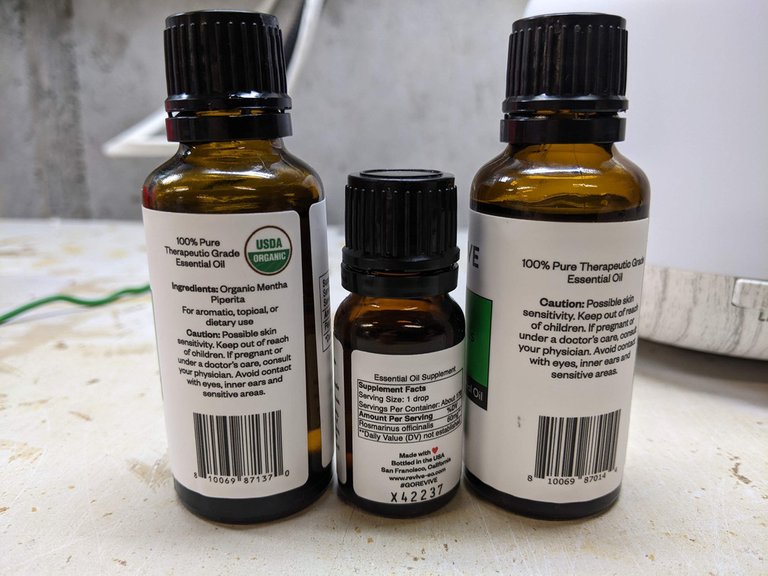 Be careful in what you put these oils in. Only use diffusers made to process essential oils. Luckily my humidifier is designed to use oils.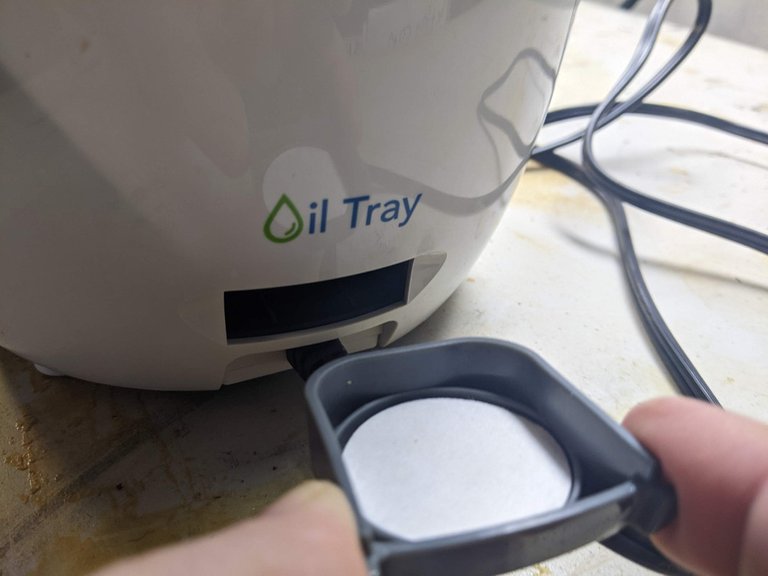 But an actual diffuser works even better. But can be used in these oil trays if your humidifier supports it.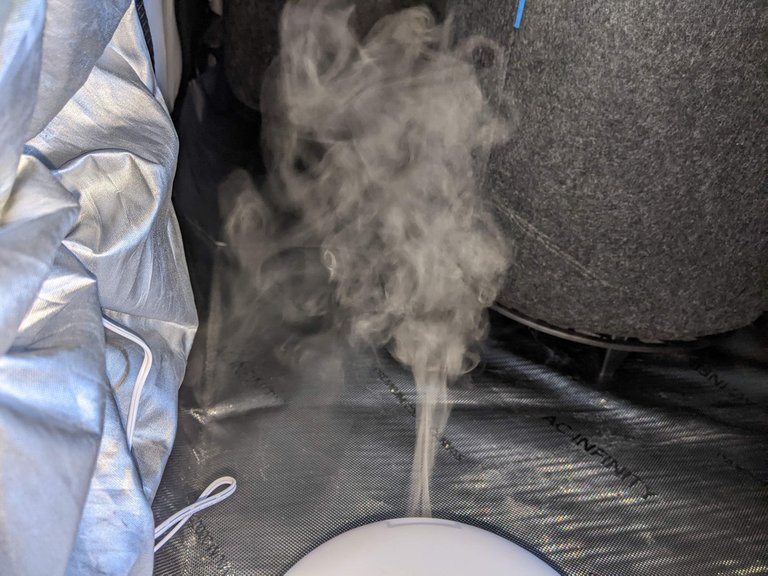 I am not sure how often I should be diffusing oils in the tent. I will start with 3 times a week and see if I have any bug problems.. If so I will move it up to 5 or 7 days a week. Since this is the first time using it I am unsure of how it will work. But hoping it will act as a strong deterrent to keep any spider mites from even considering moving into my tents.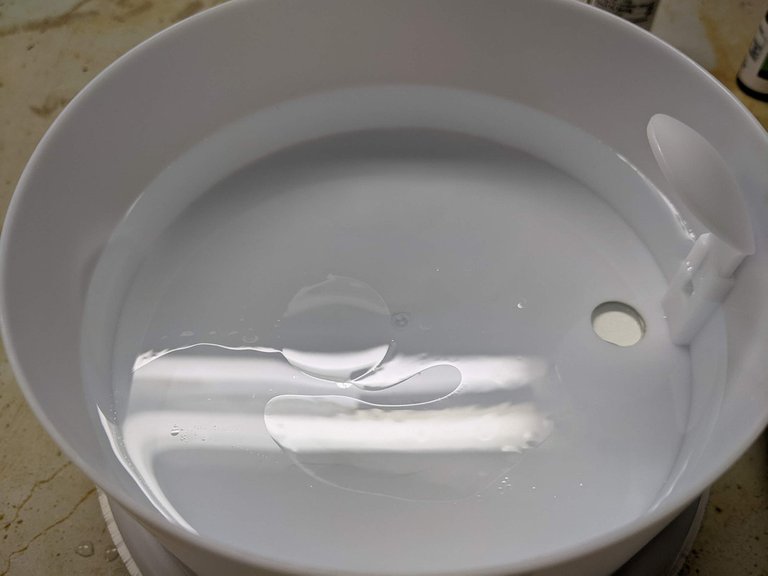 The oil lasts for a night, so its best to put it all in the water as soon as you want to use it.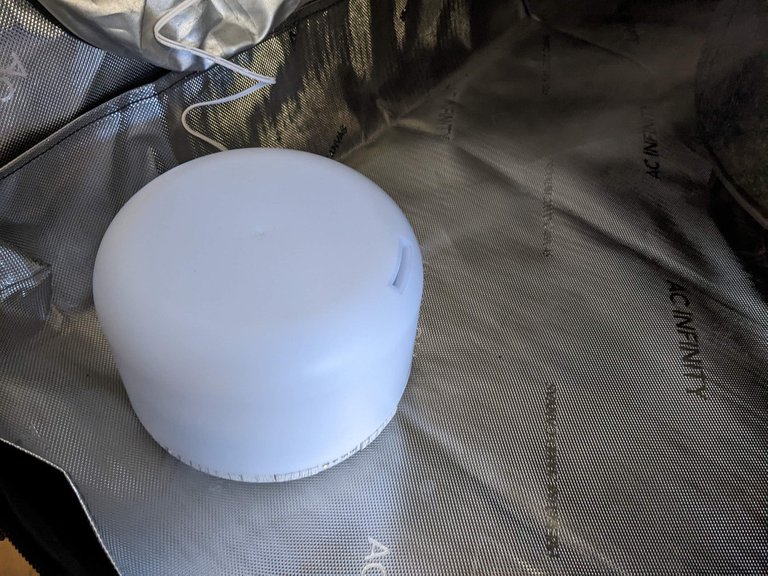 Makes the tent smell lovely.. not that it did not already.. haha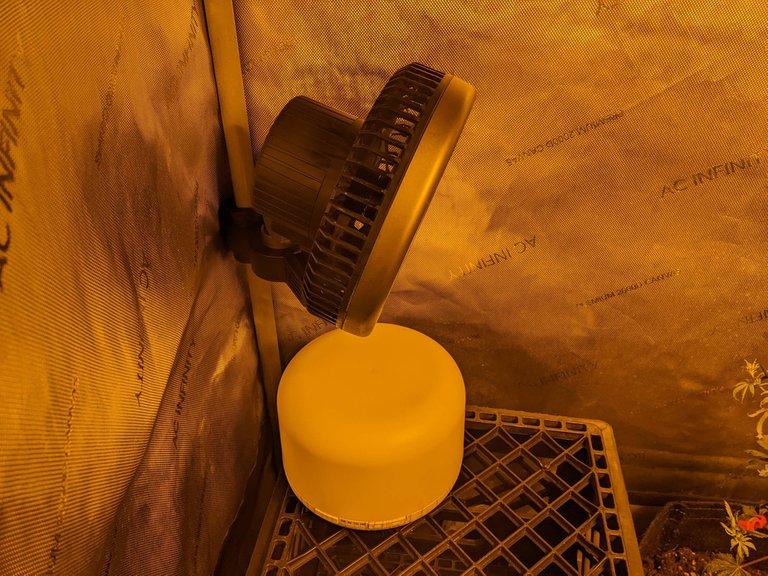 I ended up moving the diffuser just under the fan so it can break up the mist better and disperse it through the tent. I noticed it was falling to the ground on the tent floor so I moved it up higher and let the intake of the fan pull in the diffused oils and broadcast it through the room. This is one of the reasons I do not want to do it every day.. Not sure if it will build up on the plants too much. So giving it a break, long enough to clear out but not long enough for bugs to move in is key.
Biological:
When the neem oil is not working, I switch to a fungus. One that specifically attacks the guts of fungus gnats. When they feed on the roots soaked in it, they will die within 24 hours. I use a product called "Misquito bits" and reapply every 14 days.. It works very well on the gnats. Along with yellow fly traps, using both wipes them out quickly.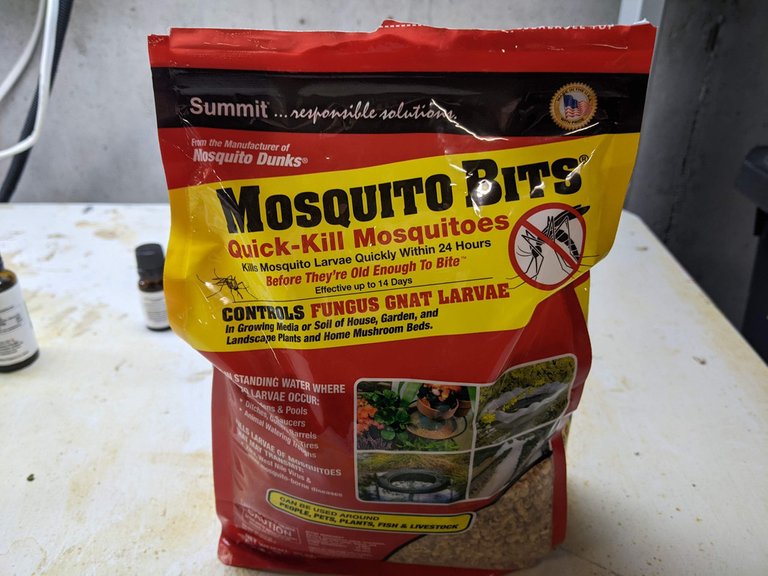 https://en.wikipedia.org/wiki/Bacillus_thuringiensis_israelensis
Known as BTI
https://en.wikipedia.org/wiki/Flypaper
Good for using unless lady bugs or asian lady beetles get stuck to it. Not really biological but goes well with the BTI.
Natural predators:
Speaking of lady bugs and asian lady beetles, they will eat most soft bodied insects such as spider mites and possibly even fungus gnats. I found the asian lady beetles will crawl on the leaves and look for bugs to eat. Just have to keep the tent a little sprayed with water so they can drink. I found them during warm days, and put them in jars and them into my tents.
https://en.wikipedia.org/wiki/Coccinellidae
https://en.wikipedia.org/wiki/Harmonia_axyridis
Chemical:
Sometimes the bug situation gets out of control and your about to lose all that hard work over many months. This is when I pull out the strong stuff.. Though be warned if your plant is weak already it may kill it or hurt it even more before solving the insect problem.
Hydrogen peroxide works quite well as a soil drench.. I have done up to a 50/50 mix with water to kill fungus gnats. Though most people use much less. I found found that this chemical does not really affect the cannabis plant in a bad way.. Some claim it actually helps by oxygenating the soil. So it would be my first choice for a chemical solution.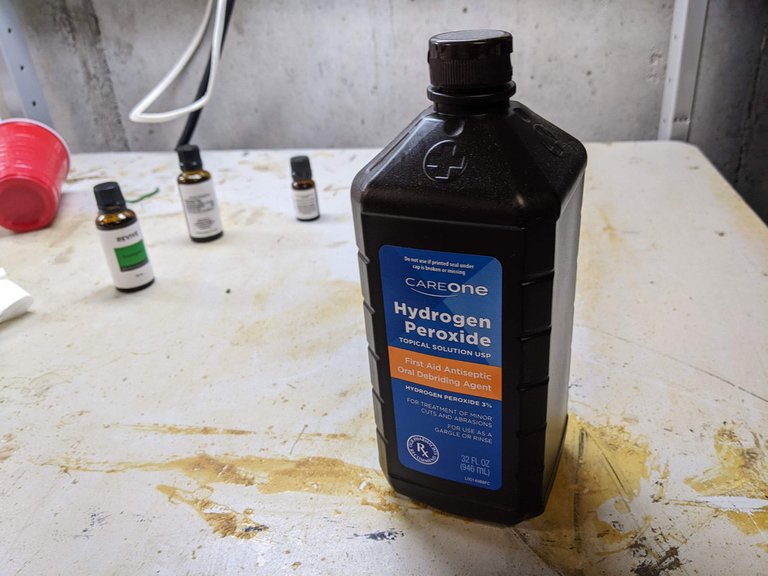 Works as a soil drench to kill larva and gnats in soil.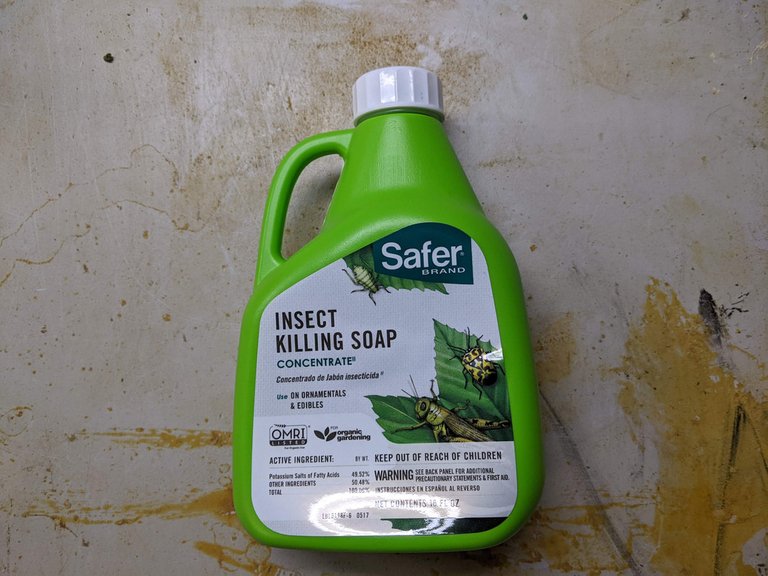 Insecticidal soap during vegging
https://en.wikipedia.org/wiki/Insecticidal_soap
Keep in mind this should not be used on buds, but can be sprayed on the plant leaves. It is designed to break down insect exoskeletons. But at the same time it will damage the wax layer of your plant and can cause it to suffer. So only strong plants can handle this chemical, as it needs to heal after being sprayed.
https://www.ohp.com/Products/floramite.php
https://www3.epa.gov/pesticides/chem_search/reg_actions/registration/fs_PC-000586_01-Jun-99.pdf
Final stop for spider mites is the above product. Its active chemical is Bifenazate and should only be used as a last resort. I have yet to have to use this product, but I keep it on hand if I ever need it.
If all of this does not work you probably need to clean your tent out real good and check out the surroundings around the tent.. A dusty environment can increase the chance of spider mites. And having untreated house plants around your cannabis can allow fungus gnats to still be a problem even with treatment of BTI. So you must be aware of the surroundings outside the tent just as much as inside.
---
---