Drying and curing my next batch of cannabis buds
It has almost been a month since I harvested my first plants, since then I have had some more ripen up and I tried a new drying method. It was recommended by @derangedvisions so I figured it would be a good idea to try out this method of drying and curing my buds. I set up some string in an unused bathroom of the house and tied the cut stalks upside down to dry. Spacing them out so they had room, I was able to fit three in there.. maybe I could fit two more but thats about it. I will need to find a better place for when I have larger plants to hang in the future. But indeed I like drying using this method now that I have tried it out for myself.
Previously I would cut the buds off of the plant and hang them up on strings individually. Placing in a cardboard box to wick away the moisture. But this time I chop the entire plant at the base of the stem and hang it up on a string upside down to dry. This allows the plant to draw out moisture from the buds helping to dry better. When cut off the moisture has less of an ability to get out of the buds, as far as I understand.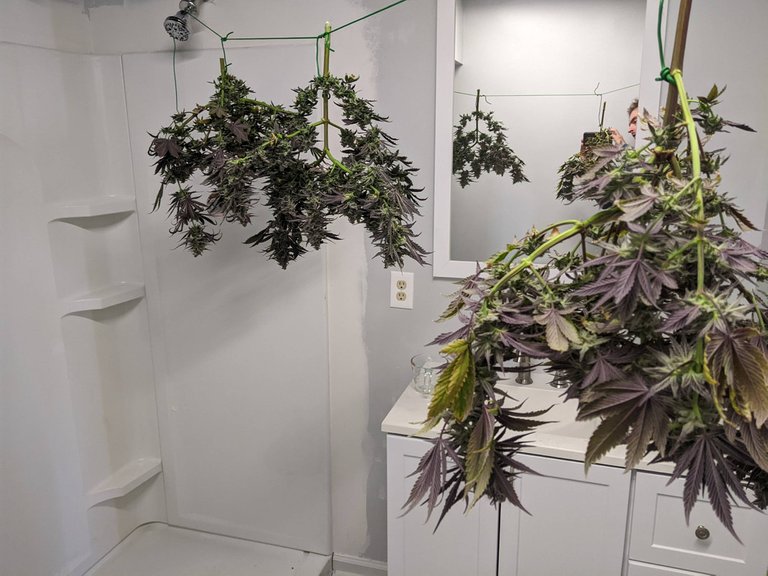 This method was much easier than how I did it by cutting off buds and hanging them up on strings. Only took me a few minutes to start the drying process, when it would take me well over an hour with this many plants doing it the old way.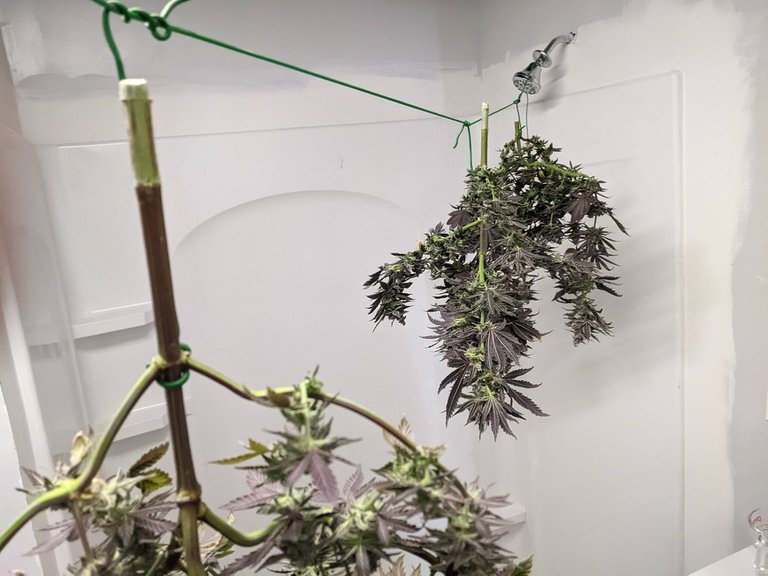 I left them hanging for around 12 days and then got to trimming off the large fan leaves and any others on the buds. I kept some of sugar leaves as they should smoke okay. Trying to cut the sugar leaves that are too close just makes buds get cut in half. So I find keeping them is better than getting a bunch of cut up popcorn nugs.

@derangedvisions advise of drying and curing.. thanks for the tips!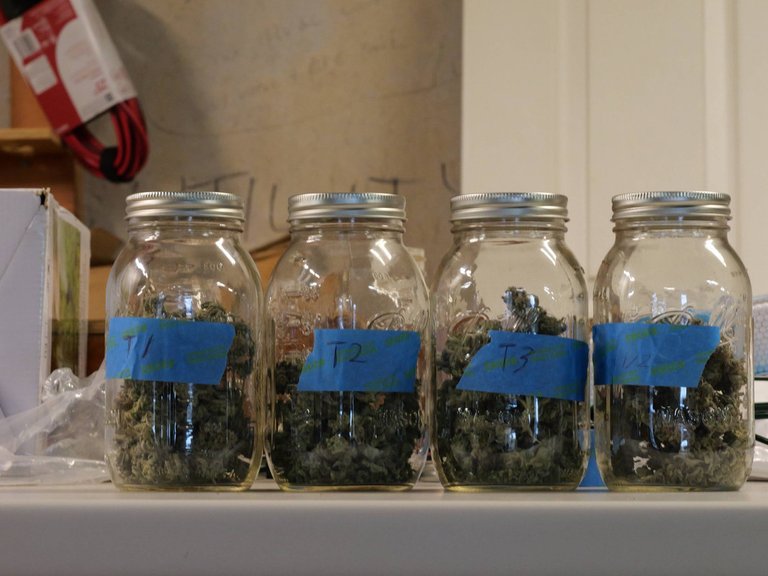 Now I four jars of cannabis to cure. This part will take a few months, but I can start smoking them around two weeks in. Since I do not know what kind of strains these are I just named by the order of which I harvested then. T means topped and M means mainlined.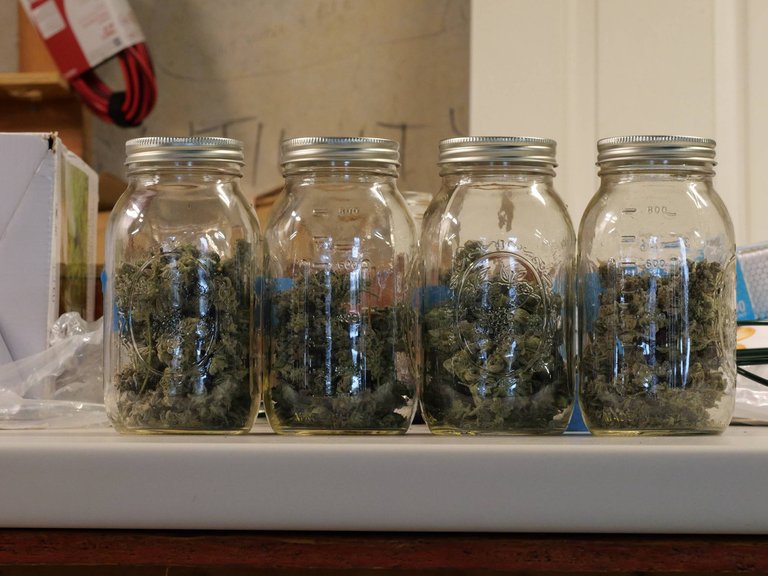 Seeing them from the back we can see inside the jars a little better. For the first week I will open the jars for a few seconds twice a day. Then a week later just once a day, and after a month in I will open or (burp) the jars once a month.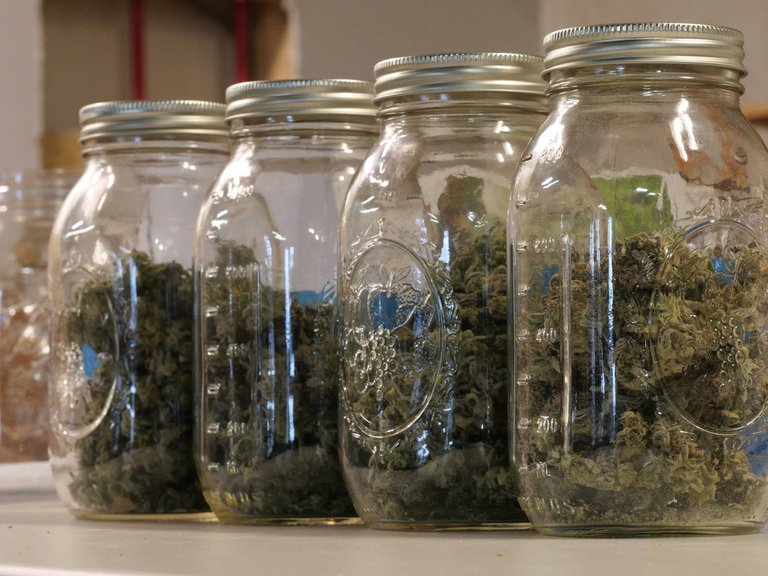 The smell coming off the jars is quite amazing, even during drying it was quite a pungent odor coming from the bathroom. It smelled like those cannabis plants took a big ol dump in the bathroom and did not flush.. lol.. very dank. The smell coming off flowering cannabis has a "wet" smell to it, compared to what it smells like when smoked. Still smells very similar, but I find the wet smell of drying cannabis can be quite overpowering when your up close.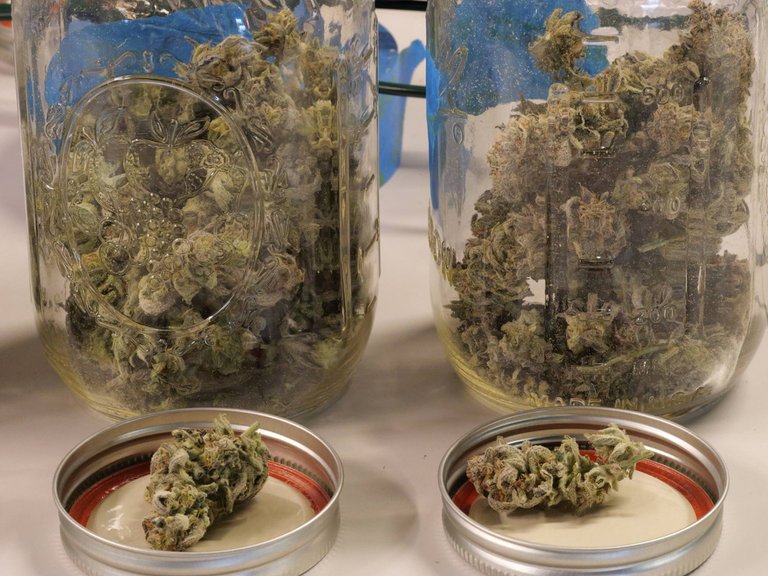 Taking a closer look we can see how the buds look a little different. Probably all different strains from the seeds I got.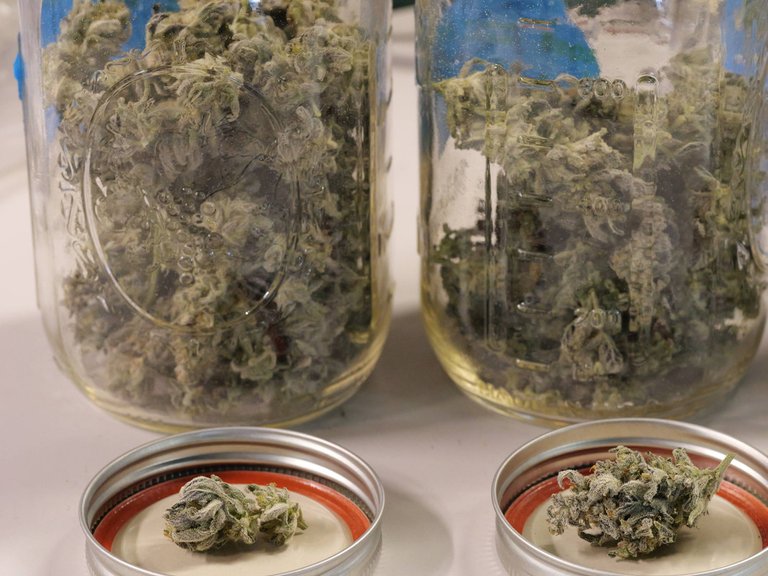 Not sure which one is my favorite, they are all strong and quite good. I think I need to wait for them to cure better to make a decision.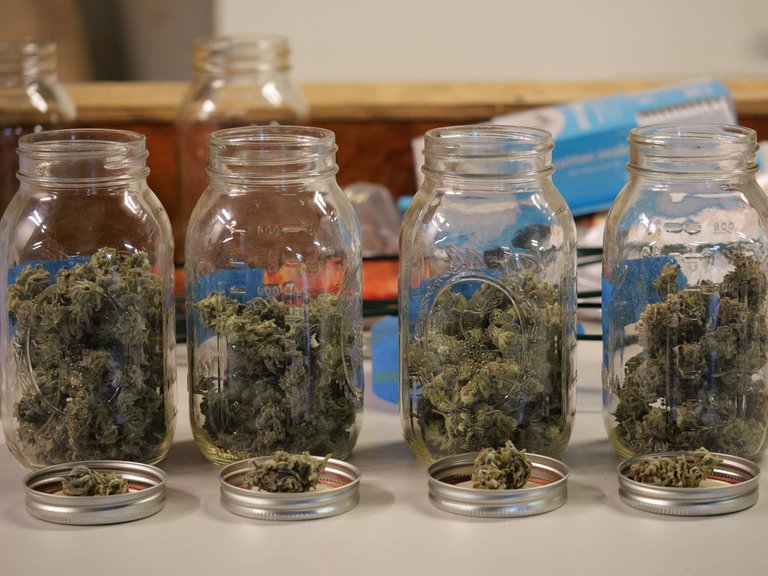 Feels really good to have jars of cannabis just waiting for my consumption, and with more on the way this is just the beginning. I do not think I will be able to smoke it all before the next harvest so I hope my collection just grows.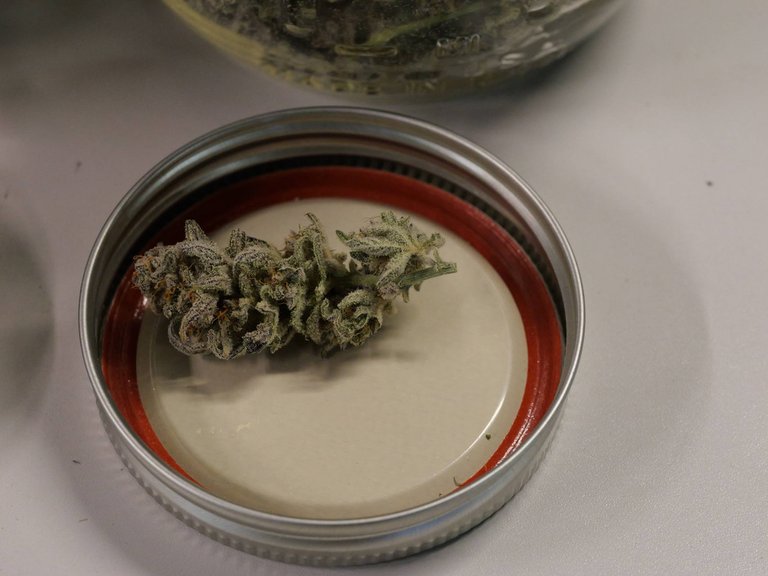 I look at each bud up close and we can see all the good frostyness on them.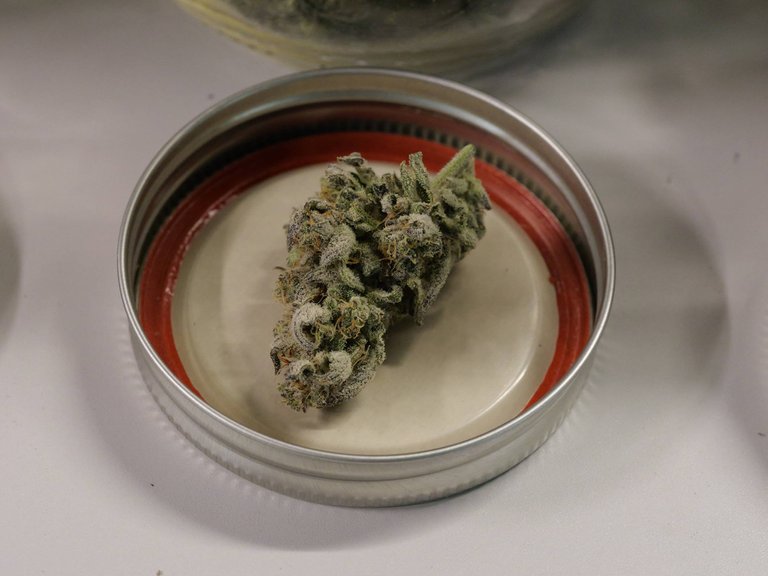 Those orange hairs are quite distinct as well.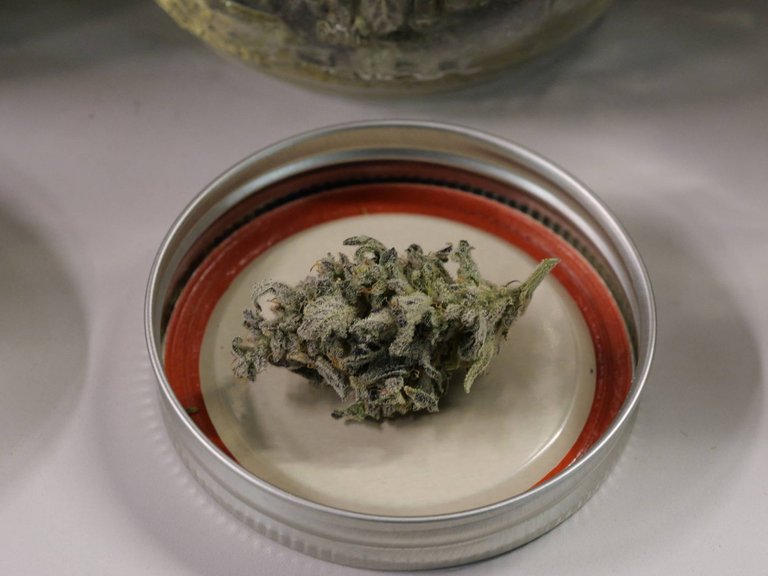 I am really surprised they all came out super dank looking, thought I would have an ugly duckling in the group but just did not happen.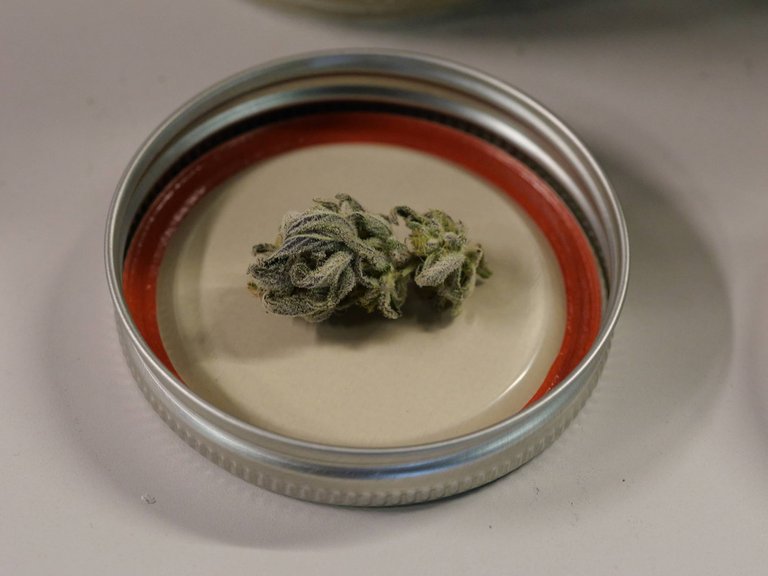 Last is the mainlined nug, small but quite potent. It was cool trying out different growing methods. I think I will stick to topping for now but may give mainlining another try once I build up my collection of buds a little more. Since it is a very slow way of vegging the plant. I would rather get lots of yield quickly so I have a nice stash to sit on and vaporize as I want.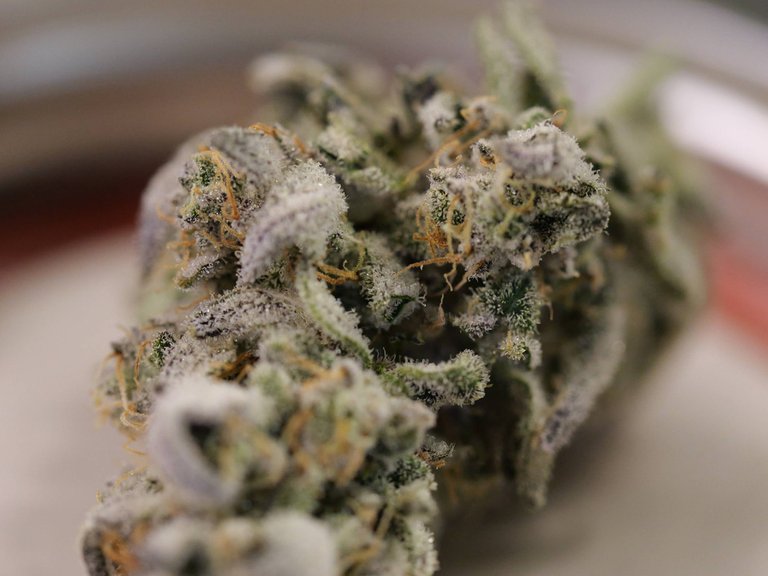 We can see all the trichomes building up on the leaves and buds, this is why I did not want to trim them too heavily. Though none of the leaves go to waste as we saw in my kief post. The other leaves can be used to make bubble hash. This is by using frozen buds with ice and you stir it through fine mesh to get hash out of them.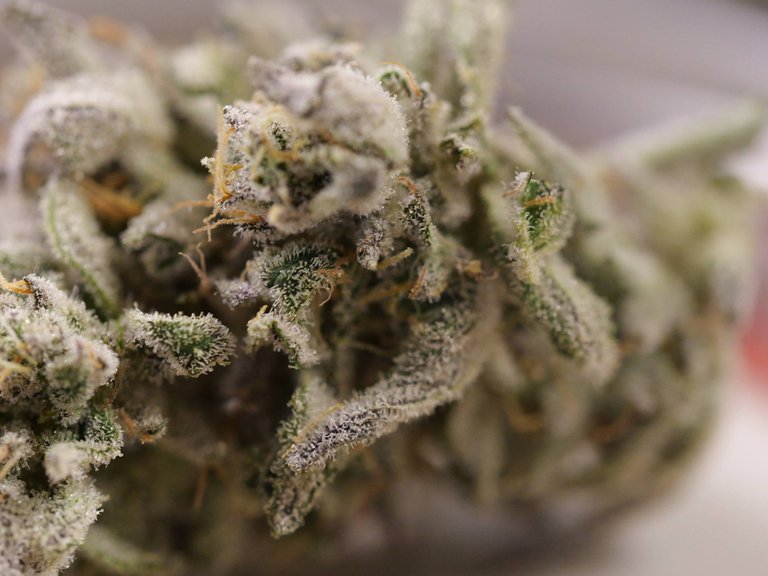 The purple leaves can be seen as well. This is caused by certain chemicals forming in the plant when exposed to lower temperatures. I like purple strains and many other people do as well. Glad I got some on my first grow.. Well actually they went further than purple.. they went black. Which is really cool, as I had never grown any black strains until now.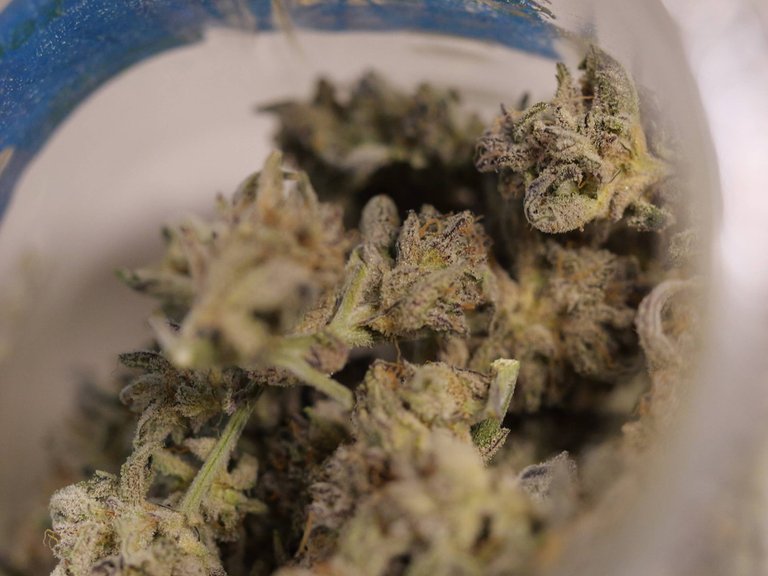 Looking inside the jar I it all looks so good. I give the jars a gentle shake every day to make sure the buds are not sticking to each other and the jars glass. Being careful not to dislodge the crystals as I want to keep them on the buds.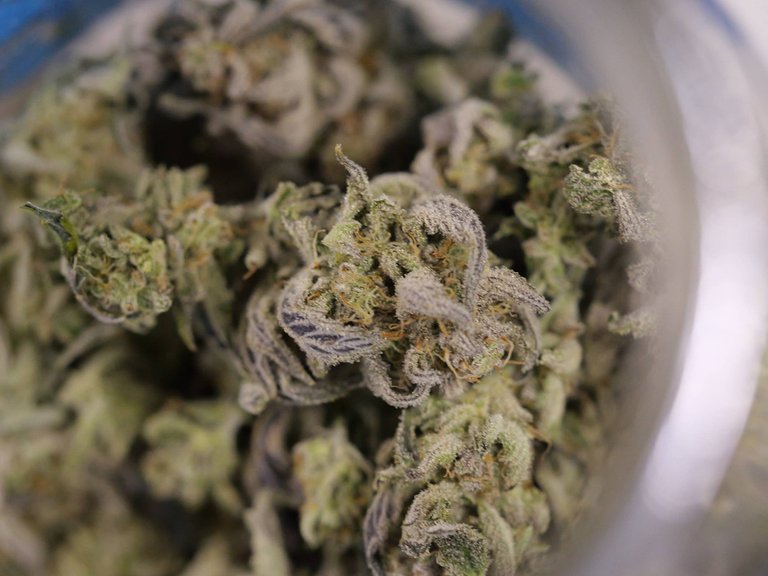 I have been slowly trying out the buds and they vape really good. I use them in my volcano vaporizer. They have a strong flavor, probably due to them not being completely cured, but they still produce a nice high and does not make me cough too much.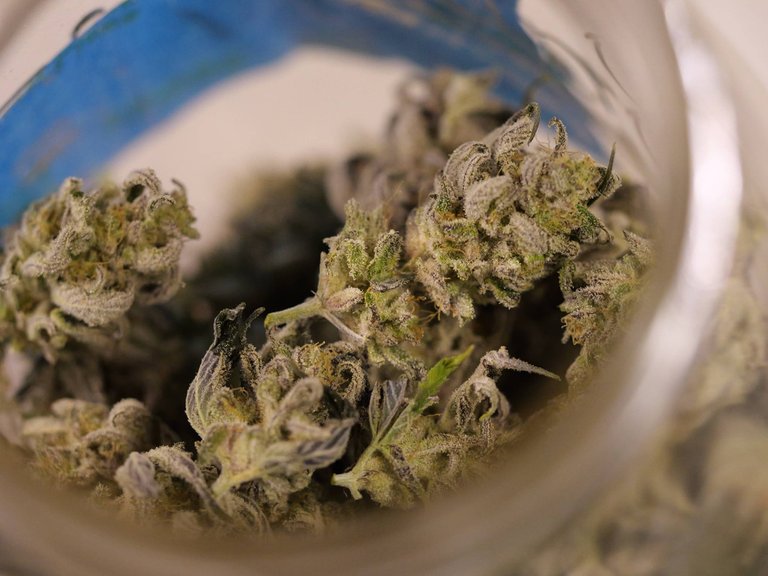 Some of my friends have tried it out too and they think its top shelf stuff. I think so too, its quite strong.. Smells great and looks very frosty. Glad I have some home grow to smoke, nothing better than enjoying the fruits of your labor. Or in this case the herbs of all my hard work. But indeed it really does just grow on trees, but much care is needed to get a nice yield. And I am very happy with how these little plants came out. I hope my next harvest is much larger as I have grown them taller this time around.
Previous posts on my cannabis:
https://peakd.com/hive-195708/@solominer/harvest-day-has-arrived-for-my-cannabis-plants
https://peakd.com/hive-195708/@solominer/late-into-flowering-and-going-purple-cannabis-grow-update
https://peakd.com/hive-195708/@solominer/just-about-half-way-through-flowering-cannabis-grow-update
https://peakd.com/hive-195708/@solominer/two-weeks-into-flowering-cannabis-grow-update
https://peakd.com/hive-195708/@solominer/starting-the-flowering-cycles-for-my-cannabis-plants
https://peakd.com/hive-195708/@solominer/topping-and-training-the-cannabis-plants
https://peakd.com/hive-163521/@solominer/bigger-better-stronger-plants-by-adding-co2
https://peakd.com/hive-195708/@solominer/cannabis-plants-update-females-confirmed
https://peakd.com/hive-195708/@solominer/making-cannabis-tea-from-male-plants
https://peakd.com/hive-195708/@solominer/luck-has-not-been-on-my-side-2-confirmed-male-cannabis-plants-so-far
https://peakd.com/hive-195708/@solominer/moving-up-from-sprouting-to-vegetative-growth
https://peakd.com/hive-195708/@solominer/setting-up-the-grow-tent-and-transplanting-two-sproutlings
https://peakd.com/hive-195708/@solominer/my-cannabis-sproutling-is-now-one-week-old
https://peakd.com/hive-195708/@solominer/one-sproutling-has-emerged-moved-to-the-big-pot
https://peakd.com/hive-195708/@solominer/cannabis-seeds-have-sprouted-now-they-go-into-dirt
https://peakd.com/hive-195708/@solominer/starting-my-cannabis-seeds-and-my-future-plants-for-growing
---
---