Cannabis plants update – females confirmed!
With a new batch of plants showing their gender I am in luck, with three females I can move onto pruning them, cloning and going to flower soon. Waiting for the stems to get a little stronger and by cutting them back I should be able to keep them short and bushy. With my powerful light above I need to make as much horizonal growth as possible to avoid burning the tops of the plant. In the past grows I would just let them grow naturally, but I want to give mainlining a try and see how it turns out. With the rapid growth of these plants if I do not prune them, I must flower right away. They say the plants can double in height during the flowering cycle, and that would just get them too close to the light.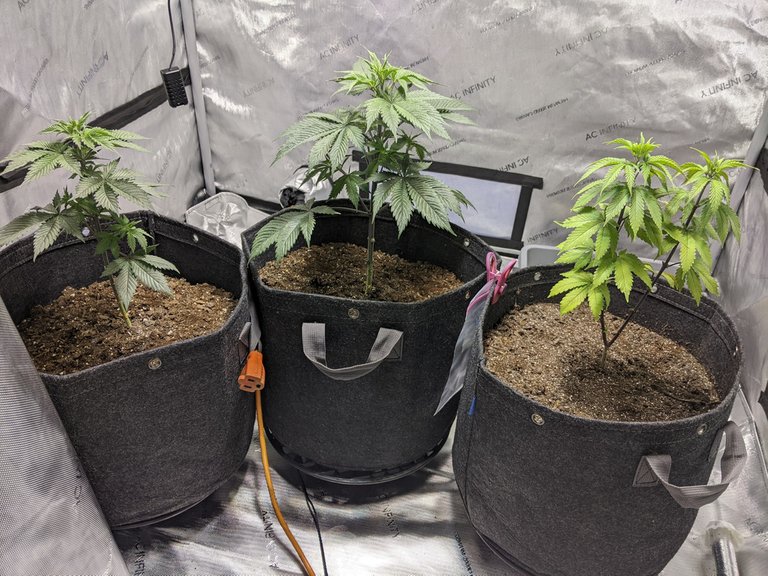 You may recognize the one to the right, that was one of the batch that did not show its gender yet. Out of a group of four, one was a female. And once I killed those and started new ones, my next batch had two out of three females. So now I have three, and really excited to see what they produce.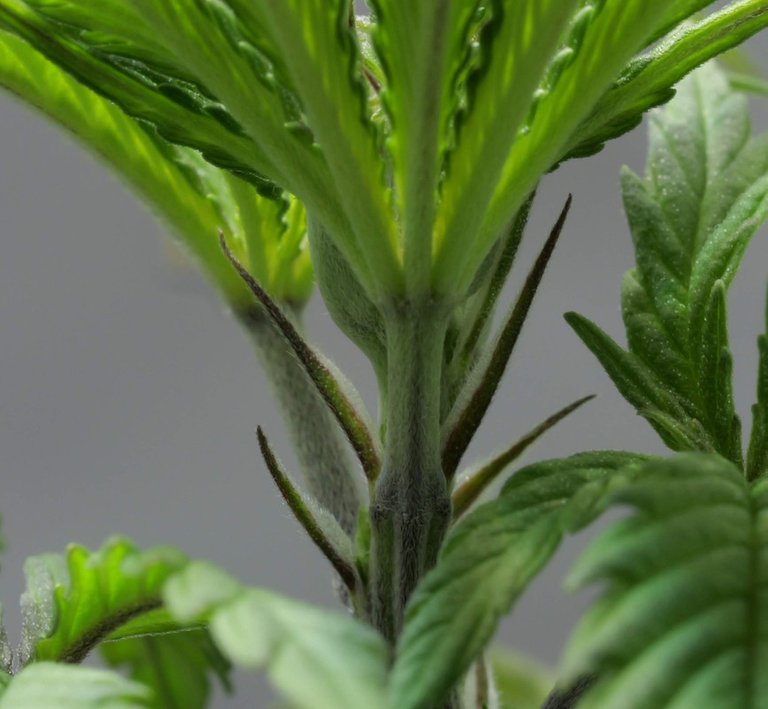 Looking for the spires they can tell me if its a male or female. With the lacking of balls it is more likely a female. Though until those spires grow its hard to say for sure.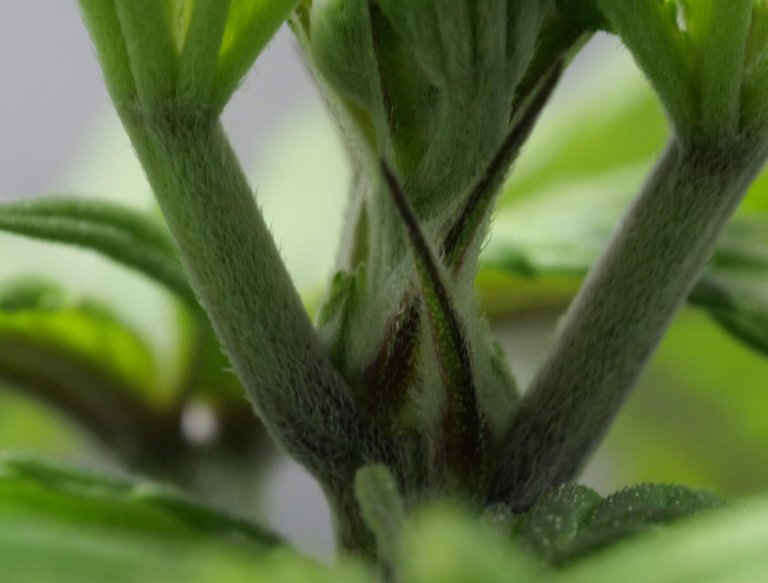 The females have much longer spires and hairs on them. The males have the spires too but are hairless.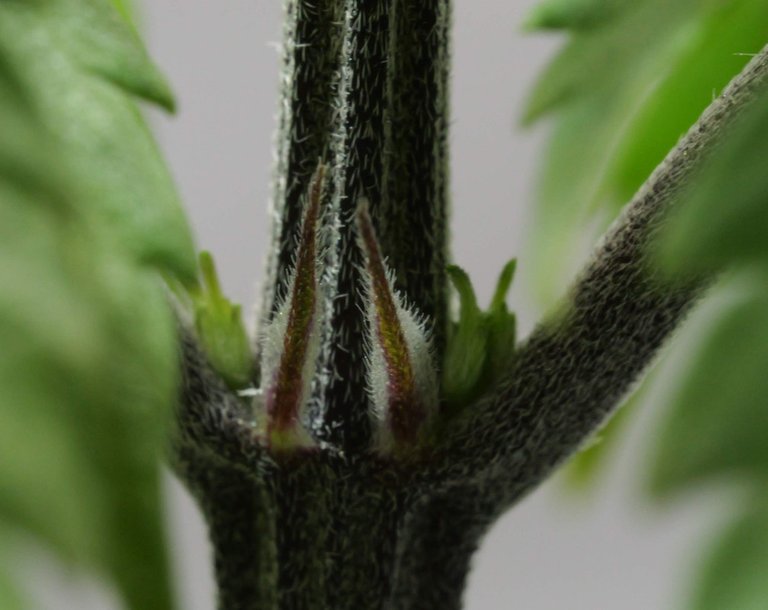 Those three green things off to the sides of the spires may look like balls but they are more likely female pre-flowers.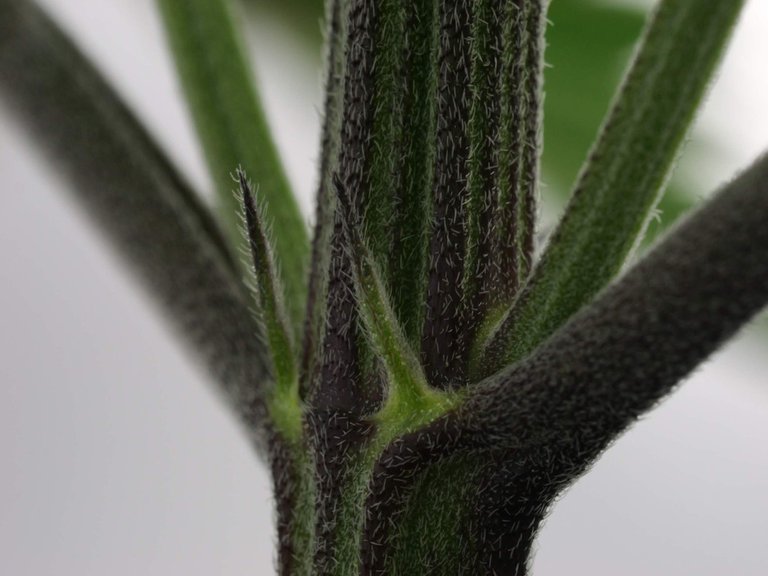 I love all the hairs on the plant.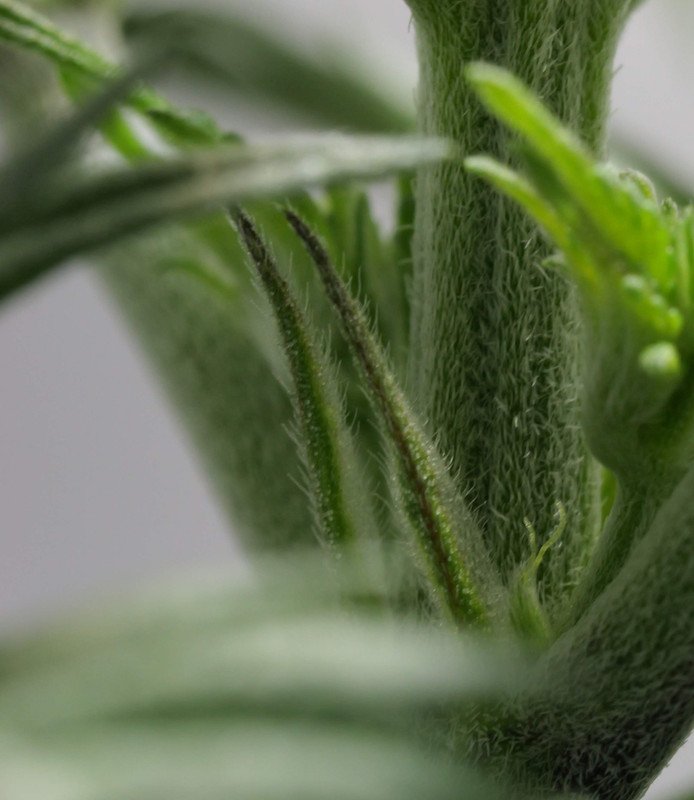 An even closer look shows groups of trichomes forming on the spires.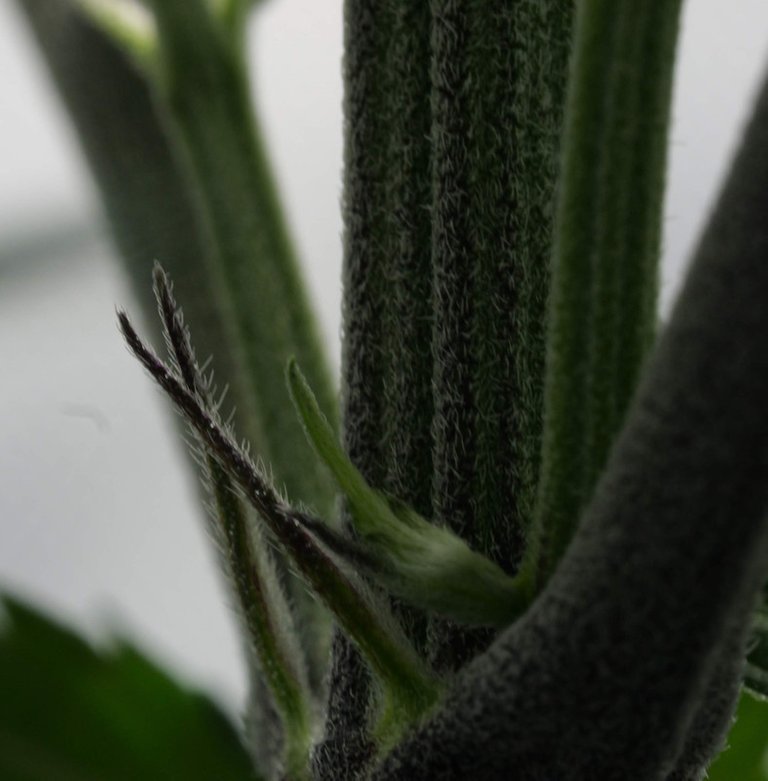 Those little white dots are full of psychoactive goodness. And will keep growing as I cycle them into flowering soon.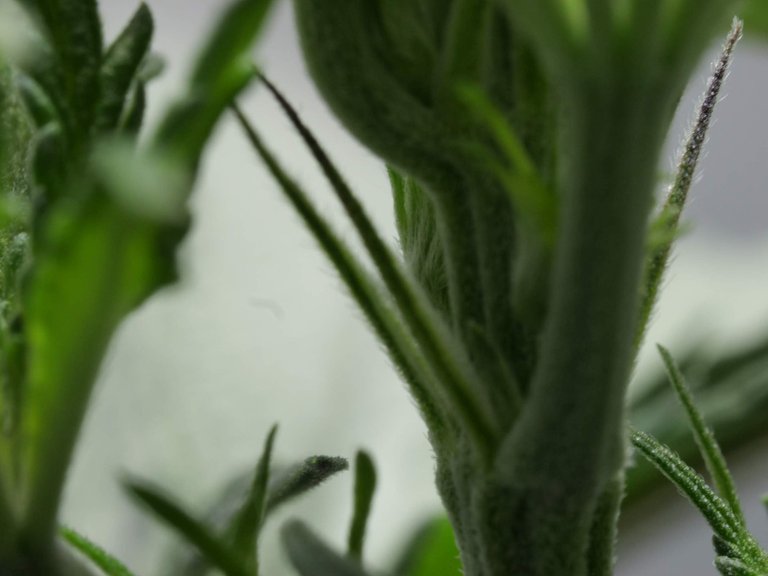 More can be seen on the right side of this plant. All those little dots forming. Its cool seeing all those cannabinoids forming way before it even flowers.
Zooming out here are the three females: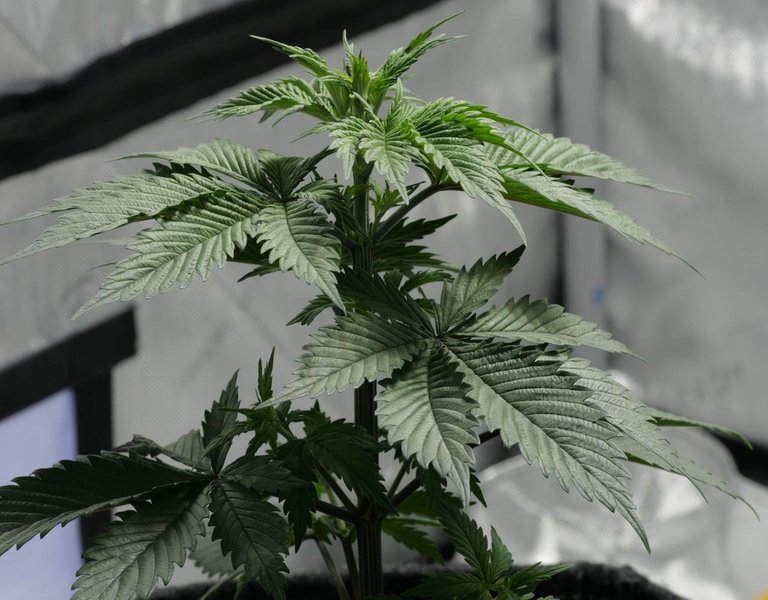 The first two appear to be indica dominant. Short and squat, dark green with large tightly packed leaves.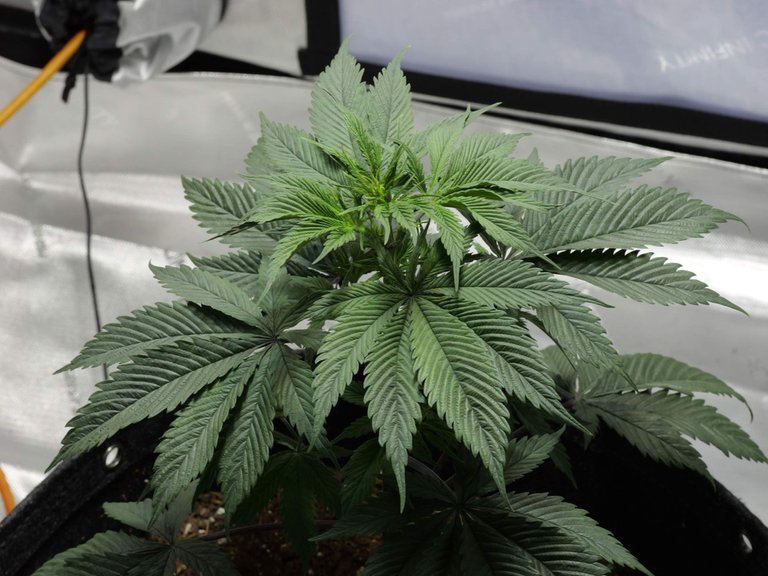 The dark, large leaves close together is a tell.. sometimes you can figure out some about the plant just by its looks.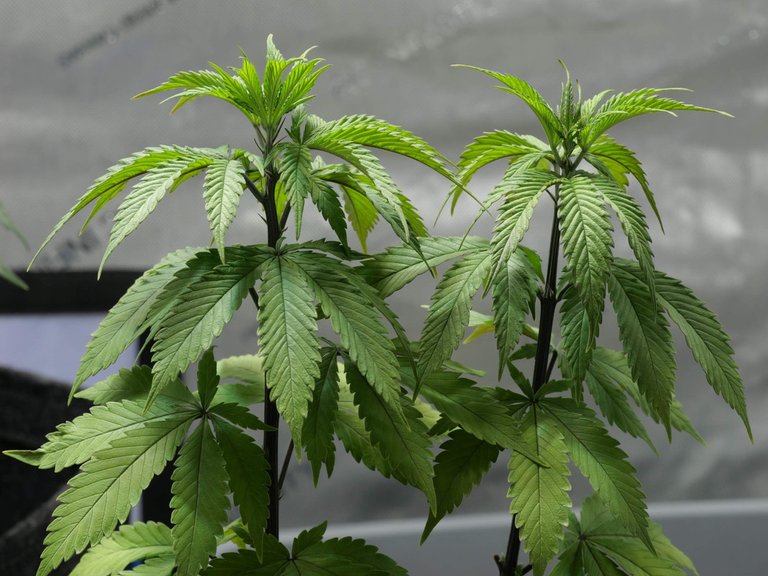 I think this one is a sativa, with its light green color and lanky appearance. Cannot wait to some the buds of this one.. I love sativas.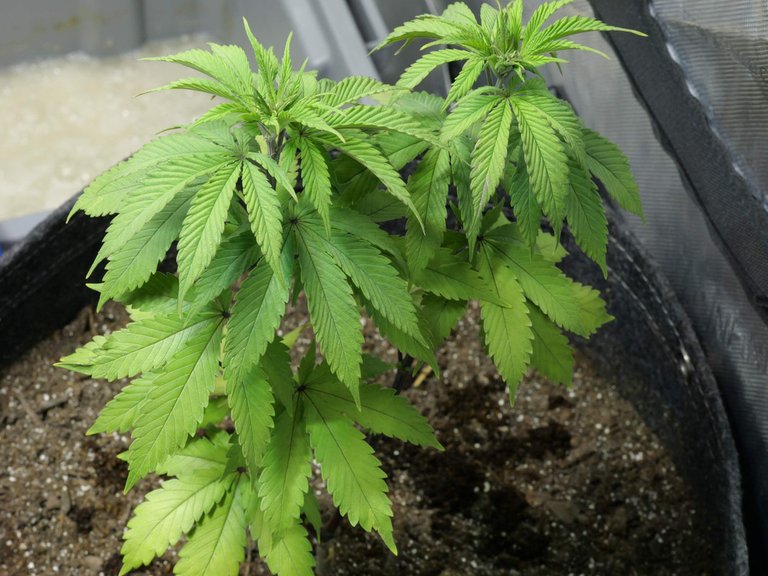 At first I thought this plant was lacking nitrogen, but seems its just a lime green cannabis plant.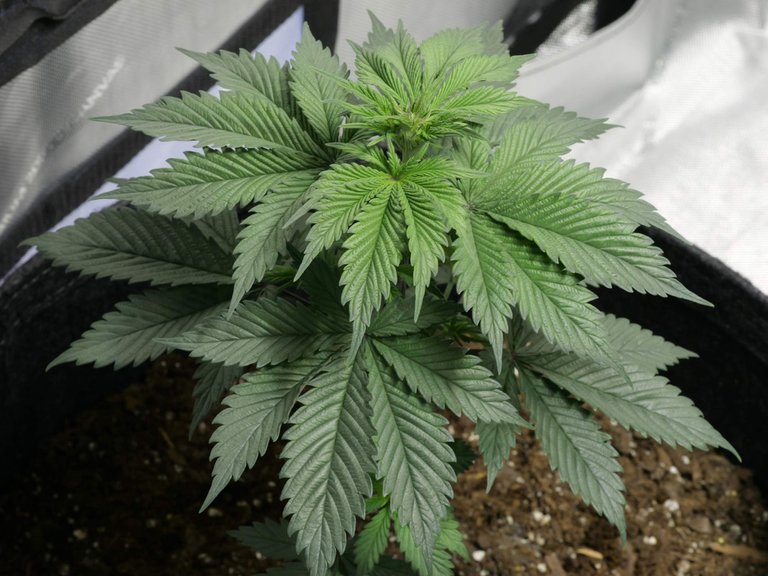 Next is to trim them, waiting on my rockwool to arrive so I can make clones out of the cuttings. That way when I goto flower, I can start another generation of the same strain if I like how they smoke.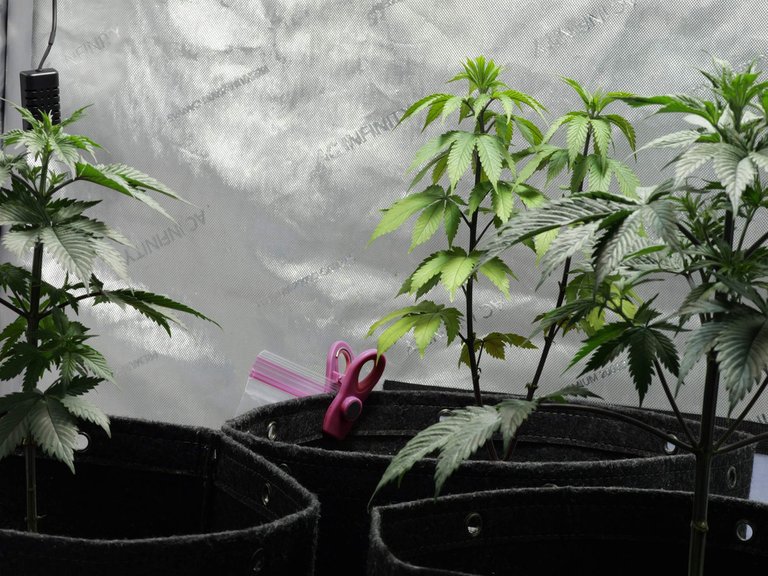 Over the next two months or so, these little plants will transform into big great cannabis shrubs.. I cannot wait to see how they form when I flower them. And how they turn out when I prune them into a horizontal shape.
So whats next?:
Let the main stems get bigger, so they can support lots of buds. The fan in the room blowing on the plants making them sway will do this.
Take clones from the females, so I will have more females if I want to regrow that strain. Waiting for some rockwool to arrive, then I will cut off a piece, skin off the base and dip it in some rooting powder and put it in the cubes.
Introduce more co2 and raise temperatures. Right now I am using some yeast and sugar to raise the ppm of the tent. But I have a more long term plan for that I am working on. By raising carbon dioxide levels I can also raise the tent temperatures, all the way up to 95f which is a 10f increase. The humidity also holds in the room better with the added co2.
Prune and train the plants using mainlining and low stress training to keep a more horizontal shape than vertical. Waiting on some parts for that as well, and will use the cuttings as clones so I must wait for my rockwool.
---
---