A little over two months in my new home
Moving from a town with over 2000 people per square mile, to a town with less than 20 I knew I would be in for some changes. While I worked out in Georgia I stayed in smaller towns, but nothing this small. Though with fiber internet here I never feel too far away.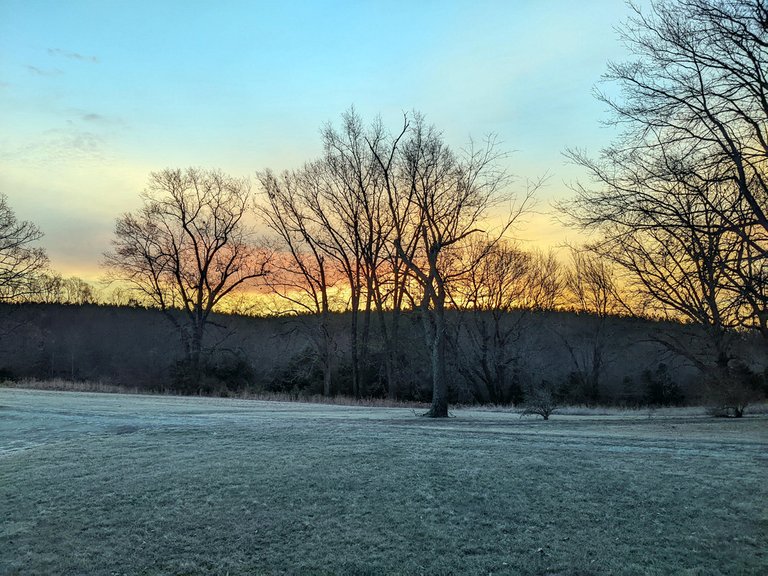 a frosty morning out front
If you asked me what would be different before it I moved I would not have guessed things such as trash pickup are a luxury that just occurs in more established places. So now I have to haul my house hold trash to a county waste disposal site about 10 minutes away every week or so. Only being a slight annoyance, I can live with it. As the pros of living out in a rural area greatly outweigh the cons for me.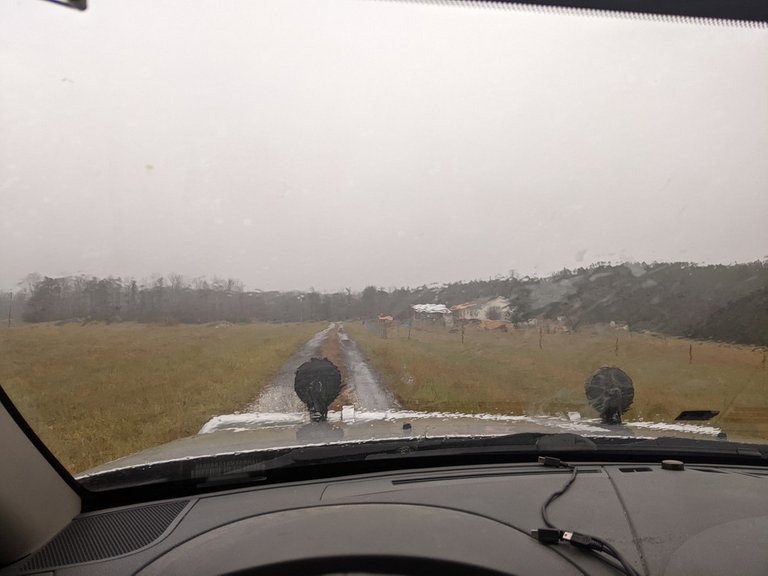 freezing rain during December
Another annoyance I am dealing with, but luckily getting better is my closest neighbor. In the winter I can see three homes around me, but in the summer when the trees are full of leaves I can only see one. It happens to be the one closest to me has many dogs, and they were letting them roam all over my property. I learned over the years visiting rural areas this is very common, and not something I should take personal. But unfortunately I do see problems occurring with this. Their dogs will come over and shit and piss all around the house, and chase off game animals like turkey and deer. They also drive Luci the dog in our house crazy, making her bark out the window. After dealing with this for a week or so I had a talk with the neighbor. I explained what I said above in how its causing problems for us. They seemed reluctant to change, but since mentioning it I went from seeing their dogs roam on my property almost every day.. to maybe once a week or so. So I am glad I have made some progress in that regard. I can understand why the dogs just roam around here, but its becoming a problem as mentioned above. Hoping long term this is not a big problem, otherwise my other solution I see is building a large fence around my property.. rather not do that.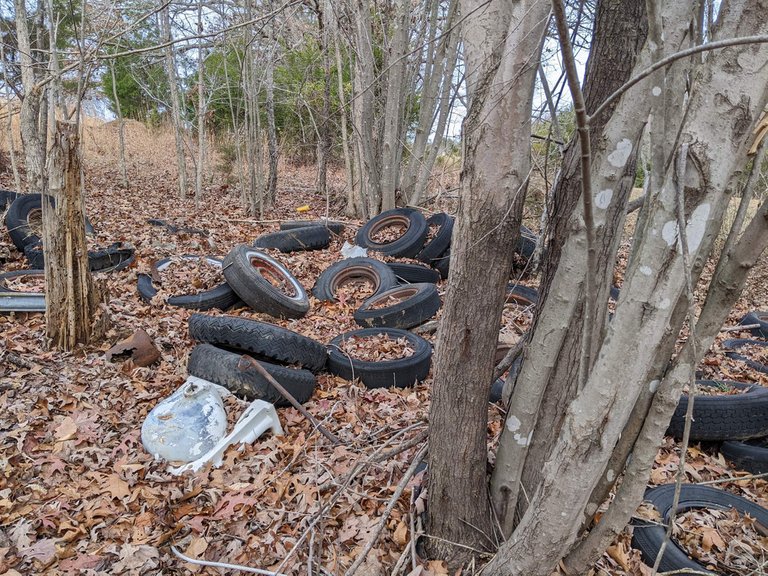 I have also found lots of trash around the property I bought, I spoke with the previous owner about this. They claim their parents used to dump in the forest and I am quite unhappy about this, I have already removed thousands of pounds of trash and theres much more. This will be a long term project to remove it all. Luckily new trash is not showing up, so I think if I can get it all out we should be good to keep the place clean.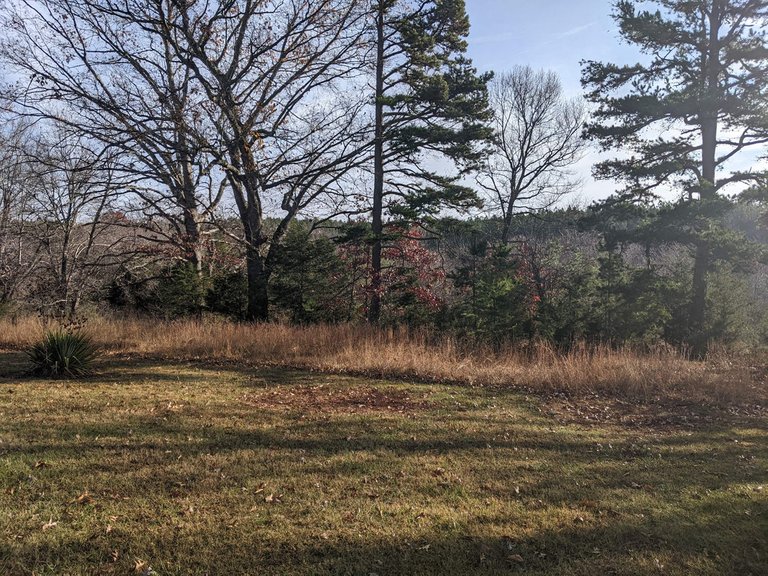 Besides those issues mentioned above I am very happy here. Waking up and hearing nothing but the birds is really nice. And I feel more safe living in this small town compared to where I lived before. Even going out into the towns people are much nicer, and I feel more comfortable hanging out with them that city folk.
Though I feel like an outsider, knowing I was not born in the county I am not a local. Most people from around here were born here, very different from what I experienced living near Atlanta. But that being said I try to get along with everyone, and they seem to like me. They love my trucks, and most everyone enjoys using cannabis out here.. Not that I did not know that about country boys and cannabis already :-)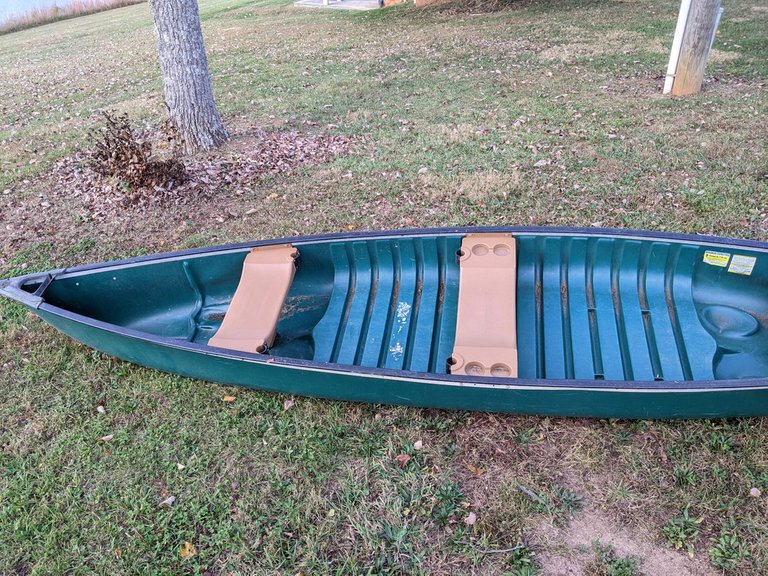 One of the workers that visited my property offered to give me a canoe. I took him up on the offer.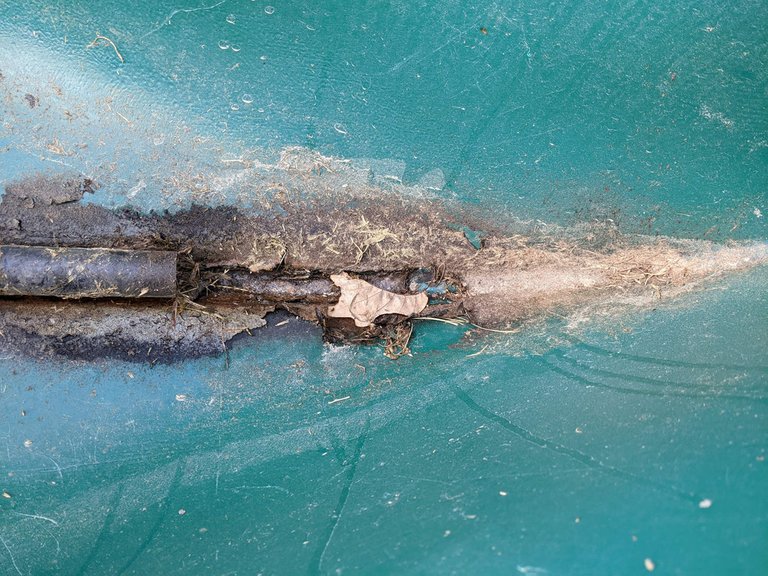 Though it needs some work, said flex seal is what I need to buy for it.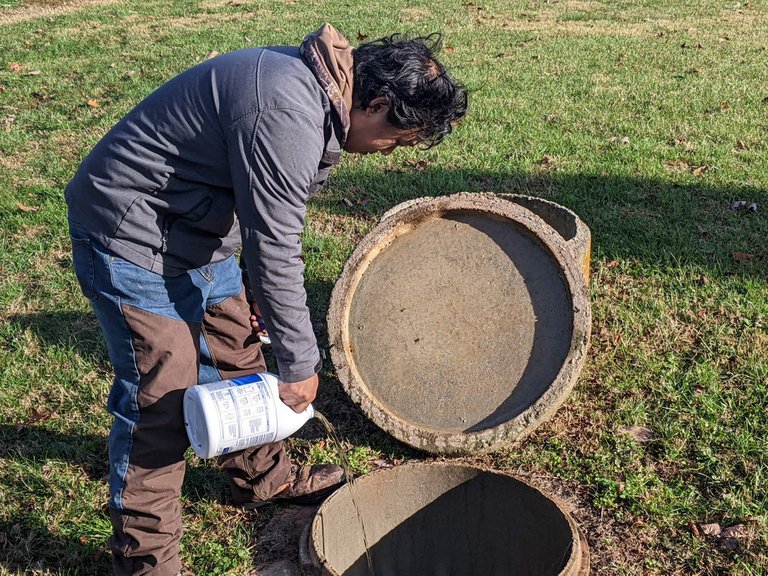 @lost.ryulincoln Adding bleach to one of the wells that tested positive for bacteria. This is a bore hole well, very dangerous. Most modern wells are not a fall risk but this one sure is. We will keep it covered with the large cap seen next to it.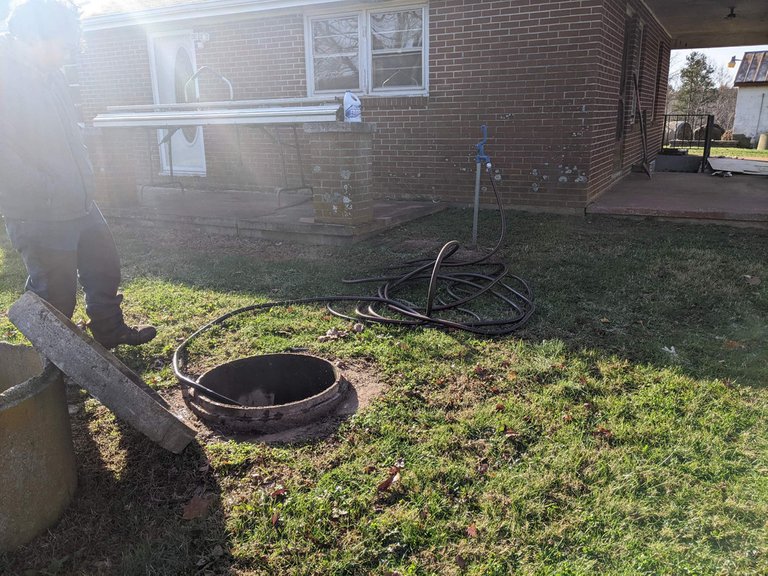 Running the hose to flush out the bleach and bad water.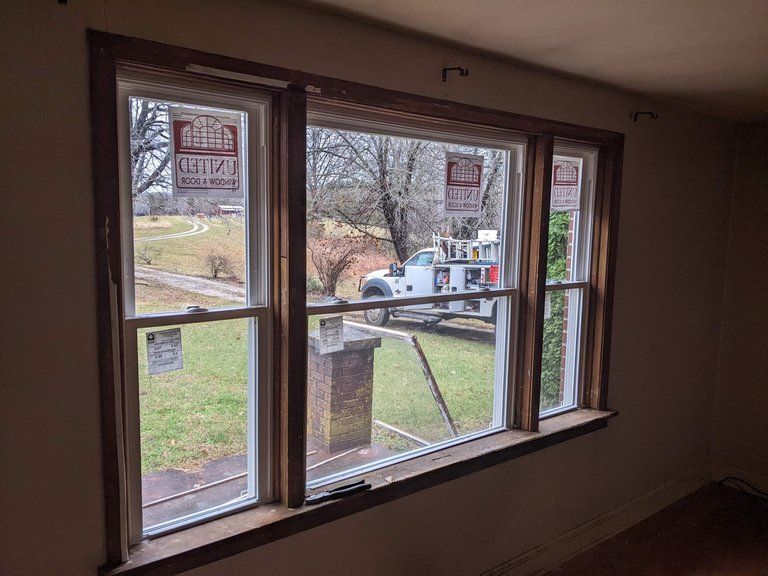 Replacing windows with modern ones.
As the days come and go, not a whole lot is going on yet. Mostly getting the homestead all ready for next year. @lost.ryulincoln and his wife is moving up here with me and will be starting a farm on my property. They should be here in about a month, but in the mean time I am getting their home all fixed up and ready to go. Having work done on my home as well, getting it all to my liking.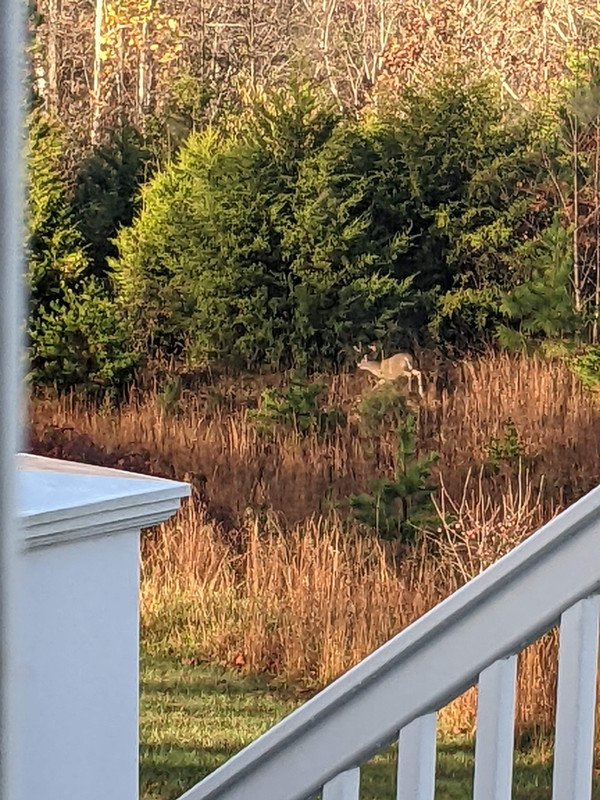 Even though the days go by slow at the moment, the wild life around here just keeps amazing me. I have seen dozen of deer, many wild turkeys, an otter that lives in my pond and migrating ducks. The flocks of birds are truly spectacular to see.
The Blue jay feeding tray has been a great success, and I can get about ten feet from them and just watch them swoop in and grab peanuts.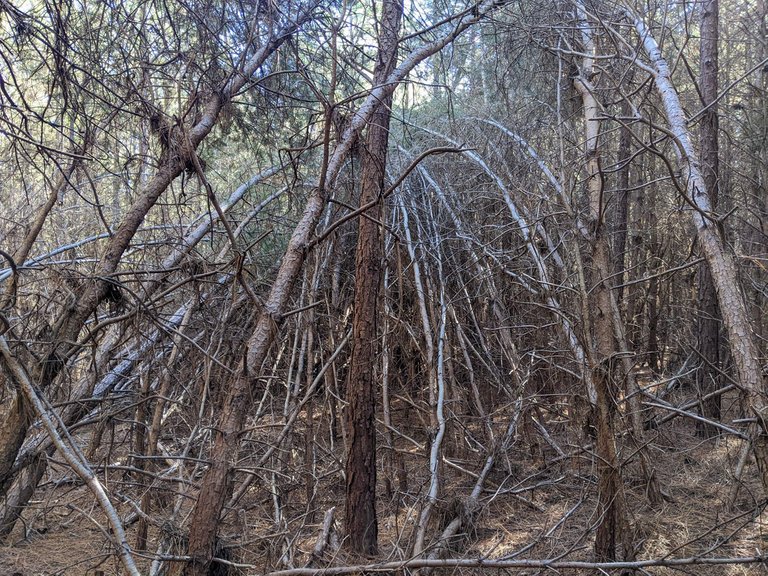 strange tree formation, @lost.ryulincoln thinks frost or snow did this.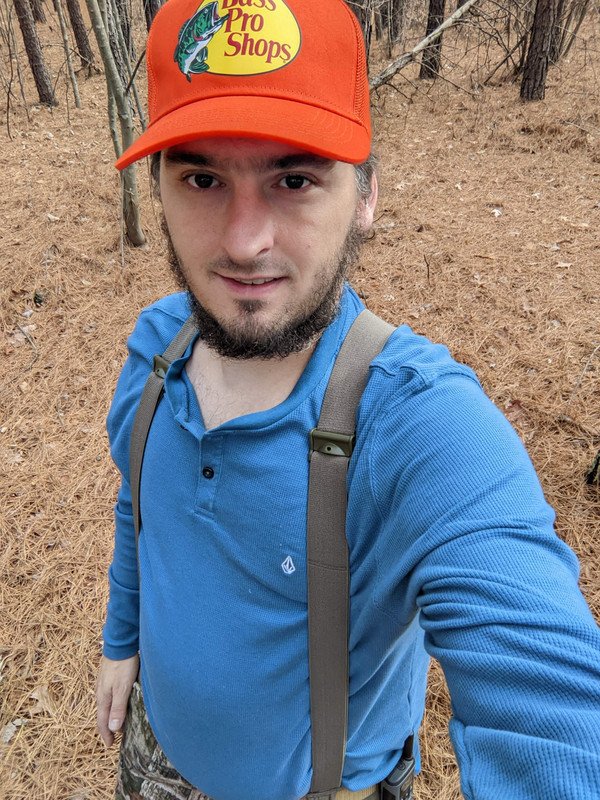 I find myself exploring the many acres around my property, walking deep into the forest. I always bring my .357 King Cobra when I go out into the woods as there are large bears out there. But so far everything stays away from me. So I find myself just enjoying myself outside. My property is surrounded by pine tree farms, so its pretty amazing how far I can walk without coming across anyone on my back 50 acres.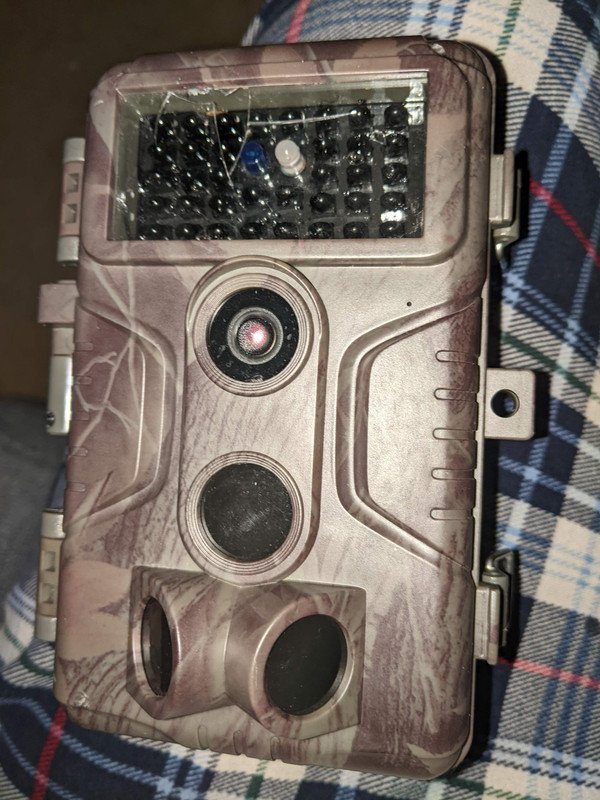 The bear attacked one of my cameras. Threw it over 5 feet away from the tree, it has claw marks on it and was pryed open. Water got into it and pretty sure its toast.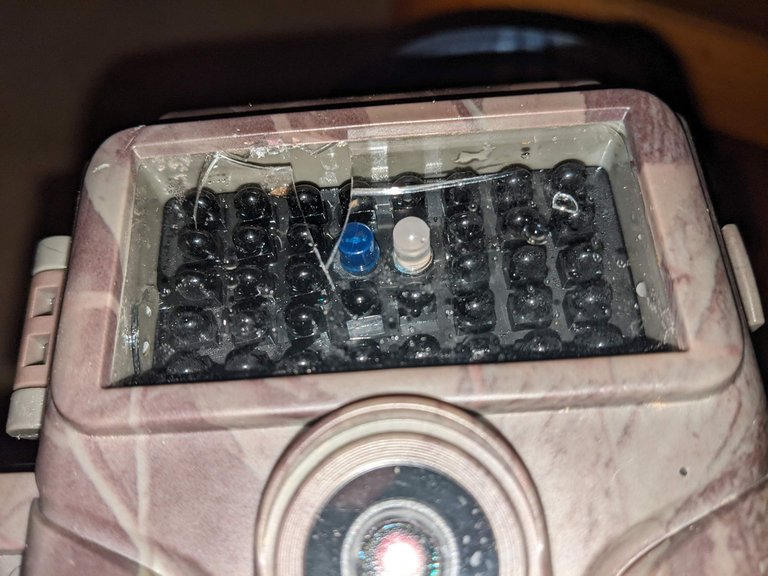 Sucks it did not capture it on video.
There was an old hunter using my property that was not aware of the transfer of ownership. We had a talk and he picked up his gear form my woods and said he will respect my wishes of not hunting there. He asked for permission to cut through my property to access another part of his hunting grounds, I declined as I did not want people just driving on my farm at any time of the day. He seemed respectful of that, an old hunter he was. But his sons were not so happy, and almost ran us off the road while picking up their tree stands.. Some young guns around here acting wild. I guess they did not like losing some hunting grounds since I bought it.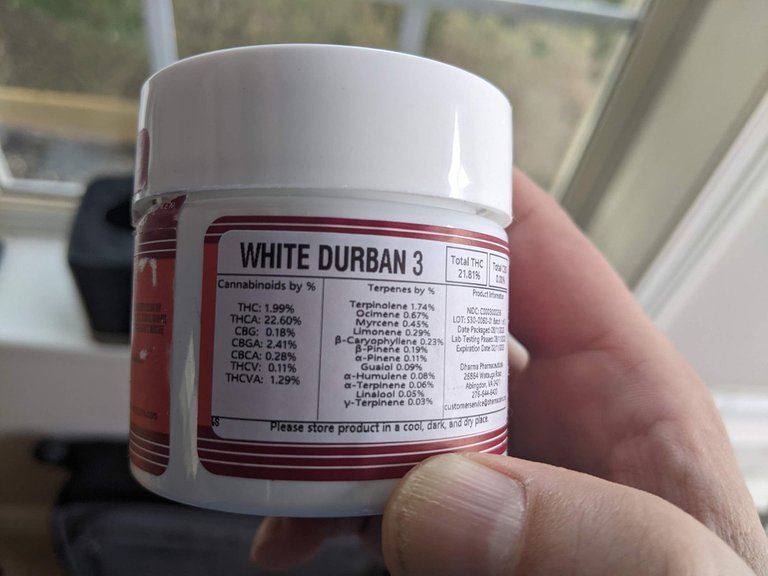 My favorite strain I have tried so far.
I am so thankful that I can grow cannabis without worry about prison time. Or consuming it in my home or around my property without concerns of punishment. I love how I can just hike all over my forest hitting my vape, or taking some edibles before and just going for a roam. I always bring my GPS and a walkie talkie just in case... hah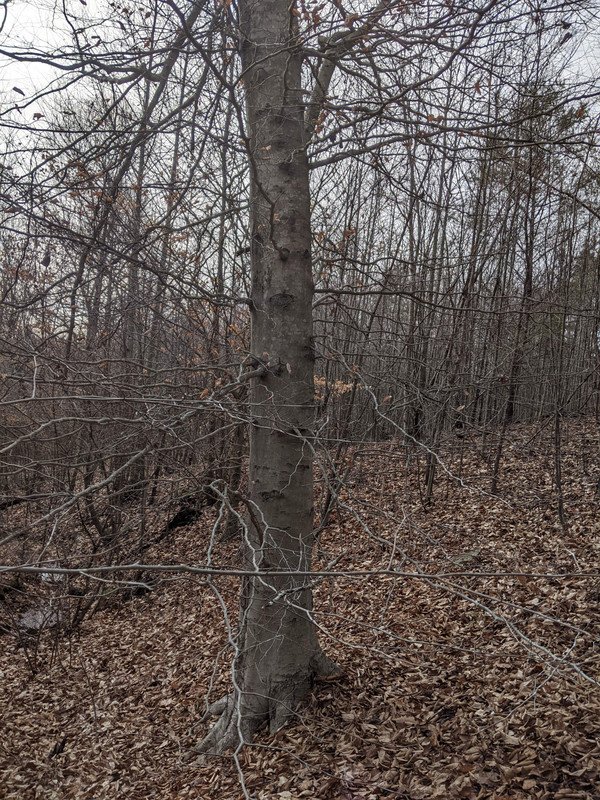 Recently on my walks through my property I am trying to identify syrup producing trees such as Sugar Maples. So far I have found many Beech trees and a few Sycamores, but those are not the best for tapping so I will keep looking. May need to wait for spring time to spot those iconic maple leaves.
Working on getting some out-buidings set up. I find myself needing more storage space, I already filled up the basement but still have more stuff back in Georgia that needs to come up here. Maybe another truck load or two. So I have a 12x20 shed that should be here early next year and a 10x12 green house. Really excited for the green house, I never had one so thats really cool.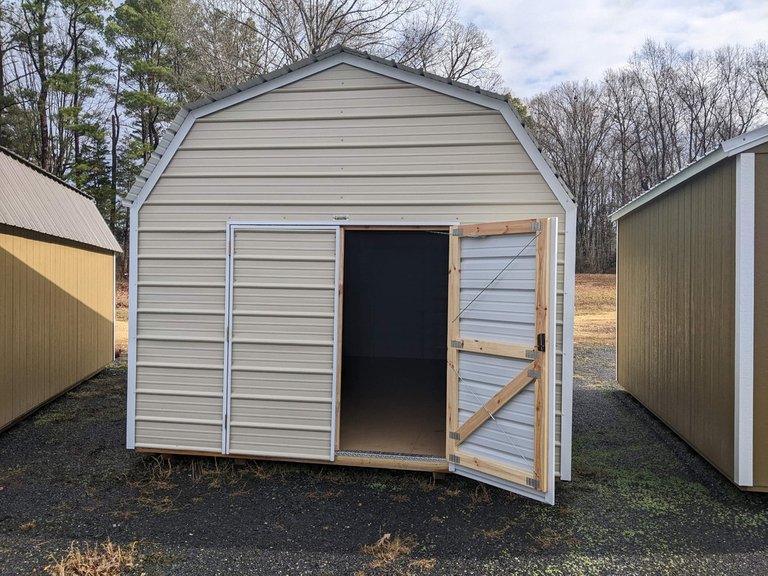 That shed will only help short term though, I need a workshop. Getting bids right now for something large, a 50x100 building. So lots to look forward to, even if it may be until Spring of next year to get the large building.
So far no snow, but many freezing days and nights. It has already gotten down into the 20s and now they are calling for some snow next week. Looking forward to seeing the snow here, I think we will get more than I get in Georgia.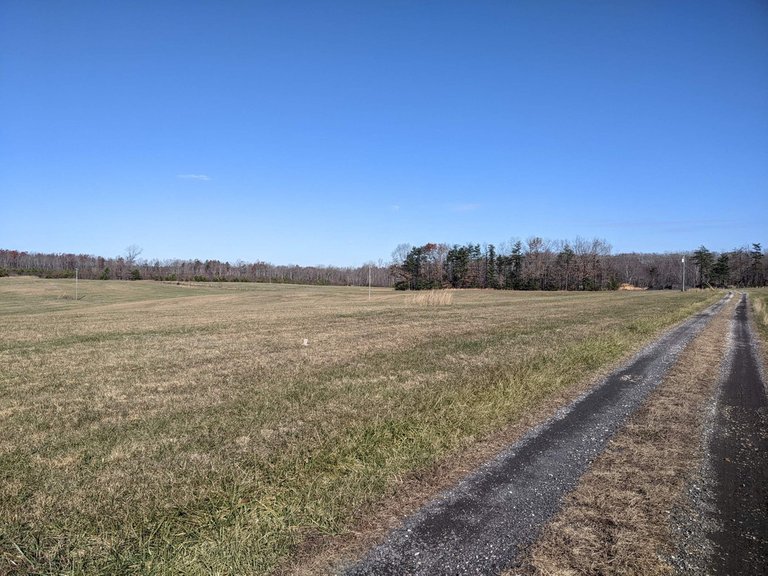 the long walk to the mailbox
So what's next?
Getting the small shed and green house set up. Later on the workshop.
Clear any downed trees and process for fire wood.
Clear out Loblolly pines, grind up smaller branches for mulch and bury larger trunks in areas where I will be producing food.
Forge road between the back 50 acres and the frontage. Right now I have to cross a county road to reach my back side of the property, but would like to cut a path to get there in my trucks through the woods.
Rent or buy a tractor and start laying fence posts for fruit and nut tree protection from deer and such.
Start deer resistant crops such as garlic.
Harvest my first cannabis crop in Virginia.
Later on:
Set up bee hives
Raise chickens and ducks for eggs and to protect bees from small hive beetles.
Plant fruit and nut trees.
---
---