A puzzle to counter the code driven cube , revenge on the cube Part-2 !

First of all , can i claim origin of concept true a #POB post ? .. or can i challenge others true it to prove me wrong ? Or at least have a conversation in comment's about any right's i can or can not claim on my at this time proposed concept for a puzzle , a 3D puzzle that is . Someone claimed the
---
Posted via proofofbrain.io
concept of taping a banana to a white wall some time ago , so why wouldn't i have a try with my mind-fart .

Yes , only 12 pieces , 12 five pointed stars with kind of hook like points , made from 3mm iron plate . Stainless steel is a option . The whole bunch can be hold in one hand if stacked . Just 12 fractals that could easily be mistaken for something completely different .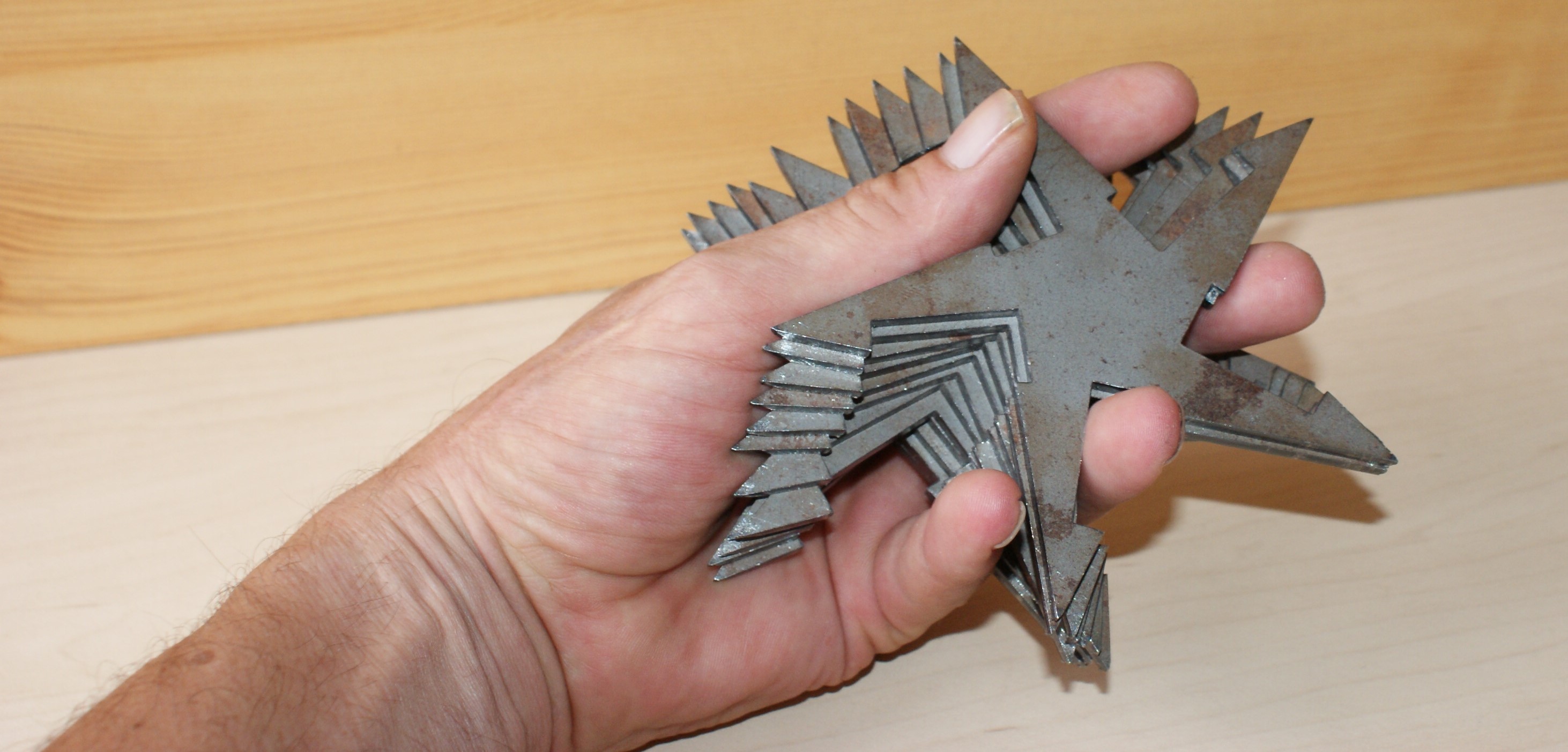 Yeah , mistaken for something else , .. could give a problem at airports and shit ,.. still working on ways around that . But besides that minor point it makes a amazing fun party puzzle or puzzle to use for anger management training . As i know from experience , where the four people family i was part of took weekly group sessions at a shrink , as where i solved all Chinese rope and wood-stick puzzles the shrink had on a shelve during my time sitting there . Should have stayed home and turned myself in to a pickle , but i did not poses that knowledge , so i solved the puzzles while in group therapy sessions .
But enough of that , let's solve this puzzle of stars . Rules ? ... no tools other then the body may be used , if you think a noose , a foot or a elbow is needed , no problem . I prefer to use just my hands .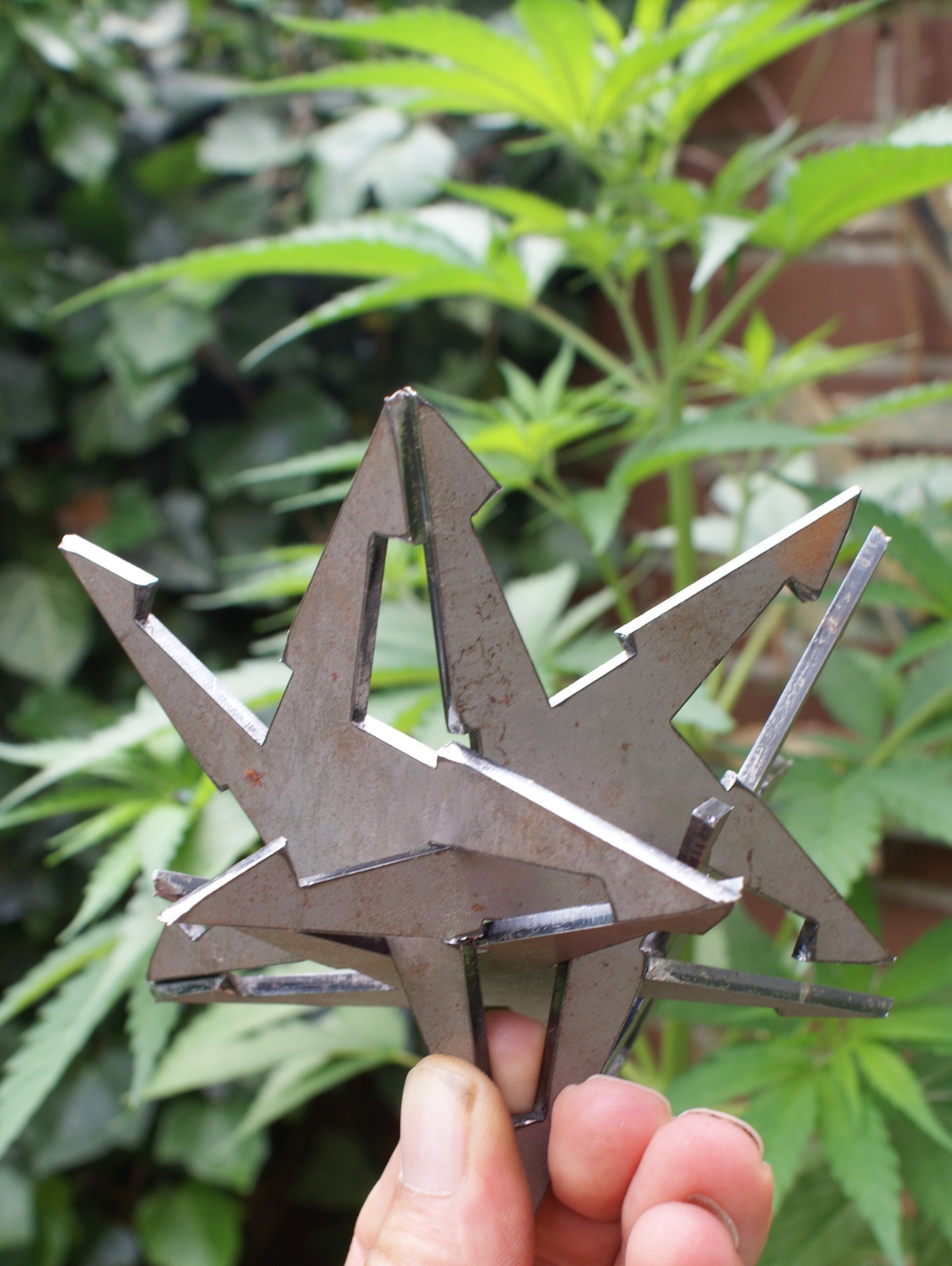 In the above picture i have 4 pieces together , witch is 1/3 of the whole already . Where i took the time to take shoot it with my free right hand . Look at how i pinch those three points in to one ,with 4 stars it's still comfortable enough to ignore . This changes fast when the half of it , six stars , are in there place . For then one has to pinch five point's in to one like in the picture below .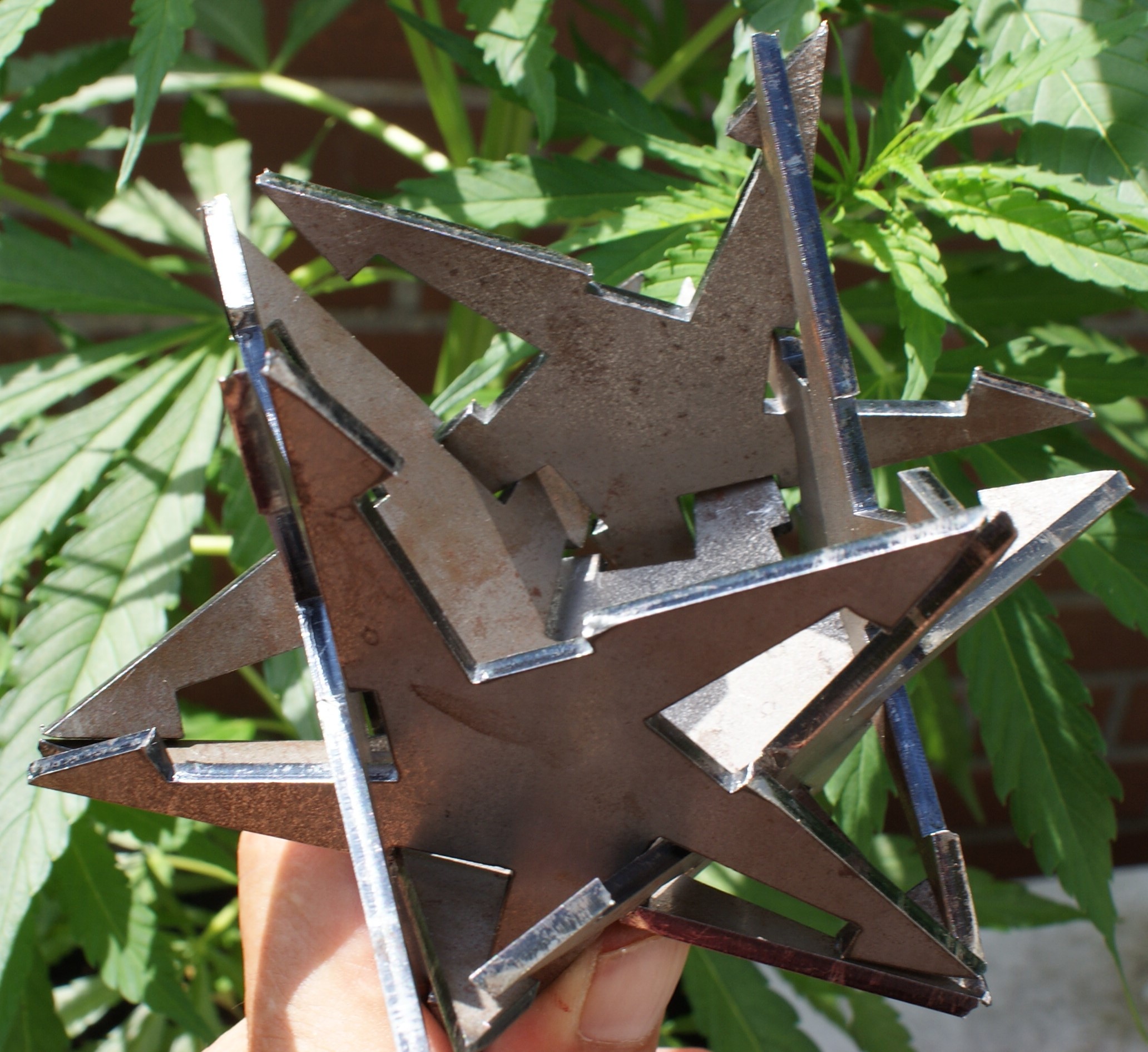 So the whole secret in solving this puzzle is having skill's . In my past i made some at the work i had , gave them all away . And i know most who have one , have it locked with rubber bands in it's 3D 12 pointed star form ,... after i put it together even . Some take it out on party's , have a laugh ,.. ending up throwing the fractals in to a wooden fence . One i know off stands rubber banded on a office cabinet . Witch all showed me ,.. this is a hard ass finger breaking puzzle to the most of the world .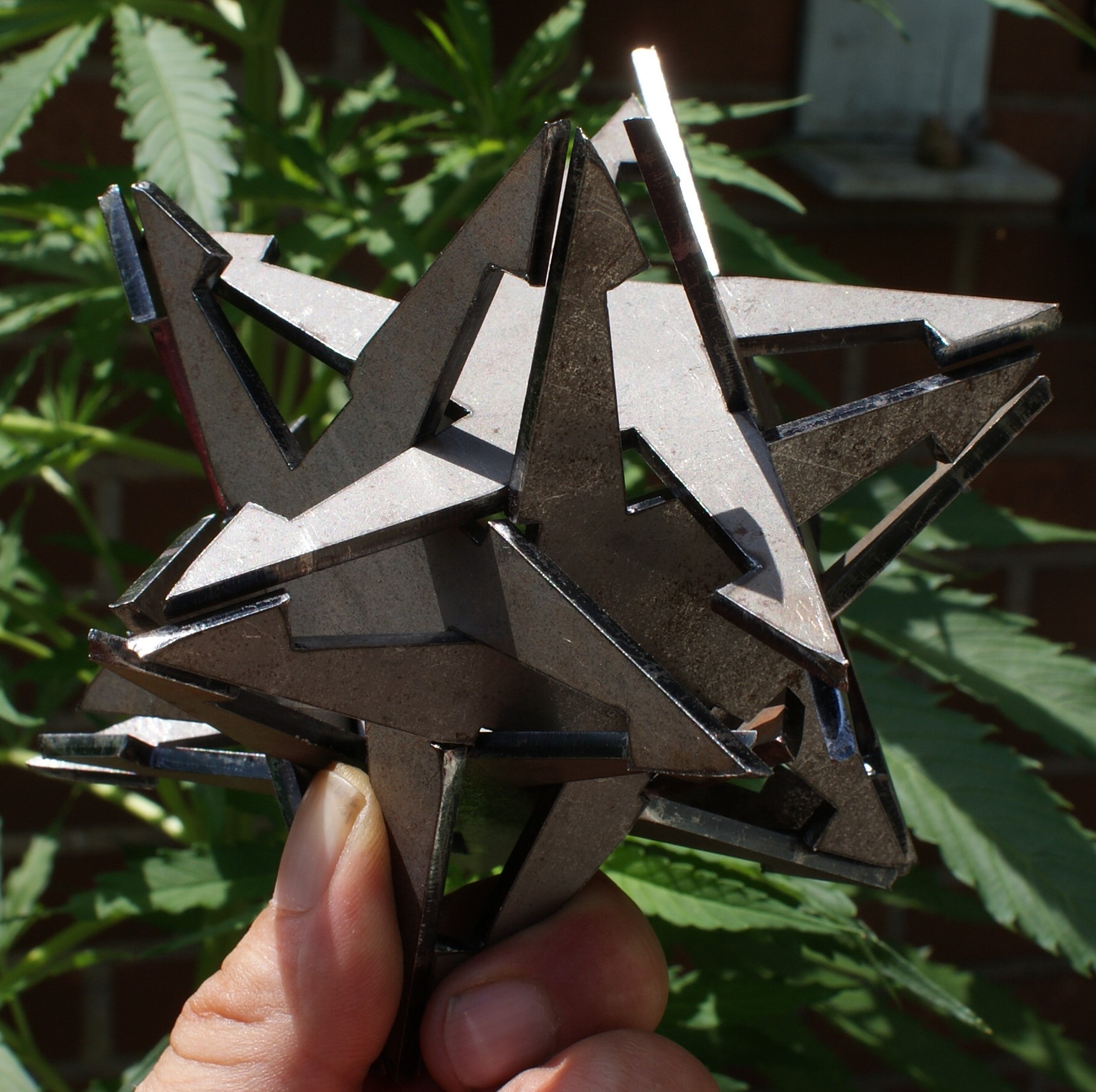 Yeah i know , it doesn't look that match , half a puzzle done . And the muscles in the left hand are starting to burn . Where at this point switching hand to hold can give some release and is possible . Last two stars are the most tricky so this puzzle is not getting easier towards the end and not forgiving on mistakes . A thing that is in all very challenging to me as where i have seen many others ,.. don't even try .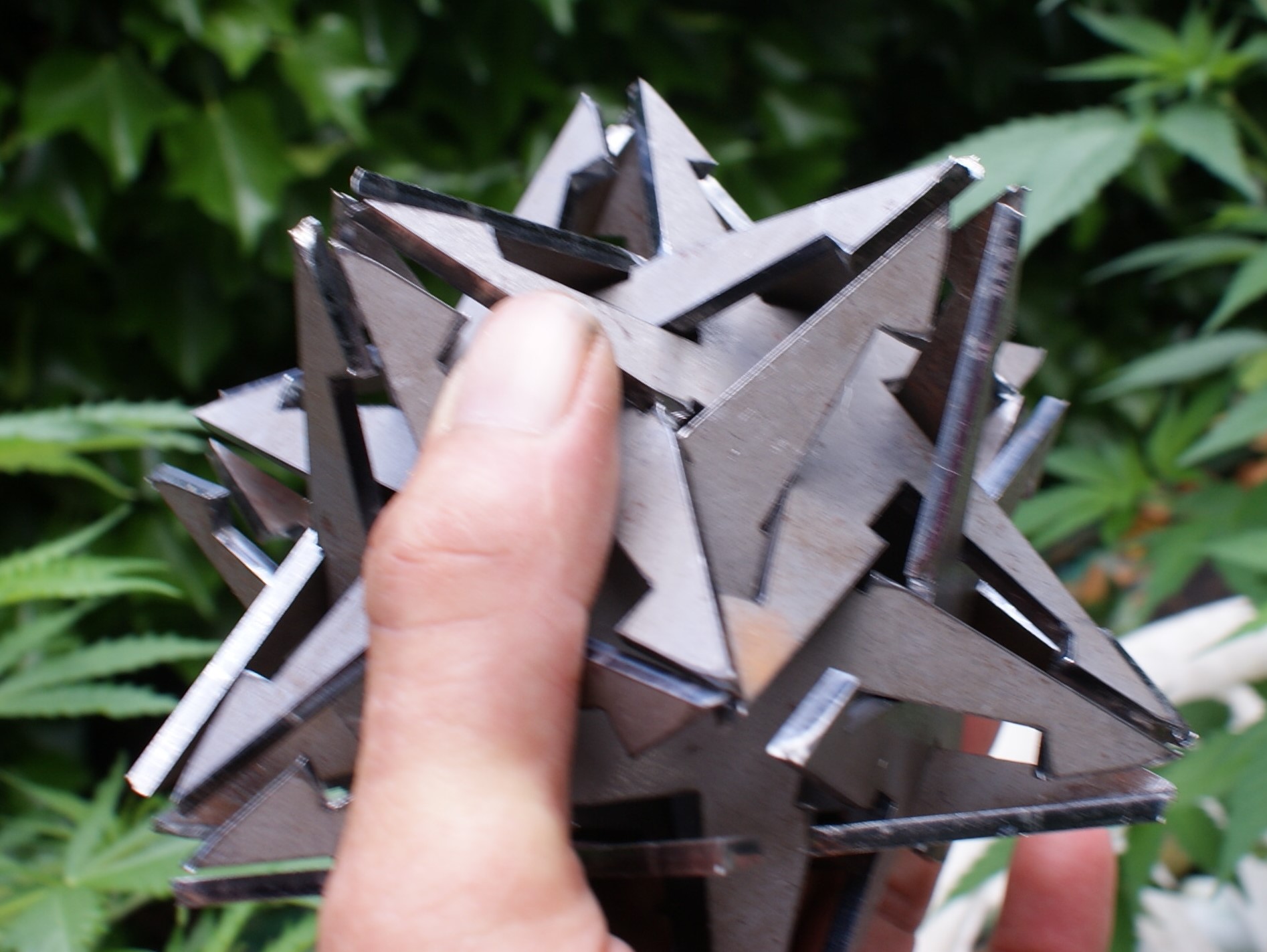 When done and solved , it's a handful . After the long pinch on one point you can grab it like putting your hands around it like a torus , squish and shake a bit to get perfect shape and gently put it on a small shot's glass . Take the star of , take the shot , put the star back on a other shot for the next person , the one breaking the star pay's all ,.. or solves the puzzle ,.. would that work ?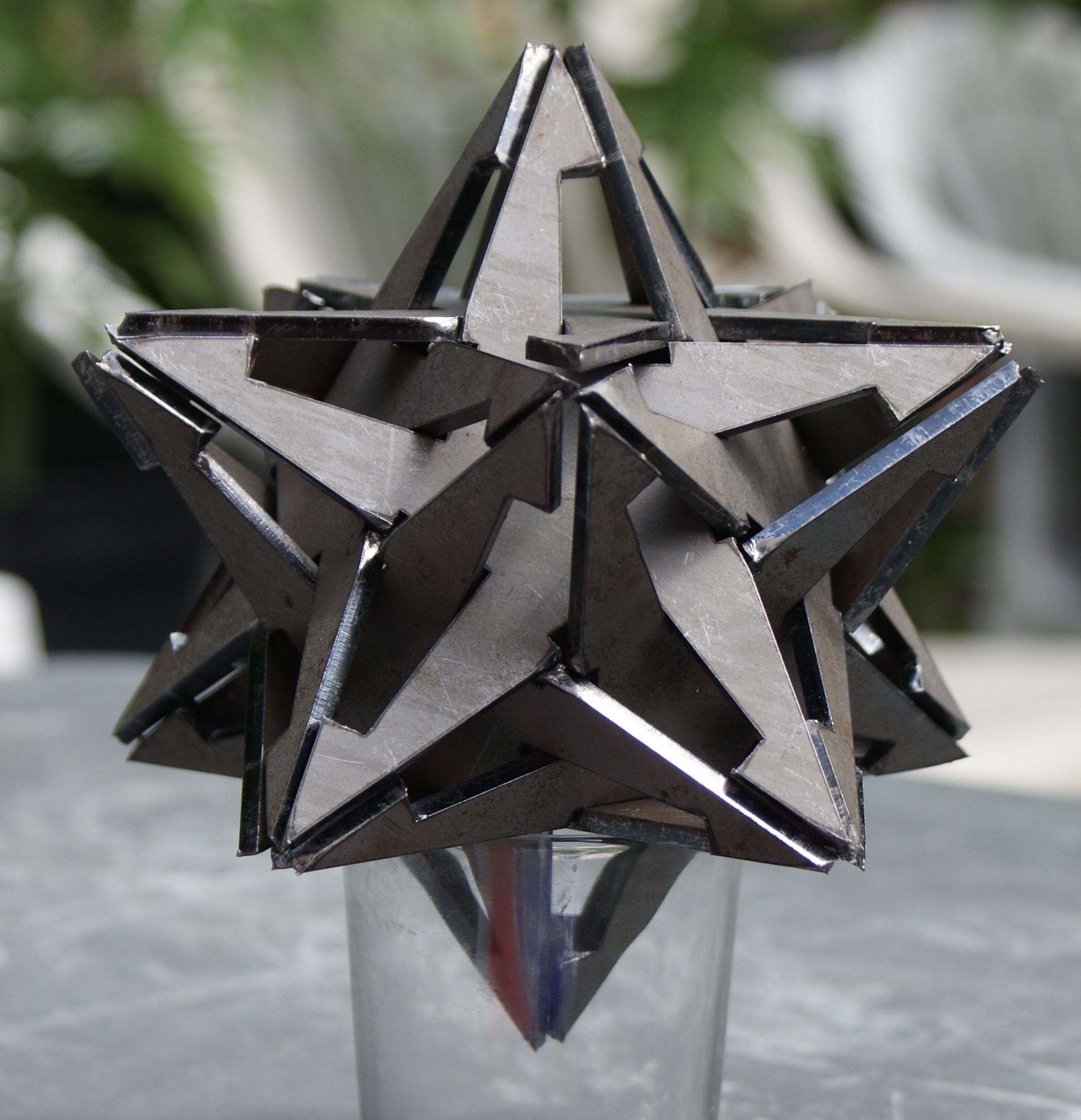 I don't know if this is a booze puzzle , and thinking about it , nah , no , it's more a smokers puzzle to meditate on while solving it . And when done , a thing to stare at for hours from all angles .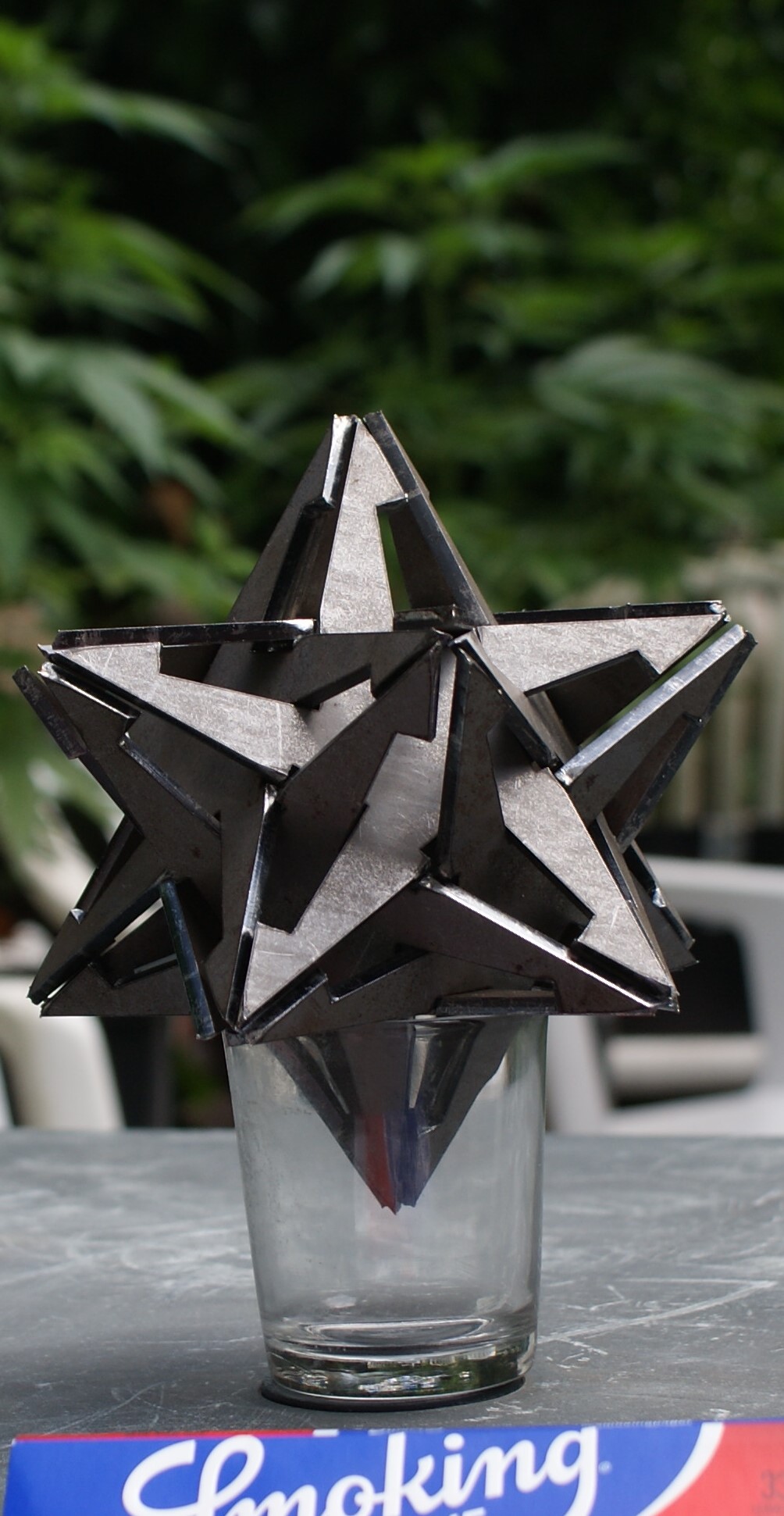 The graviton , for that's it's ones given name , was original designed on drawing by M.C. Escher . A great graphical artist that ones lived . I do not claim his creation , i claim only a concept of use in the form of a puzzle . Can i ? may i ? ... I don't know , but making this post put's some reverence to me on the concept i thought of .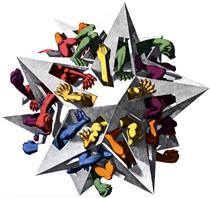 above the work of Escher ,.. gravtitation , where now i can tell , the fractals in it all gravitate to the center of the whole structure , witch makes it very strong seemingly divvying gravity itself . There are many more secrets hidden in this structure , like the 12 sided cube , a symbol worth death penalty if found on one , way back in the dark ages . Whispers said ,.. this cube can role , why are we forced in six sided cubes unable to roll ?
Even do i said i would give way to all secrets in this post to @edystringz i will leave it with this . I think my post did what it was mend for ,.. sell my product , my concept of use . Anyone curious about the structure of stars secrets i recommend to watch some Wall Thornhill , Ben Davidson , Torah torus connections and other mind-blowing stuff . Let's say , i like to observe what other people may find . ;-)
See this all , to long to add to my last post , probably would miss it's point to .
Any comments and thoughts are welcome , even when they break my illusion .. ;-)
Have a nice day all , peace to all .
---
Posted via proofofbrain.io
---
---