Giveaways, Curation & BURNS - 36 - More entries more prizes - Total Weed Smoked - 3872 Grams (Tokens) 10k Goal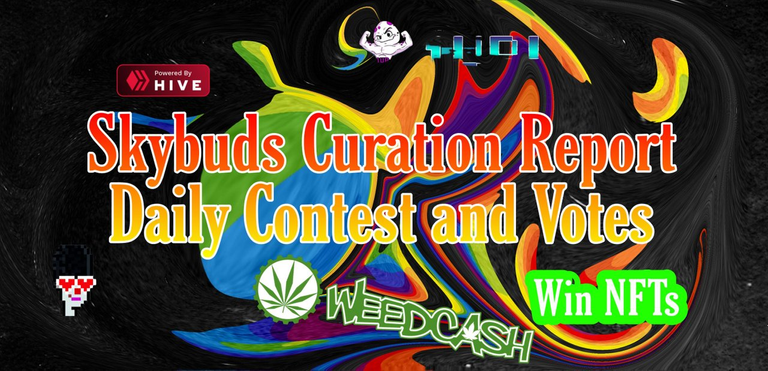 We had a load of good cannabis and weedcash post, I am liking that the numbers have started to go up. Hopefully, we can keep seeing this and not the 3 post-type days.
Weedcash
https://www.weedcash.network/@loonatic/white-wookies-review
https://www.weedcash.network/@artisto/jxqyjudx
https://www.weedcash.network/@lancergrows/update-on-my-efficiency-closet-harvesting-autos-vegging-photos-starting-more-autos-and-building-a-cloner
https://www.weedcash.network/@dynamicgreentk/notes-for-the-foundation-courses-chapter-2-lecture-6-nutrient-cycling
https://www.weedcash.network/@nesmhxc/recobrando-la-frescura-de-las-malas-hierbas-oror-regaining-the-freshness-of-weeds
https://www.weedcash.network/@calimeatwagon/0e6c36d721e9b2ffdd8ff1a6388af368-vimmtv
https://www.weedcash.network/@wildwesthash/yiqmrbcu
https://www.weedcash.network/@lacausa/wigmacew
https://www.weedcash.network/@elamental/fizihfxn
https://www.weedcash.network/@dynamicgreentk/foundation-courses-notes-for-chapter-2-lecture-7---compaction-and-anaerobic-conditions
https://www.weedcash.network/@hashkings/izhbeozt
Hive Garden
https://peakd.com/hive-140635/@ifarmgirl/of-gardens-flowers-and-more
https://peakd.com/hive-140635/@sanjeevm/garden-journal-the-fungi-over-powered-the-bacteria
https://peakd.com/hive-140635/@afterglow/crop-challenges-that-i-experienced-in-my-vegetable-garden
Gaming
https://peakd.com/hive-102223/@thgaming/thgaming-liquidity-pool-at-298percent-apr-reward-payouts-daily-next-dollarthgaming-token-upgrade-50percent-funded-thgaming-hive-102223
https://peakd.com/hive-102223/@cryptounicorn420/understanding-zombiecoin-the-wax-exchange
Lots of weecash posts today and with our power not fully going to 100% overnight, we didn't get to vote many other posts. I am going to change the voting weight on weedcash in leodex to hopefully allow more hive curation, If not we will build our hive power.
Make sure to go check out these posts and swing some comment love on them, This is always engaging for people to keep posting. I mean rewards are nice but activity is better.
I am going to just keep staking and delegating to this account from my main account payouts. This will help push better curation rewards.
Check out the weekly curation report and burn post - https://peakd.com/hive-167922/@skylinebuds-weed/weekly-rewards-burn-and-changes-week-6-earn-rewards-for-delegation-vote-inside

---
---
With the daily contest, It is simple for a chance to win some NFTs,
@hashkings
@risingstargame
@splinterlands
Todays Prize -
1-5 People Join - Common Splinterlands NFT
6-15 - Prize 1 + Common Risingstar NFT
16-25 Prize 1+2 and 1 Rare Splinterlands NFT + 1 Hashkings NFT
26-50 Prize 1+2+3 and a Rare Risingstar NFT
I plan to add more games to this but I would like to see more people joining the contest. So if you want better rewards and more giveaways share this post to get more people to join, Remember no upvote is needed to join, and delegation of weedcash gets extra entries.
I am going to start a ping list, If you don't want to join this list simply say so in the comments.
@amaillo-m,@blitzzzz,@johnweed,@happyfrog420-new,@luizeba,@cdwc,@greenhouseradio, @canna-curate, @mizuosemla, @dyson-the-booper,@dubble
Double Account = No longer allowed to join,
Again if you don't want a ping, Just let me know

Daily
To start let's check the rules.
One entry per person
No comments edit
Have fun
Re Hive 9 (More entries means rarer cards)
If you delegate weedcash to this account you will earn a second entry into the giveaway.
Winner
2 Contest will be live on today's show
---

Weedcash Delegation -
This will always come down to a vote from now on with changes, I am making this one last change with some support of delegators but from this change, we will do a vote for a week before changes are done to the reward program. 1 delegation means 1 vote doesn't matter the amount delegated.
so outside that Mombo jumbo, the plan from here out will be
30% liquid weedcash to delegators
30% Burned weekly
30% liquid Pool
10% giveaways
tribal tokens
25% liquid back to delegators
25% liquid sold for swap.hive
the other 50% will stay powered up to help with curation.
Tokens will not be sent till we have 1000 or $1, This makes it less chance at dust and well saves me time. Coins will be left in the wallet will that point.

---
liquid weedcash -
Weedcash delegation will be sent out on Wednesdays every week from now on, New changes coming with more rewards for delegations.


---
If you have delegations please go to this post an vote for reward structure
https://peakd.com/hive-167922/@skylinebuds-weed/weekly-rewards-burn-and-changes-week-6-earn-rewards-for-delegation-vote-inside
---
---