🍄🍄🍄 Starting My Mushroom Growing Course: What I Think So Far 🍄🍄🍄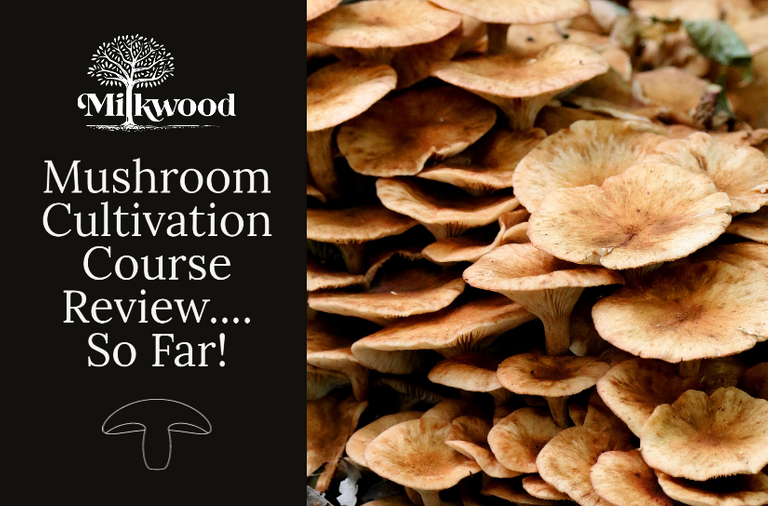 This is my second post in the Fungi Lovers community on HIVE in the last few days - you're going to have to put up with me raving about mushrooms as I start growing my own!
Today I started my first and second modules of the Milkwood Permaculture Mushroom cultivation course and I'm super excited. I thought I'd write a quick run down or review for anyone who might be interested - it's open to everyone in the world! It's definitely a quality course and Milkwood are quite renowned in Australia, the founders also having studied with famous permaculturist David Holmgren. There's quite a few free resources on their site here too for budding permies who might want to check it out.
First of all, I have to say how beautifully filmed and presented it is. It's a very professionally presented course and I already feel like a lot of care has gone into it. The hosts are very clearly spoken and everything moves at quite a nice pace. Anyone signing up has lifetime access so you can go and rewatch videos if you feel you've missed a bit or have forgotten something.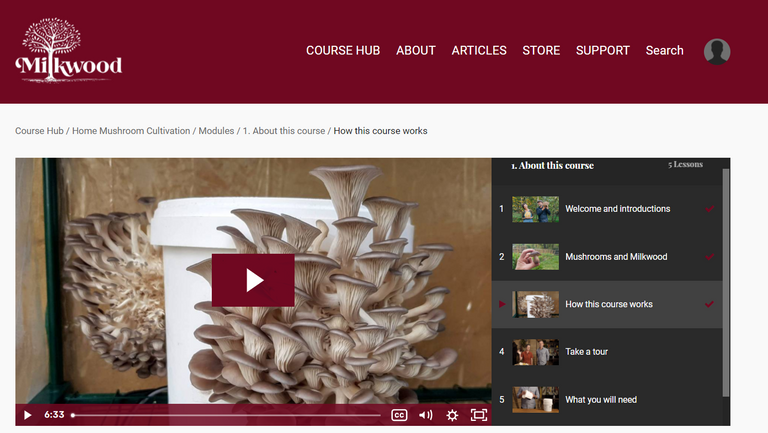 On the bottom of most videos there are 'Myco Notes' with instructions and details that are printable. On the bottom of the first module were a list of all the spawn suppliers world wide, which is awesomely useful. It also means, for any global Hiver reading this, that you can ABSOLUTELY do this course wherever you are in the world.
The first recommendation on this list was for Pleurotus Ostreatus (oyster mushroom) grain spawn, which you have to have to start Week 3, so I went ahead and ordered it from www.aussiemushroomsupplies.com. The first two items they suggested to collect was about half a dozen buckets, between two and four litres of size (obviously, food safe!). They prefer buckets as they are reusable.

After that, the course goes into the life cycle of funghi, and lots of other interesting things about the world of funghi to really hook you in! I'm totally fascinated and ready to get some more books to read about it. I really think I've opened up a huge world to study which is really giving me a huge buzz!
The second module runs through the world of funghi, setting a solid foundation to understand the biology and ecology of funghi and why they are such an important part of life on the planet. That seems like a really sensible way to start a course - because if you don't understand the world of fungi, it's harder to grow it. I think this was what is really missing from my knowledge, so I'm happy that it's starting at this level. On a side note, they offer an advanced course as well, which I'm already saving up for.
A few facts from Module 2:
'Eumycoda' is the kingdom of fungi, which is where 'myco' comes from.
120,000 species are classified, but they reckon that's only about 4 percent of all the mushroom species in the world.
The mushroom mass is really in mycellium in soil and leaves - the stuff we eat is the fruiting body which is a mechanism to spread spores.
There's lots of species that DON'T produce edible fungi - not all of them grow fruit, but all have mycellium.
They produce strong enzymes that encounters, say a rotting log, dissolve it, absorb it back into itself. It's the only thing that can dissolve lygnum (wood)! So they're EATING.
The focus of this course is saprobic funghi because they grow off dead matter like wood, rather than a living tree, which is a mycrorhyzzial funghi - these are hard to grow.
We absolutely have to use binomial nomenclature with mushrooms because it's easy to get confused as there are different common names all over the world.
Pleurotus means 'sideways', Ostre means 'oyster' and atus means 'resembling'.
An average adult will inhale about 50,000 fungal spores every day of their life! Of course our immune system are great at fighting them off to stop them growing inside in you! We aren't separate from the living world - we are connected to it.
When you finish each section, they send you an email with a little diagram to show where you're at. Cute, huh?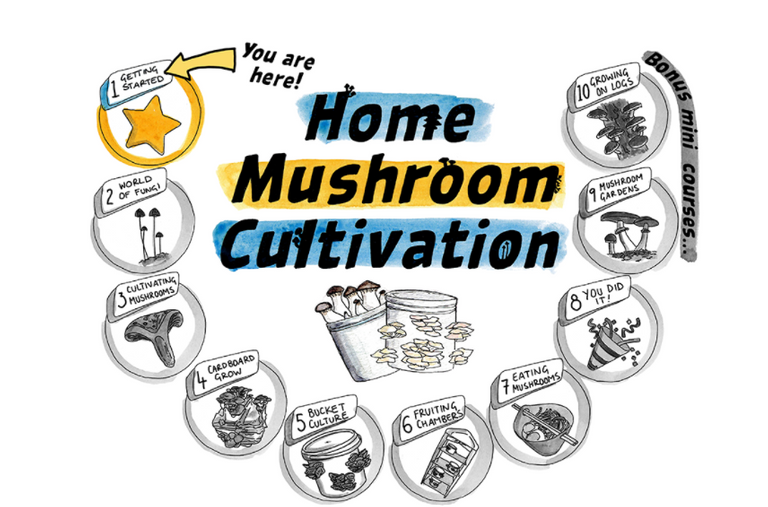 There's also a forum where you can chat to others and ask questions, and they host live Q&A sessions as well. One of the things I found exciting is that they quite encourage small business operations, many of which have started their ventures via Milkwood. It appears to be something they take quite seriously!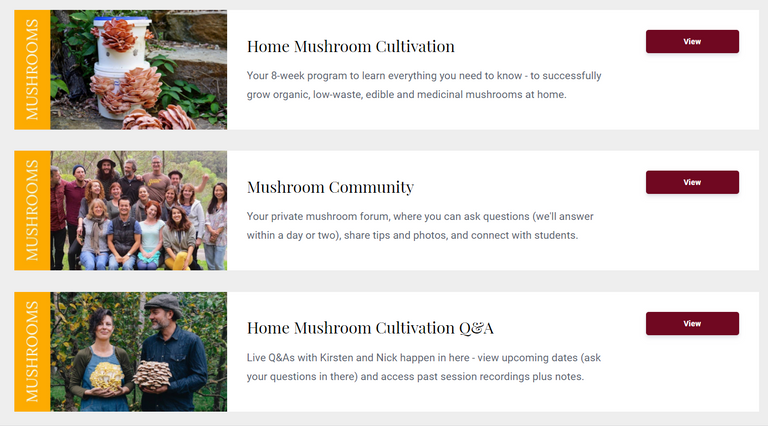 I'm super, super excited about growing my own mushrooms and wondering where this will lead too. Whether it's just putting more food on my table or sharing with friends, or getting into some branch of mushroom business, who knows. But I definitely feel glad to have dived in and glad to have chosen Milkwood as a firm jumping off point.
Have you ever done a mushroom cultivation course?
Is this something you would consider doing?
With Love,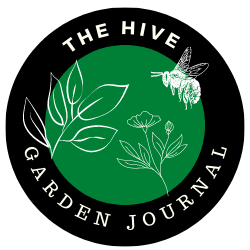 Join The Hive Garden Community! The HIVE GARDEN COMMUNITY supports gardening, homesteading, cannabis growers, permaculture and other garden related content. Delegations to the curation account, @gardenhive, are welcome! Find our community here!
Are you on HIVE yet? Earn for writing! Referral link for FREE account here!





---
---