Hive Garden Comment Challenge: Our Gardens in Extreme Weather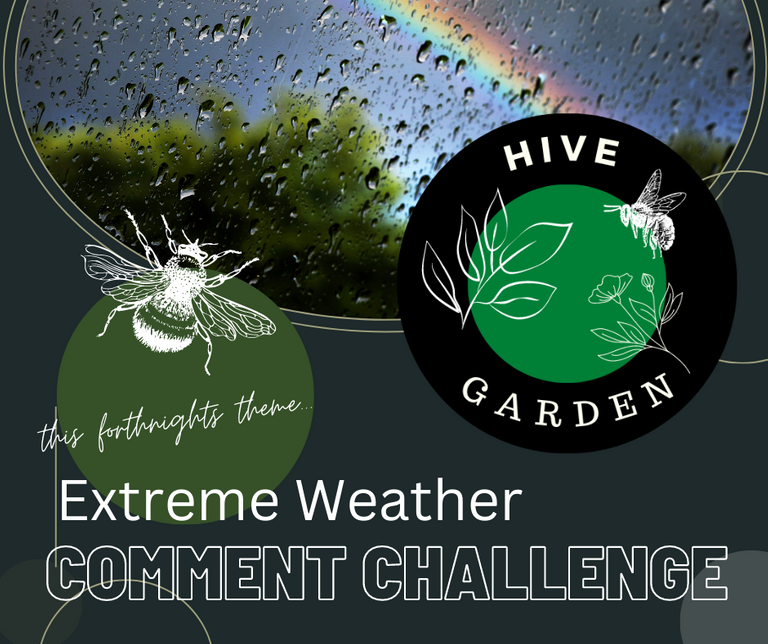 I adore this comment challenge. It's a real chance for the community to get together and chat and I appreciate all those who joined in. The theme was 'unusual' and there were naked gardeners, a lot of plant thieves including 🐐 goats, and plants that didn't do what was expected, like the entire garden that ended up unexpectedly purple 💜. The story that got me in the feels was @fotostef"s story about the little sparrow who crossed his path, a beautiful encounter with nature. He wins 3 Hive. Also awarding 3 Hive to @clareartista who also shared a poignant story about a bird AND what she did to get a stolen thyme plant back! Both gardeners also came back and engaged with others too. Thanks to everyone who joined in - I wish I could award you all! Really! I appreciate every single comment and you make both Hive and this community a wonderful place to be. 🌱🦜🪴🌿💚
The Comment Challenge: Extreme Weather ☁️
One thing I've noticed doing the challenges for Hive Garden over this year is that I've never seen such globally consistent extreme weather be a focus of our gardening posts. From apple blossoms in France in November to flooding in Indonesia or cyclones in the Phillipines, many gardeners have battled the elements.
This fortnights theme asks you to comment below on how you may have been affected by extreme weather. You can address one, some, or all of the following and of course add your own observations.
Describe on extreme weather event and how it impacted your garden, farm or local green landscapes
How does it, and you, recover from such an event?
Is this usual for your area?
Do some plants survive or recover better than others?
Do you think this is part of climate change or just seasonal, cyclic weather patterns?
What have you learnt from such weather in terms of gardening?
Guidelines
🌿 Minimum 200 word comment to qualify for winning
🪴 Come back and engage with others
🦜 Include a photo if you can
🌱 Invite others to join in if you like.
Happy Gardening!!
@plantstoplanks @sofs-su @nikv @owasco @umirais @buckaroobaby @farm-mom @thebigsweed @polesinns @andrastia @multifacetas @porters @amygoodrich @fanyokami @isdarmady @phoenixwren @anafae @tanjakolader @yolithy24 @andrastia @minismallholding @goldenoakfarm @sanjeevm
@ciadanmea @kennyroy @simplymike @dodovietnam @babeltrips @trangbaby @kaelci @shanibeer @proto26 @ifarmgirl @artemislives @edprivat @meesterboom @momogrow @attn @luckylaica @blingit @traisto @fotostef @tydynrain @hindavi @steven-patrick @vibeof100monkeys @samstonehill @anttn @friendlymoose @jacksonizer @ciadanmea @tuocchu @gertu
With Love,

Are you on HIVE yet? Earn for writing! Referral link for FREE account here




---
---