An Afternoon in the Herbal Kitchen: DIY Deodorant, Herbal Tea & A Two Tonic Syrups
Today I took a day off because I was not coping at work. Although I only have a month to go, it's hard to get to that finish line and I find myself hating everyone, even with all the yoga tricks in the book! I'm not going out too gracefully, that's for sure, and every moment I'm there just reminds me why I'm leaving. Today was about self care. I went for a surf in the morning, and then decided a gentle pottering day was in order, being creative and playing with my herbs and natural products that I love to experiment with. I ended up making three things - a syrup (well, two), some more natural deodorant, and some herbal tea. Now, for a bath with the magnesium floral bath salts I made last week! Then I might, just might, survive two days until the weekend.

Herbal Syrups
With the warm weather coming up, we're drinking a lot more water. What better way to flavour your water than with a nutritious herbal syrup? I've recently been playing around with a few concoctions. The first is a liver tonic - ginger, turmeric, burdock root, dandelion, a little licorice to taste, and milk thistle. One simply puts it on a slow simmer with about two litres of water until reduced by half. Add about 1/4 cup of black strap molasses (full of nutrients!) and cool. You can add a little honey to taste but I like the dark, slightly earthy and a wee bit bitter taste of this brew. It's lovely as a kind of cordial mix for soda water.
The other one I made out of the Plant Clinic book, which I adore. The only thing I did a little differently was add the crushed rose hip last, rather than boil it, as I was uncertain about the vitamin C content being lost from simmering. The ingredients were nettle, rosehips, hibiscus, burdock root, yellow dock root, alfalfa leaf, dandelion root, hawthorn berries and chlorella. I find syrups fairly forgiving so you can swap out ones to suit - I didn't have chlorella so I used papaya leaf. I'm still uncertain about the simmering and wonder how much nutritional content is lost that way, so I'd love to hear from a herbalist on that matter!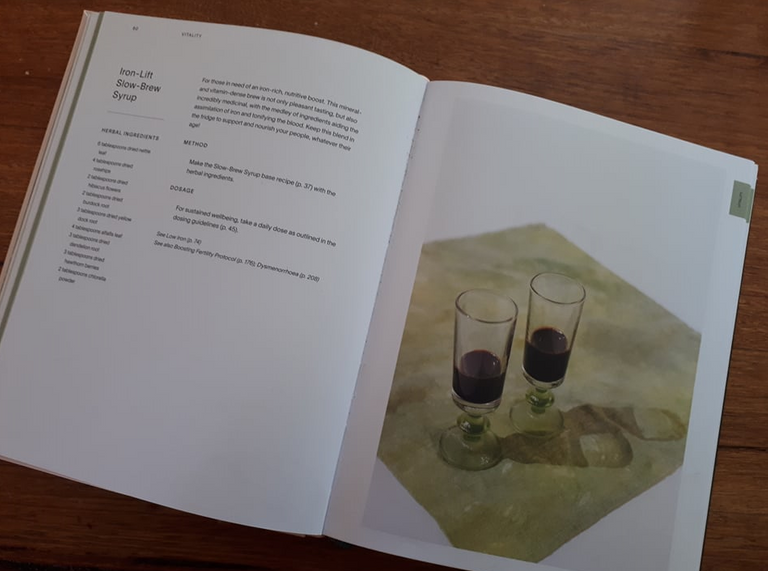 Her recipe for a slow syrup is basically two cups of water, 1/4 cup of sugar free juice (I used pomegranate), and the herbs into a large saucepan. Once brought to a boil, reduce the heat, and simmer for an hour or so until reduced by half. Once it's lukewarm, strain, and add a cup of honey and half a cup of brandy. Once it's cool, you pour into sterilised bottles and keep in the fridge. You don't HAVE to add the brandy - but it helps it keep. I find I drink mine fast enough and if you add raw honey that preserves it further, though I find it a little sweet! But that's definitely something that's a personal taste.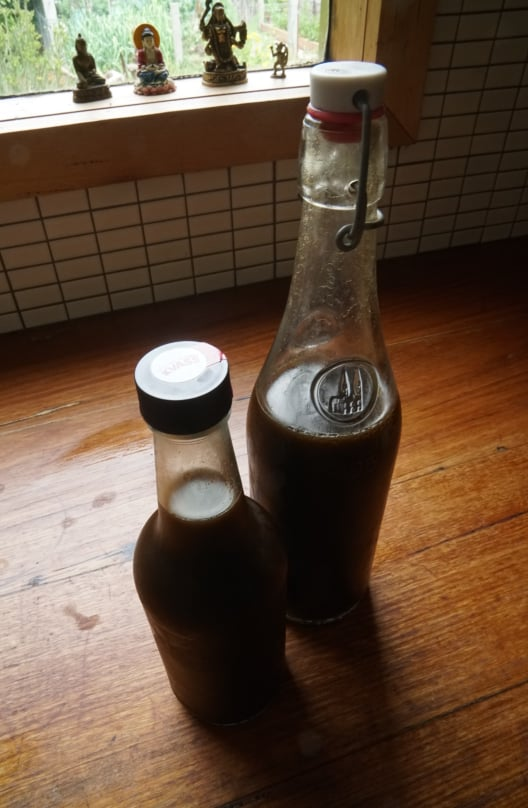 Rancho Relaxo Herbal Tea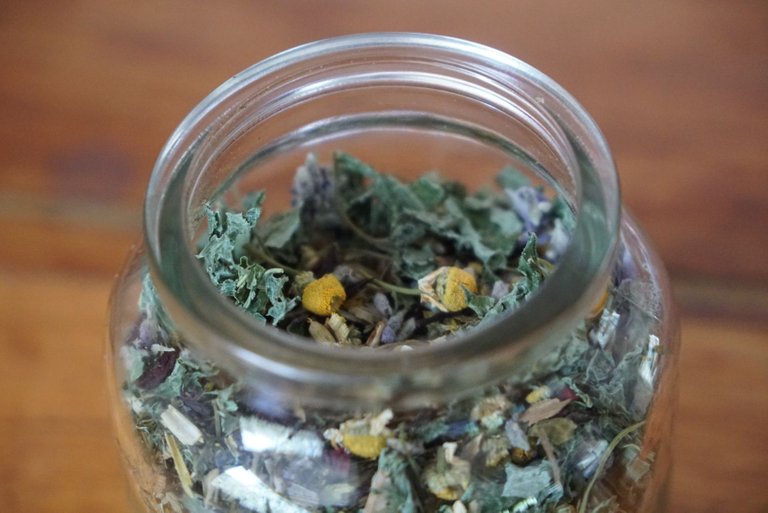 I'm experimenting with making herbal tea blends for Christmas gifts too. This one is for soothing frazzled nerves and hopefully helping with sleep. It contains oatstraw, hops, lavender, chamomile and skullcap. The lavender, chamomile and hops are home grown. I just love making herbal teas - it's a very tactile experience, mixing them up in the bowl.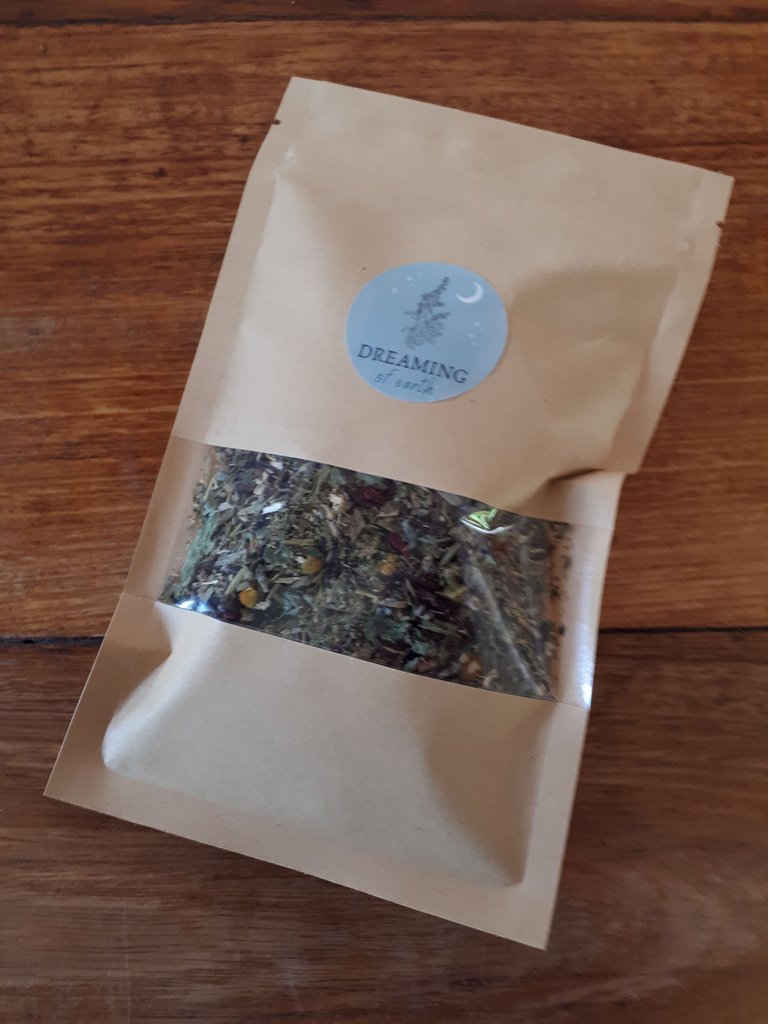 Homemade Deodorant
Every time I go to make my own herbal deodorant, I change the recipe slightly. What would it be like with less beeswax? No beeswax? Some people request no bicarb as they have sensitive skin, others request vegan. I'm at loathe to change my perfect recipe, but this time I thought I'd experiment, basically halving what I'd normally do, putting in less beeswax, no bi carb and doubling the arrowroot, and adding kaolin clay. I'll let you know if it works, but I'm pretty happy with the consistency so far. I usually have a tub in the van which heats up a bit on warm days so it has to stand that test too - I don't want it going liquid, but I want it to be smooth.
30 coconut oil
15 beeswax
20 shea
35 arrowroot
10 g kaolin clay
10 mango butter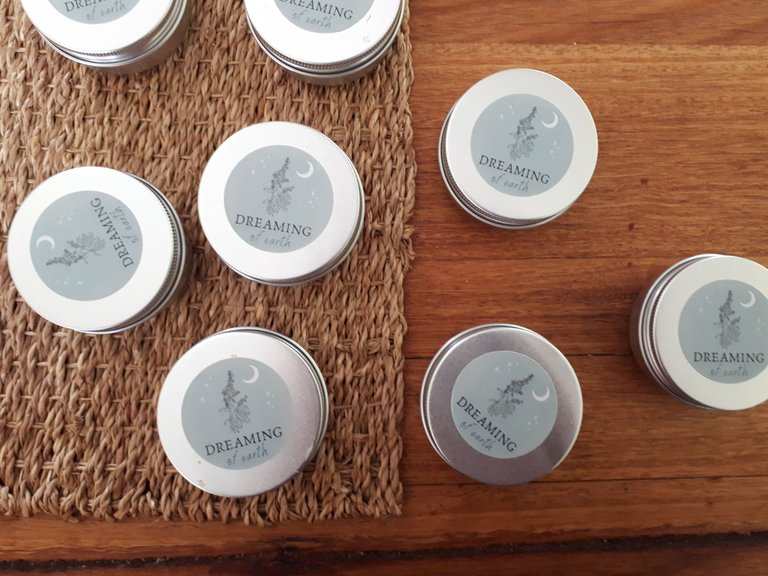 However, to be on the safe side, I made a heap with the old recipe too. I have a friend at work who absolutely loves it, and wants to buy some for stocking fillers. I'm also thinking of selling it in the local community but I'm a bit shy! Plus, there are heaps of alternatives these days and people have a lot of income to throw away around here, so I figure why bother with little old me? I just loving making it to gift, so I'll do that for the foreseeable future.
Oh, and you may have notice the labels! I asked advice on these the other week, and Hive folk made a few suggestions that resulted in something I'm pretty happy with. What do you think?
What's going on in your herbal kitchens? Do share! You might like to check out this weekly challenge over at The Herbal Hive.

With Love,


The Herbal Hive Community
Are you on HIVE yet? Earn for writing! Referral link for FREE account here




---
---