Reddit's Wallstreetbets Hive Onboarding(Free NFT giveaway)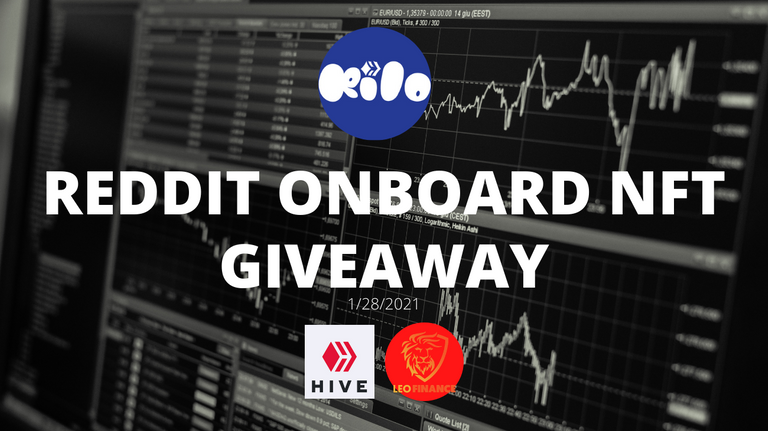 Recently, some people on Reddit have begun to organize on a board they call wallstreetbets to fight back against wallstreet by collectively pumping various stocks among the fiat exchanges.
This can be seen with the recent explosion of GME(Gamestop) and others are calling for the same behavior with AMC.
---
I do not actively use Reddit but I would like to propose something to those of you who do.
We should be plugging in HIVE/LEO to this event!
Robinhood has effectively been blocked from trading now and these traders are looking for a way to continue their exploits of collectively using their buying power to bargain for change within the system.
I am sure that these people would love to know that they could be getting paid with Reddit style upvotes and the entire platform is built on this amazing technology that essentially does exactly what they are trying to do with wallstreetbets without being so flashy.
I'm talking about decentralization of the world economic system using blockchain technology of course.
I see this place as being a mecca for progress!
so maybe now would be a really spectacular time to launch some kind of promotion for onboarding new members?
I am going to do just that!
I encourage you all to do something similar with your own prizes and on your own terms to amplify the effects this will have upon the hive/leo ecosystem.
---
The NFT Giveaway
Up for grabs 1 dCITY NFT(from my farm - rewards based on post excellence and performance) for everyone who completes the following:
This will require a small amount of work on your behalf in the form of posting an onboarding creative meme or catchy pitch with your referral to either hive or leo into the subreddits that surround finance if for some reason wallstreetbets gets taken down anytime soon.
You will also need to upvote this post and reblog to maximize the reach and when you have completed the reddit comment just link back to it here in the comment section.
Extra points if you follow my account and double triple extra points if you make your own contest of a similar nature.
---
The dCITY rewards pool will come from my NFT farms and include my excess cards not necessary to my growth plan.
This includes:
10+ Homeless
10+ Immigrants
1 Fully Automated Brewery
1 Police Equipment
1 Art Gallery
As you can see there are enough NFT's for 3 entries to receive a higher tier reward so I will be looking to judge based on the perceived effort of the post and the overall engagement of the post.
images made with canva XD
The contest will run for the duration of the week and I will announce the winner and prizes next week.
Please drop a comment if you have any questions!
Thank you all so much for reading and I look forward to seeing your entries!
---
---