NOW HODLING 1K DCITY NFTS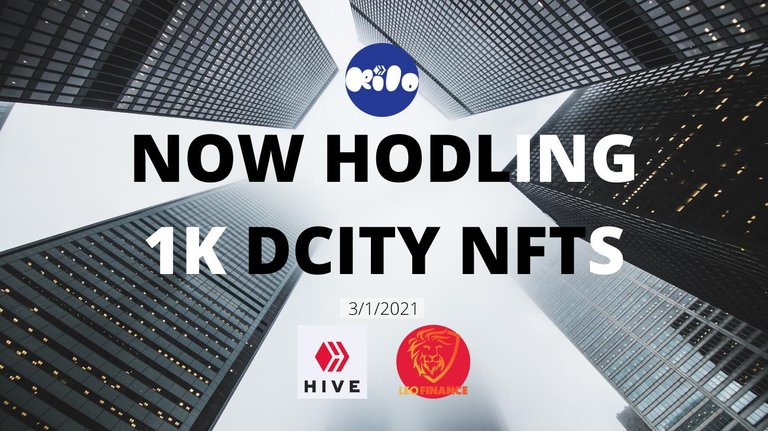 I have been joking around with some people IRL about my NFT holdings being nearly 1k for quite awhile.
Very recently, I actually hit my 1k mark with the addition of a daily mined homeless card.
This is amazing :)
To celebrate I bought some Zoos so I can start mining that new Harambe token when the expansion drop. lol
Seriously though you start running into a whole new breed of problems in this game when you start accumulating more cards.
I am actually buying the Zoo card because it has the highest worker usage for the least amount of SIM.
My city has an unemployment crisis that I plan to fix with the Zoo card.
Not that I dont love Harambe or that project because I totally do ;D
On average I would say I am getting 1 NFT perday if not more from my farming operations.
I suspect this could be more if I split my wealth across the span of several accounts.
I am focusing on generating the highest amount of rewards possible. Check out my stats below vvv
---
With taxes at or near 80% my total income of 5128 SIM is reduced to 1479 which amount to 2.14 HIVE at $.30 bringing my daily SIM income to about $.64 per day.
$17 PER MONTH!
With no taxes this could be 7.2 HIVE which is $2.16 per day at the current exchange rate!
That's nearly $65 per month purely passive income!!!
My 146 Weed Farms are generating a daily payout which is almost always decreasing of 1.27 WEED which amounts to roughly $.05 per day.
My 74 Breweries are generating a daily payout of .33 BEER which amounts to about $.02 per day.
My 40 Stadiums are generating a daily payout of 40 ENTRY which amounts to about $.0088 per day.
My NFT farming ops are generating a daily payout of about 6 homeless/immigrants and 1 technology per week which averages out to about 150 SIM amounting to about $.059 per day.
My current daily total from dCITY is $.857 coming to a weekly $5.999 and a monthly $23.996!
---
I suspect we will be seeing high taxes for the duration of this year or just until a bullrun of new players join dCITY which is inevitable with an influx of HIVE users.
It seems like the high taxes are somewhat helping the price recover but it has been awhile since we have gotten anywhere near a full daily payout.
To remedy these high taxes I suggest players begin to market their gains and position on HIVE and dCITY.
I am hoping to pick up some more crypto this month as I am expecting a dip in the overall market but only time will tell.
Hopefully be able to pick up a few more Military Industrial Complex before the expansion as well but only time will tell.
Thanks for reading and celebrating with me!
Posted Using LeoFinance Beta
---
---