Sometimes you just need to slow down a bit....



It has been some time since I have been able to really sit down and post something here, been wanting to, just having adaquate time to sit and drop it down. I don't like to do the drive by post, and I really hate the single pic no content posts. So I keep myself from dragging my rep down to those levels. It takes me a bit of time to really deliver that post I hope you all enjoy to read, the photos, the characters all in assemblance, there is effort that must exert itself to create something I feel ok to share.
Generally, I create all the content for a post day/night of. I like getting into the mood of writing a post. If it is to be about my growing I'll spend a few with the plants, taking photos, getting in the frame of mind to talk about the subject. Same with strain reviews, I take the photos, grind it up, smoke it, and then post. I will go as far as to be smoking the strain throughout the blog write. I feel it puts me in the buds mindset, I speak the words of the strain. Tonight's no different, just a bit delayed as it has been sometime since I have written.
Tonight I am going to be bringing you a special treat if I can get all the facets of the operation to combine and come to life. I have been messing around with NFTs a lot lately, tonight I am going to introduce a new angle of my strain review blog posts. I will be creating a limited edition NFT to coinside with my strain review blog post. I will be limiting the minting of these NFTs to 420. So this will make them fairly rare.
The NFT will consist of selected photos from the review, a special main image that will only be available on the NFT, strain info association, along with the review stats. Each NFT release will be unique, even when there happens to be another review for a previously reviewed strain.
So to start off this gig, here goes the first NFT Backed Strain Review: Pink Runtz


Strain: Pink Runtz[Runtz]|[Leafly]|[ILGM]
Density: Soft Rocks
Bud Aroma: Kiefy Pine, Citrus Tones
Colors: Dark/Light Green, Yellowish White Powdered Kief, Sporadic Red Hairs
Freshness: 6/10
So I have family that reside in a state that cannabis is legal, it should be everywhere but I digress, one of my family was traveling up for a few days and we always trade warez and this time was no exception. Hit the score button this trip, as he loaded up the different strains for me. He is aware I love bringing you all some hopefully great content. Honestly, I think he really likes to see his buds on the internet getting reviewed. No worries, I love doing it. Wink Wink, if you know anyone that would like their warez reviewed by the likes of Relay. We can make that happen. Anyways back to this blog. This time up he brought me 3 strains I have yet to actually experience so that is always a bonus. New strains for me, means new content for you! This trip was Gelato, Hitman OG, and this PinkRuntz. So if you like what you see here, look for the following posts on the other 2 strains.
I love my flower, everyone knows this, but this time he also brought me up some edibles. A ton of them, 4-20mg Cherry, 4-20mg Strawberry Banana, 4-20mg Bubble Gum, 4-20mg Raspberry. Along with this his good buddy also sent along a travel pack of some of his gummies. This variety was a bit crazy but goes as follows, 2-20mg Green Pot Leafs, 2-100mg THC (1 Yellow, 1 Purple), 2-50mg THC (Blue), 1-5mg THC/15mg CBD/20mg Viagra (Black). This ought to be a great couple weeks. Back to this post...
The pictures of these buds just didn't look like I want them to. These buds have been heavy handled, which I can not complain about. Anytime you vacuum seal weed, it rocks up, and destroys all the outer trichomes. Makes for a bit of a challenge to get some vivid shots. Let's take a look...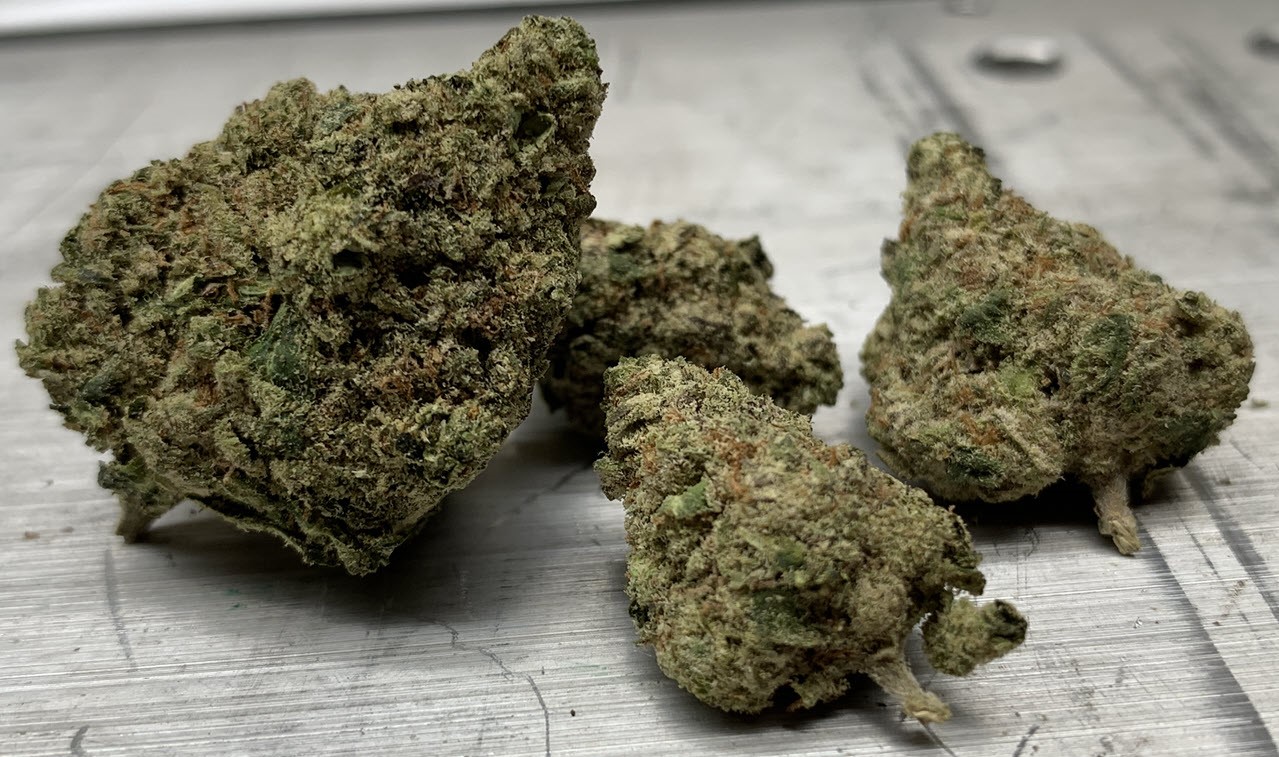 From the looks of these nugs there is a good chance we are dealing with a bit of PGR weed. I can't be for certain, the taste isn't too bad, there is a lack of red hairs, a couple of the tell tale signs that would scream PGR. Yes they are tight, but the texture is soft, not hard like I think of when envisioning PGR nuggets, and I have to keep in mind all this weed was vacuum sealed.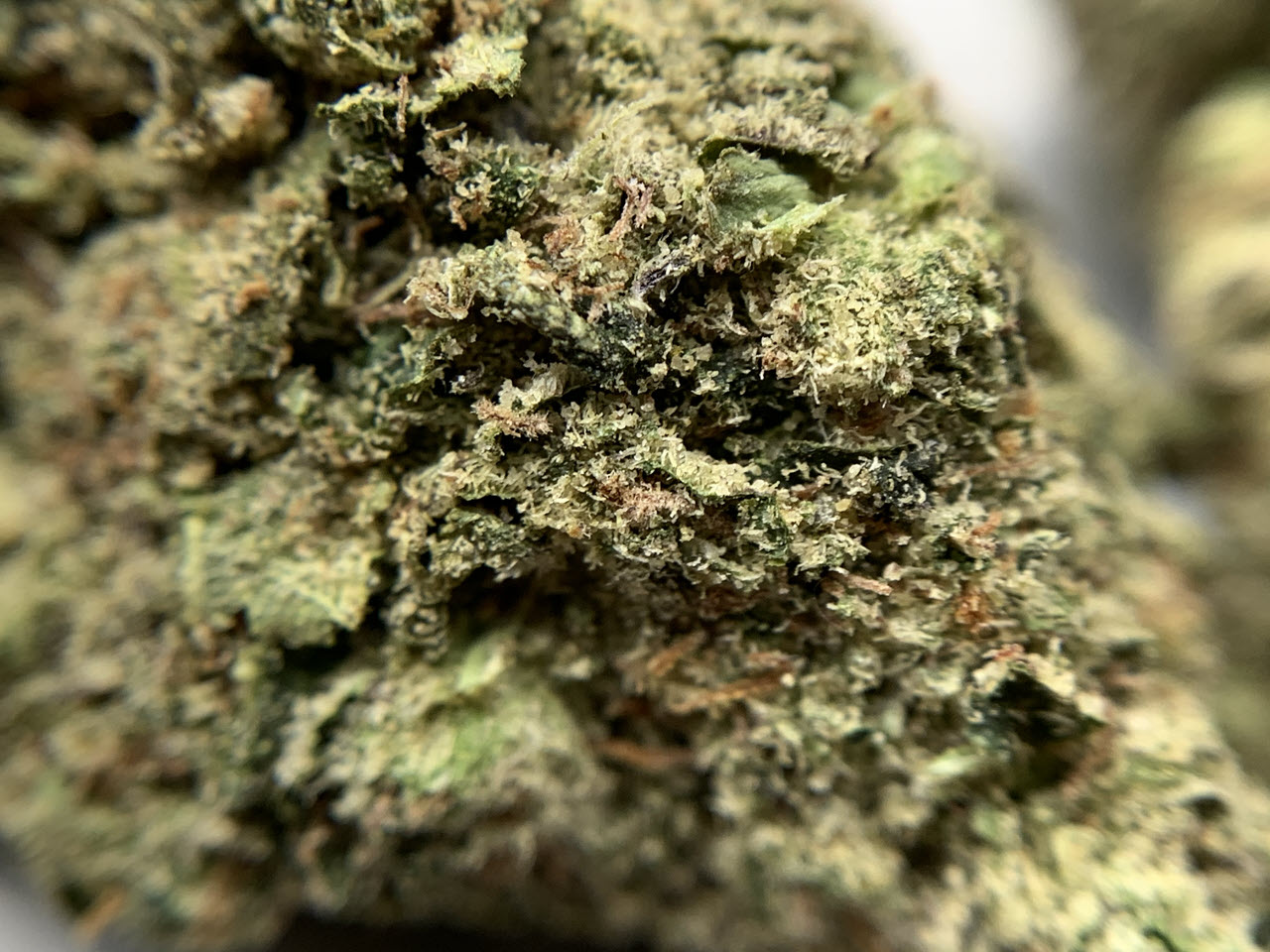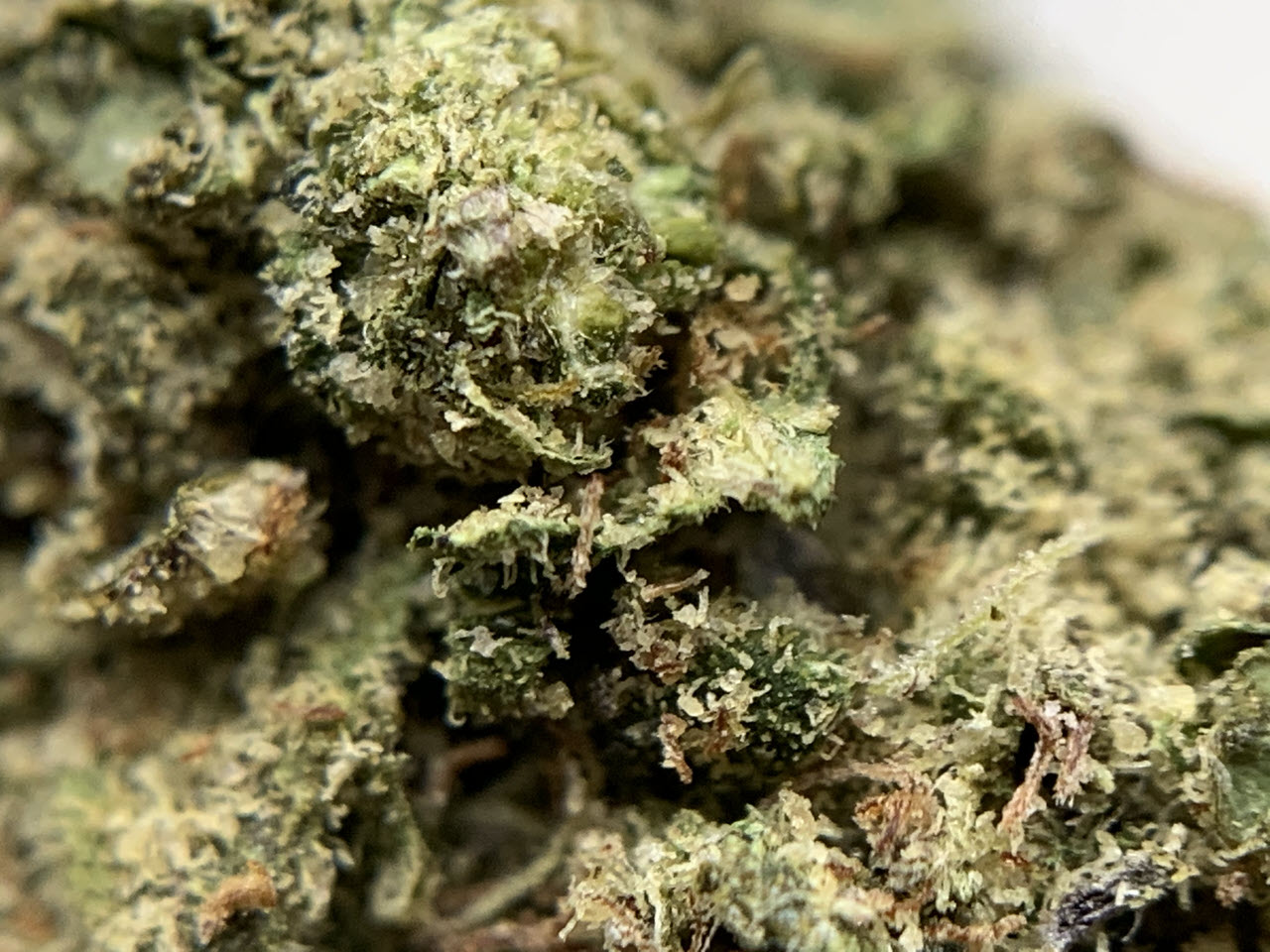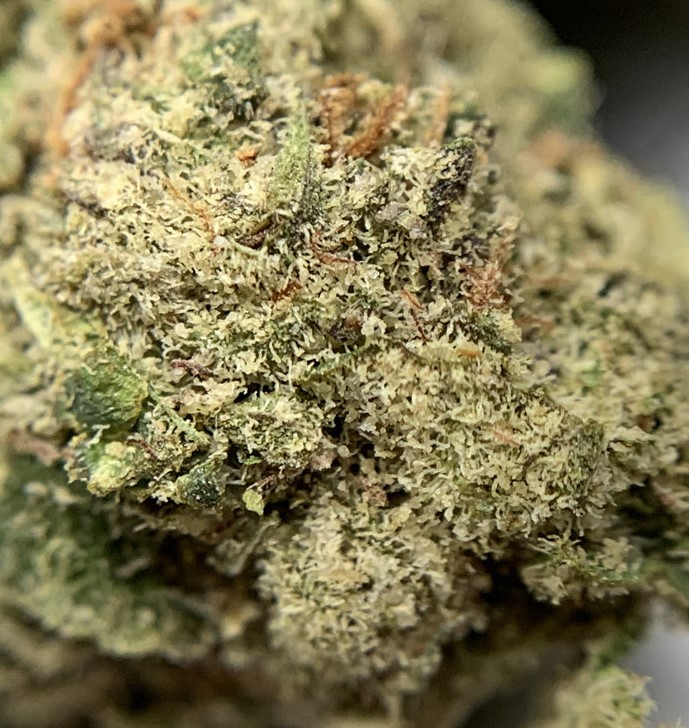 The photos came out with hella yellow tint to them, not what I was going for. The yellow light hides some of the defining details in the closeups. It doesn't hide the fact of the lack of trichomes. You can see they were there, and abundantly at that. I'm sure this plant was a frosty beast in the late stages of her blossom.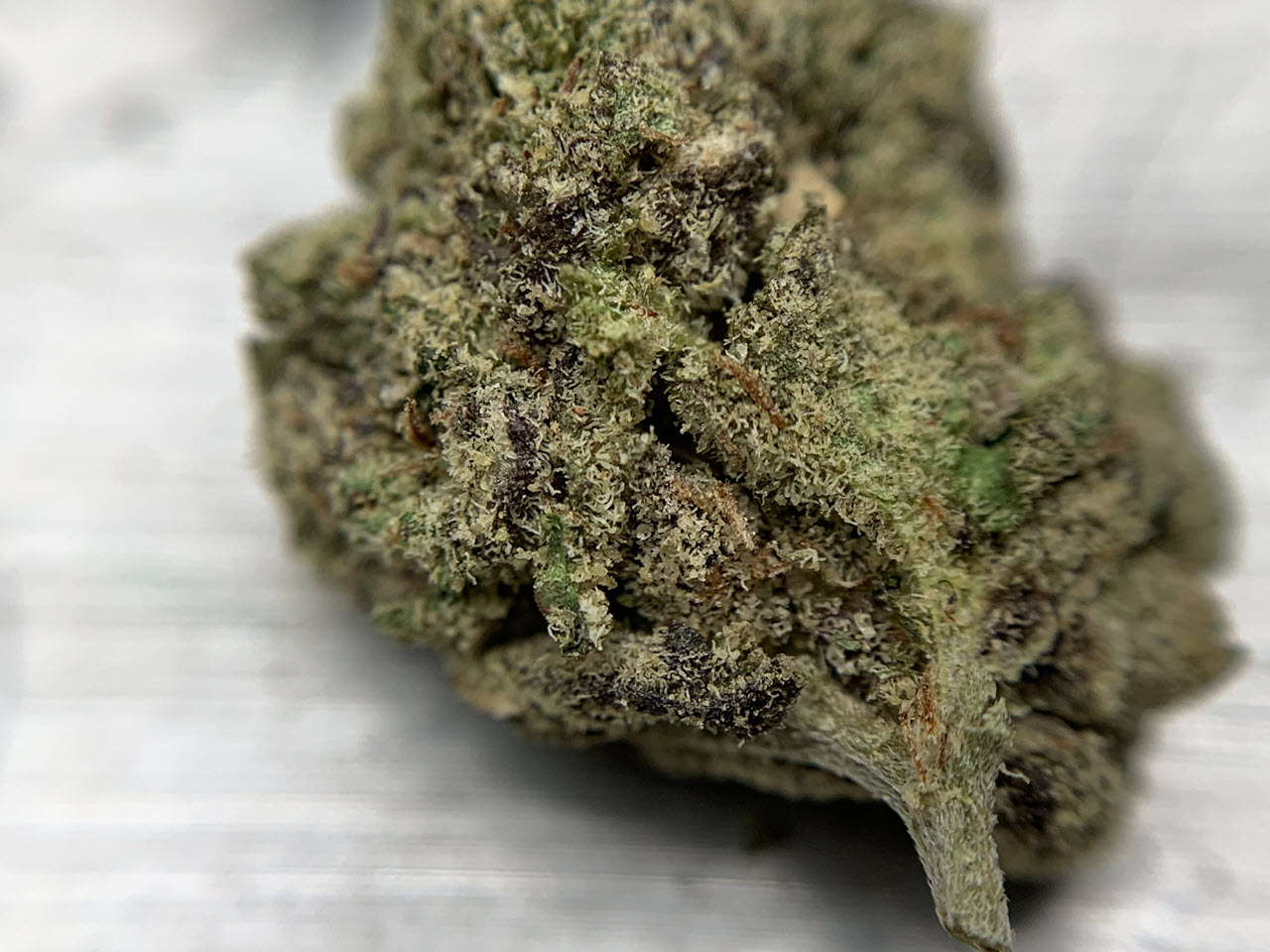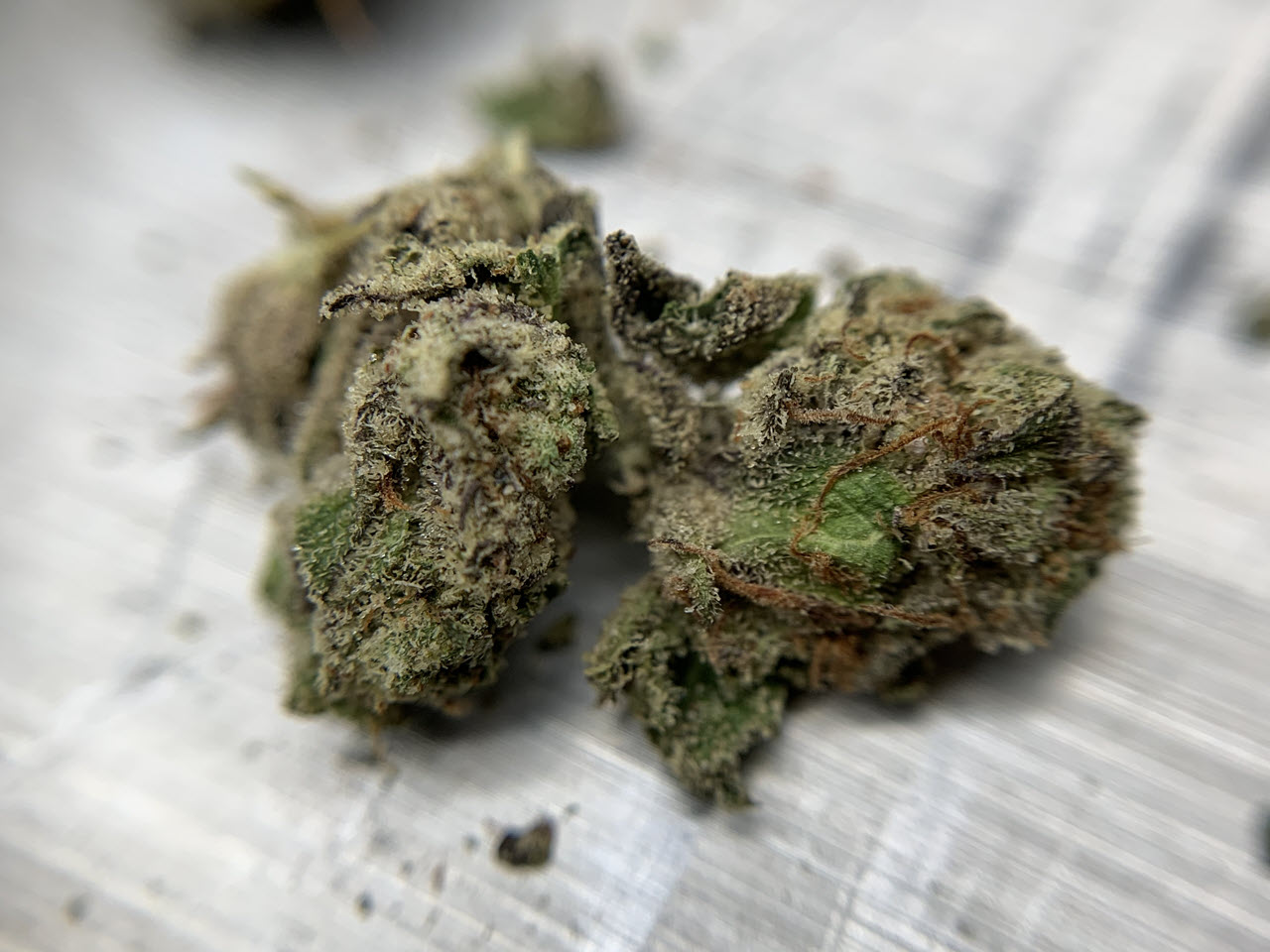 When you start to break up this Pink Runtz, it just crumbles away into a pile. Beside the chunk pressed between your finger, the outer rest just falls away. Making this bud rather easy to breakdown.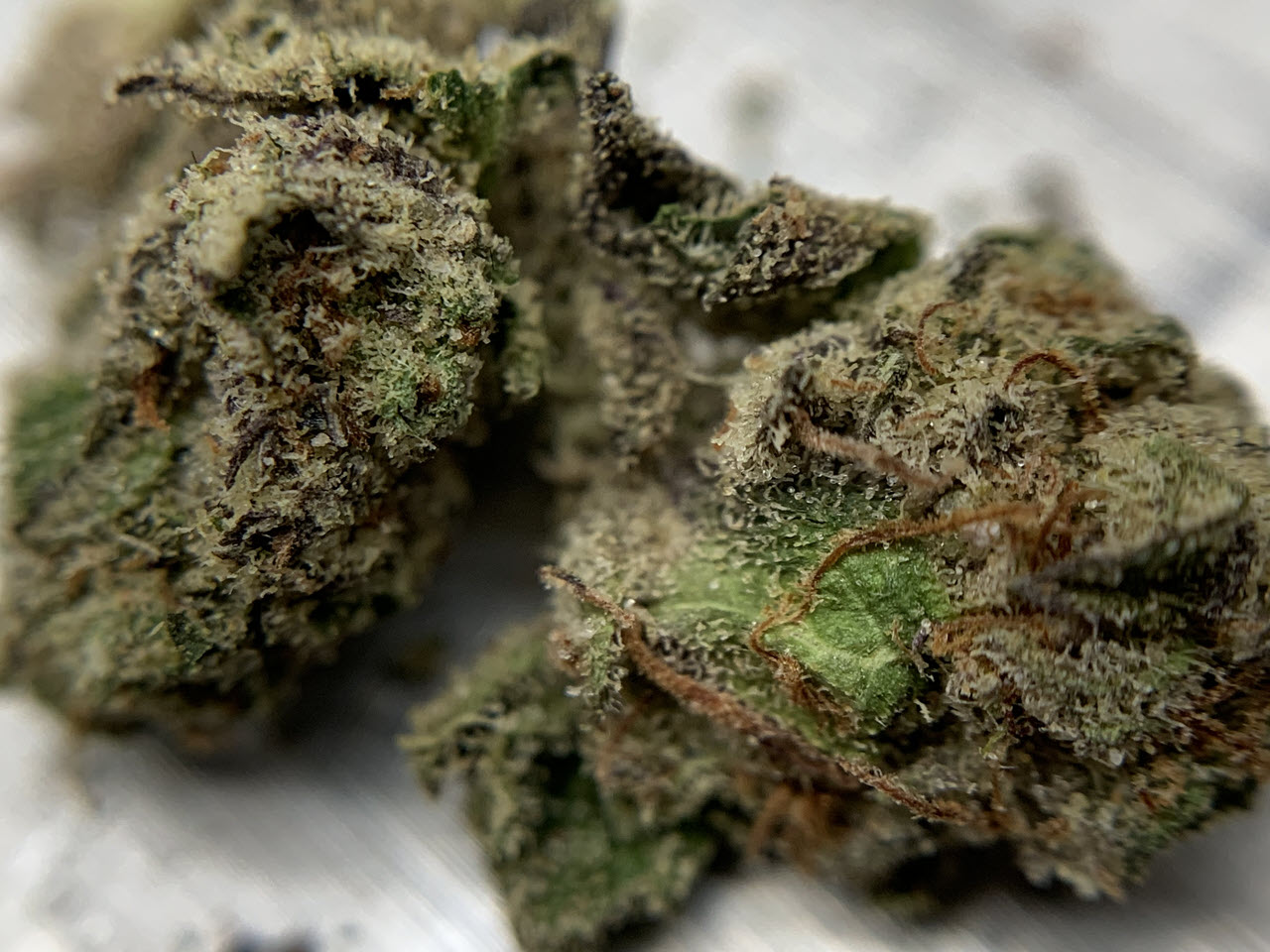 Looking down the barrel you can see this bud was just loaded with trikes before the handling.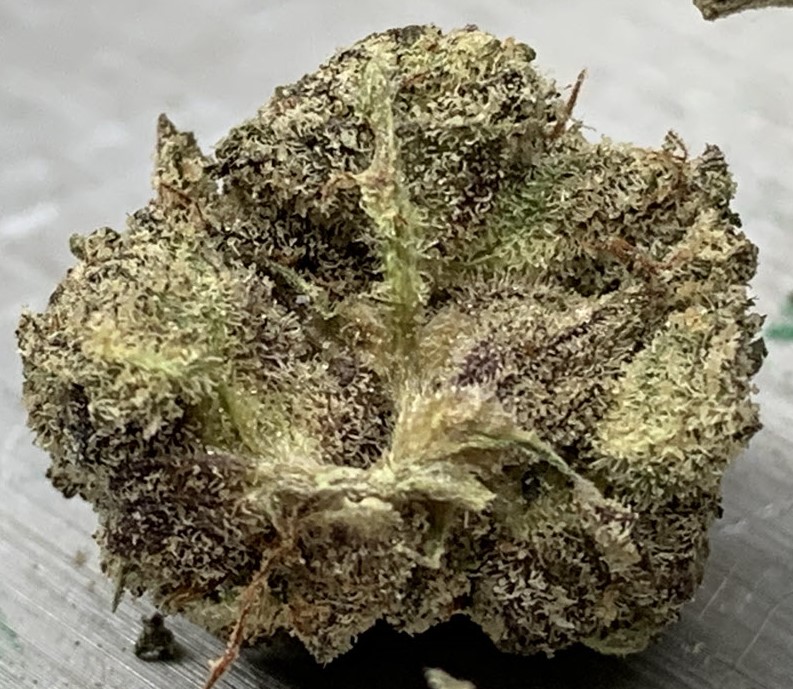 Even though the bud breaks up wonderfully, I will grind it up to get the aromas, and really release the colors the bud holds on the inside.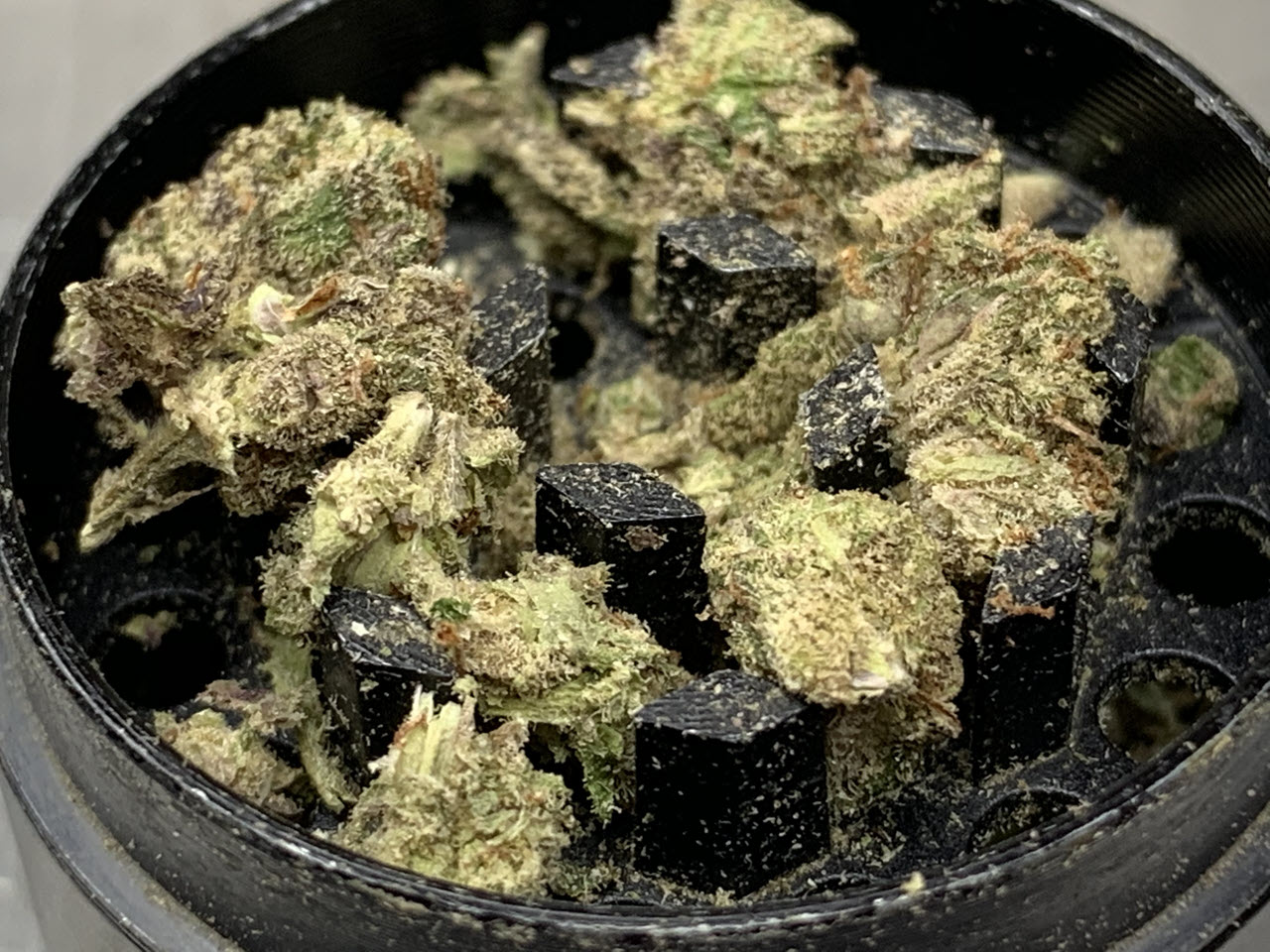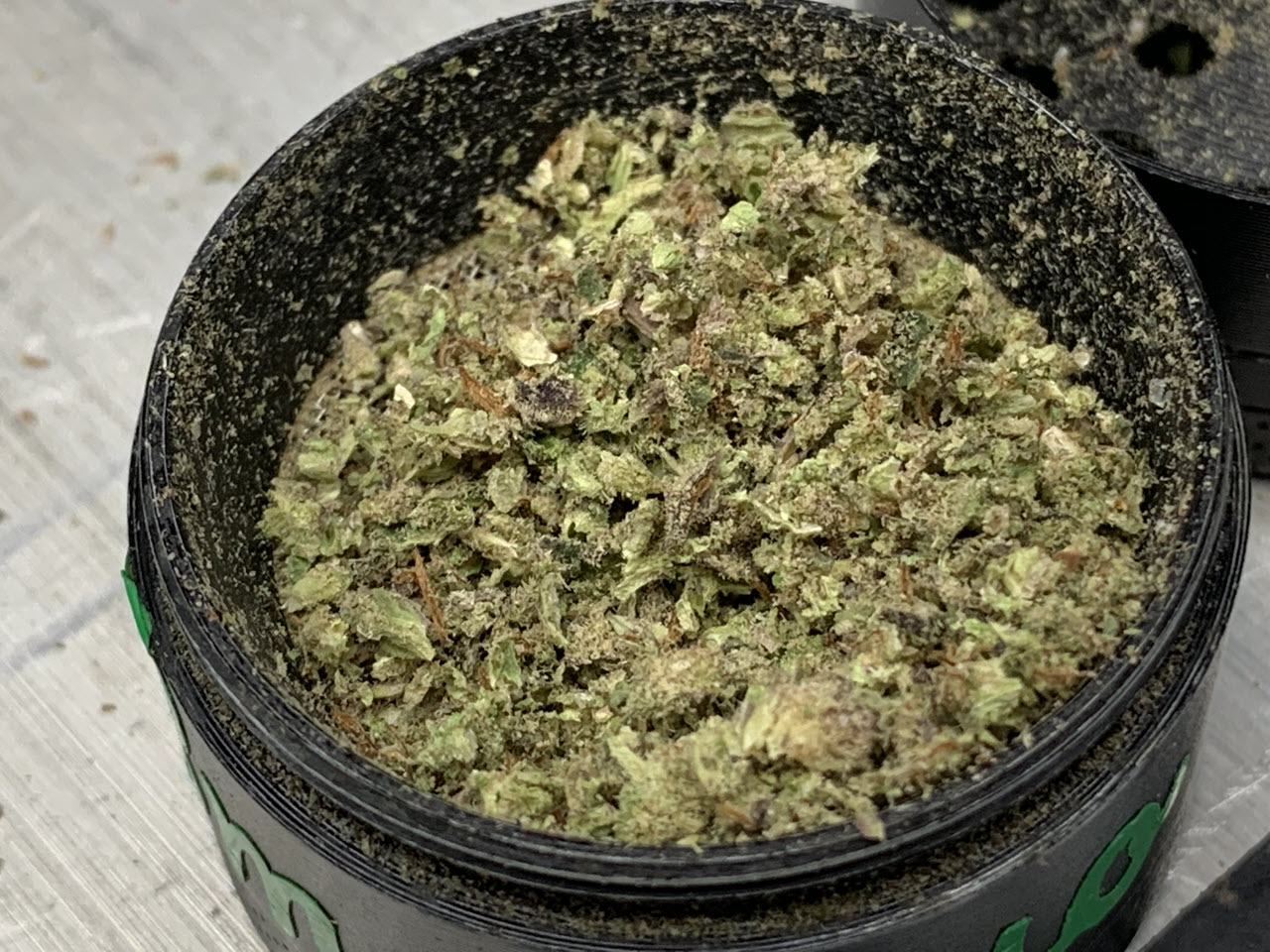 You can see the greens, coated in the yellowish white powdered kief. There is even little bit a purple mixed in. Time to load up the ol one hitter from GreenHouseGlass.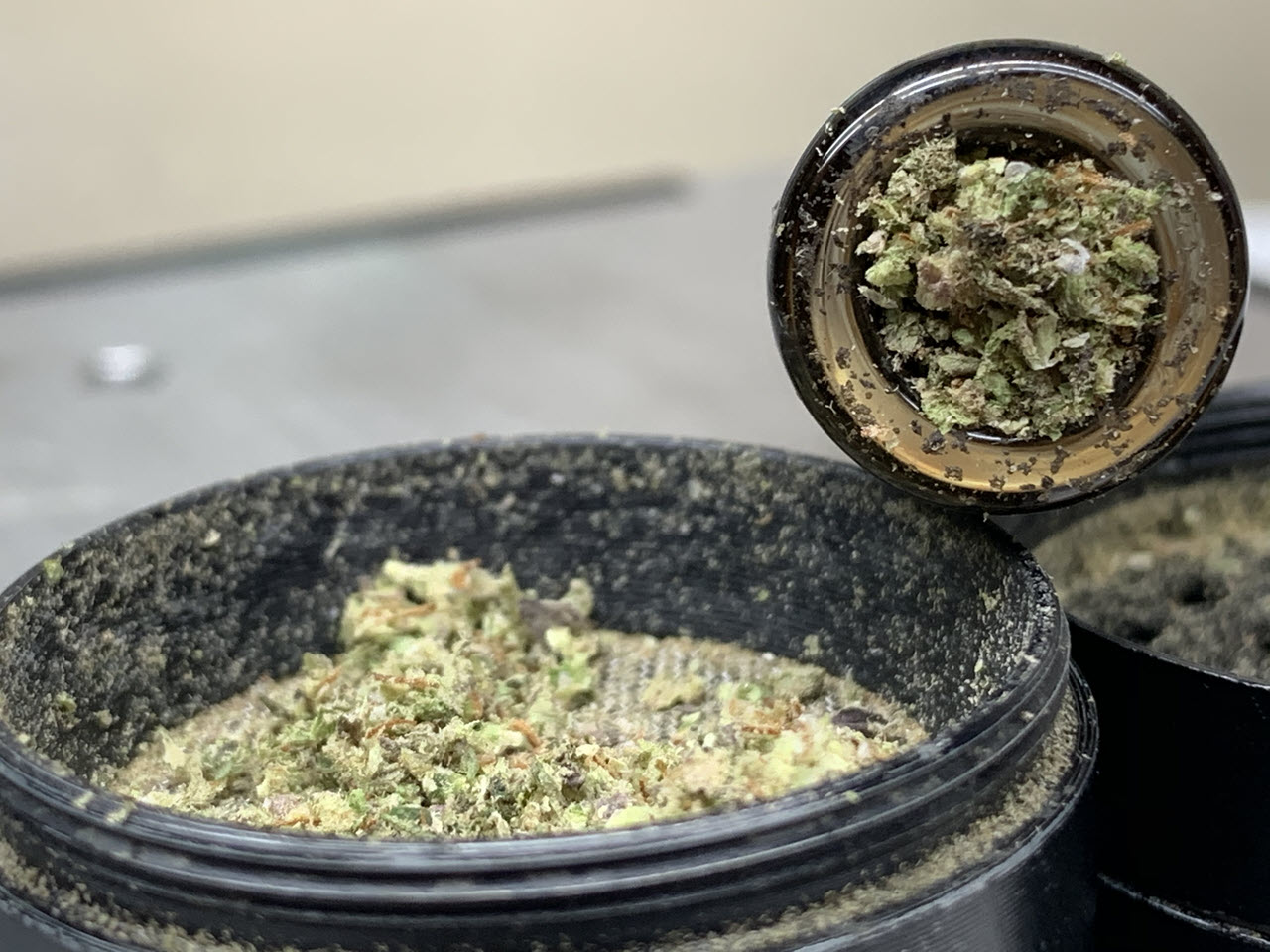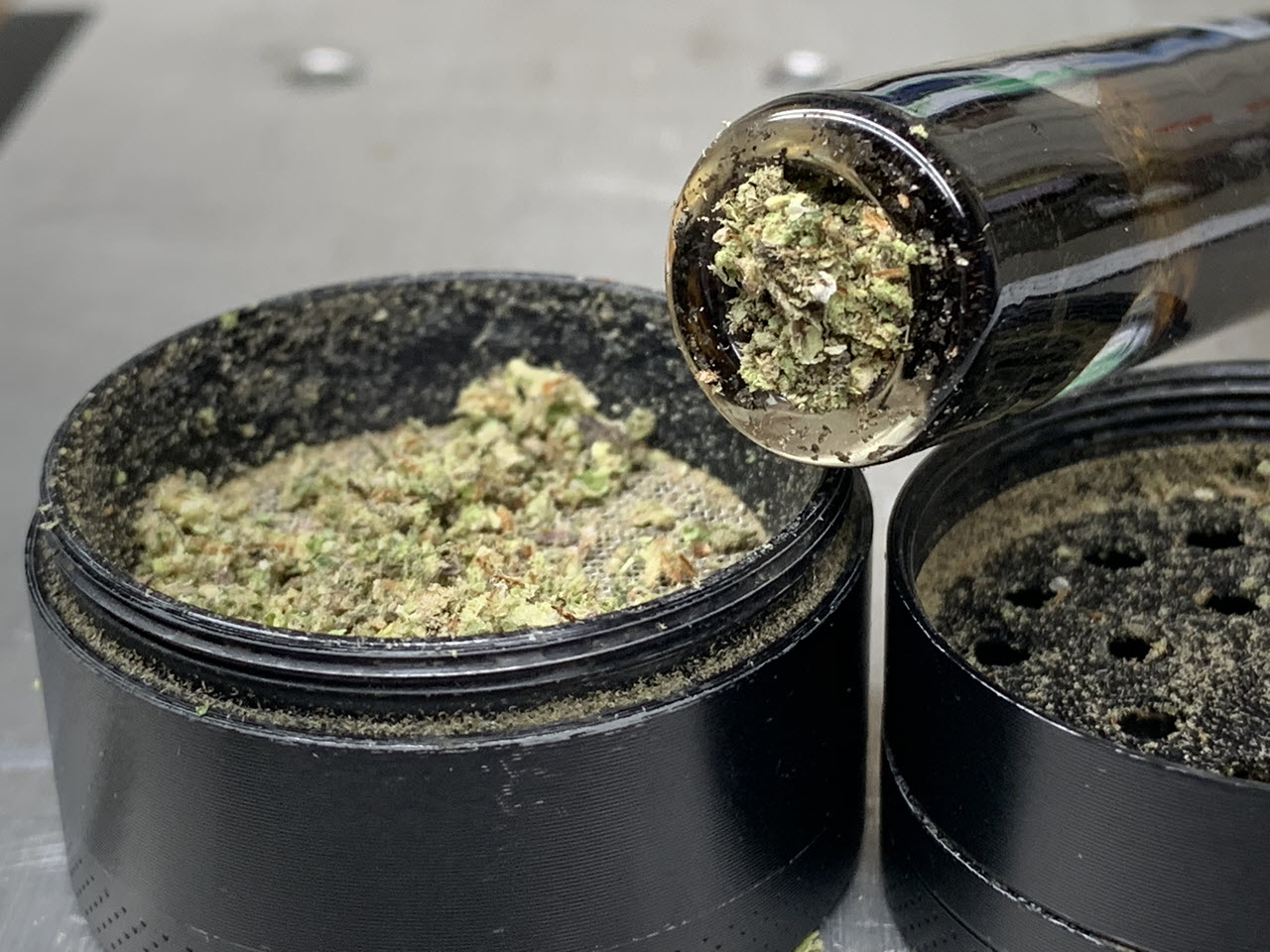 Well the only thing left to do is hit this up and describe the results. Lets do this...
The first hit is definitely piney. Smooth piney, not much of the citrus taste I was getting in the buds fragrance. It does taste a bit hashy, most definitely from the powdered trikes that coated the buds. Not to much to speak of in the form of a buzz that hits from the first hit. Maybe a calming feeling, but nothing to write home to mom about. I like to burn corners, but let's put some flame on this bowl and toke toke toke it up. There we go, a crazy hit leaves with a well controlled cough. Now there's some of that cerebral calming I'm looking for. A numbing in the temple a tingle in the lip. Now some cheek. Fuck let's hit that one more time.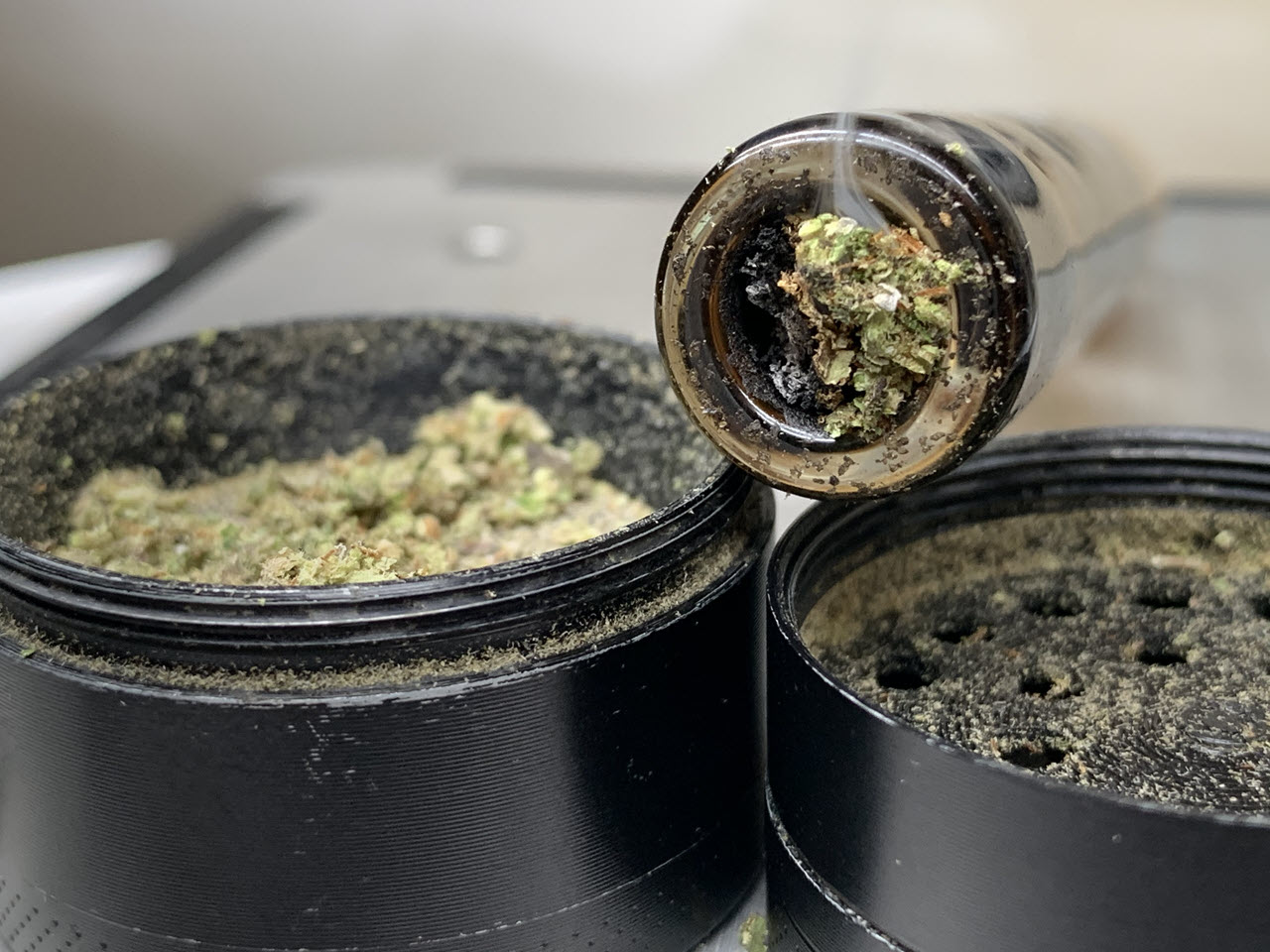 Smoking a bowl of the Runtz(Pink), was a good experience. The flavor was pleasant all the way through, the coughs were gentle, and the bowl burnt up to a nice white ash. For the first time having this strain, I'm not overly impressed with the knock down power but we all need a good daytime weed as I don't feel too grogged out. I'm not one to base an opinion of a strain from just one batch, as I grow myself I know how the same exact things can sometimes render alternate results. I will definitely give Pink Runtz another go sometime down the way.
Overall Smoke Taste: 5/10
Overall Buzz: 5/10
Repeat User: Yes
Now for the fun stuff. If this all goes the way it should, I will be releasing this post's NFT companion claim link in the following section. The NFT will be created on the Wax platform and will be given out free of charge. Just remember these are first come first serve to a max mint of 420. Click here to obtain a Wax Cloud Wallet if you do not already have one as it will be necessary to complete the claim. Hopefully this goes off without a hitch and I can bring more of these to the WeedCash/Hive platforms!
Notes: As this is the first attempt at doing this, I am not entirely sure how much RAM I need to purchase to mint the 420 NFTs. So if anyone clicks the link and gets a message saying there is not enough RAM to create the NFT, just let me know and I will promptly send more to the dropsx tool. If you get the Sold Out message, this means all 420 NFTs have been claimed. You can attempt to acquire one from the secondary market through Atomic Hub Market
---

---
Until next time toe toe toke it up...
Relay
#canna-curate
#cannabis
#archon
#neoxian
#naturalmedicine
#ocd
---
---