Spring is in the Air! March Garden Journal

With our long winters here I'm ever so grateful to have a proper indoor growing area to keep those fresh garden goodies happening all year long!
I grow my salad pickings, pesto pickings and fresh herbs.
Lettuce, Cilantro, Green Onions, Herbs, Celery and Aloe Vera Growing in my Indoor Garden

I also have a celery plant that I dug out of the outdoor garden and bought in to keep it growing. It did quite well.
I had brought some other plants in and kept them in a separate growing area to keep the number of bugs down in this main growing area. I'm happy I did for some got infested with bugs. I still have a kale, rhubarb Swiss chard and parsley plant growing in there that were dug out of the garden plus my lemon tree (which always gets spider mites in the winter) and a pot of lemon grass and lemon verbena. I keep them under an led grow light but they only get half the growth as to those growing in the main area under ceramic halide grow lights. I love those lights and I'm very happy we made that investment!
I had a pleasant surprise growing in that celery plant I had dug out of the garden - a beautiful poppy had self seeded and it produced 5 lovely blooms plus set seed so I'll have some to sow in the garden or use in my baking for they are breadseed poppies.
I love to have some color in the winter so I had purchased an amaryllis which bloomed the same time as the poppy so I had a wonderful display of blooms!
Amaryllis and Self Seeded Poppy Among the Herbs in the Indoor Garden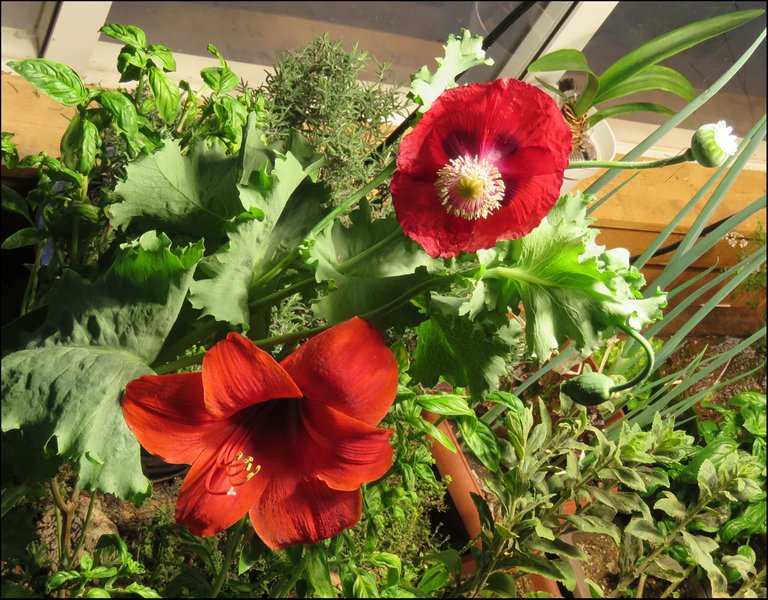 Close Up of Amaryllis and Poppy Blooms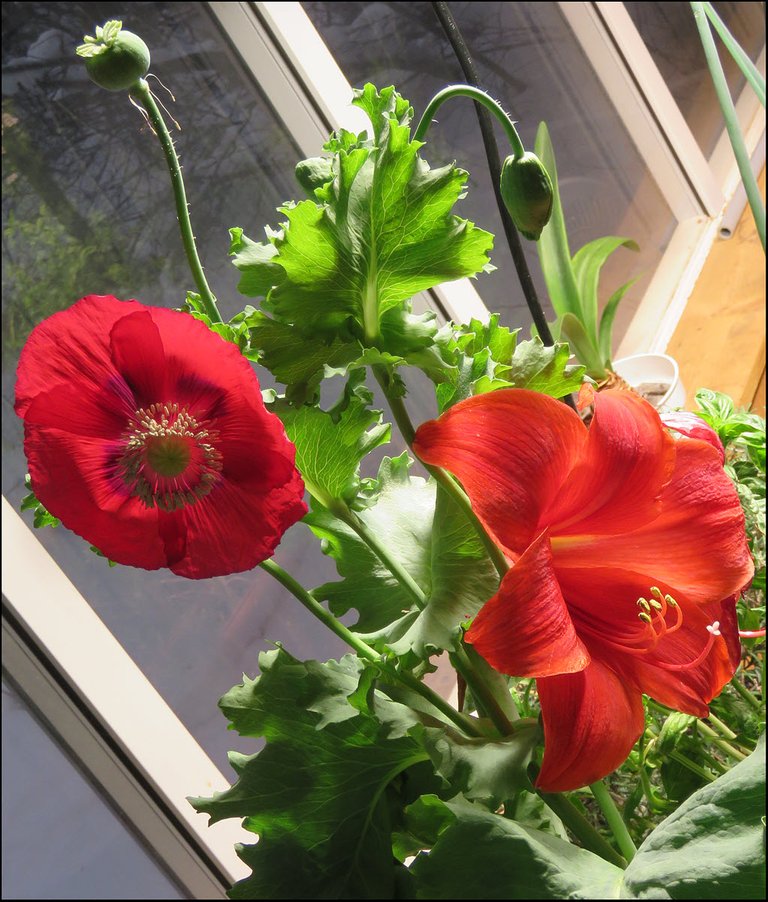 Close Up of Beautiful Poppy Somniferum Bloom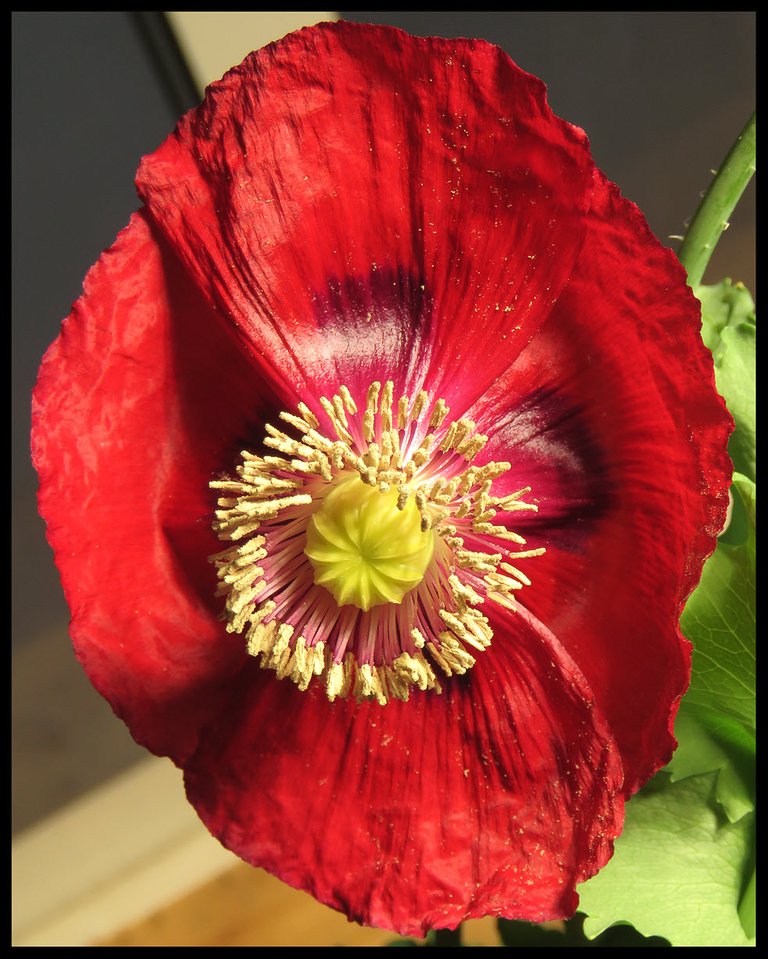 Poppy Gone to Seed Among Celery and Aloe Vera
I have a nice selection of herbs in my indoor garden besides the ones I grow for pesto picking (basil and cilantro), I have a rosemary and lemon thyme that I've had for a few years bringing them indoors for the winter, plus a stevia, lemon verbena and lemon grass. Nothing like fresh herbs to liven up a dish!
Rosemary and Lemon Thyme Growing by the Succulents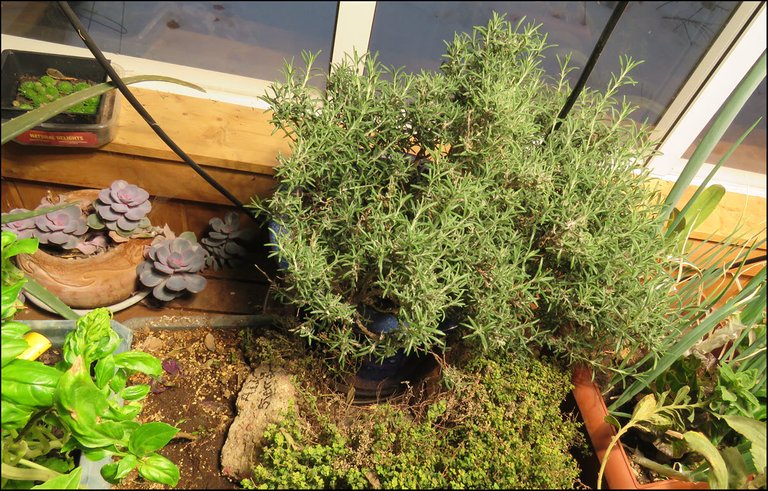 And I must not forget our other herb - our cannabis plants which gave us a nice harvest. We are taking a break after harvesting this last crop for it was bountiful and our neighbor has some bedding plants for us with a new variety to try in the Spring.
Cannabis Crop Getting Close to Harvest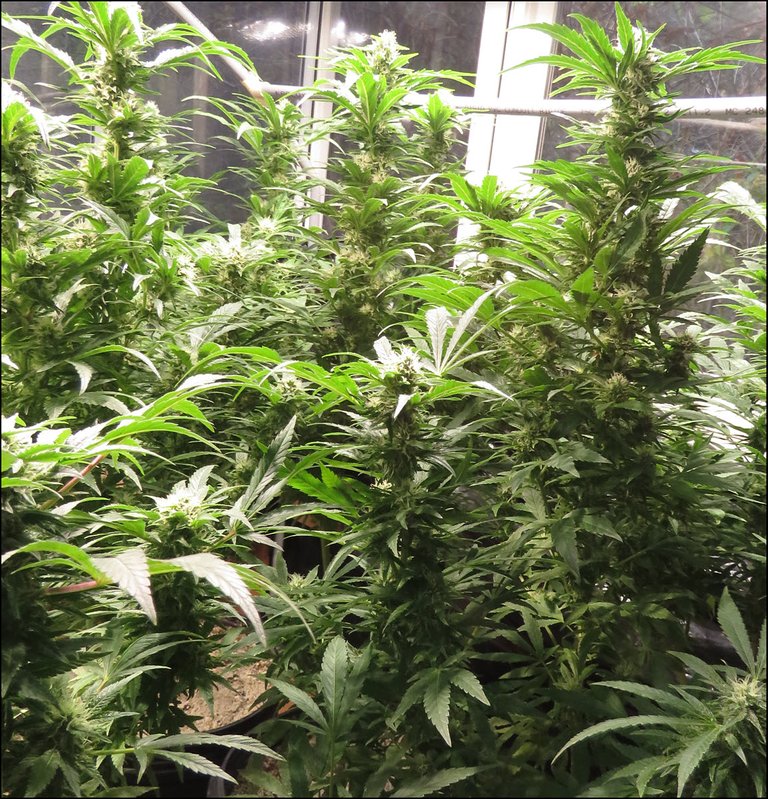 February is the time I start my pepper plants which have now joined the other plants under the ceramic halide lights.
I find the pepper seeds to be sporadic in sprouting so I start them in a tiny trays with just a bit of soil to save space as I only have the one heating mat. Then, as soon as they have sprouted, I pot them into 1" pots. I'm never to sure what the germination rate will be on them so I always sow them pretty heavy. This year all the varieties except one had good germination so I'll have extra seedlings. It's never a problem to find homes for seedlings.
Pepper Seedling Growing in with Lettuce Green Onions and Basil Plants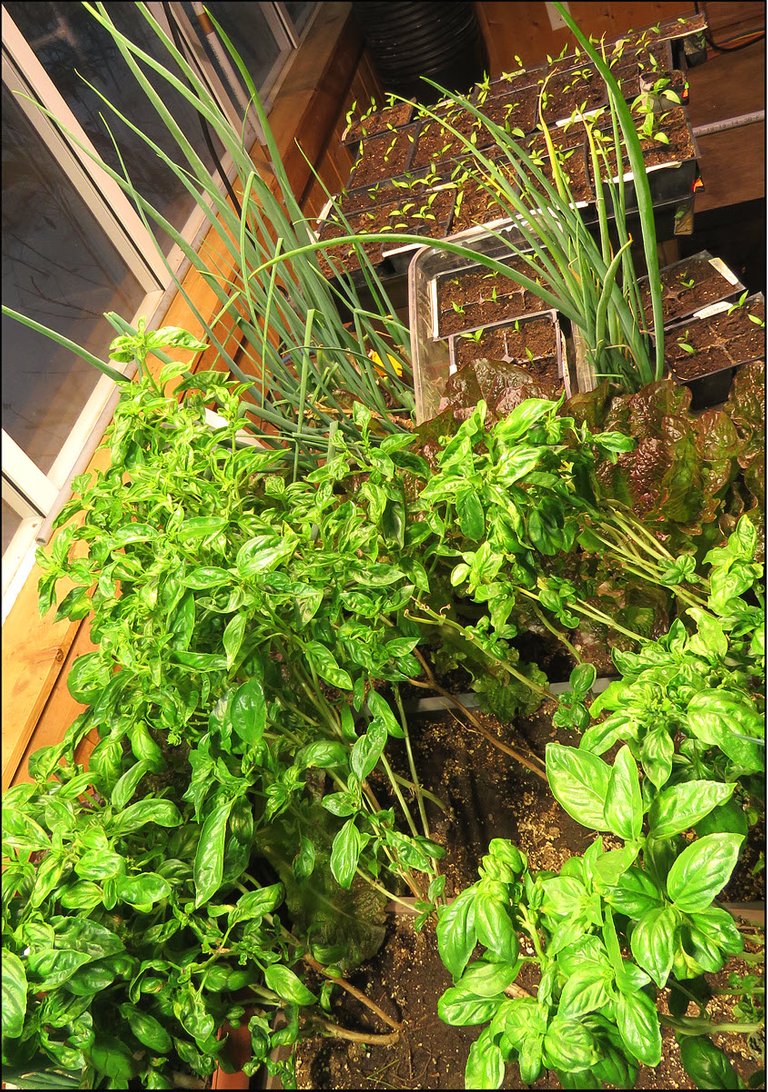 I've got a lot more seeds I want to get started with the celery and tomatoes next.
This year I want to plant a lot of my garden with seedlings to get a jump start on our short growing season. I have plenty of room to start them indoors and if I wait until June to plant them they will grow so much better with the warmer weather and longer days. Our last expected frost date is June 7th
It will still be another month or so before I put the roof back on the hoop house (our covered garden). We take the cover off each winter so the weight of the snow doesn't collapse it plus we get the moisture from the snow in the garden beds.
Here is a view of the hoop house taken last month - as you can see there is still a lot of snow. The snow has melted off the trees and the stuff on the ground has started to melt now but it will be awhile before I'll be digging in the dirt.
Hoop House Under a Dump of Snow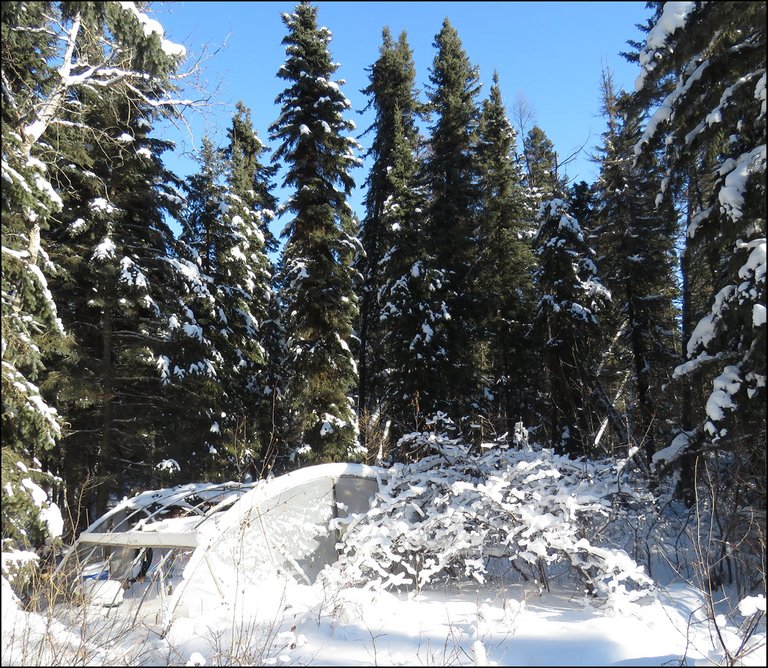 This is my entry to the Garden Journal Challenge hosted by @riverflows. Details here
All photos were taken with my Canon PowerShot SX60 HS
Thanks for stopping by!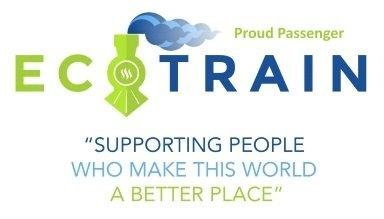 Discover previous ecoTrain magazines at @ecoTrain plus news on the Eco-Village at www.ecovillages.io

Join The Best Natural Health Community on Hive

Creating Abundance on Hive
---
---